Have you seen the movie The Wedding Planner with Jennifer Lopez? If so, then you probably think that the life of a wedding planner seems so glamorous; love, flowers and happy couples, what more could you want?
In all reality, your Tampa Bay wedding planner does so much more than you realize to make your wedding picture perfect, most of it very UN-glamorous.
We've asked our expert Tampa Bay wedding planning professionals to share a glimpse into their lives as wedding planners. Kudos to these professionals that are the glue to your big day!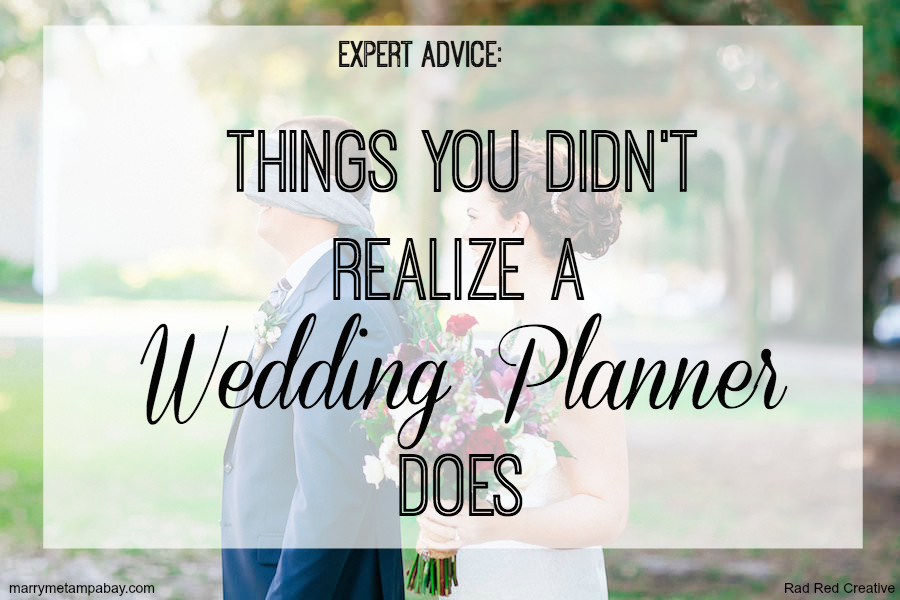 Your Planner is a Jill (or Jack) of All Trades
When I tell people I am a wedding planner, they often get the perception that I am "playing with flowers" and "fluffing wedding dresses," and while I do make sure my bride's dress looks as stunning as she does before heading down the aisle, there is a lot that leads up to that moment. There are so many critical facets to bringing a wedding to life. Over my years as a wedding planner, I have served as therapist, florist, serving staff, dog sitter and MC just to name a few, all while being "the wedding planner." I love my job and the many hats I wear leading up to a wedding and on the "day of." To watch it come together and see the joy as my couples enjoy their stress-free day because they know I'm taking care of it all, makes it all worth it. -Maria Balestriere, BLUSH by Brandee Gaar
Your Planners Saves Your Money
One way we minimize costs without reducing the quality of our weddings is by advising our couples to use different-sized centerpieces throughout their reception room. By ordering a few tall, a few medium, and a few small centerpieces, they are saving themselves what can turn out to be very hefty costs while also giving the room great dimension. -Jessica Ralph, Parties A'La Carte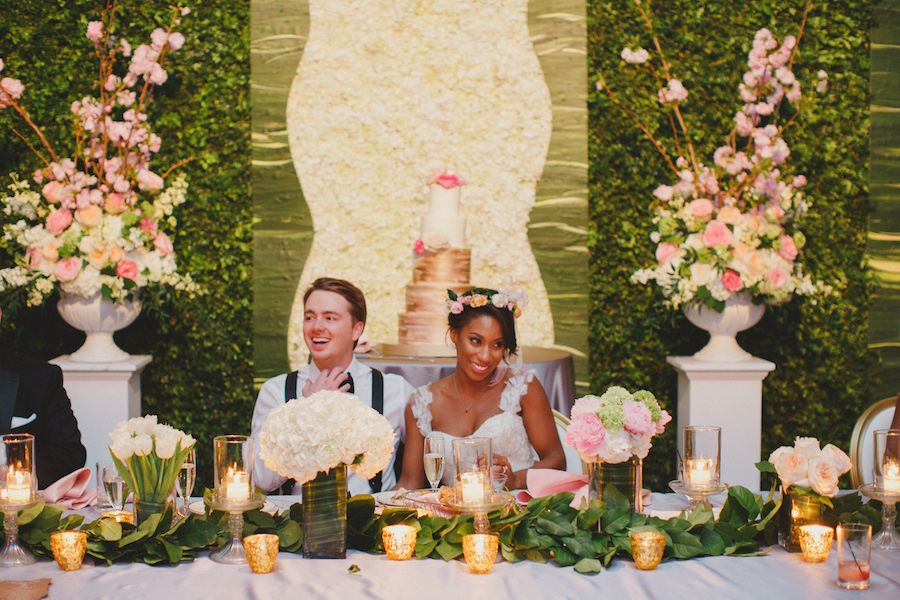 By the Robinsons | Planner: Blush by Brandee Gaar
Your Planner Prepares for the Unexpected
A wedding planner does a lot of things that fall "in between" the other vendors and the venue's responsibilities. It's important to have professional vendors on hand during your big day, because while friends and family might mean well and want to help, there are many situations that we have experience in and can handle easily that may be overwhelming for someone who hasn't done it before. For example, we've had multiple weddings where rain has rolled in and a ceremony and/or reception has had to have been moved inside ASAP. Since we know the exact logistics of how to do so, we can do it quickly and easily so the day stays on schedule and you don't get wet! We are also certified officiants so if something happens and an officiant can't make it, you can still be legally married that day. -Nikki Baxley Leonard, Nicholle Leonard Designs
As much as we rely on great vendors to deliver your perfect cake, sometime things happen. We found ourselves with a knife in one hand trying to fix whatever issue it might be and restore the magic. I also have a steamer that I take with me to weddings, because you just never know the condition of linens even if they might be carefully packaged. Instead of leaving them wrinkled and reminding you of them every time you see photographs from your wedding, we steam them with a big smile on our faces. –Georgette Casimir, Pea to Tree Events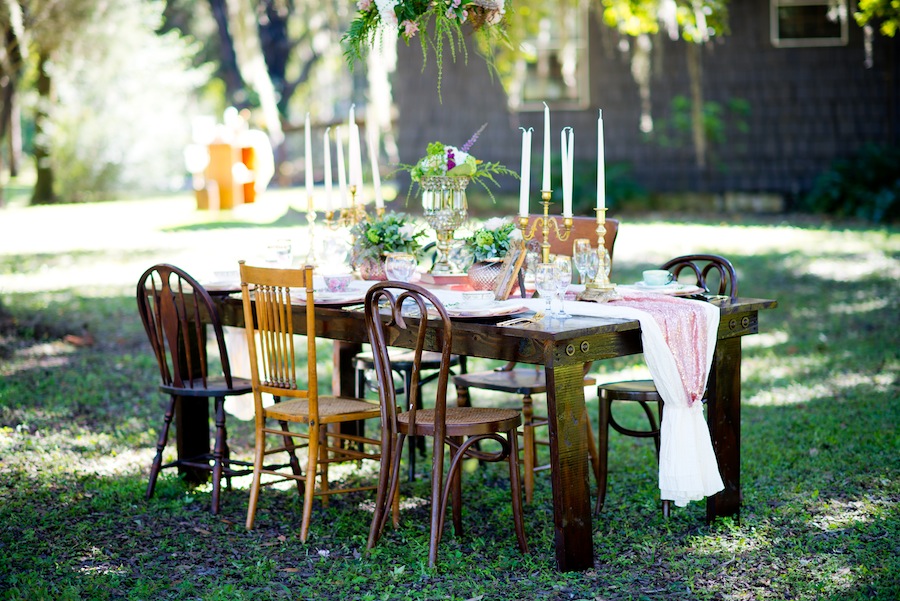 Your Planner Saves the Day (Without You Knowing It)
Some of my best day-saving moments have happened in the absence of the couple. Whether it was finding a replacement videographer when the original one was faced with a family emergency, jump-starting my bride's parents' car when we were the last ones to leave the venue, or making sure that the groom's mother got a separate slice of cake due to her food allergy. I enjoy any and every opportunity to make things happen seamlessly without my couples even knowing. It's their day, and they should be soaking it in and enjoying every moment without having to worry about a thing! -Sasha Abreu-Jimenez, Oh So Classy Events
Your Planner Keeps the Peace
If you're constantly arguing with your parents, or with each other, we use our negotiating skills to create peace. Whether it's talking to the mother of the groom about the bright neon green dress she wants to wear, helping mediate budget disagreements or saving you from wedding etiquette snafus, such as who walks in what order down the aisle, what part of the wedding weekend events each person is responsible for payment or how to word the wedding invitations based on who is paying. We recently planned a wedding where the mother of the bride hired us so that the mother and daughter could enjoy the wedding planning. At the wedding, the mother thanked me for saving their relationship by being there as support for both of them as we spent a year planning together, even though both of them had different visions and ideas for the wedding. -Tammy Waterman, Special Moments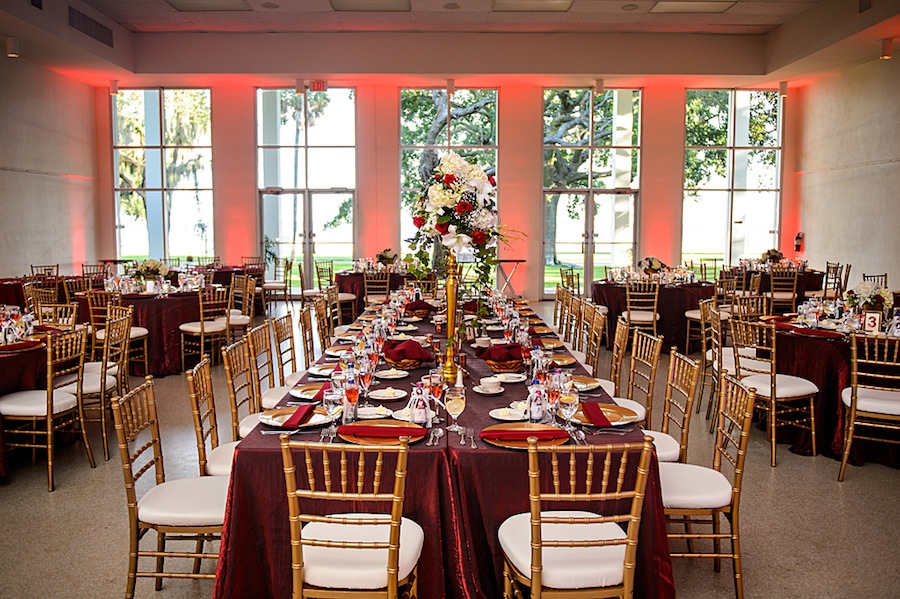 Corey Conroy Photography | Planner: Special Moments
Your Planner Keeps the Party Going
We've had problems arise during weddings, which my team handled behind the scenes so that the couple and their guests continued to have a flawless evening! During one wedding, the bar ran low on beer during dinner and my team ran to the store to stock up on cases of beer, so that the guests could keep enjoying the wedding and no one noticed a thing. -Nikki Baxley Leonard, Nicholle Leonard Designs