Weddings are all about the guest experience, and an important part of that experience often involves alcohol.
If your venue allows you to bring in your own bartender, there are several things to know so that you choose a professional who comes prepared, won't keep your guests waiting for their drinks and most importantly, who will make sure no one is over-served.
Spunky Spirits, our preferred wedding bartending company with over 15 years of experience, provides insight for "A Guide to Hiring a Bartender for Your Wedding."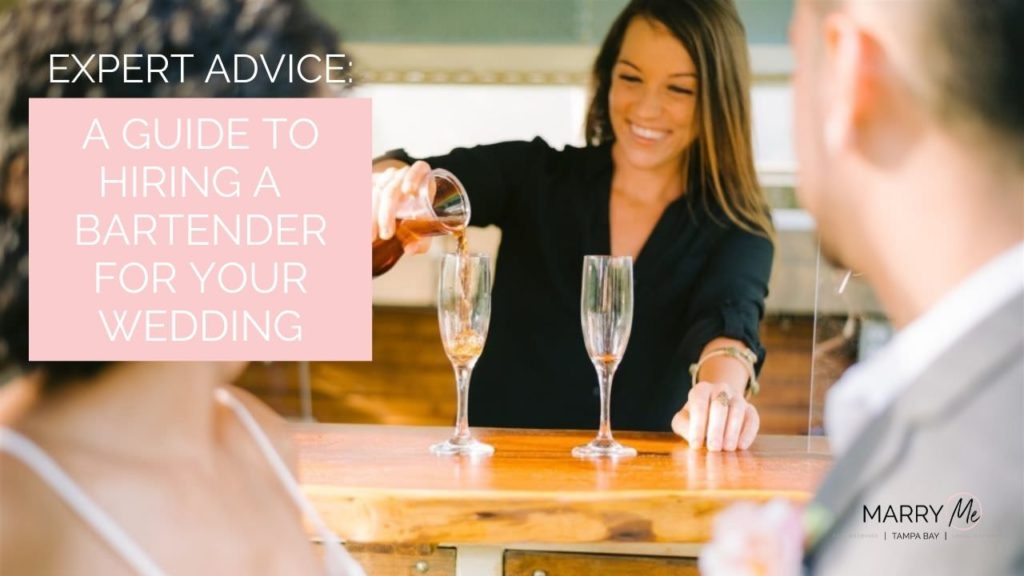 Stills by Hernan | Spunky Spirits
1. A Restaurant Bartender is Not the Same as an Event Bartender
There is a huge difference between a "restaurant/bar bartender" and an "event bartender." Both know how to make margaritas, open wine bottles, and be the life of the party, but event bartenders have experience with improvising, troubleshooting, and problem-solving.
A restaurant/bar bartender is in a building with an established bar area, ice machine, unlimited stock and mixers, and most importantly part of a structured system that should be running like a well-oiled machine. An event bartender walks into the unknown.
Most event venues are a shell or open space that can be uniquely designed in regards to the layout for each wedding. An event bartender is comfortable with finding the venue contact for this particular event, getting a tour of the space, and planning out the layout for the bar area as well as discovering important areas such as the dumpster, staging area, ice machine, and getting special instructions from the day-of contact.
An event bartender has a visually appealing portable bar (not a folding table and table cloth) and all of the necessary accessories. It is the bartender's job to create a bar area that will be both functional and aesthetically pleasing.
Event bartenders come prepared with a Plan B when things like this happen:
Forgot the knife to cut limes? There is no kitchen with backup utensils to scrounge borrow from.
Broke a case of champagne glasses for the toast? There is no stock closet with backups.
Unexpected rainstorm? Quickly move everything undercover and reset to be event-ready for guests.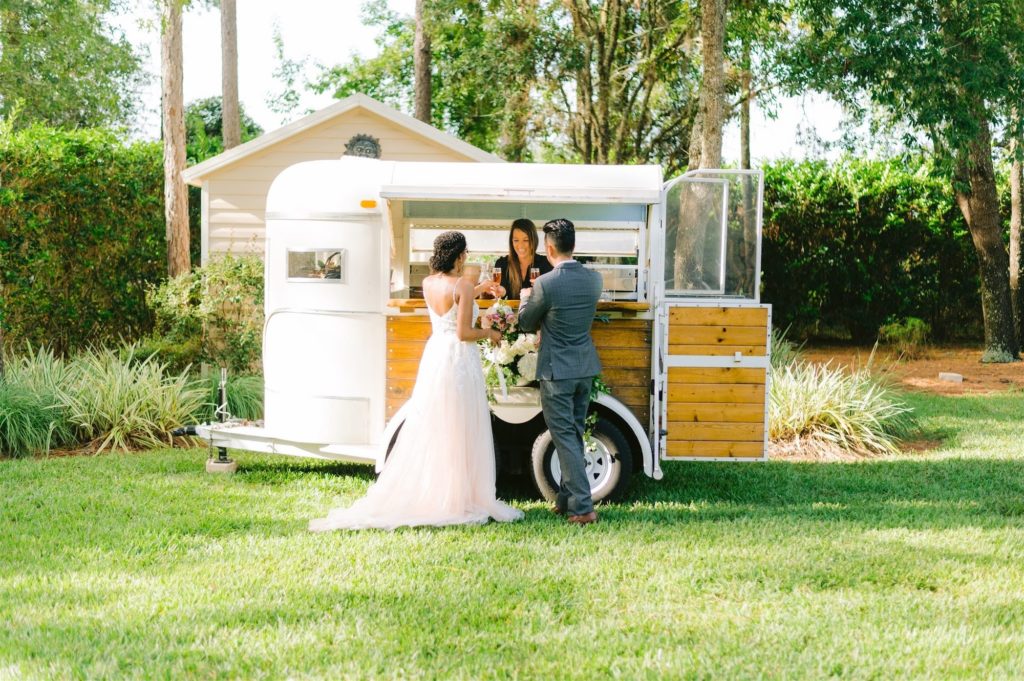 Stills by Hernan | Spunky Spirits
2. Keeping Your Bar Stocked So That It Doesn't Go Dry
A good bartending company doesn't just supply the insurance, a bartender, and a portable bar; what is the most important for the success of the event is the bar planning that starts weeks/months before the wedding. An experienced event bartender will help you pick out a bar menu that fits your budget and tastes, help you figure out if you want to do a traditional toast with champagne glasses or maybe a fun themed shot, help you decide between renting glassware, cocktail tables, and a specialty bar or if that's not in your budget, suggest other alternatives, recommend other reliable vendors, help determine last call, etc.
Spunky Spirits has spent 15 years mastering the counts of alcohol, beer, wine, and mixers with the over 10,000 events of experience. The Spunky Spirits system takes into consideration: guest count, hours of service, type of event, activities going on during the event, and the number of light/medium/heavy drinkers, and it adds on 15% extra so the bartender does not run out of anything. The client's final stock cost is based on consumption with no mark-up. After the event, a calculation of all of the beer, wine, and liquor that was not consumed in totaled up, and the client gets a check back for that amount.
3. How Many Bartenders Do You Need to Hire?
It is recommended at least 1 bartender for 100 guests to start. There are several questions clients should answer to determine the final number of bartenders needed. Is budget a major factor? Are no lines at the bar important? Does the bar menu include cocktails that take longer to make?

4. With Alcohol Comes Liability
Alcohol can be a hefty part of your wedding budget, and you may think you can save a few dollars by having a friend or family member bartend.
Typically, hiring a "friend" to "work" your wedding is never a good idea unless they happen to be a professional wedding vendor.
And hiring an unlicensed bartender is an even worse idea.
You need to make sure your bartender carries Liquor Liability Insurance and is TIPS Certified (which teaches you how to identify if someone has had too much to drink and how to deal with them effectively if they become intoxicated). You are hosting the biggest day of your life with your most beloved guests. Is your "friend bartender" going to stay sober? Are they comfortable and professional enough to cut off their own family and friends to prevent them from being overserved? Professional bartenders have the power to actually save lives.
If the bartender does not carry liability insurance and something were to happen, everyone involved could be sued (including you and your spouse), which is why venues require outside vendors to carry liability insurance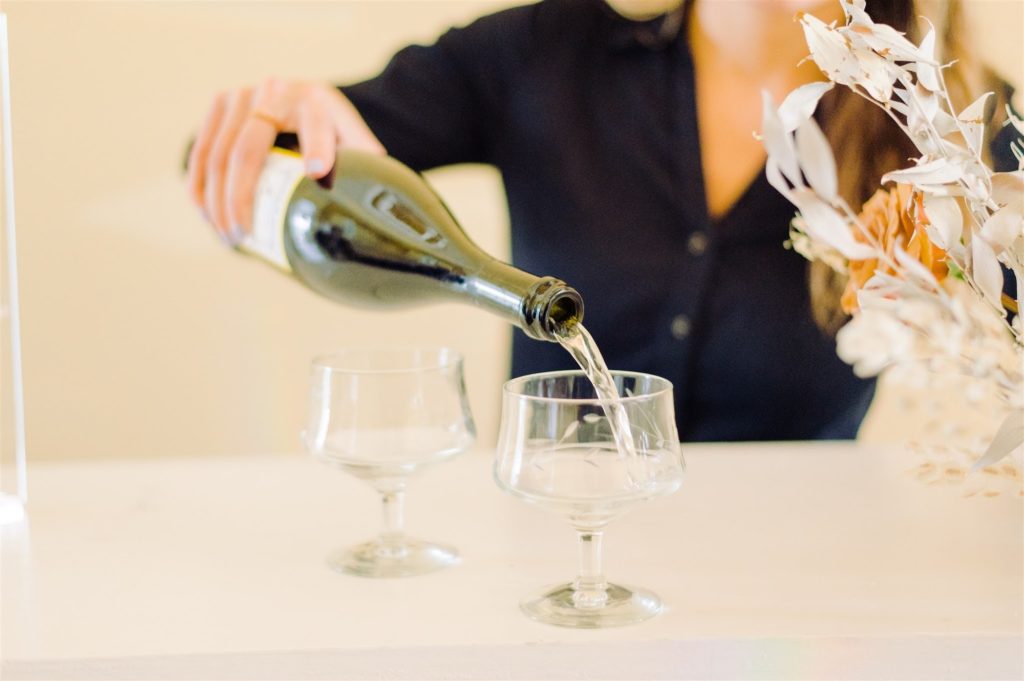 5. What Should Couples Budget for Their Alcohol and Bartender?
Including liquor liability insurance, a basic mobile bar setup, bartender, mixers, and alcohol, you are looking at a starting price of $9-12/per person, depending on the tier of alcohol you choose. (This estimate does not apply to venues that provide their in-house bartending services).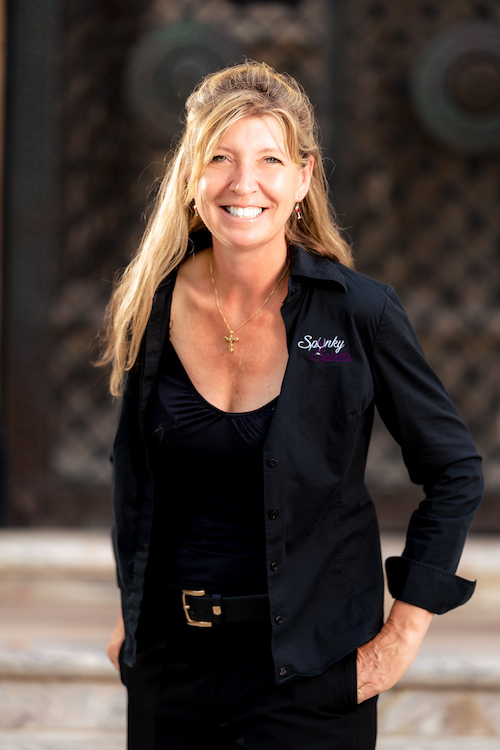 Lori McCarthy is the owner and founder of Spunky Spirits Mobile Bartending. She started in the wedding and events industry 15 years ago and has been in the hospitality business since she was 18 years old.
Lori shares that the greatest compliment she ever received, which remains to be the heart behind Spunky, was from one of her previous clients, "I was called to a lawyer's office to be rewarded $3,000 and the reading of a will from one of my past clients. It said, 'Lori, thank you for the beautiful smiles, great talks, and best martinis!'"