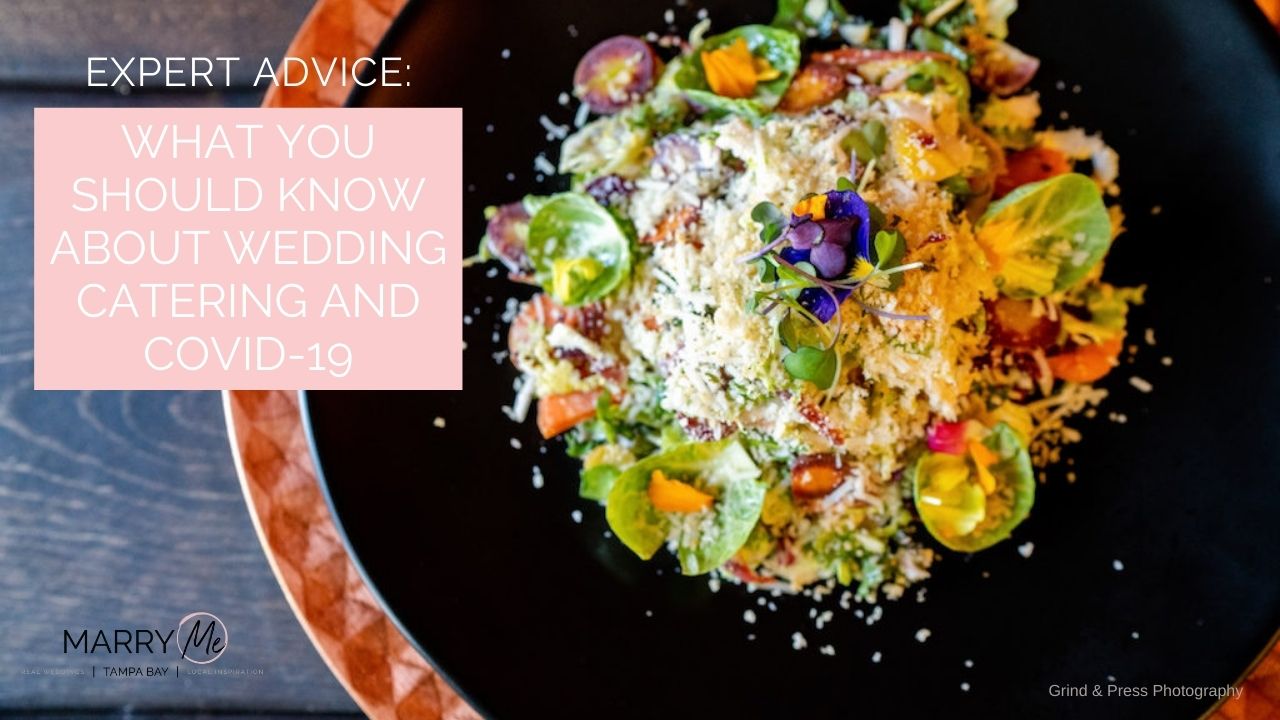 What Precautions Have Been Put in Place for Food Safety?
"Every safety precaution! We are constantly checking in with all of our staff to be sure that everyone has been staying safe and healthy. While prepping before events and during events, we all are wearing masks the entire time while on-site as well as using gloves and extra hand washing protocols." – Melissa Misgen, owner Elite Events Catering
"We have increased efforts to decrease touch points between both staff and guests. For example, at a chef attended action station guests may not be receiving items directly from the chef, but rather a serving table. Guests still receive the same quality, freshly prepared item." – Jake Samuels, owner Tastes of Tampa Bay Catering Co.
"Extreme diligence with sanitization and cleaning of equipment. The staff wears gloves and masks at all times. No self-service anything. The table presented hors d'oeuvres, buffets, and stations are all staffed with service personnel who handle the serving utensils and hand prepared plates to guests. Buffet tables, food stations, and bars have extra-wide surfaces between the staff members and the guests. Nothing communal on guest tables: no salt and pepper shakers, bread baskets, etc. Rolled Flatware. Hand sanitizer at all food stations." – Sherri Salsbury, of Olympia Catering & Events
How Has COVID-19 Affected Menu Selection?
"Prepare to be flexible with your caterer if food item substitutions become necessary as your event date gets closer. COVID has disrupted supply chains, caused many companies to consolidate their inventory of available products and has caused some purveyors to go out of business altogether. What you selected as a menu item one year ago, may or may not be available today. – Sherri Salsbury, Olympia Catering & Events
"We have learned new ways of presenting our menus which has actually become an interesting and exciting challenge. By thinking outside of the box we have thought of new ways to serve items "inside the box" so to speak. For example, we have researched numerous options to serve passed appetizers in a way that is safe and "containerized" and that is attractive and unique."
"On another note, we are suggesting to change up some of our traditional ways of serving buffets to chef-attended rather than a self-serve. This offers us the chance to create more stylized plates served by our chefs. We are also seeing that by offering more seated dinner options we are able to create a beautifully crafted plate while allowing guests to enjoy and still ensuring a safe atmosphere for all." – Melissa Misgen, owner Elite Events Catering
"We have been able to keep our menu items consistent but in some cases just changed up the way the items are displayed and served to guests. Butler passed hors'd oeuvres, for example, are served on (or in) mini plates, cups, spoons, etc. to avoid the possibility of any guest accidentally touching any menu items on the serving tray and they are spaced out more than usual (less items per tray). We have been doing mostly sit-down dinners lately and when we are doing buffets they are all chef manned so none of the guests are handling the serving utensils." – Michael Lamando, owner Amici's Catered Cuisine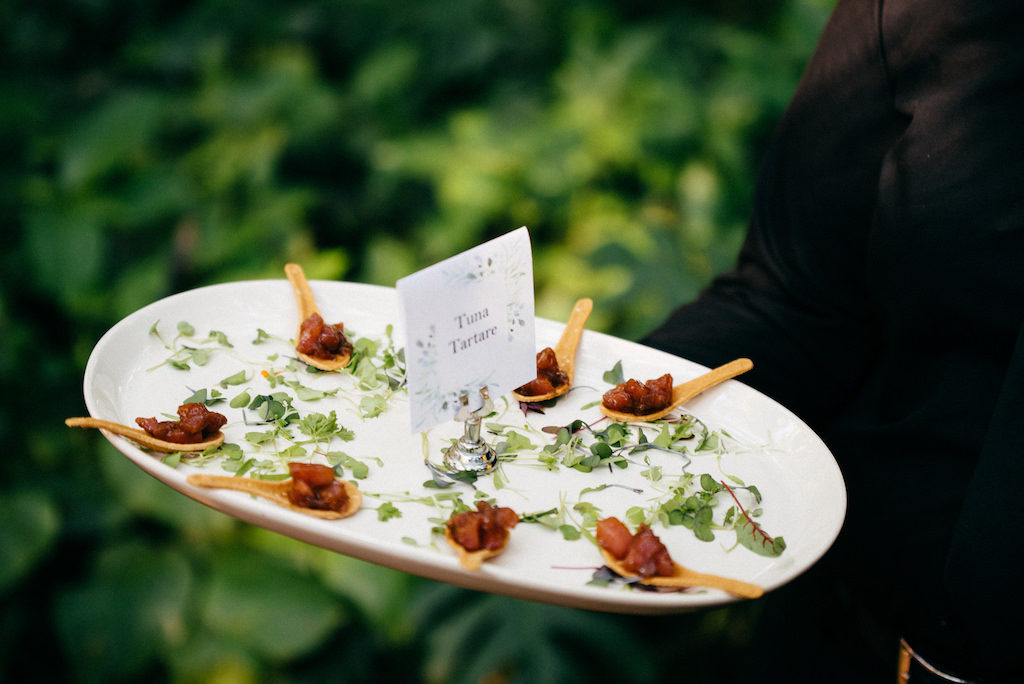 How has COVID-19 Affected Menu Pricing?
"It has not affected menu pricing as far as food. Sanitizing stations and extra service may be added depending on package offerings." – Jake Samuels, owner Tastes of Tampa Bay Catering Co.
"Covid-19 has certainly had an impact on menu pricing as we need to consider the costs for PPE for all of our staff. It has also caused us to take into consideration the additional costs of using multiple disposables when necessary or the additional staff required for cleaning and dishwashing. Other than that our menu prices still reflect market prices as per usual." – Melissa Misgen, owner Elite Events Catering
"Aside from some increases in food costs, couples may see some menu price increases due to safety precautions being taken due to COVID-19. First, butler-passed hors d'oeuvres are typically presented on a tray, and guests are invited to take one from the staff member passing the food. These days, those same bite-size hors d'oeuvres are being placed on a small disposable plate, in a shot glass, or some other type of single-use vessel first, and then are placed on a tray to hopefully alleviate guests' fingers from hitting the tray itself. There is an additional cost for each of those 'vessels' that adds to the overall cost of the menu item. Another example has to do with supply and demand. For safety reasons, disposable gloves are invaluable these days. But guess what, a case of gloves that used to cost $40 now costs $100, when you can find them available. Caterers have no choice but to pay the current prices, but those costs end up getting rolled into the menu prices, service charges, or other fees to try to cover the expense. We don't have the option to work without them." – Sherri Salsbury, Olympia Catering & Events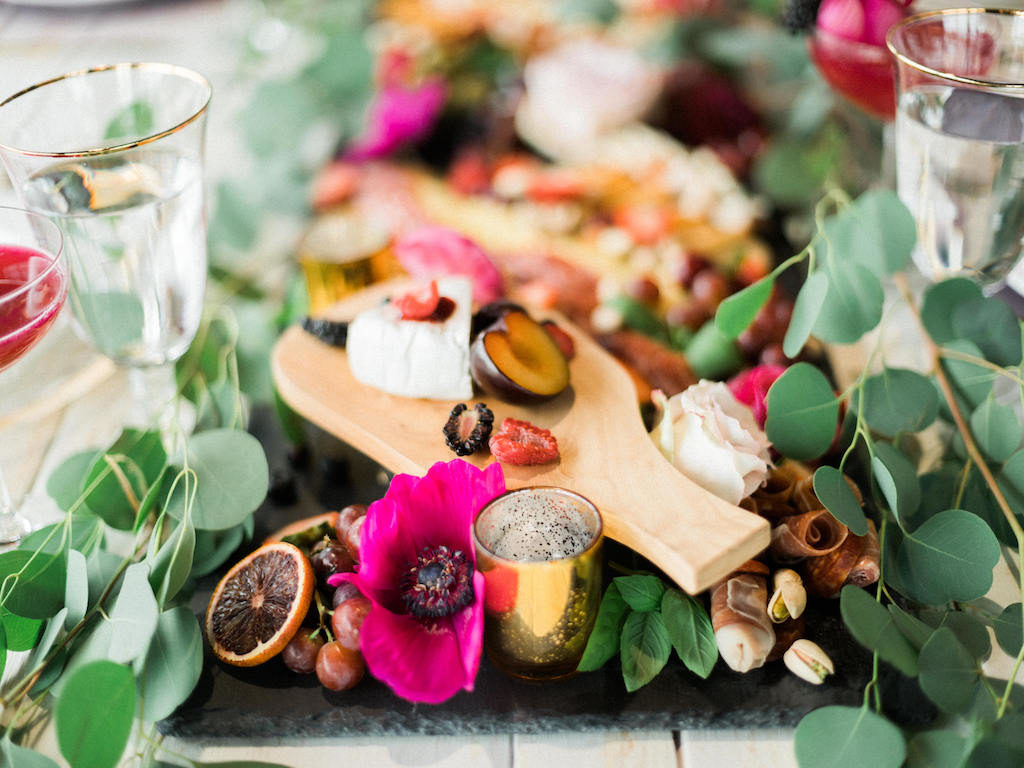 What Do Couples Need to Know About Their Menu Selection When It Comes to Intimate Weddings or Elopements?
"There is a common misconception that couples planning intimate weddings will have a smaller catering bill due to a smaller guest count. This may be true, but is not always the case and there are a few different reasons for this. For instance, many food items cost less the more you buy. 200 pounds of beef tenderloin will cost less per pound than 20 pounds of beef tenderloin. This makes the filets cut for the smaller guest count more expensive than the filets cut for the larger guest count. Another aspect of catering cost has to do with labor. The required staff to execute all the different aspects of an event will not go down proportionately to the decrease in guest count. This is not true in all situations, but it is often the case. That having been said, it is absolutely OK for you to ask your caterer why something is priced the way that it is. They will tell you." – Sherri Salsbury, Olympia Catering & Events
"Be sure that you allow for time to have good conversations with your caterer to go over various options and back up plans." – Melissa Misgen, owner Elite Events Catering
"The offerings will still be of the highest, freshest quality but service itself may look a little different." – Jake Samuels, owner Tastes of Tampa Bay Catering Co.