Weddings are an experience and food is one of the main centerpieces for any memorable event. While some couples opt for a traditional sit-down dinner, others are looking for a more laid-back approach and unique way to serve their guests.
Food trucks have become a staple of festivals, community events, and weekends out, but you can also hire food trucks for your wedding, whether it be the main course or a late-night snack, as well as your rehearsal dinner, bridal shower, or bach parties.
We reached out to our preferred wedding food truck, St. Pete Taco Lady, to share insight on what you need to know about hiring a food truck for your wedding day.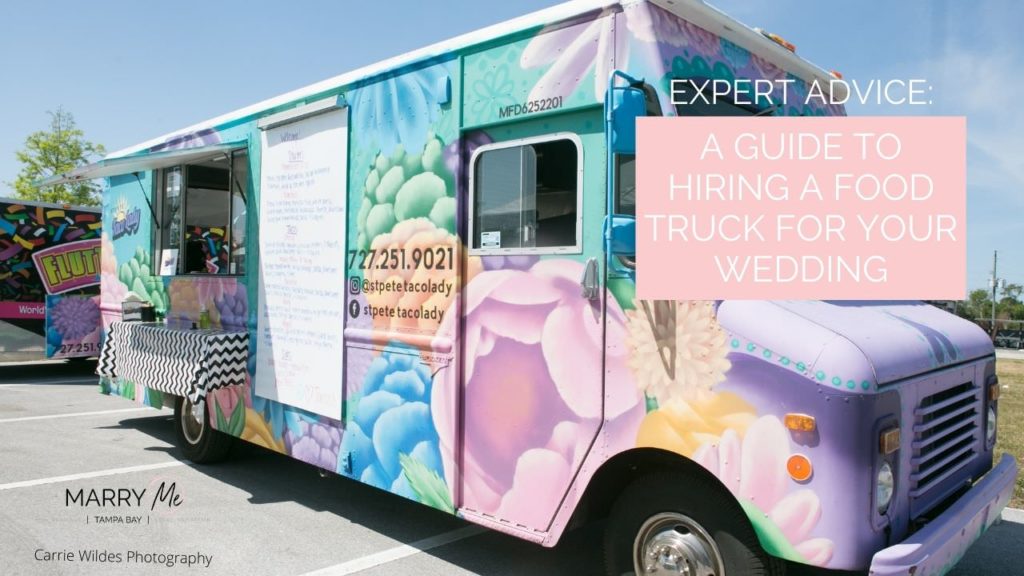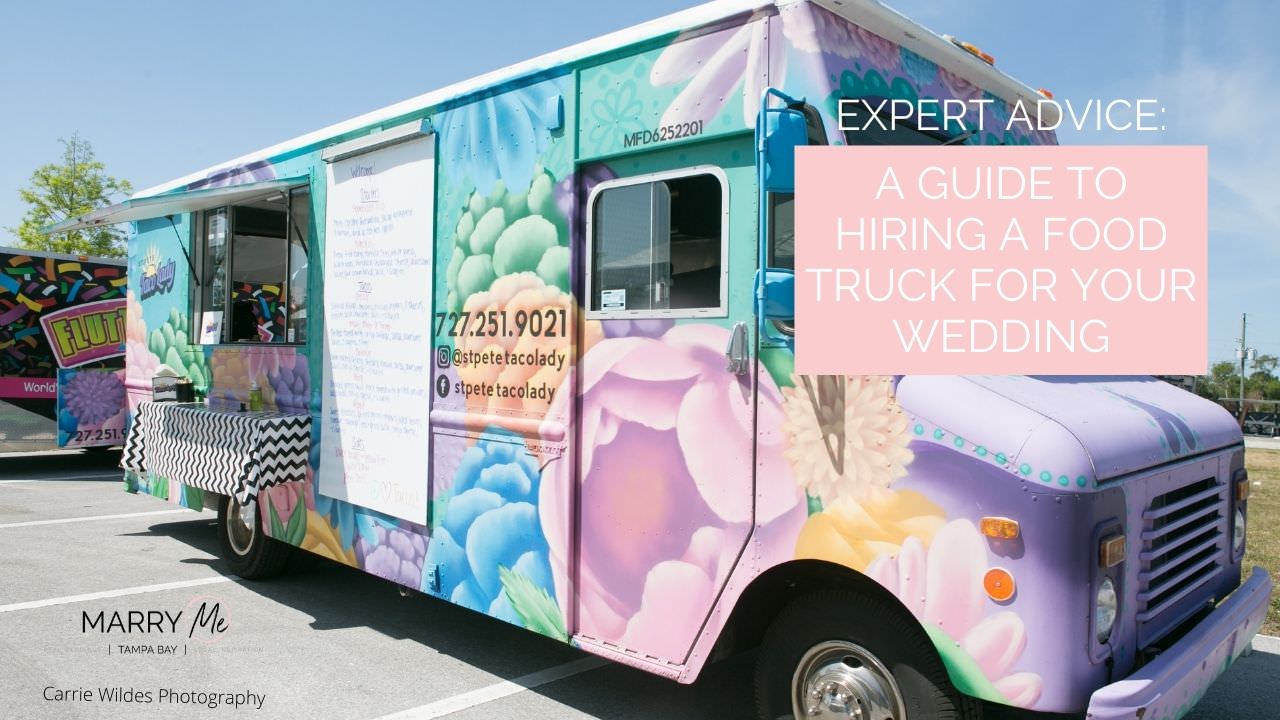 How Do You Know if a Food Truck is Right for Your Wedding Experience?
A food truck might be the perfect fit for a couple if they are looking for a relaxed, fun atmosphere and delicious food.
What Type of Wedding Menus are Available From a Food Truck?
Food trucks typically offer items from their daily menus, as well as specialty items that they make just for weddings. Weddings allow food trucks to get creative and make items that may not be feasible for day-to-day service but are perfect for a cocktail hour appetizer or an upgraded side item.
Do Guests Order Off of a Menu or is the Menu Pre Selected?
Guests order whatever they would like off of a menu selected by the happy couple. Food trucks prepare everything to order so we can accommodate many different dietary restrictions and needs.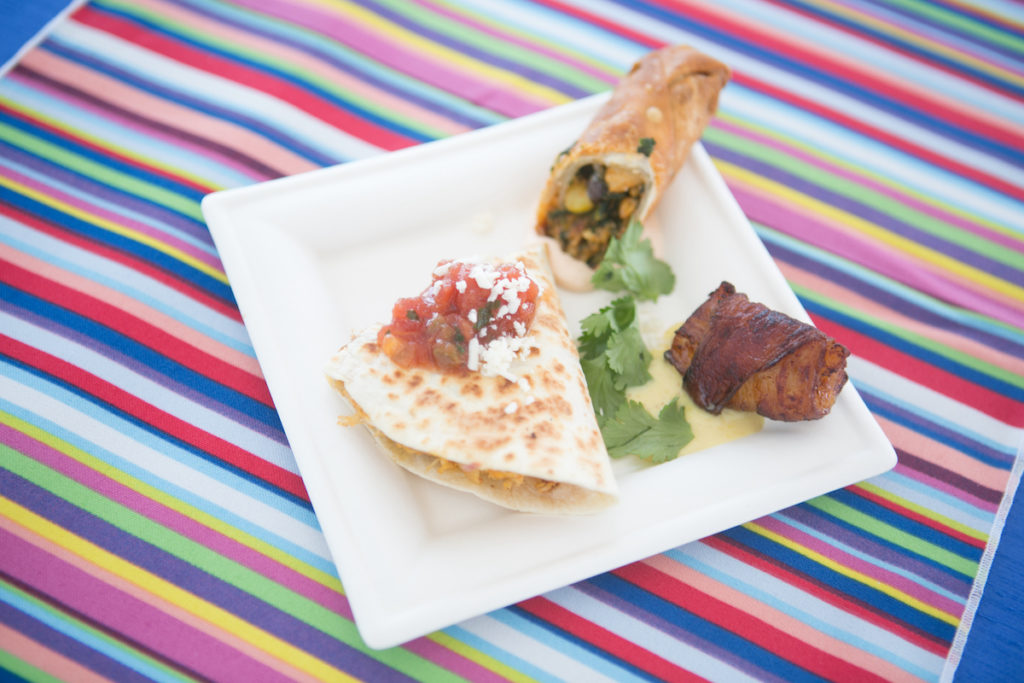 Carrie Wildes Photography | St. Pete Taco Lady
Who Would Not Be a Good Fit for a Wedding Food Truck?
Couples looking for a sit-down dining experience, where the meal is served and enjoyed at the exact same time by all the guests, may not be the best fit for a food truck wedding.
Do Food Trucks Provide Alcohol?
Most food trucks do not provide alcohol but there are many new mobile bar carts in the area.
Do Food Trucks Provide Servers/Dishes/Utensils?
This can vary by food truck. Food trucks typically have a limited staff, so servers may not be available, but disposable dishes and utensils typically are included in the price of any catering.
Do Food Trucks Provide Dessert?
Yes, food trucks can provide dessert!
Do All Venues Allow Food Trucks?
Most venues allow food trucks. Some locations, such as public beaches, parks, etc., may require special permitting or permissions.
What Types of Wedding Venues/Locations Are Best for a Food Truck?
They can go virtually anywhere, but locations with beautiful outdoor spaces always pair well with a food truck.
How Does a Wedding Food Truck Experience Differ from a Typical Food Truck?
When a food truck comes to serve guests at a wedding, we are there just for you. A couple can personalize the menu with their favorite items that they would like to share with their guests.
How Much Should Couples Budget For a Food Truck? Is it Less Expensive than a Caterer?
Couples should budget between $18-$30 per person for a food truck. It can be much less expensive than going with a caterer, but the final price is always determined by the menu selected.
What Do Couples Not Realize About Hiring a Wedding Food Rruck?
Hiring a food truck is like an upgraded buffet service. Guests still choose everything they want, but it is all hot, fresh, and prepared to order.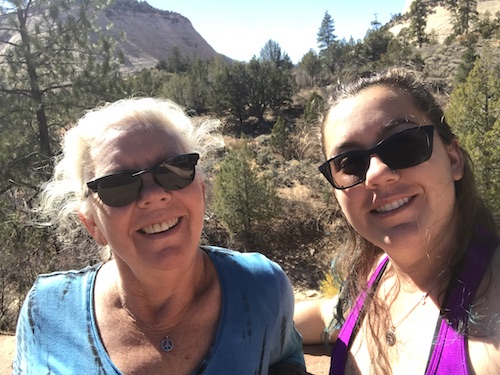 Colleen and Taylor Travers started The St. Pete Taco Lady in 2008 at a local farmers market and by 2012 we had our wheels and started bringing our unique take on Mexican cuisine around Tampa Bay.
Our food is a fast, fresh, eclectic mix of Mexican and American flavors. Everything is prepared fresh and made just for our clients. We take pride in serving food made with love and care.