With women becoming more comfortable with their bodies and redefining what "beauty" is more are turning to boudoir-style photo shoots.
If you've ever snubbed the idea of boudoir shoot and thought that it's just "taking sexy photos," you'd be surprised to learn that these photo sessions are actual confidence boosters and celebrations of women at any size, age, and occasion.
"No matter the initial reason for doing a boudoir session, nothing will ever compare to what an incredible journey of self-love this is," St. Pete boudoir photographer Annika Roser, owner of Ma Cherie Studios, shares.
To provide more insight into what actually happens in a boudoir session, we've asked four of the area's top boudoir and beauty boudoir photographers and videographers to answer everything you want to know in our Guide to Boudoir Photography.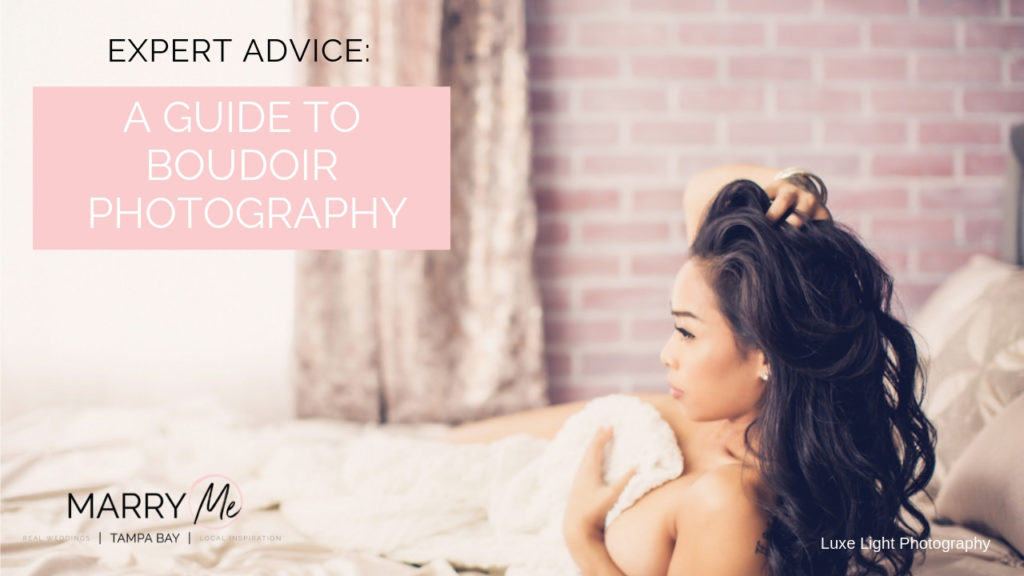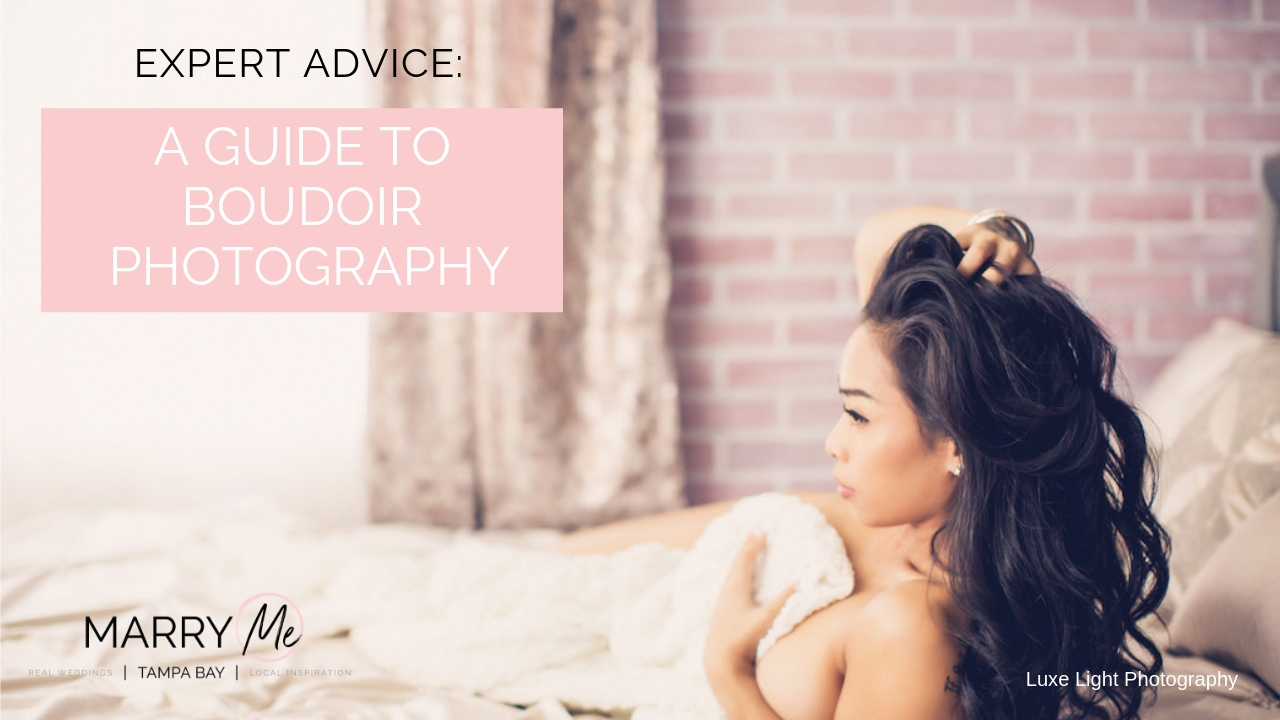 THE EXPERTS:

What is boudoir and beauty boudoir?
Christina Barrett, owner of Luxe Light Images, shares:
Boudoir is French lingo for "bedroom," and when you add a photographer to that you're taking sexy photos (maybe in a bedroom) in a gorgeous atmosphere in pretty lingerie. Boudoir photos can be very intimate or just sexy and playful (a la Victoria Secret's PINK). Some people think you have to get naked and nothing is further from the truth. While many ladies choose to up the ante and do tasteful nudes, there are just as many who keep covered and leave more to the imagination. That choice is totally up to you and you can even decide how far to drop your skivvies the day of your shoot.
Why would someone do a beauty boudoir shoot?
Annika Roser, owner of Ma Cherie Studios, explains:
The reasons are truly endless! Maybe you're getting married, have a special anniversary coming up, are thinking of having kids, are going through a weight loss journey, or simply just want to celebrate the skin you're in right now. No matter the initial reason for doing a boudoir session, nothing will ever compare to what an incredible journey of self-love this is.
Christina of Luxe Light Photography provides an uplifting perspective:
Most ladies considering a shoot might initially think it's a vanity session or only good to give as a gift. While initially, this might be true, I can assure you that after the session you'll have a whole new outlook. I'm also willing to bet you'll likely be pushing your closest ladies to jump in and book a session. Boudoir sessions are a way to celebrate and love yourself, today. They give you a gorgeous view of all the prettiness that everyone sees in you but you might have forgotten. They teach you to love yourself, feel confident, and lastly, they give you a damn good reason to feel amazing in the skin you're in! Girl, these photos let you see your beauty, like really see it! Milestones or celebrations might be the most common reason to book, but more and more ladies are coming into the studio to empower themselves, and I love that. So book to celebrate a fitness goal, a birthday, a spouse's birthday, anniversaries, holidays or just the simple fact that you are amazing!
Lifelong Photography Studio has an upbeat message:
Although most ladies show up nervous, they leave with smiles. Their confidence is beaming through. We start the session with snacks and champagne and end the session with giggles. At the session, we will be jamming to your favorite songs, while we are making you feel like the inner model you are. We will accentuate your figure, and capture the sexiest you! All you have to worry about is having fun, and you can let us worry about the rest.
Bonnie Newman, owner of Bonnie Newman Creative, shares:
Posing in front of a camera can be nerve-wracking, let alone being in front of one in lingerie. I want your boudoir shoot to not only be a gift for your love but a gift to yourself as well! Unlike traditional photo boudoir, "boudoir cinema" is a sexier concept that combines movement, music, and voice to create an all-around more sensual experience and gift for your love. Your partner not only loves your physical body they love the way you move, the way you talk and giggle, the way you look up at them and say their name, and so much more. Traditional photo boudoir is only able to capture a split second in time, while boudoir cinema is able to capture more of the qualities your partner loves about you. If video isn't your thing, we absolutely offer photography services as well!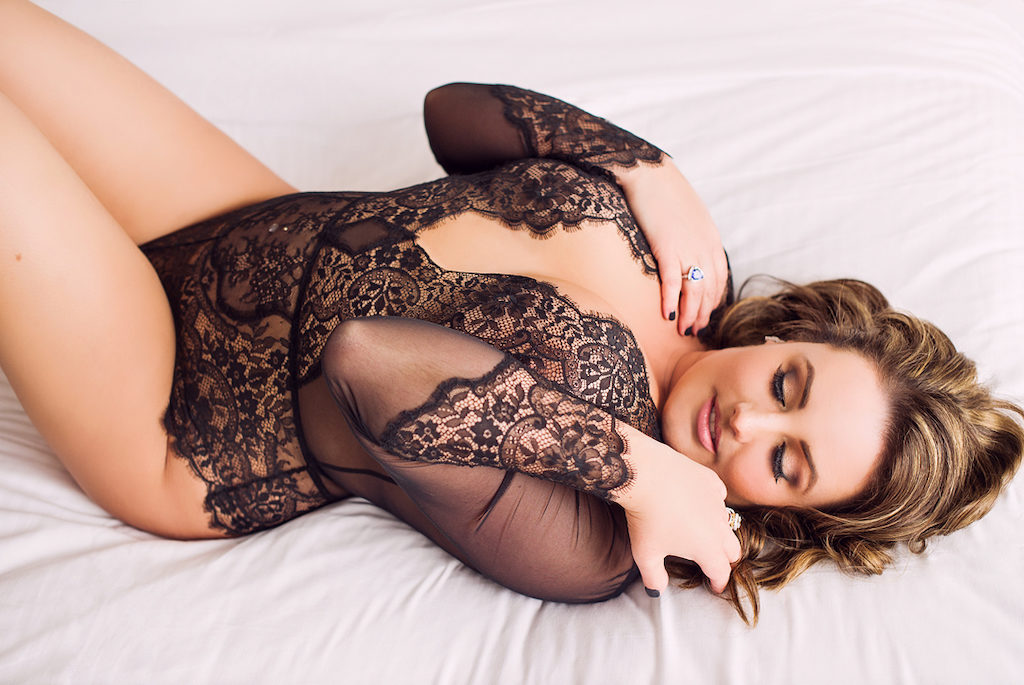 What do I wear?
Annika of Ma Cherie Studios explains:
This is my favorite question! For me, lingerie isn't about what is in style, but rather what is going to make you feel the best when you wear it. I will cover a lot of information with you, and give you tons of insider tips on what will work best for your body type. I will even show you specific pieces that I would personally recommend based on your budget, style, body type, and coloring. Trust me, you are going to look flawless!
Bonnie of Bonnie Newman Creative suggests:
We ask you to have 2-3 lingerie outfits or styles, a robe, a pair of high heels, jewelry options, and any other clothing or props that you love (cute sweaters, sports jerseys, or fluffy blankets).
Christina of Luxe Light Images adds:
The options are truly endless. Higher-end studios will likely have a client closet for you to select from but it's always a good idea to bring a few items you feel fabulous in too. Some of my faves are slouchy sweaters, bodysuits, cheeky panties, sexy shoes, and body jewelry. If the photographer you choose offers professional hair and makeup even better. If not, you might want to consider making this part of your session. Having your hair and makeup professionally done will amplify the experience a million times over and every lady deserves a little pampering! Splurge a little!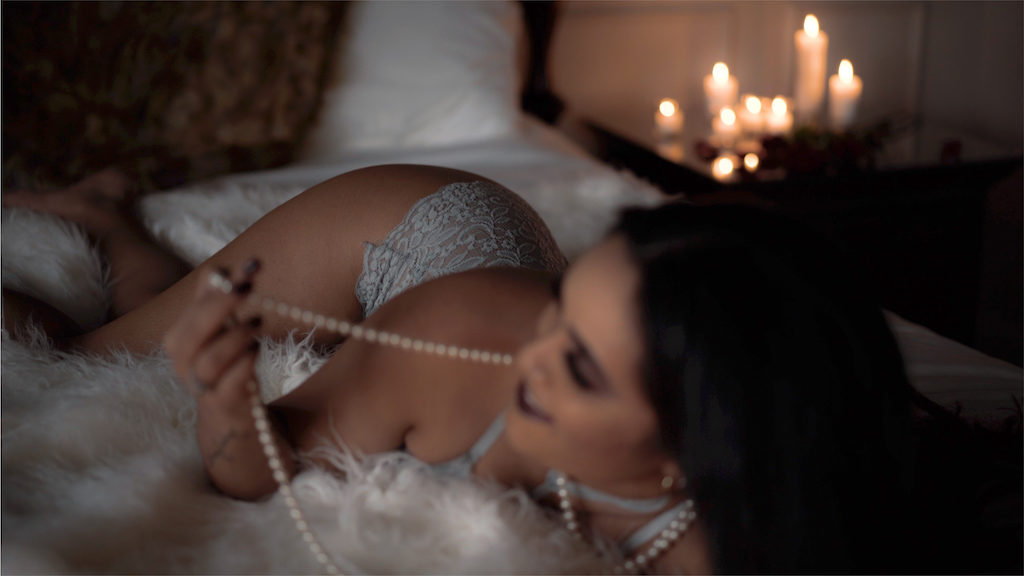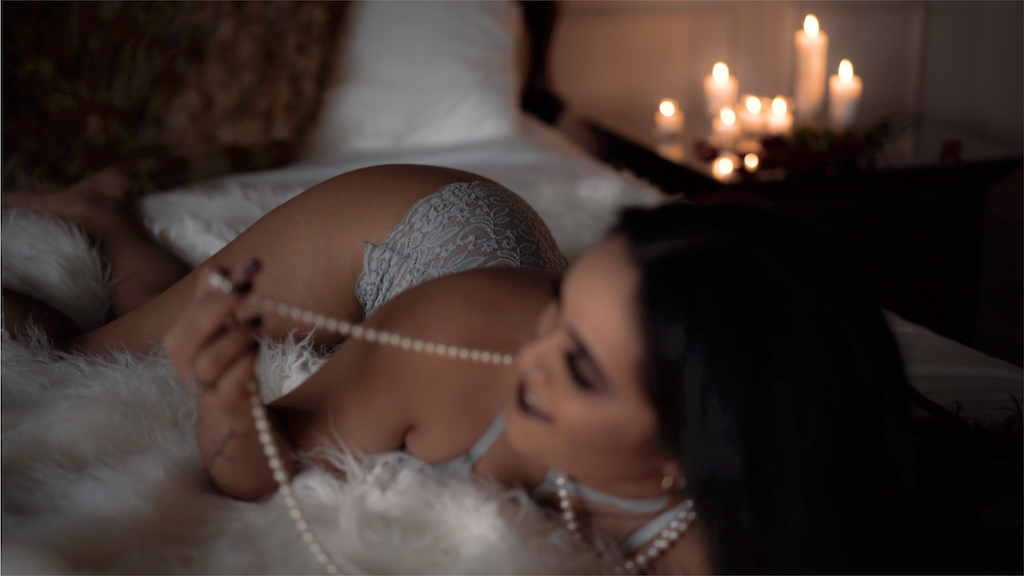 Where do you shoot?
Lifelong Photography Studio explains:
The first (and hardest) step in the process is to choose the perfect setting and backdrop for your session. Most people choose to use our complimentary boudoir room. We also have hotels we recommend and ones we have partnerships with if you choose to rent a room. We are here to help, so please just ask if you have questions about where to shoot!
Christina of Luxe Light Images suggests some unique locations:
Shoots can take place in your home, the photographer's studio, a sexy AirBNB, or outdoors. Yes (gasp!) I said outdoors. If you're not the bedroom type you could get a little sexy in a wooded area or even the surf and sand! A boudoir location should be chosen carefully though. If you're a shy lady the great outdoors might not be suitable as you never know who might pop up in a location.
Bonnie of Bonnie Newman Creative shares:
Your place or mine! We have a well lit, beautiful space of our own we are happy to use! Otherwise, shooting at your place or a friend's place are always great options, even if you don't think it's ideal. We're pros at making not-so-pretty places look amazing. Besides, we're not focused on the room, we're focused on you!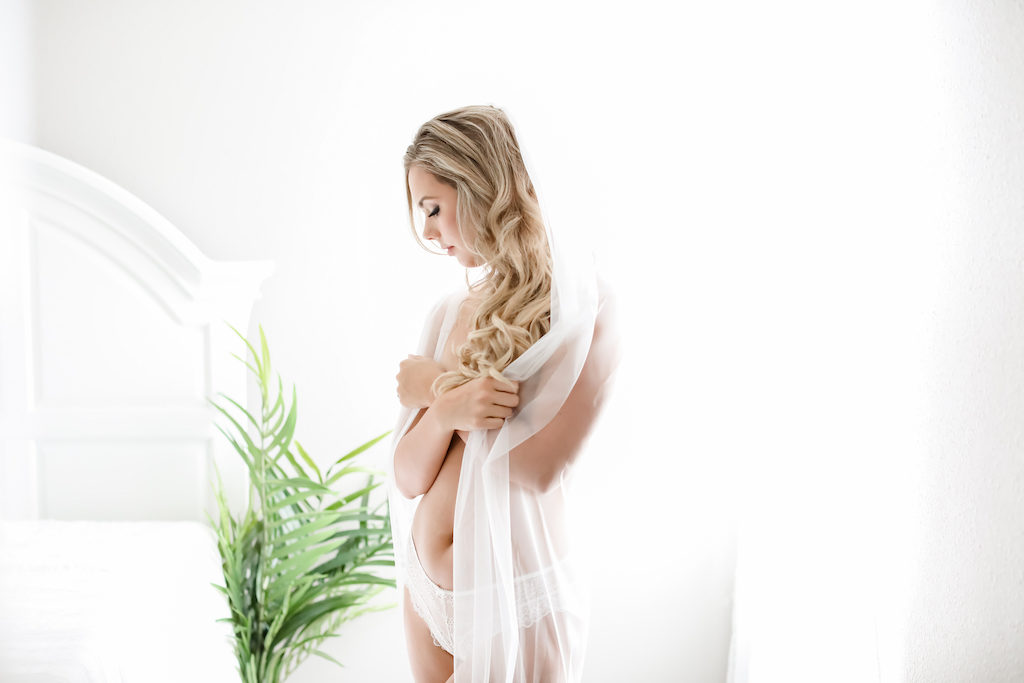 What preparation do you recommend prior to the shoot?
Christina of Luxe Light Images shares:
I give all my clients the "Luxe Light Boudoir Guide." In the guide you'll find tons of info about your session, prepping, what to bring and how the whole process works. I also chat with them to plan a session that is 100% tailored to them! A few tips I have are to save makeup looks you love, inspirational photos, and not to over-tan your skin!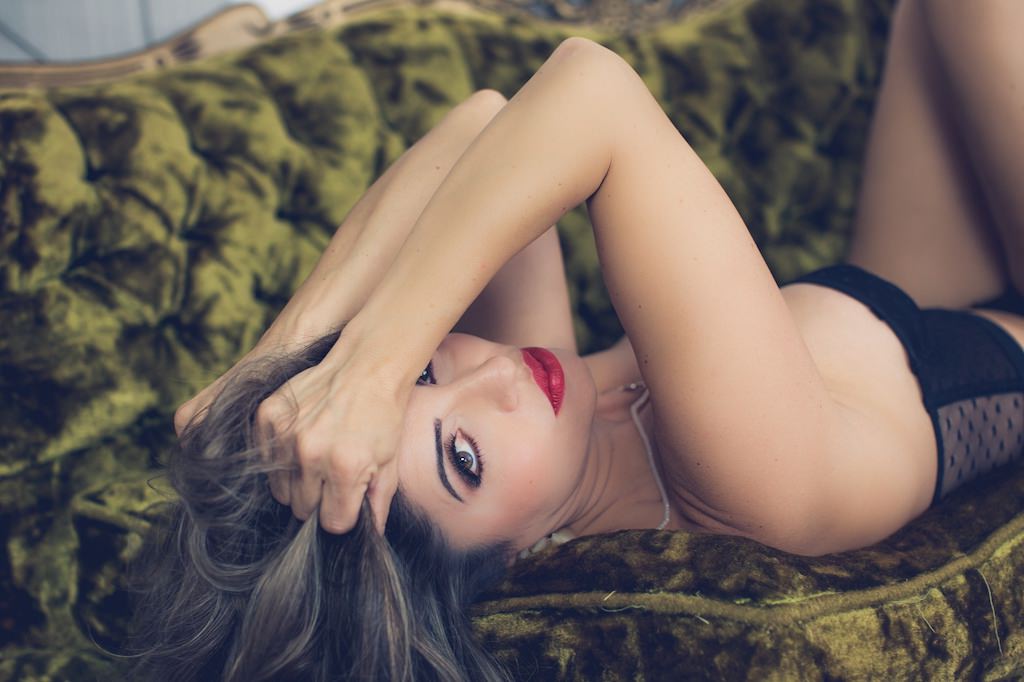 Luxe Light Images
What should I look for in a boudoir photographer?
Annika of Ma Cherie Studios explains:
Look for a connection! Boudoir is intimate and personal, so make sure you have a connection with whom you work with. Meaning, that their style of shooting speaks to you, that their "why" for shooting boudoir resonates with you, and that they truly understand you and your specific reasons for doing a session. It will make your experience that much better, and ten times more personal!
Christina of Luxe Light Images advises:
Boudoir is a specialty and for that reason, I would only recommend doing a shoot with a true boudoir photographer. Also, most boudoir photographers have a specific style: dark and sultry or soft and bright. Make sure you contact and book with one who has a style you love. These types of shoots are intimate, so you want to feel very comfortable with the person you choose. Make sure your personalities match up before you book. Be prepared to save your session with a deposit because most higher-end boudoir photographers book up quickly and won't hold a session date without a retainer.
Lifelong Photography Studio adds:
Women who specialize in posing women. It's also nice to have a private space where you can feel comfortable and relax.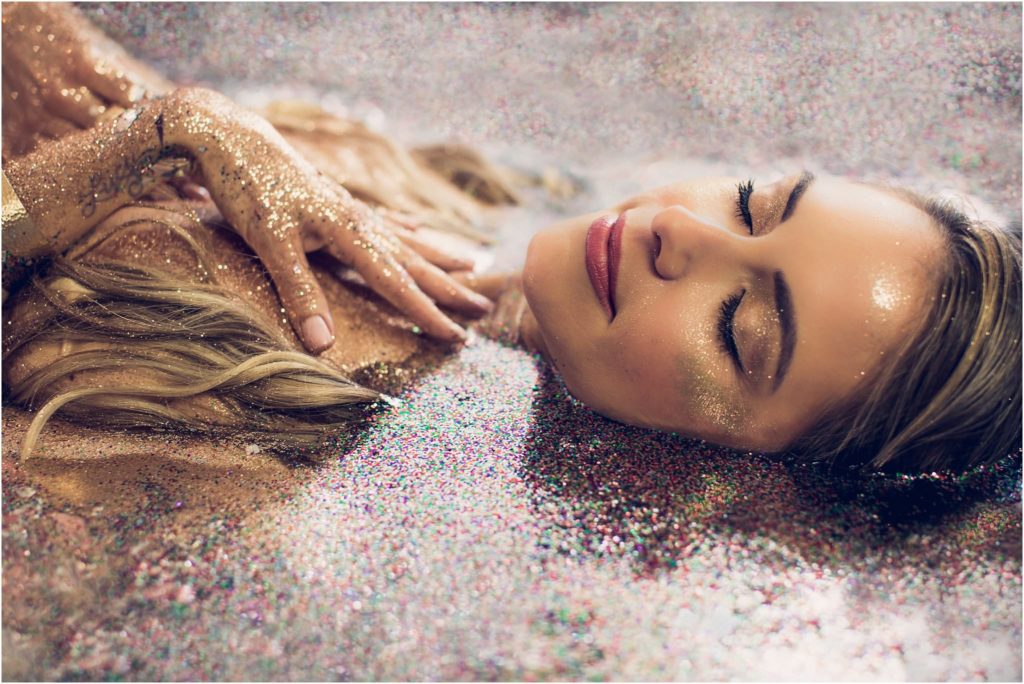 Luxe Light Images
What do I do with photos after the shoot?
Christina of Luxe Light Images shares:
You've planned your session, found your perfect boudoir photographer, the date is saved, and you're about to see the most gorgeous photos ever taken of you. Whatever will you do with them?! There are so many options. Don't shy away from wall art in your bedroom, bathroom, or closet. You can choose the more artful body shots for wall art and get a boost of confidence every day when you get ready. The most popular ways to showcase your gorgeous photos are in an heirloom album or print box. These beautiful products are customizable and fit almost every budget and style. If you're still not sure what you'd love most, don't worry about it. When you head to your reveal session your photographer will show you the options and help you make a perfect choice! Professional ones are skilled in the art of boudoir and that's why you chose them!