Katie and Alex's nature-inspired Tampa Bay wedding combined their love for the outdoors with an organically chic vibe. From the signature cocktails to the outdoor tented reception, this sweet celebration was overflowing with beauty and elegance.
When selecting a wedding photographer to capture their big day the couple wanted someone who made them feel at ease.
"We were looking for someone who really knew how to carry themselves professionally, but also someone that made us feel comfortable in front of the camera," the bride shared. "Gaby from Lifelong Photography Studio was exactly that! She was so wonderful to work with, and her style was exactly what we were looking for. We wanted our photos to capture the raw feelings and special moments of that day so that far in the future we will be able to look back and relive those feelings time and time again."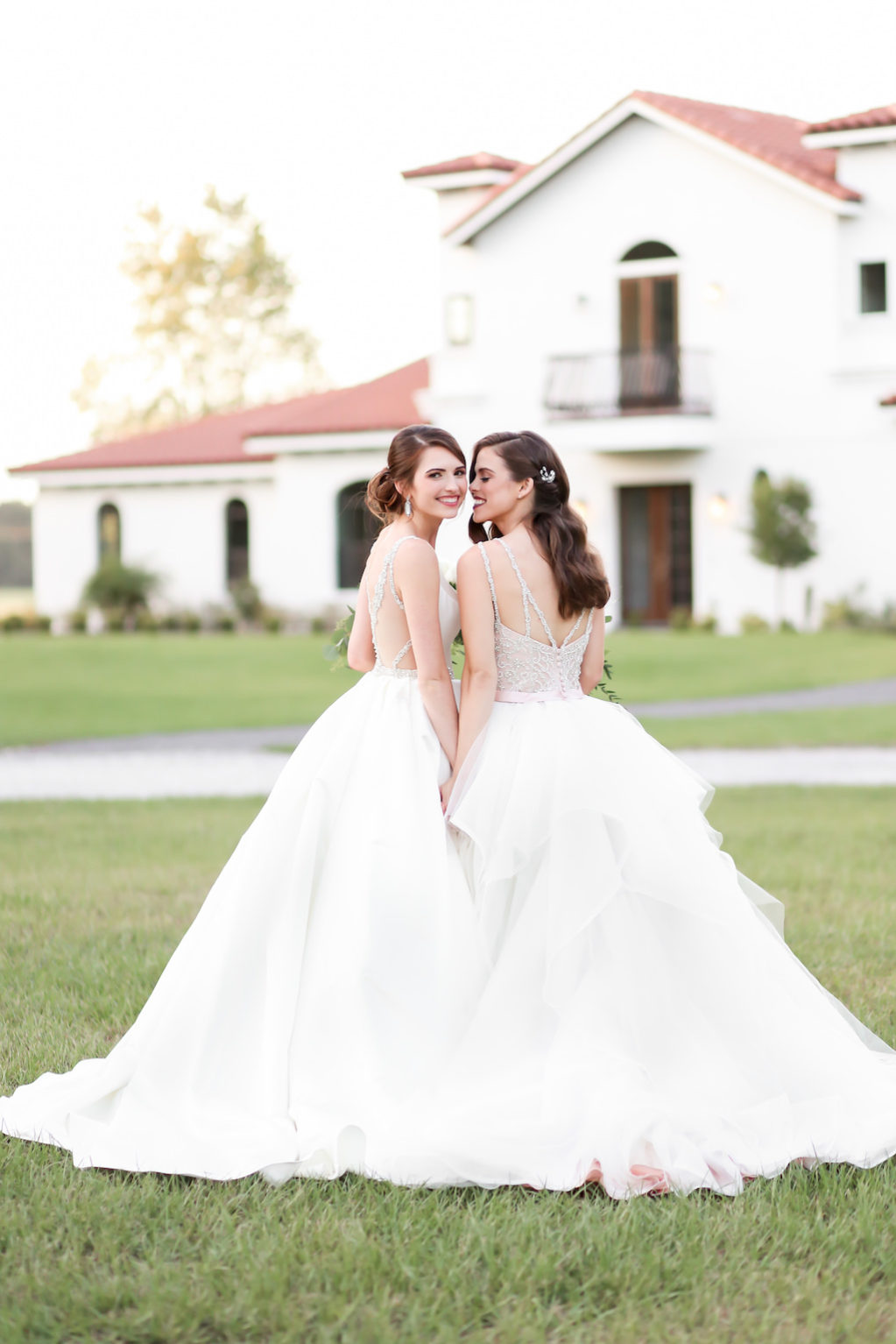 ---
Keriann and Jeremy's whimsical downtown Tampa wedding was a vision of winter bliss with rustic Manzanita centerpieces, twinkling lights and plenty of sparkles. Looking for a laid-back photographer who could help them feel at ease in front of the camera, the Florida natives looked to Grind & Press Photography.
"Most importantly, we wanted someone who could capture our personalities in a natural way. We loved the look and feel of Grind & Press Photography and felt like it would mirror our personalities perfectly," the bride explained. "Ashley was amazing and exactly what we were looking for in a photographer. She had this effortless way of truly making us feel like ourselves. We had so much fun during our engagement and wedding photos and our pictures turned out beautiful."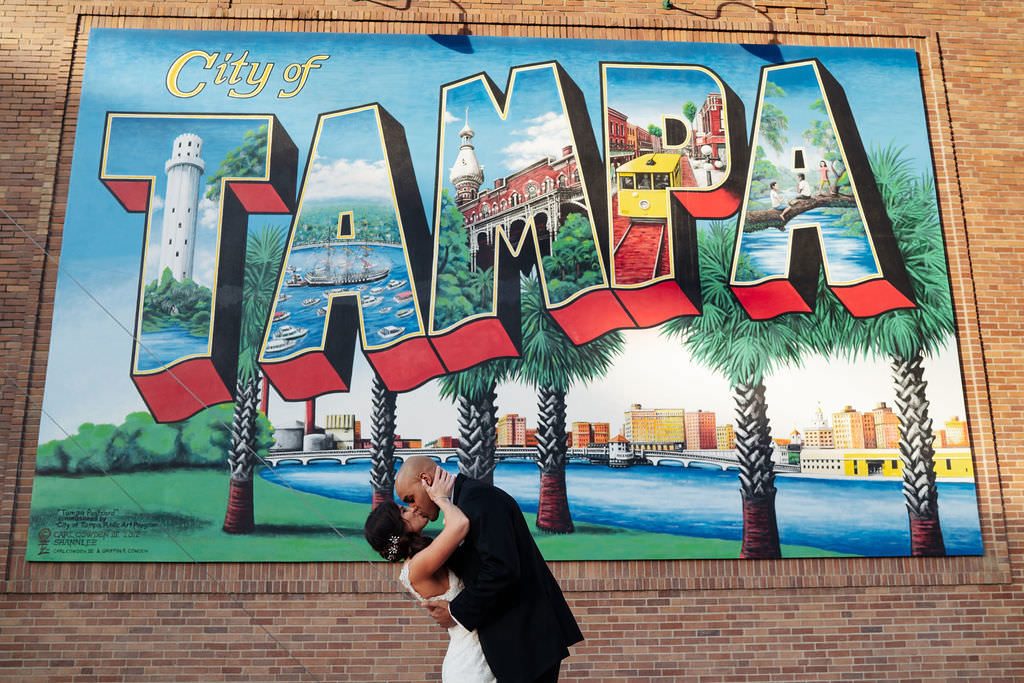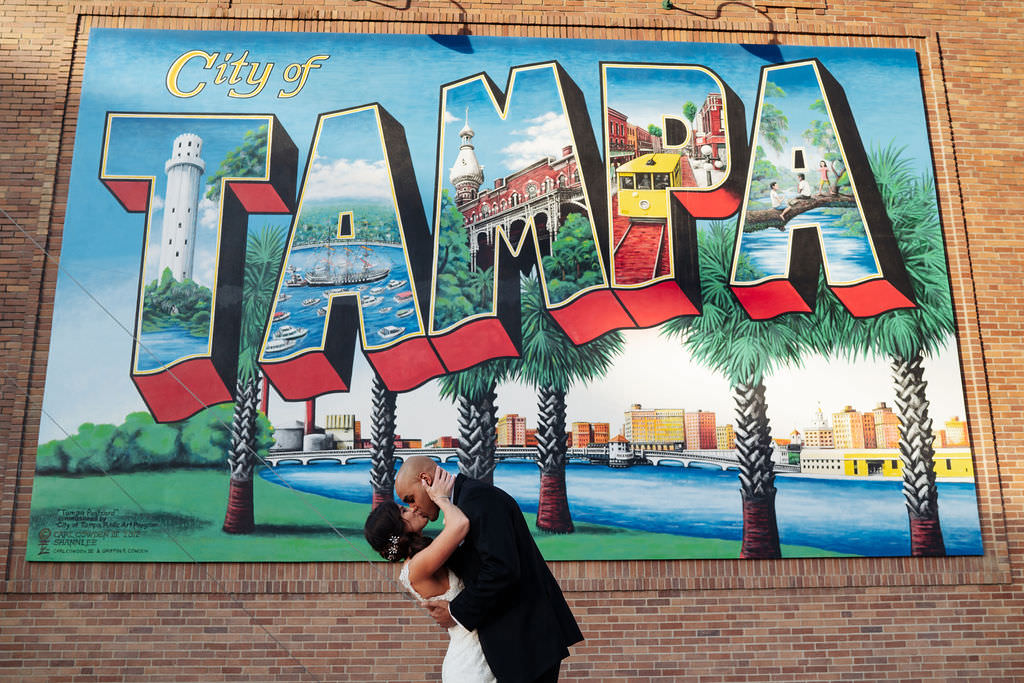 ---
Nothing says romantic like pastel hues, and Anita and Rabbie's downtown St. Pete wedding combined rustic and modern elements creating a unique vibe.
The couple invested a lot of time researching St. Pete wedding photographers and selected Kéra Photography.
"I loved Kéra's photography style, and after speaking with her on the phone I was decided. She ended up being one of the sweetest people I've ever met, and I loved having her as our photographer," the bride shared. "Kéra Photography exceeded our expectations. I felt like she went out of her way to make us happy and help things run smoothly, and made us feel special on our day."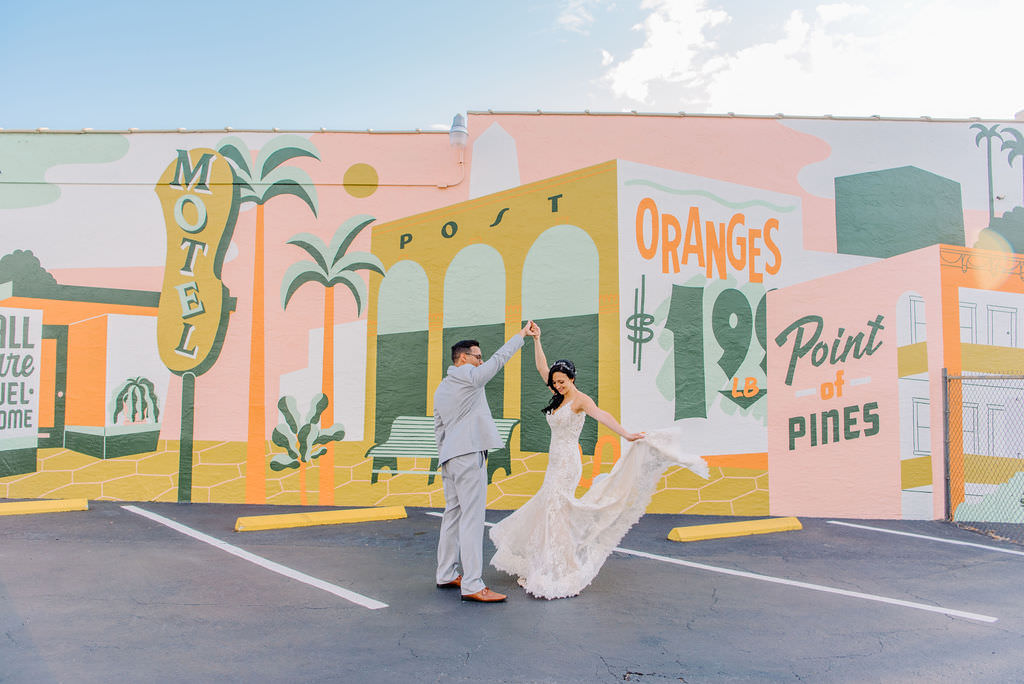 ---
Brittany and Carl's romantic Tampa Heights wedding dazzled from top to bottom with gorgeous gold details, tall geometric floral centerpieces, and sweet personal details that represented the bride and groom's quirky personalities.
Searching for a Tampa wedding photographer with a great personality who could help them capture every special detail, the bride and groom hired Carrie Wildes Photography.
"When I met with Carrie she was so kind and easy-going! I knew we would work well together come the day of the wedding," the bride beamed. "She was calm and organized and didn't push us to do anything we weren't comfortable doing. Our pictures looked natural and timeless. I would highly recommend her to any bride!"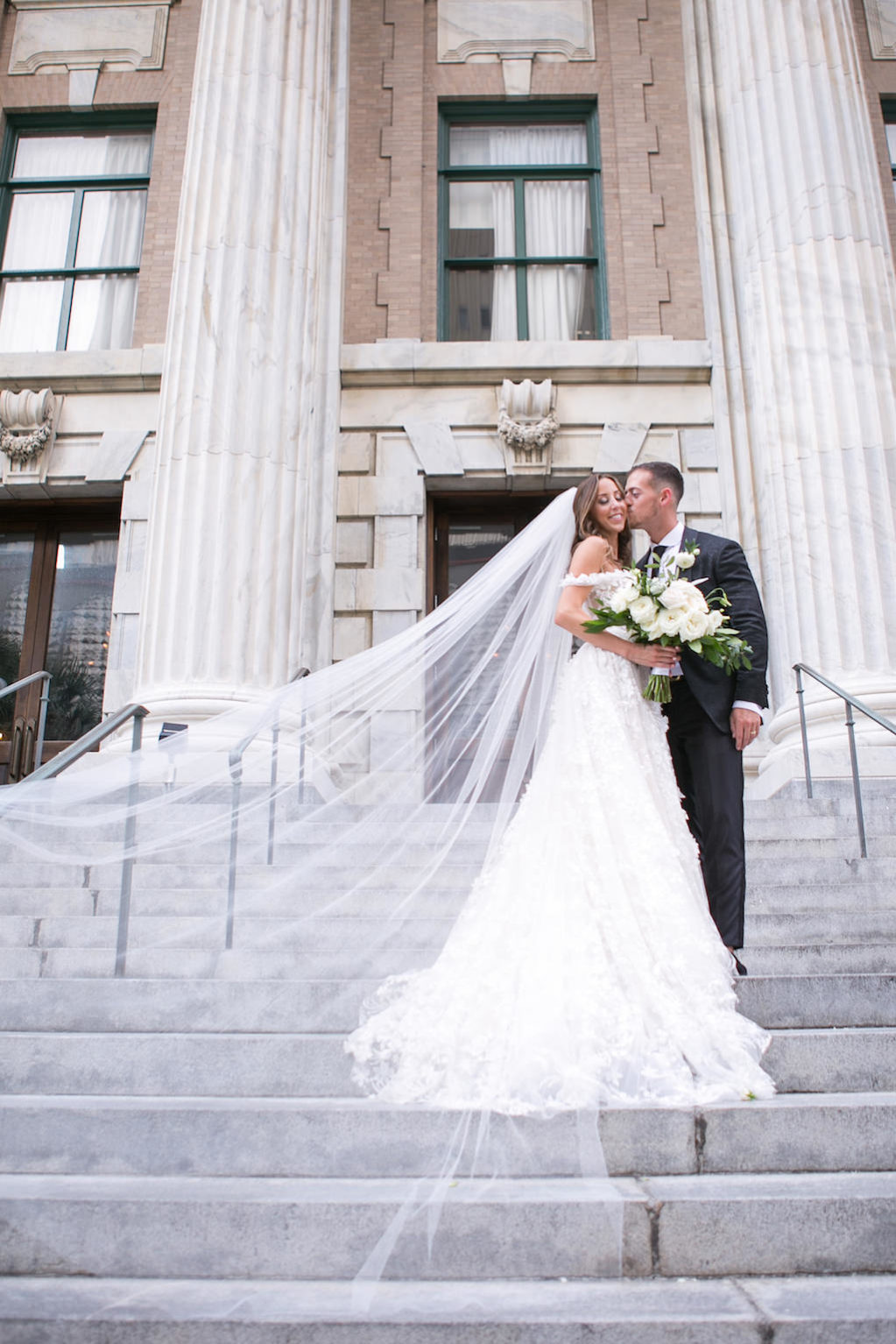 Carrie Wildes Photography | Isabel O'Neil Bridal Collection | IQ Beauty | Femme Akoi Beauty Studio
---
Emma and Alan's Clearwater wedding was a stunning springtime celebration that incorporated vintage vibes and bohemian beauty to reflect the couple's ten-year love story.
While researching Tampa wedding photographers, the couple looked for a bright and airy style of photography that would leave a timeless effect.
"Shauna and Jordon Photography were an absolute blessing to have throughout the wedding experience. A few of my mutual friends had tagged Shauna via Instagram, so that is where I first caught sight of their work. Then I noticed they did a Harborside Chapel photo shoot and that's when I knew they were right for us," Emma gushed. "Their service is unbelievable, over the top, and more than just a photographer. I would text Shauna any concerns (regarding anything with the wedding) for the 18 months of engagement leading up to the big day. They were calm when we were stressed; they reminded us of the importance of taking time to ourselves on the busy day, and they helped manage anything we needed during the day. Shauna even helped me into my dress as everyone else was too nervous to ruin it. I would pick Shauna and Jordon Photography again and again for anything we need in the future."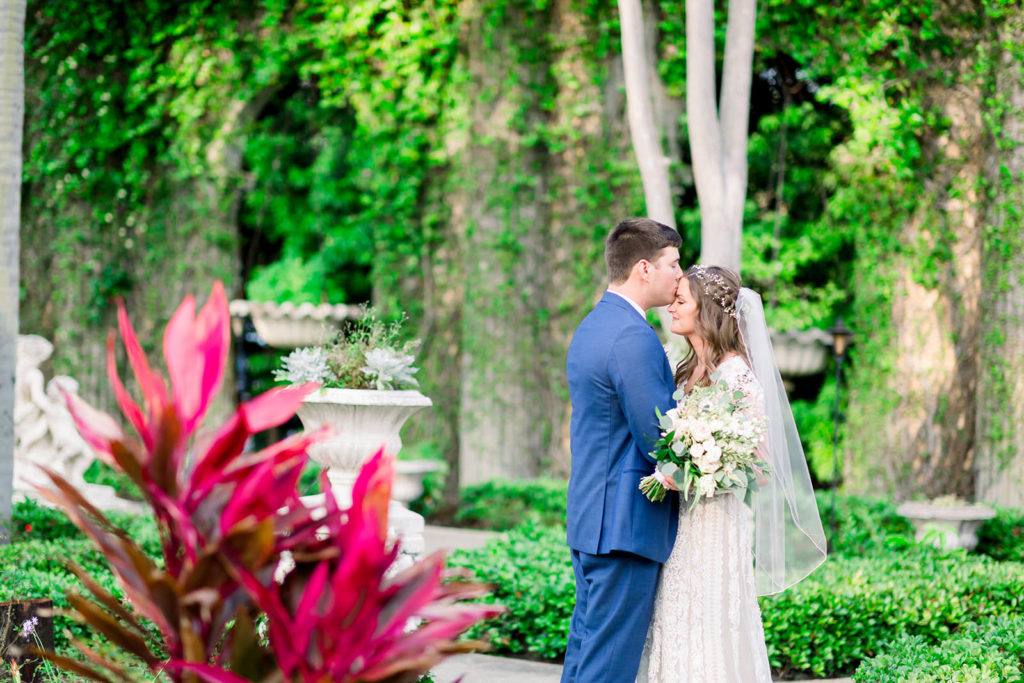 Shauna and Jordon Photography | Harborside Chapel | Femme Akoi Beauty Studio
---
Christina and Jason's waterfront Clearwater Beach wedding combined glamourous details with breathtaking views to capture their intimate celebration. With the sun shining down and the waves crashing on the Florida shore, this D.C. couple's destination Florida wedding dazzled with a navy blue, white and silver color palette.
As the big day approached, Christina knew she wanted a Clearwater Beach wedding photographer who could turn every detail into a story that the couple could look back on for years to come.
"We really wanted someone who could capture the emotion and beauty of the location and our big day," the bride explained. "Choosing Kéra of Kéra Photography was hands down the best investment I could have made. Her style of photography was exactly what we were looking for, and she really made our day special."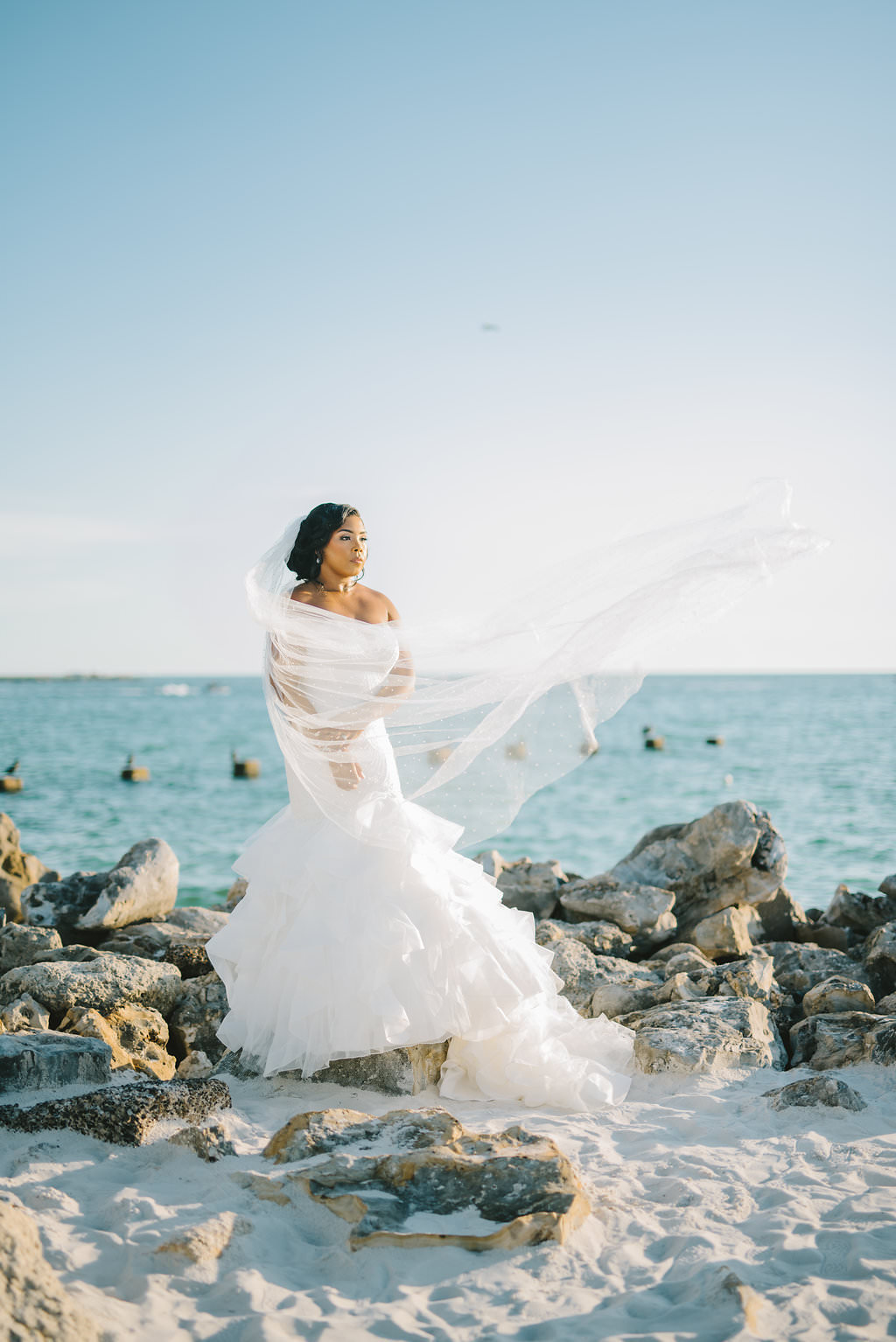 ---
Alicia and William's destination Dunedin wedding was a magical evening filled with tropical elegance that complemented their unique, but relaxed style.
Originally from the Tampa Bay area, Alicia sought a local wedding photographer who would help her and William relax in front of the camera.
"We primarily wanted someone who made us feel comfortable being ourselves," Alicia shared. "We had a great experience with Kristen of Kristen Marie Photography shooting our engagement photos and were excited to have her be part of our wedding day. She was highly professional but could still make us laugh, kept our day running on schedule, and even had preview photos ready for us the next day!"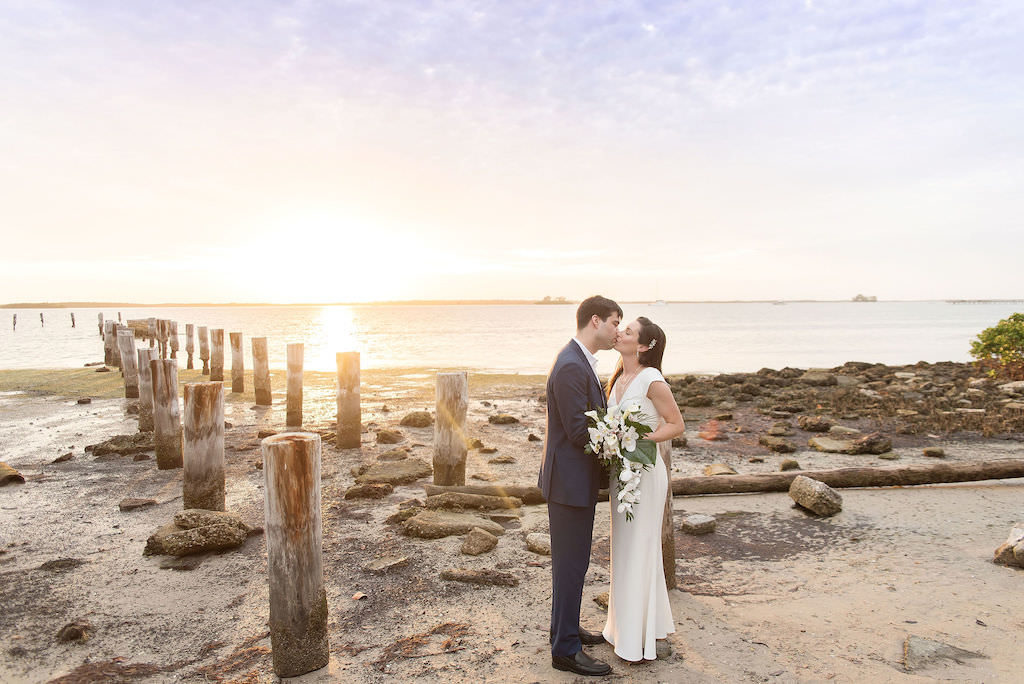 Kristen Marie Photography | Femme Akoi Beauty Studio
---
Casie and Ray's outdoor modern-chic Tampa wedding took things to a whole new level with a gorgeous tropical ceremony and reception at ZooTampa. With fall in the air, the bride and groom chose a rich jewel-toned color palette of burgundy and gold and served pumpkin beer to toast their special love.
From the start, the bride knew her longtime friend, Buffy, owner of Lifelong Photography Studios would capture every magical moment from her wedding day.
"I have known Buffy for a few years, and I knew that one day I wanted her to shoot my wedding. It was important to both Ray and me to work with photographers who could make everyone feel confident and comfortable in front of the camera, and Lifelong Photography did just that," the bride beamed. "The team was absolutely amazing and went way above and beyond to make sure that no moment was missed. We had three photographers, and every single one of them was absolutely fabulous. I honestly can't say enough great things about Buffy and her team."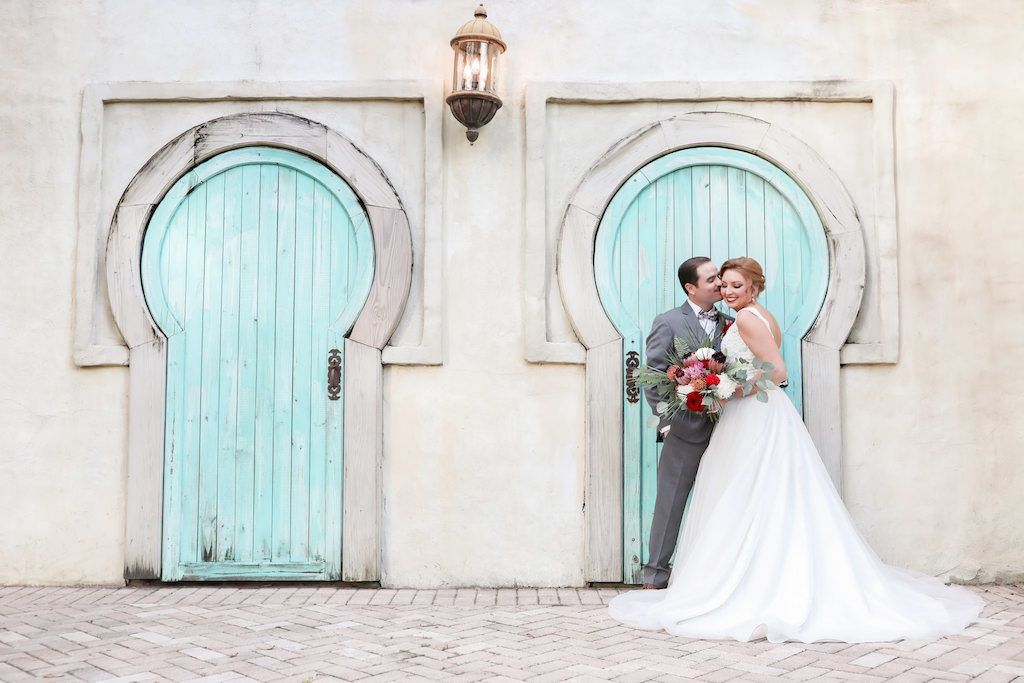 Lifelong Photography Studio | Michele Renee the Studio
---
Kelsey and Bobby's downtown St. Pete wedding was a beautiful blend of classic Christmas colors with a rustic-chic design that delivered a winter wonderland atmosphere.
The St. Pete couple envisioned hiring a St. Pete wedding photographer who would match their laidback energy while helping them look natural and effortless in front of the camera.
"Honestly, I wasn't sure what exactly I was looking for going into the meeting with Shauna and Jordon Photography. But within the first five minutes of talking with them, I knew 100% that they had the job. I mean, we just clicked. Although they're the type of people to pretty much 'click' with anyone, I like to think we're special," Kelsey beamed. "It just felt like we had been friends for years after our hour meeting."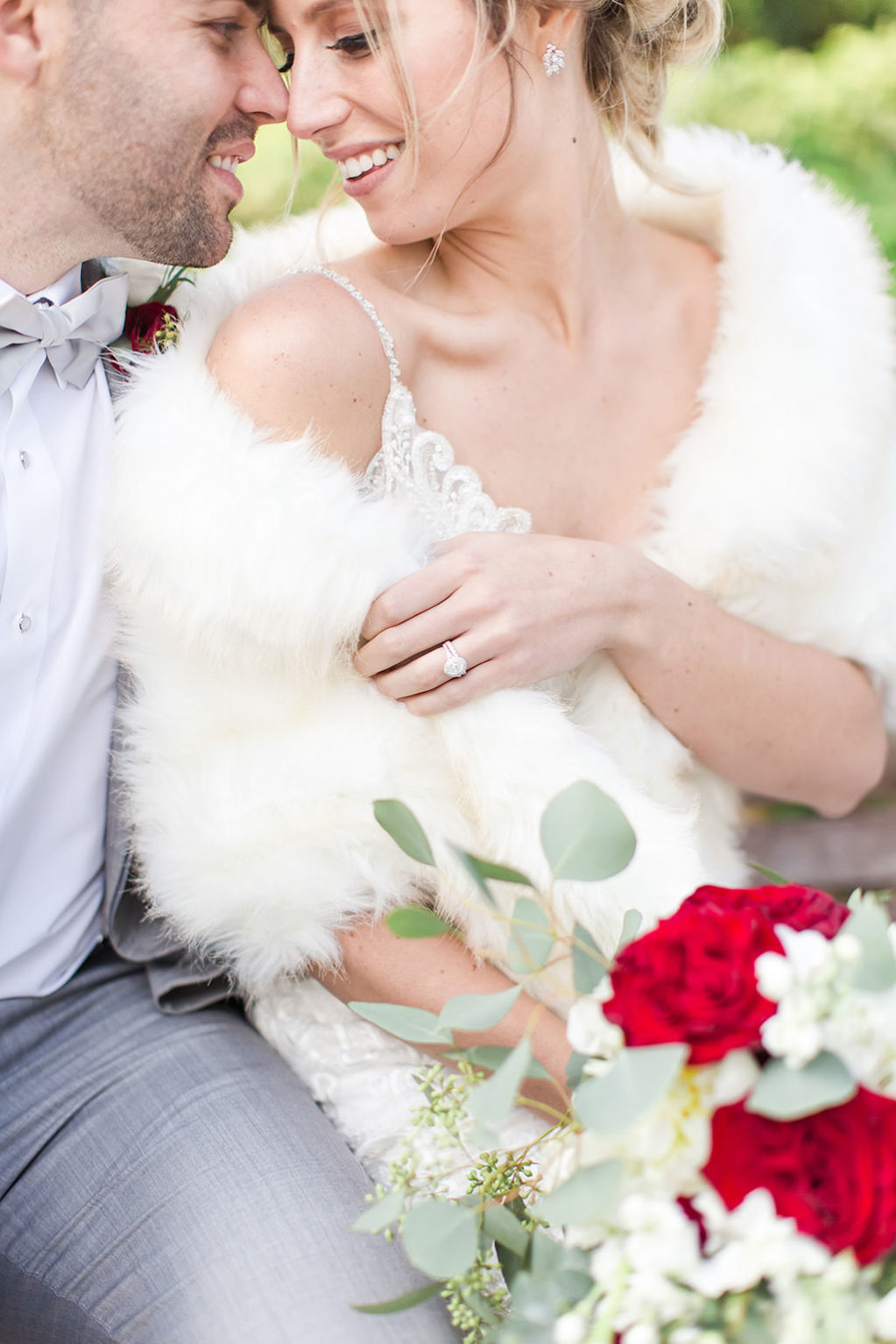 ---
Emily and Jay's South Tampa wedding combined the couple's love for Tampa Bay with their simplistic style which was intertwined throughout their waterfront celebration.
While dreaming of their perfect day, the bride and groom sought a Tampa wedding photographer who could make their photos feel lighthearted and effortless.
"I wanted someone who was fun and creative, and who could make us feel comfortable. My husband hates taking pictures so to capture real, genuine smiles and moments, I knew I needed someone who could make the hassle of taking pictures fun and easy," Emily shared. "I had seen Christina of Luxe Light Photography's work through many mutual friends and clients and have always admired her photos and ability to capture pure joy. Not to mention she came with outstanding reviews of how fun and easy she is to work with throughout the entire process. We used Luxe Light for our engagement photos as well, so we were definitely comfortable around her from the start! Christina's service goes above and beyond!"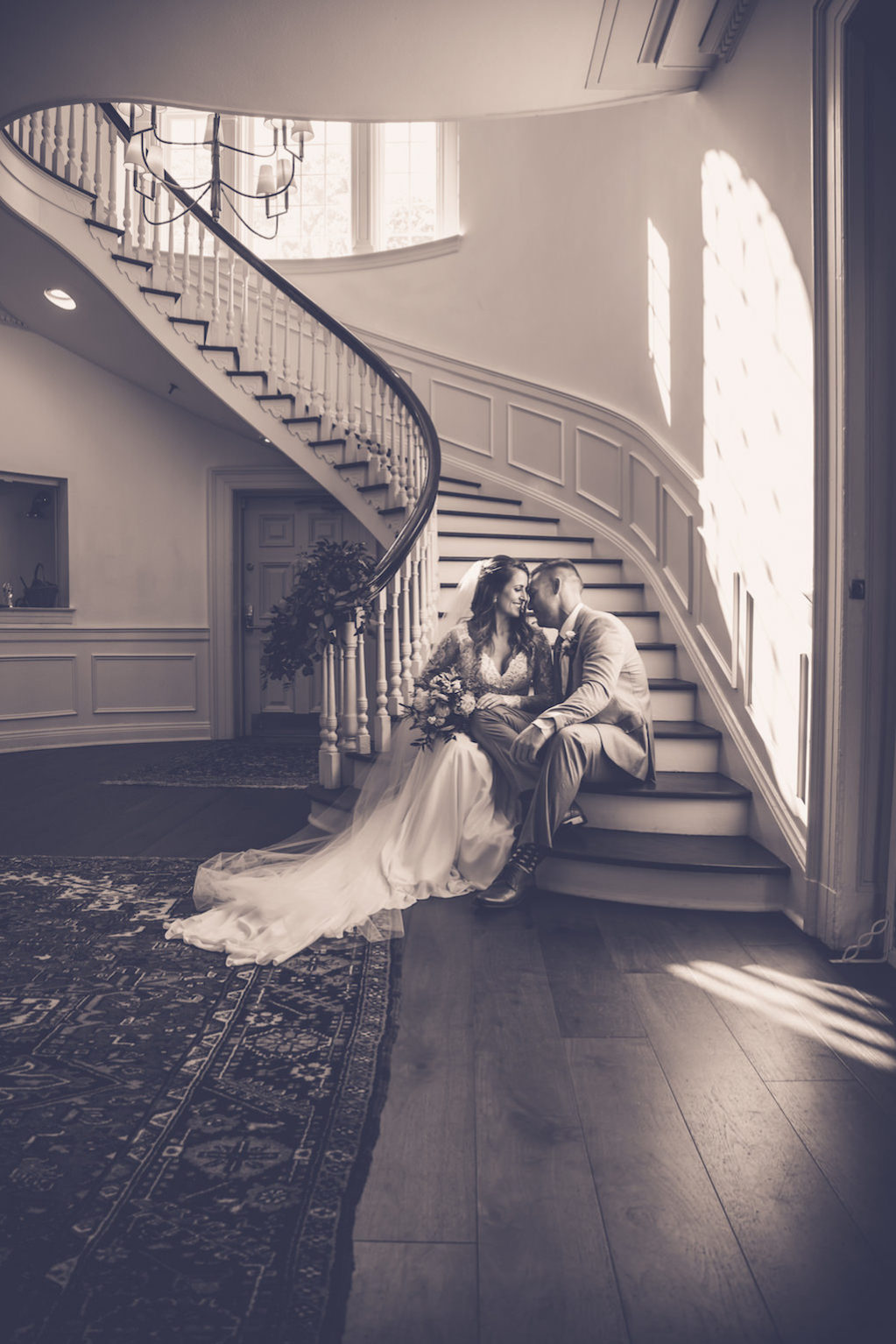 ---
It's not only our Marry Me Tampa Bay couples who take the stage in front of the camera, but it's also our furry friends as-well. We absolutely love this "Puppy Love" inspired dog styled shoot at downtown St. Pete wedding venue NOVA 535.
These adoptable dogs had a long day of modeling, which was caught on camera by Caroline & Evan Photography and Kemari Lyn Films.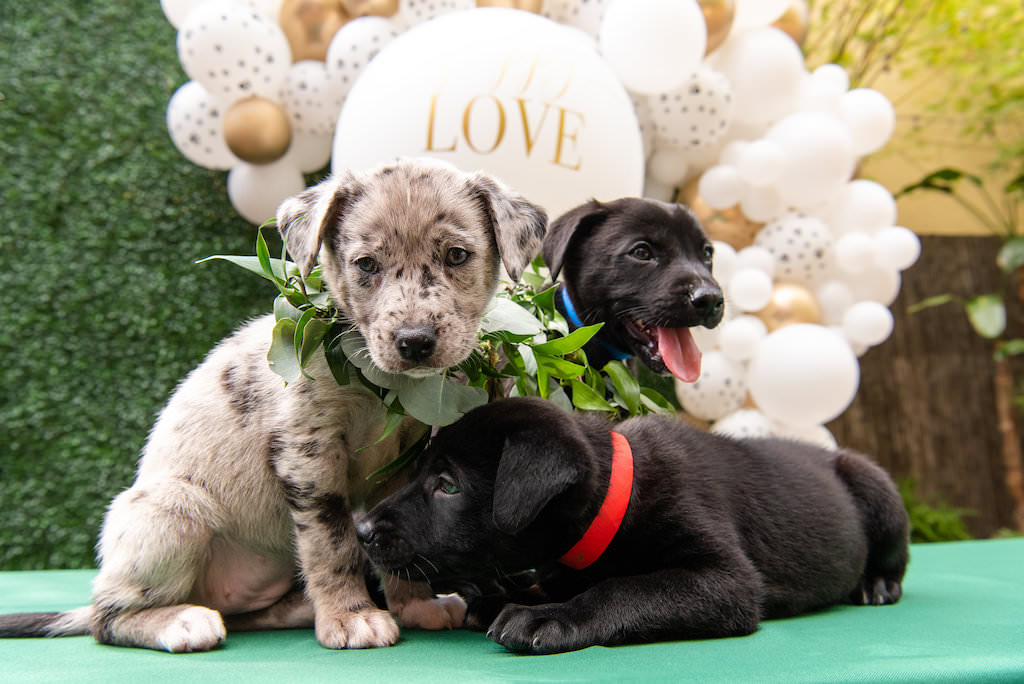 Caroline & Evan Photography | Kemari Lyn Films | NOVA 535 | Fairytail Pet Care