Most Tampa brides understand the importance of hiring a professional Tampa wedding photographer, but often reserving a wedding videographer can be an afterthought, or not considered at all. Nowadays, there are videos of anything and everything online, so doesn't it only make sense that you would want to capture the most important day of your life? 
The minute I saw my first well-edited ("well-edited" is the key word) wedding video, I knew that I had to make room in my budget for a Tampa wedding videographer. The timing of the music and the carefully chosen moments made me tear up (and I didn't even know the couple who was getting married!) If I felt that way about complete strangers, I knew it would be a mistake to not capture my own "I do's."
Read on to learn what one of my favorite Tampa wedding videographers Voila Cinematic wants Tampa brides to know when considering their wedding film.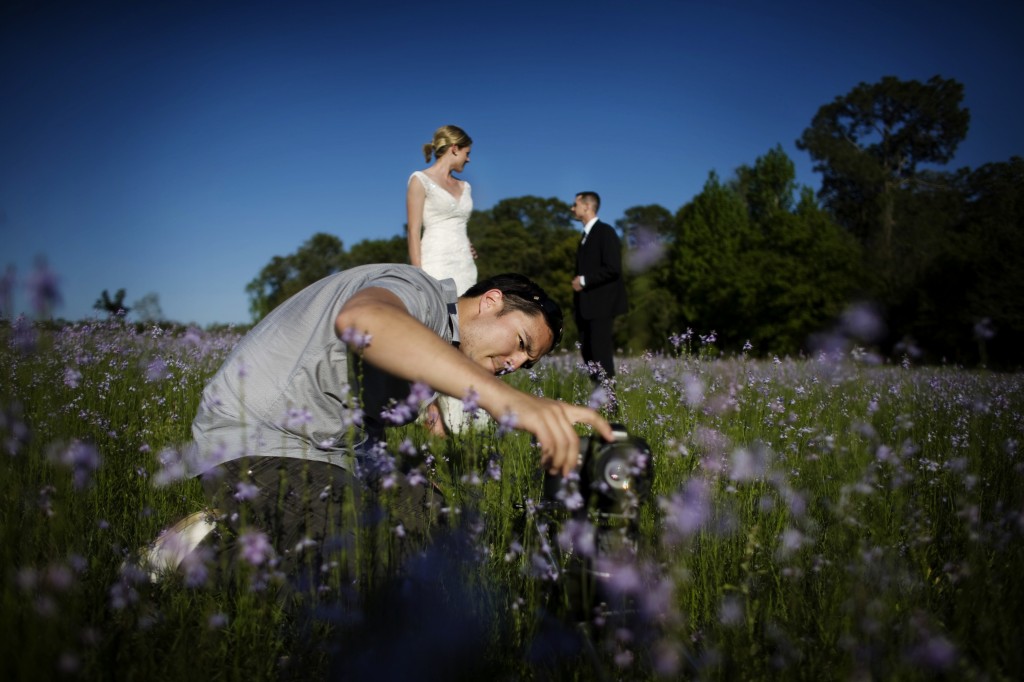 Voila Cinematic in action. Photo by Limelight Photography
As featured on Marry Me Tampa Bay
As wedding filmmakers, we are often told by brides that having a wedding film is "not a priority."
There are so many reasons why having a lasting film of the wedding day is extremely important and in our minds absolutely vital to reliving your special day forever.
1. Your wedding day will pass in a blur.
Moments such as the way you moved while dancing your first dance, your father walking you down the aisle, the sound of your quivering voice as you recite your vows can only be captured through video. These moments that create a wedding film will be watched by you, your children, and your grandchildren and will become so valuable to your family.
To quote one of our past brides, "I never realized how important my wedding film would become to me. My dad who was ill at the time of the wedding was not going to be able to walk me down the aisle. At the last minute he ended up walking me down the aisle. Having the film of that moment with my father and our other loved ones has been priceless to us."
2. Friends Don't Let Friends "Shoot" the Bride
We are often told by couples that they plan to have a friend film the wedding day. Shooting great wedding films is not something that just anyone can do. It takes a highly trained professional to execute all of the aspects of filming such an important day. Filming the most important day of your life is a huge responsibility to place on someone who has little to no knowledge of filmmaking. By hiring a professional, you are ensuring that every special moment will be captured, it will be quality footage and edited professionally, you will be able to hear the vows and toasts perfectly (something not easily accomplished without professional sound equipment) and you will give all of your guests the opportunity to celebrate your day without the added pressure of trying to be the videographer.
Maria + Andrew from Voila Cinematic on Vimeo.
3. Frozen Wedding Cake Only Lasts One Anniversary – A Wedding Video Lasts Forever
We sometimes hear couples say, "I'll never watch my wedding film." There have been a number of couples who have emailed to tell us that they have watched their wedding film countless times. In fact, most of our couples watch their films every year on their anniversaries.
It's true that you probably will not watch your film if you hire a company that is not adequately trained or if the company poorly edits the video. However, if you look at the cinematic styles that are offered today, you will easily see that contemporary wedding films are entertaining and timeless.
4. Your Wedding Guest List Can Be Endless With a Wedding Film
Our couples share their wedding films with everyone they know. We live in an interactive age. With outlets such as Facebook and email, couples are able to post their cinematic highlights online and email them to friends and family who might not have been able to make it on the actual wedding day.
Many couples display their films in digital picture frames. With today's technology, having a wedding film engages people in a way that no other media can.
Ellen + Eugene (A Last Minute Surprise) from Voila Cinematic on Vimeo.
5. Not Having a Wedding Video Is Often a Bride's Biggest Regret
Many of our couples come to meet with us because they have a friend who has told them how much they regret not having a film of their wedding. We hate to hear that anyone has any regrets regarding their wedding day. Consider the benefits of capturing your special day on film and find a quality professional who will give you the gift of reliving your wedding day anytime you wish!
One and Only from Voila Cinematic on Vimeo.
Husband and wife team Alex and Jocelyn Karas began Voila Cinematic in 2005 with a dream of leaving behind the mundane video styles of the past and bringing sophistication and art to the world of wedding films. While Alex shoots and edits the company's Signature collections, Jocelyn's artistic eye and love of people have become an asset to the company. Jocelyn produces the films, meets with potential clients, manages the teams, assists in editing, and is the company's writer. She certainly wears many hats! 
In 2013, Voila Cinematic is one of the most sought-after films companies in the southeast. The company has grown to consist of the Signature Collections by Alex and their three associate teams offering documentary style films.
To Jocelyn, Voila films are much more than using high tech equipment to put a picture on a screen. Our films enable our clients to capture moments forever that would otherwise be left to one's memories. "Watching a couple relive their wedding day through our work is a blessing unto itself. Knowing that countless other people will share their happiness by watching that film is one of the greatest joys we have even known."
Photo by Pezz Photo