I've worked with Andrea Layne Floral Designs for over three years, and and they never cease to amaze me with their creativity and passion for design. What I love about their floral design is that each wedding has its own unique look and isn't a cookie cutter approach.
Not only is owner Andrea an amazing creative, but she is also incredibly smart and organized, which really benefits her couples. I feel the decor category can be a difficult vendor to hire, because you are trusting that that wedding professional can correctly interpret your vision, but luckily this is where Andrea excels. She also has an extremely fine tuned workflow system so that her brides and grooms and any outside wedding vendors involved always know what to expect.
We've featured several Andrea Layne Floral Design weddings throughout the years, and we always hear the same feedback from her brides, that she was able stay within their floral and decor budget, but still exceed their expectations. I feel that's one of the most important qualities to look for in a Tampa Bay wedding florist.
One trait that I've always admired about Andrea is her heart and compassion for others. She's a huge advocate for couples donating their wedding flowers to Random Acts of Flowers and frequently volunteers for non-profits in the area.
We are so thrilled have such an amazing wedding professional part of the Marry Me Tampa Bay wedding community.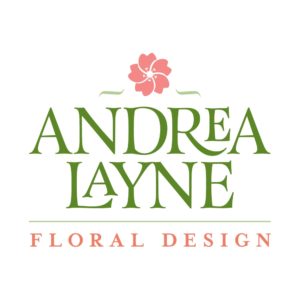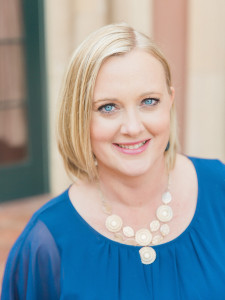 Email Andrea Layne Floral Design
Website | Facebook | Instagram | Pinterest
As Featured on Marry Me Tampa Bay
What inspired you to start your business?
I worked for over 10 years as an IT project manager and business consultant for some of the largest companies in the world. It was a fun job that took me all over the U.S. and to London for a six-month project, but it didn't give me an outlet for my creativity and the hours and travel were taxing on my personal life.
So when my husband approached me about a promotion for him that would allow me to change my career, I jumped at the opportunity. I met with a career coach and we figured out what I wanted in a job and what skills I had to bring to the table. During that time of personal assessment, I kept coming back to my love of art and design. I had studied for 18 months at the Art Institute of Denver toward a degree in Interior Design when I was younger. I was, and still am, obsessed with HGTV.
So, I started looking at design careers that were flexible with shorter project timelines and focused outcomes; that's when I discovered floral design. I took a few one week courses and offered up my services as an intern first and then a freelancer to a large design house in Tampa. After about a year, I took the plunge and launched Andrea Layne Floral Design.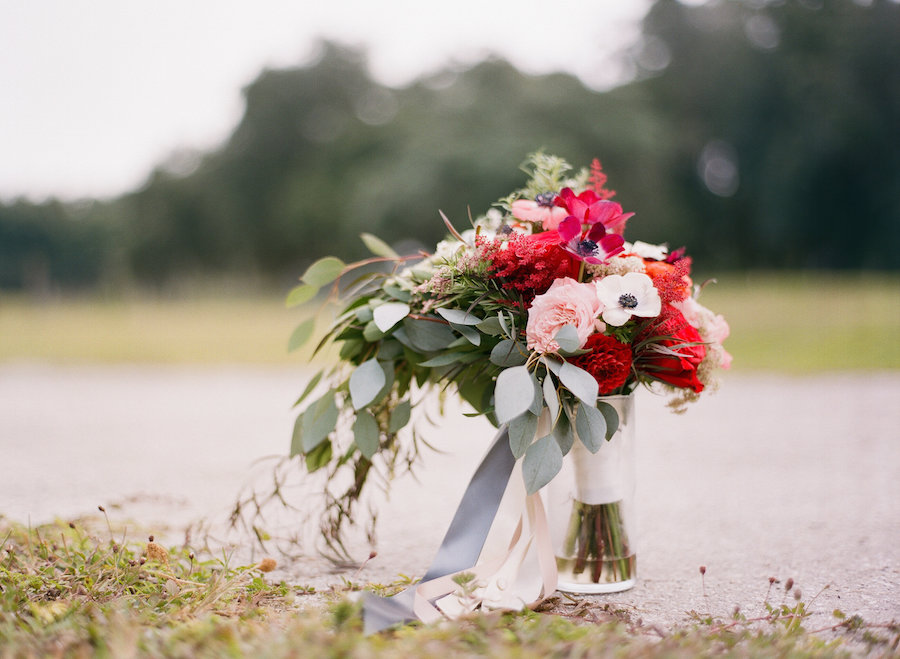 Where do you draw your inspiration?
I am a design chameleon, in that I adapt my personal creativity to meet each of my clients' unique themes, venues and color schemes. I love getting pictures from our brides as a starting point. Give me a scattered, cluttered Pinterest board of hundred's of pins and I can tell you what that bride's theme is and color story without hesitation.
We get so many reviews from our brides saying how they were impressed with how I could take in so many disparate concepts and come up with such focused designs. One even called me the "Flower Whisper!" I can also start a design with very little, a picture of a bouquet, a couple of favorite flowers, or even a description or picture of the bridal gown and bridesmaid dresses.
Oh, and I love using flowers when they are in season. If a bride comes to me in June, I am going to suggest adding in some dahlias to her design, or in March, I will suggest flowering branches.
What is one of your favorite things about being a wedding professional?
Working with other great wedding professionals. It is so fun to show up at a venue and there are my friends, working right along side of me. Or when I get to meet someone new and we click because we love weddings, and we want to make the bride's dreams come true.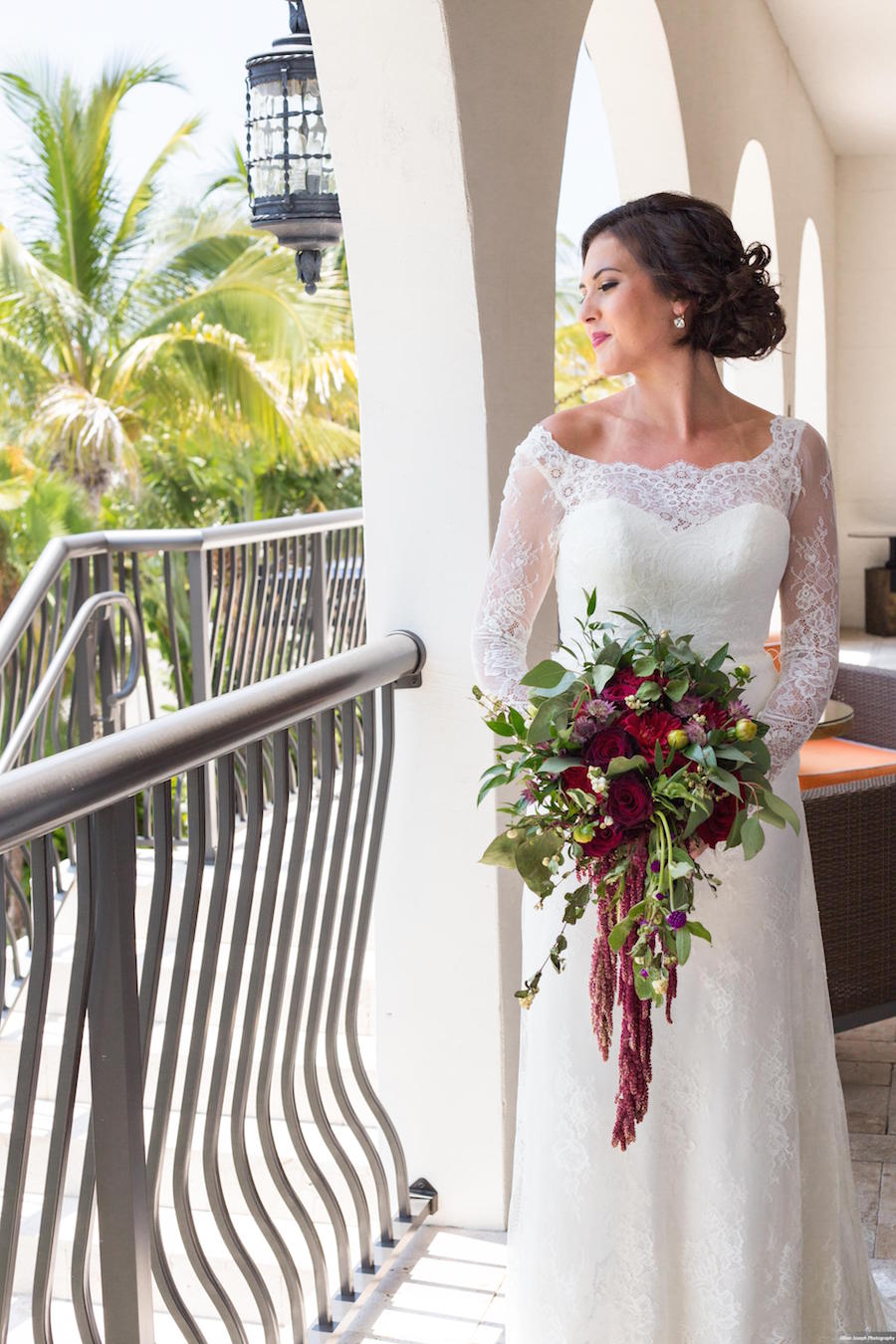 What makes your business stand out from other wedding florists?
There are multiple reasons that we have had so much success. First and foremost, we define everything up front with estimates and contracts with full descriptions, inspiration photos and detail views of flowers. Our clients know what they are getting up front, from the stem wrapping color, to the vases and votives selected for the reception. Our paperwork is the BEST in the industry!
Secondly, we are flexible. This isn't our wedding; it's the client's wedding! So we give our ideas and recommendations, but in the end our number one goal is to have a 100% satisfied customer who enjoyed working with us.
And lastly, we are not afraid to create anything. That adventurous spirit and thirst for applying new techniques is what keeps us in front of the trends.
What is one of your most memorable moments as a wedding florist?
My favorite moments have happened when I deliver the wedding bouquets to the bride while she is getting ready. Not only do I love getting to be a part of the excitement and anticipation of what is yet to come that day, but I get to present the most beautiful piece of floral art to my brides.
The reactions are always different and unique to that person. Some are bouncy and giddy, some are a little quiet, taking it all in, some are very thankful, with big hugs and lots of praise and some are overwhelmed with emotion.
My most memorable of these happened when I delivered Kristen's bouquets to her last November. I had wrapped the stem of her bridal bouquet with lace from her mother's dress and applied a brooch. When I pulled it out of the presentation box to show her, she burst into tears and laughter at the same time. She immediately hugged me and thanked me for taking the time and such care of her precious things. And then she sat down on the couch and looked at all of the details, pointing out flowers that she loved too. I have had reactions similar to this since then, but I will always remember Kristen's face and the gratitude she showed me that day.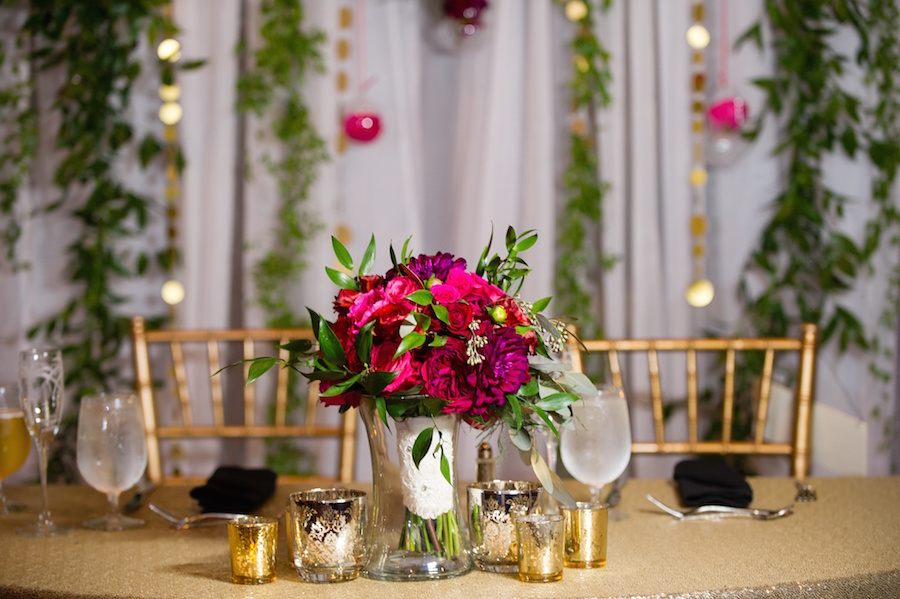 What are you most excited about in the upcoming year?
We have been in such tremendous growth these past five years. In 2016, I am looking forward to sitting in the groove and enjoying the hard work I put into building this business to the level it is at! That doesn't mean I will be resting on my laurels, oh no! It just means that vendors know me and trust my work. I have found the right mix of marketing to get to my target brides, so our schedule is more consistent and the quality of weddings we get to design are high!
What is one thing most couples would be surprised to know about you?
I grew up on a little farm on a dirt road on the Florida-Georgia boarder, just north of Tallahassee. We rode horses, raised cattle and grew our own vegetables. My life since I left home at 17 has been very urban and now very suburban. I have been blessed to have lots of life experiences and have sought out many adventures, which have given me a strong understanding of art and culture. My humble beginnings are part of my warm personality and my strong work ethic.
What is one of your passions, non-wedding related?
I am very passionate about giving back. I have been a member of the Junior League of Tampa for almost 10 years. I currently serve on the Executive Board. Our mission is to promote voluntarism, develop the potential of women, and improve communities through effective action and leadership of trained volunteers. We are committed to helping break the cycle of poverty for Tampa's most disadvantaged children and families. I give not only a ton of my time and intellectual capital to our projects and programs, but I also make donations, both monetary and in-kind products and services to this amazing organization.
In addition, I also donate my time, inventory and flowers (at wholesale prices) to help produce non-profit events. The best example of this work has been with the Heart Gallery of Tampa Bay's Be Mine Gala, that raises funds to help find foster children forever homes. I have served on the event committee as a chair for the last three years, not only directing the event design, but also executing the vision. We also make monetary donations to this award-winning non-profit.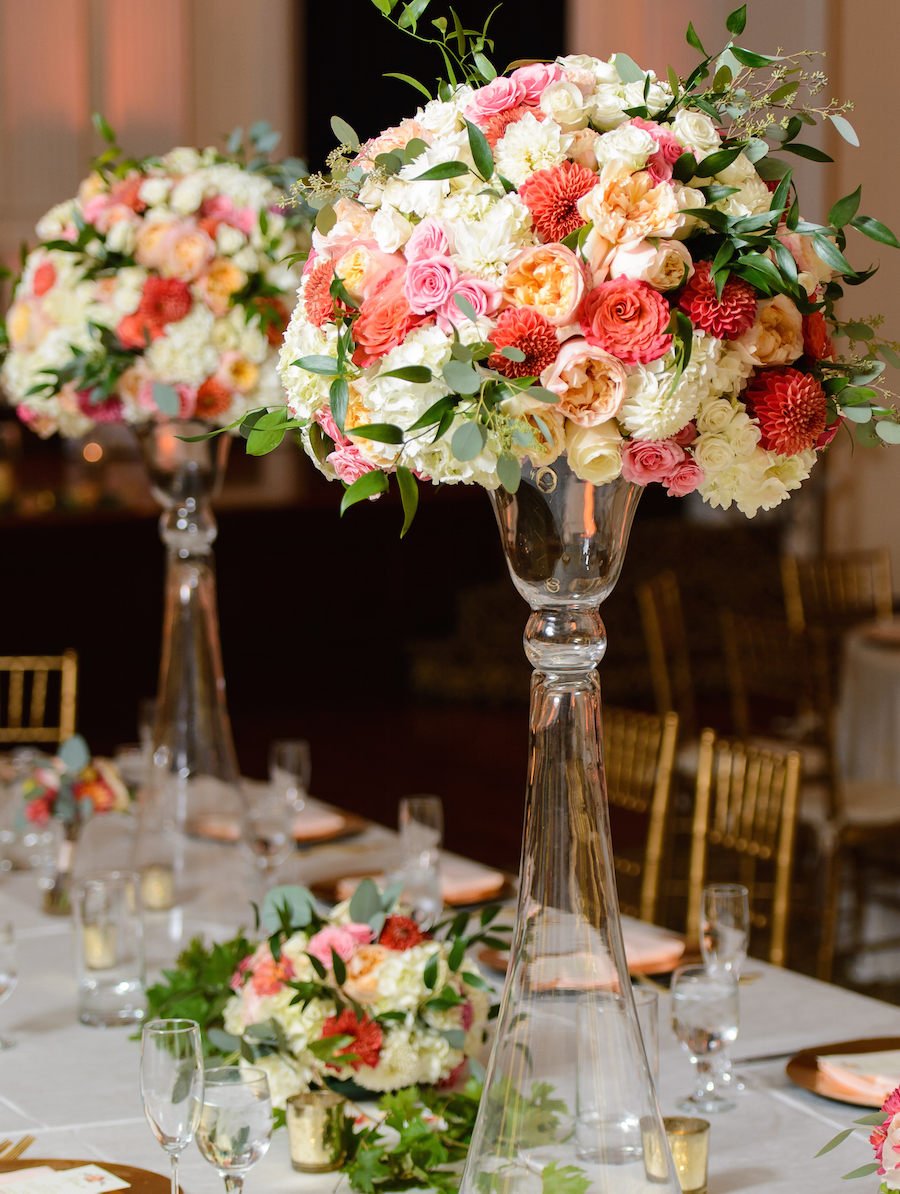 In your opinion, what is a MUST HAVE at every wedding?
Please please please hire a wedding planner! They make everything better for everyone. I am very blessed that 90% of my weddings have planners involved in some way, either as a full-time planner or a month-of planner. The weddings I work that have planners run smoother. They provide detail timelines, info on other vendors, connection to the bride, groom or other parties related to the wedding and overall an vision for the wedding, and that's just what they do for me, as a vendor.
For the brides, wedding planners are the rock; the person who knows just what to do or just who to call. They take care of the things that are happening to make the wedding happen, so the couple and their family don't have to. It is a gift every bride should give to herself (or himself)!
What is the best piece of advice you can give to a bride who is searching for a wedding florist?
Trust is the most important component for your relationship with your designer. So first do your homework! Ask for referrals from your other vendors. Check out the website, Facebook page, Instagram feed and online reviews in Wedding Wire and The Knot. These will help you know if the floral designer is current, what their style is and how they treat their brides.
Next, do a google search and see where their work is being published and how often. You want to hire a designer that is here to stay and is up on current designs, with their work being featured. You want to hire a designer who you not only admire their work, but has stellar reviews.
Lastly, meet with your designer in-person to see how well you get along, how they have prepped for the meeting and how well the understand your concept and your budget. This will help you know if they are right for you.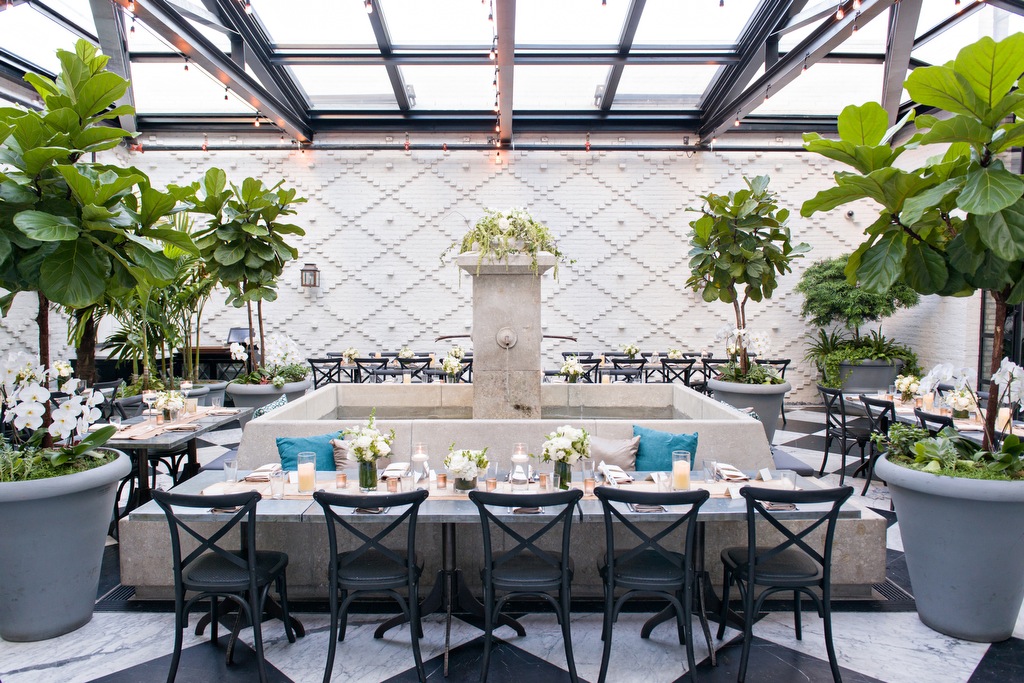 "Andrea was amazing from start to finish. I would get married all over again just to use her services! I loved how she helped interpret our ideas in the form of visuals with the use of photos and Pinterest pins. For us, not knowing much about flowers, this really helped bring our ideas to life! She was extremely flexible and open to change as our budget fluctuated up and down and was more than accommodating when it came to making small tweaks to help with the overall cost." -Previous Bride Brittany: Vintage 1920's Sarasota Destination Wedding | Ca d'Zan Mansion
"[I looked] for someone who could clearly understand my vision, and help me to get there. I spoke with a lot of florists who told me that my vision was bigger than my budget. Andrea never once told me that I couldn't get what I want. Instead, she told me how." -Previous Bride Emily: Blue, Blush, and Silver "Classic Romance" Tampa Wedding | The Centre Club
"I wanted a florist who could really understand my vision. My problem was that I didn't even know my vision, so I needed someone who could get to know me, listen to my ideas and be able to translate that into the floral design. Andrea exceeded my expectations with her her design, honesty and awareness of my budget  She was able to create my vision!" -Previous Bride Kimberly: Gold & Green Sophisticated Southern Oxford Exchange Wedding