Katelyn and Marcus' downtown Tampa wedding featured a waterfront celebration set against the Tampa skyline, combining classic neutral flora and greenery with classic monochromatic hues for a timeless celebration along the Hillsborough River.
"Our wedding theme was minimalist and modern. The minimalist idea, if done correctly, can also be elegant and classic, which is timeless," the bride shared. "Our colors were champagne, gold, black and white. I chose them to go with the minimalist and modern vibe. Those colors will never go out of style!"
The Tampa couple originally hail from Upstate New York, but now live locally, and they chose to showcase the Sunshine State to their 110 guests for a February wedding, an ideal month for its Spring-like weather.
"We always knew we wanted to get married in Tampa, and having the wedding here gave our family and friends a reason to come and experience the city that we've made home!"
Katelyn did extensive research online and used the free planning tools offered by Marry Me Tampa Bay.
"I absolutely loved Marry Me Tampa Bay and all of the ideas and inspiration they provided me. When I chose the Tampa River Center as our venue, I used Marry Me Tampa Bay's post and insight from past weddings at that venue to help plan our wedding. They were also super friendly and helpful in answering any wedding-related questions I had throughout the process!" the bride gushed. "I found the majority of my vendors through Instagram, and Marry Me Tampa Bay definitely helped to provide a lot of vendor resources. I located both my photographer Amber McWhorter Photography and my flower wall rental by Posy Exchange through Marry Me Tampa Bay."
The pair prioritized guest experience, valuing the importance of a skilled DJ and Master of Ceremonies who could make the day flow seamlessly and keep the party going during the reception.
"When hiring DJ services, I was looking for a company with a positive and fun reputation. It is always a good sign when the dance floor is never empty, and Eric with Graingertainment did not let us down!" Katelyn gushed. "The company as a whole was very easy to work with and communicated well with any changes that were made, and I feel like that is really important."
In addition to wanting to spend as much quality time with their friends and family as possible, the bride and groom also focused on their wedding menu, so each that guest would enjoy a delicious dinner (and give them the energy to party all night long!) They selected Amici's Catered Cuisine for its delectable offerings and attentive service.
"Marcus and I are both fun and energetic individuals. We made our cocktail hour an hour and a half, which gave our guests and ourselves more time to enjoy the party! Marcus also wanted to ensure no guest left hungry, so we opted for a buffet-style dinner," Katelyn reasoned. "We wanted a caterer with a good reputation and a variety of different food options. We chose Amici's Catered Cuisine because we had a really good experience with our food tasting, and the quality of food was great. The service they provided on our wedding day was exemplary. Their staff was very nice and made sure to make us feel extra special on our wedding day. We received so many food compliments from our guests!"
Katelyn's bridal gown from Truly Forever Bridal embodied her classic style, featuring delicately embroidered beadwork with an understated skirt and train. She envisioned a hair and makeup look that elevated her natural features, with loose curls and subtle flesh-toned cheeks and lips courtesy of the artists at Femme Akoi Beauty Studio.
The bride's modern-minimalist wedding style was translated into the wedding décor through the use of specialty chairs and charger plates provided by Gabro Event Services. The subtle gold accents elevated the neutral palette and add warmth to the space.
Known for her eye for candid snapshots and a talent for documenting each of her couple's true personalities. Amber of Amber McWhorter Photography artfully captured every detail.
"I wanted a photographer who was versatile and was able to capture genuine emotions. I chose Amber McWhorter Photography because I really liked Amber's style and editing technique. Once I met her for our engagement photos, I knew I made the right decision. Amber was so easy to work with and made us feel so comfortable," Katelyn raved. "I also really appreciate the candid photos; Amber does an amazing job at bringing couples' personalities to life through photos. She was absolutely amazing to work with, and I look forward to working more with her in the future!"
While reflecting on their special day, Katelyn recalls a standout moment from the ceremony that stood apart from all the other wedding day memories.
"Being pronounced husband and wife for the first time has to be the most memorable moment. It was definitely the best feeling being surrounded by all the people I love and marrying the love of my life!" the bride beamed.
The Proposal:
Marcus and I planned an impromptu trip to St. Croix for a weekend to visit his brother. On the second day of our trip, we went on a hike to Hams Bluff Lighthouse. When we reached the top where the lighthouse is the views were absolutely breathtaking. Marcus hired a photographer who was disguised as a fellow hiker, and she was able to capture the proposal on the bluff! It was the best day!
Where did you spend your honeymoon?
We spent our honeymoon in St. John and St. Thomas, USVI. We got engaged in St. Croix, USVI, and wanted to experience more of the U.S. Virgin Islands since it holds a special place in our hearts.
Where did you host your bachelorette party?
Las Vegas. We chose Vegas because of the numerous attractions and activities that we could do while we were there to make the most of our trip. We went in the beginning of October, and the weather was perfect!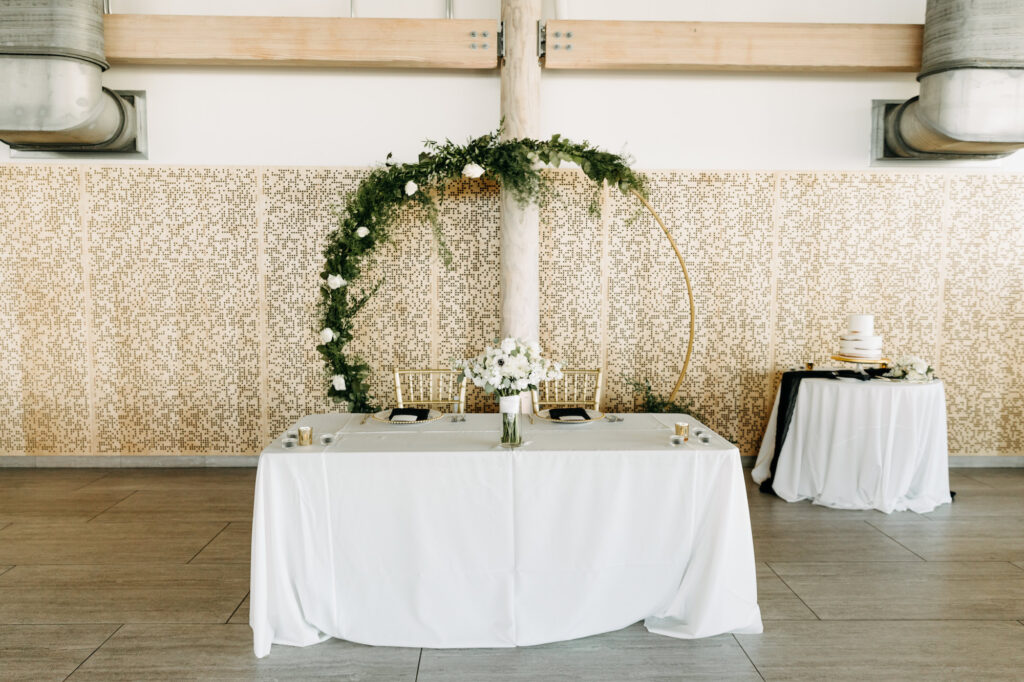 How would you describe your theme/wedding design inspiration?
Minimalist and modern. The minimalist idea, if done correctly, can also be elegant and classic, which is timeless.
What were your colors?
Champagne, gold, black and white. I chose them to go with the minimalist and modern vibe. Those colors will never go out of style!
Which vendors really exceeded your expectations?
My wedding planner was definitely a lifesaver throughout my wedding planning process and did not disappoint on our wedding day ! We also really enjoyed our flower wall. It was a great photo backdrop and brought all our guests together!
What advice would you give to other Tampa Bay couples?
Try not to stress over the little things when it comes to wedding planning and your wedding day. Things will definitely go wrong, so be prepared to improvise and surround yourself with supportive friends and family. A wedding planner is an absolute must!