Updated July 28, 2020 (Originally published March 26, 2020):
Although we're almost five months in with COVID-19 it's still a seesaw of emotions as to keep your current wedding date or postpone to 2021. Here's the latest advice from local wedding pros about postponing your 2020 Tampa Bay wedding.
When it comes to planning a wedding in 2020 you probably want to scream, cry, and pout. It's all acceptable emotions.
Now take a deep breath.
Remember, this is happening to every couple, everywhere.
I know it really stinks, but the sooner you realize that this is no one's fault and there is nothing that can be done, the sooner you can start transferring that negative energy to positive action.
"Postponing is more advantageous than canceling, you've already spent the money, you might as well push the wedding and get full use of your retainer fee," Dorelle Raphael-Fishkin, owner of Brides n' Blooms Designs shares.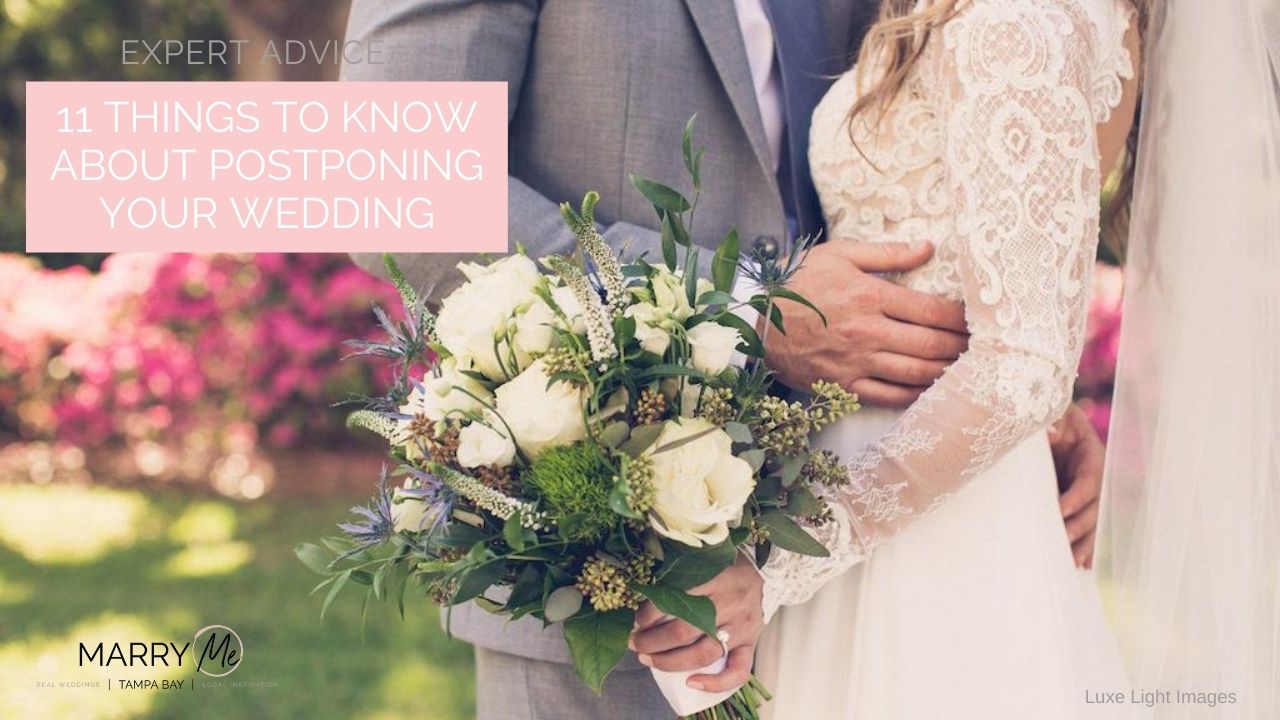 1. Consider an Intimate Wedding or Elopement
"There's something really special about enjoying an intimate ceremony or elopement, separate from a postponed reception. It strips away the frills and production that comes with a large scale event, and allows couples to truly celebrate the core reasons for getting married – declaring their love for one another and vowing to be there for each other – which is something to celebrate now more than ever! If you're postponing your celebration but still getting married in an intimate ceremony or elopement, consider hiring a videographer who can capture the event and also live stream it for those who cannot attend. Bonus: a beautifully edited highlight reel would be fun to broadcast and share at your future reception celebration! Once it's time for the big post-pandemic event, couples will feel less anxiety knowing half of the work is already done, there's no need for jitters, and they can party safely with all the friends and family they've missed for so long," Christi Winsor, owner of
Winsor Event Studio
, shares.
2. Don't Rely Soley on the Mainstream or Social Media for Updates about Florida
"Out-of-state news may not be giving you enough information of what is really happening locally in the area of your wedding in Florida. Communicate with your wedding vendors if you need reassurance on what is going on in the Florida area where you are getting married instead of always listening to social media," Tammy Waterman, owner of Special Moments Event Planning explains.
3. It's Not as Simple As It Once Was to Change Your Wedding Date
"A lot of vendors aren't going to have the same flexibility to postpone their event like we did back in the beginning of this pandemic. At this point local and state guidance is allowing us to hold events, and we've had the time to take that guidance and put it into action. It's a personal choice to postpone at this point. It's not an issue where we as a vendor can't accommodate you, so be prepared to be held to the usual terms of your vendors contracts regarding postponement. Also, don't be afraid to ask us questions! We are more than happy to talk about our specialized layouts and enhanced safety measures. We can do more than you think!" -Bridget Baker, Tampa Garden Club Director of Private Events, shares.
To learn your options first speak to your venue, but don't be alarmed if you get an "out of office" reply from your coordinator. Most hotels have furloughed their wedding staff since events are on hold. Most event directors are still available and receiving emails, so they should be in touch, but in the event you can't reach someone, contact us at [email protected], and we will try to help!
4. Saturdays May Not be an Option
While venues and vendors were more accommodating to reschedule couples in earlier, the backlog of spring and summer 2020 weddings creeping into 2021 gives fall 2020 couples even fewer dates to chose from should they choose to reschedule, so if you do decide to postpone you may need to consider a Friday or Sunday date, especially if you want to get married during "season," February-April or October-November.
"This largely depends on the company you are working with. Many of the popular Saturday dates will be filled. The further out you are willing to postpone, the more the Saturday dates come into play. Many will need to be proactive in this regard and all companies expect a pent-up demand once 'normal' behavior returns," Brandon Wheeler, owner of Gulf Beach Weddings, explains.
"Couples may have to be a little bit more flexible when it comes to dates and who they have for their vendors, due to the situation. In the end, no matter what, they will have a fabulous beautiful wedding that they will not forget!" Laura Detwiler, owner of Laura Detwiler Events adds.
Marry Me Tampa Bay Editor Anna Coats on WTSP
5. Check With All Your Vendors, Not Just Your Venue Before Changing Your Date
Although your venue may be available, vendors who can only perform one wedding per day may not be. Check with your photographer, planner, DJ, etc. before officially changing your new date.
"As soon as you begin discussing postponing your wedding, you should contact your vendors. Currently, our fall bookings are holding. Turn to your venue first and ask for a selection of dates for other booked vendors," Casey Grawien, owner of Tastes of Tampa Bay shares.
"We've had two couples forget to tell us they were rescheduling until we reached out to them. Luckily we were still available for their new date so it didn't cause any issues," Kelly Maronpot, owner of Fairytail Pet Care adds.
6. Expect to Lose Your Deposit if You Cancel
Trust us. Wedding vendors are just as devastated as you are that you have to postpone your wedding. It's not ideal for them either. However, if you have to cancel, it's likely will you NOT receive a refund.
Since Florida is currently operating on a 50% capacity rule with social distancing, they CAN still host your event. It's not the same as it was back in early Spring when venues were shut down.
Your contract should address cancellations and most do not provide any money back if you cancel, even in this situation, as wedding vendors are trying to keep their businesses afloat and simply cannot afford to pay out refunds. This is why it's so important to be flexible with postponing.
Remember this is not a one-off instance. This is affecting everyone, so vendors who would normally try to be accommodating in special circumstances simply can't make exceptions like they normally would. They're not being heartless; they're trying to survive.
"Thankfully almost all vendors are gracefully allowing our couples to switch the date at no cost, however, if that particular vendor is not available for the new date then our couples are losing deposits they had put down," Brittany Downey, Director of Marketing of Coastal Coordinating, shares.
7. Instances When You May Have to Pay More for Postponing
There a few scenarios when you may have to may pay more for postponing your wedding.
Most vendors do a majority of the work the day of your wedding, i.e. your photographer, caterer, and DJ, however, your planner does 80% of the work leading up to the wedding. Therefore, you may have to pay for additional hours of work associated with re-planning your wedding. While most planners are not charging clients to coordinate new dates with vendors, if you make a lot of design or timeline changes, you may be billed for those hours as that is additional hours of work that was not part of your initial contract.
If you go from an off-peak date/time to a peak date or time, your venue contract may be adjusted.
Couples who choose a summer date and now want an in-demand fall or spring date may be subject to higher minimums or additional fees that are charged during those busier times. On the flip side, if you move from a prime Saturday date to a weekday or Sunday date you may be able to negotiate a lower minimum.
While you may not have to pay your florist or caterer more for postponing your date, floral and food seasonality may be affected.
"In terms of costs being associated with postponing a wedding, we would not charge our clients any penalties for the unforeseen need to change dates. In fact, we will do all we can to stick with the originally agreed-upon budget. Our philosophy has always been that our customers come first, and we will do all we can to work with our clients to find creative solutions to changing dates and venues. That being said, we may need to talk about any necessary changes in the menu, due to any restrictions there may be with product availability," Melissa Misgen, owner of Elite Events Catering shares.
8. Keep Your Guests Up-to-Date
"Let your guests know as soon as possible about the modified plans. Update your wedding website as soon as possible with notices about postponing your wedding. As a courtesy for your guests and one centralized place to direct them for information, your wedding website is a great place to have a consistent message that will provide much-needed updates for all those affected," Lela Haas, owner of Truly Forever Bridal suggests.
"The sooner your guests know the better! Even if you don't have all the answers about when the new event will be held, we advise you update your guests you are working on postponing so they can plan accordingly. Make sure to update your wedding website with all the information regarding the situation," Jessica Ralph, owner of Parties A'La Carte, adds.
9. Advice for Couples Who Do Not Have a Wedding Planner
"Become acquainted with your vendor contracts. Familiarize yourself with the polices of cancellation and postponement within each vendor contact. Keep in mind that due to the current situation some of these may have been adjusted. Once you have reviewed this information, reach out to your vendors directly to see how they are handling the situation. You will then have a better understanding of where you stand," Jessica of Parties A'La Carte advises.
10. 2021 Wedding Availability May Be Affected
"If you are planning on getting married in 2021, with many people being off work or working remotely, now is the time to book your dates with your vendors as there will probably be less availability next year as weddings are postponed," Carrie of Carrie Wildes Photography shares.
11. Don't Be a "Karen"
We've heard from a handful of wedding pros who have been bullied, threatened with legal action, or received bad reviews from couples because they would not refund "non-refundable" payments.
Even though vendors may not have performed services for you yet, they did remove that date from their availability calendar, and since you signed your contract and booked them, they could not accept other business on your day.
There are other couples going forward with their weddings, so these vendors have lost potential future income lost by securing your canceled or postponed event.
Unfortunately, your contract does not allow you to cancel because certain guests cannot attend or because you want to move your date to the future. Yes, there is a pandemic going on, but by state law, events can still happen.
So if you choose to postpone or cancel your date and are hit with a fee, don't bully your vendors or lie to them that "all of your other vendors have refunded you," because they will double-check, and you don't want to create animosity or awkwardness with the photographer who is going to spend 8-10 hours on your future wedding date.