Although Florida has lifted restrictions on capacities at gatherings, (though tables need to be six feet part) it's important to remain socially responsible when hosting your wedding.
While we always recommend hiring a wedding planner, now it's even more crucial as your planner can help put a safety plan in place so that your guests have a great time and also feel comfortable and safe.
"I can't even count the number of ways COVID has changed how we plan weddings. From guest counts, health practices, postponement plans, travel restrictions, sourcing items, contracting – the list is endless," John Campbell, owner of John Campbell Weddings shared. "As much as it's important to tackle the difficult situations, I'm someone who tries to find opportunities for growth in adversity."
We've asked Tampa Bay's most respected wedding planners their insight on what couples need to know about planning a COVID-19 wedding.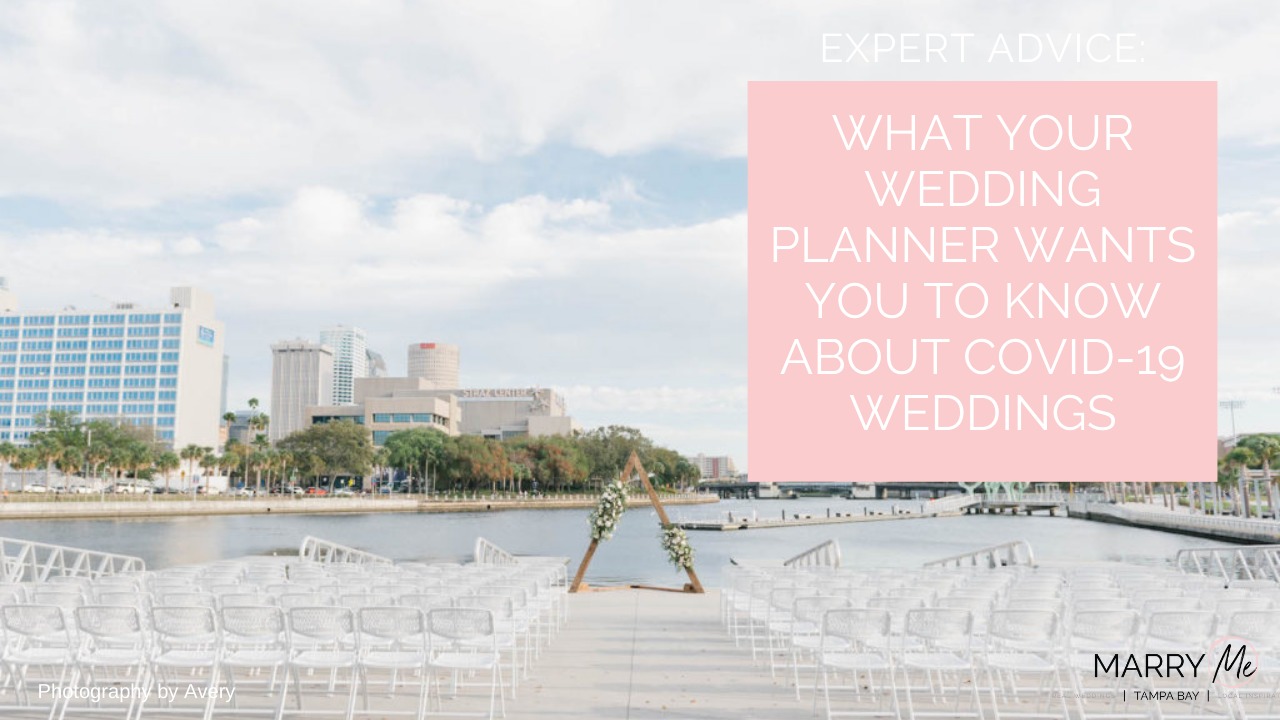 Create a Safety Plan
"We are implementing procedures to ensure safety. For a wedding, it goes beyond washing your hands or using hand sanitizer. We encourage couples to include mini-sanitizers and masks in welcome bags which will be received upon arrival and seat guests of the same household at the same table. We encourage guests to stay home if they feel under the weather, with elderly and breathing impaired guests being of the utmost concern." – Riley Gersch, owner of Elegant Affairs by Design
"COVID-19 has affected wedding planning by creating more guidelines to follow throughout the planning process. As wedding planners, we are always adapting to change. We have been doing everything we can to take on the challenges and uncertainty of the coronavirus by implementing several ways to ensure social distancing at weddings. For example, we create sanitizing stations, social distancing signs, provide masks, limit the number of guests per table, spread out the floor plan, etc. Currently, one of our favorite items we encourage is 'comfort bands.' These are great because it gives the guests the option to wear a colored band that indicates their comfort level. We typically recommend purchasing 2-3 bands of various colors that represent the guests' preferences for social distancing such as "Hello from a distance," "Please do not hug me, I am social distancing," and "I am open to hello's and hugs!" This will limit any awkward exchange with guest greetings and is a respectful way to acknowledge others' wishes when it comes to their greeting preference, overall making everyone more comfortable." – Jessica Ralph Bova, owner of Parties A'La Carte
Keep Your Guests Informed About Your Safety Precautions
"It's important to put safety protocols in place for any COVID-era events and communicate these practices to guests in a clear way. Informing guests via stationery and your wedding website regarding what to expect on the day of the event will help them to decide if they will attend. For instance, hosting an outdoor event, or sharing details about your socially-distanced dinner, and having masks and sanitizing stations provided will help your guests feel even more comfortable being a part of your small celebration." -Christi Winsor, owner of Winsor Event Studio

Understand What Goes Into Choosing (and Possibly) Rescheduling Your Date
"With the push back of wedding dates and only so many Friday and Saturdays in a year, couples are having to push back dates even further or find new venues. Because weddings are still being planned, dates are very limited. If you are going to reschedule you may get pushed out further than you want or you may be looking at a Friday or Sunday wedding. What is currently in the contract of your venue? Are there going to be rescheduling fees? When rescheduling also look into adding additional clauses in case a world disaster happens again." -Laurie Lupcho, owner of Core Concepts
Embrace an Intimate Wedding
"I encourage all of our clients to keep an open mind and be realistic about the fact that many guests that were invited may not show up on the wedding day. I know that it is easy to feel disappointed that all of your loved ones may not be there on your wedding day but having a more intimate wedding also has its perks. With a smaller guest count, you will have more quality time with the guests who are there on your wedding day. I can't tell you how many past clients have said they didn't even get a chance to say hi to all of their guests because there were so many people there and that the day flew by way too fast." -Emily Tansey, owner of Elope Tampa Bay
"I want to encourage couples to embrace elopements and micro-weddings that can still incorporate all the beautiful and personal styles they love. It's a way to truly enjoy a wedding ceremony and focus on the union that's at the root of this celebration, while also having gorgeous photos and videos of a special day, which can be shared with loved ones and treasured for years to come. Plus this approach gives couples an opportunity to plan a larger-scale reception celebration later, which can be focused on fun and fellowship while avoiding the stress and anxiety that often comes with planning both large events at once." -Christi Winsor, owner of Winsor Event Studio,
Live-Stream Your Wedding to Celebrate with More People
"The incorporation of technology into weddings has been a positive (and hopefully lasting) change. Live-streaming in particular has opened us up to so many possibilities. This is a game-changer in terms of accessibility. People with disabilities and families unable to travel can now experience your wedding in real-time." -John Campbell, Owner of John Campbell Weddings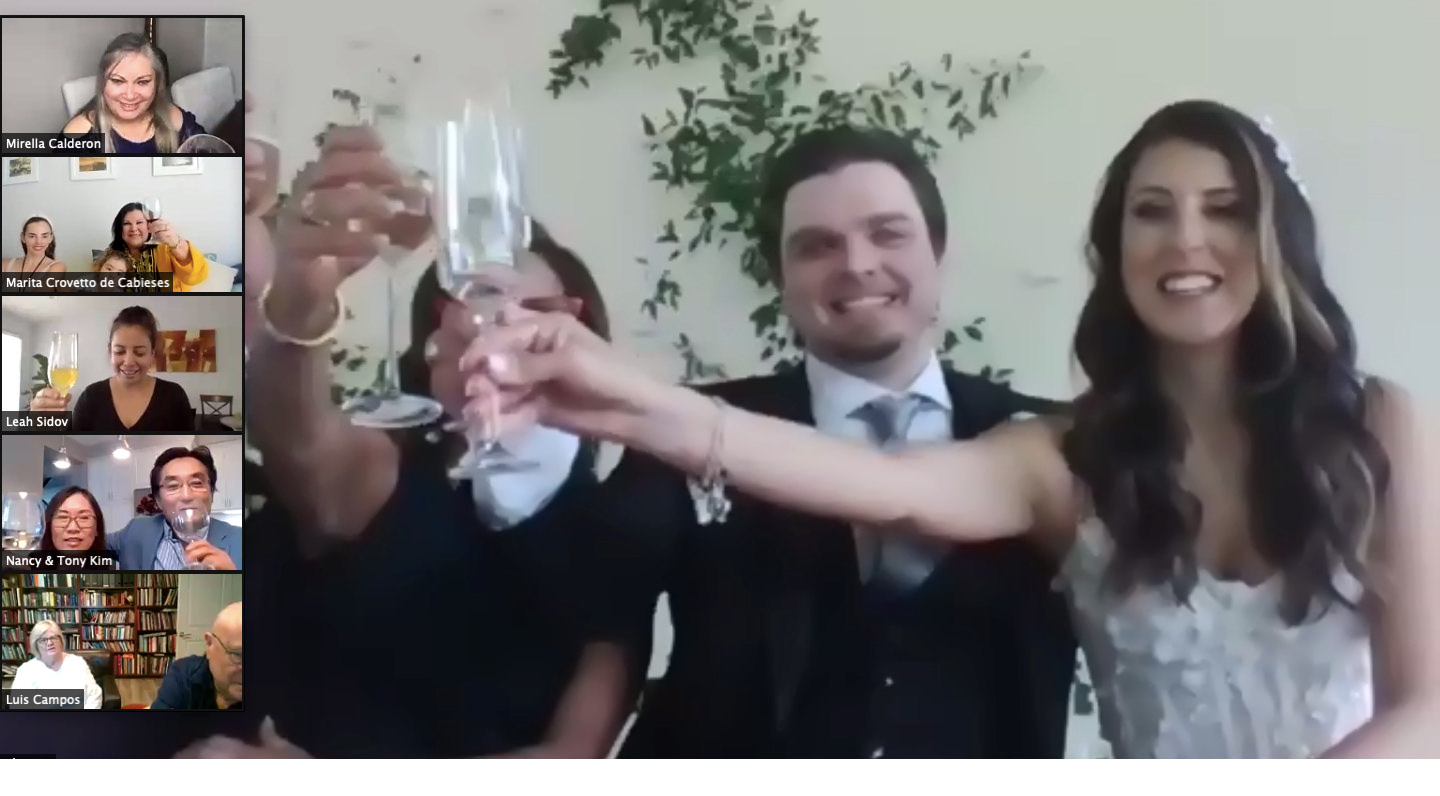 Keep in Constant Communication with Your Vendors
"New guidelines are coming out every week. I have found that communication is always going to be key when working with your vendors. Making sure my clients and their vendors are in the loop when it comes to updates in new regulations, and coming up with a solid plan that is both feasible and understandable helps everyone feel secure.- Riley Gersch, owner of Elegant Affairs by Design

Know Rules and Guidelines in the City You're Getting Married
"Each city and county in each state seems to have different rules and restrictions which makes it challenging for couples to know what is the best solution for going forward, postponing, rescheduling, etc. If you do not have a wedding planner, now is a good time to get one and make sure they have experience and are established in the community so that they will be able to help you navigate through these uncertain times and be there for you even if it is next year when you host your celebration. They will be able to keep up with your wedding professionals, offer support, advice, and guide you through all of the bumps, as well as be there to celebrate with you safely when the day arrives!" – Tammy Waterman, owner and Master Wedding Planner, Special Moments Event Planning
"As we pull from several parts of the country for destination weddings, many assume the restrictions in place for New York, Ohio, or Illinois are the same here in Florida. Many are surprised to hear that we are back to "normal" pre-COVID (you do have to wear a mask indoors) but everything else is pretty much the same as it was before, especially in terms of all the outdoor amenities, including the beach!" -Brandon Wheeler, Owner of Gulf Beach Weddings