My husband and I are both from the heart of the Bible Belt, so when we decided that we weren't getting married in a church, it was important to us to have a Reverend or Pastor officiate our St. Petersburg wedding ceremony. As I was searching for wedding officiants with that title I came across Reverend Katherine DeMarco at Made for Each Other Weddings. I really loved her caring, warm demeanor. While scheduling conflicts didn't allow for her to officiate my Tampa Bay wedding, I think she is a true gem to any Tampa Bay couple looking for a wedding officiant and I'm so happy to have her go in-depth about helping brides choose a Tampa Bay wedding officiant.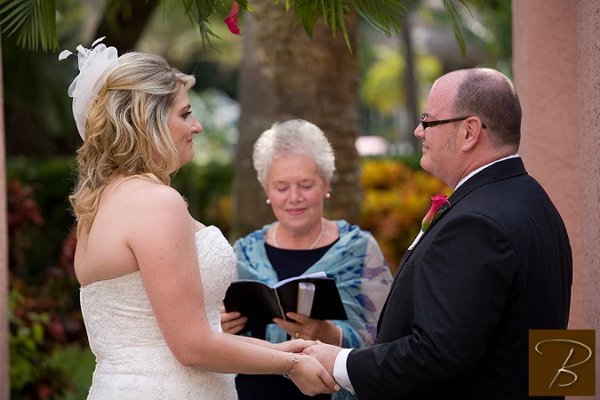 You've found the person who has touched your heart, the one you want to spend the rest of your life with. You have a ring, the date and the venue – What's next?
In the frenzy of wedding planning, the wedding officiant and ceremony often get placed near the end of the "to do list." Yet, no other part of the wedding day is likely to be as meaningful to you as the ceremony that joins you and your love as husband and wife.
To figure out what type of Tampa Bay wedding ceremony you want, talk about things you have seen or heard from previous weddings that you have attended. If you can't remember anything about them – this is not what you want! Instead think about what special touches can be included in your ceremony that are personal and loving. Will it be a fun and playful expression of your love, a solemn and thought-provoking declaration of your commitment or maybe a combination of both – one that is more contemporary.
To personalize your wedding ceremony you can write your own vows, honor family members, include rituals that celebrate your heritage, incorporate your love story and how you met, or share your hopes as a married couple.
Once you decide the type of Tampa Bay wedding ceremony you are looking to have, you'll want to make sure that you find someone who has a style and belief system similar to your own and is able to perform the kind of ceremony the two of you are envisioning.
If your vision is a candle lit ceremony under the stars, a Clearwater beach wedding in the sand or a garden wedding surrounded by beautiful flowers and plants and your church minister is not able to preside – then you'll need a Tampa Bay wedding officiant.
There are typically two types of wedding officiants for a non-church ceremony: a notary or non-denominational minister. A notary is an official of the state of Florida who has been given the right to solemnize a civil marriage by attesting and notarizing a marriage license; notaries often use a standardized ceremony. A non-denominational minister is someone who is ordained and familiar with most religions and customs. They are flexible and able to customize a service that speaks of a couple's shared values without presenting the beliefs of a particular faith.
To find the right officiant for your Tampa Bay wedding you'll want to start by checking out reviews and websites. For the select wedding officiants that you contact you'll want to have with an in-depth conversation and ask:
Is the officiant flexible in the structure of the ceremony?
Will you have creative input or is your wedding ceremony from list of scripts?
What suggestions does the officiant offer?
How long has the person been performing ceremonies?
If you're interested in learning more about the officiant, schedule a face to face meeting and pay attention to the officiant's interest in you. Did they ask questions about you, your husband and your relationship? Were they willing to talk about how the ceremony will be customized to reflect your vision? Did they provide sample ceremonies for you to review that show the style and structure of an actual ceremony?
If you didn't get the "warm & fuzzes" or if the officiant didn't have a friendly, warm voice, they may not be the one for you. Rely on your gut feeling! Some other warning signs that you should keep searching for a Tampa wedding officiant are if they do not return calls or e-mails in a timely manner, they don't ask questions about you and your relationship, or they don't offer suggestions and won't send additional information for review.
Fees for notaries and wedding officiants vary from $125.00-$500.00. This is based on location, date, experience and the amount of time spent creating the ceremony. The rehearsal fee is often included, and the officiant should attend the rehearsal if possible. As for the gratuity, it should only be given if the Tampa wedding officiant has given above and beyond what was contracted and provided outstanding service provided. No vendor should "expect" a gratuity.
On average a wedding officiant who customizes your ceremony will spend 8-10 hours planning. This includes the 30-minute initial phone conversation and initial face-to-face meeting of at least an hour. The major portion of the officiant's time is spent researching materials to send to you for review and answering questions via email and phone, as well as doing another in-person meeting if necessary. Brides don't often realize the amount of research, knowledge, and time spent by wedding officiants to write and customize a wedding ceremony to make it personal and relative to the couple's relationship and commitment to their lives together. This extra time spent also factors into the cost comparison between a notary and an officiant who customizes weddings.
After your "I do's" have been said and you're thanking your guests for coming, don't forget to include a "Thank You" to your officiant. If you were pleased and would recommend their services to others, review them online.
The wedding ceremony is the foundation of your marriage. The public promises and commitments of your heart. The first day of your life together as husband and wife. You want to remember your wedding day for all the right reasons. Hire someone who can make this happen.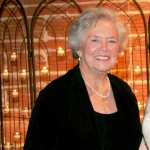 Reverend Katherine Demarco has been performing wedding ceremonies since 2003. With 20+ years as a wedding and special events manager; Katherine has witnessed hundreds of ceremonies. More often than not, the ceremony was rigid and impersonal.  They were all the same. Being a romantic at heart, she wants wedding ceremonies to be about love, and the couples hopes for the future together.
She studied religions, customs and traditions and now works with couples to tell their love story and to have a personal and meaningful celebration of their love and beliefs: a beautiful start to a life together as husband and wife. Visit her website or "Like" her on Facebook.
Who is your Tampa Bay wedding officiant?