With Tampa wedding ceremonies come traditions, and I love the traditions that come with a military wedding. Can you think of a better ending to a wedding ceremony than having a sword salute after being announced as husband and wife?
North Florida couple Jen and David held a pink and lime green beach themed Tampa wedding at the Rusty Pelican this past spring. Jen, who grew up in the Tampa Bay area, loves the beach and wanted to incorporate it in her wedding. She chose tropical flowers like orchids to complement her beach theme and Tampa wedding florist For Better For Less added a mixture of hot pink and light pink roses to soften the overall look.
Jen and David's family were an integral part of the wedding ceremony. Her mother stood beside her as her maid of honor and David's grandfather married the couple, a tradition in his family. The members of the sword detail were close friends of the couple, making the ceremony that much more special.
The couple hired Tampa wedding photographer Jeff Mason Photography to capture their wedding day. "After meeting with two other photographers my husband and I decided he was able to capture special moments that the other photographers didn't seem to have. He has an eye for things that I don't feel other photographers have," Jen explained.
"The whole day was amazing and the Rusty Pelican did everything to make the whole day memorable," Jen gushed.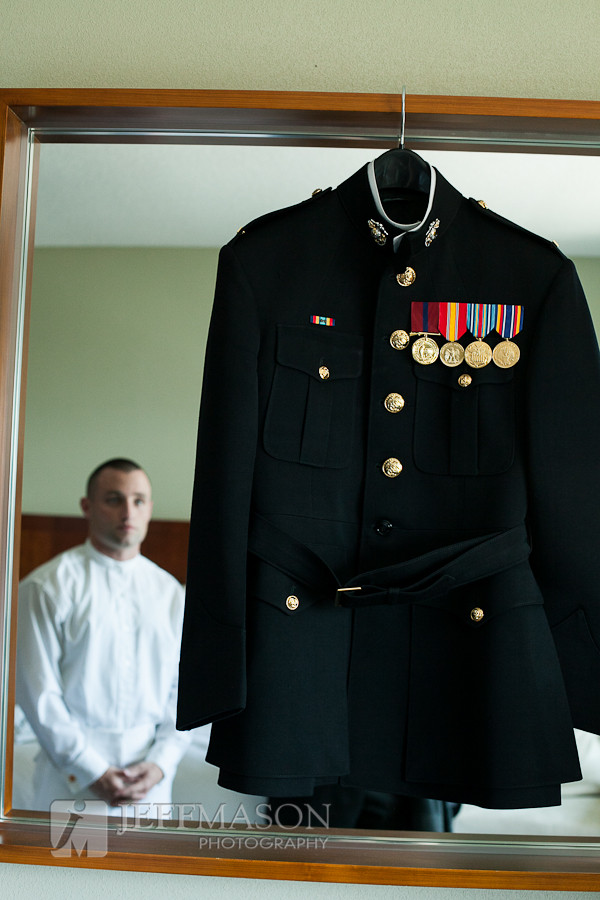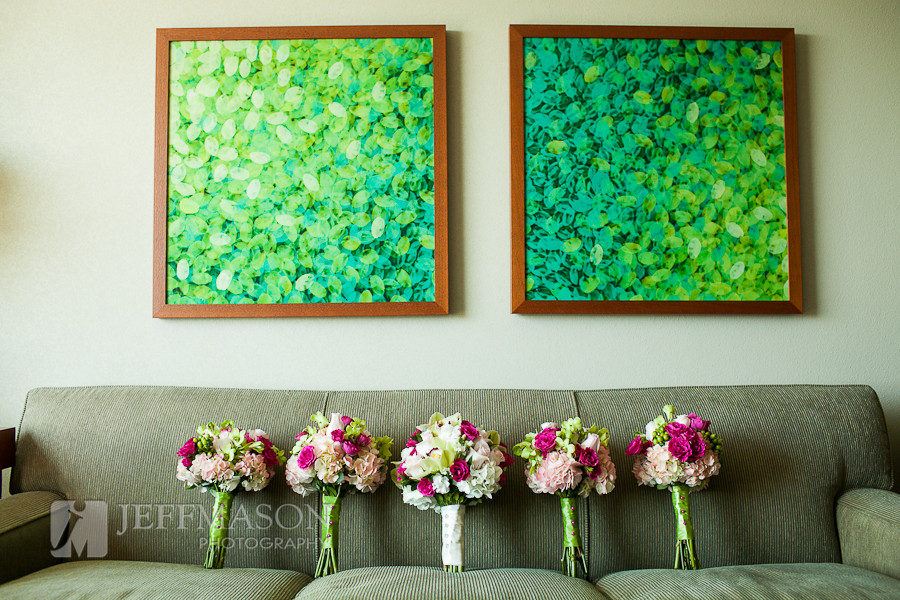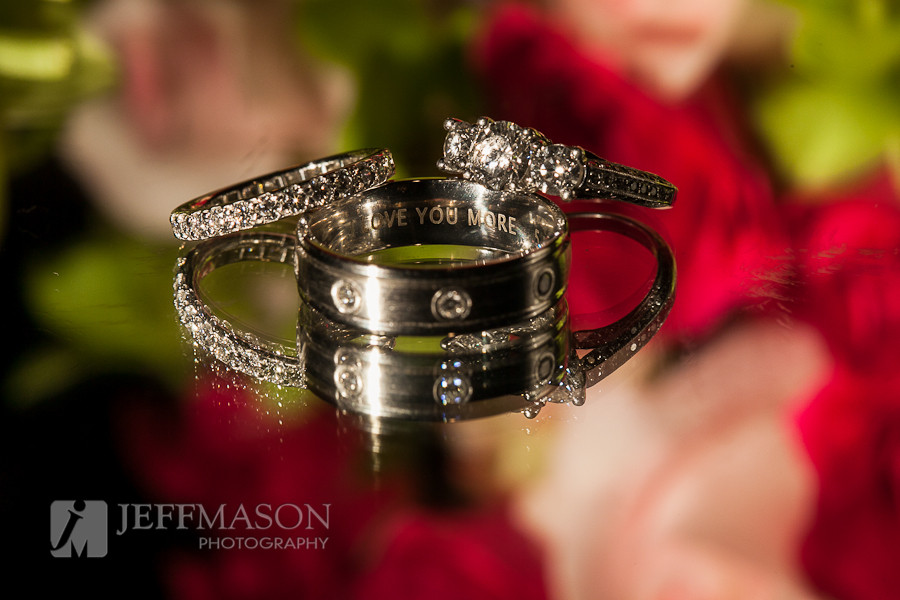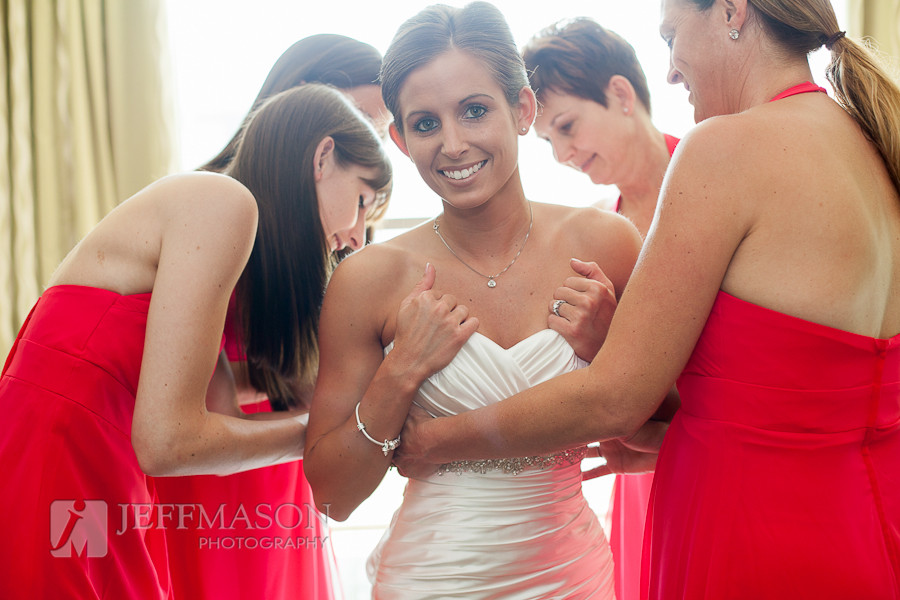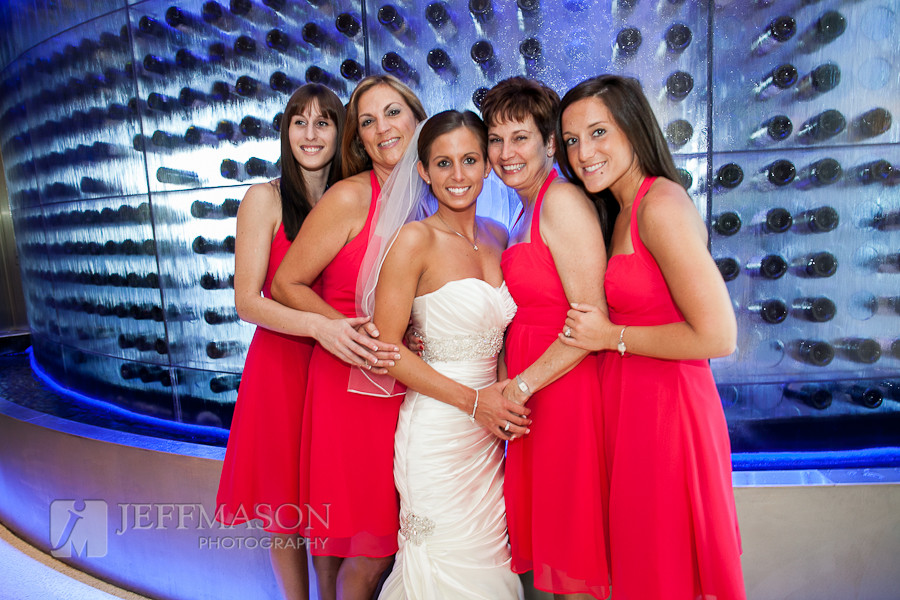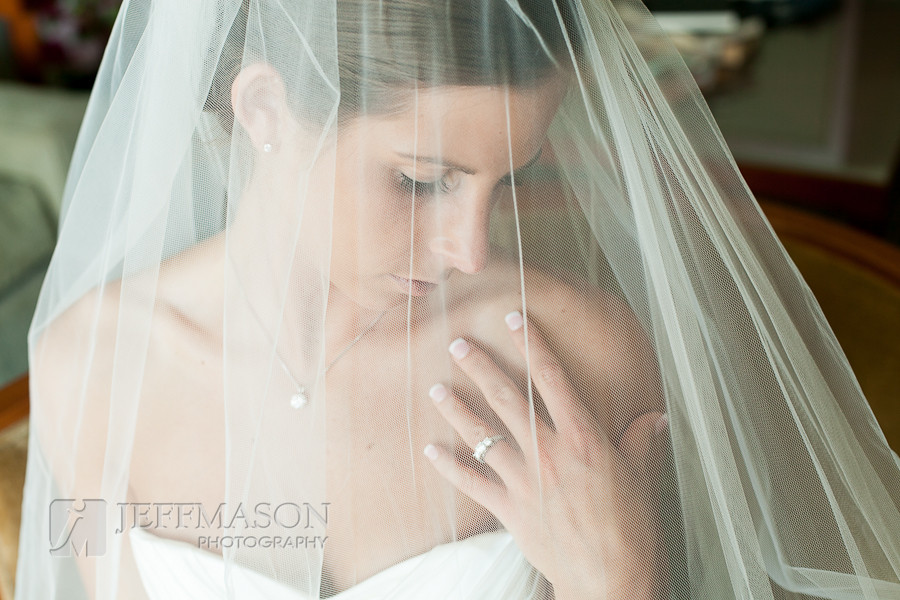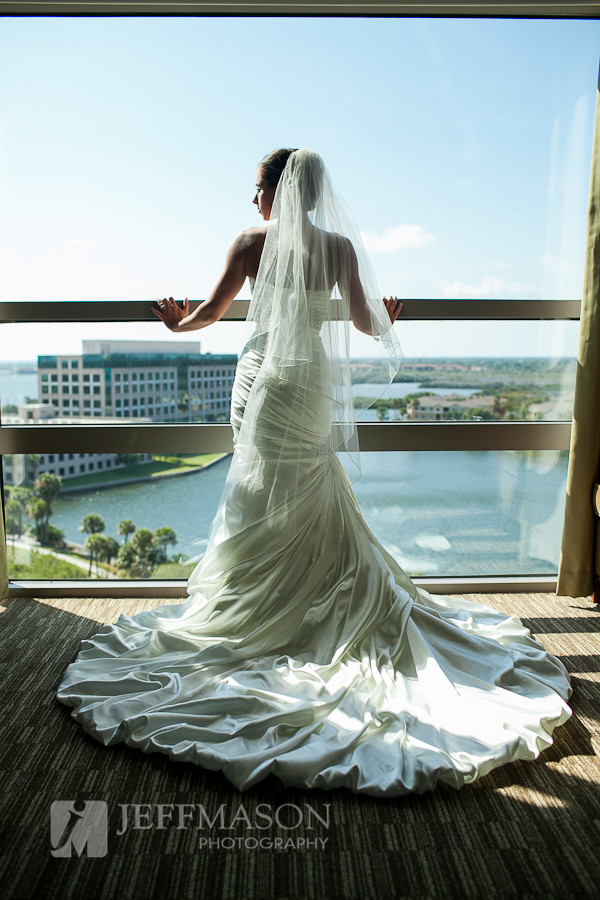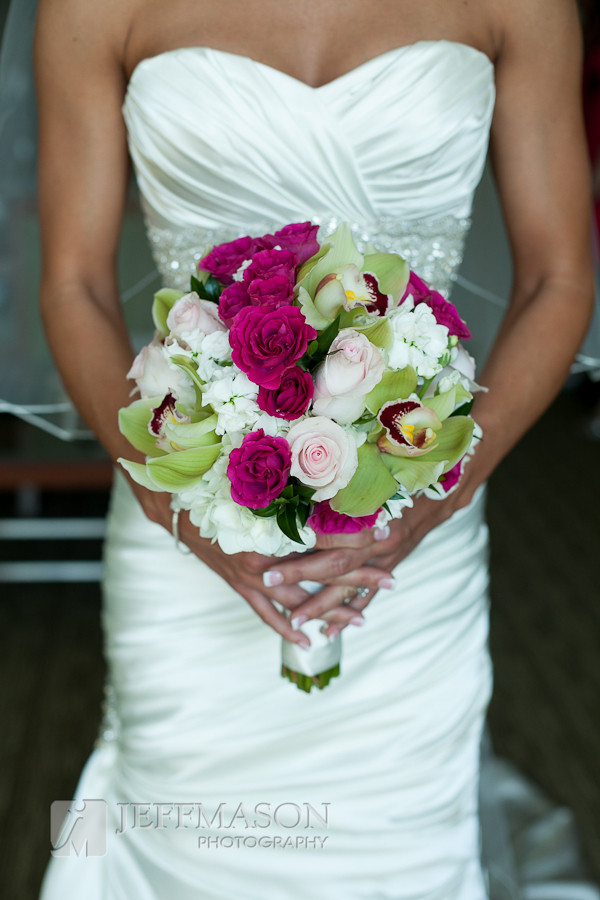 The bride's bouquet featured bright green orchids and hot pink and lighter pink roses.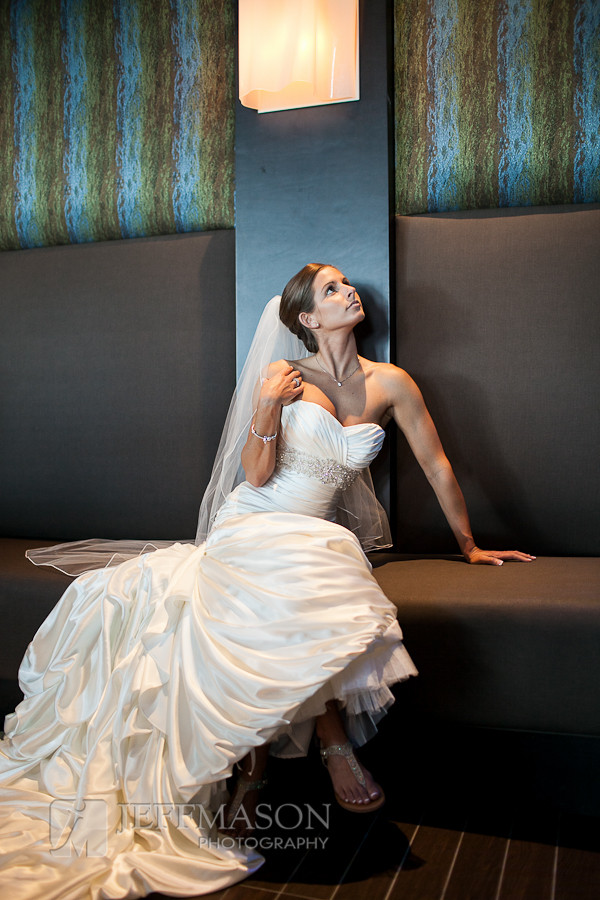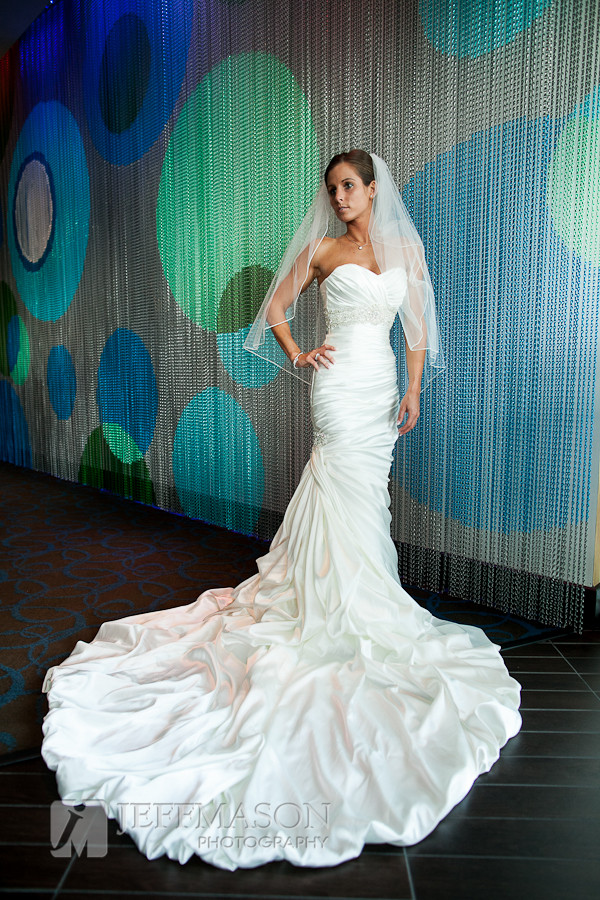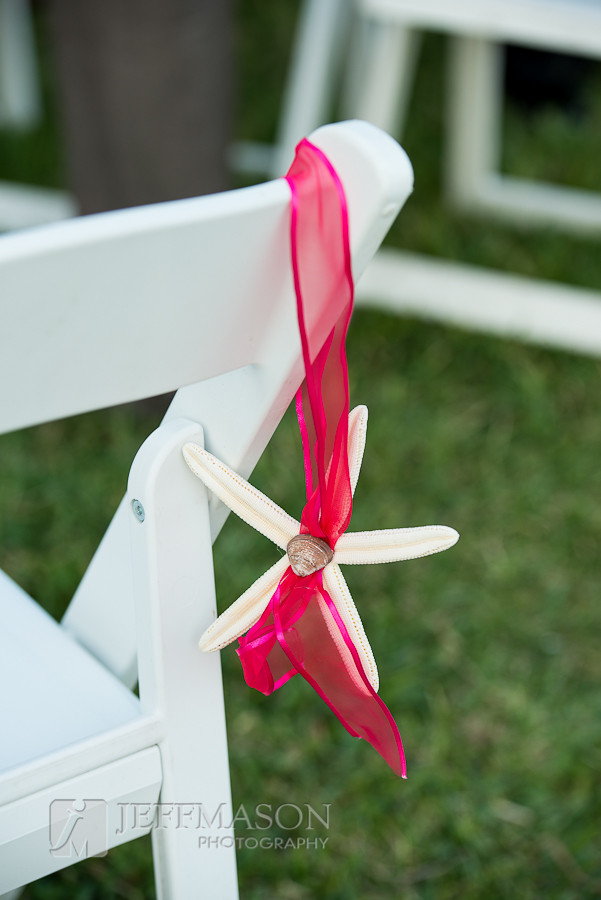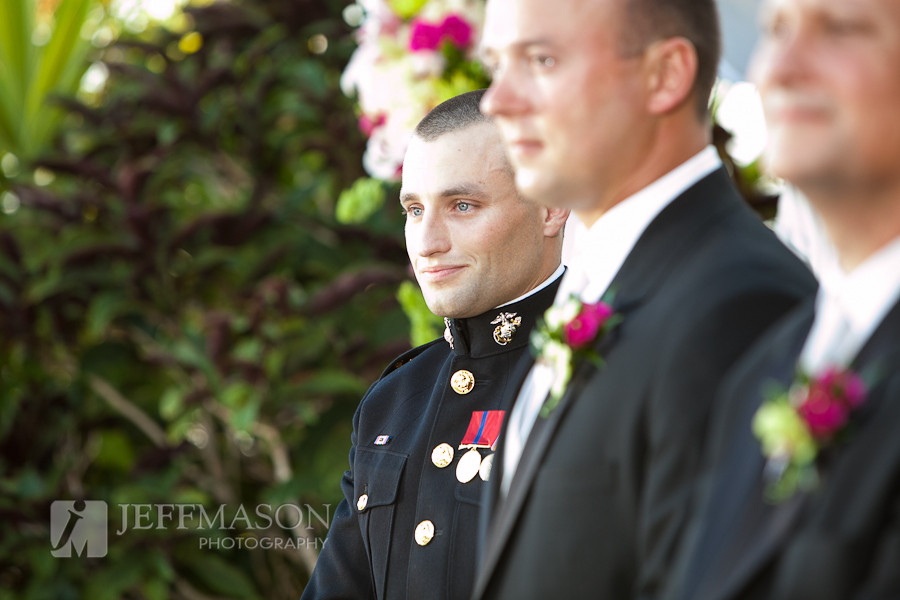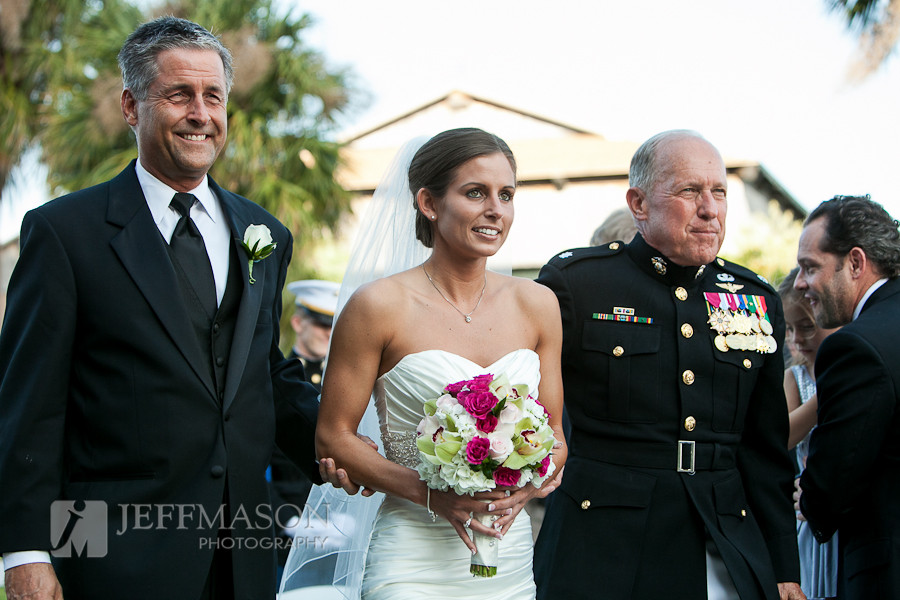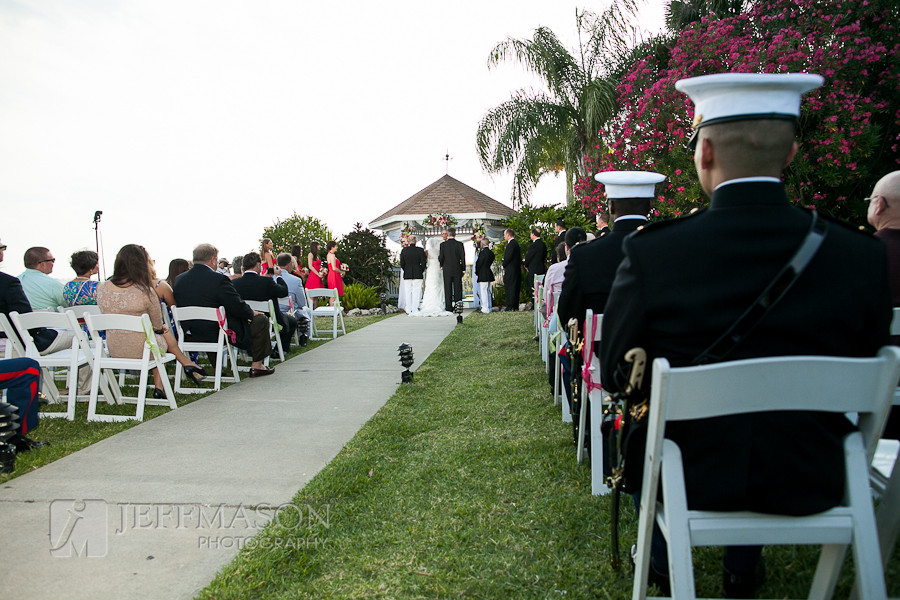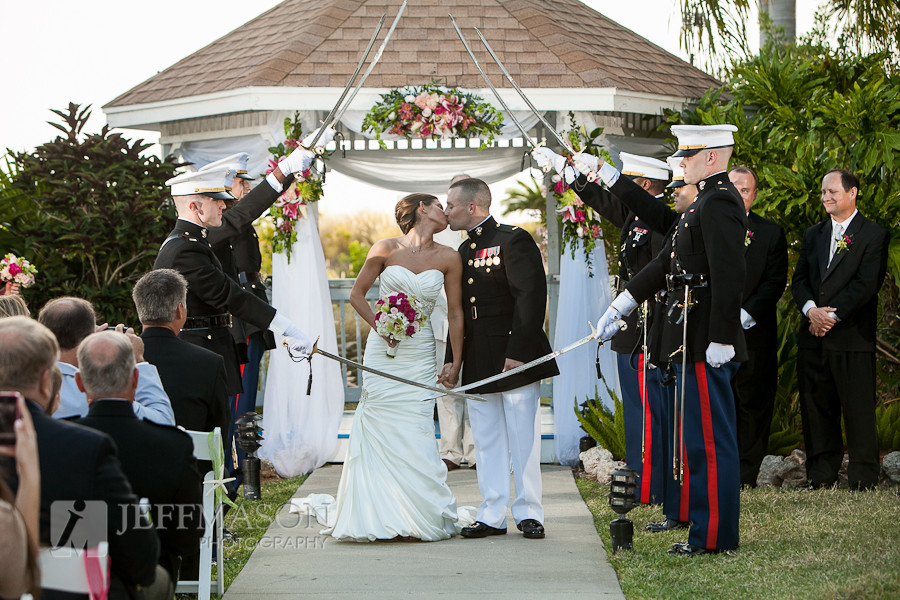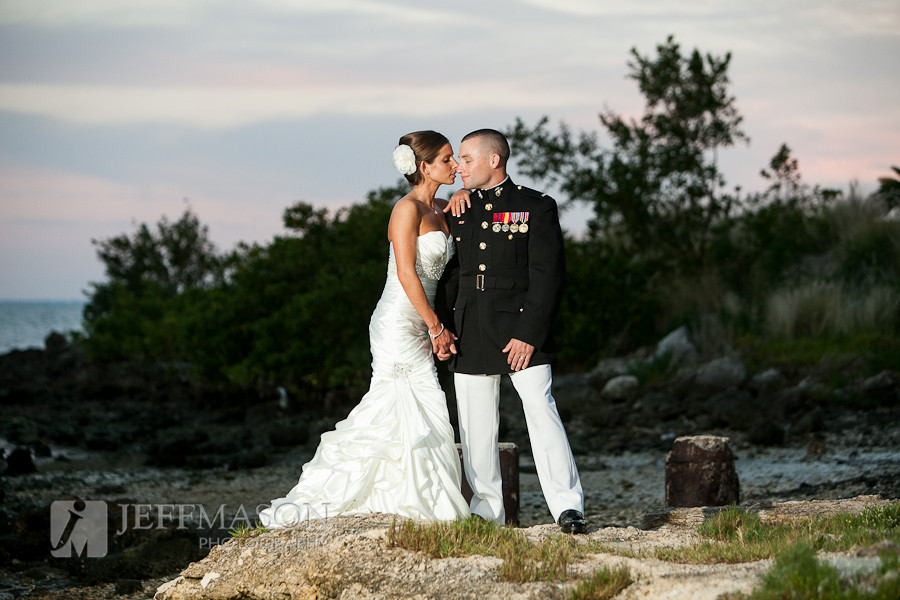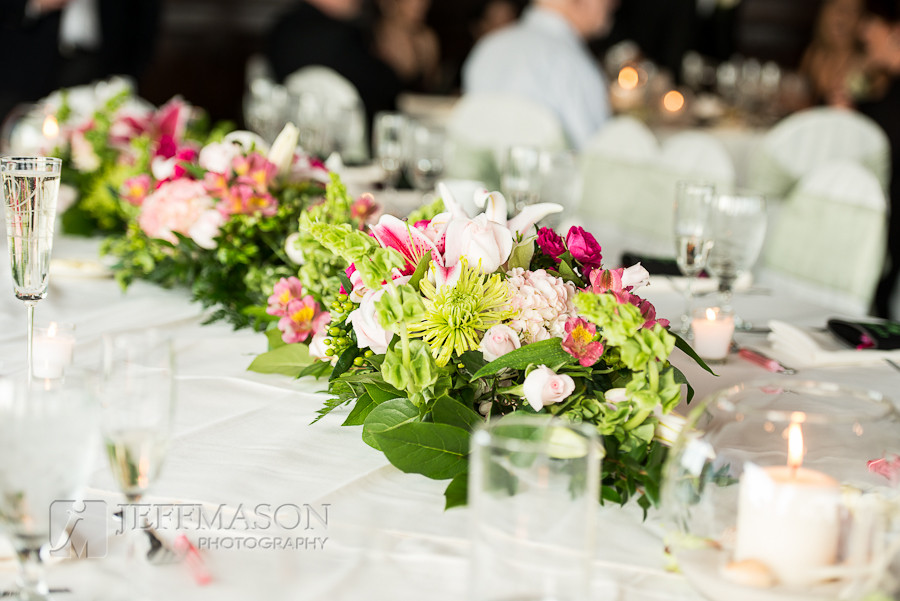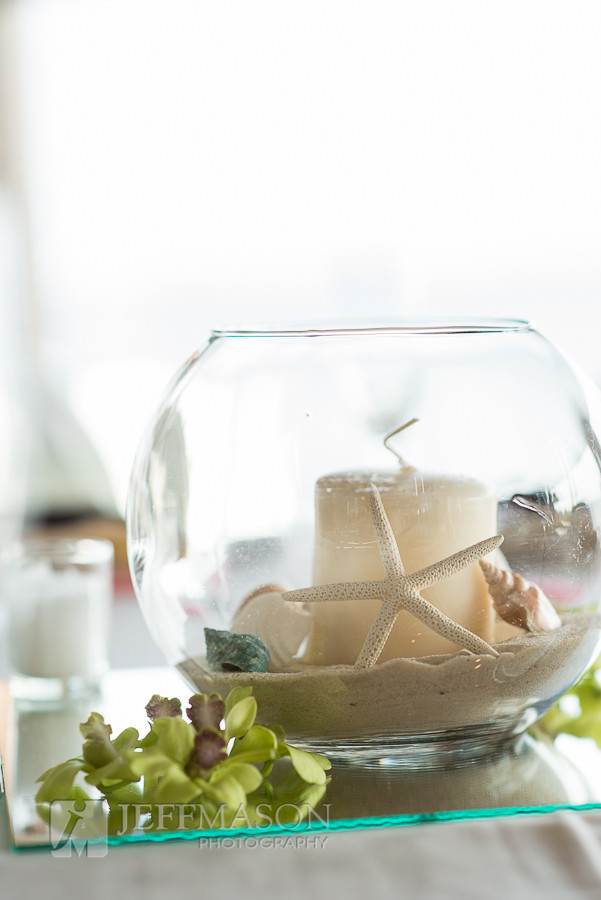 I'm not the kind of person that likes flowers, flowers, flowers, and also I wanted a smaller centerpiece so people can see each other/communicate with people on the other side of the table without getting in the person next to them space. These centerpieces are a good representation of me. Simple. – The Bride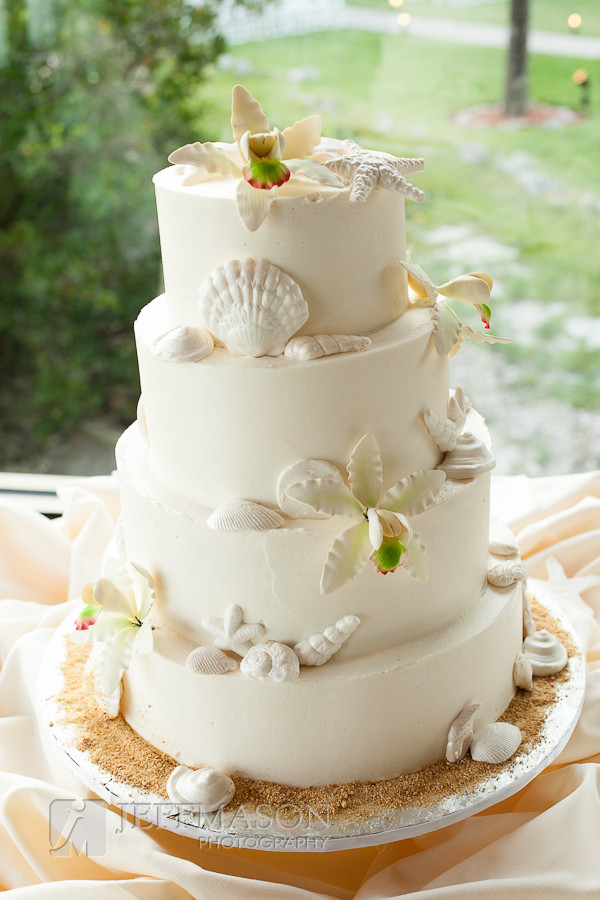 The four-tier wedding cake by A Piece of Cake was layered with pineapple with pineapple cream, red velvet, chocolate with raspberry filling, and strawberry with chocolate grenache filling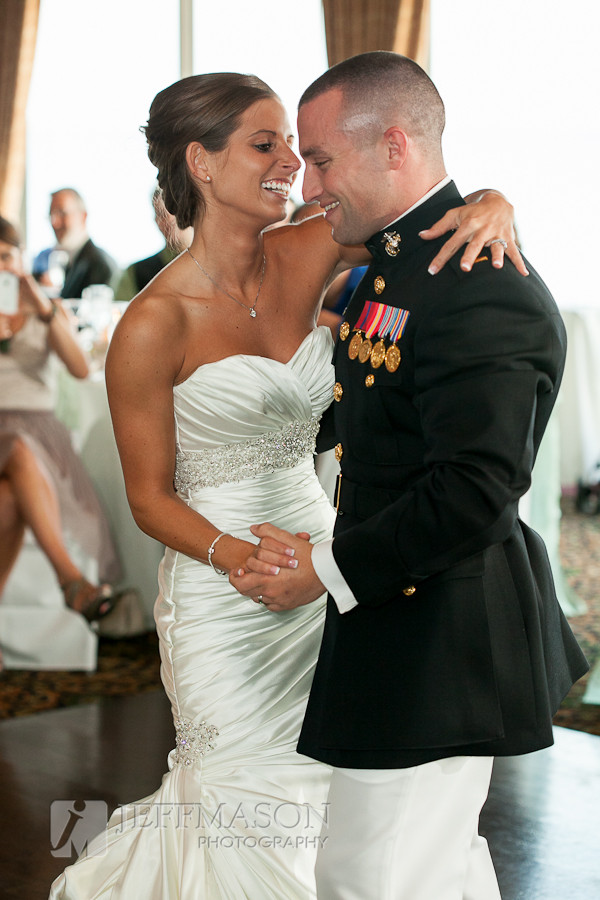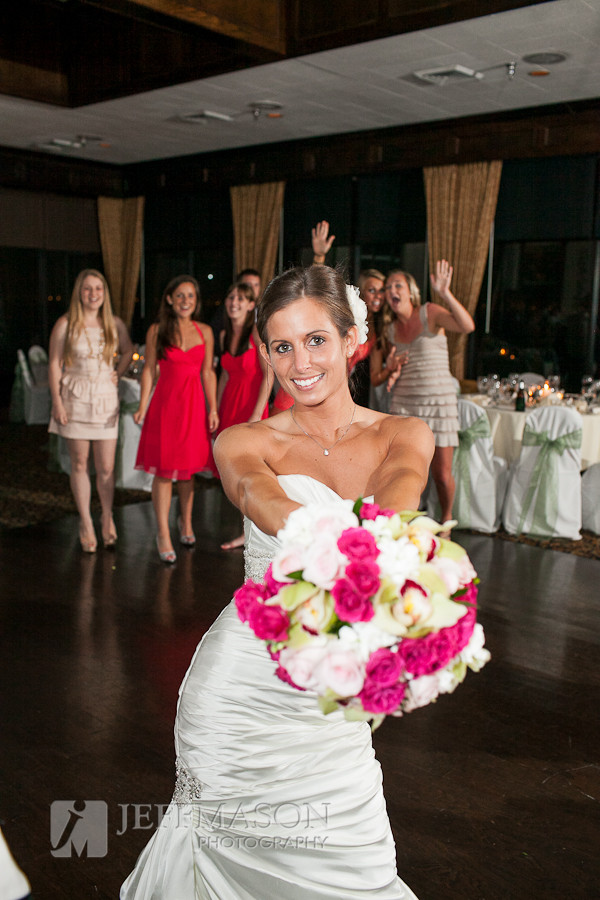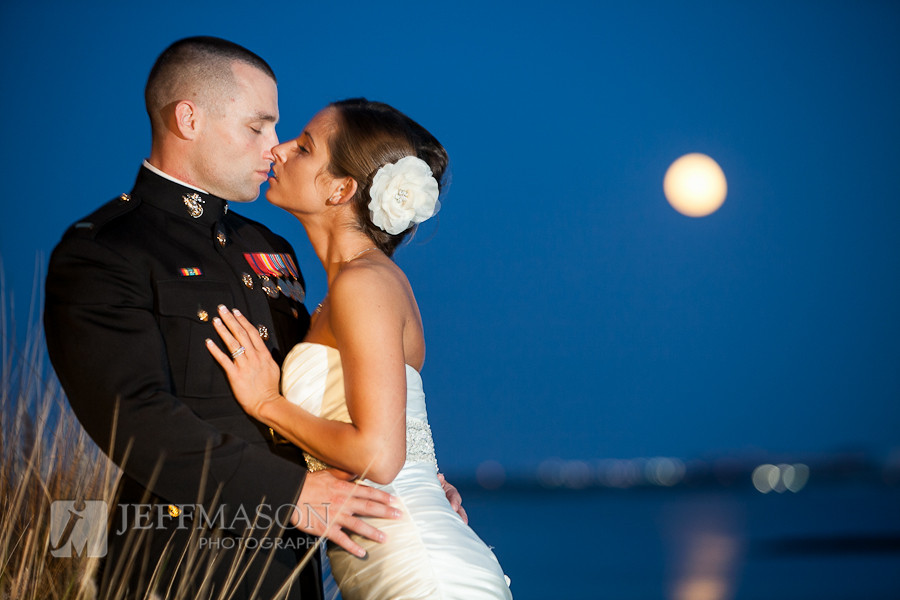 What advice do you have for Tampa Bay brides? Stay very organized and drink wine, it helps with the stress ;)  Be pleasant with the people you are working with. It makes things easy, smooth and enjoyable. If there are any traditions in the family keep them going. It's important to the people you love and it makes great memories. Remember this is a once and a life time experience (that's the hope) so enjoy it. Not everything will go the way you want it and at the end of the day you marrying your best friend and that's all that truly matter. Oh and don't forget the wine ;) 
Tampa Wedding Photography: Jeff Mason Photography
Tampa Wedding Venue: Rusty Pelican
Tampa Wedding Cake: A Piece Of Cake
Tampa Wedding Flowers: For Better For Less
Tampa Wedding DJ: Hardy and Co. DJ services
Tampa Wedding Dress: Sottero and Midgley, purchased at Bella Gente
Tampa Bridesmaid Dresses: Alfred Angelo
Tampa Wedding Hair & Makeup: Volume Hair Studio
What family traditions are you incorporating into your wedding? Share below!