If you ask any wedding guest the most important part of a Tampa Bay wedding after the ceremony, they'll almost always respond with "the food."
Weddings in Tampa Bay are home to many locally inspired dishes. Whether it be fresh seafood from the Gulf or menus with Cuban flair, the area's top wedding caterers can create a custom cuisines to match your wedding venue's atmosphere.
We've asked the area's best wedding caterers: Tastes of Tampa Bay, SaltBlock Catering, Amici's Catered Cuisine, Olympia Catering, and Good Food Events and Catering to share how they allow a venue to inspire their menus.
NOVA 535
The versatility of the NOVA 535 space cannot be overstated. From a small outdoor elopement to a raucous dance party the options to personalize your celebration are endless. It doesn't hurt that they have award winning bathrooms either.
As a bonus to a caterer, rather than being tucked in a corner or alleyway, their thoughtful kitchen allows us to focus on what we do best; Delivering freshly prepared, amazing food for our clients that elevate the event and excite guests.
Because of the venue's many set up options, you can move away from the traditional service if you wish and start with a myriad of passed hors d'oeuvres or indulge your guests with a tri-station dinner complete with hand tossed, seasonal salads, porchetta carving station and suspended risotto bar. As dancing begins, treat your attendees to our indulgent Strolling Sundae Bar followed by a late night snack with our Street Surfer food truck offering snacks like Mojo Pork Nachos + Loaded Beer Battered Fries in the courtyard. Casey Grawien | Tastes of Tampa Bay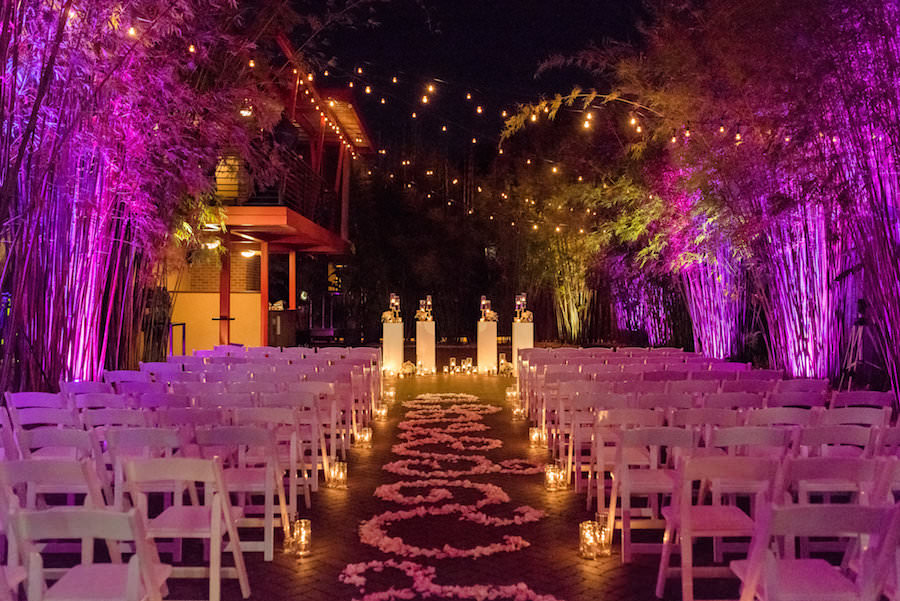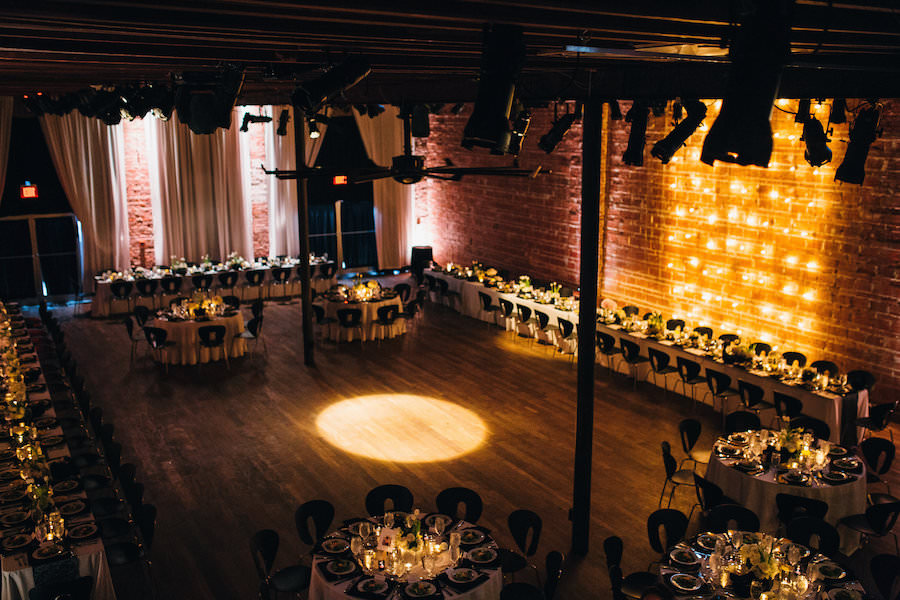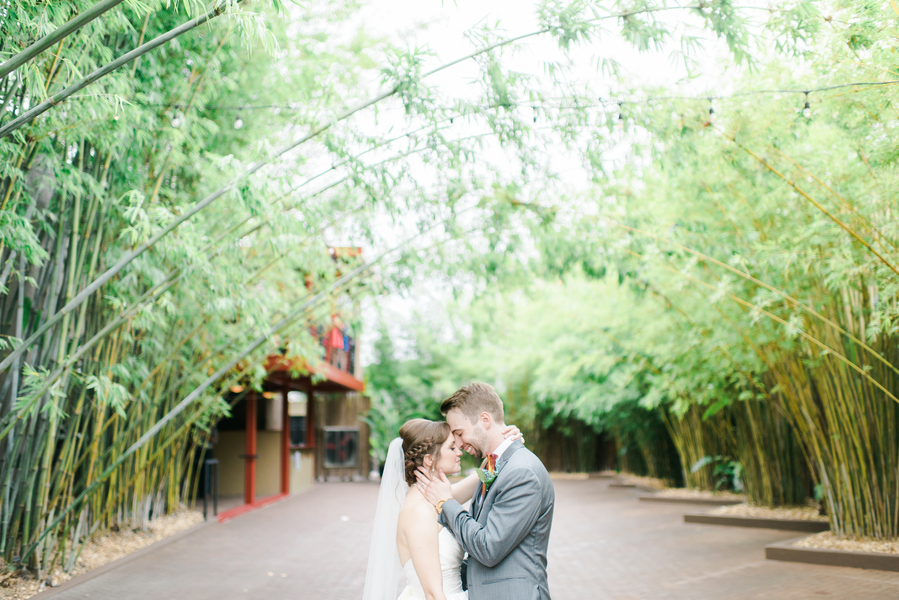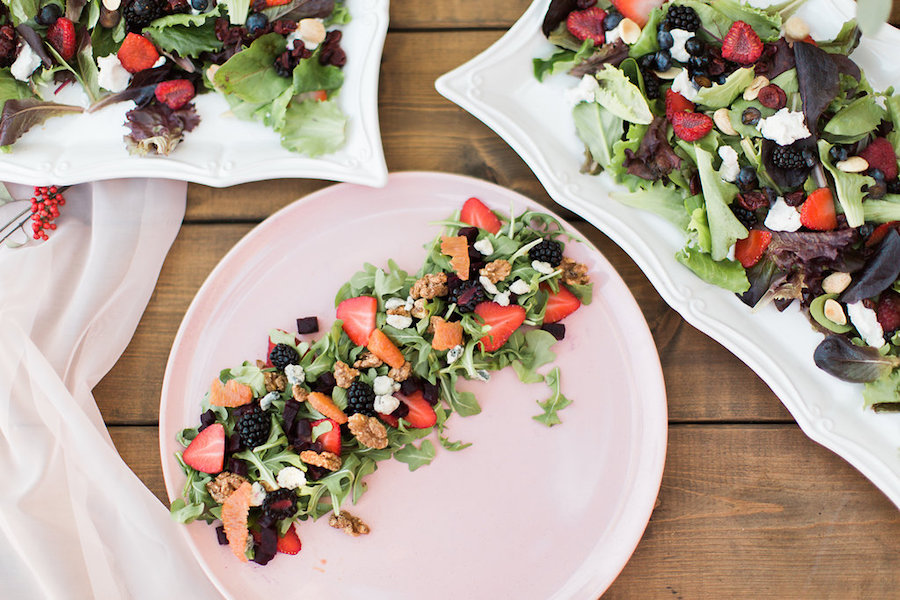 Tastes of Tampa Bay | Emily Katharine Photography
The Barn at Crescent Lake
The Barn at Crescent Lake at Old McMicky's Farm offers gorgeous lakefront views is the perfect setting for a BBQ dinner. Dance under the stars, while your guests dine on BBQ brisket, pulled pork, N.Y. strip steak, brown sugar and molasses baked beans and iced cold watermelon slices followed by a lavish dessert station. Paulina Nicka | Amici's Catered Cuisine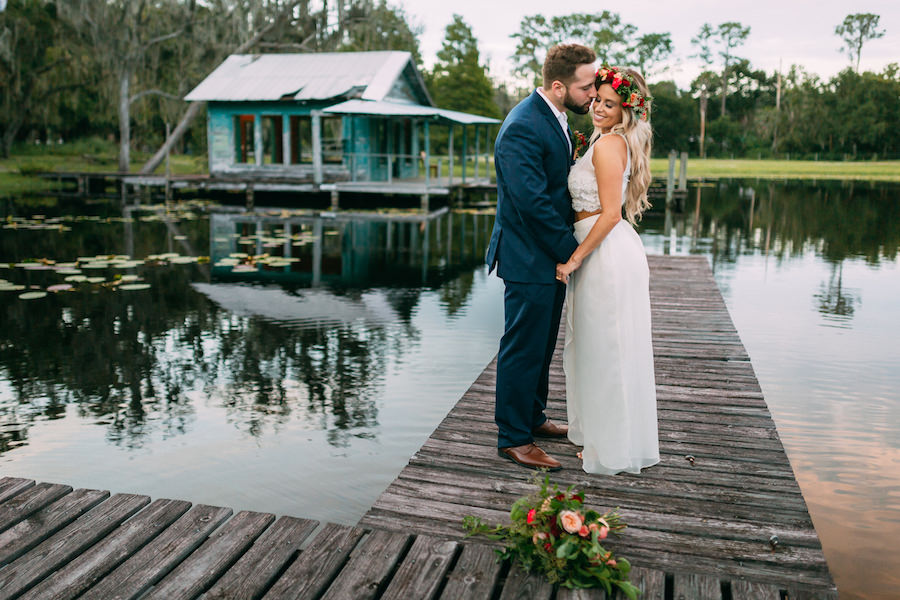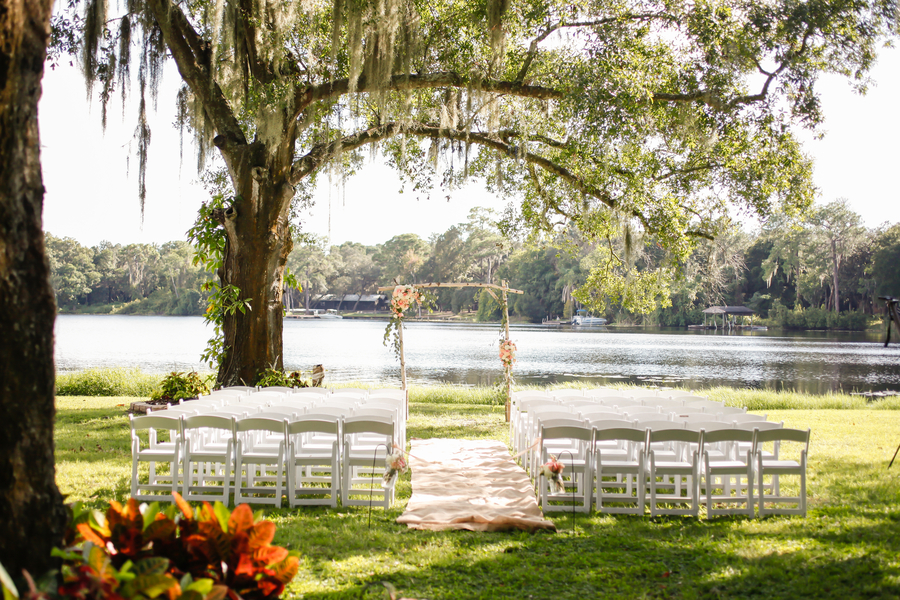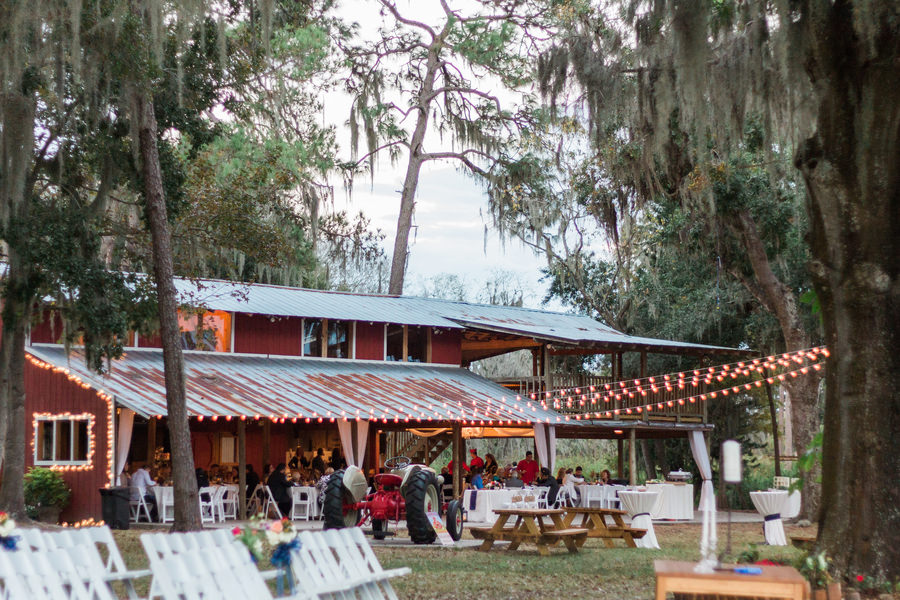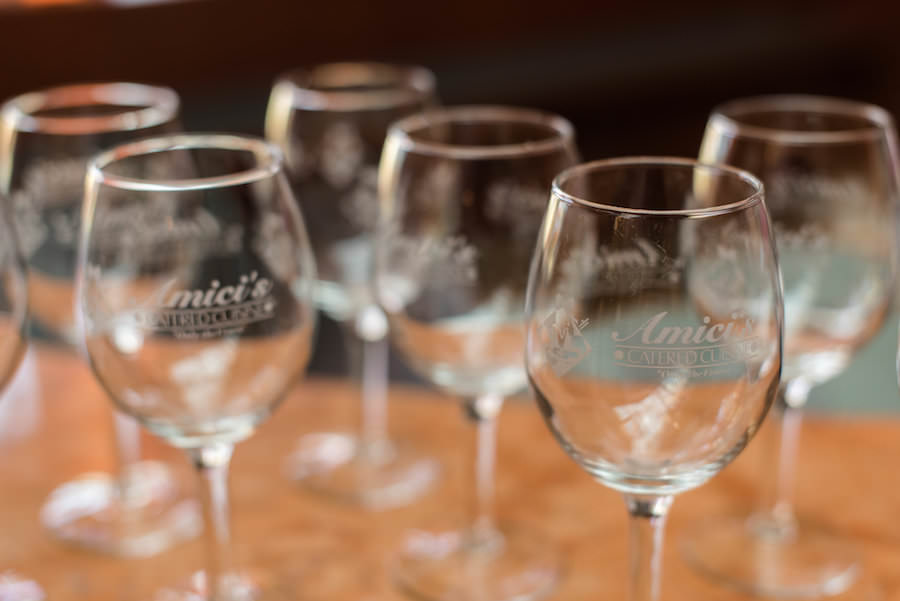 Lange Farm
At any farm, barn or ranch properties, such as Lange Farm, it's great to have southern BBQ items. We love elevated versions of "BBQ" such as a Southern Land & Sea Station with Carved Beef Brisket with House-Made BBQ Sauce and Spicy Sautéed Shrimp with Tasso Ham Gravy, Served with Red Mill Cheddar Grits and a Toppings Bar of Crispy Fried Onion Strings, Diced Tomatoes, and Hot Sauce – Laura Walsh | Olympia Catering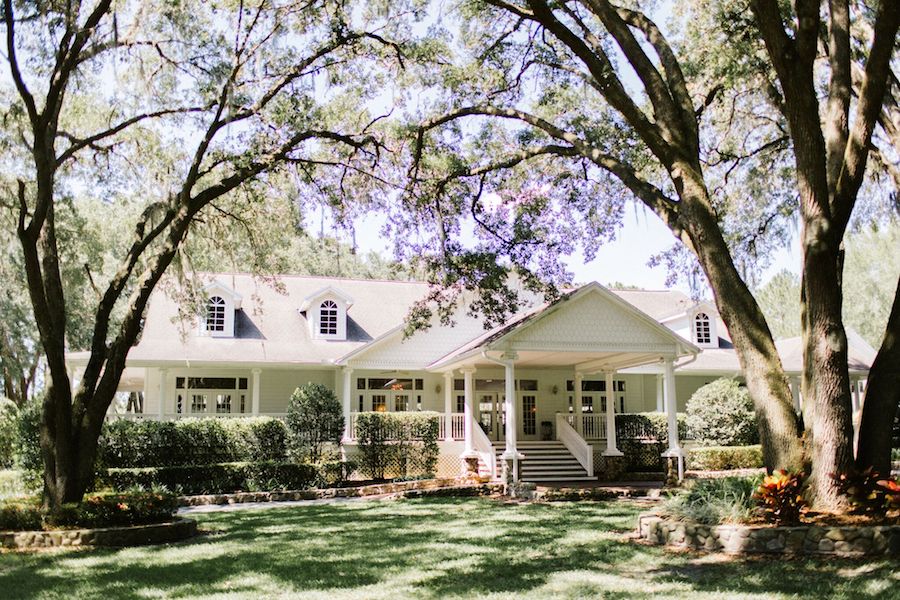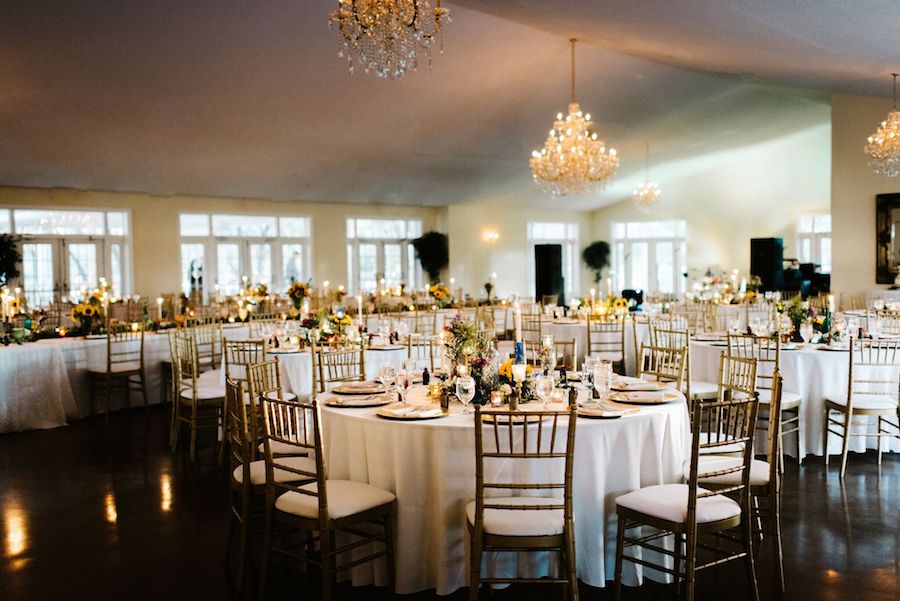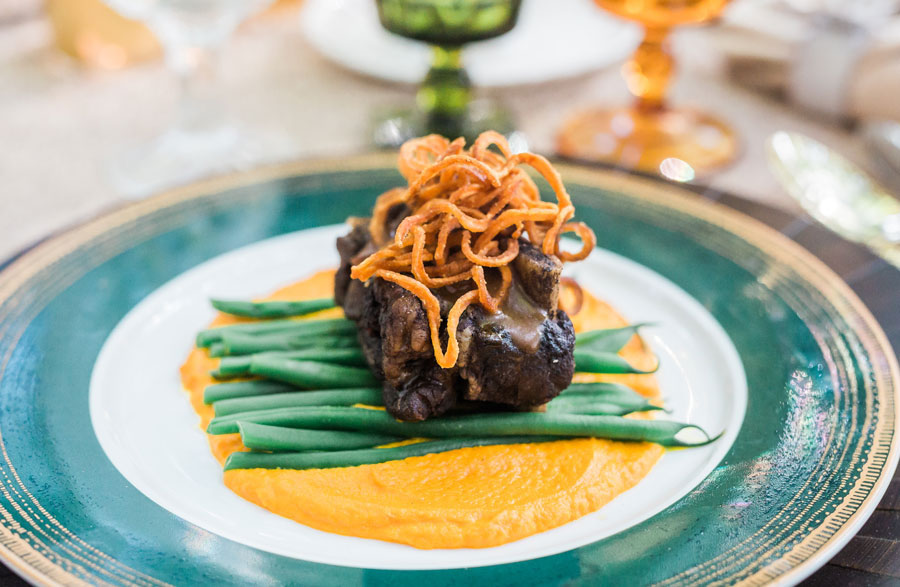 The Vault
Although all catering service styles suit the historic venue, we feel that the plated service style best complements the classic, elegance of  the Vault in downtown Tampa. In addition to pairing well with the venue, this service style requires no front of house setup, which maximizes space for guest comfort.
For a dinner menu, we highly suggest an upscale duet plated entree, such as our Cabernet Braised Beef Short Ribs and Sautéed Gulf Coast Grouper, as this allows guests to experience the best of both worlds. -Amy Kensinger | Good Food Events and Catering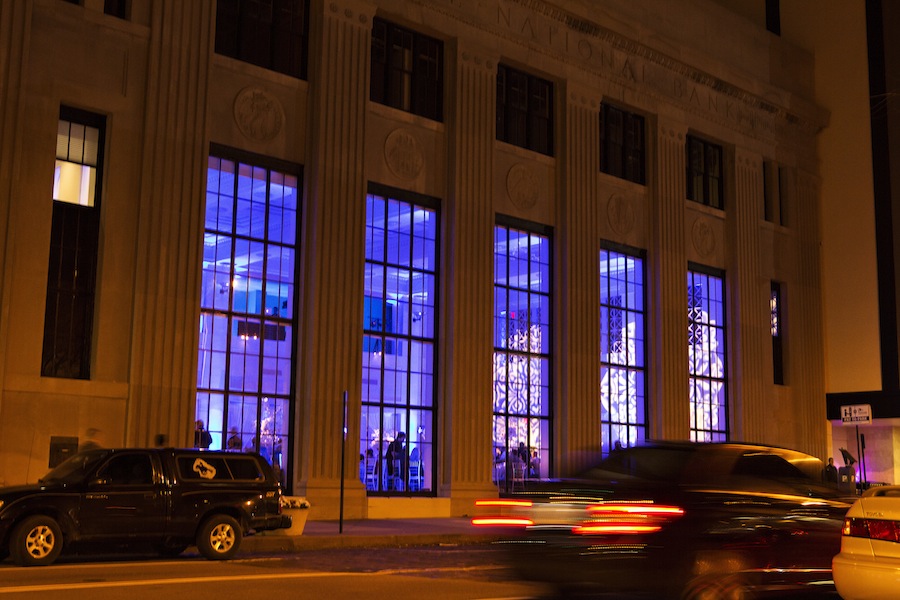 Winter Wonderland The Vault Wedding | Djamel Photography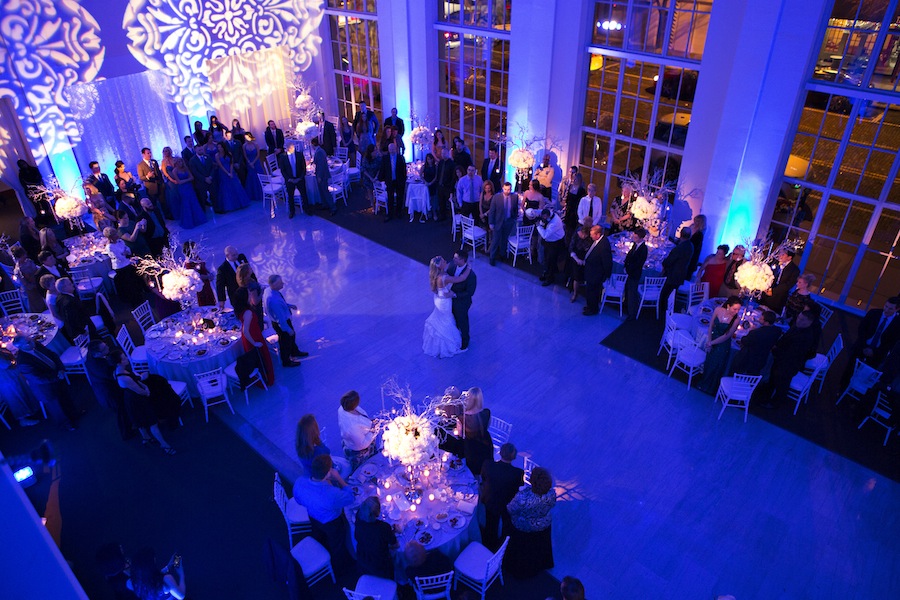 Winter Wonderland The Vault Wedding | Djamel Photography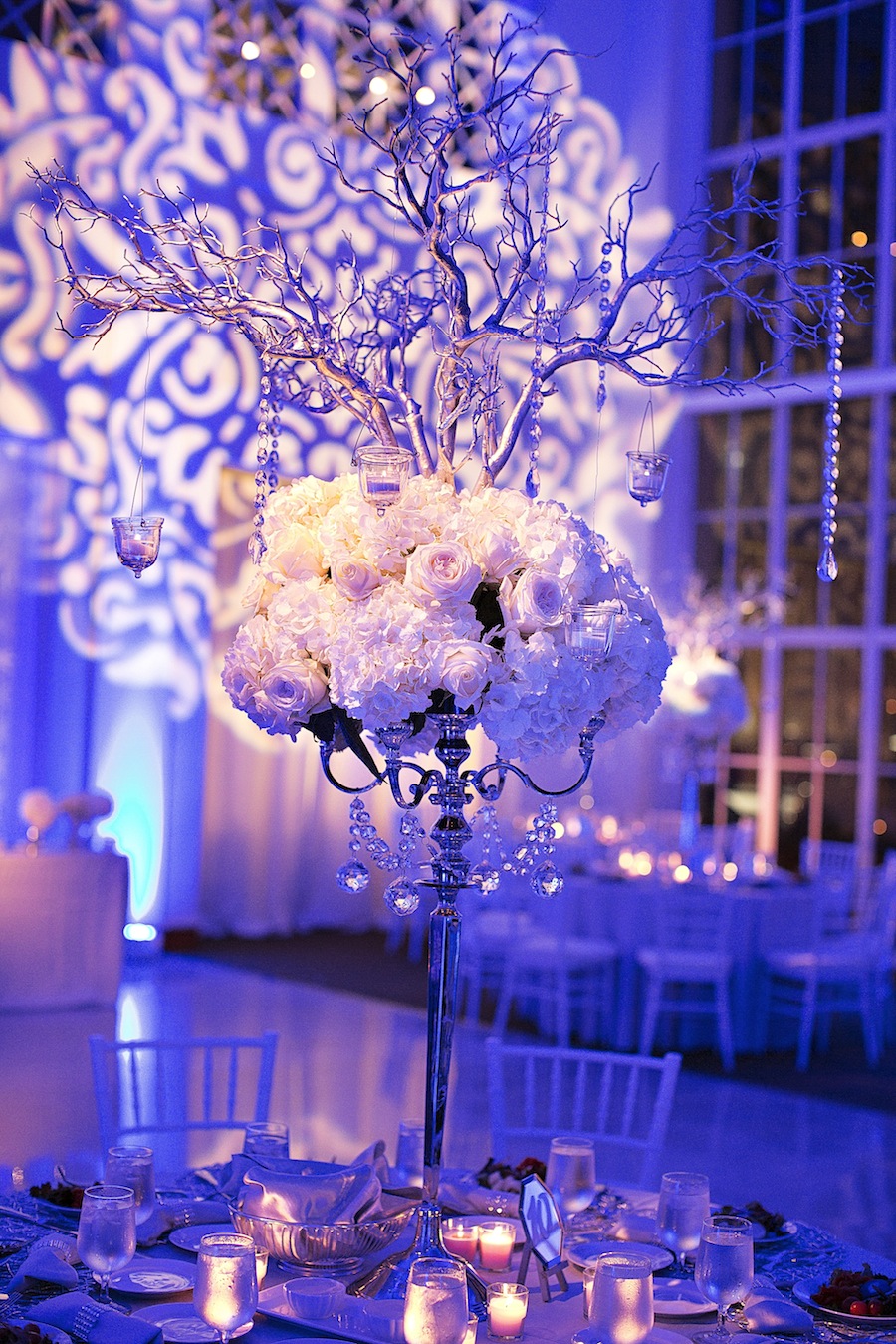 Winter Wonderland The Vault Wedding | Djamel Photography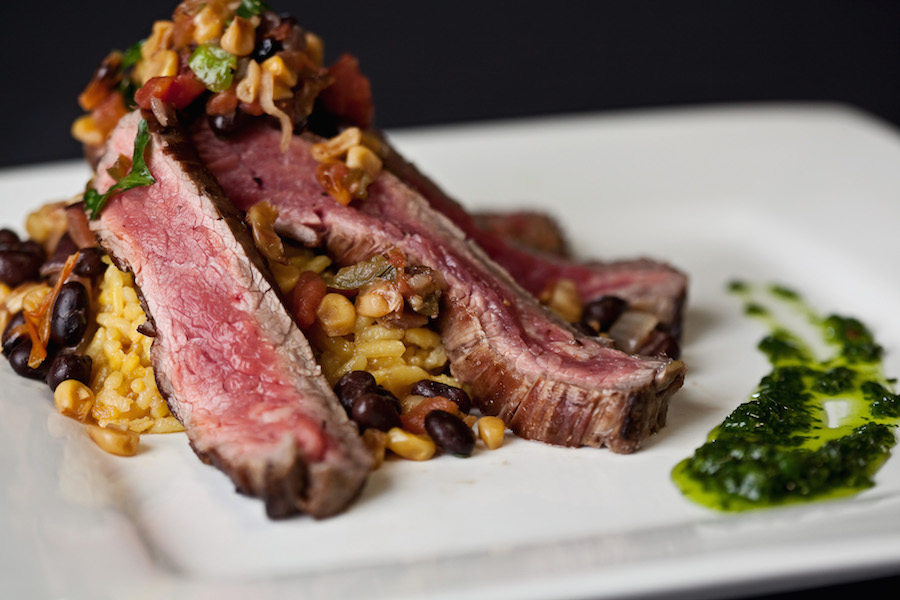 CL Space
We love to do some twists on classic Cuban cuisine at a wedding venue like the CL Space. This could be incorporated into a passed hors d'oeuvres such as a Petite Paella Skewer with Garlic Shrimp, Spanish Chorizo, Saffron Ricecake, and Sweet Pea Aioli. Or a twist on a classic, an "Arroz con Pollo" Small Plate Station with Lemon-Zested Saffron Quinoa with Braised Florida Citrus Tomatillo Sofrito Chicken, Accented with Early Peas and Diced Piquillo Peppers, Garnished with Crispy Shallots, and a Crema Drizzle – Laura Walsh | Olympia Catering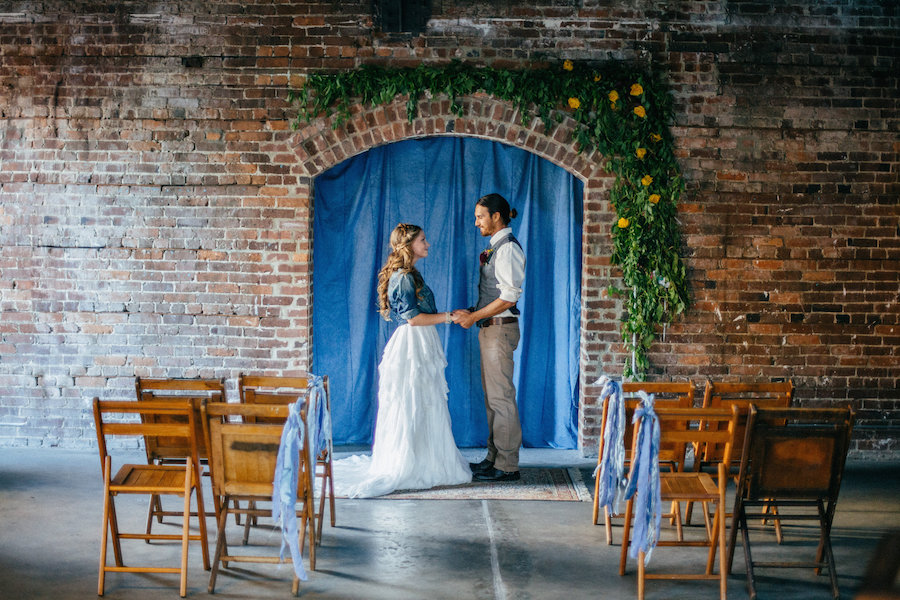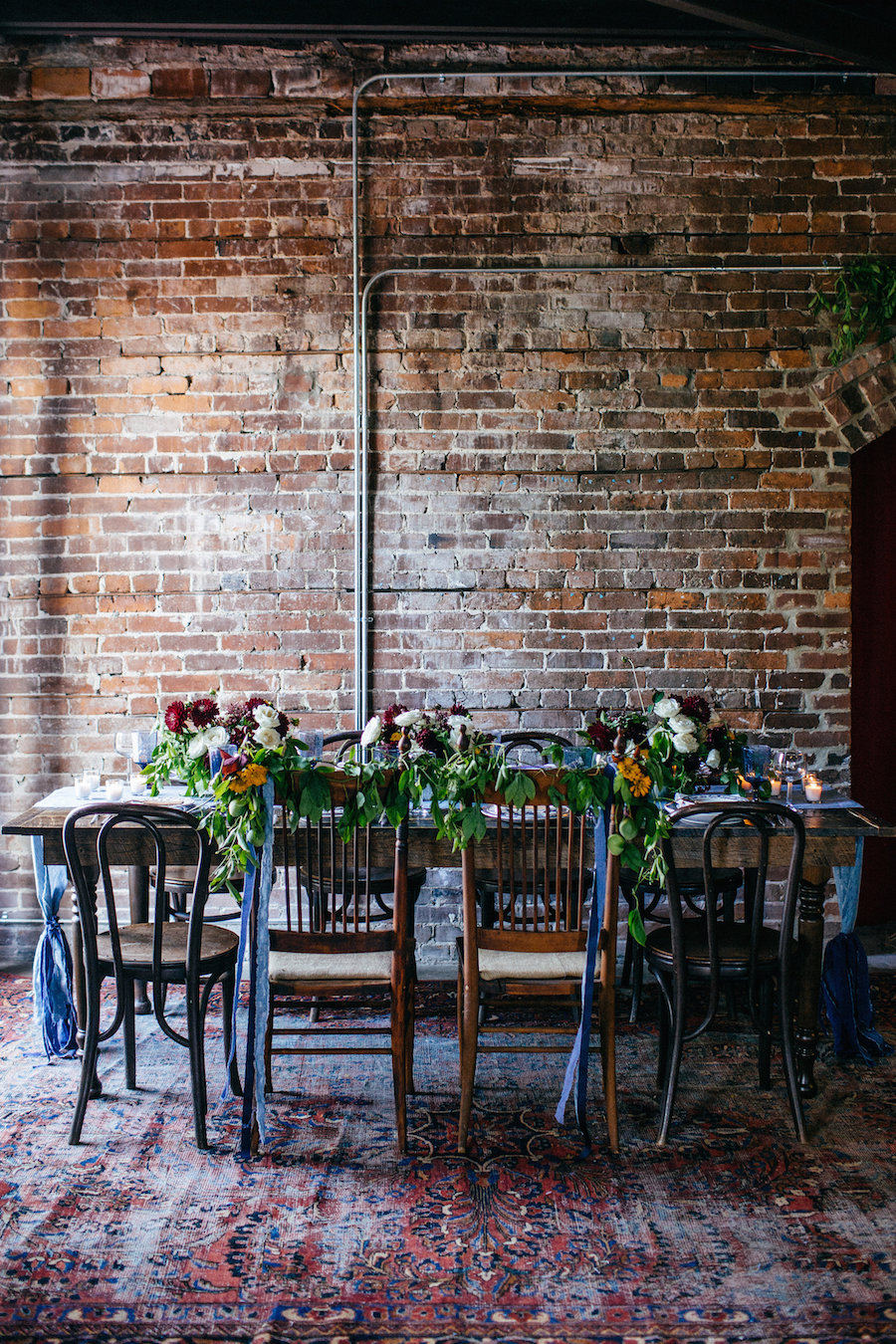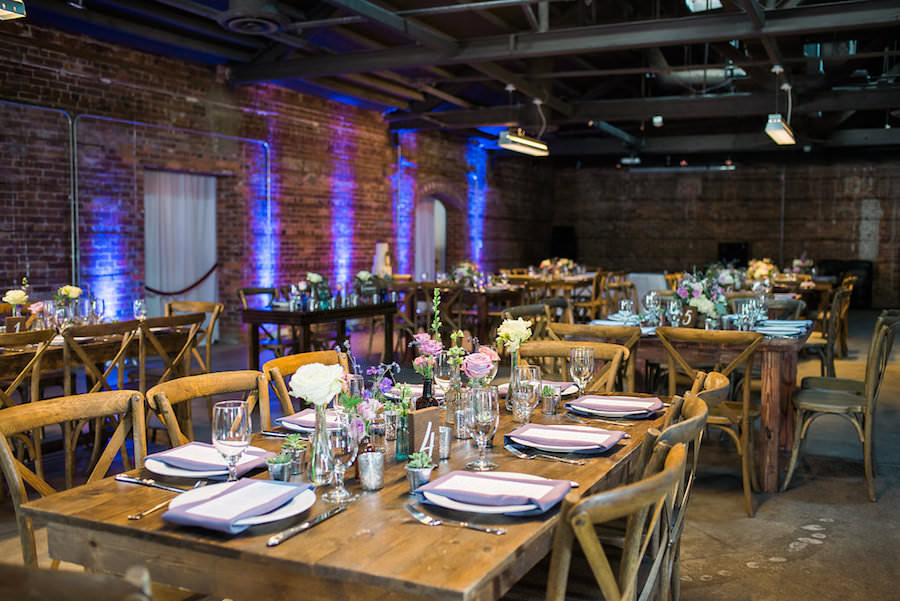 Tampa Bay Wedding World Changer Free Wedding Giveaway | Green Pearl Photography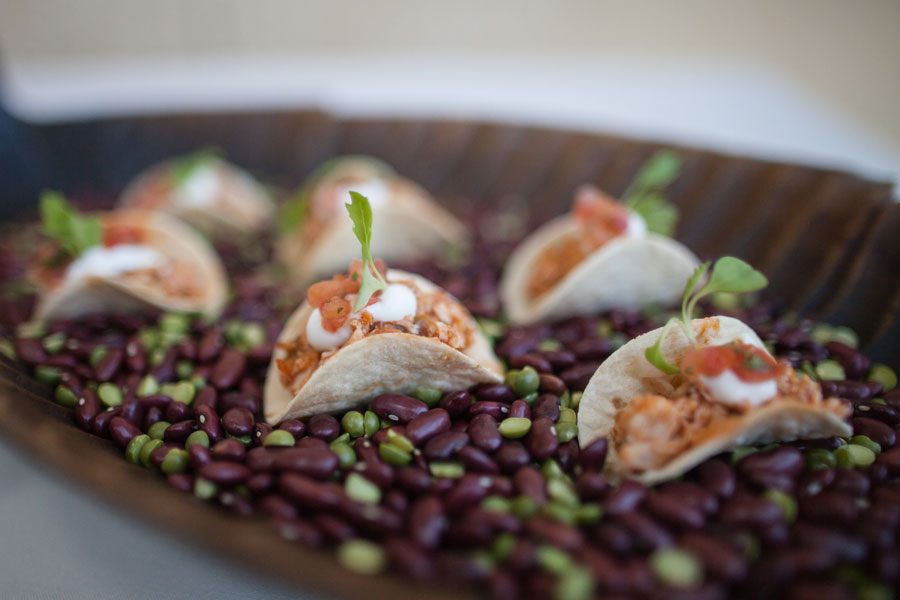 Waterfront Venues
Waterfront venues are great locations to feature seafood from the Gulf such as a Cold Seafood Station with Jumbo Gulf Shrimp & Oysters Served with Fresh Lemon Wedges and Cocktail Sauce – Laura Walsh | Olympia Catering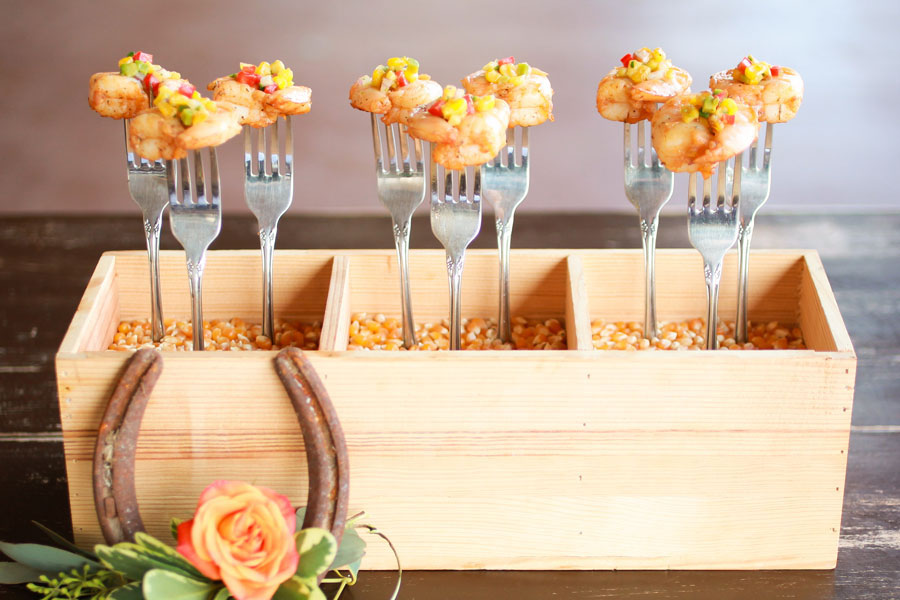 The Glazer's Children's Museum is essentially a blank canvas with an amazing view of the Tampa skyline, Hillsborough River and H.B Plant Museum. Inspired by the tv series Mad Men, the event space is planned to turn into a mid-century modern, 60's penthouse. The SaltBlock team got creative and interpreted the theme into a fun, contemporary meal that will take party-goers' taste buds back a couple of decades including: Dijon Whipped Deviled Eggs with Sherry Reduction, Scallion and Smoked Paprika, Beef Bourguignon with Braised Angus Beef, Cotes du Rhone, Forest Mushrooms, Sourdough Toast and Banana Cream in a Banana Mousse Tartlet with Dulce de Leche. -Anggie Rocco | SaltBlock Catering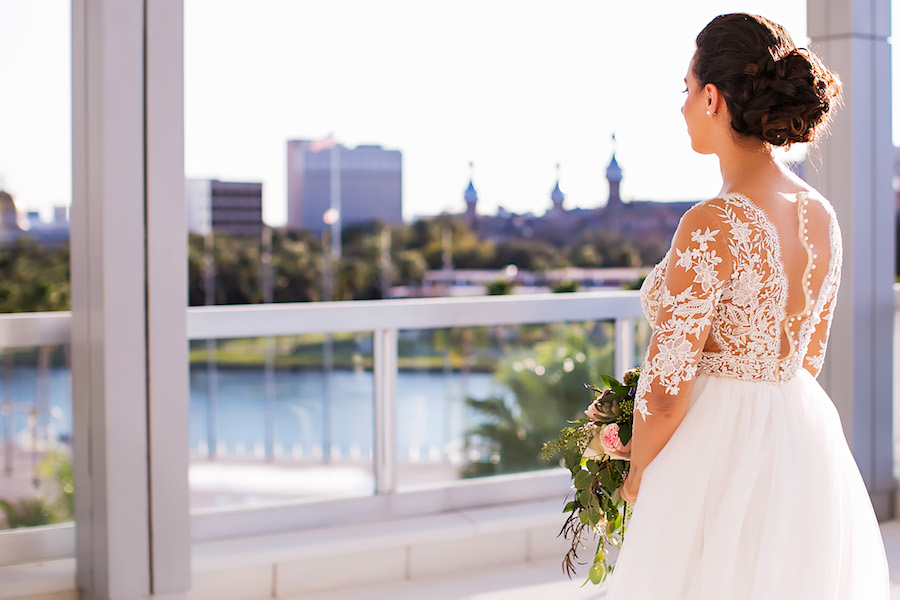 Limelight Photography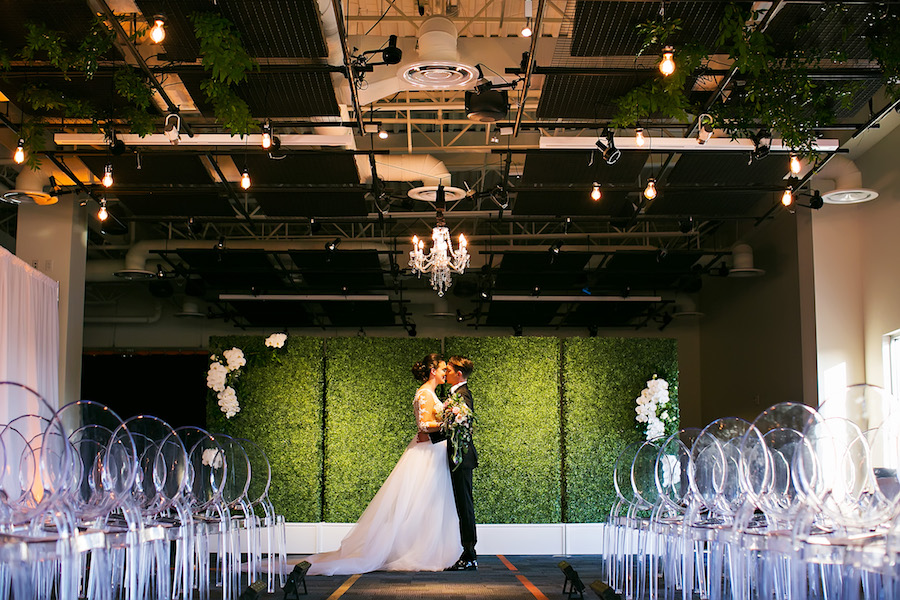 Limelight Photography