THE EXPERTS:

What is the average cost of hiring a professional wedding caterer in Tampa Bay/Sarasota (not including the venue)?
Paulina Nicka from Amici's Catered Cuisine estimates:
"If you have 100 guests then you can expect about $30 in only food costs at Amici's. That doesn't include service and other costs. Average costs for a 100 person guest list would be about $4,000-$5,000."
If you're adding in rentals and alcohol, Casey Grawien of Tastes of Tampa Bay shares couples should budget:
"Full service catering, rentals and bar services, costs will start at $65/guest."
Why does the price of wedding catering vary?
Laura Walsh from Olympia Catering shares:
"We like to have as many details as possible when quoting the price of wedding catering because there are many factors that determine the cost. Some considerations include what types of food, amount of food choices and portion sizes, how the food will be served, the amount of guests being served, where and what time the food will be served, and even what vessels the food will be served on. Be sure to discuss all of these with your caterer to receive an accurate price quote and avoid charges later in planning. Some examples that have an effect on pricing: having a pasta buffet vs. having steak and lobster (higher food costs); having a four-hour reception vs. having a five-hour reception (higher labor cost); having standard china and flatware vs. specialty ordered china and flatware (higher rental cost)."
Tastes of Tampa Bay adds:
"Pricing for catering has much to do with the quality of staff and menu options. Menu customization, scratch cooking, sourcing locally, and the time that goes into our menu preparation are all aspects that go into pricing our higher quality offerings. Frozen and mass produced, generic items tend to be cheaper and offer little in quality and customization."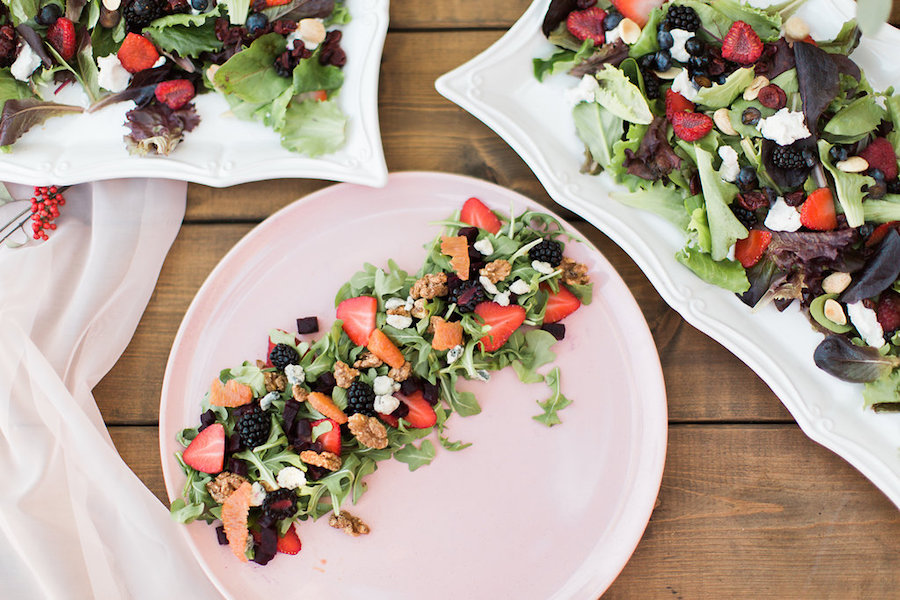 What is the difference in hiring a restaurant versus full-service caterer?
Tastes of Tampa Bay shares:
"A full-service caterer will have the equipment, staff and know how to create a restaurant quality meal on-site at your event and serve it to your guests within the specified timeline. Hot, fresh, and delicious are priorities in both a restaurant and catering setting, but how this gets executed is very different and there are many extraneous factors that a caterer must be flexible with at an event (power offerings, timeline changes, weather, etc.)"
Amici's knows that having a properly trained staff is key:
"Caterers have different training for their staff when they work on-site at many different venues."
Is it less expensive to choose a buffet over a plated meal?
Tastes of Tampa Bay shares that labor can make a buffet less expensive, but the ultimate price factor goes into the food:
"The expense is determined by the menu selection. Pricing remains the same food-wise, but service for a buffet is less than a plated meal."
Amici's chimes in:
"It can end up being almost the same. The difference is plated requires more staff, one server for every 20 guests. Plated requires more staffing, and for buffet style you need one server for 30 people, though buffets typically require more food."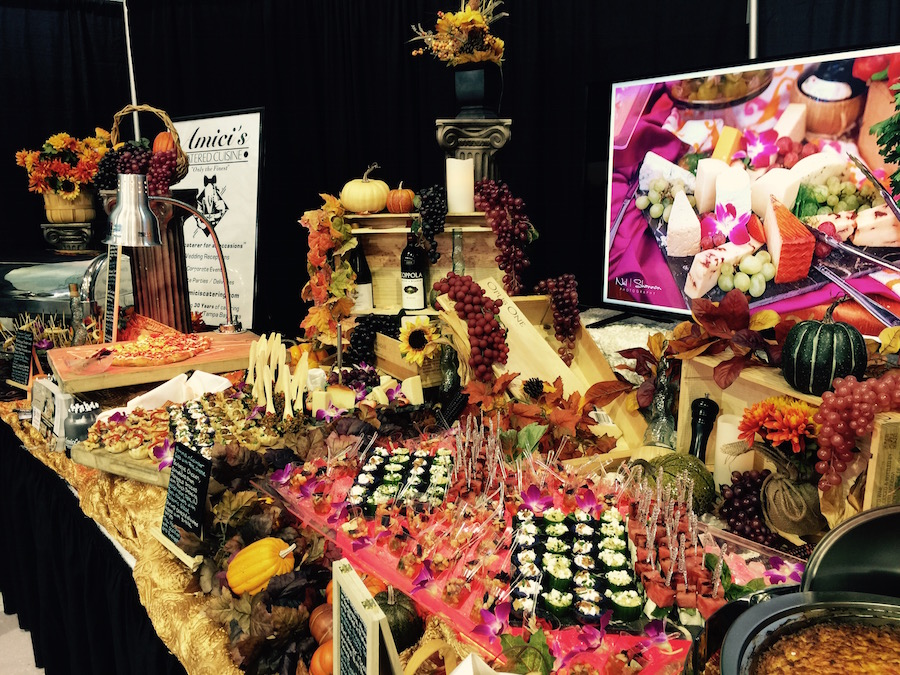 What are some qualities couples should look for in a wedding caterer?
Tastes of Tampa Bay shares the following when it comes to finding a quality caterer:
"First look at what you prioritize as a couple as far as what you'd like to offer your guests. We prefer to spoil our clients' guests with excellent service and personalized, seasonally driven food and cocktails. If this isn't important to you, and you're looking at price alone, determine that in the beginning and be honest about it upfront, just know you may have to compromise quality."
Olympia Catering emphasis professionalism:
"First and foremost, be sure to hire a licensed and insured caterer with a positive reputation. Make sure it is an established, professional business that will show up and serve food in a safe way for your guests. I also suggest hiring an experienced caterer that is large enough with staff, equipment, and backup vehicles. You never know what can happen: staff get in an accident, power goes out, the chef falls ill. Having an experienced caterer with backup means they can fix any problems seamlessly without the guests knowing a thing."
Amici's adds to look for the following:
"Reviews, reputation, menu customization, make sure they offer a tasting, experienced staff, friendly and responsive customer service."
LEARN MORE ABOUT THESE WEDDING CATERERS: