Your Tampa Bay wedding is your big day and no matter how great the food was or how pretty the flowers looked, if you hire the wrong DJ or MC that will be what you guests remember. This is the person who will basically run the show for a majority of the night. No bride wants the dance floor cleared because her DJ doesn't understand your guests tastes, or worse yet, stops the music entirely because of a equipment malfunction.
Sure your cousin's friend has an iPod and some nice speakers, but that's not going to make him a true wedding DJ. Does he understand the flow of wedding reception or when to announce the first dance or cake cutting?
Tampa Bay wedding DJ Jacob Smeaton of Music on the Move DJ's explains why you shouldn't hire the DJ from Craigslist and why you should look for a professional.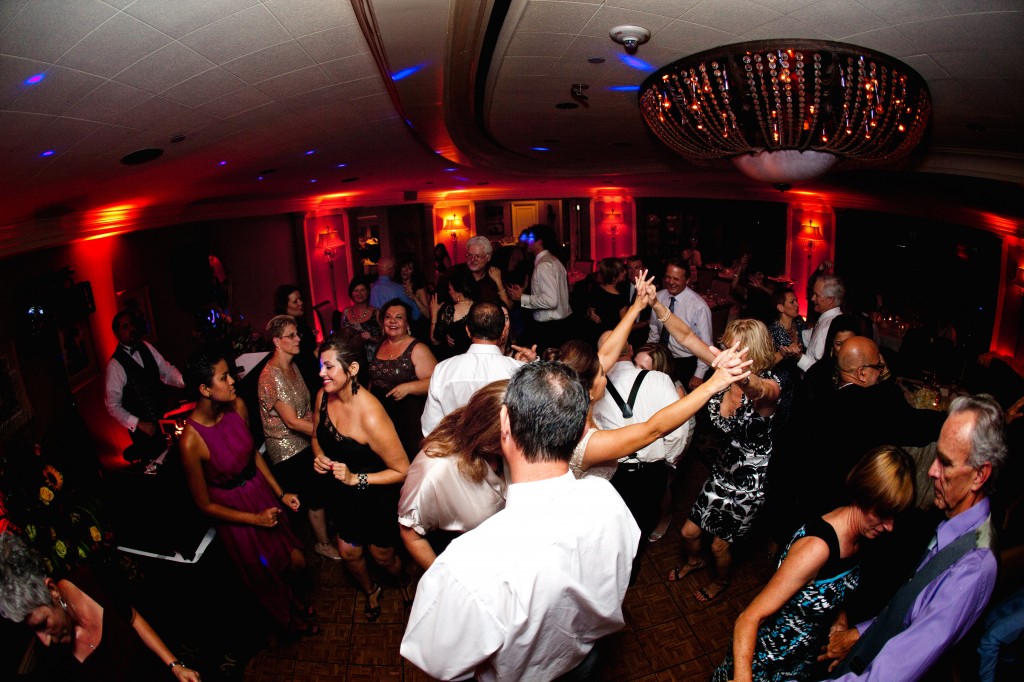 First, I know it can be difficult finding the best entertainment possible; especially on a budget. There are a lot of DJ's out there and it may appear that they offer the same thing for less; but this is usually not the case. Please keep in mind that there can be some major differences between DJ entertainment services. Over the years, I have heard all sorts of horror stories about clients choosing the wrong entertainment.
A few being: DJ's not showing up on time, not showing up at all, double booking themselves, not getting the DJ they thought they hired, their DJ & lighting set up are an unsightly mess, old lousy distorted/crackling sound system equipment, no back up equipment when there was a malfunction, cheap dance lighting or no dance lighting, effects lighting sitting on the ground or on top of speakers, poor microphone skills, not able to properly sequence the event, getting drunk at the event, hitting on guests, non-edited music, poor music library/selection, not able to "read" the crowd and pick good music, dressed inappropriately, hard to get a hold of, not very professional, didn't deliver as promised, etc…
Don't be a statistic! Again, I understand that price can be an issue. However, in my experience, those who go with the lowest price, usually regret it afterwards. When I speak with an inquiring bride, I try to educate them on what a difference a professional DJ can make if they choose us. However, some bride's only want to hear the price quote and move on to the next DJ on their list. They then hire the DJ that was probably only $200 cheaper but find out too late that they made a huge mistake.
Wedding DJ Pricing:
Disc Jockey rates vary based on talent, experience, emcee ability, service, coordination, equipment needed, music knowledge, mixing ability, and personality. A full-service disc jockey will normally invest 12 to 30 hours to your event; but it may appear that you are only paying for "4 hours." Consultations, music purchasing, music editing, preparation, set-up and tear-down, education, and other various business related endeavors add up to the overall success of your special occasion.
Even though on paper it may seem like the "cheap" DJ is offering the same as the more expensive DJ, if you dig a little deeper and ask the right questions, you'll usually find that it is night vs. day.
Example: Both DJ's offer a sound system, wireless microphone, dance lighting, and music. However, the cheap DJ has probably spent about $1,000 total on all of his old used equipment, while the other DJ has spent $15,000+ on his equipment. You will see a difference and hear a difference in quality. This doesn't even touch upon experience, talent, training, back up equipment, music library, licensing, insurance, etc. Keep in mind that more than 90% of the DJ's in this industry only do this as a part-time job.
Is your veggie platter more important than your wedding entertainment? Let's say you have 100 guests and the veggie platter costs $7.50 per person. That is $750. Yet you only budget $450 for your DJ. Are your guests going to remember the veggie platter or your entertainment? When you are spending thousands of dollars on a once-in-a-lifetime event, doesn't it make sense to budget a few more dollars and go that extra mile researching to hire a true professional wedding entertainer that will ensure a fun and memorable event your family and friends will remember for years to come? Like most things in life, you get what you pay for. Good entertainment is not cheap and cheap entertainment is rarely good!
Wedding DJ Statistics:
Martha Stewart says, "The entertainment you choose for your wedding or party is responsible for 80% of the events success and the memories you will have for the rest of your life." During wedding planning, brides said their highest priority was their dress, followed by the reception site, caterer, photographer, DJ, & then videographer. This means that the wedding entertainment was among the least of their priorities. However, within one week after their wedding, 78% of brides say they would have made the entertainment their highest priority!
Another statistic says that "85% of bride's, after their wedding, wish they spent more time researching and more money on their entertainment." That translates into 85% percent of bride's not happy with their entertainment and regret not going the extra mile. When asked, 81% of guests say the thing they remember most about a wedding was the entertainment.
Make sure to do your research, check out online reviews, and ask for references. Don't let the cheapest price be your overall deciding factor. Make sure you hire an experienced, full-time, licensed, insured, DJ that specializes in weddings!
Jacob Smeaton (Owner/DJ), a Tampa native, is a 2nd generation DJ entertainer. He comes from a musical family where his father founded Music On The Move DJ's in 1995. He has a brother who is one of his top DJ's and another brother who is a well known music remixer/producer in California. Jacob has been DJ'ing and MC'ing at weddings and other special events in the Tampa Bay and surrounding area since 1997 and has graduated with honors from USF.
Jacob is consistently referred by previous wedding clients to their friends and family and by top event professionals because of his professionalism and attention to detail. Moreover, people love his fun personality and ability to motivate guests to get out of their seats and have the time of their lives!
Due to Jacob's passion and experience, he has grown Music On The Move DJ's into Florida's #1 rated, award-winning DJ entertainment service with thousands of happy and satisfied clients! When Jacob is not preparing or working an event, he is a dedicated father who loves spending time with his wife and two kids.