How to Hire the Best Tampa/St. Petersburg DJ – Expert Advice from Music on the Move
Sometimes brides can overlook the importance of hiring the best wedding DJ in Tampa. Before you go searching on Craigslist for "a guy with a sound system," remember that this is the person who will run the show all night and determine just how much fun your wedding guests will have. (Those of you who have attended a wedding with a bad DJ know exactly what I mean). No matter how pretty your centerpieces are or how great you look, guests need someone to entertain them for the hours you're not standing right in front of them.
Tampa wedding DJ Jacob Smeaton of Music on the Move DJ's shares what you should ask to find the best wedding DJ for your wedding!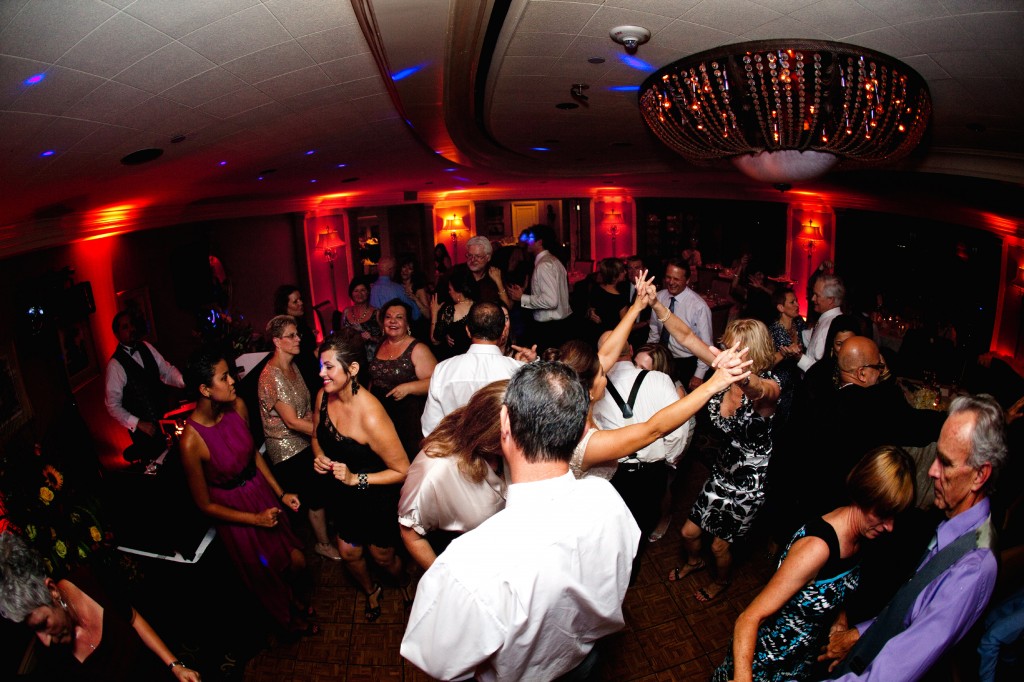 12 Questions to Ask to Hire the Best Tampa Wedding DJ
1. How Many Years Have You Been In Business?
Usually you want someone with at least 5+ years of experience. You don't want someone who is new and who is still learning. However, use your gut; having more than 5 years experience does not guarantee the talent or professionalism of a disc jockey.
2. Is This Your Full Time Job Or Part Time Job?
Unfortunately, over 90% of the DJ's that you will encounter only do this as a part-time job. Most full time DJ's put you first, are easy to get a hold of and put the time, money and energy into their training, equipment, music, etc. that a part time DJ won't or can't.
3. Are You Licensed & Insured?
Insurance is part of any legitimate business. Many DJ's (especially part-time DJ's) don't carry liability insurance. So what happens if one of your guests trip over a speaker stand and hurts his/herself? You want a DJ who carries at least a $1,000,000 in liability insurance, and a lot of Tampa wedding venues require this. (Just ask for proof of insurance).
4. Do You Use All Newer, High-Grade Professional Equipment?
Using high-grade, professional equipment helps ensure reliable service and a quality presentation. Unfortunately, just about every DJ will answer this question with a "Yes," even when it isn't so. Ask for a picture of their set up to see if it looks like new, high-quality equipment vs. large, bulky and ugly gear from the 1980's.
5. Do You Bring Backup Equipment?
Most DJ's (especially part-time DJ's) don't bring backup equipment. So, if their mixer, CD player, computer, microphone, or wiring fail, the result is a wedding disaster. A backup system protects your investment.
6. Will You Be Suitably Dressed For The Occasion?
Proper attire reflects a positive image to your Tampa Bay wedding guests. Specify the type of apparel that your DJ is expected to wear for your occasion. For the most part, the DJ should be in a nice suit or tuxedo. However, you may want him/her in less formalwear if playing a St. Pete/Clearwater beach wedding. If you are planning a "themed" event, make sure your entertainer is informed and able to comply.
7. Do You Provide A Written Contract?
It is extremely important to have your booking confirmed in writing. Ask for a written agreement, especially if you are paying an initial retainer. The standard initial payment for entertainment services is 50%. If you are expecting a specific entertainer, make sure you get it in writing as well.
8. Do You Have More Than One DJ With Your Company? If So, What Kind Of Experience/Training Do They Have? Can I Choose Who I Want?
Some multi-DJ operations subcontract out to the lowest bidding DJ without notice to experience, training, MC Skills, music selection, or professional equipment.
9. How Many Wedding Venues Refer You?
This is a big one, because hotels, country clubs, and other Tampa wedding venues see all kind of DJ's and will only refer those who do good job. You want someone who can ramble off a dozen or more properties. Also, the more prestigious properties will refer the better DJ's. You can even call the wedding venue's catering sales manager and ask about a DJ's quality.
10. Do You Have Any References That We Can Call?
References are a major part of the wedding industry. It is a good idea to get a few references from past clients, wedding vendors, & venues. Also, check out the DJ's online reviews and ratings.
11. Do You Have Any Awards Or Have Been Recognized For Your Talents In The Wedding Industry?
This is another great question that only a small percentage will be able to answer positively. Most wedding vendors, including DJ's, get these awards from reputable wedding sites where past brides leave reviews of their vendors. If that vendor gets all great reviews, they will get an award for that year. If a DJ or other vendor hasn't been getting good reviews, then they won't get an award.
12. What Happens if You Get Sick/Have a Death in the Family/(Insert Worst Case Scenario Here)?
Things happen, and even the most responsible DJ can have "worst case scenario" occur. Ask about a backup plan and the qualifications of your backup DJ (if one is available). Also see if something like that has happened before. Are they able to have your event covered with the same level of service in case of an emergency?
I hope these questions help you make a more informed decision with choosing the right DJ for your special day. Make sure to do your research, check out online reviews, and ask for references. Don't let the cheapest price be your overall deciding factor. Make sure you hire an experienced, full-time, licensed, insured, award-winning DJ entertainment service that specializes in weddings!
Jacob Smeaton (Owner/DJ), a Tampa native, is a 2nd generation DJ entertainer. He comes from a musical family where his father founded Music On The Move DJ's in 1995. He has a brother who is one of his top DJ's and another brother who is a well known music remixer/producer in California. Jacob has been DJ'ing and MC'ing at weddings and other special events in the Tampa Bay and surrounding area since 1997 and has graduated with honors from USF.
Jacob is consistently referred by previous wedding clients to their friends and family and by top event professionals because of his professionalism and attention to detail. Moreover, people love his fun personality and ability to motivate guests to get out of their seats and have the time of their lives!
Due to Jacob's passion and experience, he has grown Music On The Move DJ's into Florida's #1 rated, award-winning DJ entertainment service with thousands of happy and satisfied clients! When Jacob is not preparing or working an event, he is a dedicated father who loves spending time with his wife and two kids.