"I wanted a very classy and simple theme. I decided to go with black and white because of how much we could do with it with so little. My entire house is black and white. I love the simplicity but also the boldness of it," the bride revealed. "I am not super 'girly' so I couldn't see doing anything loud during this day."
"[In a wedding venue, I looked for something] simple! I did not want to deal with decorations, and I wanted a venue that had the atmosphere already built in it," the bride beamed. "NOVA 535 was actually the first venue I looked at, and I was completely hooked! The service was absolutely amazing. April was by far the best customer service I have ever had in my life."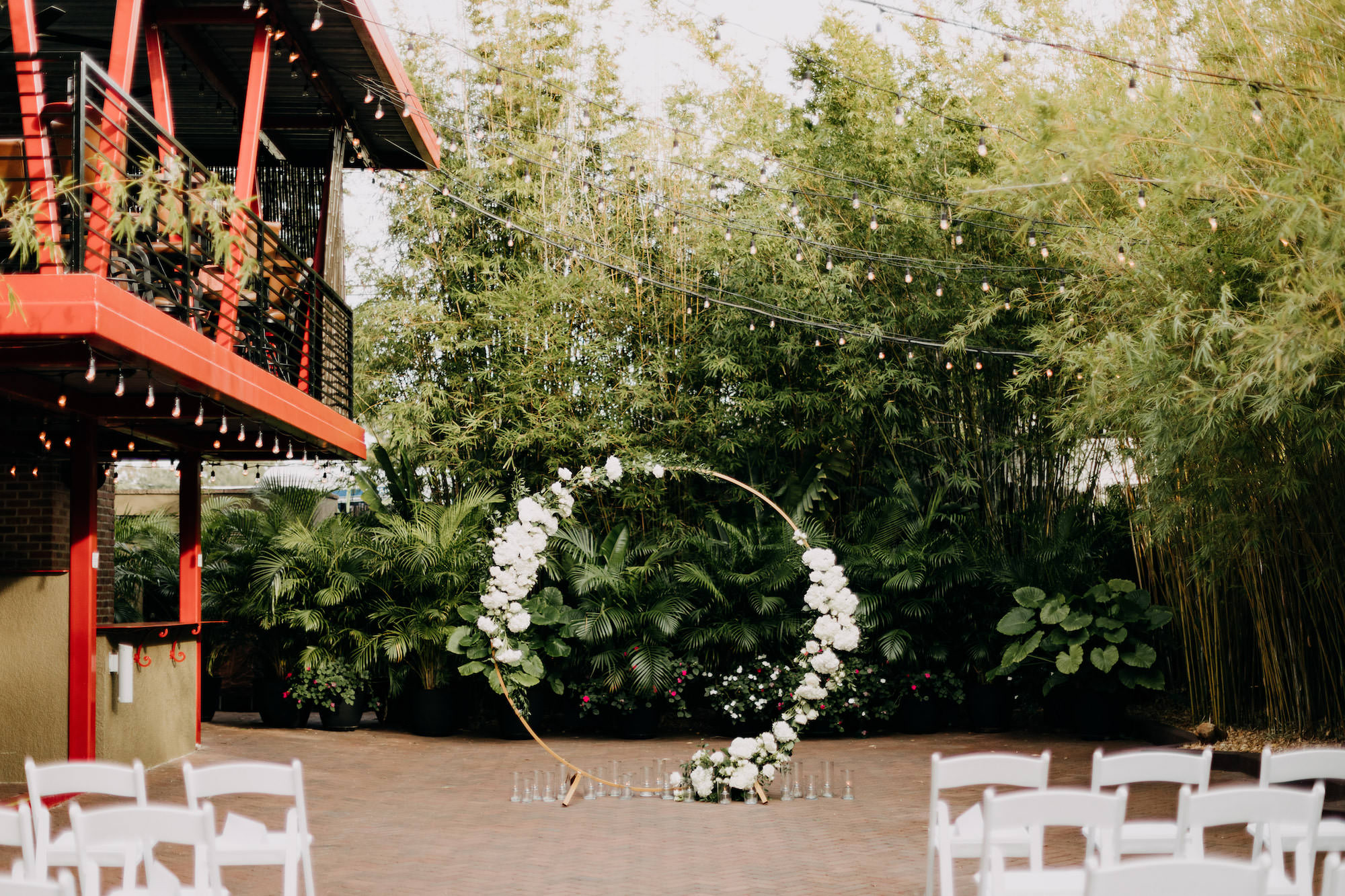 Caterer: Catering By The Family | Linens: US Tent Rental | | DJ: Jaey Pereira | Invitations: Wild Bloom Design Studio | Printables (Etsy) Print with love | Bridesmaid Dress Shop and Designer: David's Bridal | Groom's Attire: Men's Wearhouse | Rehearsal Dinner: Kobe Japanese Steakhouse
---
"I always imagined an elegant black-tie wedding. I wanted our wedding to have a romantic, fun feeling while still elegant. I love flowers so having a lot of florals was very important," the bride explained. "Our colors were pink, blush, orange, emerald, and gold. I love bright flowers, and the emerald green and gold lifted them up a notch so our wedding could keep the formality. Our hotel was also pink, so it all went together nicely."
"Being Methodist and my husband being Jewish we wanted to have an intimate private ceremony that could incorporate both religions. We had many cultural and religious traditions that really made our wedding unique like a rabbi and pastor both officiating. We had our ceremony under a beautiful chuppah and glass breaking at the end of the ceremony paying respect to my husband's religion," the bride explained. "I walked down the aisle to a ukulele playing Over the Rainbow, and we both received leis at the end of the ceremony representing the Hawaiian side of my family that was not able to be present. We also honored our moms with white roses during the ceremony."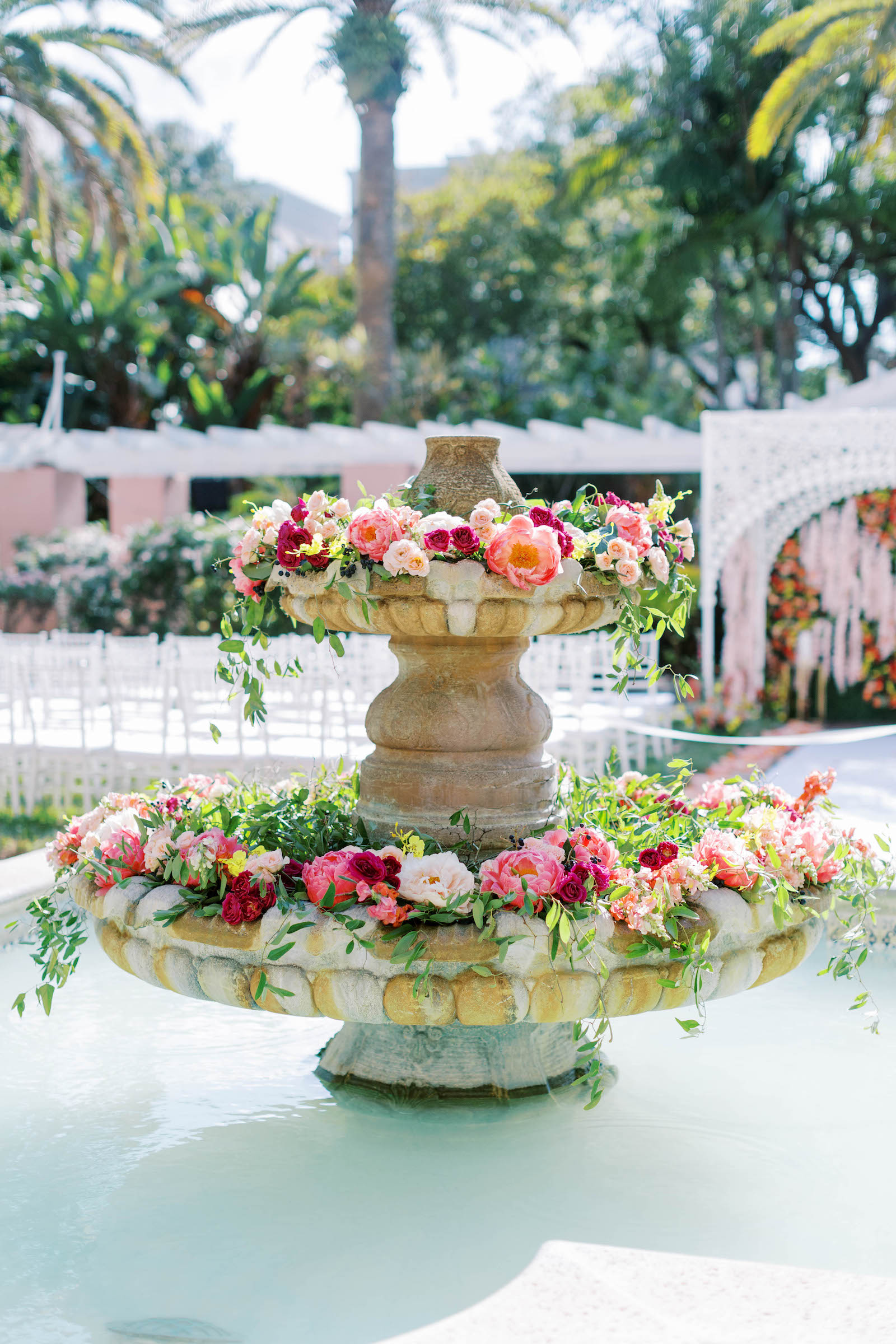 Photographer: Shauna and Jordon | Videographer: Meant to Be Productions | Design, Decor, and Florals: MMD Events | Cake: Hands on Sweets | Ceremony Entertainment: Jade Strings Entertainment | Ceremony Sound: Total Entertainment by Matt Winter | Cocktail and Reception Entertainment: The Hit Factory Band | Sparklers: Spark Wedding Events / Nature Coast Entertainment | Invitations: The Messy Painter | Day of Paper: URBANcoast | Transportation: Rolls Royce: Revvies Luxury Transportation | Dress Shop and Designer: Solutions Bridal Designer House | Mensware: Men's Wearhouse | Shoes: JIMMY CHOO, Christian Louboutin | Rings: Tiffany & Co., David Yurman | Hair & Makeup: Lasting Luxe Hair and Makeup Artistry
---
"I wanted a bohemian wedding with terracotta/taupe hues, extravagant yet simple flowers, and candles for a romantic garden appeal, while also adding a touch of Star Wars for my husband, who is a major fanatic!" the bride shared. "Our colors were terracotta, taupe, ivory, and sage. I absolutely love the earthiness of these colors, and no matter what season, they stand out beautifully."
"My husband loves Star Wars, so we made the table décor and his boutonniere special, including our cake and cake topper. One of our guest books was the silhouette of the millennium falcon, and we made sure to have a lightsaber send-off!" the bride detailed. "The colors were also chosen not just because of the bohemian appeal but as well as the representation of the planet of Tatooine from Star Wars."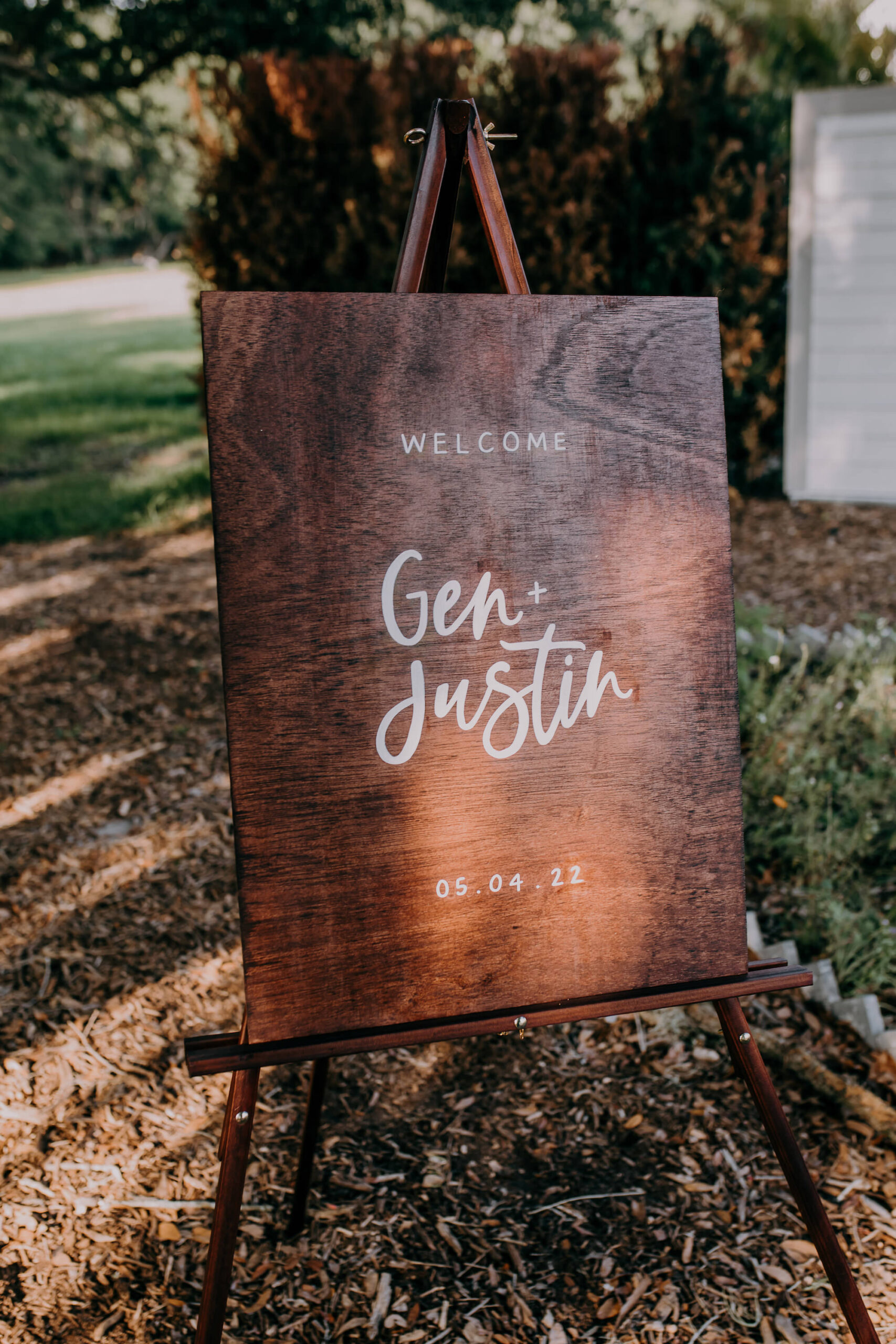 Photographer: Lindsey Vander Wal Photography | Videographer: Hold Fast Weddings | Caterer: Blue Water Catering | Cake: LuBelle's Cakes | Dessert Bar: 2Morrow's Cakes LLC | DJ: DJ Jaey | Officiant: Ceremonies By Chrissy LLC | Invitations: Truly Engaging by Magnet Street | Dress Shop: CC's Bridal Couture | Dress Designer: Essense of Australia | Shoe Designer: Bella Belle Shoes | Bridesmaid Dress Shop and Designer: Birdy Grey | Groom's Suite Shop/Designer: Men's Wearhouse/ BLACK by Vera Wang | Hair & Makeup: Glitz & Glam Creative
---
"We would describe our wedding as 'grown-up goth,' but our wedding planner told it much more elegantly in her proposal after our initial meeting with her as 'industrial, boho, moody, edgy, romantic'," the bride detailed. "We made sure to go with a color scheme we both liked, darker colors that matched our styles: black, red, and blush pink tones. We chose those colors because they match our personal styles in our everyday goth life."
"We made sure not to gender-associate any part of our wedding because a lot of our friends are non-binary, and we think that gender traditions are totally lame. That means we didn't have bridesmaids or groomsmen, and we just had a wedding party. We didn't have separate bachelor/bachelorette parties; we had a combined BachelorX party! Pairs that walked down the aisle weren't boy and girl. People were paired in a way that made sense to their relationships. For example, our bandmates walked down the aisle together, and we made sure to tell anyone in our wedding party to wear whatever clothing they felt comfortable and confident in as long as it was in our color scheme, black," the bride revealed. "We also didn't do any wedding traditions that made us feel like unequal partners. We didn't exchange rings because neither of us like wearing rings. We didn't ask that people sit on certain sides, my father didn't walk me down the aisle, and we didn't say, 'you may kiss the bride,' to seal our vows."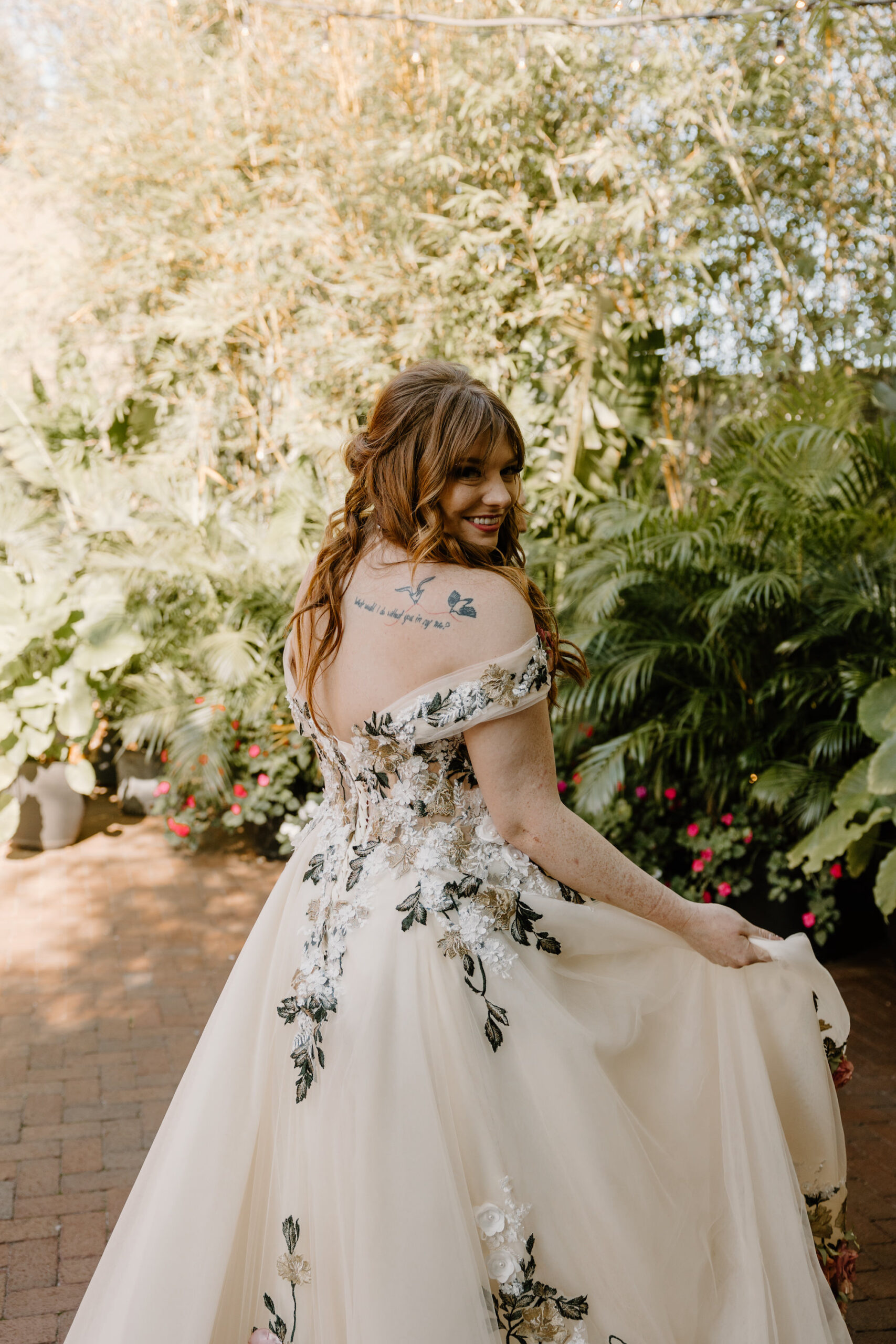 Photographer: Grace Torres Photography | Videographer: Robert Agosto – Love It Wedding Films | Florist: By The Bay Floral | Additional Caterer: Mr. B's Restaurant | DJ: DJ Jaey | Hair: hairbyhaleigh_ | Makeup: Back Stage Trish
---
"Our wedding could be described as classic. I wanted something timeless, simple, and beautiful that we can look back on years from now and still love," the bride shared. "Our colors were black, white, and champagne. I picked these to go with the classic style and to keep things simple yet elegant!"
"We actually own and live on the property where the venue is. We actually met in preschool and grew up in this town," Caroline revealed. "We were part of the construction process, we got engaged and married here, and now we run the venue together, so it was extra special for us!"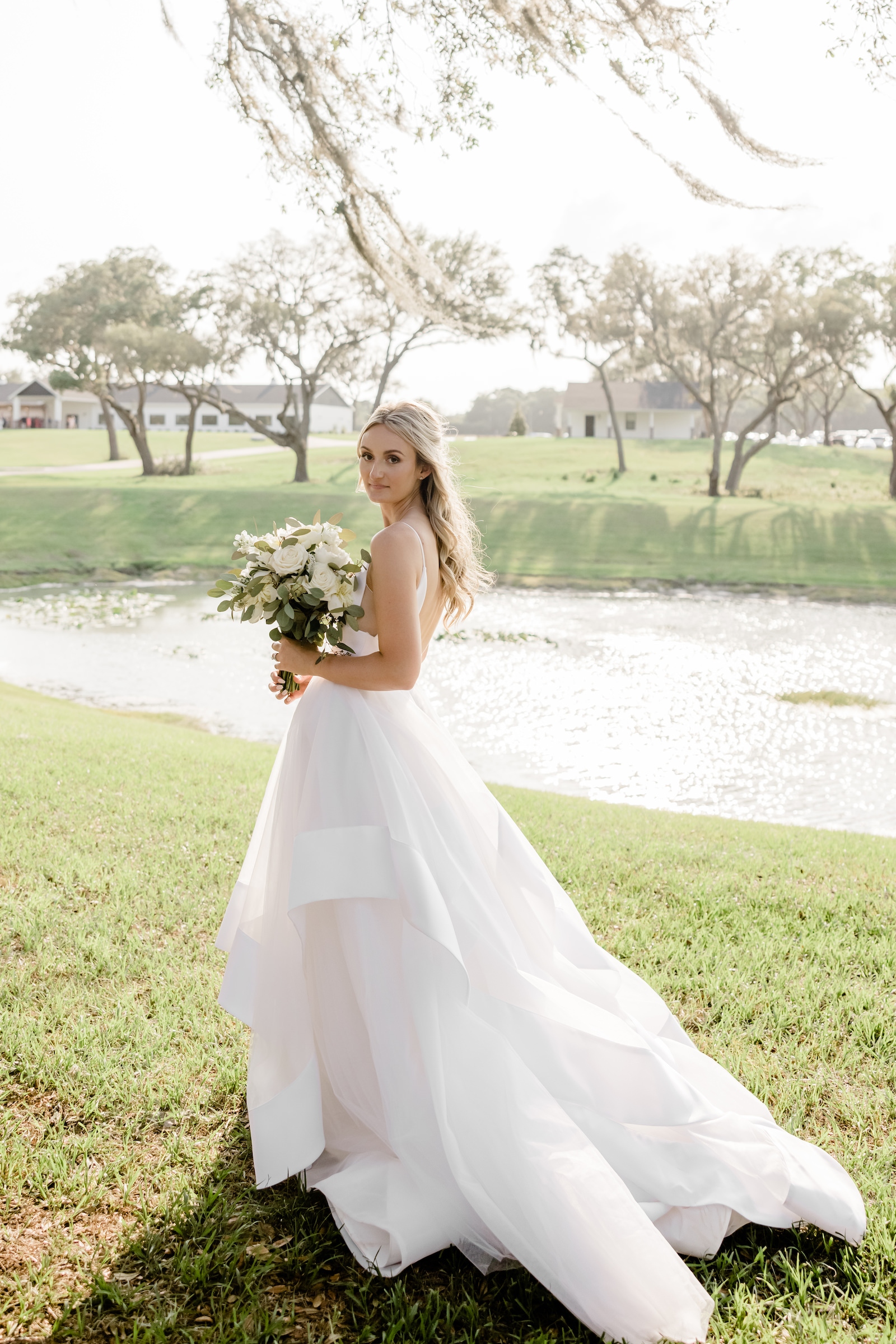 Photographer & Videographer: Rabecca Cruz Photography | Day of Coordinator: Weddings by Abi & Co. | Florist: Ever After DeAnn | Caterer: Papa Joe's Italian Restaurant | Wedding Cake: Farmhouse Cakes | Groom's Cake: The Pink Mixer Baking Co. | DJ: Crown Entertainment | Invitations: Ivory & Ink Collective | Dress Shop: The White Magnolia Bridal Collection Tampa | Dress Designer: Hayley Paige | Shoe Designer: CHANEL | Bridesmaid Dress Shop and Designer: Birdy Grey | Hair & Makeup: Bombshell Beauty | Live Musicians: Emmet Stevens Jr, Billy Dean | Bar: Spunky Spirits Bartending Services | Signage and Seating Chart: The Tampa Type.
---
"We would describe our wedding theme as soft boho. We wanted something that would be different from traditional wedding themes but would still reflect our personalities," the bride shared. "Our colors were dusty rose and nudes because we wanted a color palette that was minimalistic and timeless."
"We wanted a venue where we would be able to hold the ceremony, cocktail hour, and reception. Also, we needed a venue that would allow outside catering. Food was one of the family traditions we wanted to incorporate," the bride explained. "Haus 820 met all of the criteria that we were looking for in a venue. We loved that we were able to host our ceremony, cocktail hour, and reception all in the same location, but they all had completely different sceneries. We loved the openness of the reception area and the flexibility that we were allowed to have. It was like having a blank canvas. We were really able to bring our vision to life. Haus 820 provided exceptional service throughout the entire process and had great communication with quick responses."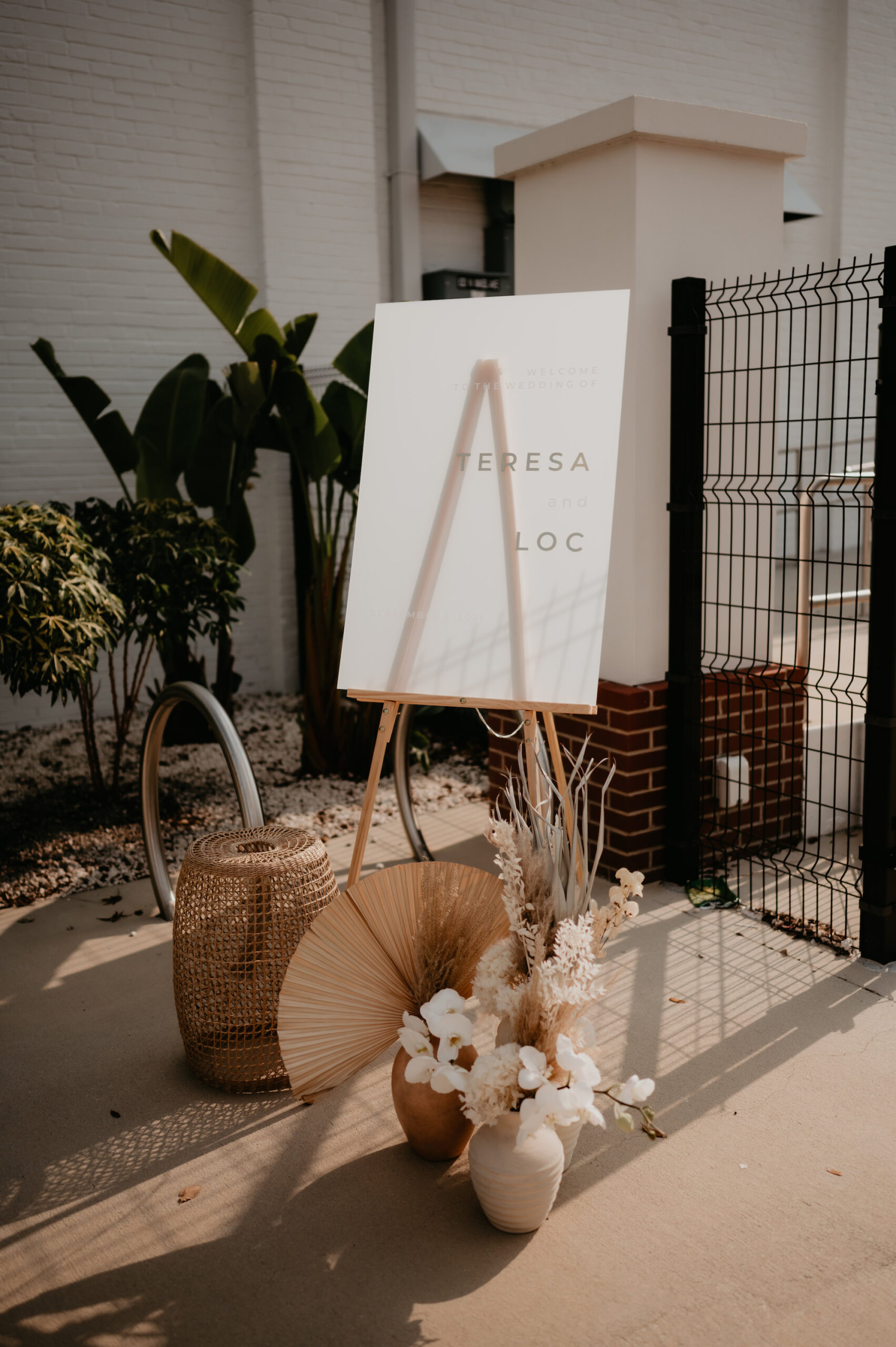 Photographer and Videographer: The Indi Collective | Planner: At Last Wedding + Event Design | Florist: In Bloom Florist | Caterer: Hao Wah Chinese Restaurant | Cake: Publix | DJ: DJ Spinfamous | Invitations: Shutterfly | Transportation: CharterUP | Dress Shop: CC's Bridal Boutique | Dress Designer: Essense of Australia | Shoe Designer: Badgley Mischka | Bridesmaid Dress Shop and Designer: AZAZIE | Hair & Makeup: Kristy's Artistry Design Team | Rehearsal Dinner: Bem Bom On Corrine | Gelato: Paciugo Gelato Caffè
---
"[Our wedding inspiration was] bright and vibrant colors to create a laid-back, but classy atmosphere for our guests. We wanted to go with colors that we love, versus what's really trendy currently," Heather shared. "We both love the color blue and knew we had to incorporate it; Michelle's favorite color is orange which was used for the florals."
"Since I'm from California and Michelle's from Ohio, we always wanted to have a destination wedding in a beautiful city. We wanted to get married on the beach with an outdoor reception. We wanted our guests to have the convenience of everything in one place, so they could relax and not worry about finding transportation and additional travel. The Hilton Clearwater Beach offered all of our events; our rehearsal dinner, wedding, and brunch the day after our wedding at the hotel," the bride detailed. "We chose the Hilton because of the gorgeous Sandpiper Terrace which opens up to the beach, and our ceremony and cocktail hour were just steps away. We wanted our out-of-town guests to have a vacation of their own, so it was important to us that everything be in close vicinity with no additional travel. The service was top-notch, and everyone was so nice and accommodating."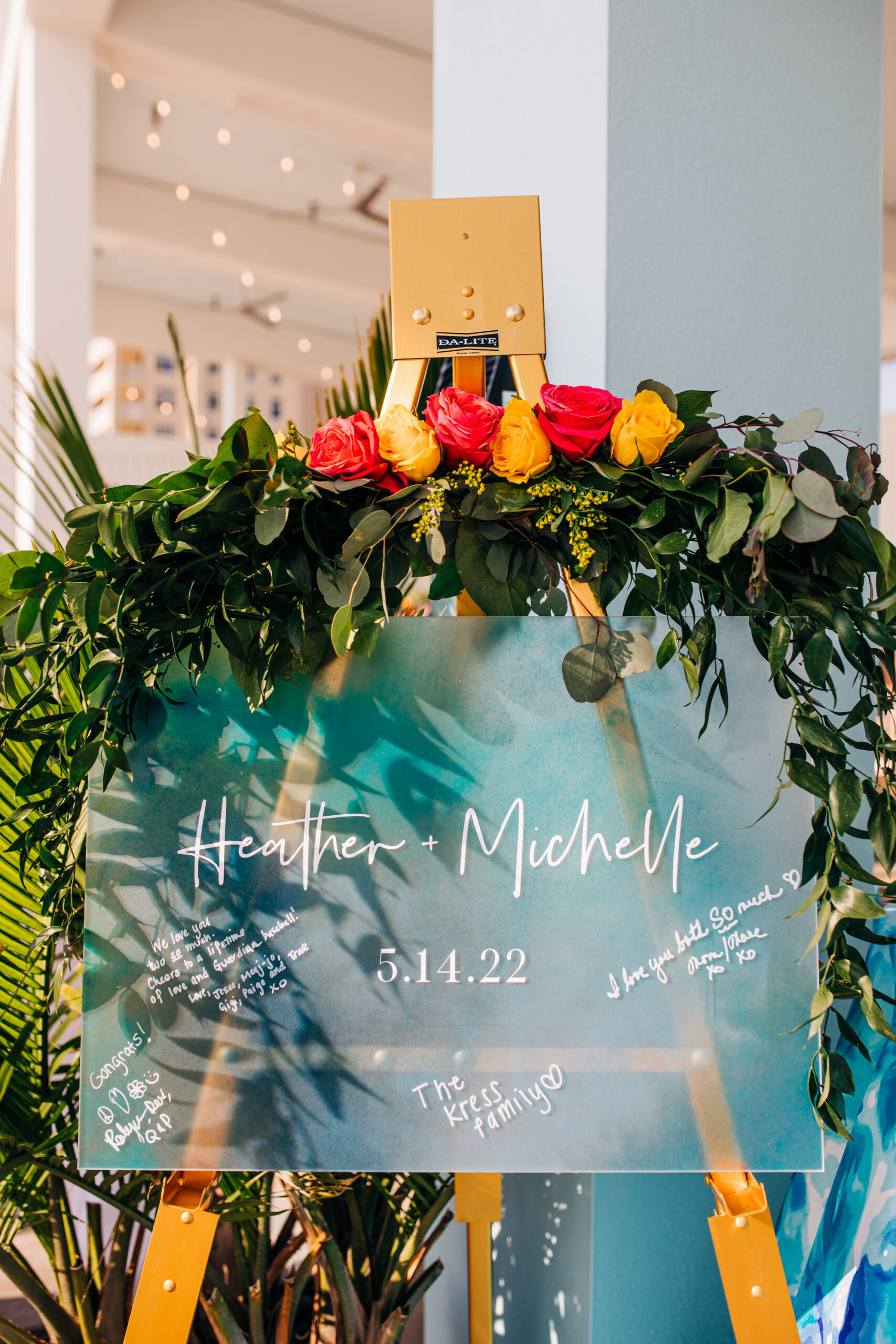 Photographer: Jillian Margaret Photography | Videographer: Storybook Films | Planner: Oak + Honey Event Planning Co. | Florist: Iza's Flowers, Inc. | Day of Stationery: Baci Designer, Minted | Linens: BBJ Linen | Cake: The Artistic Whisk, LLC | DJ: Cleveland Music Group | Ceremony and Cocktail Music: The Caribbean Crew Steel Drum Band | Dress Shop and Designer: Anna Campbell Bridal Sydney Road | Shoe Designer: Badgley Mischka | Hair & Makeup: Destiny Viviana Makeup
---
"I wanted our wedding day to feel like a fairy tale because when I first started dating my husband he told me he wanted to 'give me the fairytale,' and he truly has done that," the bride beamed. "I chose reds and pinks because I love warm and bright colors, and I thought it would be bold and romantic and a color scheme that was rarely seen."
"The most memorable moment was when we finally tied the knot, hours late and after everyone had gotten rained on. Our outdoor ceremony turned into a house party where we got married in my parents' dining room, and it was nothing like we planned but ended up being so much more fun that way," the bride reminisced.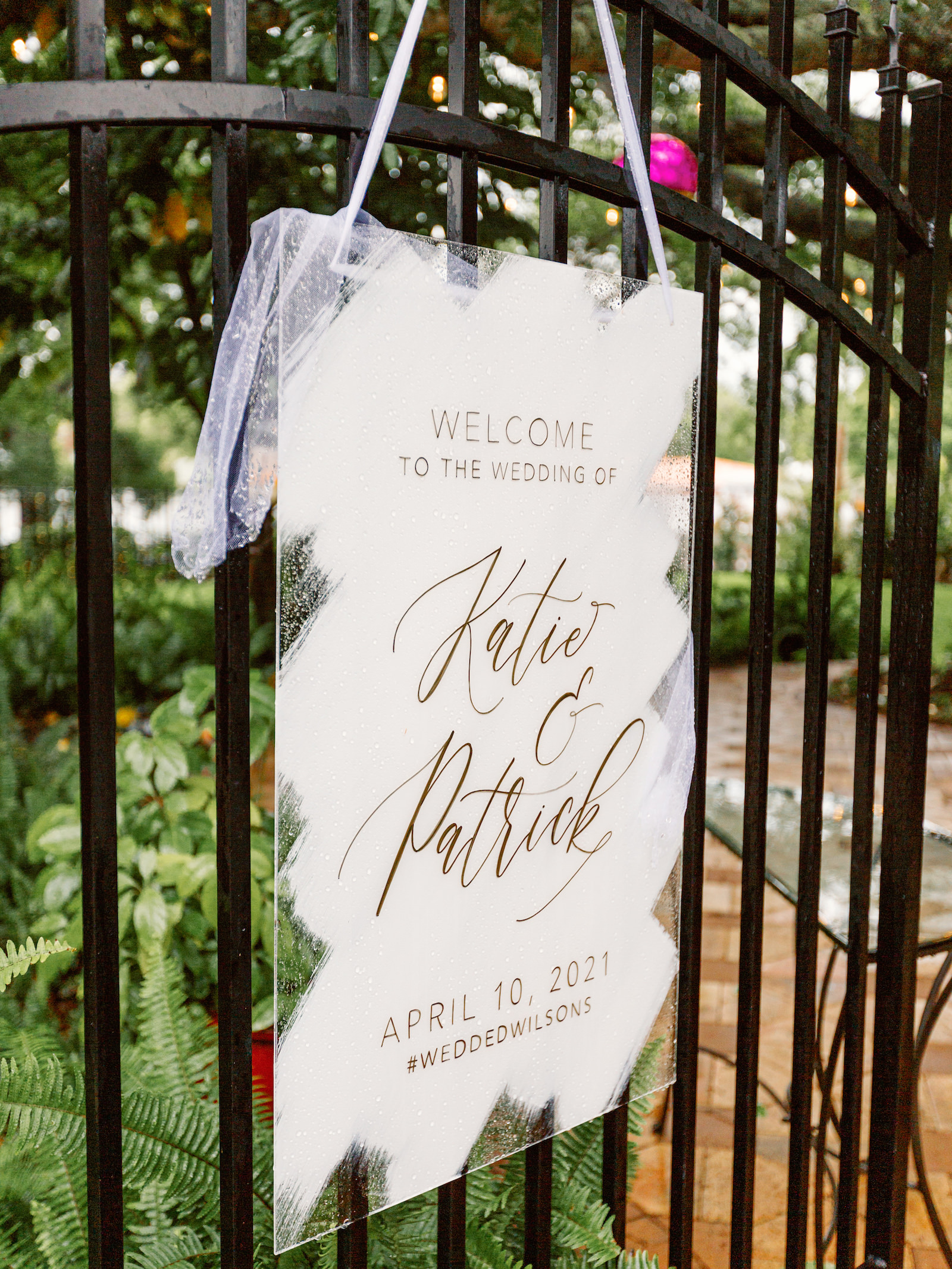 Ceremony Venue: Private Residence | Videography: Namesake Creative | Day of Coordinator: Snapdragon Events LLC | Caterer: Delectables Fine Catering, Inc. | Rentals: Southern Chairs | Cake: Chantilly Cakes | DJ/Live Entertainment: Bay Kings Band, Sunset Strings | Officiant: @Jason Sowell, Married by Jason | Invitations: Minted | Transportation: Alpha Limousine | Dress Shop: Isabel O'Neil Bridal Collection | Dress Designer: Galia Lahav House of Couture | Shoe Designer: Stuart Weitzman | Bridesmaid Dress Shop and Designer: Fame and Partners, Free People | Hair & Makeup: The Destiny & Light Hair and Makeup Group by Priscilla Marie | Rehearsal Dinner: Pia's Trattoria | Post Wedding Brunch: Adored Boards | Mobile bar: The Tipsy Trotter Mobile Bar Co.
---
"We chose a chic romantic theme. We love the classy, elegant look, as well as keeping it light and floral since we did get married on Easter weekend," the bride shared. "We chose blushes, ivory, gold, and rose gold. We wanted to keep things classy."
"I'll never forget walking down the aisle to see Trevor," the bride reminisced. "It was the first time I was seeing him in a few days, and I was waiting for that moment for a long time."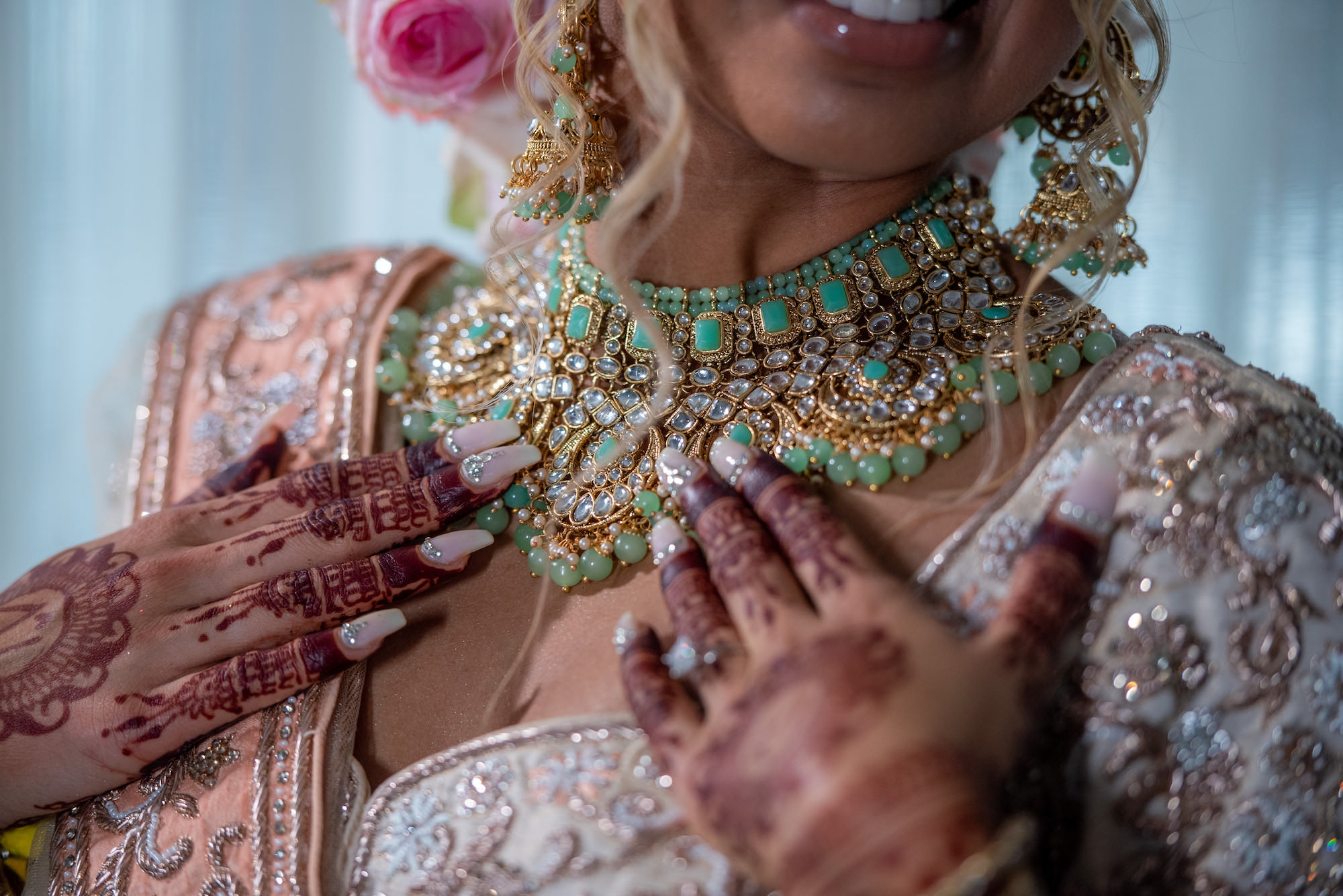 Photographer: Sona Photography | Videographer: Riant Films | Planner: InStyle Events: A Boutique Wedding Planning Company | Florist & Decor: Suhaag Garden Inc. | Indian Lunch Caterer: Tabla Fine Indian Cuisine | Cake: Publix | DJ: djx_factor | Officiant: Vishnu Sharma | Invitations: Zola and Paperless Post | Shoe Designer: Badgley Mischka | Bridesmaid Dress Shop and Designer: David's Bridal | Wedding Dress Shop: Bridal Couture of the Palm Beaches | Live Painter: Jacob Event Painting
---