If you ask most wedding guests what they remember about their experiences, they'll often comment on the food and entertainment.
Wedding day music goes beyond hiring a DJ for your reception. Your entertainment selections set the ambiance for your wedding ceremony, cocktail hour, and reception.
There's a lot to be said of hiring musicians who specialize in weddings. I've seen too many weddings where the ceremony music wasn't timed appropriately, the sound equipment didn't work, or the introductions and first dance were awkwardly fumbled through, which is why we asked Tampa Bay's most reputable wedding day musicians to share their expertise on A Guide to Wedding Day Music.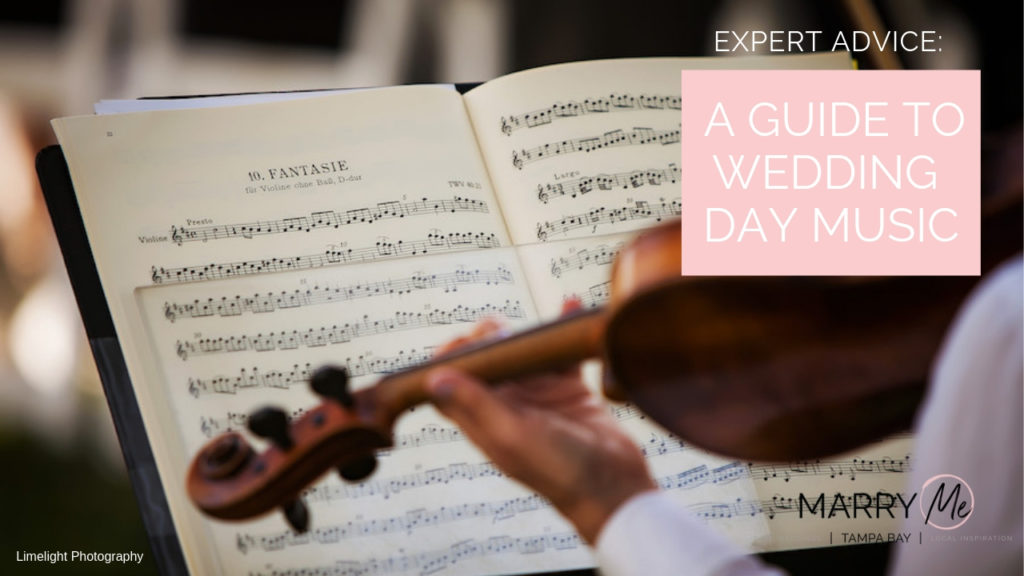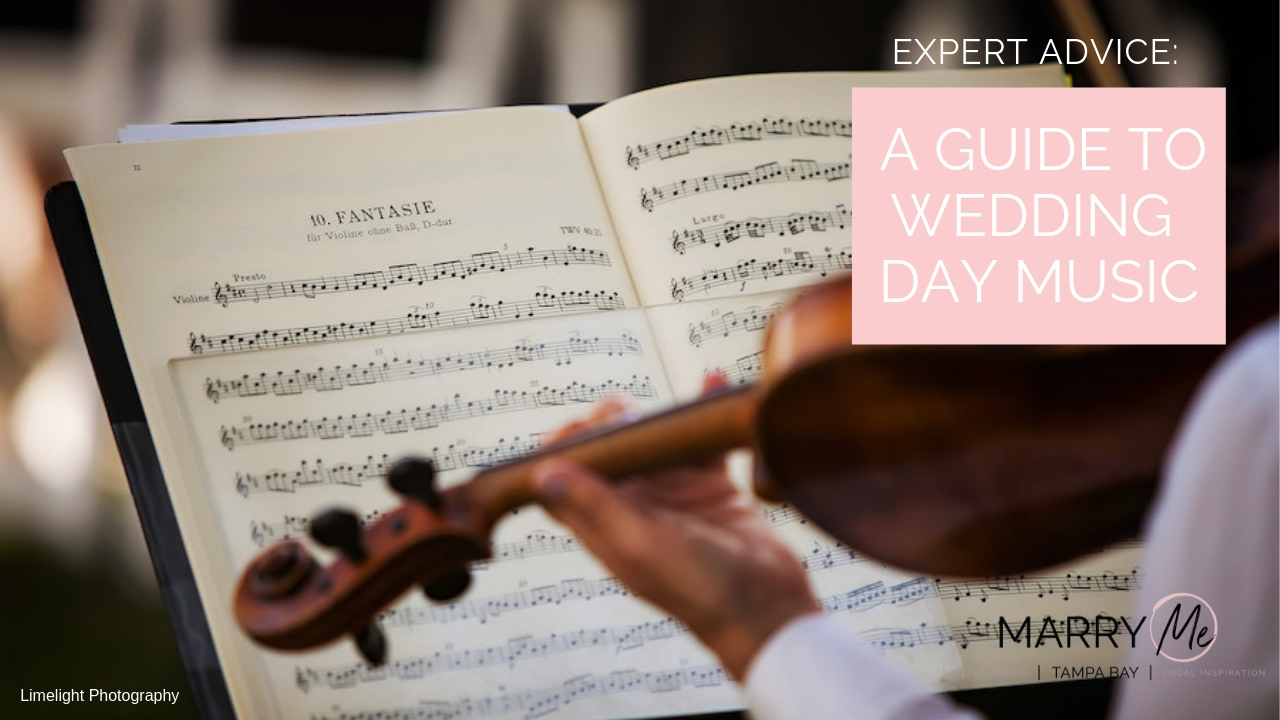 What Do I Need to Know About Ceremony Music?
"You can really set the tone of the entire wedding by choosing the perfect ceremony music. Whether you are looking for music that is more traditional or looking for a more modern contemporary feel, adding a live musician is such a nice touch and will leave your guests talking about your ceremony. If you do hire a live musician for your ceremony make sure they will provide the sound system and the microphone for your officiant. You want to make sure that your guests can hear you and your significant others say those special vows. Budgeting on your ceremony depends on the musician you choose and how many you decide to book. A soloist would be perfect for the couple on a tighter budget, but if you have a larger budget or a larger guest count we would recommend booking a duo or trio. Quartets will make the biggest impact." -Jessie Soplinksi, of Breezin' Entertainment
"Your ceremony is the beginning. The beginning of one of the biggest days of your life. Your music should reflect your personality. What emotions are you wanting to trigger from your guests and yourself? Which songs will reflect your taste? Are you wanting to walk down to Canon in D Major that everyone knows, but also sets the tone for a more romantic scene, or are you wanting something so different that no one has ever walked down the aisle to? This is a great opportunity to showcase your personal taste in music for your audience. If you're someone who loves music and you want your personality to shine through during this time, you should definitely pick the songs that speak for you and your significant other. It will memorable for you and your guests." -Christopher Grainger, owner of Graingertainment
Chris adds:
"A DJ should not just play your music, but also should do a sound check with your officiant, test the audio so everyone can hear, and make sure the timing is perfect. This should be a priority and properly budgeted for when you hire musicians or a DJ."
"Ceremony music is the perfect place to add personality and passion. Sure, you can go the traditional route with Canon in D, but today's modern couples are personalizing the ceremony. Just like how the traditional flower girl is being updated with the "flower dude," the music should evolve too. Acoustic versions of popular love songs are trending right now. Remakes like Haley Reinhart's Can't Help Falling in Love top the most requested list. Instrumental versions of popular songs are also hot with The Piano Guys Thousand Years still holds the top spot." -Mike Greenberg, owner Spark Wedding Events
"Quite often, ceremony music is something couples tend to overlook when budgeting their entertainment needs for their wedding. The DJ can not only facilitate that with ease but can also provide a microphone for the officiant. Some things to consider when selecting the specific songs for the ceremony are how far the walk down the aisle is and whether that song will be long enough to accommodate it. Something else to think about is whether or not they are including grandparents and parents in the processional, and if so, what song would they like for them." -Jaime Corbitt, of Grant Hemond & Associates
What Do I Need to Know About Cocktail Hour Music?

"For us, the equipment needed for a cocktail hour is always included, so all the couple needs to budget for is the time it will entail. Don't stress about cocktail hour music, trust your DJ. Most couples are taking pictures at this time and won't be around to hear the specific music they've chosen. It's usually best to provide the DJ with genres of music they would like to have played and let the DJ create a playlist accordingly." -Jaime Corbitt, of Grant Hemond & Associates
"Cocktail Hour music should be fun, upbeat, but still in the background so guests can converse without being blasted by the music. There are so many directions you can go with cocktail hour music. Step it up a notch with music that you love. Instrumentals of pop songs are a great way to add the right amount of ambiance. Piano Guys, Vitamin String Quartet, and The Brooklyn Duo are great examples of this style of music. Cocktail hour is a great place for the music that you want for your reception, yet it doesn't fit the "dinner" or "dancing" style of music. From love songs to the Chainsmokers, make your cocktail hour fun for your guests!" -Mike Greenberg, owner Spark Wedding Events
"Cocktail music should act as an interlude between your ceremony and reception. Part of being a good host/hostess is providing entertainment for your guests while the pictures are being taken. It takes the pressure off of the couple knowing that your family and friends are having a good time while the two of you steal away for a few sunset photos. It can be either live or DJ'd music and should be viewed as the 'starting point' to the celebration/party aspect of the evening. One of our favorite cocktail hour options would be an acoustic guitar with the saxophone. This combo sounds beautiful in any location!" -Matt Winter, owner of Matt Winter Band
What Do I Need to Know About Reception Music?
"When it comes to the reception, the music will make or break the entire evening. I have a lot of couples that go in between wanting a band or booking a DJ for their reception. A fusion DJ package is one of the newest trends, combining the best of both worlds (a DJ with 2-3 live musicians playing along to his music). This keeps the energy up but still gives that 'live band' intimacy you are looking for when booking a full band. When budgeting for your reception music please do not cut corners, this is one of the most important vendors that your guests will remember for years after the wedding day." -Jessie Soplinksi, of Breezin' Entertainment
"You're hiring professionals that know what to play and when to play it, so use that to your advantage! There will be a few 'must plays' and maybe a few 'do not plays,' but for the majority of the evening think along the lines of styles/genres of music and then allow what your DJ/band do what they do best, read your crowd and play within the parameters you've set for them. The exception to this rule would be if you have very specific music you want played or if you want uncommon music played throughout the event. This would also apply if you have specific ethnic music you'd like played (i.e. Greek, Arabic, Spanish, etc.). In those cases, a specific play list with song titles and artist names would be best." -Jaime Corbitt, of Grant Hemond & Associates
"Get ready to party…it's your reception! Give your DJ your favorite songs you have to dance to at your wedding. Try to avoid giving too many must-play songs as your DJ will read the crowd and insert the best song for the very moment based on your genres and what the DJ feels is the best music to play. Should "participation songs" be played? That's completely up to you, but in today's modern wedding, these are not necessary to have a great time! The music should be a mix that encourages multiple age groups to dance together. It's always a great party when everyone's out on the dance floor!" -Mike Greenberg, owner Spark Wedding Events
Should I Hire Live Musicians or a DJ?
"Yes and yes. It truly depends on what you are looking for. Musicians are great for ceremony and cocktail hour as they add a very personal touch, but they cost more than a DJ. DJs are great because all of the music is right at their fingertips." -Mike Greenberg, owner Spark Wedding Events
"It all comes down to the music the couple envisions. If you are looking for contemporary Top 40 pop music then don't hire a steel drummer, and if you are wanting a lot of hip hop/booty shaking music then hire a DJ over a band. I have a lot of couples who book the musician or DJ before really thinking of the type of music they want and then feel disappointed that the violinist cant play the Drake song or the band can't play the rap song they love. You want to choose music that plays to the musicians' strengths and not ask them to learn 8-10 new songs for your day. Instead, look for someone who already has those songs in their repertoire or ask them for a song list for you to choose from." -Jessie Soplinksi, of Breezin' Entertainment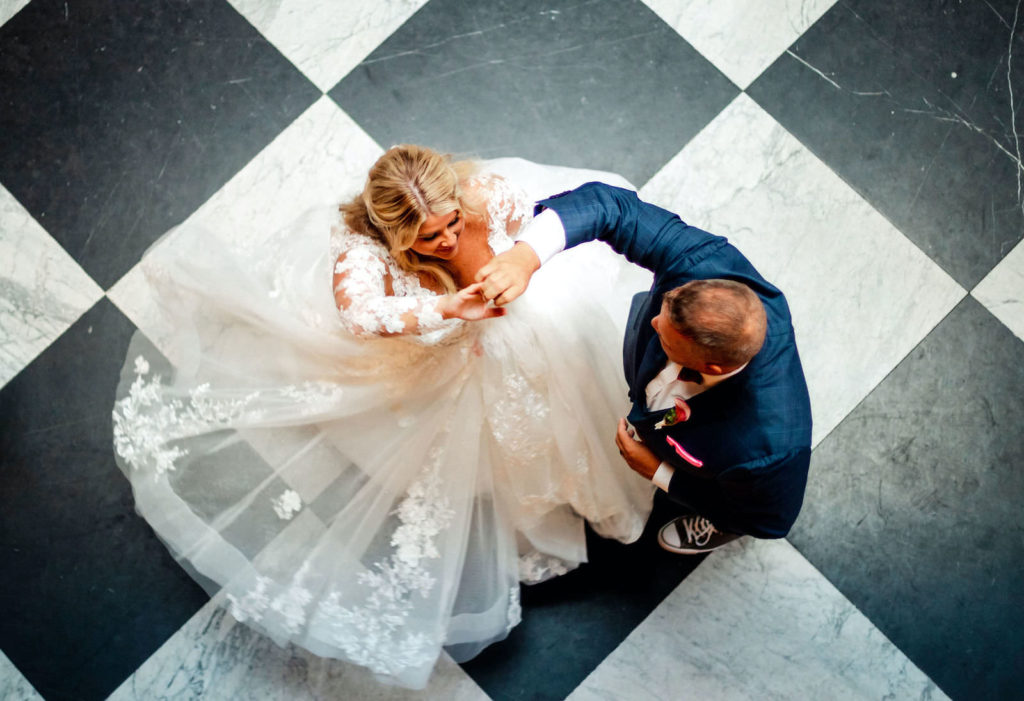 Grant Hemond & Associates | Tara McGovern
How Do I Know if I'm Hiring the Right Musician/DJ?
"Make sure you see plenty of videos, go see them live, and ask for reviews. When hiring a DJ it's all about a personality. Have a phone conversation or meet with them in-person before making a decision to ensure you are all on the same page with the style of wedding you envision. In regards to musicians, they all have opportunities to see them live or they can send you plenty of videos of them playing. I often have clients ask to hear a particular song and my musicians will record it on their phone and text it to the couples so that they are 100% comfortable with how the music sounds." -Jessie Soplinksi, of Breezin' Entertainment
"Find is a disc jockey who understands that it's not about the DJ. It's all about the couple. The is your day. Do your research! Referrals from other industry vendors, as well as reviews posted on wedding websites, are definitely the way to go. Industry vendors can point you in the right direction since they get a chance to work with DJs and bands almost every weekend. They know who to recommend and who to steer clear of. Plus, they're not going to put their name on the line to recommend someone they can't trust will do a good job for you! From there, make sure you're confident in your decision once you've made it. If you're not but have a good feeling, ask that company questions to ensure that confidence in them. After all, you're putting a lot of time, effort, and money to ensure you're event is a success!" -Jaime Corbitt, of Grant Hemond & Associates
"Write out a list of what you're looking for. Go over all of your questions with your DJ/musician and compare their answers to other companies. Talk to them either over the phone or in person. Do they mesh well with you? Do you like what you hear? Do they have great reviews? Are they in your price range? Do you feel they are going to do a great job at your event? Do your research. Don't just assume. Ask plenty of questions! Also, give yourself a few days to soak everything in before you make a decision. If it feels right and you and your partner both agree, then you have your person!" -Christopher Grainger, owner of Graingertainment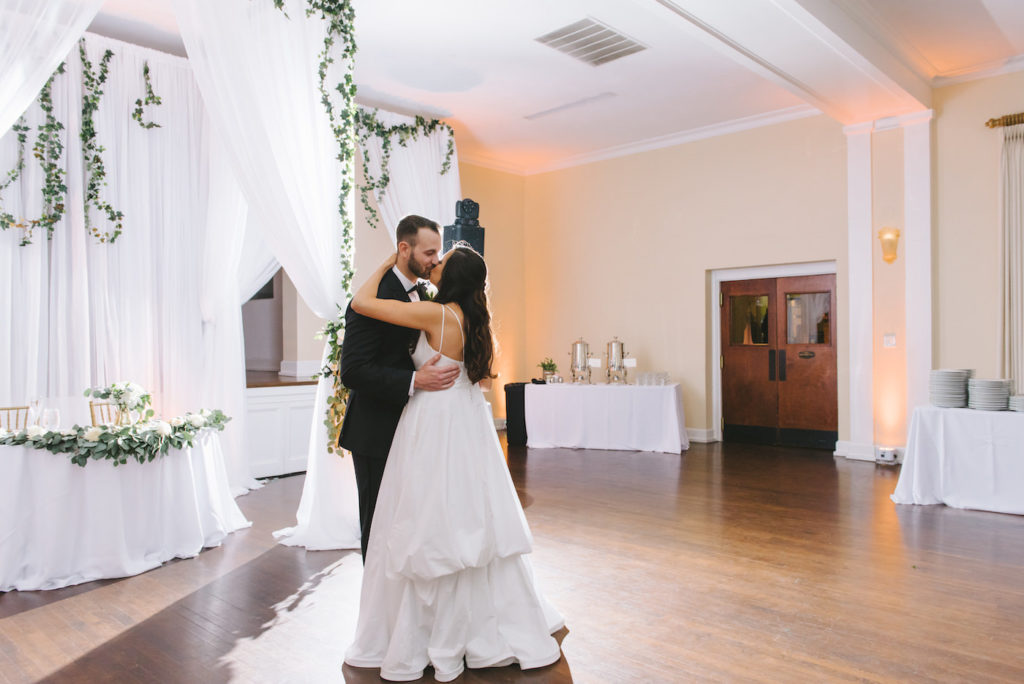 Breezin' Entertainment | Kéra Photography
How Much Should I Budget for Entertainment?
"It's not all about the lowest quote! We hear all the time that a DJ can make…or break an event. In the grand scheme of the cost of a wedding (the food, photos, flowers, dress, etc.), if you pay a little more than what you were hoping for, but get a fabulous DJ, then it is money well spent. On the other hand, if you save a little and get a DJ who perhaps shows up late, forgets an important detail, mispronounces a name, doesn't dress properly, etc. was it worth it? Just something to keep in mind!" -Jaime Corbitt, of Grant Hemond & Associates
Jaime adds:
"When budgeting for the reception, one of the main things to think about is how much time you will need DJ services. Other things to consider are whether you will want any add-ons such as uplighting, monogram lighting, and/or photo booth. Most companies will create package pricing for these additions, so don't be afraid to ask! When it comes to specific music, trust in your DJ! Give us your must-plays and genres of music you enjoy and let your DJ read the crowd. One thing to keep in mind is the music you enjoy listening to on the radio is not necessarily the same music that will keep your guests on the dance floor. You are paying for a quality DJ – trust their abilities to help you have a great time!"
Marry Me Tampa Bay Recommends:
Expect to budget at least $1,000 for a professional, reputable DJ for four hours of ceremony, cocktail hour, and reception music.
DJs often offer additional services such as uplighting, which typically start at $300+ depending on the amount of lighting needed, as well as photo booths.