Events Done Right primarily focuses on providing a full-service party experience & has been entertaining crowds for well over a decade. Our personal approach to each & every wedding has earned rave reviews from couples, and we continue to create celebrations that are a cut above the rest.  We work with couples to create an event that speaks to their tastes and needs. Our DJ's work out every detail from the first dance to the last and love to interact with your crowd.
---
---
What We Offer:
We offer the following services:
DJ/MC
Photo Booth
Up Lighting
GOBO/Monogram
Karaoke
Interactive Games
---
Our Wedding Style Is:
Our wedding style is "interactive, with careful attention to detail."  We go over every detail that you could possibly think of from beginning to end, from your pronunciation of names to the order of your events, making sure that we walk out the entire day with you.  There are no surprises on your wedding day.  You know what's happening and we are 3 steps ahead of that event happening already, helping to ensure that you can relax and enjoy your wedding.  We make sure your guests know what's going on throughout the entire evening on the microphone, while you & your fiancé already know what's happening behind the scenes.  Interacting with both you & your guests helps keep everyone on the same page, including your other vendors!
Our Personality Is:
Our personality is fun, in a professional manner.  We keep an even level between being the life of your party while at the same time, driving your timeline throughout the night to ensure that everything is running smoothly.  We don't just consider the DJ to be the curator of music, but also the host of your party.  It's important to know who the key players are in your day, besides the two of you.  We take our job as your DJ serious, however we find that fine balance that ensures you are smiling from ear to ear along with the rest of your guests!
---
What Inspired Us to Start Our Business is:
Prior to 2010, we were attending our friends weddings and felt that either 1 of 2 things were happening at every wedding. 
1)  The DJ was trying to take over the day and wouldn't cater to the crowd.  They were only playing the type of music that they wanted to hear.
2)  The DJ wanted to be the "star" of the wedding.
With a background in radio, and having to entertain large crowds on a regular basis, we knew that we could definitely get into doing something like this and understand what needed to be done.  We started doing it on the side as a part-time, weekend gig, just doing exactly what the couples wanted and started making a name for ourselves.  In 2016, we started doing this full-time and now employ a staff of over 25 team members.  We have come a long way & only continue to grow every year!
---
We Love Being a Part of the Wedding Industry Because:
EVERY wedding is different.  No wedding is the same.  Being front & center as the DJ/MC, & having to provide the soundtrack for the night, crushing a couple's big day is the most gratifying moment of our week.  Some couples have been planning for years for their special day and to know that you helped make a huge imprint on their night, & are also now part of their lifetime memories, is a very rewarding feeling.  There is no better feeling to us than having a couple thank us for being part of their special day!
---
What Makes Our Business Stand Out From Other Vendors Is:
The biggest difference between us and other companies is that at Events Done Right Tampa Bay, we TRULY care about our clients.  You're not just "another date on our calendar".  By the end of the night, we might even become best friends with your uncle & know what his favorite song is.  Without you, there is no us.  We understand that and that's why we appreciate your business, and get to know our couples.  
You'll come to find out that we are VERY big on the details.  Our DJ's will call you days in advance to introduce themselves, talk to you about your big day and see if we can provide any suggestions on how to make it an even bigger bash than the one that's already planned.  Again, we care about you AND we care about your guests.
We invite you to take some time and look at our past client reviews.  We wear these reviews as badges of honor in the DJ community.  You'll see a common theme in every review.   We like to have fun.   We care about our clients.
It's true that the DJ can make or break the party.  Any DJ can play the Cha Cha Slide.  We keep the dance floor moving all night long.  Whether it's your older guests telling us to "Shout" or the younger crowd chanting, "To the window, to the wall…." our DJ's will keep your party rocking!
---
One Thing Most Couples Would Be Surprised to Know About Us Is:
I (Ed Grube) was on the radio for almost 20 years on Wild 94.1 and went by the nickname "Special Ed."  We also have several other radio personalities on staff from Wild 94.1, Hot 101.5 & more that DJ weddings for our company on the weekend!
One of Our Non-Wedding Passions Is:
We have some VERY passionate sports fans on staff!  In fact, one of our DJ's is probably the biggest Tampa Bay sports fan you could ever meet and has actually gone viral several times because of his fandom for the local teams!
---
Our Associations/Awards:
We are part of N.A.M.E. (National Association Of Mobile Entertainers)
WeddingWire Couples Choice Award Winner (2018 – 2022)
The Knot Best Of Weddings Winner (2018 – 2022)
---
---
Meet Ed Grube
I grew up in New Jersey and spent half of my life there before moving down to Florida when I was 16 years old.  Always a HUGE music fan, I wanted to get a job right away in music, so in my first year at St. Petersburg College, I interned for Wild 98.7 (which is now Wild 94.1).   I got hired within 2 months of my internship, learned everything I possibly could and moved up the radio ladder until eventually I became the producer of "Orlando & The Freakshow" morning show on Wild 94.1  Through my radio career, I also was given the opportunity to intern at MTV in New York City, interview and meet lots of celebrities & musicians, while even being fortunate to have Missy Elliott propose to my wife with the ring I bought her, while I got down on my knee :-)  I am married with my 2 children, love traveling with my family and love what I do while getting to meet so many fun & awesome couples.  To this day, I am still friendly with many of the couples that I have DJ'ed weddings for!
Website
727-460-7219
Events Done Right Reviews from Marry Me Tampa Bay Couples:
Marry Me Tampa Bay curates the below reviews from real couples whom we've personally interviewed. As Tampa Bay's most trusted wedding planning resource, these reviews are 100% accurate and aren't created by fake accounts.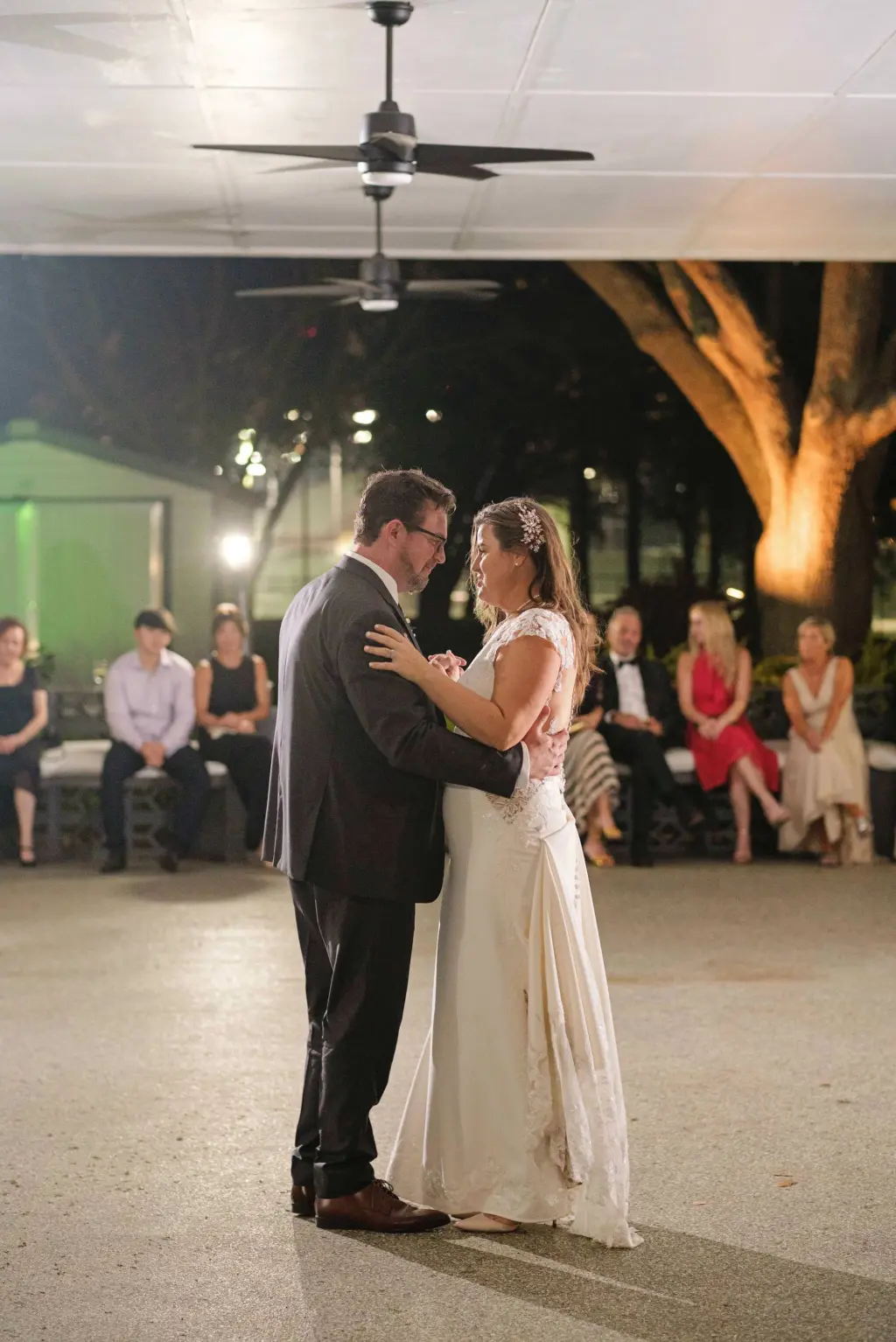 We wanted to find someone who could be entertaining and bring the crowd to the dance floor. We also wanted someone who was reliable and had a good reputation. DJ Justin of Events Done Right was exceptional. He was able to find very old nostalgic songs for my dad, who was requesting them aside from our list. Justin had a great attitude, was extremely flexible, and was willing to accommodate all our requests. It was a pleasure to work with both Ed, the owner, and Justin!
-Dagmar and Daniel
---
---
As Seen on Marry Me Tampa Bay