Customization is key to making your Tampa Bay wedding stand out, and your first dance song can truly reflect you and your soon-be-spouses' personalities. Whether you choose a classic Ed Sheeran ballad or a timeless Ray LaMontagne tune, your dancing shoes better be ready!
We asked the top Tampa Bay DJs and live musicians to share their favorite picks to kick off your reception on a high note.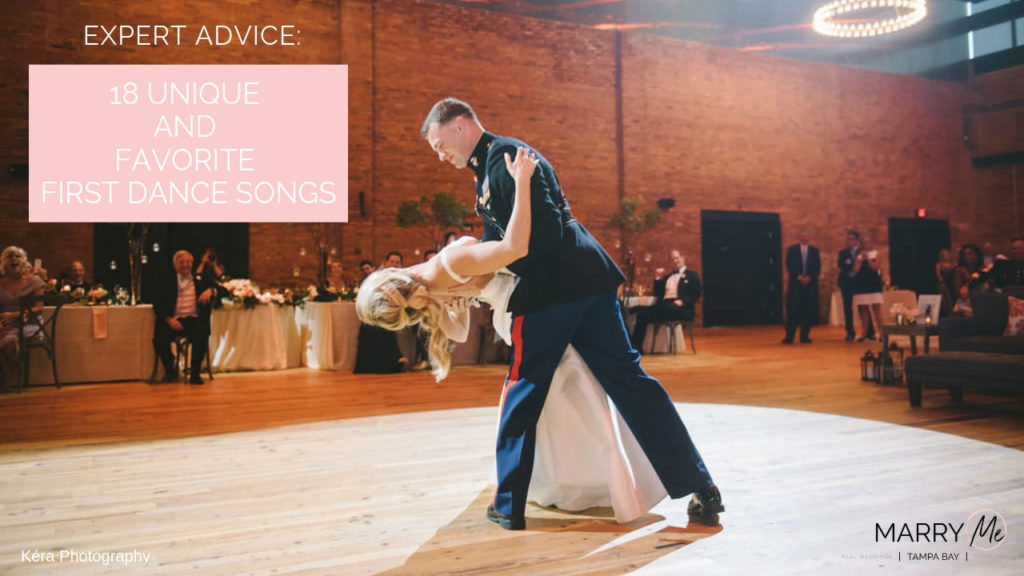 Something Romantic
Erica Muresan of Sunset Strings shares:
First dance songs are similar to ceremony songs, with a focus on slower, more romantic music. If you've decided not to go the route of Ed Sheeran's "Perfect" or "Thinking Out Loud," or the John Legend's "All of Me", some recent (but not overdone) favorites are the acoustic version of:
"Latch" by Sam Smith
"You Are the Best Thing" by Ray LaMontagne,
"Make You Feel My Love" by Adele
"Symphony" by Clean Bandit
Classics never grow old, and our favorites are:
"At Last" by Etta James
"Can't Help Falling In Love" by Elvis Presley
"La Vie En Rose" by Louis Armstrong
"Stand By Me" by Ben E King
Something Upbeat
Jessie Soplinkski of Breezin' Entertainment adds:
A recent couple chose "Happy" by Pharrell for their first dance song. I loved that it was totally different than your typical slow dance song, and the couple just really got into the dance party right away.
Finding a Rhythm
Jaime Corbitt of Grant Hemond & Associates shares a few of their top picks for unique first dance songs:
"Tu Amor me Hace Bien" by Marc Anthony is a great song for those who don't want a slow song and have a bit of rhythm in them. A very meaningful love song that's off the beaten path is, "You Are Mine" by Mutemath. Who doesn't love a great throwback from one of the greatest Disco-era bands?! "Love's Holiday" by Earth, Wind, and Fire is perfect for the couple looking for a classic song.
Switch up the Norm
Chris Grainger of Graingertainment shares:
Rick Astley, "Never Gonna Give You Up" (the Hannah Trigwell acoustic version). This song is typically just a great song to play as a joke, but Hannah takes it and makes it so lovely. "Shallow" by Lady Gaga and Bradley Cooper, for obvious reasons; if you saw the movie, you'd understand why I chose this song. "I'm Gonna Be (500 Miles)" is another fun song slowed down by Sleeping at Last, and it's so lovely.