Planning a wedding can be one of the most exciting and memorable experiences of your life, but with so much to consider, it's essential to set a realistic budget that enables you to achieve your dream day without breaking the bank.
The Knot published that the 2022 national average cost of a wedding is $30,000, a $2,000 increase from 2021's report. However, couples need to understand that weddings included in "national averages" often include simpler weddings which is what more couples typically do, making the "average cost" much lower.
For reference, the median cost of a published wedding on Marry Me Tampa Bay in 2022 was $50,000.
"Average wedding costs listed online don't include the number of guests, which is the backbone of a budget," -Lauren Gertz, Certified Wedding & Event Planner, Owner & Lead Event Planner, MDP Events explains.
To help you set a realistic budget for your local wedding, we asked our preferred Marry Me Tampa Bay experts to provide insight so that you can better understand on much weddings cost in Tampa Bay.
---
What Is the "Average" Cost of a Wedding in Tampa Bay?
"What does average mean? Everyone's definition of 'average' is different, and inflation has raised the cost of everything. Our clients are spending $25,000 on food, beverage, and venue alone. If you have in the range of 125-150 guests, I suggest for today's couple a comfortable starting budget is $50,000, keeping in mind there are numerous variables that play into that." -Karen Cerboni, Owner, EventFull Weddings
"This is one of the most difficult questions to answer because an average wedding cost listed online doesn't include the number of guests, which is the backbone of a budget. There really isn't an average wedding cost, but as prices rise and within a very popular destination, the average wedding cost would be around $60,000 for our clients. We also tend to have more luxury clients, so for us in particular, that would be on the middle scale without the upgraded tabletop rentals, bars, luxurious florals, large band, and signage installations." -Lauren Gertz, Certified Wedding & Event Planner, Owner & Lead Event Planner, MDP Events
"Most of our clients tend to spend on average $40,000 or higher. We never want to 'budget shame' anyone since we understand everyone is different and prioritize different things when it comes to a wedding. For our team, a budget of $25,000 can still give you a wonderful wedding (depending on the guest count), but it wouldn't have many bells and whistles. For a 100-person wedding, this would most likely give you a wedding with small centerpieces, a buffet dinner, and a pretty venue. This most likely wouldn't include all of the extras such as flower installations, late-night snacks, large seating chart displays, etc." -Delaney Driver, Owner, Wilder Mind Events
---
How Do You Help Your Clients Choose a Budget?
"To assist our clients with choosing their budget, we review who will be contributing to the wedding and how much they plan to contribute financially. We discuss non-negotiable aspects and determine how to make these a priority. We work together to build their vision and determine what it would cost to bring their vision to life. We use our expertise in the industry to provide our clients with realistic price points of what to expect and determine a game plan for how to achieve their goal budget. " -Ashley Johnson, Owner and Lead Planner, B Eventful
"Choosing a budget is very personal and something I tell my clients they need to do before anything else. To do that, they need to know who is contributing to the budget and how much. I spend time initially talking with my clients about their vision, what type of venue they would like, what their vision is, and what elements are most important to them. From there, I can help set realistic expectations on budget." -Karen Cerboni, Owner, EventFull Weddings
"When it comes to the client's wedding budget, we help by guiding them with our broad budget worksheet. This takes into account their style, guest count, most and least Important items, catering and beverage needs, as well as their venue favorites. We never want our couples to have their wedding budget depleted from choosing a venue that will take all of their budget. There are details like DJ vs. band, plated vs. buffet, and upgraded rentals and lush florals vs. simple candlelight and included rentals that play a large part in determining what style of budget couples will have." -Lauren Gertz, Certified Wedding & Event Planner, Owner & Lead Event Planner, MDP Events
"Location, date, guest count, and ranking of most important vendors all play a huge role in planning a wedding. The month and day you get married also play a huge role in the budget. Saturdays in 'season' tend to be a lot higher, a couple of thousand dollars more than a Thursday, Friday, or Sunday. (Thursday, Friday, and Sunday weddings have become much more popular over the last year.) This allows a couple's budget to go further than a Saturday rental. Guest count is a big one; I am a big fan of smaller wedding counts. This allows you to create an experience within your wedding for your guests. The wedding you throw may have different elements that a larger wedding wouldn't have because your budget wasn't spread thin when booking specific vendors. Vendor costs add up when your guest count grows!" -Kelci Zicconi, Owner and Lead Planner, Kelci Leigh Events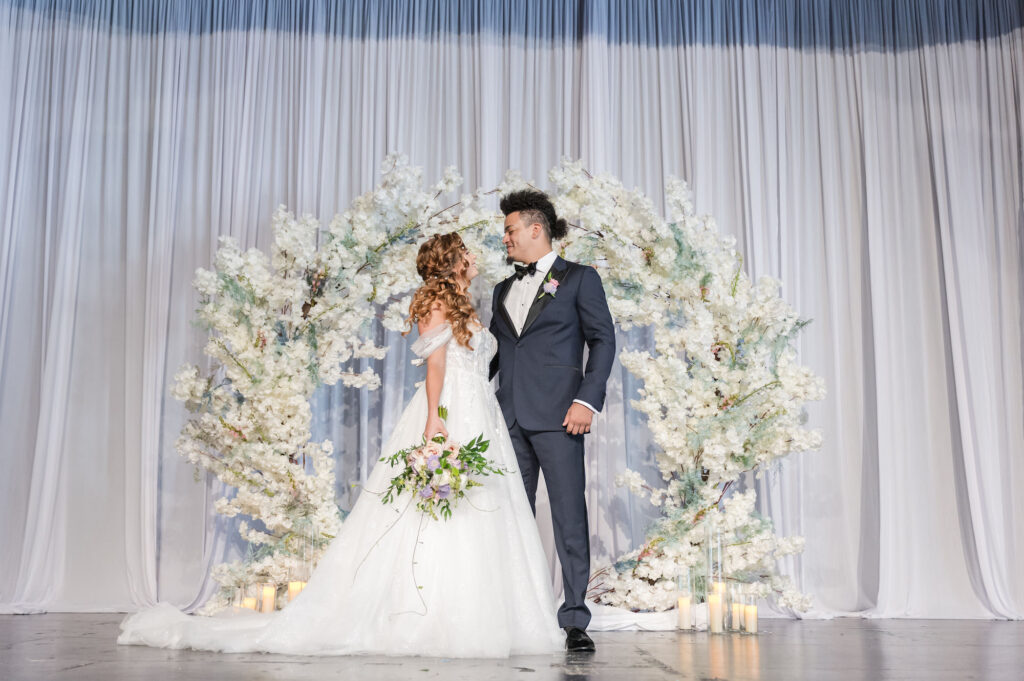 Whimsical Pastel Blue Victorian Wedding Inspiration | EventFull Weddings | Amanda Zabrocki Photography
What Mistakes Do You Often See Clients Making When Setting a Budget?
"Many couples will ask their friends or family what they spent on their wedding day or read articles about average wedding costs. These other weddings could have occurred three years before, in a completely different part of the country, or even have had half the guest count that the couple inquiring is projecting. I would recommend couples check with venues, caterers, and photographers on proposed costs prior to predicting their budget. It is best to get accurate costs from vendors as pricing changes each year instead of asking other peers. For example, if you have a high guest count and a budget that will not work with that guest count, lower the guest count or try a different venue. Don't leave yourself with an extremely limited budget for your other vendors just to have more guests. There is always an option for an A-List and a B-list, just don't send the Save-the Dates-to the B-list!" -Lauren Gertz, Certified Wedding & Event Planner, Owner & Lead Event Planner, MDP Events
"One of the biggest mistakes I see is couples having a small budget but wanting to invite a ton of people. The reality of having a smaller budget means you need to invite fewer people because each person at your wedding is an added cost. This makes planning really hard when you are trying to get everyone to the wedding, and then corners start to get cut. Another mistake I see is not having the 'money talk' with whoever is contributing to the wedding. This is a very important conversation with everyone contributing to the budget and knowing if this is a hard set number or if there is wiggle room. This can set a better expectation for the type of venue you can afford and the number of people you can invite." -Delaney Driver, Owner, Wilder Mind Events
"Don't go venue broke. I see this all the time. Couples blow the majority of their budget on the venue and then stress out when they realize how much the other vendors cost. Appropriately plan for the wedding you can afford, and whatever you do, don't start your marriage out with massive debt. If catering/venue proposals give you sticker shock, break it down per person, then compare that to going out to a nice dinner with cocktails. This helps to put spending into perspective." -Leigh Wilson, Director of Events, Red Mesa Events
"We get it, you're like, really popular, but your guest count is ultimately the biggest culprit of your cash when it comes to your wedding budget. As a past bride myself and wedding photographer for seven years now, there may be some not fun conversations had around the guest count because, ultimately, that drives the vendors that together make up the most significant part of wedding costs: venue, catering, bar package, rentals (amount of tables, chairs, linens, cutlery, glasses, and dishes), florals (for tables), and really anything that involves quantity based on guest count like invitations! If you want a higher guest count wedding, you may not be able to have the 3-course plated meal, whereas if you decided to have a wedding of around 75 people versus. 150, it may be doable. Just keep this in mind before you decide on guest count since it affects most of your budget!" -Shannon Dewitt, Owner, Dewitt for Love Photography
"The most common mistake we see clients make when it comes to setting their budget is forgetting to include additional fees. Online pricing is base pricing and usually does not cover taxes, gratuity, and other fees. It is important to consider these fees when you are creating your budget. Do the additional research and ask vendors to provide you with ALL additional fees when they send you proposals for their services." -Ashley Johnson, Owner and Lead Planner, B Eventful
"I think the biggest mistake is setting a budget before becoming educated on costs. Don't rush into wedding planning. Do your research first." -Karen Cerboni, Owner, EventFull Weddings
"Reality & Margin. This is probably the biggest challenge, what things should cost vs. what today's price brings. Further, many couples have a short spreadsheet for all the categories…I would encourage all to have a 'Miscellaneous' line item and simply add 10-25%. This includes everything from Uber rides, Tipping the Vendors, Resort Fees, and Shopping/Food outside of the Wedding itself." -Brandon Wheeler, Owner, Gulf Beach Weddings
---
How Much Do Clients Typically Go Over Budget?
"Most of our couples go over their budget by about 7% to 10%. The main reason this happens is that no one knows going into their wedding day what things cost. When creating your own wedding budget, most couples will read an article from The Knot, which is never accurate. They see so much on Instagram, Pinterest, and all over the internet of these extremely high-end weddings and want what they see, which is great! It is great to put a budget into place, but I recommend trying to have one that can also have some wiggle room instead of telling your planner or vendor your absolute maximum so we can guide you correctly." -Lauren Gertz, Certified Wedding & Event Planner, Owner & Lead Event Planner, MDP Events
"Build in an 'unknown costs' line item into your budget. Build 3-5% into your budget that can help cover those 'OMG, I didn't think I needed that!' oopsies. Did you plan for enough postage for your invites? Did you expect two alterations sessions for your dress? Did your dream wedding shoes come in, and they're slowly murdering your feet, and you need a backup pair? There's a whole host of scenarios that can create additional costs throughout the course of wedding planning. Build yourself a little cushion to reduce the spending freak-out sesh." -Leigh Wilson, Director of Events, Red Mesa Events
"Clients tend to go over about $2,000-$5,000 in the budget because they forget about all the vendor tips and little details that creep in. There are a lot of added costs in the last month of your wedding that you don't think about (spray tans, facials, professionally stemmed dress, manicure, etc.)." -Delaney Driver, Owner, Wilder Mind Events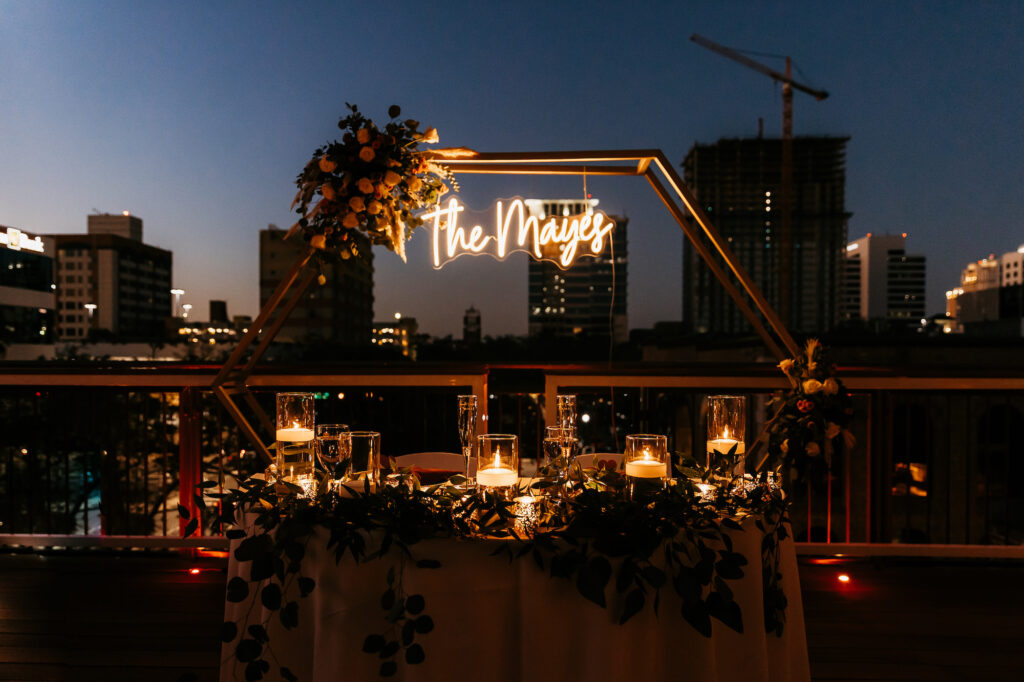 Boho Rooftop Downtown St. Pete Wedding | Red Mesa Events | Lily River Photography
---
What Should Couples Know about Who is Paying for the Wedding?
"Before you even set your wedding budget, it's time for the 'Who is contributing to the wedding fund?' question. Whether you as a couple will be paying for your wedding yourselves, have several family members contributing, have family taking care of the entire cost, etc., it's important to know the overall max you have that your family may be able to assist with. "'We don't know how to ask if family plans to contribute' stresses couples out. You're adults, and you're independent, but a little financial help would obviously be amazing! If you're nervous about this topic, try asking if they'd be willing to take care of a specific service or item. For example, Mom may want to pay for your dress or suiting, while your aunt and uncle may want to contribute to purchasing your invitations. Sometimes it's easier to have these discussions when they can contribute to something specific rather than think of it in numbers first. This is also a great way to get a relative involved that may not have much to contribute financially but could take care of something on a smaller scale, like buying breakfast and lunch for the wedding party while they get ready on the day of the wedding. Speaking about finances can be uncomfortable, but when you give an idea of what someone's contribution will mean in visual terms, it gives them something to brag about too!" -Shannon Dewitt, Owner, Dewitt for Love Photography
---
What Should Couples Know about Comparing Pricing?
"It's best to keep an open mind regarding vendor pricing and to use what you're looking for in a vendor as your first guide rather than price. While national websites may sometimes give ranges for pricing for vendors, they aren't always specific to a certain area. Every state and area are different, and costs are determined in part by the cost of living around them, among many other factors that businesses use to set pricing. After you have an idea of what your overall budget will be, remember that in certain areas you may be able to increase your spending on one vendor that is most important to you while streamlining costs elsewhere." -Shannon Dewitt, Owner, Dewitt for Love Photography
"You get what you pay for. You truly do. If something is too good to be true, it likely is. Don't be afraid to a deep dive into questions with vendors specifically regarding what exactly is provided so you can truly compare apples to apples. Is your catering company only providing food, while the other catering company is providing food, staffing, supplies, delivery, set-up, etc.? These are the details that can truly bog down your budgeting. If you receive a quote from a vendor that is significantly lower than other quotes you've received, that should raise an eyebrow, and you should start asking questions. The price is the price is the price. Don't try to negotiate lower costs or attempt to lowball vendors. Of course, there will always be a vendor out there that will do it cheaper (notice I didn't say less expensive), but again, you get what you pay for. If the minimum spend is $15,000 and you only have a budget of $8,000, then that's not the venue for you. Shop in your price range, instead of expecting vendors to lower their price to meet your budget." -Leigh Wilson, Director of Events, Red Mesa Events" -Leigh Wilson, Director of Events, Red Mesa Events
"When selecting specific vendors it may save a lot of money working with an established company who really knows the industry and works well with other vendors. For example, a very experienced coordinator will know how to get you a better value for your money spent as he or she will have a very realistic grasp on what things actually cost. Similarly, an established full-service catering company will be able to bundle many of your needs into one package such as food, beverage, rentals, decor, etc., which can result in huge savings by not needing to hire multiple vendors who will each charge their own delivery and set up fee. Most established catering companies will also own much of their own inventory which can translate into cost savings and can help you budget by guiding you through multiple options." -Melissa Misgen, Owner/Creative Director, Elite Events Catering
---
What Uncontrollable Factors Can Change a Wedding Budget?
"There are quite a few factors that can change a wedding budget. One would be projecting that many of your invited guests will say no and instead RSVPing yes. Don't invite 180 guests wanting 150 to come. Invite closer to the amount you plan and budget for, as well as what your venue will fit. So many of your friends and family will look forward to celebrating you and making a vacation out of your wedding weekend. Another factor that can change a wedding budget is the rain plan. If you are having an outdoor venue, make sure you have some sort of tent or backup plan already planned in case there are any extreme winds, rain, or even storms. Loving your backup plan is key!" -Lauren Gertz, Certified Wedding & Event Planner, Owner & Lead Event Planner, MDP Events
"Travel has been the biggest challenge for couples coming to the Tampa and Panhandle area. For example, a popular St. Pete Beach hotel 'pre-pandemic' could be had for $200/night in-season and $125-150/night out-of-season. This family-style resort now pushes $400/night as of March 19th, 2023. Rental cars are another challenge, what you used to find for $20-50/day + fees, I overheard one group at the airport recently 'If we rented the car for another week or two, we could've bought it!" -Brandon Wheeler, Owner, Gulf Beach Weddings
"We can do pretty much anything, but we can't control the weather. A storm or cold front could mean the need for Plan B and maybe the expense of a tent or bringing in heaters. Always make sure before booking a venue that you understand the Plan B options and costs." -Karen Cerboni, Owner, EventFull Weddings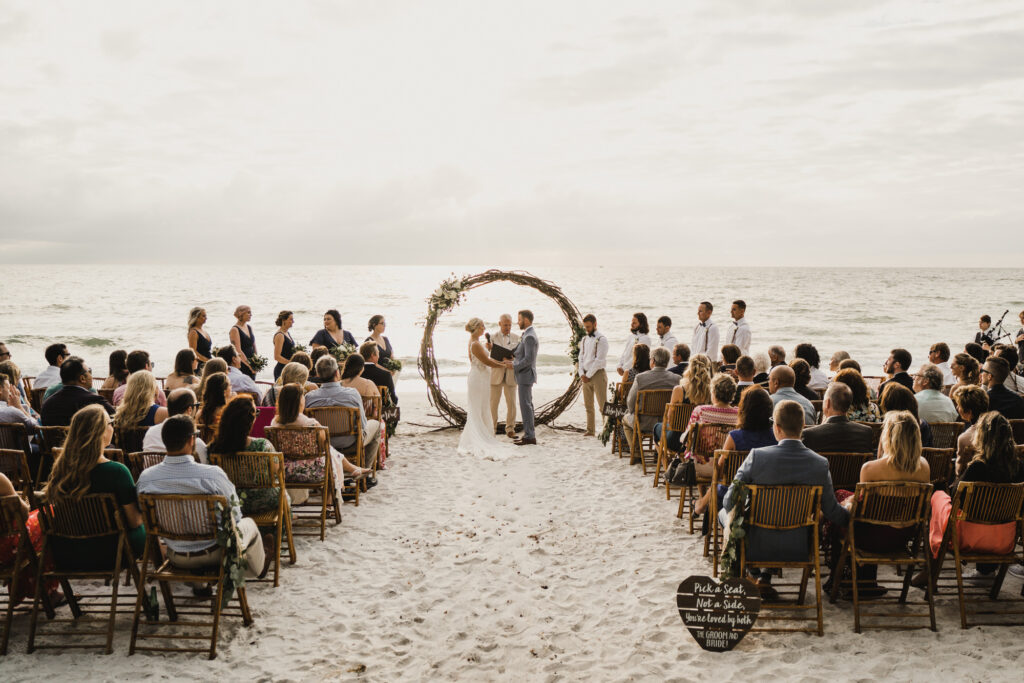 Rustic-Beach-Inspired Beachfront Treasure Island Wedding | Kelci Leigh Events | J&S Media
What Are Your Best Tips for Staying Within Budget?
"Estimate your guest count, invite that many, and then have your catering, bar, rentals, and floral proposal be based on the amount you invite. You can always decrease and add on more fun items for your wedding day, but the last thing you want to have to do is have to make cuts because too many people said yes, which you didn't plan for. If need be, send your Save-the-Dates to your A-List only. Then, instead of sending invites out two to three months in advance, send them out four to five months so that you can send an invite to those B-List members while still giving them plenty of time to reply, plan their trip, and not feel like a last-minute addition, and you still have room to add any other details you may want to. We never want any stress close to your wedding day from hunting down RSVPs and ordering menu cards or escort cards super last minute." -Lauren Gertz, Certified Wedding & Event Planner, Owner & Lead Event Planner, MDP Events
"Be realistic when building your budget. Build your budget and stick with it! Review your budget weekly; this will help you stay on track. When receiving proposals from vendors, ask for all fees to be included. Select in-season flowers or focus on a color palette versus certain flowers for your florals." -Ashley Johnson, Owner and Lead Planner, B Eventful
"Limit your guest list, set your priorities, and book the must-have key vendors before spending any money on the extras." -Karen Cerboni, Owner, EventFull Weddings
"Focus on your most wanted vendors and keep your guest count small. Providing knowledge and giving couples guidance through the booking process of vendors for their wedding is huge; this is why I stress hiring a full-plan wedding planner. They are there to guide you and keep you on track with budgeting. They do not want you to spend more if you do not have to! " -Kelci Zicconi, Owner and Lead Planner, Kelci Leigh Events
"Are you ballin' on a budget? Then consider an off-peak evening or an off-peak month. You can reduce your investment significantly by planning your wedding on a Sunday or Thursday evening or selecting one of the off-peak months like July or August. This greatly increases your ability to stretch your dollar more." -Leigh Wilson, Director of Events, Red Mesa Events
"The best tip for staying within budget is to be realistic. It's easy to say hotels should cost, food should cost, vendors should cost, etc. but pricing has changed with inflation over the past few years (say 25% increase on average) and that's just the Wedding Specific costs. Flights, Lodging, is a different story, unfortunately." -Brandon Wheeler, Owner, Gulf Beach Weddings