Amber and Tyler's downtown St. Pete wedding was an intimate summertime affair in their beloved hometown. Inspired by a unique venue and boho-chic vibes, the bride and groom incorporated terracotta and pampas throughout the decor to create a light and fun atmosphere.
"I really wanted our theme to be simple and easy," the bride explained. "I loved the trends on Pinterest of boho-chic weddings with simple greenery, terracotta, and rust. We were very specific in what we wanted the day to look like."
The St. Petersburg couple hosted 50 of their closest family and friends at Red Mesa Events' rooftop ceremony space and exposed brick ballroom. They decorated the historic space with geometric shapes, greenery with pops of baby breath, and rust-colored flowers intertwined with terracotta chiffon. Gold charger plates wrapped in dark napkins stood out on the table, and a cute succulent awaited each guest as their thoughtful favor.
"We wanted a venue that matched our style, which we were learning towards a modern industrial look. I was really inspired by the brick walls in the Florida ballroom," the bride beamed. "We chose Red Mesa Events because it was everything we were looking for in a venue and more. I really wanted an outdoor ceremony space with an indoor reception. We loved that the venue had separate ceremony and reception spaces and even included a rain plan that, thankfully, we didn't need to use. We were also looking for a venue that was more of a one-stop shop, a place where we didn't have to look for multiple vendors for bar, catering, and rentals. They have their own in-house bar and catering and the most beautiful chairs, linens, and tableware that are ready for use. Leigh and the Red Mesa team were very communicative and answered my billion and one questions leading up to the day. "
With her venue secured, Amber relied on Marry Me Tampa Bay to research the site's preferred wedding vendor list.
"I found a good handful on Marry Me Tampa Bay. Some that I found included: Coastal Coordinating, our DJ/live musician from Matt Winter Band, my dress from Barer of the Bling, and travel planners for my honeymoon, Getaway Gals. Being able to choose from vendors that were vetted on Marry Me Tampa Bay really gave me peace of mind! The fact that I could see their work was really comforting in the crazy process of planning a wedding," the bride shared.
Amber turned to one of St. Pete's top wedding planning companies to assist her in translating her vision into reality for her June wedding. She knew Coastal Coordinating's experience and organized methods would make the process easier, as well as keep them within budget.
"We were looking for someone with experience. Since this was my first time planning a wedding, I needed a professional to help me thru the day," the bride explained. "I talked to several planners and gelled with Katy from Coastal Coordinating the most. She was so nice to talk to over the phone. She was also confident that she was going to make our day a breeze, and spoiler alert, she did! Katy was super understanding about the budget. The day-of service was worth every penny. Also, we were never empty-handed at the wedding when it came to drinks which was such a nice touch!"
Amber and Tyler personalized their big day with their own written vows. Their friend, who introduced them nine years prior, officiated the ceremony and made sure everything about the day remained lighthearted, just like their personalities.
"It was important to do personal wedding vows that were really 'us,'" the bride revealed. "The vows were mostly jokes because we really wanted to keep the day centered around fun and a celebration of the nine years we have been together. Also, we were technically married at the courthouse in 2021, so being able to do our ceremony our way and not the traditional way was very us as well."
Looking back on their summer celebration, Amber and Tyler remembered a day filled with love and laughter.
"The most memorable part of the day for me was our vows. Tyler was hilarious in his vows and smoked me out of the water," the bride reminisced. "I also loved my sister's maid of honor speech. She's a writer, so it was amazing, and now I have to live up to it for her wedding! Tyler also loved our first dance to The Girl by City and Color, which is the song he played for me on our first date. We were really able to focus on things that were important to us and tailored our day the way we wanted it to be!"
The Proposal:
Tyler proposed in Dublin, Ireland, while we were on vacation. He was originally going to do it in Iceland a couple days later on my birthday, but thank God he didn't because I ended up getting food poisoning, and it was so rainy in Iceland!
We were engaged for four years before we had our wedding. We focused on getting a house, a dog, and building our life together first before we set out on the whole wedding planning endeavor!
Where did you spend your honeymoon?
Cancun, Mexico. We decided on Cancun because it was a short flight but also international, and we wanted something all-inclusive that we could really turn off our brains and relax. We used The Getaway Gals for our planning and that took such a mental load off of me in the thick of the wedding planning months beforehand.
Where did you host your bachelorette party?
Austin, TX. I had friends flying from the east and west coasts, so I wanted to choose something in the middle. We had a blast; it was the perfect location to complement my funky personality!
How would you describe your theme/wedding design inspiration?
I was really inspired by the brick walls in the Florida ballroom, and the trends on Pinterest of boho chic weddings. I wanted our theme to be simple and easy, incorporating terracotta and pampas into our decor.
What were your colors?
Terracotta, rust, and simple greenery.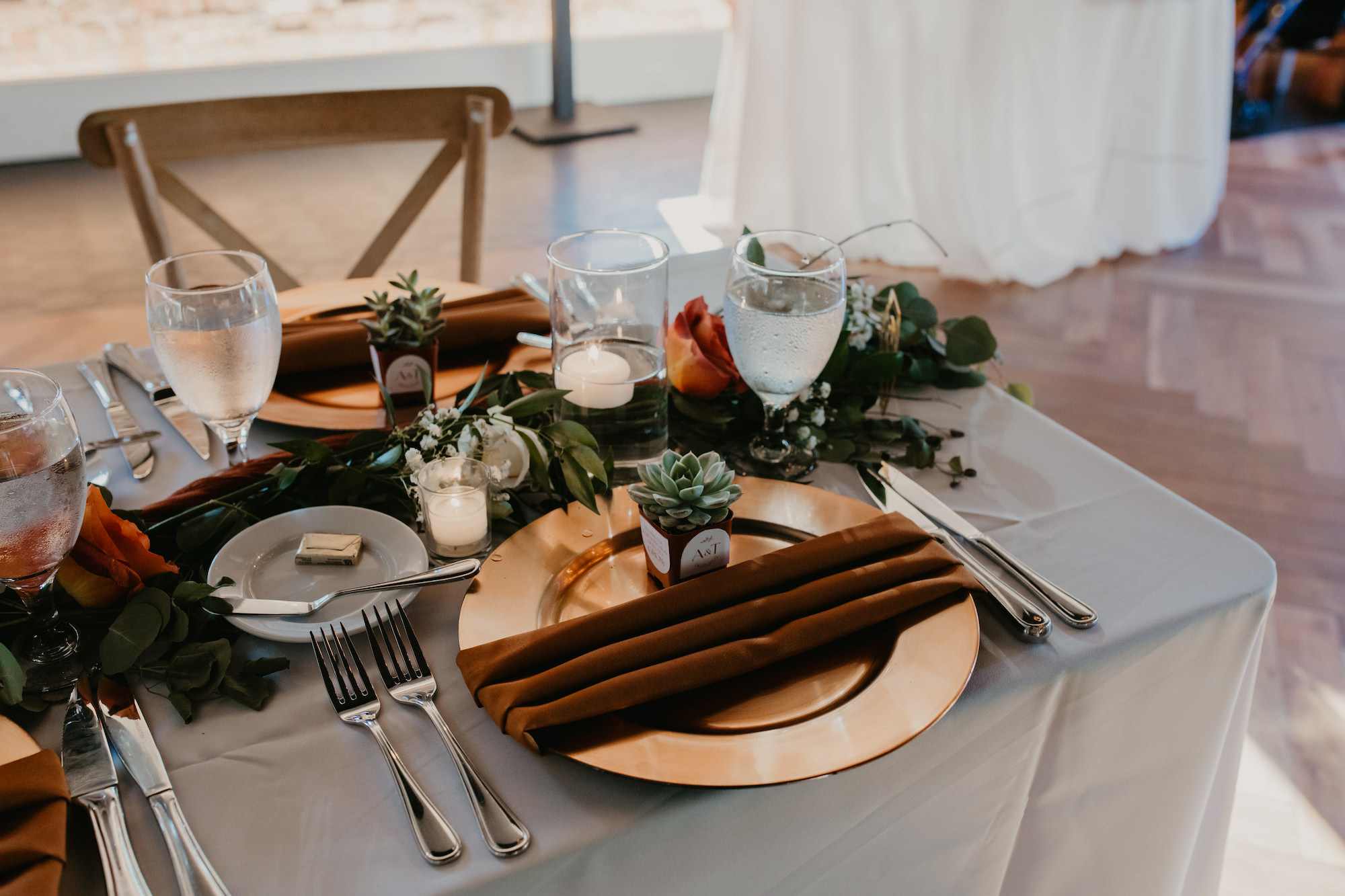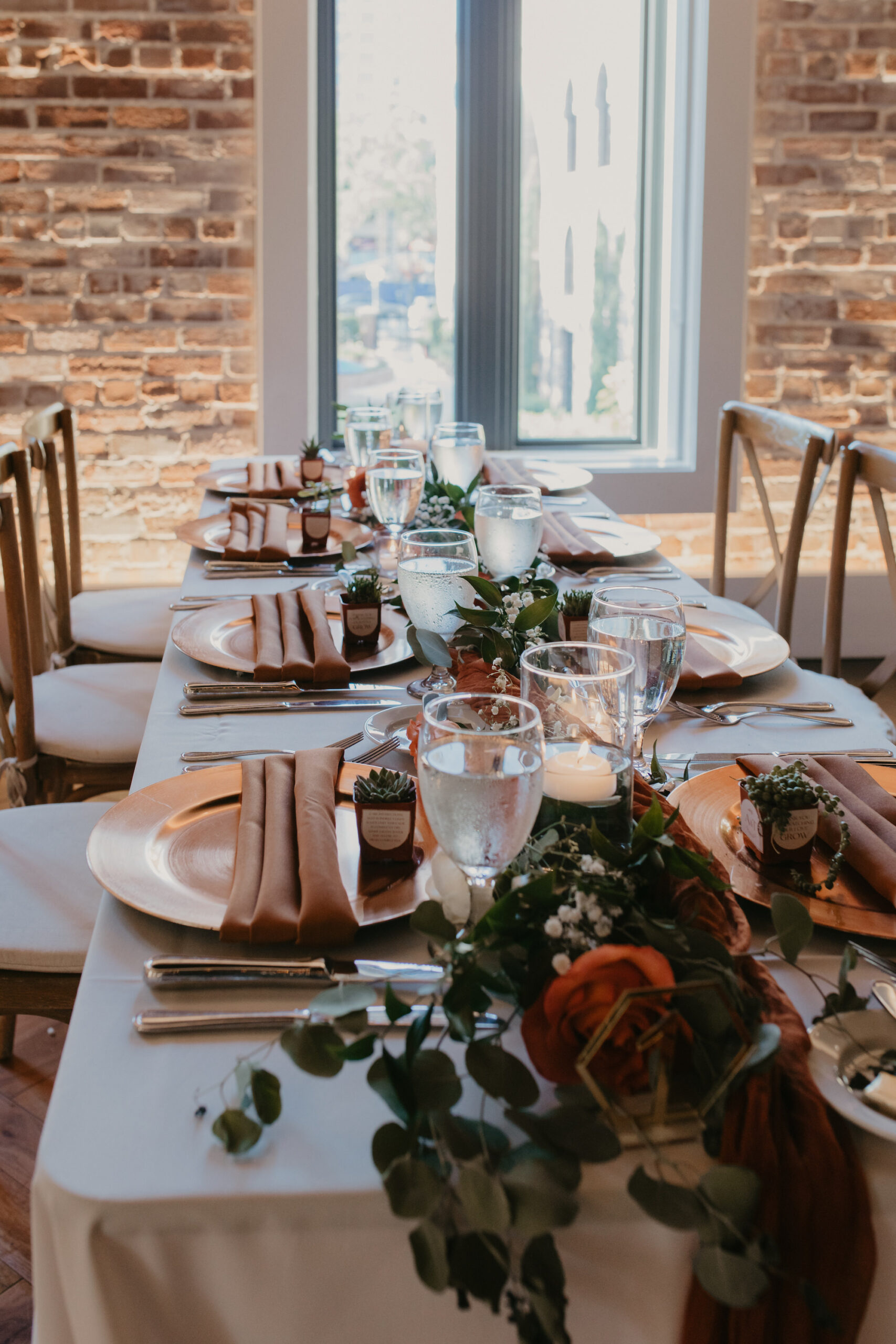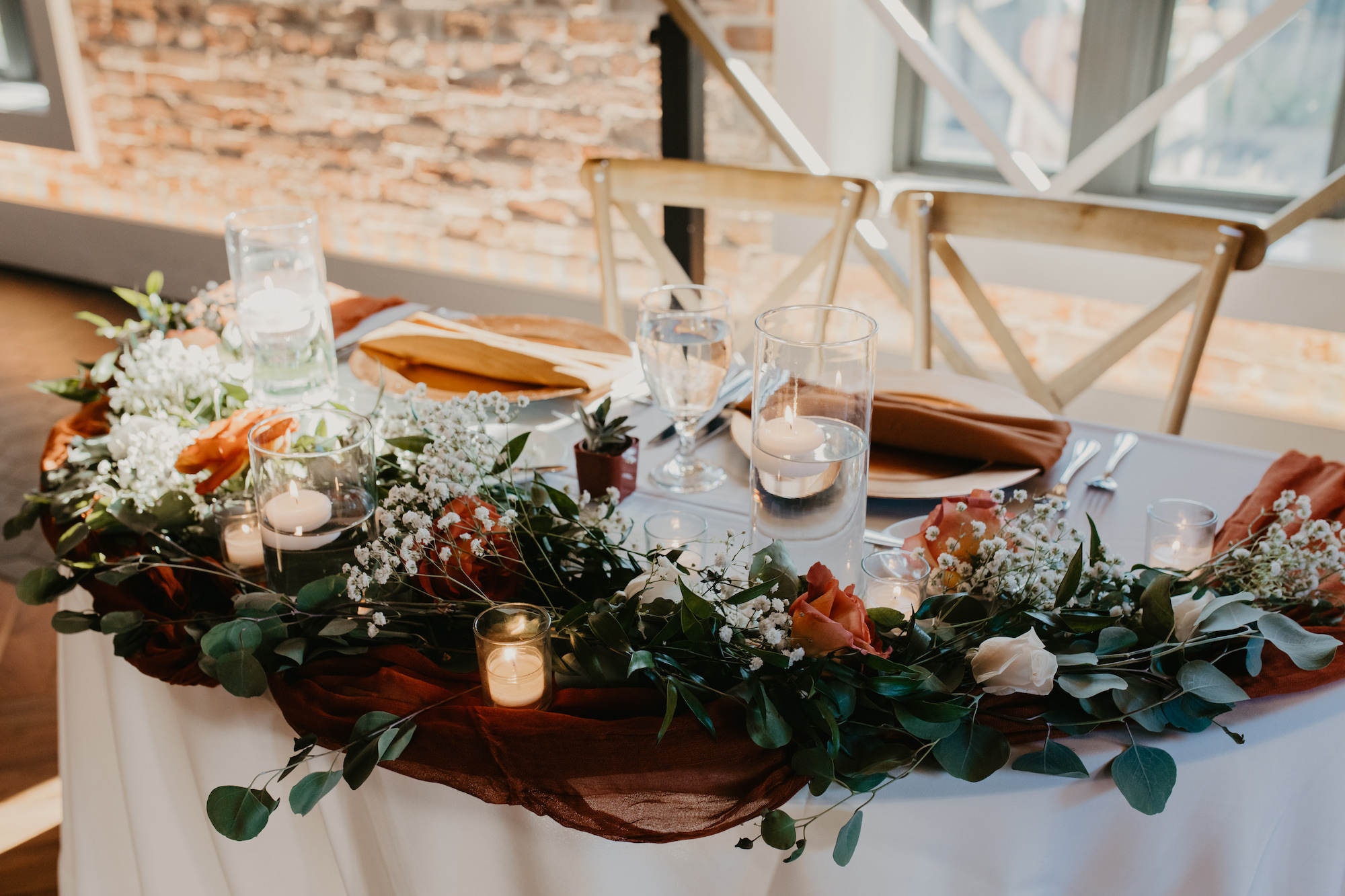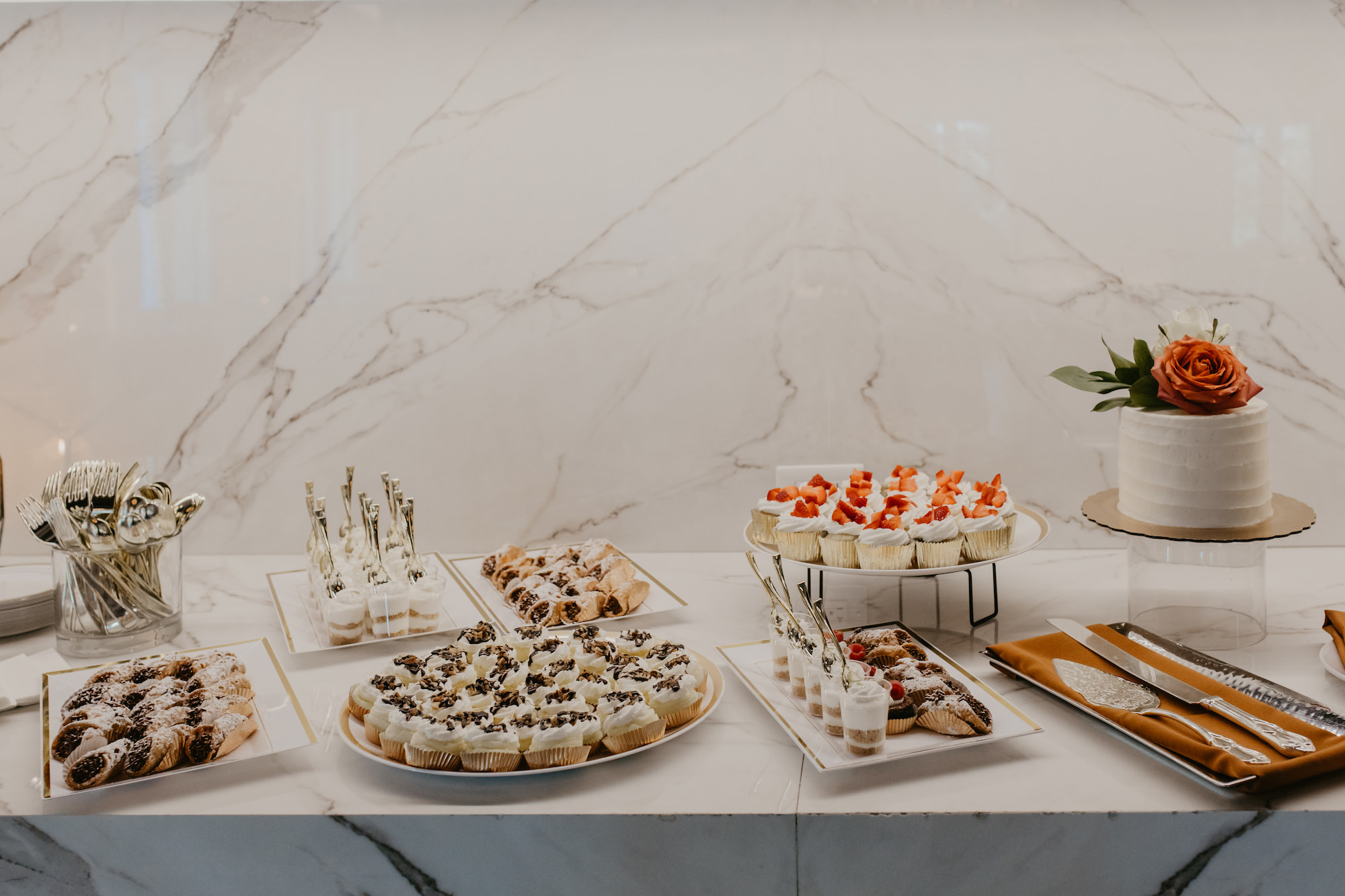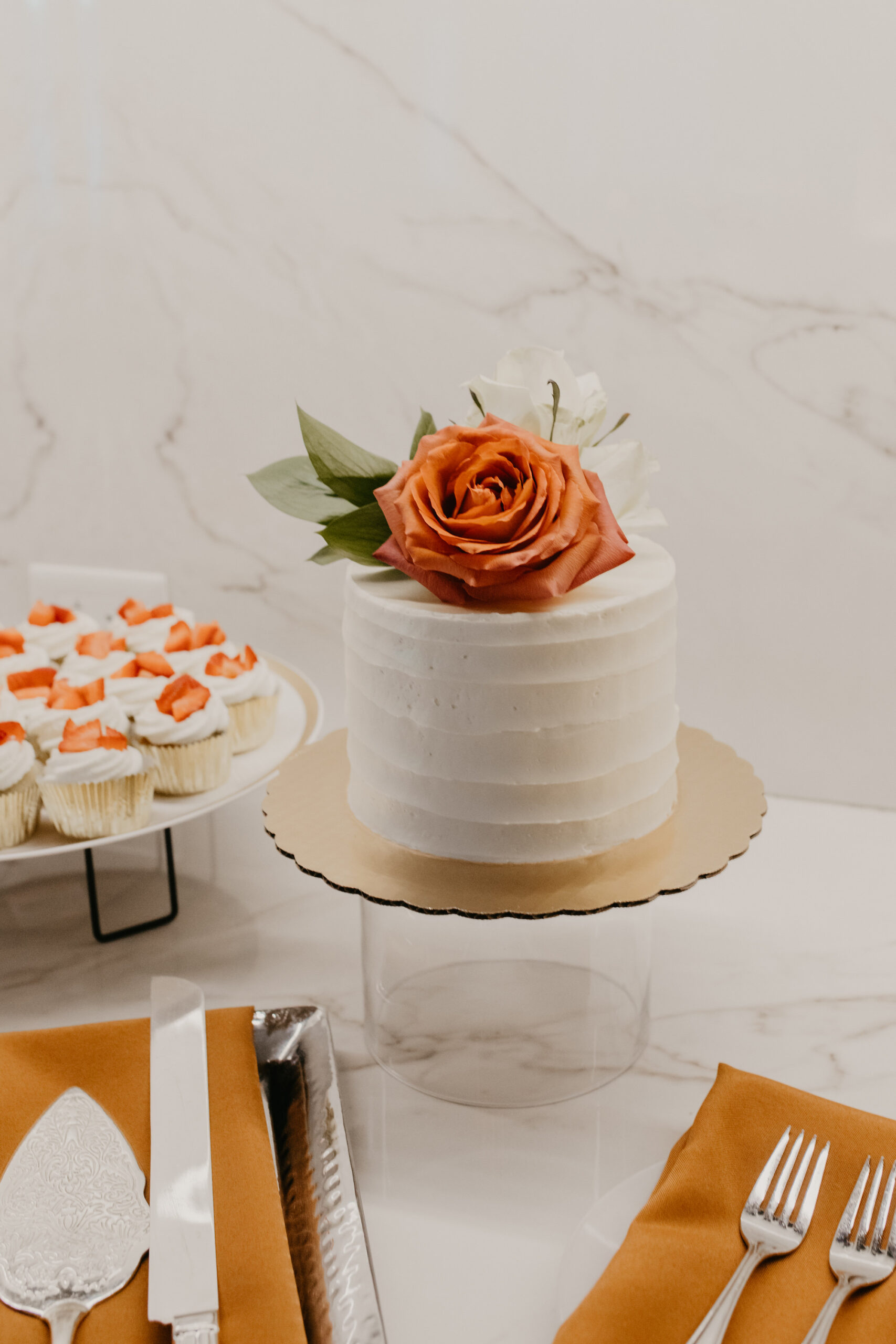 Which vendors really exceeded your expectations?
My hair and makeup vendor was amazing; they were so fun to be around in the getting ready suite, and the quality of their work is amazing. Also, Red Mesa Events killed it! We did table decor with them, and they made my Pinterest dreams come true. Everything was so beautiful, I still can't believe it was my wedding! Also, our photographer was amazing; she was so fun to be around.
What advice would you give to other Tampa Bay couples?
Weddings can be stressful but lean on your support system. In terms of making it the most Instagrammable or Pinterest-worthy, I put that pressure on myself in the beginning and gave up. Really no one cares if you have designer shoes on (unless that's something you want) or if you spend thousands on flowers; It's whatever matters to YOU and your partner. It's worth figuring out what you are willing to spend money on to hire professionals (in our case, it was music, photography, and hair and makeup) and what you rather save some money on doing it yourself (we DIY'd flowers and most of the decor).