Over the past decade, photo booths have evolved to become the life of the party, especially with the continuing growth of our social media culture. They provide guests the spotlight throughout the night, create amazing Instagram-worthy photos and videos, make for amazing party favors, and leave your guests with memories they can cherish forever.
As our love "the perfect photo" continues to thrive, so does the desire to post a lavish group photo or an extravagant selfie. With wedding photo booths, guests have the chance to not only post photos instantly, but they can light up their social media with animated Boomerangs, fun-filled GIFs, and trendy slow-motion videos.
While photographers can only capture so much at a wedding, mainly the couple and wedding party, photo booths give everyone the opportunity to feel like a celebrity for the night and share how much fun they're having at your event.
With a surge in popularity of wedding photo booths, we'll catch you up to speed on six things to know about the modern-day photo booth, what features wedding guests love most, and how to choose one for your big day!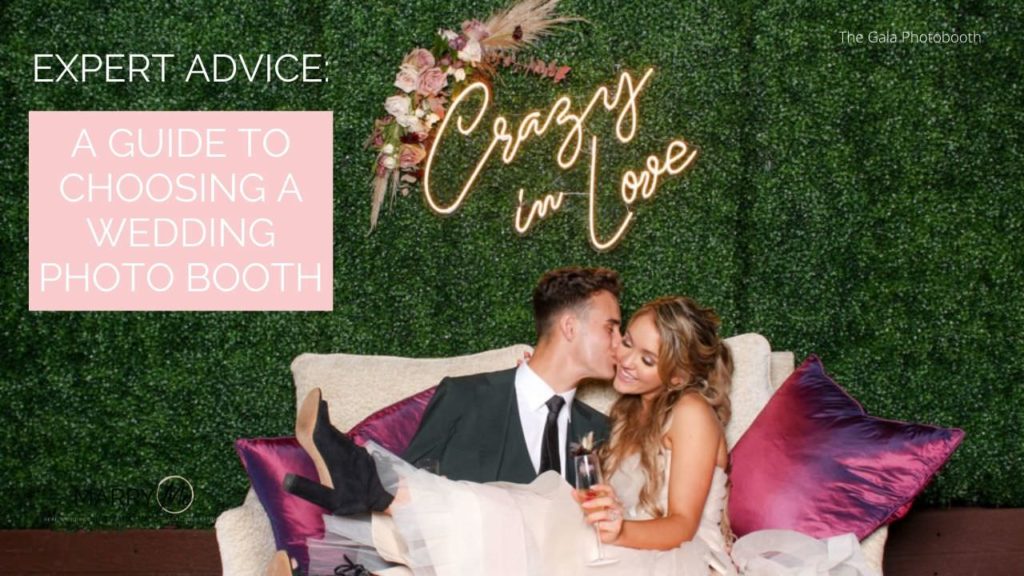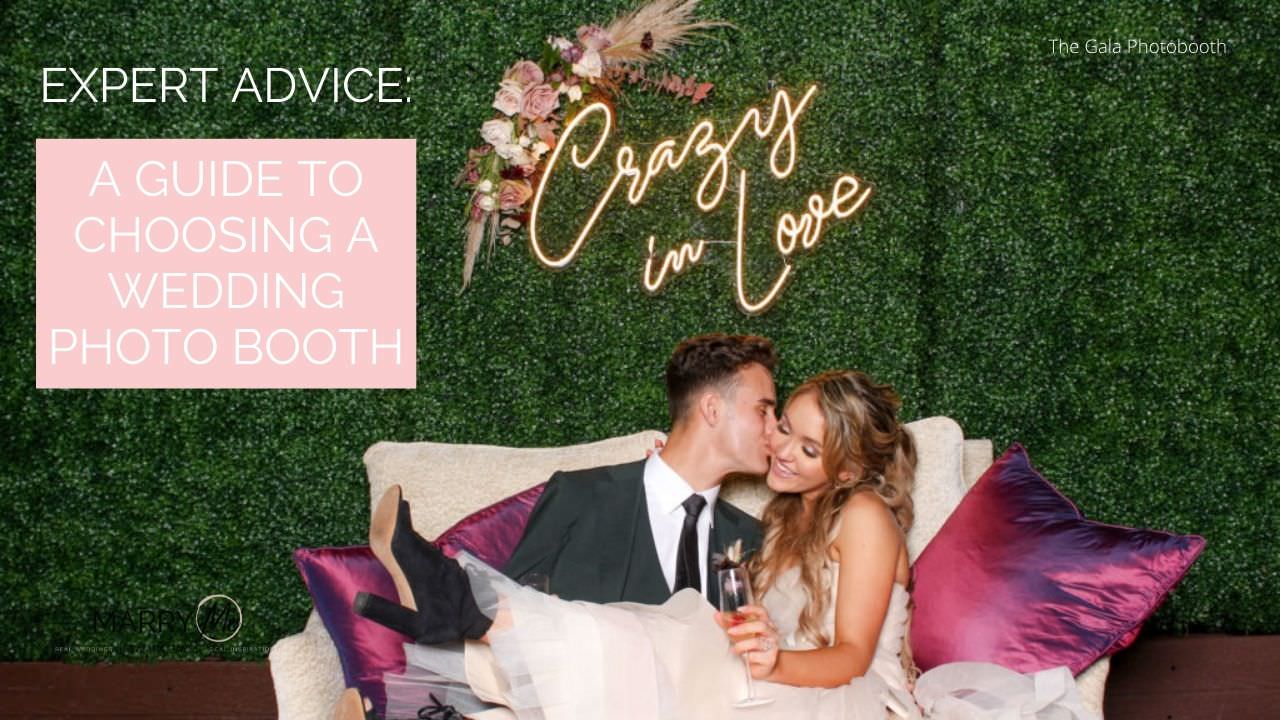 1. Wedding Guests Love (and Expect) Them
Photo booths aren't just an extra item these days; they're almost expected at weddings.
Your guests are all dressed up and looking their best, so of course they want to capture it!
After a big dinner, photo booths are one of the best ways to get guests warmed up and mingling again. Before they're ready to hit the dance floor, your college friends can snap a reunion photo or your grandparents can take a sentimental pic with their grandkids.
2. Your Booth Design Can Match Your Wedding Style
Couples spend tens of thousands of dollars to make every detail of their wedding beautiful, and the photo booth shouldn't be the exception. Today, you have plenty of photo booth designs to match your occasion.
"Open-air" photo booths are a great way to complement your wedding theme because you can choose the backdrop and colors that match the style of your wedding while using a minimalist camera stand design.
In addition to backdrops, props can also be customized to fit your theme and your crowd. When a photo booth creates the perfect balance of classy and crazy, guests can't stop coming back for more, making their experience at your wedding even more enjoyable! Whether you want the famous, luxurious black and white Kardashian-style photo booth or a fun tropical theme to match your beach wedding, the design can be personalized to blend in seamlessly.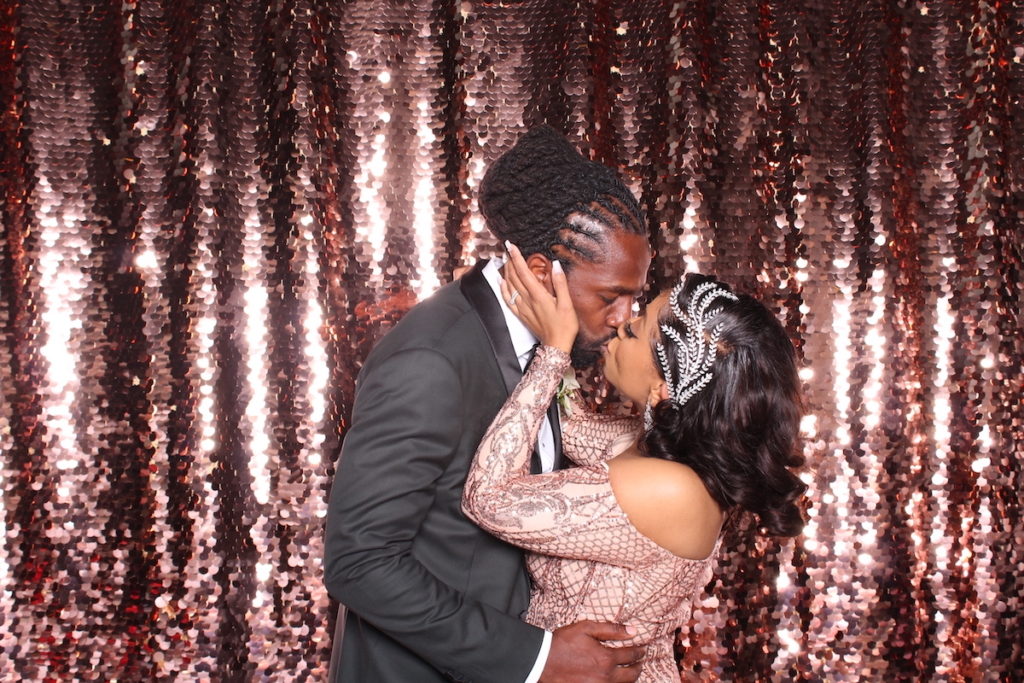 3. They Make Memorable Party Favors (For You and Your Guests)
When everyone is looking their absolute best and they're reuniting with friends they haven't seen in years, what better way to capture the memory than with a keepsake photo of the moment.
Plus, your guests aren't the only ones who can leave with photos. Most photo booth companies provide guest scrapbooks, which make a great alternative to your traditional wedding guestbook, allowing guests to stick their photos next to their comments, providing you with an amazing souvenir from one of the most important nights of your life.
4. Photo Booths Have Evolved
What started as a box-shaped booth that you'd only find in shopping malls in the '90s has evolved into, well, not even a booth at all.
Today's photo booths come in all shapes and sizes, ranging from something as simple as an iPad on a stand to extravagant photo booths on wheels, like the 1970's Volkswagen bus photo booths.
And as social media has grown, so have the digital features of photo booths. Now, guests can record slow-motion 180-degree videos for their TikTok, snap trendy 3-second Boomerangs for their Instagram, or text fun GIFs to their friends.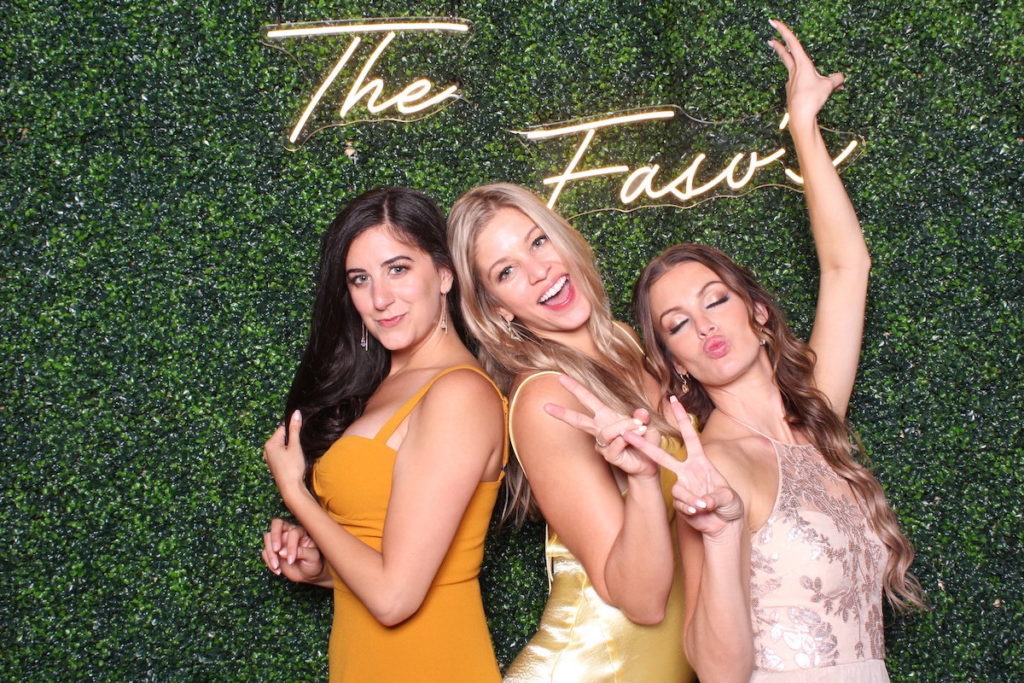 5. Understand The Different Types of Photo Booths
Traditional Closed Photo Booth
This is probably what you envision when you picture a photo booth; as it is an actual booth. They're designed so that your guests can step inside, sit down and get cozy, and have some privacy when snapping their fun photos.
Open-air Photo Booth
This modern setup is one of the most preferred styles for weddings and continues to grow in popularity. Instead of being enclosed, a camera stand sits 4-8 feet from the backdrop. Open-air booths can vary in style, from an iPad on a stand to a more complex setup with external flash lighting, leading to higher photo quality.
The backdrop can be customized to match the style of your event, whether you keep it simple with a classic white backdrop for black and white photos or go more extravagant with a hedge greenery wall backdrop.
As guests see their friends laughing, posing, and smiling in front of the backdrop from a distance, this style creates a strong case of FOMO, drawing other people in to enjoy the photo booth party.
Magic Mirror Photo Booth
Yes, it's exactly what it sounds like – a giant mirror. While technically it falls under the category of an open-air photo booth, we thought it was deserving of its own category due to its unique style.
Guests can see a nearly life-size reflection of themselves as they take their photos. The mirror is touch-screen and provides a fun, interactive experience, in which guests can add digital props, print, and share their photos.
Bus Photo Booth
Usually in the form of a restored 1970's Volkswagen bus, this makes for a fun, unique photo booth experience. Guests enter through a middle door, take a seat, and use the touchscreen to take photos. It's essentially a closed photo booth, but with style, and will definitely get people talking!
180-degree Photo Booth
In today's digital culture Boomerangs and GIFs are popular, and nothing captures these better than this innovative, unique photo booth. Give your guests a revolutionary cinematic experience with a 180-degree photo booth, also known as the "bullet-time" or "Matrix" photo booth. It's built with multiple cameras on a moving semicircle frame to capture shots from all angles and process them into a GIF or video. This stunning photo booth creates content that your guests cannot help but share on social media.
6. Photo Booth Features Guests Love The Most
While you have lots of options, when it comes down to it there are only four key features to guarantee your guests have a memorable experience with your photo booth:
Unlimited instant prints
An assistant to help guests take photos
Props
Text sharing
All five types of photo booths we listed above solve these four needs. If you want to elevate your photo booth experience, have guests rave about your wedding, and post photos for days, we recommend choosing a photo booth that also provides:
Studio quality photos
Upscale backdrop
Boomerangs: mini videos that loop back and forth
GIFs: 3-4 photos in a quick animated series
Studio quality pictures will make your photo booth stand out from those at other weddings because people want to look stunning in photos, especially when they're dressed their best and have their closest friends by their sides.
To produce truly high-quality photos, the photo booth needs a DSLR camera and good lighting or flash. Studio quality photos make guests feel like celebrities all night long and leave them with amazing photos to remember your event by (and showcase on their own social media).
Similar to having high-quality photos, a chic backdrop makes photos look great and keeps people coming back for more. If you have the budget to rent a hedge backdrop, trust us, it gets the people going!
To add even more excitement, provide guests with the ability to take GIFs and Boomerangs. They love sharing these on social media and just about every photo booth should provide this feature.
And as a last added bonus, we recommend adding a guestbook. If you're the couple, this is more of a gift to yourself, but it also provides guests with a fun activity to keep their hands busy after they snap their photos. Also known as a guest scrapbook, it's an amazing alternative to your traditional guestbook, because it not only allows guests to leave you with words of love and congrats, but it allows them to place their photos in using stickies, capturing the memories of all your loved ones on your big day.
---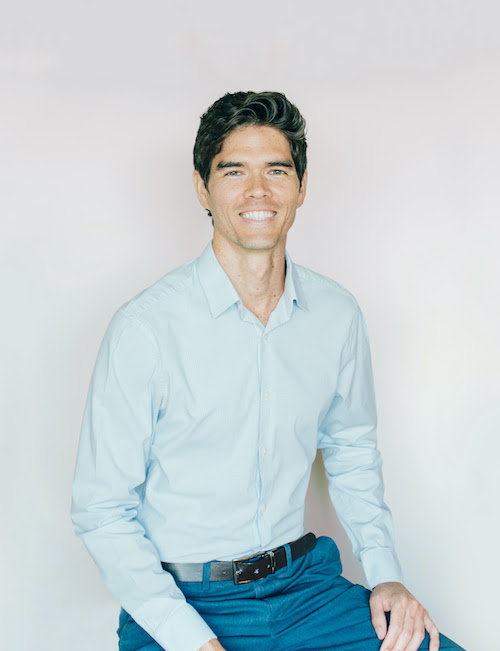 Michael Hendershot is the co-owner of The Gala Photobooth. Based in Tampa and serving most of Central and South Florida, The Gala Photobooth specializes in high-end photo booth rentals for weddings and private events. Our mission is to provide an exciting, luxury photo booth experience that complements the class and style of the entire wedding and keeps guests coming back all night. 
---