Your wedding invitation is the first glimpse your guests will have into your big day, so you want it to be a personal statement.
Just as your wedding cake is so much more than just sugar and flour, your stationery is an integral part of your overall design. To help understand the process, our preferred Tampa Bay custom stationers share their insight on ordering wedding invitations.
1. Start Early
"If you are planning on sending out Save-the-Dates, looking for stationery designers once you have booked your venue. This allows enough time for the designer to create the perfect STD so you can mail them out eight to ten months in advance of your wedding date. For wedding invitations, couples should order their invitations about five months out, so they are ready to mail eight to ten weeks before the wedding. Creating custom wedding invitations is a process, so the more time you allow your stationery designers to paint, edit and print, the more likely you are to end up with a product you absolutely love." -Sadge King, Sadgebrush Designs
"Start looking for wedding invitation ideas and stationery designers about six months prior to your wedding (give yourself more time for your Save-the-Dates, as these are usually sent about nine months prior to your wedding date). Invitations are typically sent 6-8 weeks prior to the wedding (10-12 weeks if you are having a destination or holiday wedding). You want to give yourself enough time to really explore your options so you can choose the invitation suite that's right for you." -Alicia Rohan, A&P Design Co.
---
2. Define Your Wedding Style
"When reaching out to a stationery designer, it is vital to have the style of your event already chosen (wedding planners are experts at pinning down your style). Whether your wedding is classic and elegant, casual and fun, or designed around a gorgeous outdoor venue, you want your invitation to set the tone for your event. This gives your guests a firsthand preview of the wedding they will be attending. Try to narrow down some major design points before speaking to your designer, such as a theme, certain colors, and a few descriptive words to illustrate the vibe of your wedding. Adjectives like classic, boho, vintage, French-inspired, modern, tropical and romantic can help unify your overall concept. A professional stationery artist should be able to use this descriptive language to design an invitation that revolves around your wedding style." -Sadge King, Sadgebrush Designs
"Couples have the freedom to show their personalities through their wedding details. Before meeting with your wedding stationery designer, have a clear picture of what you are looking for. We don't recommend going to your stationery meeting unprepared and hoping that your designer will figure it all out for you. Close your eyes and imagine your wedding day. What are you envisioning? Is it a black tie affair, intimate ceremony, casual backyard wedding, beach ceremony, or something else entirely? Determine if your wedding will have a theme or symbol. For example, if the location where you got engaged is meaningful to you, do you want to incorporate some iconic elements of that place into your paper goods? Do you like monograms? Is there a particular flower that is special to you? How would you best describe how you want your big day to look and what type of experience you want to give to your guests? Examples include traditional, vintage, organic, elegant, luxurious, casual, family-style, minimalist, spiritual, tropical, modern…the possibilities are endless! All of these things will help your designer create the invitations that best fit the look and feel you are going for. Well worth a half-hour brainstorming session." -Alicia Rohan, A&P Design Co.
---
3. Gather Inspiration
"With the help of your wedding planner, couples should provide their stationery designer with several examples/ideas they like within the chosen wedding theme. This is where Pinterest, mood, or vision boards come into play. Gather examples of invitation layouts, wording, and paper samples you gravitate towards. Your stationery artist can use these visual aids to narrow down a more precise vision and guide you in the right direction." -Sadge King, Sadgebrush Designs
"Once you've decided what your wedding style and colors will be, create a Pinterest board, mood board, PDF file, or whatever will work for you to collect and save everything you like. When it comes to gathering inspiration for your invitations and other paper goods, make sure you include wording ideas, design ideas, invitation layouts, fonts, paper colors, enclosure card ideas, program ideas, escort card designs, menus designs, and anything else that speaks to you. If you decide to incorporate a theme or symbol, it's very helpful to have photos of what you would like to include. If you like monograms, include images of different monogram designs that catch your eye. If you feel comfortable, invite your designer to join your Pinterest board, bring magazines cut-outs, create a vision/mood board, or anything else that will explicitly visually convey your vision to your designer." -Alicia Rohan, A&P Design Co.
---
4. Know Your Color Palette
"Have an idea of the colors you want to include in your stationery design. These colors can be carried into other stationery such as programs, escort cards, and menus to create a more cohesive look. The right colors will help emphasize the mood you are trying to create throughout your wedding day. Bring color swatches of fabric, examples of the florals, or anything else to help your stationery design lockin that exact color palette." -Sadge King, Sadgebrush Designs
---
5. Select Other Coordinating Paper Details
"Besides invitations, some couples may want to include additional pieces to their wedding suite. These items may be necessary based on the information you want your guest to know about your big day. Inviting a large number of out-of-town guests? You may want to include a map of the ceremony/reception location along with a details card of accommodation information. Day of paper goods like place cards, menus, and programs should be designed and communicated alongside your invitations. If you choose these items along with your invitations, they won't look like an afterthought when you go to tie everything together." -Sadge King, Sadgebrush Designs
"Start thinking of what information you want your guests to know. Over-communicating is the key! Are your ceremony and reception in two different locations? If so, you will need a reception card. Will you need directions/map cards, accommodations cards, or wedding website cards?" -Alicia Rohan, A&P Design Co.
---
6. Accessorize Your Suite
"Your wedding invitations are a glimpse into your wedding day. They are the first wedding-related item your guests receive. If you are wanting to create the wow factor, consider adding extras like ribbon, wax seals, textured paper, envelope calligraphy, and or vintage stamps to close out the deal. These extras are a beautifully creative way to make your invitations stand out. Extras like these are not usually included in your printing/design costs, so make sure to leave some room in your stationery budget." -Sadge King, Sadgebrush Designs
What other paper pieces and accents would you like to include. For example, do you want inner envelopes, which are not the same as RSVP envelopes? Do you want pocket folds, ribbons, bellybands, envelope liners, monogram tags, or vellum overlays? Having a general idea about these things will help you narrow down your choices and avoid feeling overwhelmed when you go to your meeting. However, don't worry if you are still unsure about what to include. During your appointment, you will be able to touch and feel a variety of samples to help you decide." -Alicia Rohan, A&P Design Co.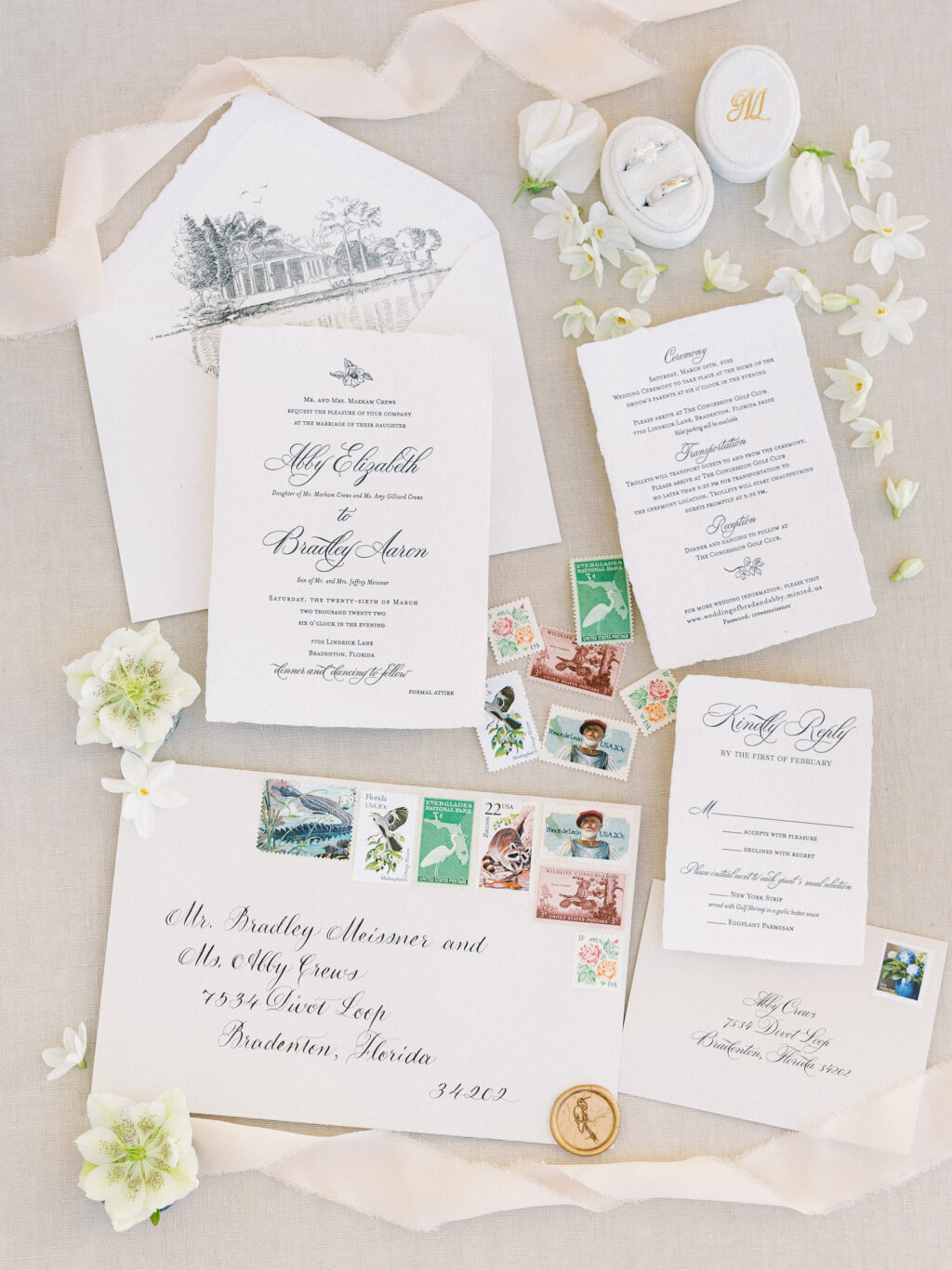 A&P Design Co. | Photo: Justin Demutiis Photography
---
---
A&P Design Co. is a letterpress print shop and custom invitation design studio. We love bringing art to life through paper. Whether it is a hand-drawn element or watercolor design, each invitation is artfully created in our hand-operated antique printing press one color at a time, one piece at a time. We pride ourselves on creating unforgettable, one-of-a-kind handcrafted paper goods that speak of your unique personality and wedding style. Every invitation is hand-printed and assembled to assure it is the perfect invitation that represents you and your event.
---
7. Think About A Budget
"Prices for custom invitations can vary for each company. Do some research and ask your stationery artist how much their packages and services run. If what you want is out of your budget, your designer can offer suggestions on alternative options that may work best for your pricing points, such as different papers, printing processes, and design work." -Sadge King, Sadgebrush Designs
"Have a rough idea of what your budget is before meeting with your wedding stationery designer. Before scheduling an appointment with a stationer, give them a general idea of what you are looking for and ask them for a rough estimate. If what you like is way over your budget, just ask your designer for other options. A great stationer will inform you about all the different options available to you and will work with you to create a wedding invitation suite that best reflects your wedding style while staying within your price range." -Alicia Rohan, A&P Design Co.
---
8. Your Guest Count is NOT Your Invitation Count
"Your total number of guests is not always the number of invitations you will need. This is one of the few times (if not the only time) during the planning process where your count will be based on households. For example, if your guest list is 200 people, you will most likely need half as many invitations because many of your guests will be from the same households. All married, engaged or common-law couples should be receiving one invitation, and all children under the age of 18 should be included in their parents' invitations." -Alicia Rohan, A&P Design Co.
"Wedding invitations are ordered in bulk, so it makes sense to order extras from the beginning to avoid the extra costs later. We suggest ordering at least 25 extra invitations to account for keepsakes, invitations that may get lost in the mail, and extra guests your spouse (or parents) may have forgotten to tell you about. If you are hiring a calligrapher, make sure to order 25% more envelopes in case of returned invitations or addressing mistakes." -Sadge King, Sadgebrush Designs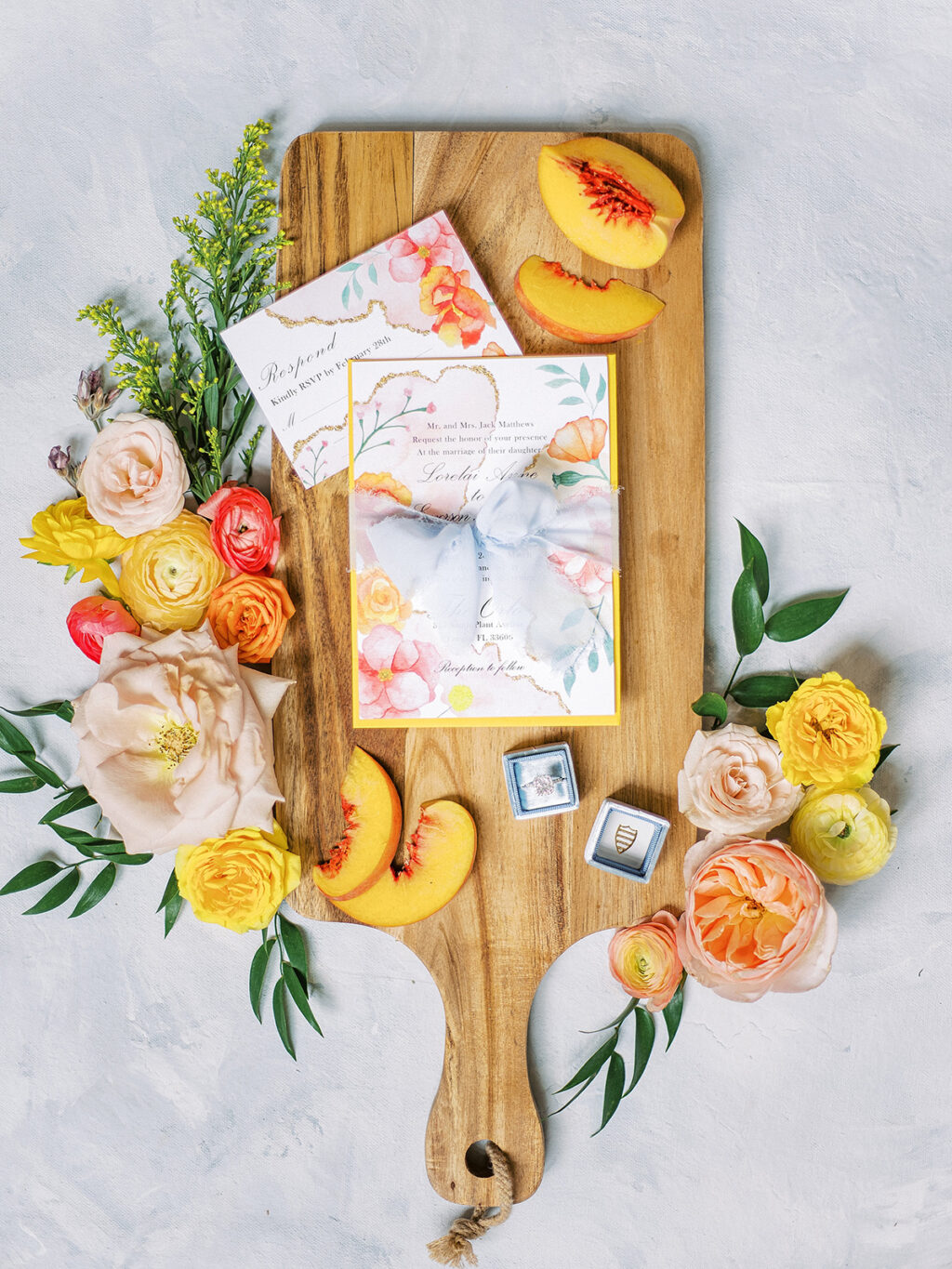 Sadgebrush Designs
---
---
Sadgebrush Designs is a custom design studio specializing in hand-painted wedding invitations and hand-lettered event signage. With a fine arts background, our team knows the importance of great foundational drawing. Everything from our welcome signs to our luxury wedding invitations is hand painted and drawn by our artists to give you a completely custom design. We currently offer custom wedding invitations, event signage, envelope calligraphy, and watercolor illustrations.
---
9. Know How You Want to Address Your Envelopes
"There are several options available to address your invitations, so make sure you ask your stationery designer what they have available. Do you want to hire a hand calligrapher, or do you prefer digital calligraphy? If you don't know a calligrapher, your designer should be able to give you a list of calligraphers they recommend." -Alicia Rohan, A&P Design Co.
"We suggest hiring a professional to write your addresses. Having a calligrapher address your envelopes makes a beautiful first impression while also taking care of this lengthy task for you. If you are not using a calligrapher, envelopes addressed by hand have a more personal feel to them. Choose someone with immaculate handwriting or have addresses printed right onto the envelopes." -Sadge King, Sadgebrush Designs
---
10. Have Your Basic Wording Prepared
"Your wedding stationery designer will need the wording details for your invitation, so be prepared to have these narrowed down. You will need to know the timing of the ceremony, who is hosting the wedding, and the location of the reception. If you are unsure of who to list as the host, your stationer can suggest the best wording for the style of your wedding." -Sadge King, Sadgebrush Designs
"Who is hosting? What time is the wedding? Where are the ceremony and reception taking place? You'll need to have all of this basic information nailed down before your meeting. If you find yourself with a special situation (both divorced parents hosting, a deceased parent, etc.) just let your stationer know, and they will advise you on the proper etiquette." -Alicia Rohan, A&P Design Co.
---