Your wedding invitations and stationery are the first glimpse your guests will have into your big day, so you want them to be a bold and beautiful personal statement! However, we know that the ordering process can be overwhelming, so as a Tampa Bay letterpress print shop and custom wedding invitation studio, here are our top 10 things you must know before ordering your wedding invitations.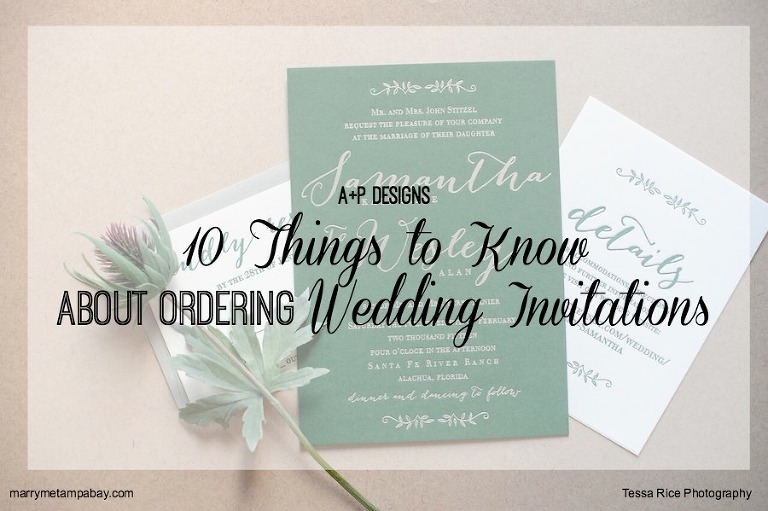 1. Start Early
You should start looking for wedding invitation ideas and stationery designers about six months prior to your wedding (give yourself more time for your Save-the-Dates, as these are usually sent about nine months prior to your wedding date). Invitations are typically sent 6-8 weeks prior to the wedding (10-12 weeks if you are having a destination or holiday wedding). You want to give yourself enough time to really explore your options so you can choose the invitation suite that's right for you.
Waiting until the last minute will most likely turn you into a Bridezilla. Avoid the stress of making last-minute decisions and start working on your invitations as soon as you determine your colors and wedding theme/style.
2. Define Your Wedding Style
One of the worst experiences is going to your stationery meeting unprepared and hoping that your designer will figure it all out for you. Before meeting with your wedding stationery designer, have a clear picture of what you are looking for. Nowadays, couples have the freedom to really show their personalities through their wedding details. Here are a few tips if you are unsure of what you are going for:
Close your eyes and imagine your wedding day. What are you envisioning? Is it a black tie affair, intimate ceremony, casual backyard wedding, beach ceremony or something else entirely?
Determine if your wedding will have a theme or symbol. For example, if the location where you got engaged is meaningful to you, do you want to incorporate some iconic elements of that place into your paper goods? Do you like monograms? Is there a particular flower that is special to you?
Think of a few adjectives that best describe how you want your big day to look and what type of experience you want to give to your guests. Examples include traditional, vintage, organic, elegant, luxurious, casual, family-style, minimalist, spiritual, tropical, modern…the possibilities are endless!
All of these things will help your designer create the invitations that best fit the look and feel you are going for. Well worth a half-hour brainstorming session.
3. Gather Inspiration
Once you've decided what your wedding style and colors will be, it's time to create a Pinterest board, mood board, PDF file or whatever else will work for you to collect and save everything you like. When it comes to gathering inspiration for your invitations and other paper goods, make sure you include wording ideas, design ideas, invitation layouts, fonts, paper colors, enclosure card ideas, program ideas, escort card designs, menus designs and anything else that speaks to you.
If you decide to incorporate a theme or symbol, it's very helpful to have photos of what you would like to include. If you like monograms, include images of different monogram designs that catch your eye.
If you feel comfortable, invite your designer to join your Pinterest board, bring magazines cut-outs, create a vision/mood board or anything else that will explicitly visually convey your vision to your designer.
4. Know Your Color Palette
Do you want to incorporate a particular color(s) into your wedding invitations? If so, bring color samples, swatches or photos of the colors you want to your meeting. Your designer will help you find the right paper pieces, ink colors and accessories to bring your vision to life.
5. Select Other Coordinating Paper Details
Start thinking of what information you want your guests to know (remember, over-communicating is the key, so don't assume your guests will just "know"). Are your ceremony and reception in two different locations? If so, you will need a reception card. Will you need directions/map cards, accommodations cards or wedding website cards?
Also, start thinking of what other paper pieces and accents you would like to include. For example, do you to want inner envelopes, which not the same as RSVP envelopes. Do you want pocket-folds, ribbons, bellybands, envelope liners, monogram tags or vellum overlays? Having a general idea about these things will help you narrow down your choices and avoid feeling overwhelmed when you go to your meeting. However, don't worry if you are still unsure about what to include. During your appointment, you will be able to touch and feel a variety of samples to help you decide.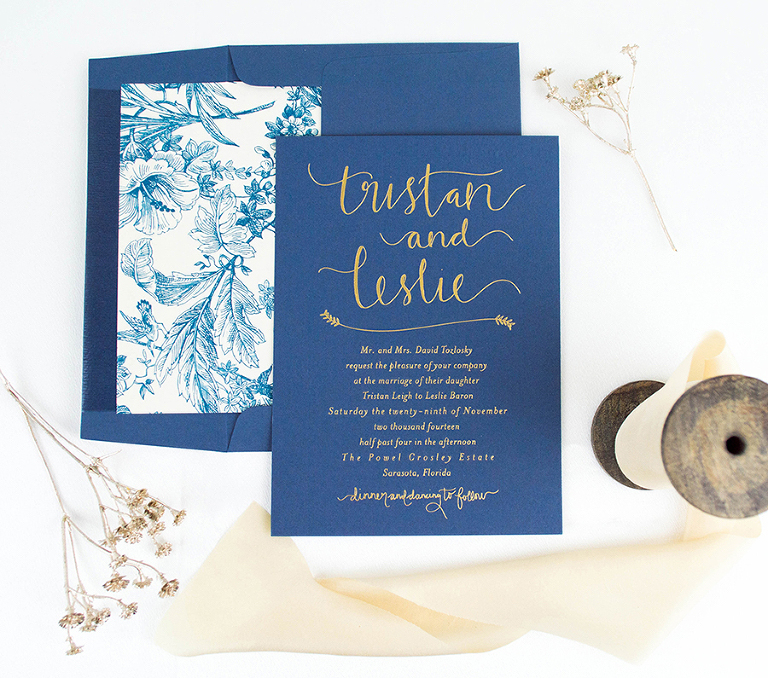 6. Know Your Budget
Have a rough idea of what your budget is before meeting with your wedding stationery designer. Before scheduling an appointment with a stationer, give them a general idea of what you are looking for and ask them for a rough estimate. If what you like is way over your budget, just ask your designer for other options. A great stationer will inform you about all the different options available to you and will work with you to create a wedding invitation suite that best reflects your wedding style while staying within your price range.
7. Know Your Numbers
Keep in mind, your total number of guests is not always the number of invitations you will need. This is one of the few times (if not the only time) during the planning process where your count will be based on households. For example, if your guest list is 200 people, you will most likely need half as many invitations because many of your guests will be from the same households. All married, engaged or common-law couples should be receiving one invitation, and all children under the age of 18 should be included in their parents' invitations.
8. Always Order Extras
It's always recommended to order additional invitations, as guest lists have a way of magically increasing at the last minute. Also, re-prints can be very costly, particularly with letterpress. Don't forget to order a couple for yourself and your family for keepsakes.
9. Know How You Want to Address Your Envelopes
There are several options available to address your invitations, so make sure you ask your stationery designer what they have available. Do you want to hire a hand calligrapher or do you prefer digital calligraphy? If you don't know a calligrapher, your designer should be able to give you a list of calligraphers she (or he) recommends.
If you choose a hand calligrapher, make sure to order extra envelopes in case of errors (around 15%-20% extra is recommended).
10. Have Your Basic Wording Prepared
Who is hosting? What time is the wedding? Where are the ceremony and reception taking place? You'll need to have all of this basic information nailed down before your meeting. If you find yourself with a special situation (both divorced parents hosting, a deceased parent, etc.) just let your stationer know and she (or he) will advise you on the proper etiquette.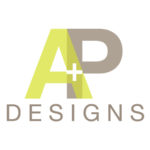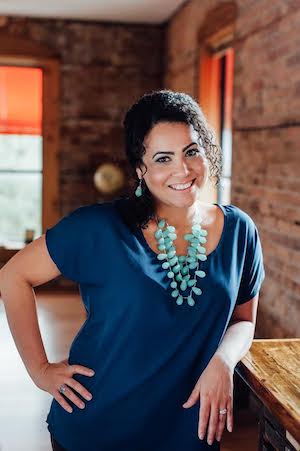 Patricia is the client coordinator and social media specialist for A&P Designs. Along with her love for photography, natural talents for stylization and descriptive writing, Patricia creates virtually all of the company's online content, specializing in beautiful visuals and vivid descriptions of A&P Designs custom paper goods products. A true people person, she handles a large portion of the firm's client communications and design meetings.
A&P Designs is a custom invitations studio and letterpress printshop nestled in downtown St. Petersburg. They take pride on creating unforgettable, one-of-a-kind handcrafted paper goods that speak of the clients unique personality and wedding style. Every invitation is a manually printed and assembled to assure it is the perfect invitation that represents each clients special event.
Email A&P Designs
Website | Facebook | Instagram | Pinterest 
Featured weddings on Marry Me Tampa Bay