Your wedding invitation is your guests' first glimpse into your big day, so you want it to be a personal statement.
Just as your wedding cake is so much more than sugar and flour, your stationery is integral to your overall design. To help understand the process, our preferred Tampa Bay custom stationers share their insight on ordering wedding invitations.
---
1. When Should I Mail My Save-the-Dates and Invitations?
"If you plan on sending out Save-the-Dates, look for stationery designers once you have booked your venue. This allows enough time for designers to create the perfect STD and mail out ten to twelve months in advance of your wedding. For custom wedding invitations, couples should start the design process six to seven months out so they are ready to mail them out twelve weeks before the wedding. Creating custom wedding invitations is a process, so the more time you allow your stationery designers to paint, edit, and print, the more likely you are to end up with a product you absolutely love." -Sadge King, owner, Sadgebrush Designs
"Deciding on when to start the paper process boils down to if you want to create a custom design or if you want to customize something off our Design Bar. Another factor to consider is printing time and when to mail your invitations. For a local wedding, you typically want to mail your invitations two months before the wedding and 3-4 months if it's a destination wedding. It's safe to give yourself about a month for the printing time of your invitation suite. Allow enough time to receive the invitations, stuff them, and mail them (if your stationer doesn't do that for you). Design time can vary depending on the stationer and if you want something custom. If not, I suggest giving yourself about two months for the design time, and if you want something custom, about 3-4 months. I would advise starting your wedding invitations anywhere from 5-8 months before the wedding to give you enough time. Remember, creating your invitations is a fun and creative process, and the more time you allow them to create something for you, the more creative it can become." -Alicia Rohan, owner, A&P Design Co.
---
2. Define Your Wedding Style
"It's best to know what wedding style you are going for before meeting with your stationer. You don't have to know every detail of what you want, but it's good to have a general idea of the overall style you want your wedding day to be like. How do you want your big day to look, and what type of experience do you want to give to your guests? Examples include traditional, elegant, formal, vintage, organic, luxurious, grande, fun, casual, family-style, minimalist, spiritual, tropical, modern…the possibilities are endless! All of these things will help your designer create the invitations that best fit the look and feel you are going for." -Alicia Rohan, owner, A&P Design Co.
"When reaching out to a stationery designer, it is vital to have the style of your event already chosen (wedding planners are experts at pinning down your style). Whether your wedding is classic and elegant, casual and fun, or designed around a gorgeous outdoor venue, you want your invitation to set the tone for your event. This gives your guests a firsthand preview of the wedding they will be attending. Narrow down some major design points, such as a theme, certain colors, and florals, before speaking to your designer. A professional stationery artist should be able to use these inspirations to design an invitation that revolves around your wedding style." -Sadge King, owner, Sadgebrush Designs
"While you want to order your invitations and especially Save-the-Dates several months in advance, nailing down these designs can actually help you plan out your ceremony and reception details later on down the line. If you have a custom monogram or crest created, you can incorporate those elements into sweet little touches like welcome banners, seating charts, or any signage. Using the same designer will ensure that you have a cohesive look at your entire event. For example, you could turn the hand-painted pet portrait from your stationery into a cocktail sign or custom napkins. You can usually find an artist who will do these things a la carte if you want to pursue a DIY approach." -Margot Griffin, owner, Inky Fingers Calligraphy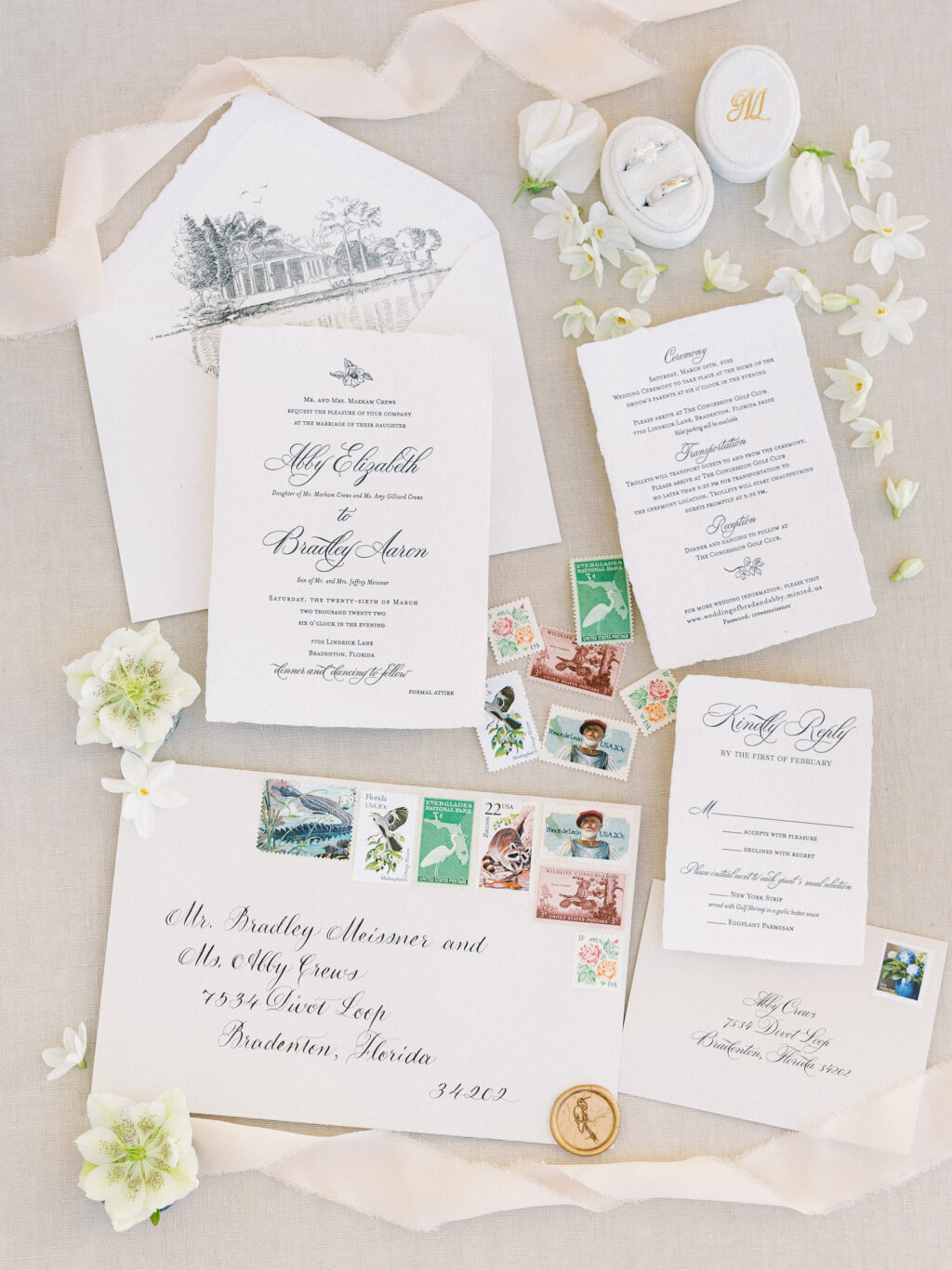 A&P Design Co. | Photo: Justin Demutiis Photography
A&P Design Co. is a letterpress print shop and custom invitation design studio. We love bringing art to life through paper. Whether it is a hand-drawn element or a watercolor design, each invitation is artfully created in our hand-operated antique printing press, one color at a time, one piece at a time. We pride ourselves on creating unforgettable, one-of-a-kind handcrafted paper goods that speak of your unique personality and wedding style. Every invitation is hand-printed and assembled to ensure it is the perfect invitation that represents you and your event.
---
3. Gather Inspiration
"It's okay if you don't know what you want your invitations to look like. Remember, it's the stationer's job to guide you through the process, but it's always nice to have a general idea of what you are going for. Creating a Pinterest board or scouring Instagram is always great to help give inspiration. If there is something you are envisioning with your paper goods, let your stationer know during the consultation meeting." -Alicia Rohan, owner, A&P Design Co.
"With the help of your wedding planner, couples should provide their stationery designer with several ideas and inspirations they like within the chosen wedding theme. Mood boards are a great tool to help illustrate your theme to the designer. Your stationery artist can use these visual aids to narrow down a more precise vision and guide you in the right direction. Find a stationer whose style you already love and let them work their magic!" -Sadge King, owner, Sadgebrush Designs
---
4. Know Your Color Palette
"Have an idea of the colors you want to include in your stationery design. These colors can be carried into other stationery, such as programs, escort cards, and menus, to create a more cohesive look. The right colors will help emphasize the mood you are trying to create throughout your wedding day. Bring color swatches of fabric, examples of the florals, or anything else to help your stationery design lockin that exact color palette." -Sadge King, owner, Sadgebrush Designs
---
5. Select Other Coordinating Paper Details
"During the invitation consultation, we will go through all the paper pieces that need to go into your invitation suite as well as any accessories you might want to add to the suite. We will go over each paper piece in detail and offer advice on what is needed and what is not. Once the invitation design is set, then we will circle back and start chatting about the day of paper goods." -Alicia Rohan, A&P Design Co.
"Besides invitations, some couples may want to include additional pieces to their wedding suite. These items may be necessary based on the information you want your guest to know about your big day. Inviting a large number of out-of-town guests? You may want to include a map of the ceremony/reception location along with a 'details card' with accommodation information. Day of paper goods like place cards, menus, and programs should be designed and communicated alongside your invitations. If you choose these items along with your invitations, they won't look like an afterthought when you go to tie everything together." -Sadge King, owner, Sadgebrush Designs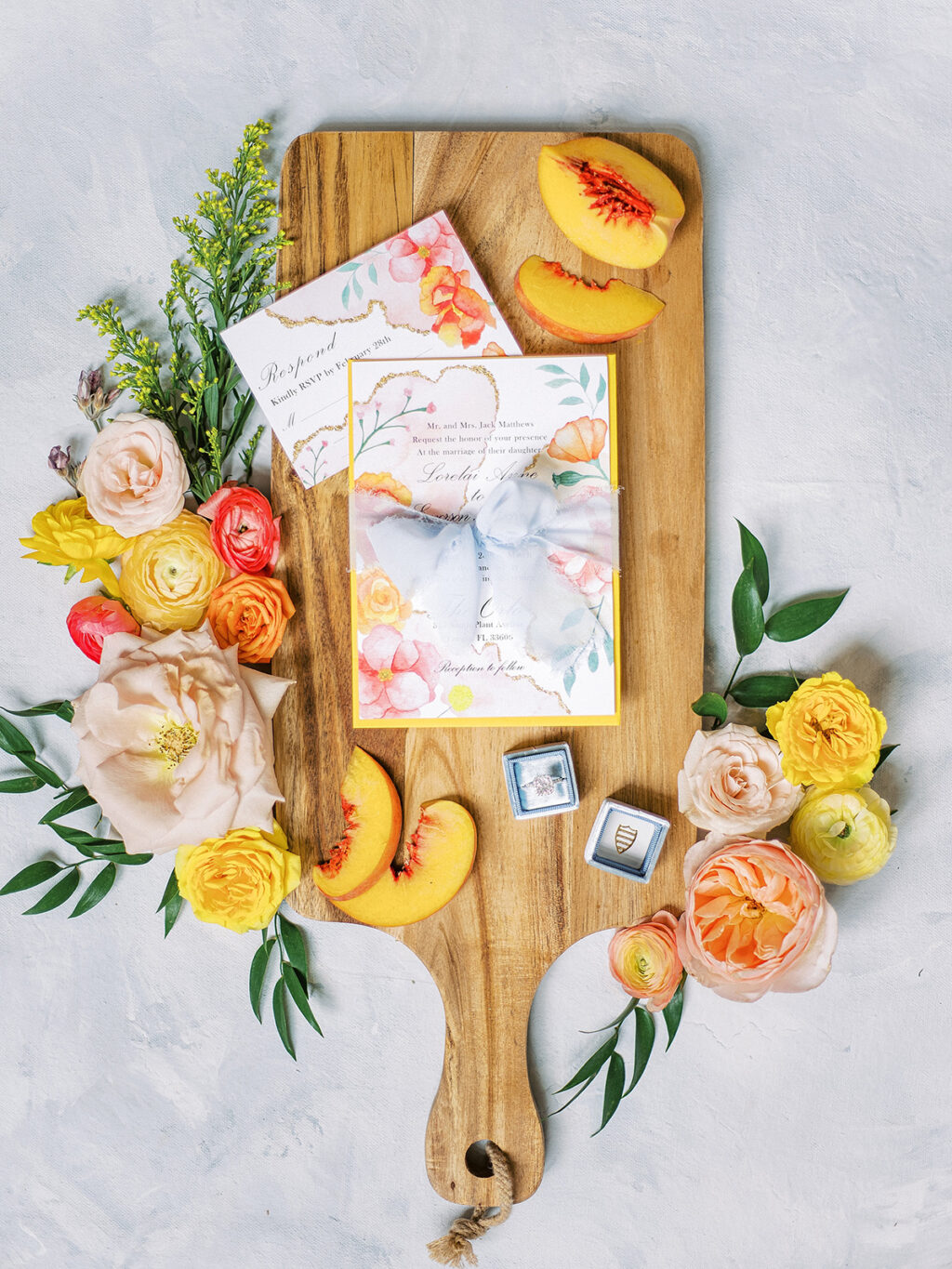 Sadgebrush Designs
Sadgebrush Designs is a custom design studio specializing in hand-painted wedding invitations and hand-lettered event signage. With a fine arts background, our team knows the importance of great foundational drawing. Everything from our welcome signs to our luxury wedding invitations is hand-painted and drawn by our artists to give you a completely custom design. We currently offer custom wedding invitations, event signage, envelope calligraphy, and watercolor illustrations.
---
6. Accessorize Your Suite
"Your wedding invitations are a glimpse into your wedding day. They are the first wedding-related item your guests receive. If you want to create the wow factor, consider adding extras like ribbon, wax seals, textured paper, envelope calligraphy, and or vintage stamps to close out the deal. These extras are a beautifully creative way to make your invitations stand out. Extras like these are not usually included in your printing/design costs, so make sure to leave some room in your stationery budget." -Sadge King, owner, Sadgebrush Designs
"Think of your invitation as a little black dress; how do you want to dress it up? What accessories do you want to add? Accessorizing the invitation suite is a great way to elevate the invitation design, give that wow factor, or add a bit more customization or style to your invitations to make them more your own. You can add in torn edges, belly bands, ribbons, wax seals, venue illustration, envelope liners, colored papers, the possibilities are endless." -Alicia Rohan, A&P Design Co.
"Even though hand-executed calligraphy is considered a luxury or 'extra,' you can wow your guests with just a small touch of it! Can't afford an entire hand-lettered envelope suite? Add inner envelopes with just their names. Have your seating chart/place card display double as a favor. Remember that a calligrapher can write your name or invitation copy just once and have it reproduced. I love adding spot calligraphy to the envelopes or menus. It adds such a personal vibe and really speaks to how special your big day is and how much it means." -Margot Griffin, owner, Inky Fingers Calligraphy
---
7. Setting A Budget
"Prices for custom invitations can vary for each company. Do some research and ask your stationery artist how much their packages and services run. If what you want is out of your budget, your designer can offer suggestions on alternative options that may work best for your pricing points, such as different papers, printing processes, and design work." -Sadge King, owner, Sadgebrush Designs
"Pricing can vary for wedding invitations because every invitation is so tailored to each event it represents. We like to break out pricing based on quantity, paper pieces, print method, and accessories. Having an idea of what you are looking for and like when meeting with the stationer will help when they are generating a quote." -Alicia Rohan, owner, A&P Design Co.
---
8. Your Guest Count is NOT Your Invitation Count
"Remember, when you are mailing your invitations, you are mailing to households, not to your individual guest count. We always like to recommend ordering a good 10-15 extra invitation suites. You want to take into account keepsakes for yourself as well as parents like to have an extra keepsake that's not mailed to them, two invitation suites for your photographer for flat lays, and then a handful of extras just in case something happens in the mail, an invite gets returned, you forgot someone, someone moves, etc." -Alicia Rohan, owner, A&P Design Co.
"Wedding invitations are ordered in bulk, so ordering extras from the beginning makes sense to avoid the extra costs later. We suggest ordering at least 25 extra invitations to account for keepsakes, invitations that may get lost in the mail, and extra guests your spouse (or parents) may have forgotten to tell you about. If you are hiring a calligrapher, make sure to order 25% more envelopes in case of returned invitations or addressing mistakes." -Sadge King, owner, Sadgebrush Designs
Inky Fingers Calligraphy provides lettering and custom illustration services. From full invitation design to simple envelope addressing, The owner, Margot, renders everything by hand to add a special touch to your big day. She specializes in watercolor, pointed pen, and paper cutting to create something unique just for you. She prides herself on quality of execution and reliable communication during the collaborative process so that you feel 100% seen and heard.
---
9. Know How You Want to Address Your Envelopes
"There are several options available to address your invitations, so make sure you ask your stationery designer what they have available. Do you want to hire a hand calligrapher, or do you prefer digital calligraphy? If you don't know a calligrapher, your designer should be able to give you a list of calligraphers they recommend." -Alicia Rohan, owner, A&P Design Co.
"We suggest hiring a professional to write your addresses. Having a calligrapher address your envelopes makes a beautiful first impression while also taking care of this lengthy task for you. If you are not using a calligrapher, envelopes addressed by hand have a more personal feel to them. Choose someone with immaculate handwriting or have addresses printed right onto the envelopes." -Sadge King, owner, Sadgebrush Designs
---
10. Have Your Basic Wording Prepared
"Your wedding stationery designer will need the wording details for your invitation, so be prepared to have these narrowed down. You will need to know the timing of the ceremony, who is hosting the wedding, and the location of the reception. If you are unsure of who to list as the host, your stationer can suggest the best wording for the style of your wedding." -Sadge King, owner, Sadgebrush Designs
"Who is hosting? What time is the wedding? Where are the ceremony and reception taking place? You'll need to have all of this basic information nailed down before your meeting. If you find yourself in a special situation (both divorced parents hosting, a deceased parent, etc.) just let your stationer know, and they will advise you on the proper etiquette. We also provide wording guides for all of our couples." -Alicia Rohan, owner, A&P Design Co.
"Your stationer isn't a mind reader! Custom stationery is a process that involves a lot of communication. My email chains with clients easily reach triple digits as we fine-tune options and details. Timely responses will really help your designer move forward so that you have a final suite you love and don't get rushed into production. Clear feedback and honesty from couples are super helpful. Please also understand what a design fee covers: all of the hours of education, email, sourcing, drafting, late-stage changes, and file preparation are what your stationer gets paid for. The money for printer services covers only material costs, which have only gone up in the last few years. Semi-custom suites are always a great option for couples who want to see some pretty options, personalize their details, and move on to the next part of the planning." -Margot Griffin, owner, Inky Fingers Calligraphy