A&P Designs is a letterpress print shop and custom invitation design studio. We love bringing art to life through paper. Whether it is a hand-drawn element or watercolor design, each invitation is artfully created in our hand-operated antique printing press one color at a time, one piece at a time.
We pride ourselves on creating unforgettable, one-of-a-kind handcrafted paper goods that speak of your unique personality and wedding style. Every invitation is hand-printed and assembled to assure it is the perfect invitation that represents you and your event.
---
A&P Designs Reviews From Marry Me Tampa Bay Couples:
"I chose A&P Designs since they are a local business and were highly recommended to me by a few close friends. It was nice to be able to meet with the owner, Alicia, in-person to go over my vision for the invitations. She was great and knew exactly what I wanted. I was very happy with how they turned out." -Sabrina and Jonathan | Blush, Gold and White Sarasota Wedding
"From the design process all the way to picking up our perfectly wrapped invitations, A&P Designs was phenomenal. I feel our invitations gave our guests a glimpse of a general wedding theme we wanted to portray. I love that it is owned by a local husband and wife duo who equally share their love for this craft. They literally hand press each invitation on a vintage printing press." -Bethany and Kyle | Champagne and Blush Downtown Tampa Wedding
"I went in with an open mind and went with what felt right. I love simplicity and tradition. A&P Designs does amazing work! My first meeting with them was where my orange theme came about. Our Save-The-Dates had watercolor oranges on them." -Christiana and Charley | Old Tampa Inspired Traditional Wedding
"We wanted a more traditional, elegant, yet simple design and colors that matched the theme of our wedding. A&P Designs was great to work with. I would recommend them to anyone!" -Alexandra and Logan | Ivory and Gold Downtown St. Pete Wedding
"Because we were having a wedding in our hometown, I wanted to try to use as many local vendors as I could. I found A&P Designs in St. Pete's growing "Edge" District, which is becoming a center for the arts in the community. Alicia and Pat [of A&P Designs] were so great to work with and are so imaginative in what they create for their clients. I wanted a handmade letterpress suite for my wedding invitations that reflected us, so there is a cute bicycle at the top of the invitation." -Caitlin and Mickey | Pink and Green Romantic Downtown St. Pete Wedding
---
---
---
What We Offer:
We can create anything you want or need on paper! Save-the-Date cards, Invitations, menus, programs, welcome bag totes, welcome notes, custom maps, wedding signs, escort cards, place cards, "Thank You" notes, and more!
---
Our Wedding Style Is:
As a custom invitations studio, we can create anything you can envision for your event! Whether you are having a traditional, modern, or destination event, we bring your vision to life. If you aren't interested in a custom design, check out our Design Bar collection to see preset templates that you can fully customize. Invitation designs from our Design Bar are affordable and offer quick turnarounds.
Our Personality Is:
We are dreamers, creative, and joyful with a deep sense of excellence and quality. We love all things handmade and southern, and we love to tell stories with our work. Your vision and style are our inspiration!
---
We Love Being a Part of the Wedding Industry Because:
Your invitations set the tone of your event! Your invitations are the first glimpse your guests get into what you have been working so hard on for the past several months while planning your big day! A well-crafted invitation helps your guests imagine your wedding day and prepare for it. Not to mention that it's not every day that people receive a personalized letter or a beautiful invitation in the mail, making it an, even more, special and sweet surprise!
On your wedding day, other paper details including programs, menus, and escort cards create the finishing touches to your celebration. Aside from accentuating your wedding style, your paper goods will keep your wedding guests well informed from the moment they walk into your ceremony until they are seated to enjoy your reception.
---
Our Pricing:
We are happy to provide custom quotes for all inquiries. We are proud to offer some of the most affordable letterpress printing in the area!
Depending on the intricacy of the design, it takes 1-2 weeks to create the initial mock-up design of your invitation, we include 3-5 different concepts for your review. We are happy to make as many revisions and edits as needed until the suite is perfect. Once you approve your invitation suite, we will begin production which typically takes 10-15 business days. You can either pick up your beautiful invitation package at our production studio or we can mail it to you.
---
---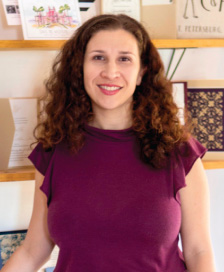 Meet Alicia Rohan
---
As Seen on Marry Me Tampa Bay