A&P Designs is a letterpress print shop and custom invitation design studio. We love bringing art to life through paper. Whether it is a hand-drawn element or watercolor design, each invitation is artfully created in our hand-operated antique printing press one color at a time, one piece at a time.
We pride ourselves on creating unforgettable, one-of-a-kind handcrafted paper goods that speak of your unique personality and wedding style. Every invitation is hand-printed and assembled to assure it is the perfect invitation that represents you and your event.
---
---
What We Offer:
We can create anything you want or need on paper! Save-the-Date cards, Invitations, menus, programs, welcome bag totes, welcome notes, custom maps, wedding signs, escort cards, place cards, "Thank You" notes, and more!
---
Our Wedding Style Is:
As a custom invitations studio, we can create anything you can envision for your event! Whether you are having a traditional, modern, or destination event, we bring your vision to life. If you aren't interested in a custom design, check out our Design Bar collection to see preset templates that you can fully customize. Invitation designs from our Design Bar are affordable and offer quick turnarounds.
Our Personality Is:
We are dreamers, creative, and joyful with a deep sense of excellence and quality. We love all things handmade and southern, and we love to tell stories with our work. Your vision and style are our inspiration!
---
What Inspired Us to Start Our Business is:
We started our business in 2009 when we got married. At the time, there weren't a lot of custom invitation designs available. All invitations were from a book and lacked personality. I had spent so much time & energy creating a wedding style that told our story and personalities and I wanted our stationery to reflect the event our guests were going to attend. So I decided to create my invitations and then one thing led to another and a business was born. I later brought my husband on when I realized there weren't a lot of letterpress printers and the cost to offer letterpress was very expensive so we bought a little 100-year-old letterpress and learned how to print.
---
We Love Being a Part of the Wedding Industry Because:
Your invitations set the tone of your event! Your invitations are the first glimpse your guests get into what you have been working so hard on for the past several months while planning your big day! A well-crafted invitation helps your guests imagine your wedding day and prepare for it. Not to mention that it's not every day that people receive a personalized letter or a beautiful invitation in the mail, making it an, even more, special and sweet surprise!
On your wedding day, other paper details including programs, menus, and escort cards create the finishing touches to your celebration. Aside from accentuating your wedding style, your paper goods will keep your wedding guests well informed from the moment they walk into your ceremony until they are seated to enjoy your reception.
---
What Makes Our Business Stand Out From Other Vendors Is:
We are a husband and wife team who work together to craft beautiful one-of-a-kind invitations. Alicia (A from A&P) is the designer and Pat (P from A&P) is the printer. We print everything in-house and everything is designed & printed by us.
Whether we're detailing a hand-drawn design or crafting a beautiful watercolor motif, we love bringing art to life through paper. Each invitation is artfully printed in our hand-operated, 100-year-old antique printing press one color at a time, one piece at a time.
---
One Thing Most Couples Would Be Surprised to Know About Us Is:
I love to travel and I have a travel blog focused on family travel. My husband and I have committed to traveling or going on an adventure (doesn't have to be far) every 6 weeks.
One of Our Non-Wedding Passions Is:
Travel. Currently, my favorite way to travel is taking road trips.
---
Our Pricing:
We are happy to provide custom quotes for all inquiries. We are proud to offer some of the most affordable letterpress printing in the area!
Depending on the intricacy of the design, it takes 1-2 weeks to create the initial mock-up design of your invitation, we include 3-5 different concepts for your review. We are happy to make as many revisions and edits as needed until the suite is perfect. Once you approve your invitation suite, we will begin production which typically takes 10-15 business days. You can either pick up your beautiful invitation package at our production studio or we can mail it to you.
---
---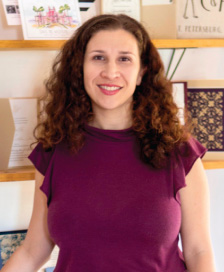 Meet Alicia
My name is Alicia Rohan. I am married to my best friend and together we have two kids. My hubby is also my business partner. I am currently homeschooling which is something I never thought I would do but I love it. Being able to be with my kids at such a young age all the time is an opportunity I am grateful for and one I chose. I love creating with my hands. I am a self-taught designer. I went to school for marketing and ended up as an entrepreneur. I love to travel. I have a travel blog (my side passion project) that focuses on family travel. I am a 'have your cake and eat it too' type of person. I am always chasing after my dreams. I always try to live by the motto – strive for excellence and let God determine the results.
A&P Designs Reviews from Marry Me Tampa Bay Couples:
Marry Me Tampa Bay curates the below reviews from real couples whom we've personally interviewed. As Tampa Bay's most trusted wedding planning resource, these reviews are 100% accurate and aren't created by fake accounts.
---
---
As Seen on Marry Me Tampa Bay