Liz and Randy's destination Clearwater Beach wedding was an intimate winter affair featuring an oceanfront ceremony and reception adorned with flowers in a seasonal red and white palette.
"We wanted an elegant, fun, and intimate atmosphere," the bride shared. "Burgundy and gold were chosen due to the time of year of the wedding."
The couple prioritized their 55 guests' experiences, with attention to the menu, cocktails, and overall pleasure.
"It was a destination wedding for everyone attending," Liz explained. "[The most important elements were] flowers, food, beverage, the 'wow-factor,' as well as the guests' comfort and enjoyment."
The Texan couple chose the pristine sand and azure ocean waters of Clearwater Beach to treat their guests to an unforgettable destination wedding experience, and envisioned a luxurious resort setting where they could host their nuptials and celebration in one location with top-notch amenities and stunning views.
"We wanted a 4-star hotel and beach resort," Liz articulated. "After we visited the Wyndham Grand Clearwater Beach we knew it was a great fit!
The bride and groom knew a local wedding planner would be invaluable during the long-distance planning process and entrusted Elegant Affairs by Design to help find the ideal team of wedding professionals and to bring their vision to life.
"We looked for someone that specialized in weddings in the Clearwater Beach area," the bride explained. "We specifically hired Elegant Affairs by Design because Riley was professional, knowledgeable, and efficient in answering questions. She had good reviews and offered full-wedding planning which was essential for us in planning a destination wedding. Riley was productive in securing all vendors. We enjoyed her planner's personality, and her ability to get things done."
To complement their ballroom reception, the bride envisioned tall floral centerpieces in shades of red and white and turned to Save the Date Florida to create towering floral arrangements. Additional décor elements like colorful napkins and gold chiavari chairs from Gabro Event Services completed the elegant space.
"We wanted a florist who specialized in weddings that could make my vision come to life with large, high centerpieces for all of the reception tables with red roses and red and white flowers. Save the Date Florida's flowers were extraordinary! We were very happy with the beautiful arrangements." the bride beamed.
Knowing the importance of high-quality wedding images, Liz and Randy sought a professional wedding photographer and were impressed by the expertise and portfolio of Limelight Photography.
"We wanted a photographer with a good eye, experience, someone who edited with more natural light, and a professional photography style," the bride shared. "We wanted very high-quality edited images, and we felt like Limelight fit the bill; we liked their style and finished photos. After reading all the 5-star reviews and talking to Dafne, their senior lead photographer, we knew they would be the perfect fit to capture all of our important wedding moments."
When asked what about his most memorable moment, Randy recalls the moment he saw his bride for the first time.
"Seeing Liz in her dress, as well as taking photos on the beach [were my favorite memories]," the groom reminisced.
The Proposal:
Two months after meeting online, Randy went to retrieve the ring of my dreams. He then got down on one knee and proposed.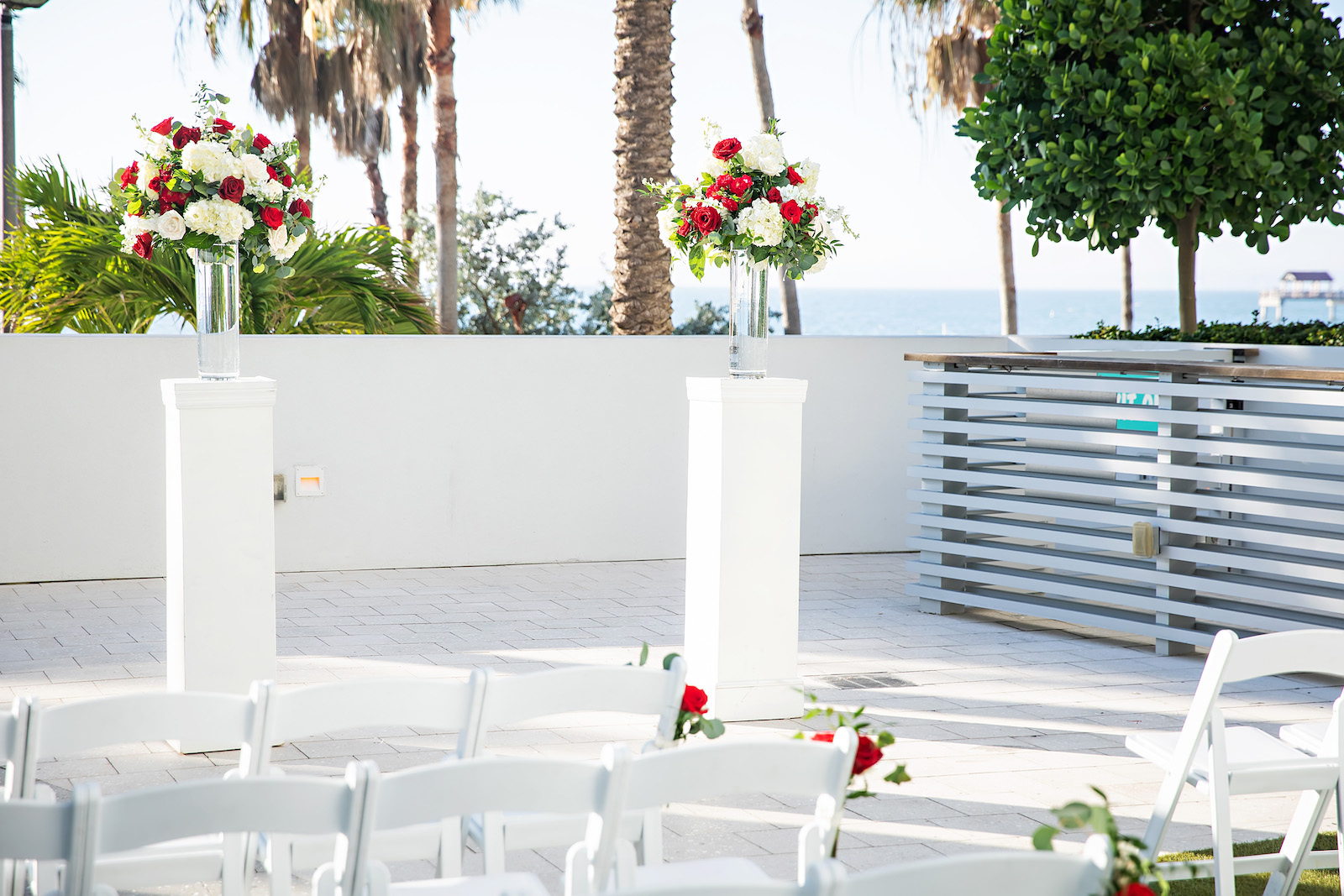 What advice would you give to other Tampa Bay couples?
A wedding planner is a necessity. Trust your planner's advice and let go and enjoy your day.