In Part 1 of A Guide to Hiring a Wedding Florist, we addressed how to set a floral budget, what couples should know about using Pinterest to select their florals, and what couples should look for in a wedding florist.
Part 2 dives deeper into learning the long journey these beautiful stems take from the other side of the world to your reception table, when you should book your florist, and some of our best money-saving tips from Tampa Bay's top floral designers!
---
---
When Should Couples Book their Wedding Florist?
"Your vendor, photographer, food, DJ, rentals, and florals are the six most important things to book first. Even more so if you have a specific one in mind. The sooner the better, but, we recommend at least one year to six months prior to the wedding. Because of COVID and all of the weddings that got postponed, 2022 and 2023 will be some of the busiest years for weddings. It is never too early to book your florist." –Melanie Eubanks, Lead Floral Designer, Lemon Drops
"Best practice these days is to book the moment you are comfortable with the contract. This way the florist will hold your date. Keep in mind that most florists offer flexibility with changes to your proposal. So lock in your date and work through the process together. Remember, florists can get booked up during their peak seasons. It is ideal to reach out sooner than later to see if they have availability on your event date and get the process started. There are many other things that should be taken into consideration prior to booking your wedding florist, such as having a date and venue secured, having a clear understanding of your floral budget, understanding the scale of the wedding, and recognizing whether a wedding planner is needed. If so, it is critical that the planner is booked and works together with you and your florist to achieve a cohesive and seamless day." –John Elice, Wedding and Event Consultant and Floral Designer, Bruce Wayne Florals
"As soon as the venue and date are picked. There are certain months that are busy, so booking your favorite design team will give you peace of mind." -Stephanie Prenatt, Owner-Lead Designer, FH Weddings & Events
"The time frame in booking a florist can vary, depending on when you book your venue. If your wedding venue is booked 12 months prior to your wedding day, it would be ideal to book your florist 10 months out from the big day. This is a great amount of time to coordinate schedules and to meet with the florist to design everything needed for the wedding. Although this time frame is flexible depending on circumstances, an experienced wedding florist can help you design the wedding flowers of your dreams in less time than 10 months. Keep in mind experienced wedding florists book up quickly so the earlier the better!" -Jean King, owner, Monarch Events and Designs
"Minimum six months, maximize two years. The cost of goods is always fluctuating and could affect your designs, size, and prices." –Andrea Roberto, owner Leaf It To Us
"As soon as you have a date and venue in mind, you should start looking for a florist. There are only so many weekends in a year and most florists can only really manage one or two weddings per day. If you are having a popular month wedding, it should really be your third vendor, behind venue and caterer." –Dorelle Fishkin, owner Brides N' Blooms Designs
"Couples should think the earlier the better. Approximately six months before the event should be the latest one should be researching their desired florist." –Jaime Zuikou, Beneva Weddings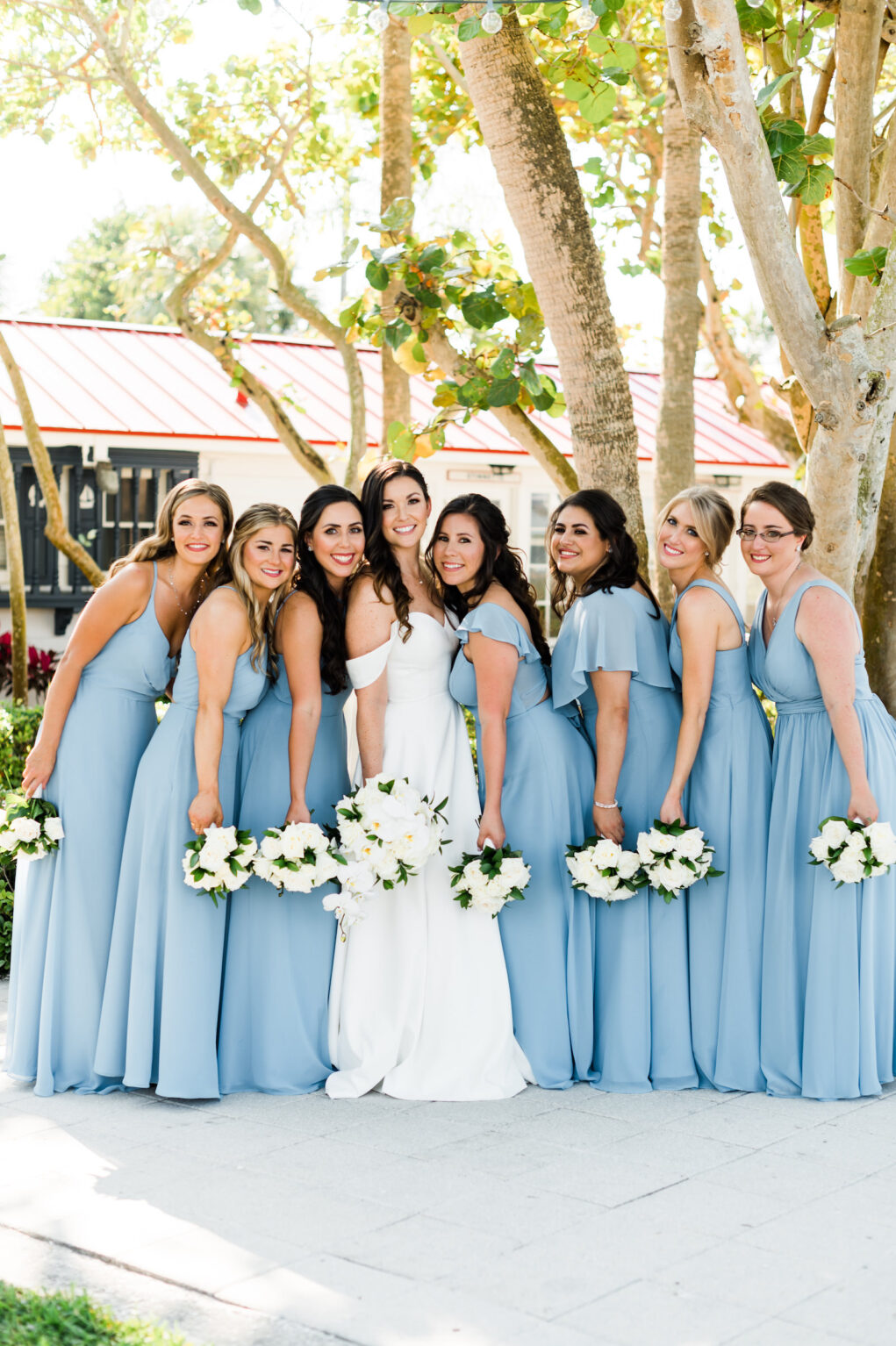 Classic Slate Blue and Silver Clearwater Wedding | Bruce Wayne Florals | Green Pearl Photography
---
What Would Couples Be Surprised to Know about Wedding Flowers?
John Elice, Wedding and Event Consultant and Floral Designer, Bruce Wayne Florals shares this detailed insight into the journey of your wedding flowers:
"The journey of a flower from the farm is much more extensive and involved than the general public realizes. Most people know that the majority of commercial flowers come from outside of the United States. However, they may not realize just how far they travel. Many people think of Central and South America as well as Holland when they think of imported flowers. Australia, Thailand, and Israel are just a handful of the lesser-known countries where flowers are grown and then imported to the U.S. When a client places the final order for their wedding flowers, the journey to get those flowers takes many weeks.
The florist must first contact their local wholesaler to procure the flowers. The wholesaler in turn must reach out to the various farms across the span of the entire Earth to find the best quality and value for the date the flowers need to arrive at your florist. Once the flowers have been ordered from the farm, the farm then harvests the flowers mere days before they arrive at the florist. The farm packs the flowers very tightly and securely in long, shallow boxes. Those boxes then make their way to the airport. When the flowers arrive in the U.S., they are sprayed and inspected to prevent any unwanted pests or botanical diseases from entering the country. The flowers travel from the airport to the main distribution center, then travel on to the wholesaler. The wholesaler then delivers the flowers to your florist. This detailed journey for a flower to be harvested and arrive at your local florist can astonishingly happen within just a few days, barring any current shipping hurdles.
When the flowers arrive at your florist, there is much love and care that goes into every single stem. The staff will open each box to first approve the health and beauty of each bloom. Every individual stem is then cleaned by taking off any damaged leaves or petals. The stems get a fresh cut and finally start drinking water as they have been dehydrated since harvest! Your florist will then let the flower sit at room temperature until it has opened to its prime beauty. Once the flower has reached the perfect open stage, this is when your florist can finally start making all the beautiful pieces for your wedding!"
"We don't charge more just because it's a wedding. Flowers are flowers; they are a perishable product. There are many costs with flowers that we have absolutely no ability to change. Weather, airline freight fees, availability of staff at the farms, and COVID, all play a role in why flower pricing has gone up so dramatically in the last two years. Some people think that greenery is cheaper than flowers, this is not true! The farms have gotten smart and know that this is a trend right now, and they are capitalizing on it. The idea that 'tossing some loose greenery' on the table will be less money is also a fallacy. We have to cut all those small pieces and take the time to make it look right otherwise your 5-year-old niece could do that for you. Also, when your other vendors ask for 'free flowers' it actually costs us money. We do it because we want everything to be beautiful for you, but you would be surprised how many of your vendors, ask for extras." -Dorelle Raphael-Fishkin, owner of Brides N' Blooms Designs
"Flowers are more expensive and require more work to create than one might think. These flowers have to survive being moved around, hung up, and sometimes even have to defy gravity itself. Additionally, most of the flowers don't grow in our backyard or even in the same state! They have to be specially ordered ahead of time and come from all over the world. That's why the price of certain flowers in one location can be completely different in another." –Melanie Eubanks, Lead Floral Designer, Lemon Drops
"The common misconception that greenery and/or babies breath designs are a cheaper, budget-friendly option. Supply and demand on this trend have driven the cost of greenery, assorted types of eucalyptus as well as tropical foliage, palm, Monstera, banana leaf. Clients get sticker shock when they see the cost for 'just greenery'." –Andrea Roberto, owner, Leaf It To Us
"The amount labor involved throughout the process." -Stephanie Prenatt, Owner-Lead Designer, FH Weddings & Events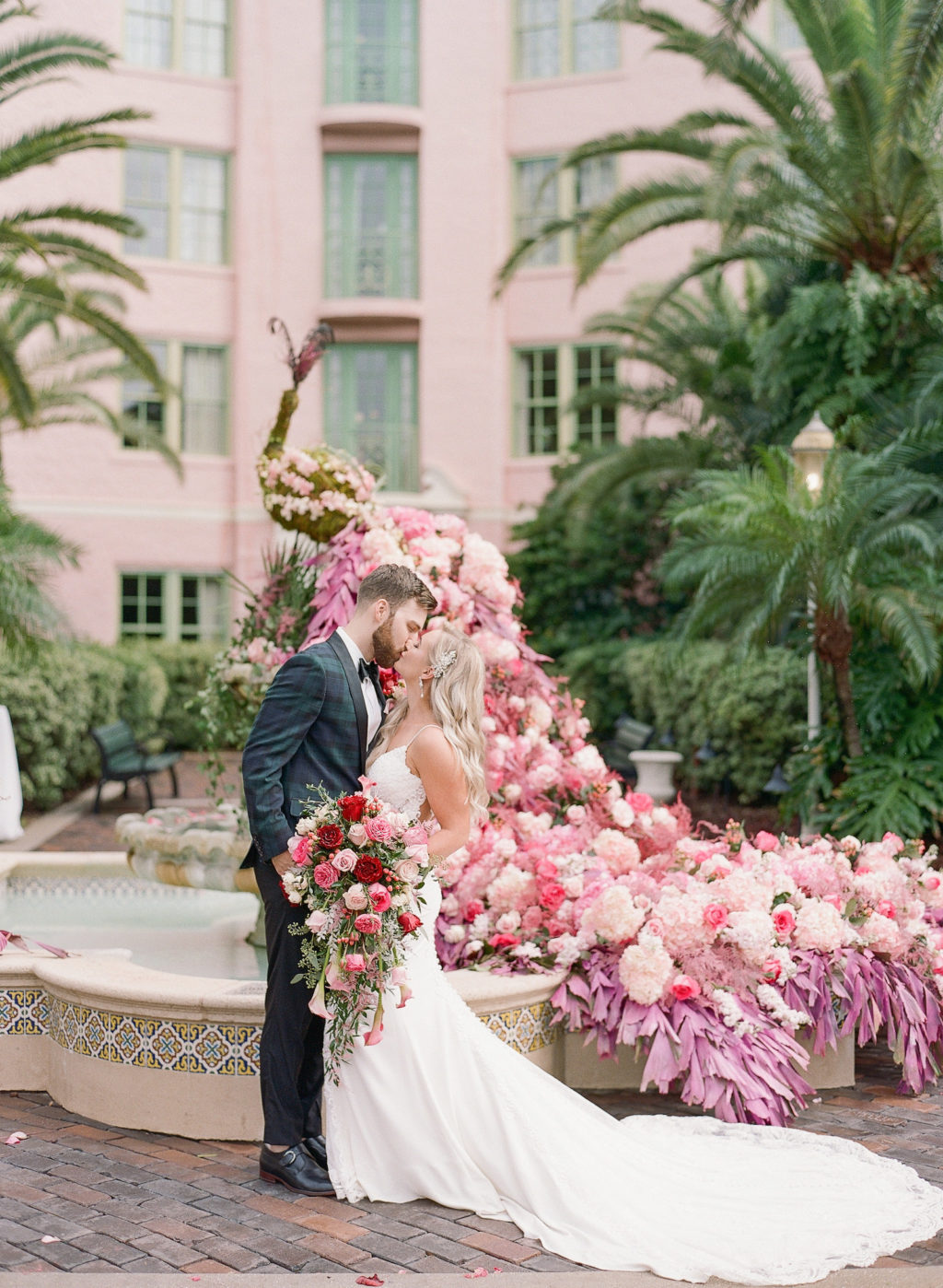 Vibrant Floral Filled Luxurious St. Pete Wedding | Lemon Drops | The Ganeys
---
---
What Should Couples Know about DIY'ing Wedding Flowers?
"It is harder than it looks. It seems like a great idea when trying to save money, but it can be an additional stressor on top of wedding planning that can grow exponentially. Whether you try to DIY with real or fake flowers, it can easily become overwhelming and can often cost almost the same as hiring a florist. Florists spend years learning the trade to make sure their arrangements not only look amazing but are constructed to last through the events of the day." –Melanie Eubanks, Lead Floral Designer, Lemon Drops
"When you do your own wedding flowers just know that it will take a lot of time. Depending on the complexity of your wedding you may need simple design skills or a much more advanced skill set. Creating a beautiful bridal bouquet is not as simple as it might look. A trained professional can spend hours achieving just the right look for a bridal bouquet. There is so much that goes on behind the scenes in the floral industry that many DIY brides are blindsided when they start the process. Flowers are perishable items and need to be handled with care. They need to be processed, cleaned, conditioned and most importantly refrigerated properly to maintain freshness. Another important factor to consider is the expense. We have had many occasions when clients thought they would save money doing their own flowers only to find out too late that isn't the case. Remember your florist will have access to quality blooms that are not typically available to the consumer. If you are convinced that you want to do your own, make sure you allow yourself enough time to do your flowers and still be able to rest and enjoy your wedding day." –John Elice, Wedding and Event Consultant and Floral Designer, Bruce Wayne Florals
"It's not easy. Do you really want to worry about selecting, ordering, and making your own florals? You are better off to find a designer that can help and enjoy the wedding week and day and not stress about doing it yourself." -Stephanie Prenatt, Owner-Lead Designer, FH Weddings & Events
"At times, DIY pieces end up costing couples more overall. Save yourself the time, labor, stress, and let your florist do the hard work for you. It's one less thing to worry about when you have so much planning to do." –Andrea Roberto, owner, Leaf It To Us
"DIY'ing flowers is a very good option if you have a lot of help and at least one person who has an idea of what to do and how to do it. Be honest with yourself about what you are really comfortable doing, and keep a close eye on your timeline. Floral design is an art, and there is alot of work involved before you ever even start doing designing. When flowers come in, 'raw' they need cleaning, hydrating, cutting, cooling, and then the designing starts. If you are looking to do DIY flowers you have to keep in mind all the 'extra' things you never think of: the cost of hard goods (tape, ribbon, containers, bins or buckets, cooler space), transporting of the completed designs (not everything fits easily in a car, and fresh flowers don't do well in a pick-up truck). Who will do the setup on-site? Some places won't let you in to setup until two hours before your event. Who will do the breakdown and removal? The party is over and now someone has to pick up everything, pack it, bring it somewhere, and store it. And most of all, last-minute time. Because fresh flowers are fresh, they need attention. You will need to assess your time frames to account for the hydration, cutting, cleaning, and arranging. Then you have to make sure someone can get everything where it needs to go and can set it all up." -Dorelle Raphael-Fishkin, owner of Brides N' Blooms Designs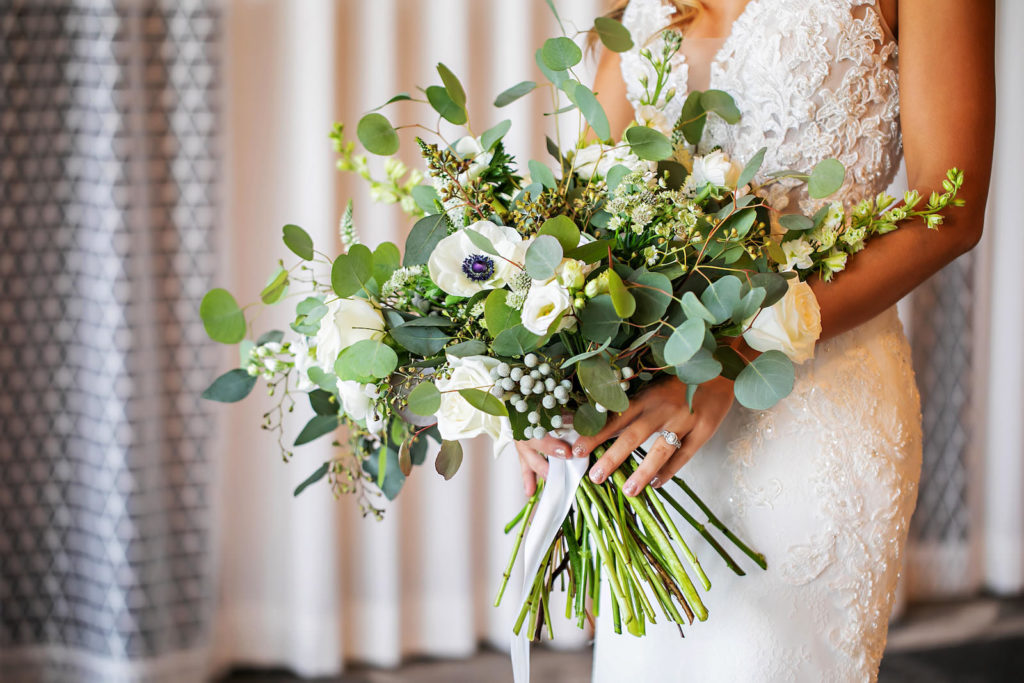 Organic Inspired Sage Green Sarasota Wedding Shoot | Beneva Weddings | Limelight Photography
---
What's Your Best Money-Saving Tip about Selecting Wedding Flowers?
"The best thing a couple can do is look up what flowers are native to their area and pick flowers in season. The less a flower has to travel and the easier it is to find, the cheaper it will be." –Melanie Eubanks, Lead Floral Designer, Lemon Drops
"Be flexible on your flower selection. Your florist can tell you what is in season for the date of your wedding. If you want pink peonies maybe you can substitute pink garden roses that give you the same color and size for a more reasonable cost." –John Elice, Wedding and Event Consultant and Floral Designer, Bruce Wayne Florals
"Repurposing florals from your ceremony to your reception. This can often include repurposing your bouquets and ceremony decor to ensure they're still being showcased during the reception and allows you to allocate more of your budget to another floral decor such as centerpieces!" -Nicole Hackel, Weddings & Event Coordinator, Beneva Weddings
"Be flexible. Let your trusted floral partner have some free reign. If you have a budget, don't be fussy about the actual 'name' of the flowers, but rather the overall look. Right now there is a real crisis in the market, and just sourcing fresh flowers is a challenge. Your florist is always going to do their very best for you; it's their reputation on the line. Communication is really key! Also, white is not always the most cost-effective color for flowers. The farms know that couples tend to want white, so they don't give any sort of break on 'popular' wedding colors. Choosing some other colors will help with costs. Do multiple height designs; lower designs tend to be less expensive than tall ornate designs, so do a nice mix. Your guests will like the opportunity to see lots of interest all around the room." –Dorelle Fishkin, owner, Brides N Blooms Designs
"Ask your florist for the same look and feel as that Pinterest image and keep an open mind about floral substitutions that give the illusion of high-end Pinterest worthy image without the price tag!" –Andrea Roberto, owner, Leaf It To Us
---
---