In Part 1 of A Guide to Hiring a Wedding Florist, we addressed how to set a floral budget, what couples should know about using Pinterest to select their florals, and what couples should look for in a wedding florist.
Part 2 dives deeper into learning the long journey these beautiful stems take from the other side of the world to your reception table, when you should book your florist, and some of our best money-saving tips from Tampa Bay's top floral designers!
---
---
When Should Couples Book their Wedding Florist?
"Your vendor, photographer, food, DJ, rentals, and florals are the six most important things to book first. Even more so if you have a specific one in mind. The sooner the better, but, we recommend at least one year to six months prior to the wedding. Because of COVID and all of the weddings that got postponed, 2022 and 2023 will be some of the busiest years for weddings. It is never too early to book your florist." –Melanie Eubanks, Lead Floral Designer, Lemon Drops
"Best practice these days is to book when you are comfortable with the contract. This way, the florist will hold your date. Keep in mind that most florists offer flexibility with changes to your proposal. So lock in your date and work through the process together. Remember, florists can get booked up during their peak seasons. Reaching out sooner than later to see if they are available on your event date and start the process is ideal. Many other things should be considered before booking your wedding florist, such as having a date and venue secured, having a clear understanding of your floral budget, understanding the scale of the wedding, and recognizing whether a wedding planner is needed. If so, it is critical that the planner is booked and works together with you and your florist to achieve a cohesive and seamless day." –John Elice, Creative Director and Floral Designer, Bruce Wayne Florals.
"As soon as the venue and date are picked. There are certain months that are busy, so booking your favorite design team will give you peace of mind." -Stephanie Prenatt, Owner-Lead Designer, FH Weddings & Events
"The time frame in booking a florist can vary, depending on when you book your venue. If your wedding venue is booked 12 months prior to your wedding day, it would be ideal to book your florist 10 months out from the big day. This is a great amount of time to coordinate schedules and to meet with the florist to design everything needed for the wedding. Although this time frame is flexible depending on circumstances, an experienced wedding florist can help you design the wedding flowers of your dreams in less time than 10 months. Keep in mind experienced wedding florists book up quickly so the earlier the better!" -Jean King, owner, Monarch Events and Designs
"Couples should think the earlier the better. Approximately six months before the event should be the latest one should be researching their desired florist." –Jaime Zuikou, Beneva Weddings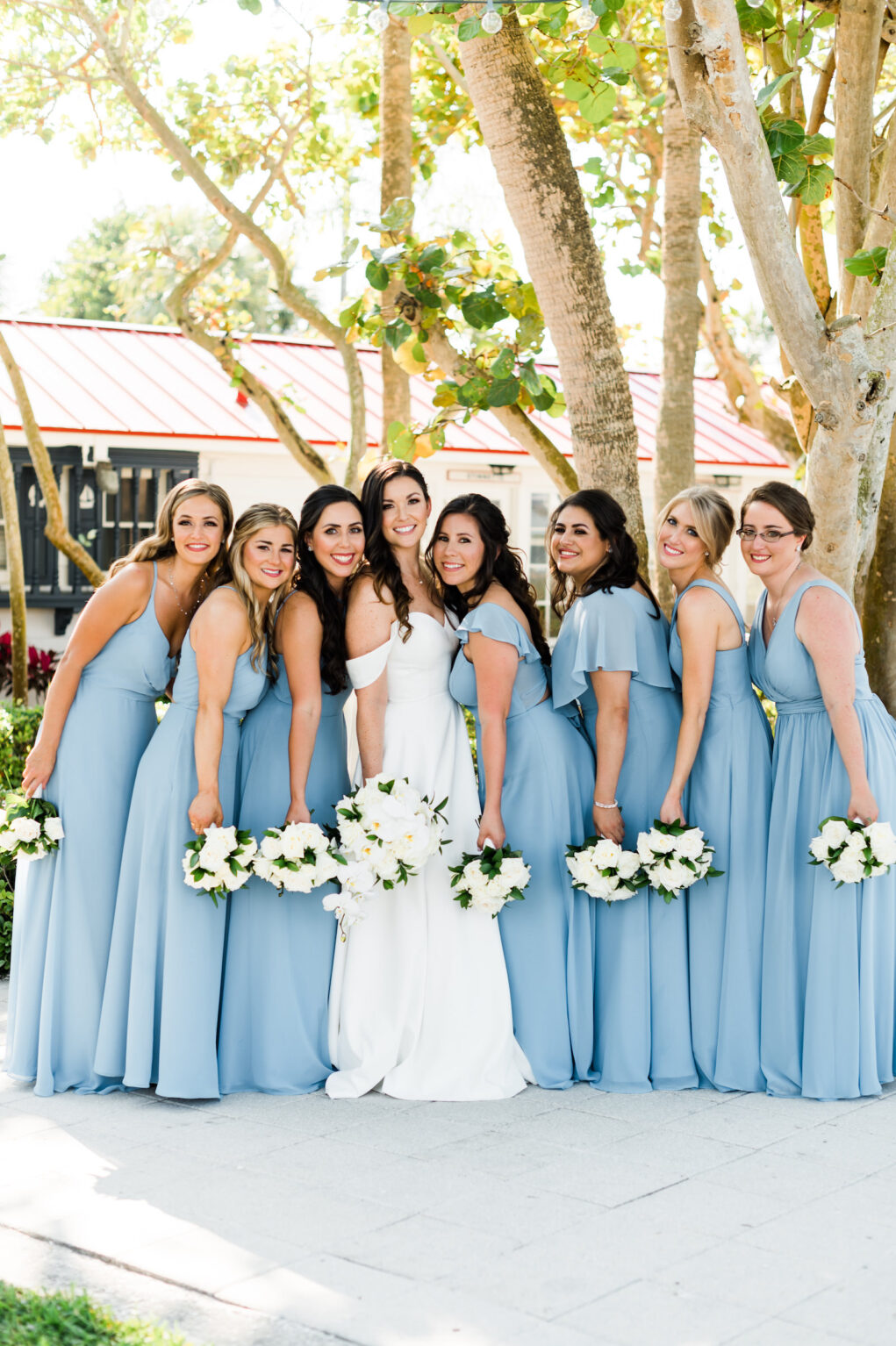 Classic Slate Blue and Silver Clearwater Wedding | Bruce Wayne Florals | Green Pearl Photography
---
What Would Couples Be Surprised to Know about Wedding Flowers?
John Elice, Creative Director and Floral Designer, Bruce Wayne Florals shares this detailed insight into the journey of your wedding flowers:
"It's incredible to think about how much care and attention goes into each stem of flowers before it's presented to you on your wedding day. Typically, we will use THOUSANDS of flowers to create the perfect atmosphere for your wedding day.
A flower's journey from the farm to your florist is much more extensive and involved than most people realize. While it's common knowledge that most commercial flowers come from outside the United States, only some people realize the distance they travel. Flowers are grown and imported to the U.S. from Central and South America, Holland, and lesser-known countries like Australia, Thailand, and Israel.
When a client orders flowers for their wedding, the journey to get those flowers takes many weeks. First, the florist must contact their local wholesaler to procure the flowers. The wholesaler then reaches out to farms across the globe to find the best quality and value for the date the flowers need to arrive at the florist. Once the flowers have been ordered from the farm, they are packed tightly into long, shallow boxes and then transported to the airport.
Upon arrival in the U.S., the flowers are sprayed and inspected to prevent pests or diseases from entering the country. The flowers then travel from the airport to the main distribution center and the wholesaler. The wholesaler delivers the flowers to your local florist, who puts much love and care into every stem.
The staff at the florist's shop opens each box to inspect the health and beauty of each bloom. Every individual stem is then cleaned by removing any damaged leaves or petals. The stems are given a fresh cut and finally start drinking water, dehydrated since harvest. The florist then lets the flower sit at room temperature until it has opened to its prime beauty. Once the flower has reached the perfect open stage, the florist can finally start making all the beautiful pieces for your wedding!"
"Flowers are more expensive and require more work to create than one might think. These flowers have to survive being moved around, hung up, and sometimes even have to defy gravity itself. Additionally, most of the flowers don't grow in our backyard or even in the same state! They have to be specially ordered ahead of time and come from all over the world. That's why the price of certain flowers in one location can be completely different in another." –Melanie Eubanks, Lead Floral Designer, Lemon Drops
"The amount labor involved throughout the process." -Stephanie Prenatt, Owner-Lead Designer, FH Weddings & Events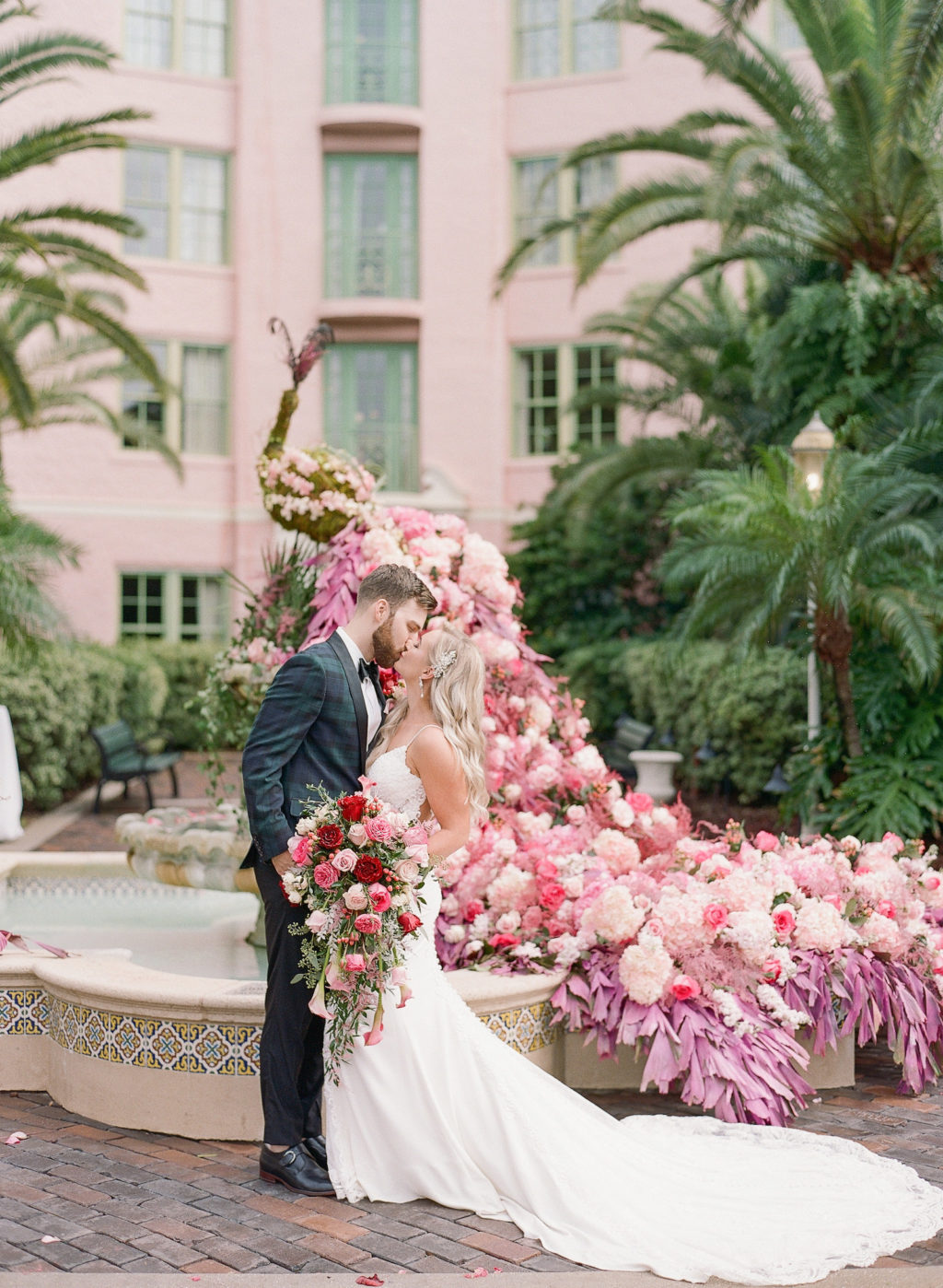 Vibrant Floral Filled Luxurious St. Pete Wedding | Lemon Drops | The Ganeys
---
---
What Should Couples Know about DIY'ing Wedding Flowers?
"It is harder than it looks. It seems like a great idea when trying to save money, but it can be an additional stressor on top of wedding planning that can grow exponentially. Whether you try to DIY with real or fake flowers, it can easily become overwhelming and can often cost almost the same as hiring a florist. Florists spend years learning the trade to make sure their arrangements not only look amazing but are constructed to last through the events of the day." –Melanie Eubanks, Lead Floral Designer, Lemon Drops
"If you're considering doing your own wedding flowers, it's important to keep in mind that it can be a time-consuming task. Depending on the complexity of your wedding, you may need basic or advanced design skills. Crafting a stunning bridal bouquet is not as easy as it appears. A professional florist can spend hours perfecting the look of a bridal bouquet. Additionally, there's a lot that goes on behind the scenes in the floral industry that many DIY brides are unaware of when they start the process. Flowers are perishable, and therefore they need to be handled with care. They have to be processed, cleaned, conditioned, and refrigerated correctly to maintain their freshness. Another vital aspect to consider is the cost. We've had several cases where clients thought they would save money by doing their flowers themselves, only to find out that isn't the case. Keep in mind that your florist will have access to quality blooms that aren't typically available to the general public. If you're determined to do your flowers yourself, make sure you give yourself enough time to complete the task and still have time to rest and enjoy your wedding day." –John Elice, Bruce Wayne Florals
"It's not easy. Do you really want to worry about selecting, ordering, and making your own florals? You are better off finding a designer that can help and enjoy the wedding week and day and not stress about doing it yourself." -Stephanie Prenatt, Owner-Lead Designer, FH Weddings & Events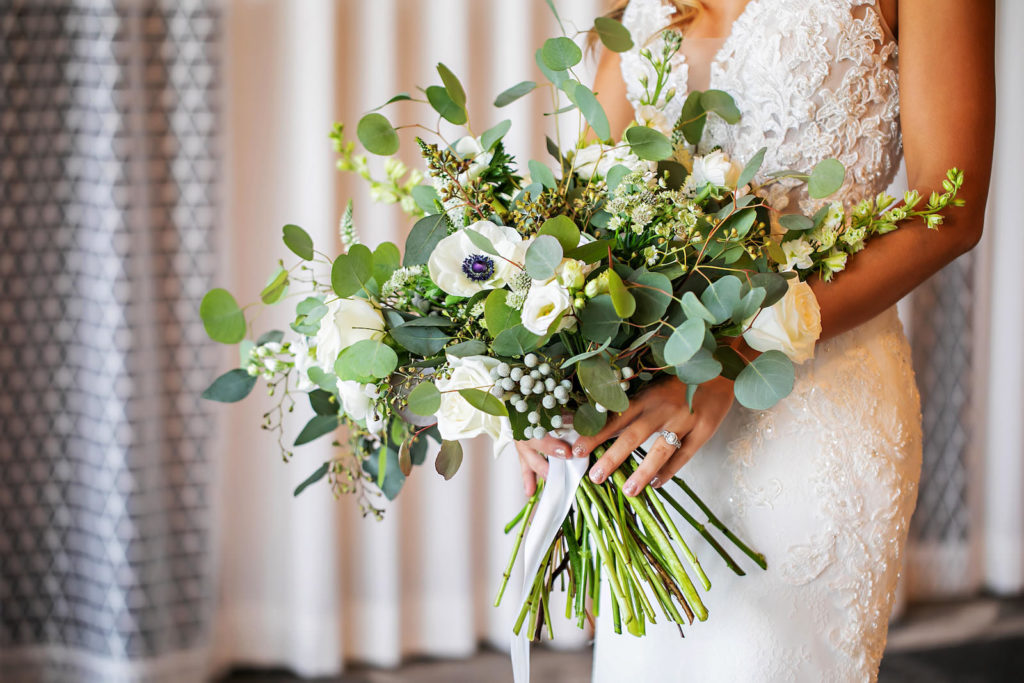 Organic Inspired Sage Green Sarasota Wedding Shoot | Beneva Weddings | Limelight Photography
---
What's Your Best Money-Saving Tip about Selecting Wedding Flowers?
"The best thing a couple can do is look up what flowers are native to their area and pick flowers in season. The less a flower has to travel and the easier it is to find, the cheaper it will be." –Melanie Eubanks, Lead Floral Designer, Lemon Drops
"Be flexible on your flower selection. Your florist can tell you what is in season for your wedding date. If you want pink peonies, maybe you can substitute pink garden roses that give you the same color and size for a more reasonable cost. To save money overall, hire a professional wedding planner! You will not regret it." -John Elice, Creative Director, and Floral Designer, Bruce Wayne Florals
"Repurposing florals from your ceremony to your reception. This can often include repurposing your bouquets and ceremony decor to ensure they're still being showcased during the reception and allows you to allocate more of your budget to another floral decor such as centerpieces!" -Nicole Hackel, Weddings & Event Coordinator, Beneva Weddings
---
---