Emily and Jesse's Sarasota wedding featured a waterfront ceremony, neutral florals and greenery, and accents of metallic gold. The Sarasota residents hosted an intimate and elegant wedding for 40 of their closest friends and family (plus 70 virtual guests who attended via live stream due to the pandemic.)
"Sarasota is especially meaningful because it is where we met and spent the first eight months of our relationship. Not to mention, it is a beautiful city right on the water!" the bride beamed. "The aesthetic of our wedding was earthy and elegant. I knew that the wedding would take place in the springtime, so I wanted to incorporate natural colors with vibrant greens and pops of white and gold. I was so happy with the ceremony location because it was right on the water, and the grass was so green. With the palm trees, the sunshine, and pelicans flying by, it could not have been more perfect."
Emily envisioned a show-stopping wedding gown with a fitted mermaid silhouette and lace detail, but she had disappointing experiences when first shopping for a dress. Everything changed when she visited Truly Forever Bridal and found "the one."
"I wanted a fit-and-flare style with a modern lace design. I did not want it to be plain or simple; I wanted it to be jaw-dropping. I also tried to incorporate the springtime inspiration from the wedding theme," the bride explained. "Before going to Truly Forever Bridal, I had visited two other wedding dress boutiques. I was unimpressed with the selection and the customer service. At the Sarasota location, I found the first consultant who actually listened to what I wanted instead of just trying to insert her own opinion or upsell more expensive gowns. We were served wine and water, and she was so accommodating when I wanted to try certain things like adding different straps or see how the gown would look bustled. Right when she pulled my dress and I tried it on, we all knew it was the one. It actually fit me right off the rack, and I had the bridal moment that everyone talks about. It was amazing!"
Although COVID limited their April wedding guest list, Emily shared the intimate size made for a truly memorable wedding.
"It was extremely important for us to have a COVID-safe wedding since we had to plan it during the height of the pandemic. We set up a live stream for out-of-town guests to share our special day without traveling, and we included sanitizing wipes on multiple tables to clean hands and surfaces. We also limited tables to six guests and spaced them out inside," Emily explained. "Our wedding was unique because it was small in person, but we had so many more family and friends included via the live stream. It was the best of both worlds."
Emily and Jesse personalized their ceremony by writing their own vows, something that the bride says she will never forget. The couple also incorporated sentimental touches, including childhood photos, a polaroid guest book, and a special garter.
"The most memorable and special moments of our wedding day took place leading up to and during the ceremony. Seeing each other for the first time as I walked down the aisle was the most incredible moment, and then saying our own vows to each other was so special," the bride reminisced. "I will also always remember getting ready with my mom and my bridesmaids. My mother's garter from her wedding was my 'something borrowed,' and when she put it on me before the wedding, it was such a sentimental moment."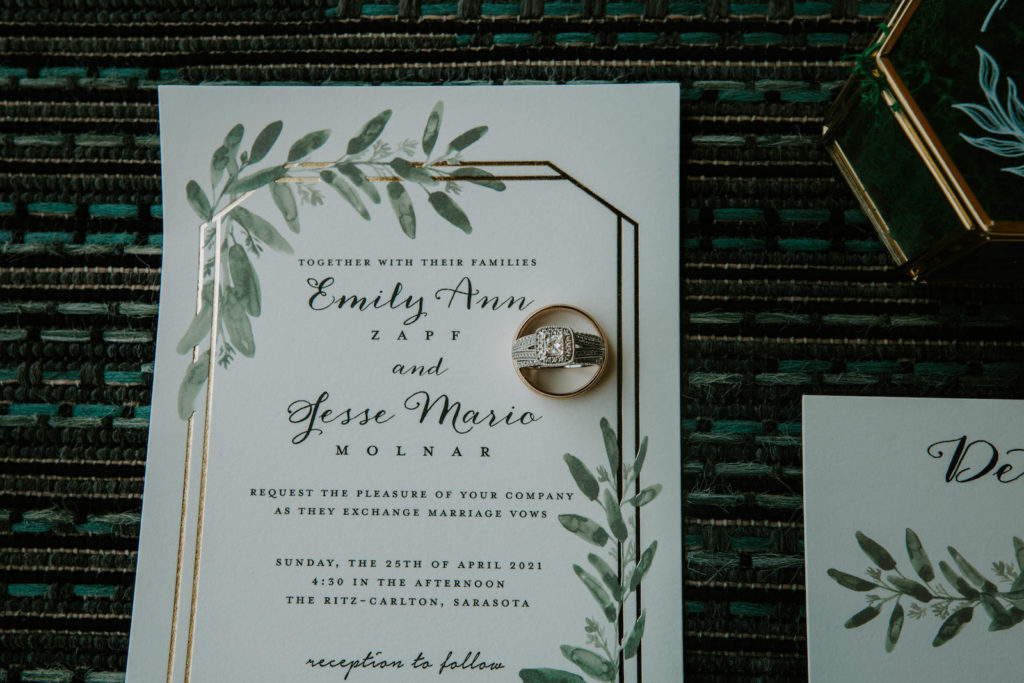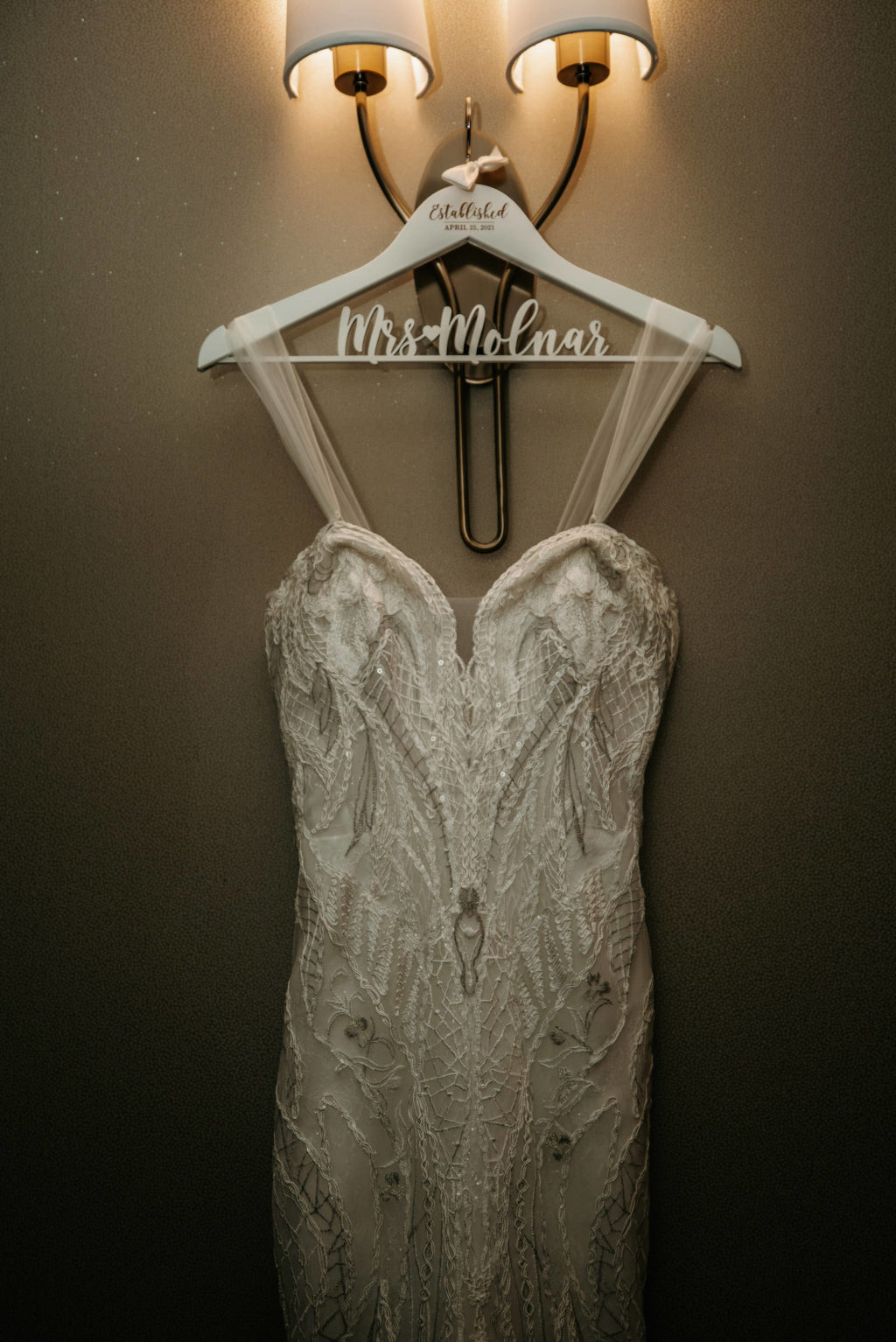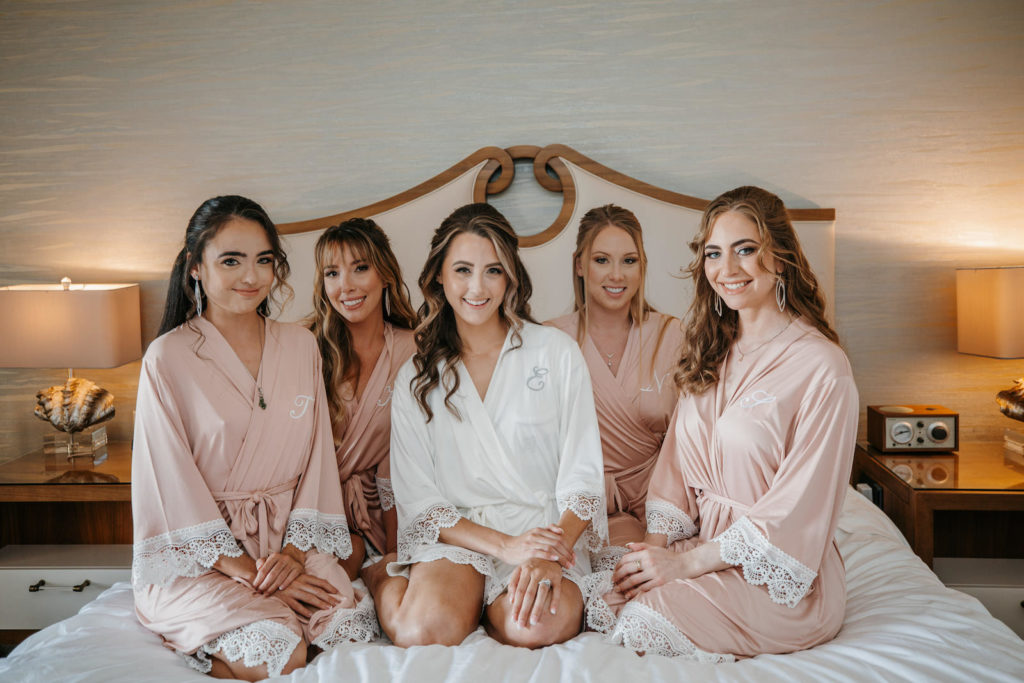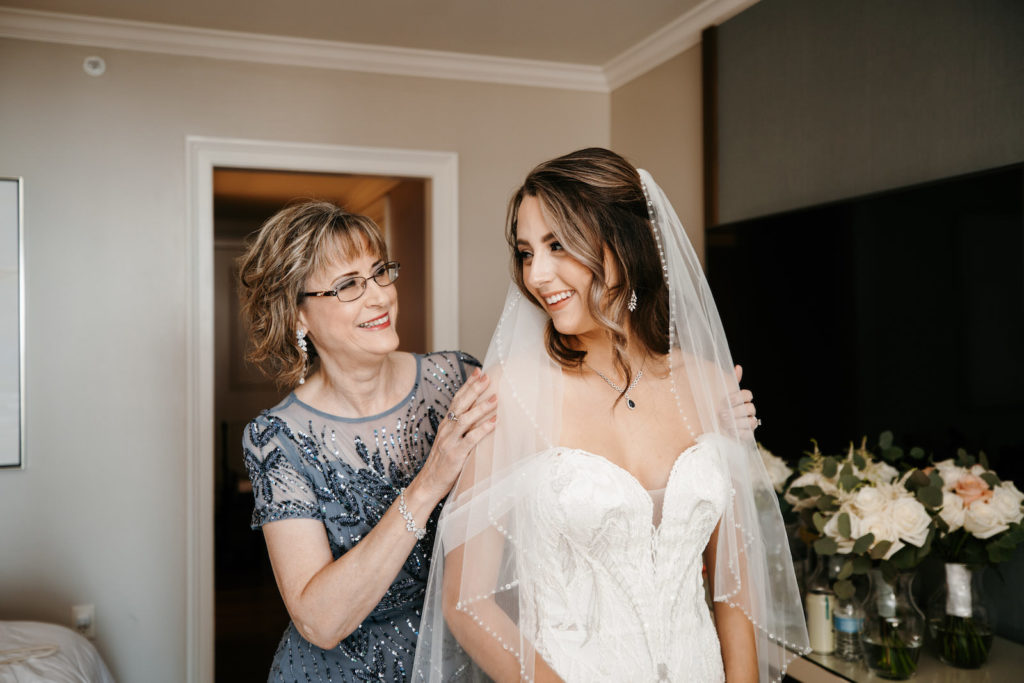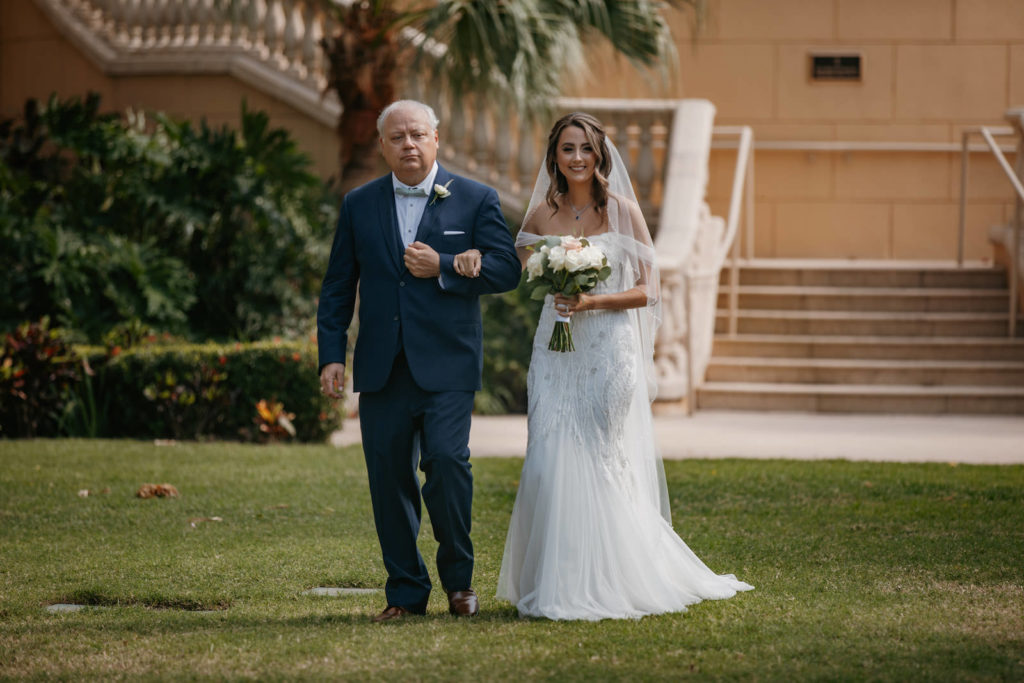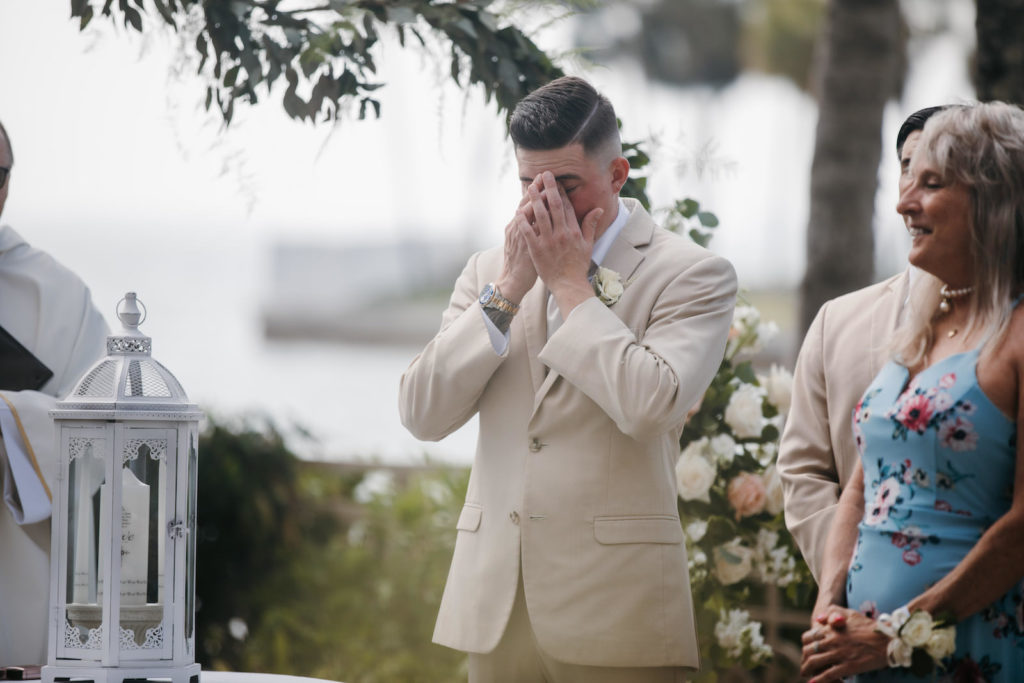 The Proposal:
For my undergraduate degree, I went to The University of Alabama. At the spring football game during my senior year, Jesse proposed inside the stadium. He pretended that we were just going down to the field at half-time to take a picture. When I started posing for a picture, he turned to me and started to tell me how much he loves me. When he kneeled down and pulled out the ring, I think we ended up on the big screen! I came home that night to a trail of rose petals, chocolate-covered strawberries, and balloons with pictures from our relationship hanging from the string.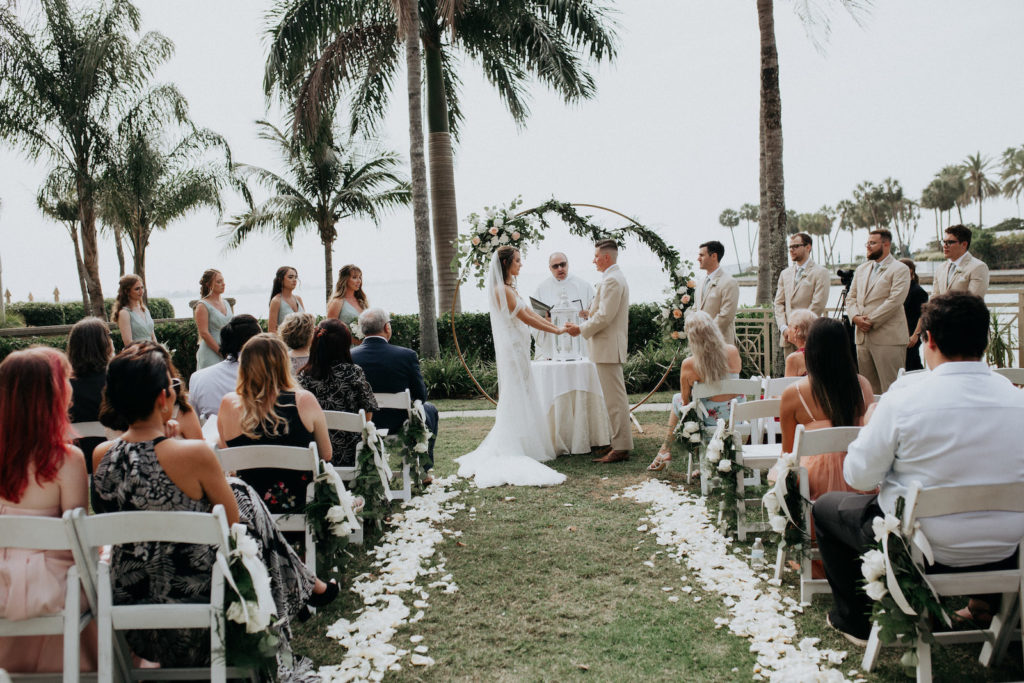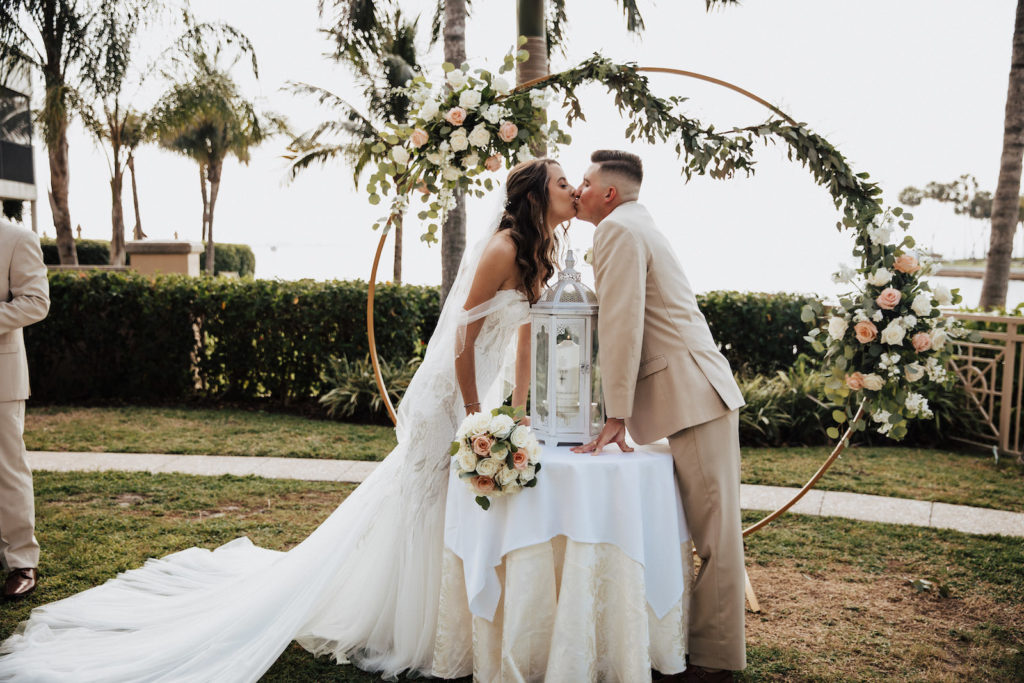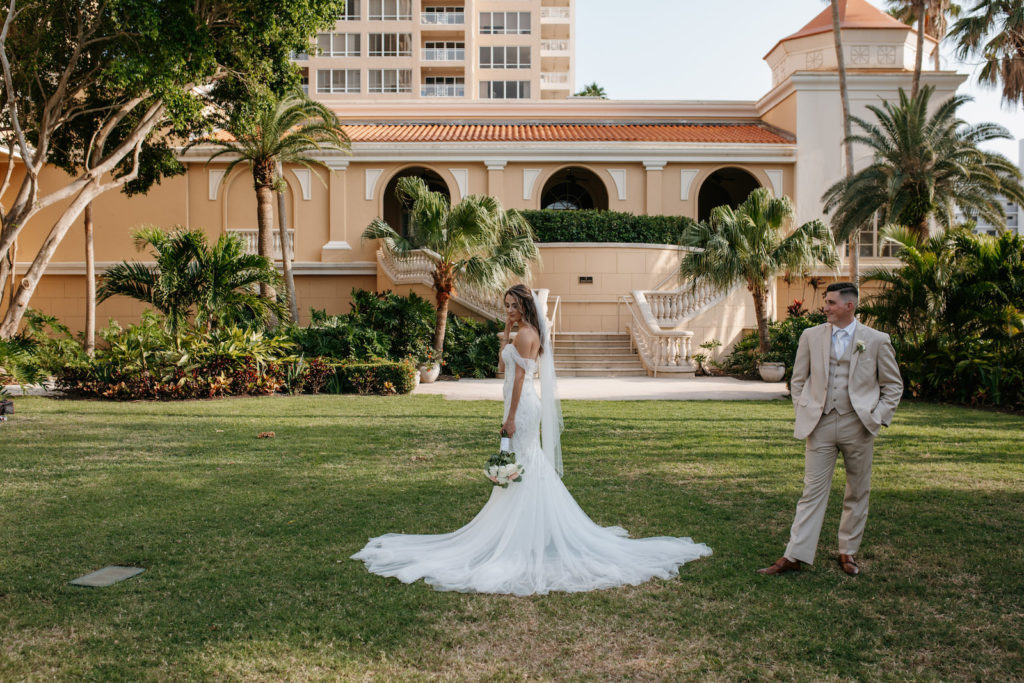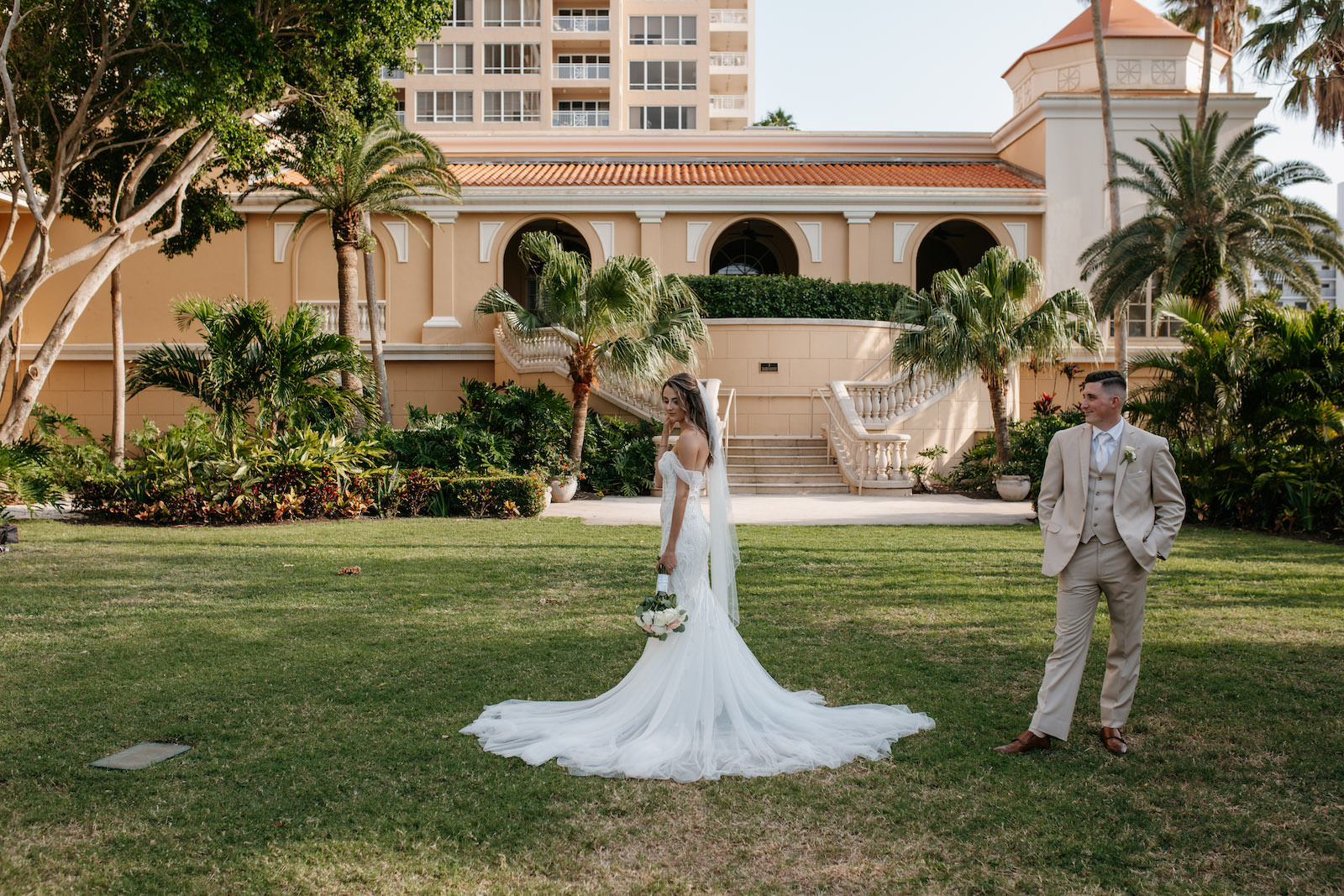 What was your wedding dress inspiration?
For my wedding dress, I wanted a fit-and-flare style with a modern lace design. I did not want it to be plain or simple; I wanted it to be jaw-dropping. I also tried to incorporate the springtime inspiration from the wedding theme.
Before going to Truly Forever Bridal, I had visited two other wedding dress boutiques. I was unimpressed with the selection and the customer service. Truly Forever Bridal has two locations, one in Tampa and one in Sarasota. They have a large wedding dress selection, and the entire business has a great reputation. At the Sarasota location, I found the first consultant who actually listened to what I wanted instead of just trying to insert her own opinion or upsell more expensive gowns. We were served wine and water, and she was so accommodating when I wanted to try certain things like adding different straps or see how the gown would look bustled.
Right when she pulled "my" dress and I tried it on, we all knew it was the one. It actually fit me right off the rack, and I had the bridal moment that everyone talks about. It was amazing!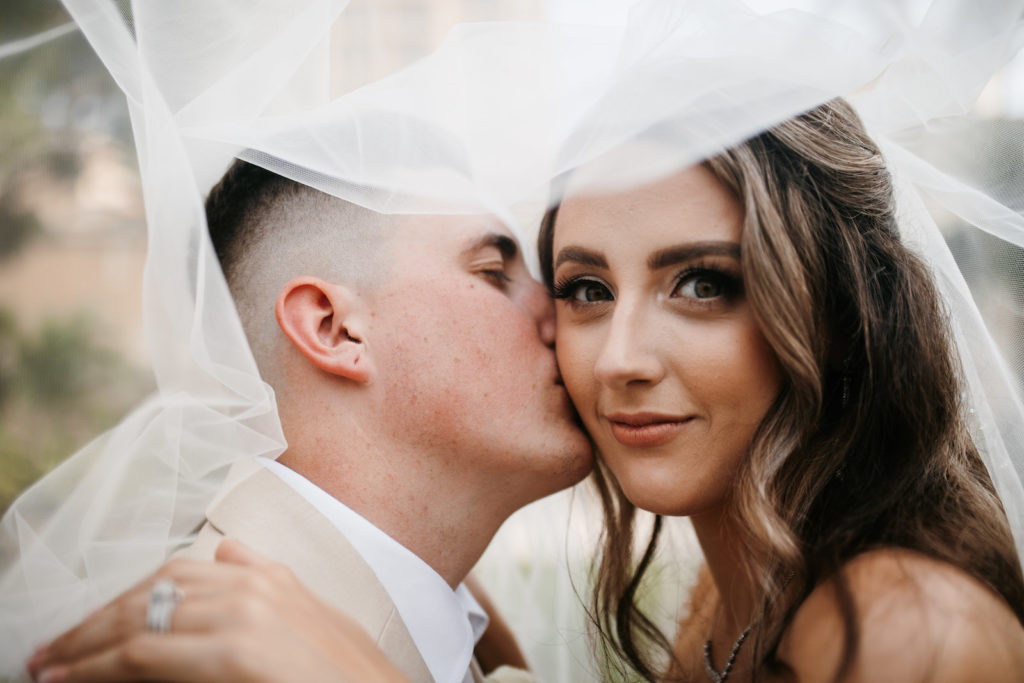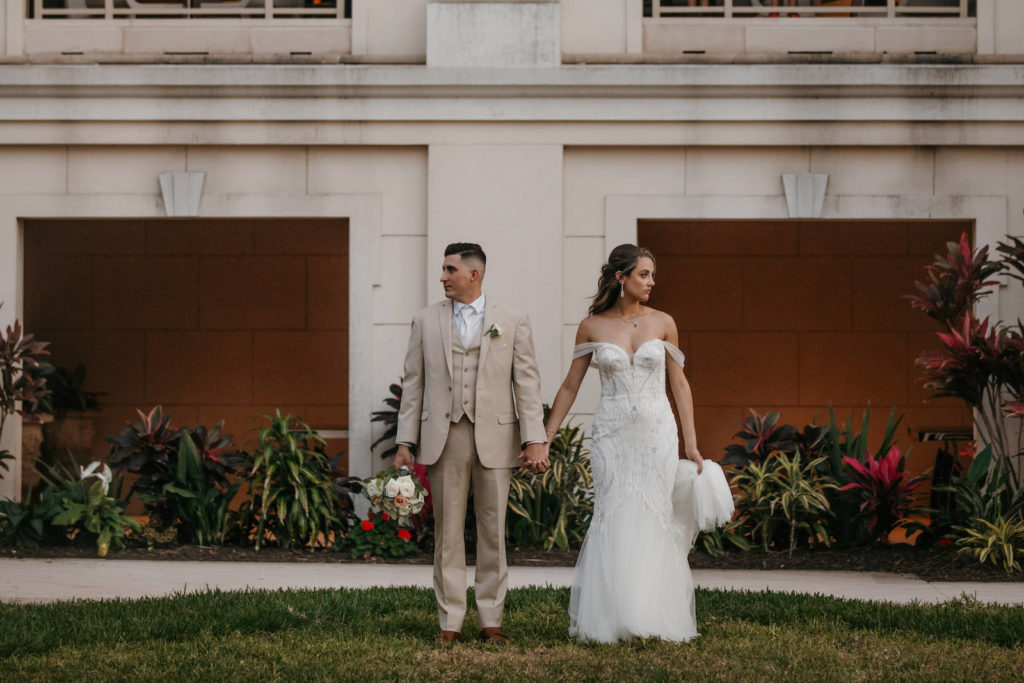 Where did you spend your honeymoon?
We visited the Smokey Mountains in Tennessee for our honeymoon and swap the Florida beaches for the mountains! It was driving distance so that we did not have to fly, and we found a cabin high up on the mountain. Our goal was to unplug and spend the first week of our marriage completely living in the moment with each other. We also wanted to spend a lot of time outside hiking and exploring while we were out of the office.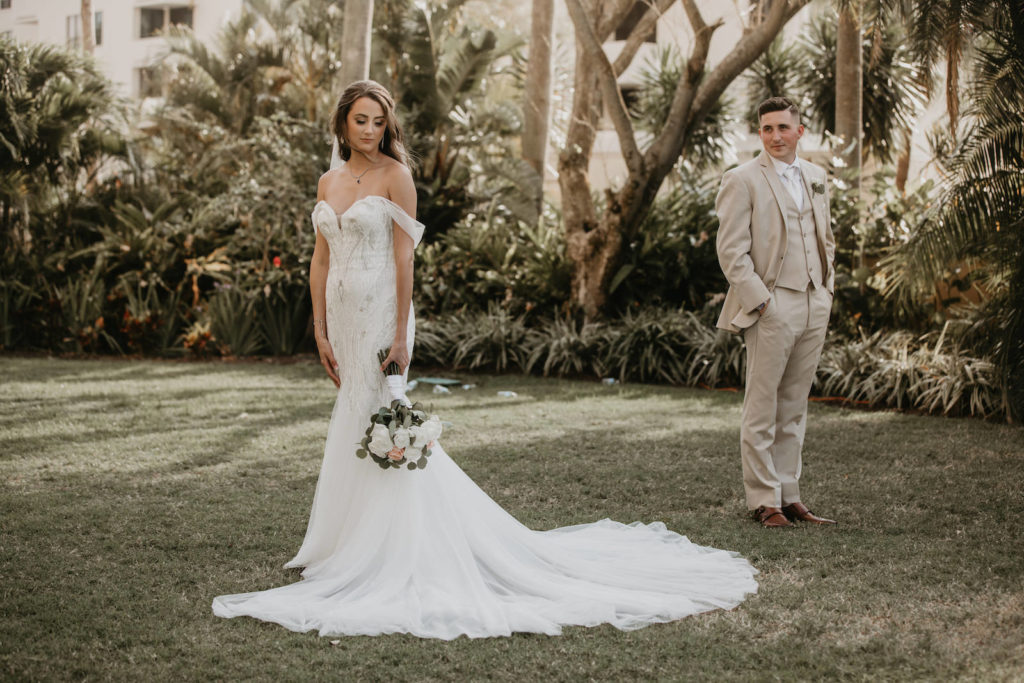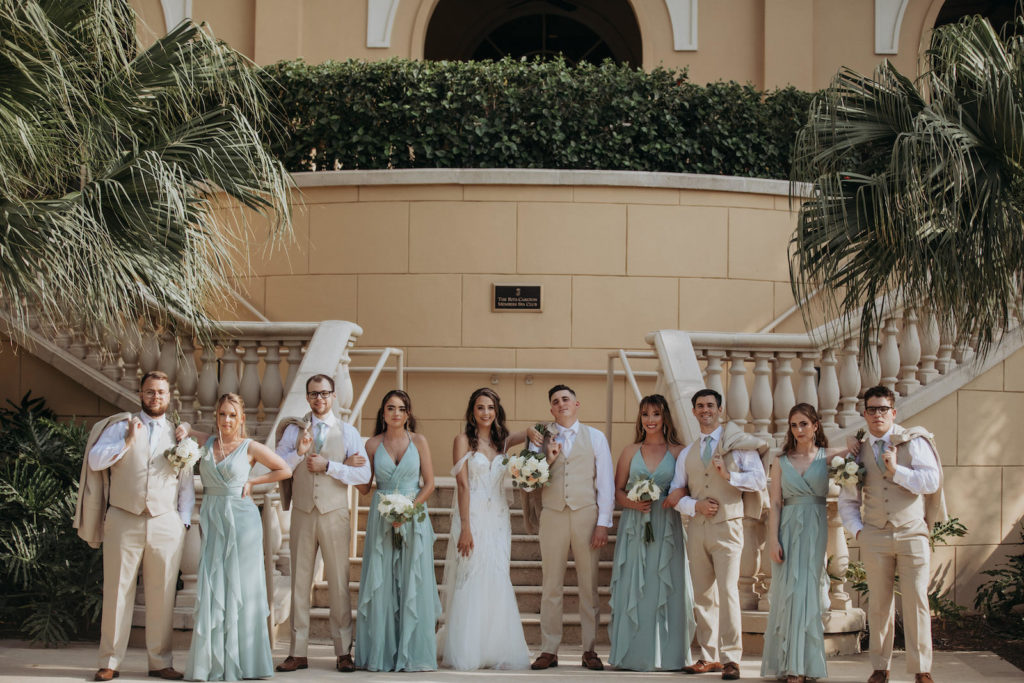 Where did you host your bachelorette party?
For my bachelorette party, my bridesmaids and I visited Austin, Texas because it is a top-rated bachelorette destination! We had so much fun exploring the city and embracing the Texas culture.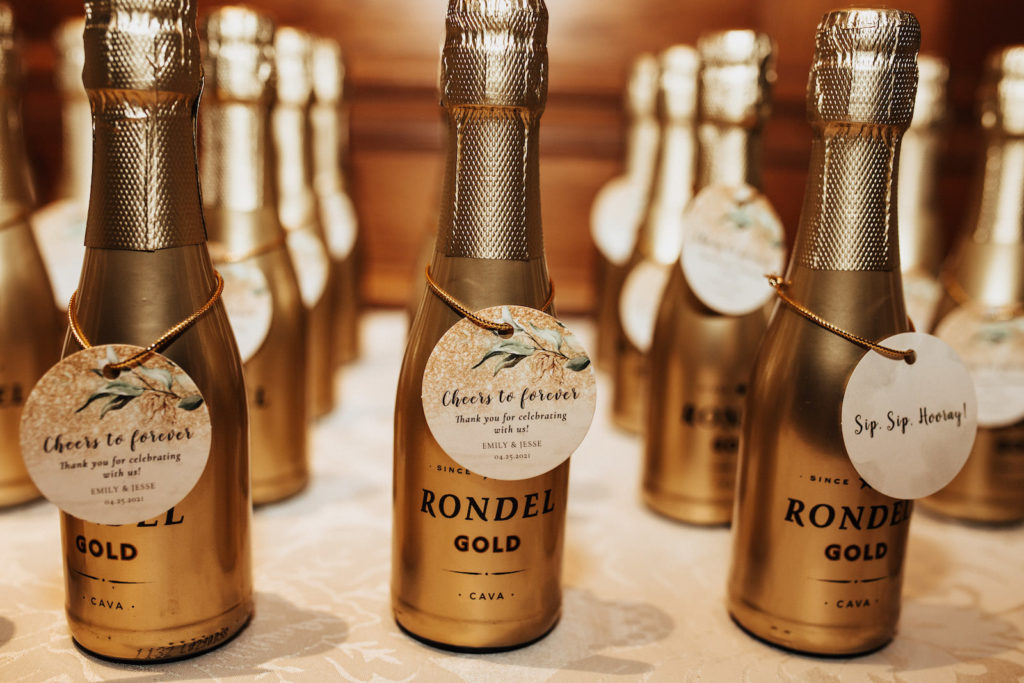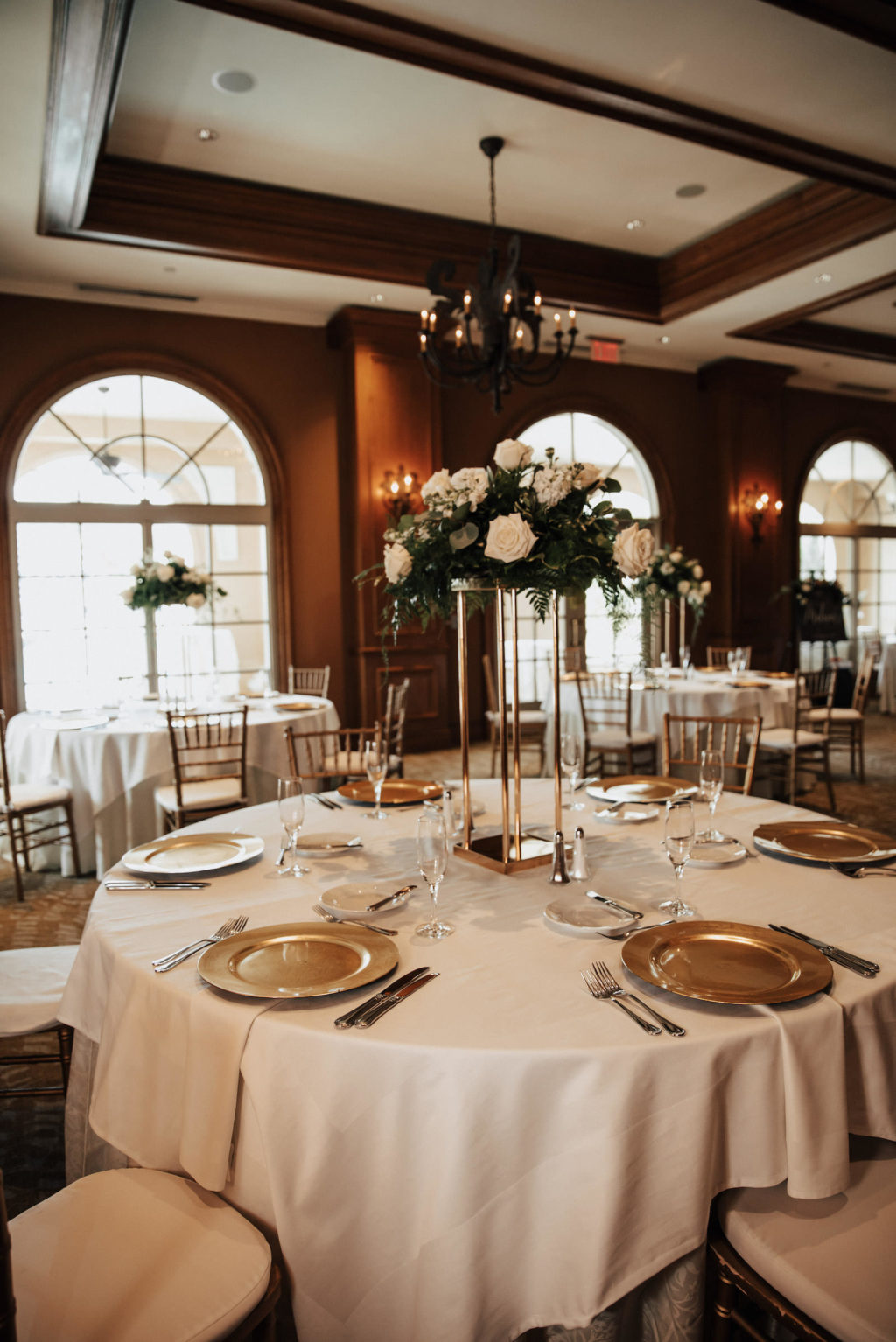 How would you describe your theme/wedding design inspiration?
The aesthetic of our wedding was earthy and elegant. I knew that the wedding would take place in the springtime, so I wanted to incorporate natural colors with vibrant greens and pops of white and gold. I was so happy with the ceremony location because it was right on the water, and the grass was so green. With the palm trees, the sunshine, and pelicans flying by, it could not have been more perfect.
What were your colors?
We chose whites, greens, and golds for the wedding colors to accomplish an earthy and elegant feel. We both love the natural and calming feel of this theme. These colors also made it easy to match decorations to the venue and ensure that nothing clashed.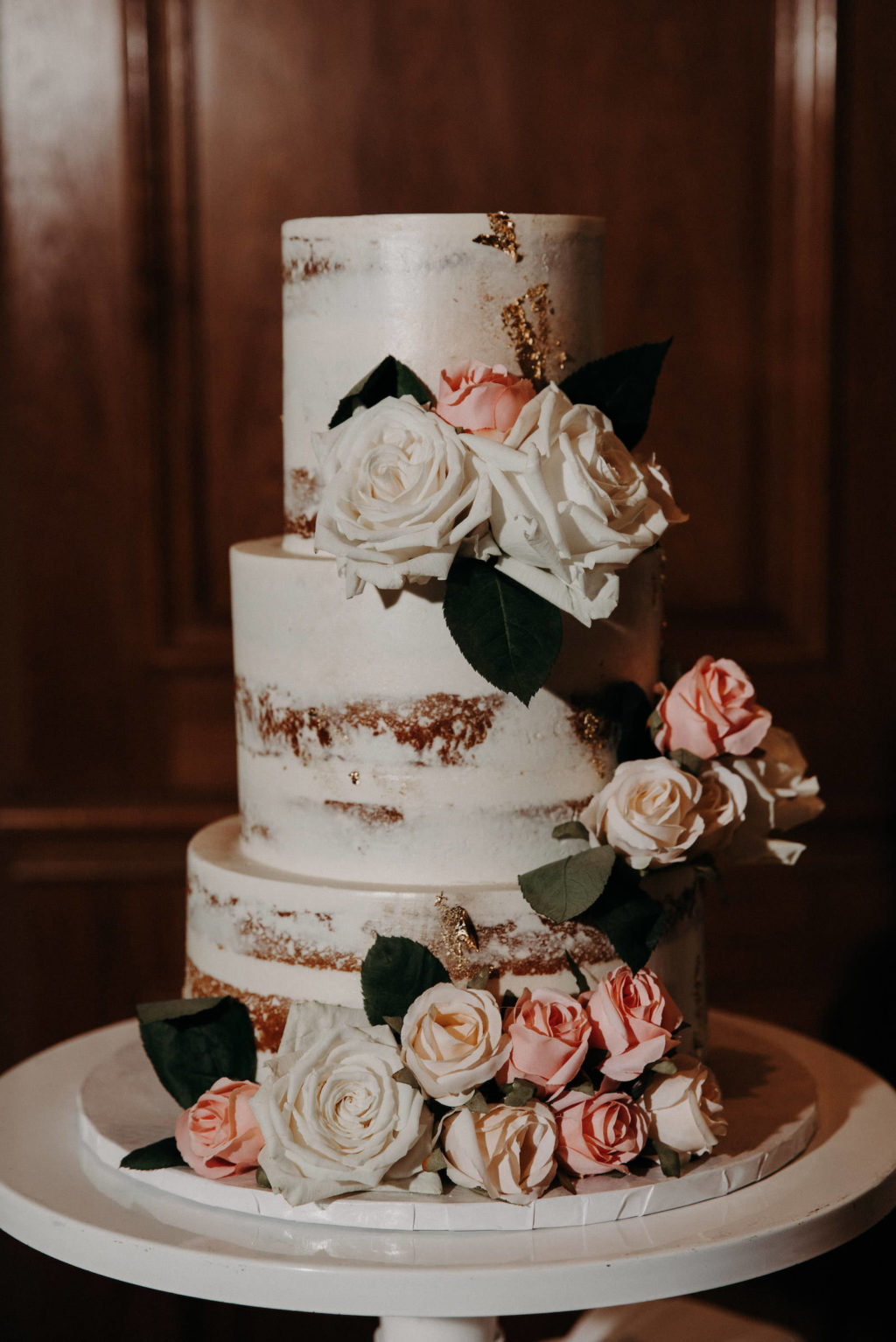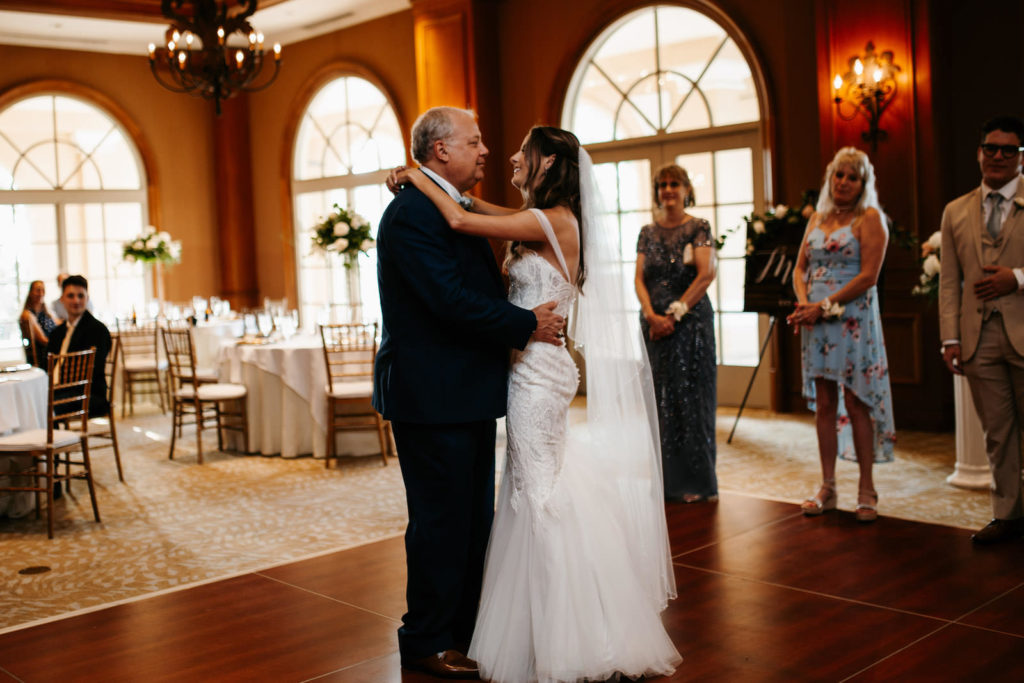 What advice would you give to other Tampa Bay couples?
You only get to plan a wedding once, so just slow down and enjoy every moment. It is not a race to the finish line. Also, share these moments together! Jesse wanted to be part of every aspect of wedding planning not only to show his support but because we made it fun. It may also be helpful to pick 3-5 items that are the most important aspects of the wedding and spend extra attention on those things.
Ceremony and Reception Venue, Caterer, Cake, and Rentals: Ritz Carlton Sarasota
Photographer: Declaration Photography
Videographer: Vibrant Aspect Media LLC
Florist: Sue Ellen Floral Boutique
Musician: FMJ Strings
Officiant: Anthony Viglione
Invitations: Minted
Dress Shop and Designer: Truly Forever Bridal – Badgley Mischka *Marry Me Tampa Bay Wedding Pro
Shoe Designer: Benjamin Walk
Bridesmaid Dresses: David's Bridal – Vera Wang
Hair: Dayna Purcell
Make-Up: Give Me Glam
Quotes have been lightly edited for clarity and brevity.
*Preferred Marry Me Tampa Bay Wedding Pros are highly respected by our local wedding community and have been personally vetted by our editor.