Lindsay and Jonathan's downtown St. Pete wedding was a perfect blend of two creative souls uniting together. With a background in the performing arts, the bride and groom felt the lively atmosphere of the waterfront arts district represented their personalities. Selecting a close friend to officiate and design the ceremony allowed the couple's passion and dedication for each other to come through during their vows while keeping the essence of the day traditional.
"Size was important because we weren't having a large party and wanted to feel like we filled the space, and for location, we wanted something in the DTSP area. Red Mesa Events is a vibe, so we went with that downtown urban industrial feel," the bride revealed. "We run the line of fun and traditional, so we did things like 'beer men' instead of flower girls and wrote our own vows, but also said traditional vows as well. We are also both performers, so we had a jazz pianist play our ceremony and did a choreographed dance to a broadway song."
With over eighteen years of experience as a makeup artist in the wedding industry, Lindsay knew that Marry Me Tampa Bay would provide an archive of past weddings from her venue to gain inspiration while she planned her 55-person March affair.
"I referenced the Marry Me Tampa Bay site often for Red Mesa photos since they have featured them," the bride shared.
The St. Petersburg couple was intent on keeping their wedding celebration authentic to their spirits and chose to have their getting-ready portraits at their house so that their beloved pets and the home they shared together would be in the background of their memories.
"We got ready and did our first look at our house. This really cemented the 'authentic' theme of our day. Our photos are about our lives. Our dogs were in them and our house is the background in all those photos, and when we look back years later, we will remember not only that day but our whole life at this time, from the beginning together. I found that to be unexpectedly beautiful and meaningful," Lindsay articulated.
Although she's been getting other brides ready for their weddings for nearly two decades, Lindsay treated herself as a client when it came to her own wedding day.
"Let me tell you a secret, I treated myself like a client and did a whole trial at my studio and wrote all my typical notes and everything about three weeks before the wedding. I cannot tell you how thankful I was to have done this. I did not have any brain cells left to think about what I wanted to look like when I was in the moment as there was so much going on! I executed my look via my notes like I would on another person. Not to toot my own horn, but I loved my makeup!" the bride gushed. "But, I was not about to work my own wedding, so I brought in one of my favorite humans and artists in the whole world, Wade Simpson, to do everyone else's makeup. He's so good. I mean, so so so good. He just gets people and can translate them into makeup. He's a blast to be around too, but man, his skills with a brush just blow me away every time."
Looking back, it was the totality of the entire wedding that felt absolutely perfect to the bride.
"It was very important to us that we kept things about our union and our guests' involvement in our union at the forefront. A wedding is not about the flowers or the food; it's about two people vowing to stay by each other's side for the rest of their lives. The rest is fluff. But also, I like pretty things, so I was very intent on doing the decor myself, and I am over the moon at how it all came out," Lindsay beamed. "The whole day is the moment. Everything was perfect, and when I think about my wedding day, it's not a moment but a feeling and a whole vibe. A whole-perfectly-us-vibe!"
---
---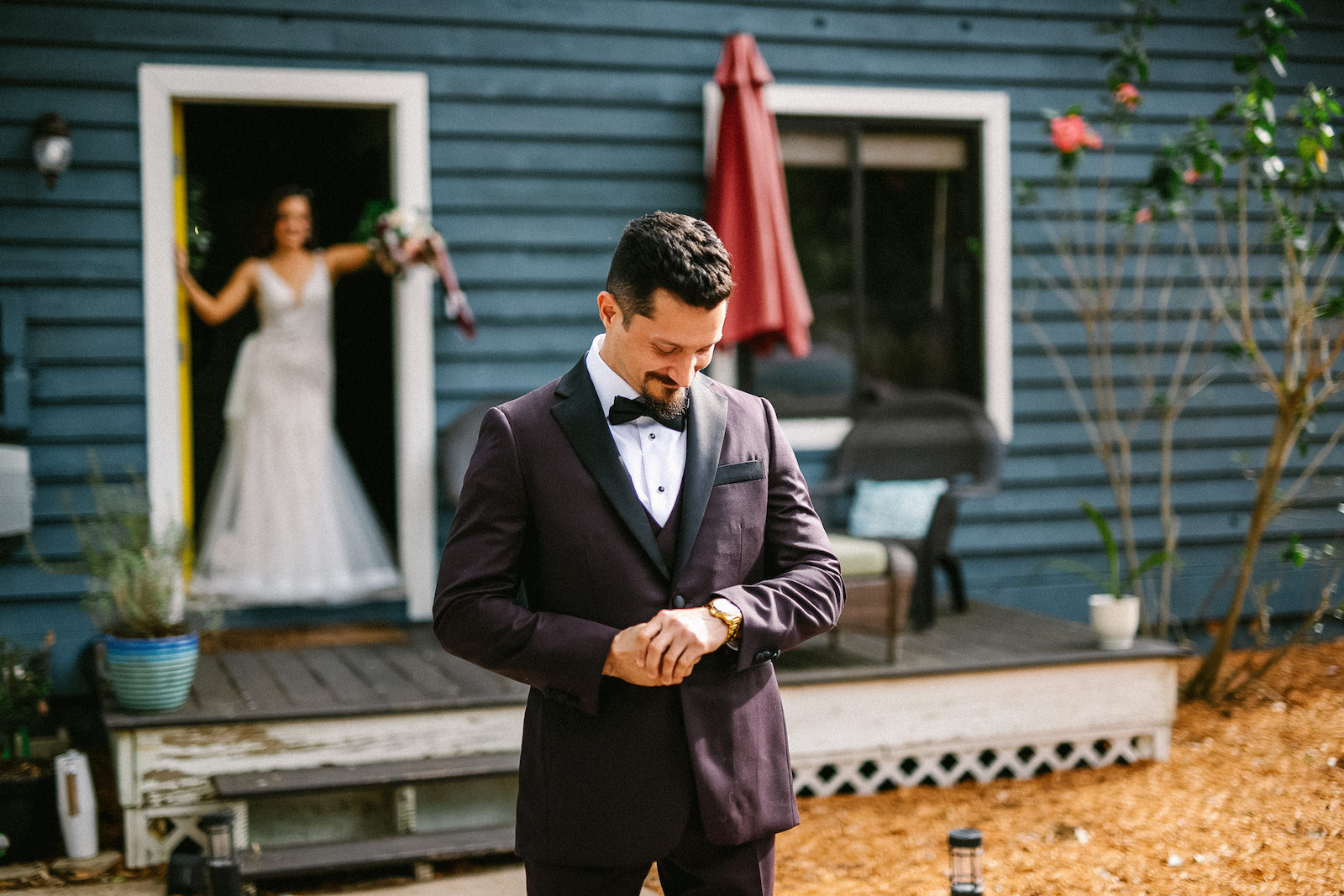 The Proposal:
It was important to me that we had fully discussed marriage before entering into an engagement. I do not believe in the "pop the question" method. We did all that and designed my ring together, but we agreed that Jonathan would give it to me as a surprise. He gave it to me during a wonderful trip to New York City that was filled to the brim with all the things we hold dear, music and friends. On our last evening, before we saw Hadestown on Broadway, he gave it to me just quietly in our hotel room. It was so perfect for us.
---
---
Where did you spend your honeymoon?
We are working on planning a Costa Rica honeymoon. I couldn't deal with planning that at the same time as the wedding, so hopefully we'll do that at the beginning of June!
Where did you host your bachelorette party?
I had six of my best friends converge in Asheville, NC. Sometimes I'm just overwhelmed that I can really say I have six best friends! Basically, it was in the middle for us all scattered over the east coast, but I highly recommend it!
How would you describe your theme/wedding design inspiration?
Red Mesa is a vibe, so we went with that downtown St. Pete urban industrial feel.
What were your colors?
Burgundy, soft pink, and green; they complemented the venue.
Which vendors really exceeded your expectations?
Jessie and Pavel with FotoBohemia for both photo and video were perfection. I love them as humans, even if they never picked up a camera again. Their ability to 'do it all' is top-notch. I don't have words to thank them, and I will spend forever recommending them to anyone who will listen to me. They control the emotional temperature of the day, get the best shots, and deliver sneak peeks in a turnaround time that makes your head spin. They are organized and flexible, and they do it all with this deep, authentic love for their jobs and can do it all at hyper-speed, so you never lose a moment! Plus, their photos are just insanely good. I haven't seen the video yet, but just hearing Pavel comment on the shots and listening to his work with Jessie while getting the picture, I'm sure I'll be a puddle of tears on the floor when I do see it.
Brittany from Bauer Events. This girl gets it, and she sees weddings at a different fundamental level than so many other planners do. She learns what is important to the bride and groom, and she never loses sight of that. I felt so protected by her. Nothing was going to derail us, even if it wasn't' standard procedure.' I trusted that she would stand up for us if she needed to.
Ron from Universal Music Entertainment has a sixth sense for getting and keeping people on the dance floor! He worked his magic. I just trusted him to do an exemplary job, and he delivered.
Cory Woomert from Style by Cory slayed not only my but some friends and family's hair, as I didn't have a wedding party. He also did my Great Length k-pod extensions, which I absolutely love. My hair held my glamour wave shape for three days! People whose hair never holds a curl were still bouncy at the end of the night. The updos looked right out of a fashion magazine. Everyone looked point-blank stellar.
What advice would you give to other Tampa Bay couples?
I could write a book, but here's my number one: don't get sucked into the "industry." Stay grounded in the purpose of your wedding, to commit to each other for life. The rest is just there to help facilitate that and to have a little fun. Don't get carried away, and don't feel like you have to do anything. Stay authentic.