Updated September 29, 2016
During January and February (engagement season) and the September and October, you will encounter various Tampa Bay bridal shows. They range in size and scope from intimate venue-hosted events to huge productions with close to 100 wedding vendors. To make these wedding shows worthwhile, it's important to understand the following: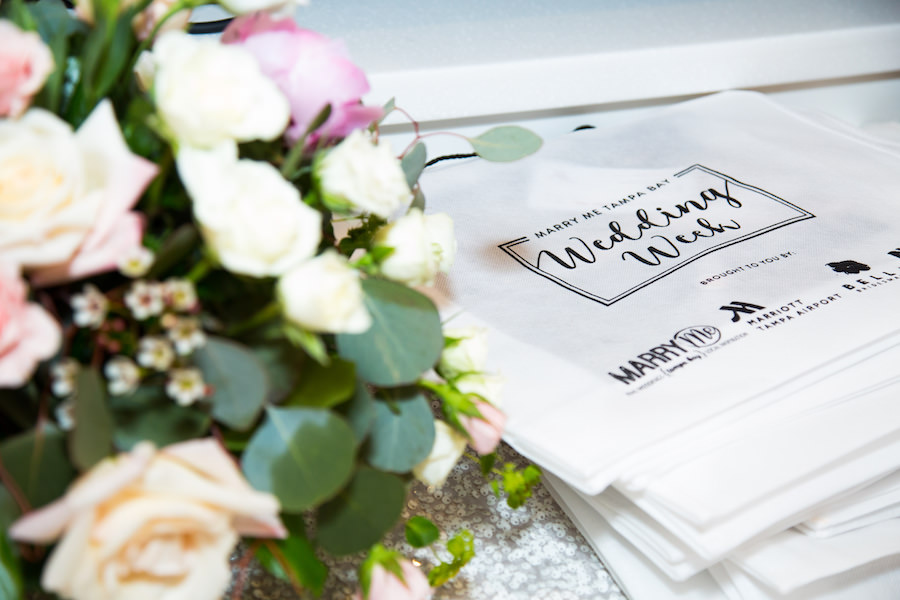 Intimate vs. Large Bridal Shows
Tampa Bay bridal shows often fall into two categories: venue/vendor hosted, which typically feature 10-20 wedding professionals or a "produced" bridal shows with 50-100 wedding professionals.
The larger bridal shows usually attract hundreds of brides (often 500+) and are typically hosted by a company whose main business is organizing wedding expos. These shows typically host at least 50 wedding vendors and often include free food tastings, door prizes and a bridal fashion show. You can meet lots of new vendors and sometimes find wedding services that you didn't even realize you needed! They often feature enhanced experiences such as a VIP area, design gallery and live entertainment.
While they have high energy, larger bridal shows can at times be overwhelming if you don't properly plan. Some brides feel the need to visit every booth, which can cause them to rush through the show and end up with a lot of business cards, but no real vendor connections. Also while you're waiting to enter the show, the crowds can sometimes be intense, but they often mellow out once the show doors open.
To maximize your experience at a larger show, check the vendor list online and do your research ahead of time so that you have an idea of which vendors you want to meet and the specific questions you want answered to help you decide whether to make a future appointment.
VIEW UPCOMING TAMPA BAY BRIDAL SHOWS
When attending a more intimate bridal show hosted by a venue or vendor, expect less pop and circumstance. These wedding expos feature fewer vendors, (sometimes you may only have 1-2 wedding vendors in a specific category), but in return you'll have more one-on-one time with the wedding pros to ask the in-depth questions. Shows hosted by venues also tend to feature their preferred wedding vendors, who often come highly recommended by the venue.
Tampa Bay Bridal Show Tips:
Register ahead of time. Just like with most events, RSVPing online will often save you the "at-the-door" ticket price. Depending on the show, if you pre-register early enough you may get free or discounted tickets or ask vendors who will be attending, as they often have free tickets to hand out.
Print your name, email and wedding date on address labels. This will save you from having to write this information over and over. Trust us, you will thank us later!
You'll often get a lot of emails after a Tampa Bay bridal show, so create a custom wedding email so you don't clutter your inbox with sales emails.
There is usually a line at the beginning of the show, so it can be best to come later (although you miss out on "first 100 bride" giveaways).
Another pro to arriving later is that you often have to be present to win bridal show drawings, so you don't have to hangout the entire show to see if you have won.
Instead of starting with the first booth and working your way toward the back, go to the back and work your way forward if there is a large crowd.
Ask wedding vendors right away if they are available on your date. There's nothing worse than connecting with a vendor to find out they are already booked.
Bring a large envelope for your favorite Tampa Bay wedding vendors' brochures. The bridal show will give you a bag, but you want to make sure your preferred vendors don't get lost in the shuffle.
During the fashion show there are very few brides talking to vendors, so this is a prime time to get some one-on-one attention.
Vendors often give bridal show discounts, so if there is a vendor you are interested in, chances are they may offer some type of special at the bridal show. However, don't feel pressured by "1-day only" discounts; you need to do your due diligence before signing any contracts.
Bring a notebook to take notes and your iPhone to take pictures. You'll talk to a lot of people and see many inspiration ideas that you'll want to remember.
While there is often some type of food, don't come to bridal shows expecting to get a full meal. You often get to sample foods, but with that much estrogen in one room, you don't want become a cranky bride with low blood sugar.
Wear comfortable shoes.
Bring cash for parking and the bar.
Share your best bridal show tips in the comments below!