This destination St. Pete wedding was a breath of fresh air by combining two looks you don't often see together: rustic and glam.
This San Francisco bride (a Tampa Bay native) added touches of burlap and lace to her outdoor beach wedding, complete with a white chandelier and candelabra centerpieces.
MORE: RUSTIC TAMPA BAY WEDDINGS
I especially loved the combination the navy, lace bridesmaids dresses as a backdrop for the soft, pastel peach and pink wedding bouquets.
However, my absolute favorite aspect of this wedding was the personal touch Jessica added of honoring her grandmother, who was deaf, and mother, who was an interpreter for the deaf, by incorporating the hand sign for "I Love You" throughout her wedding.
Read how the bride's St. Pete wedding planning experience unfolded: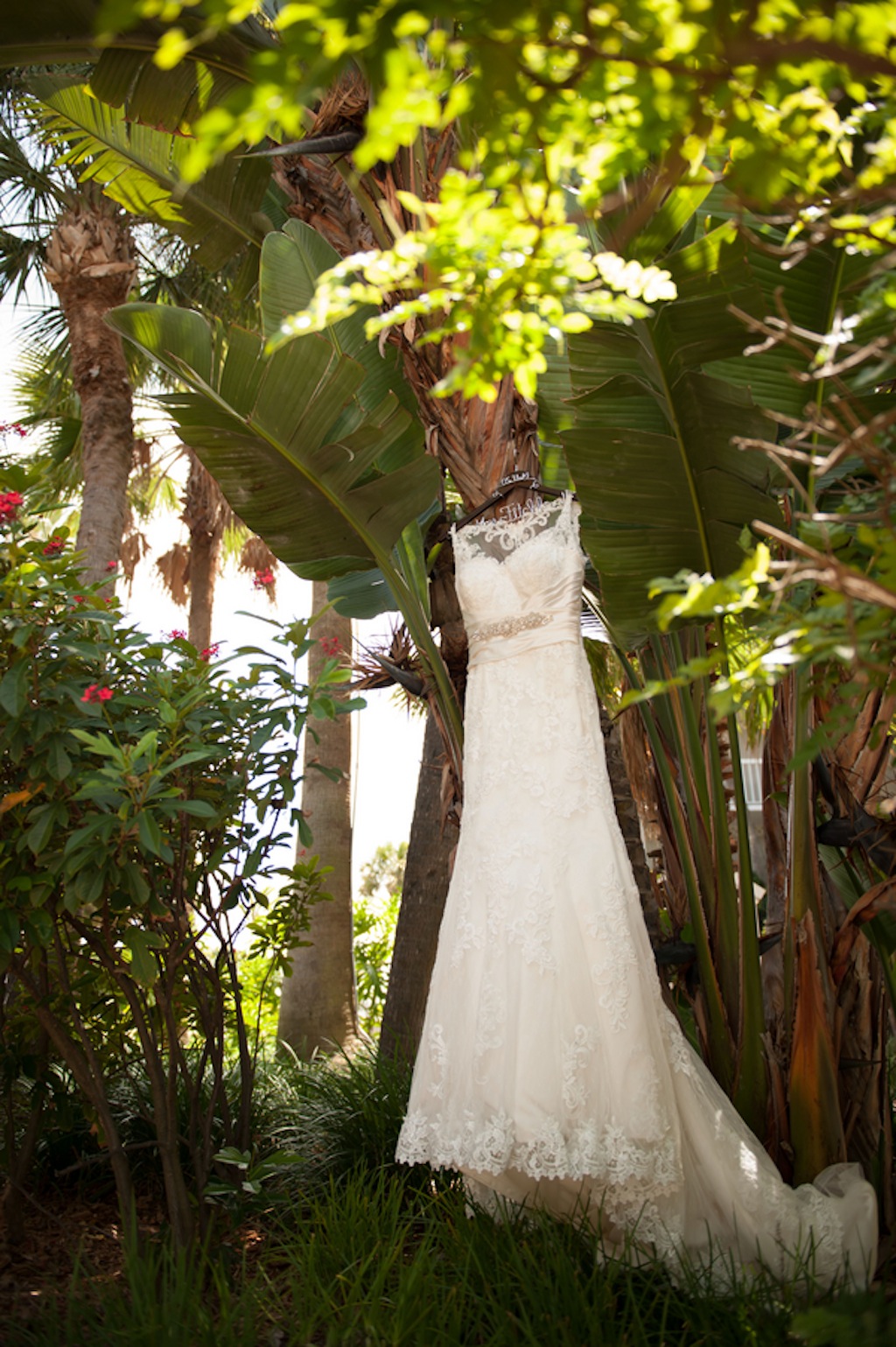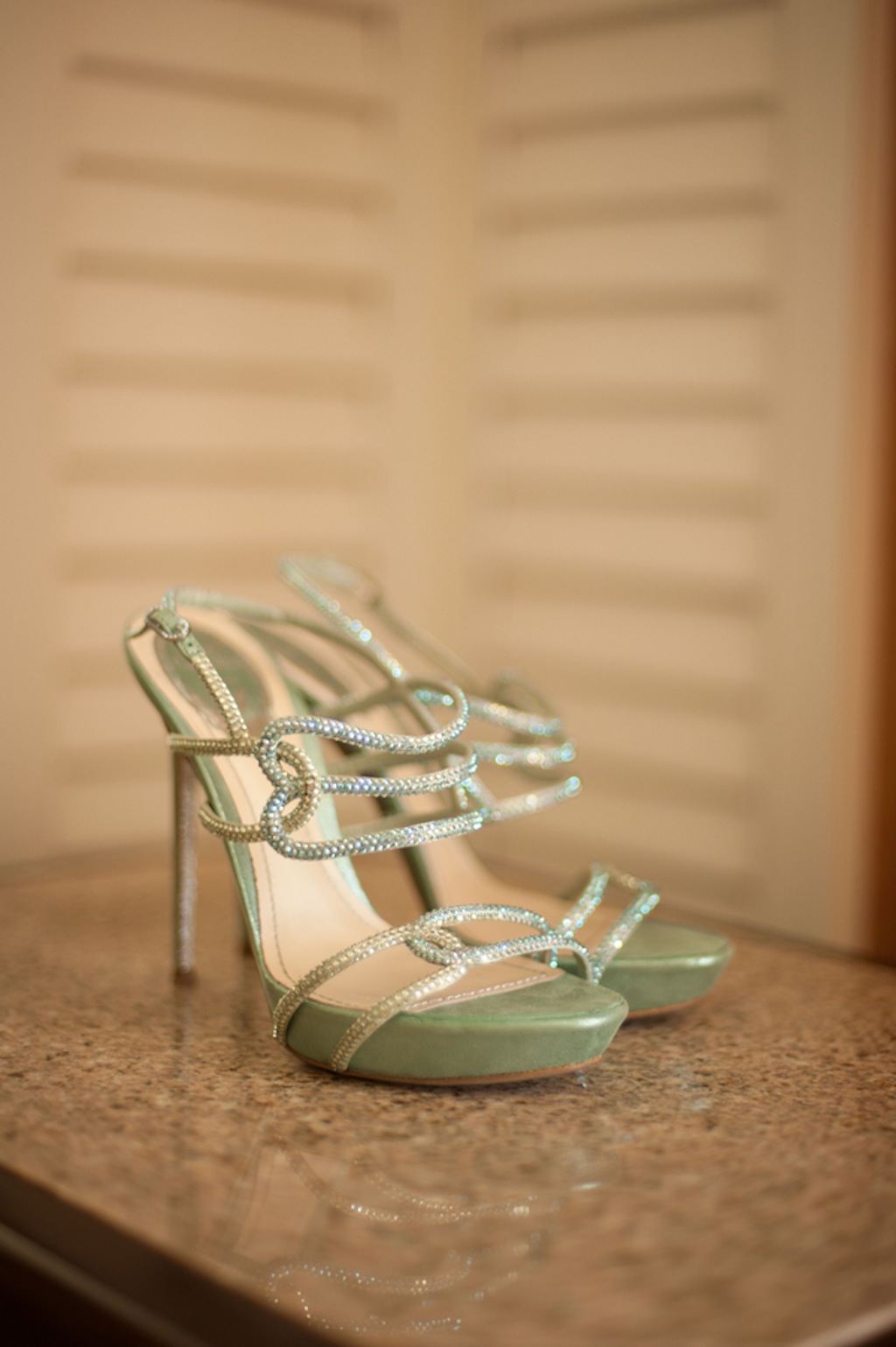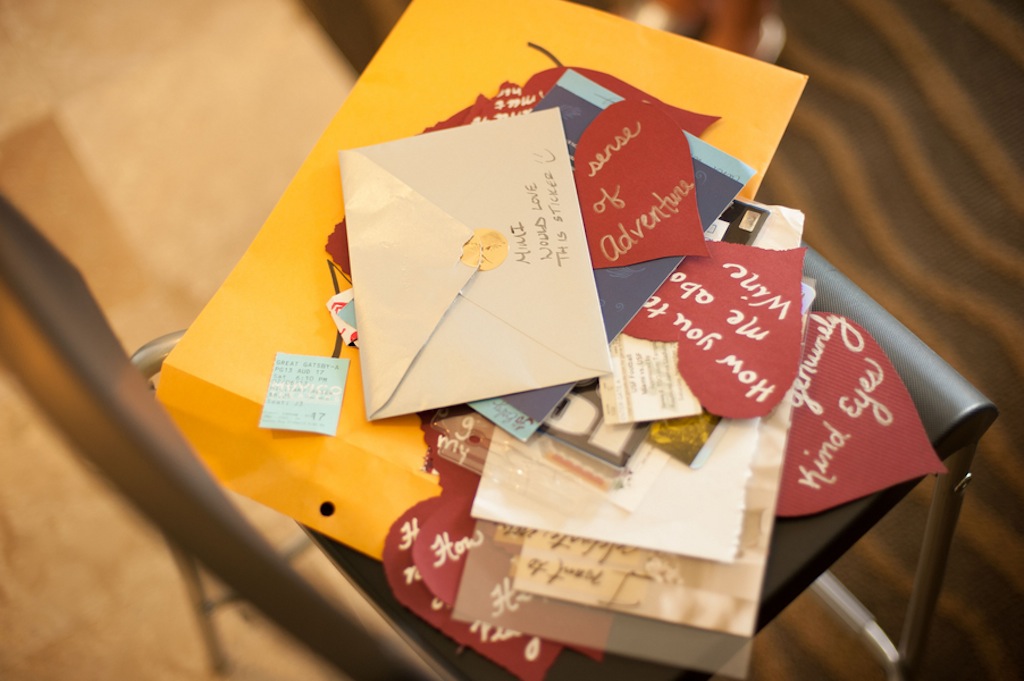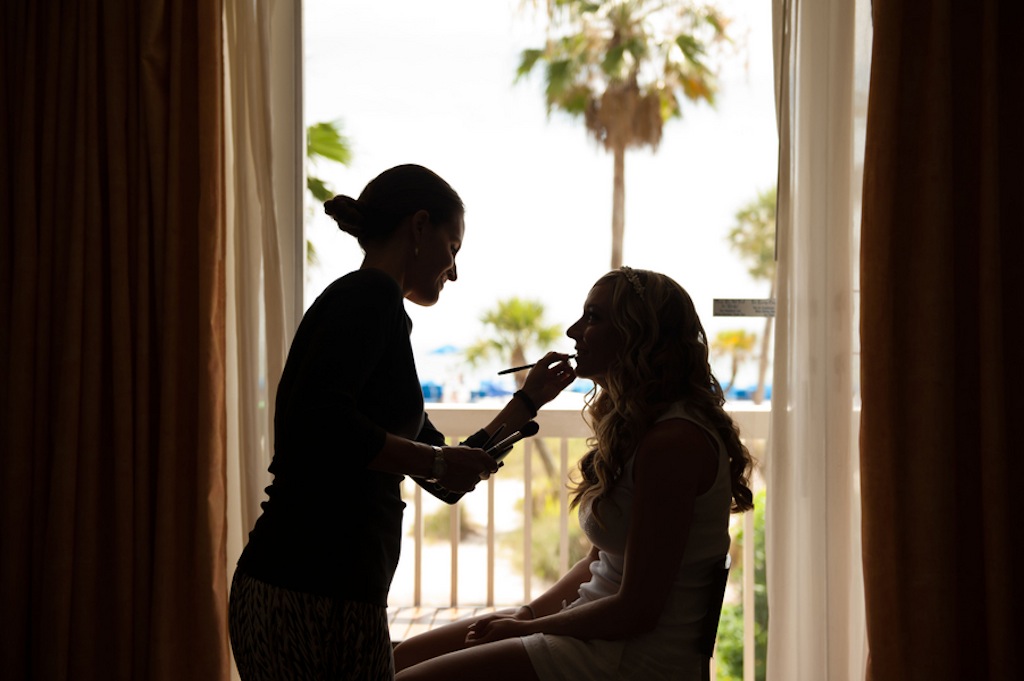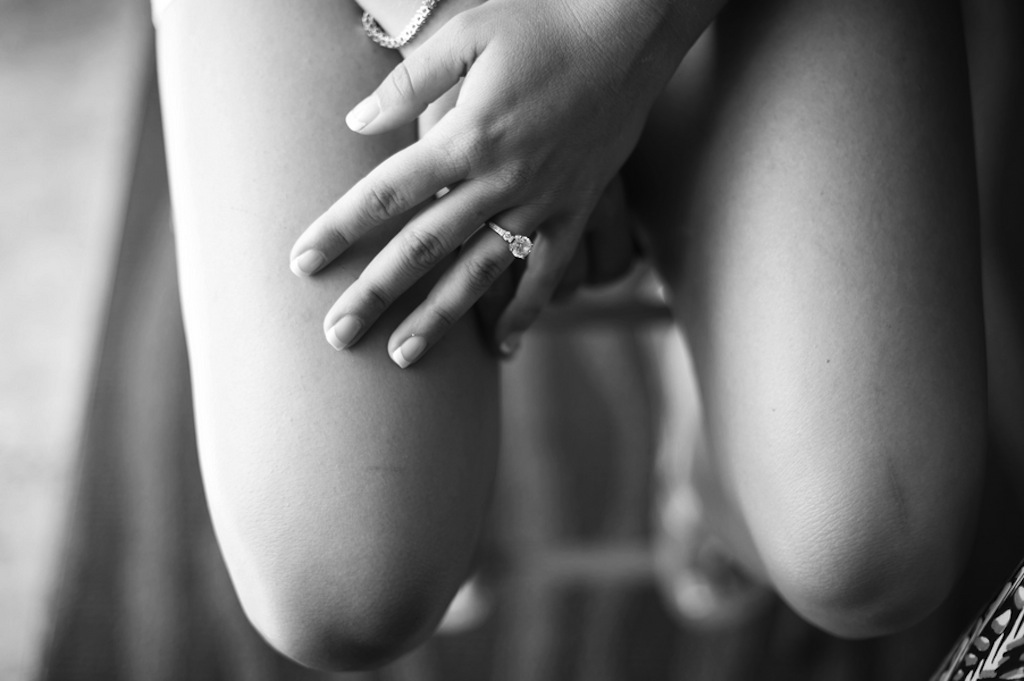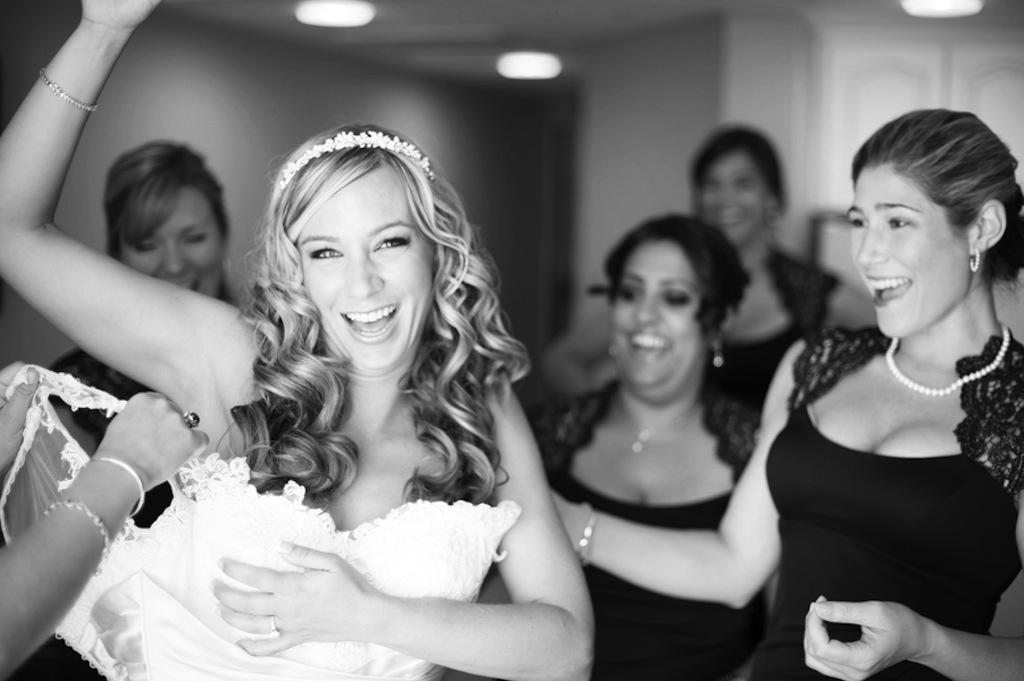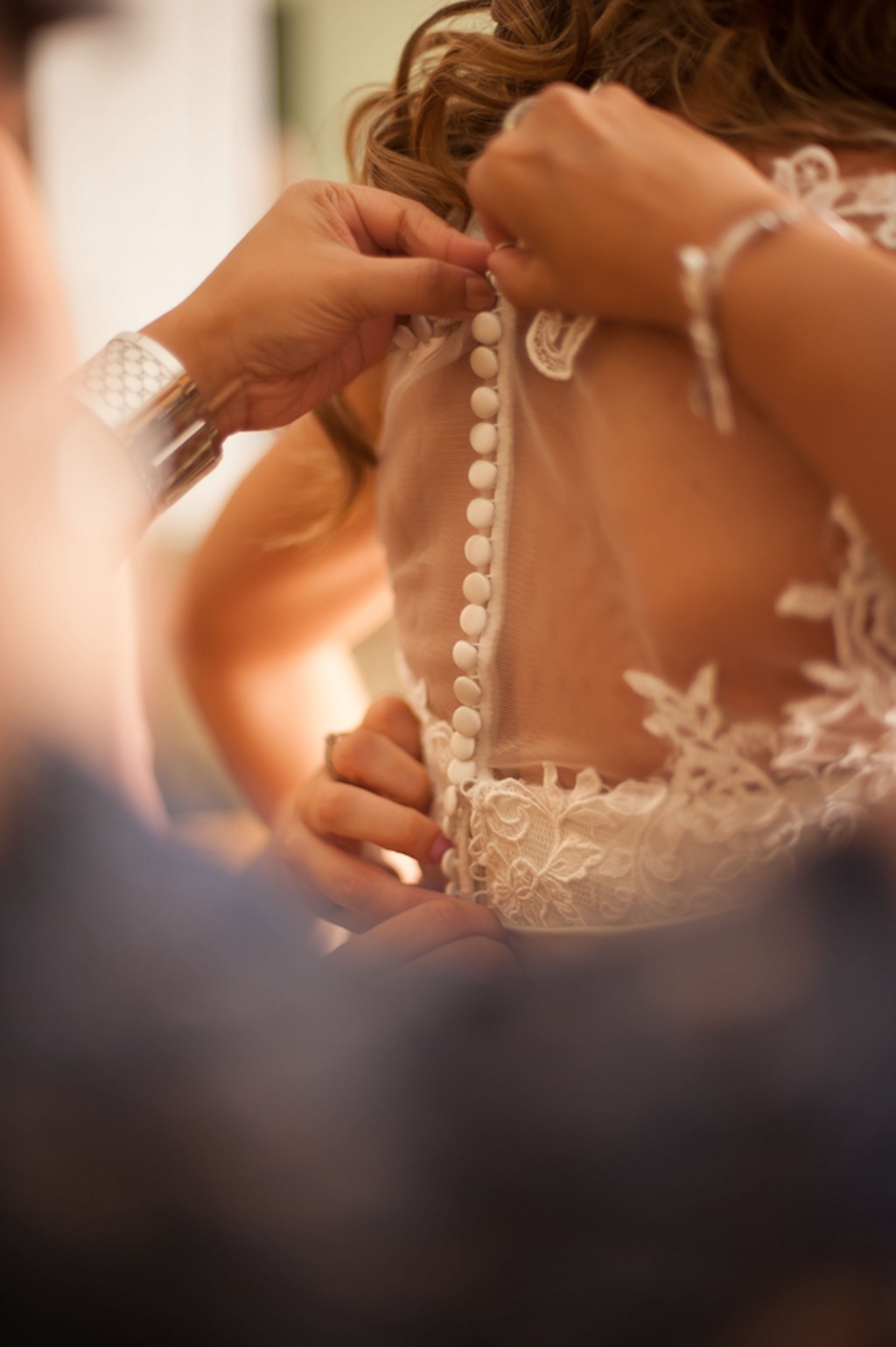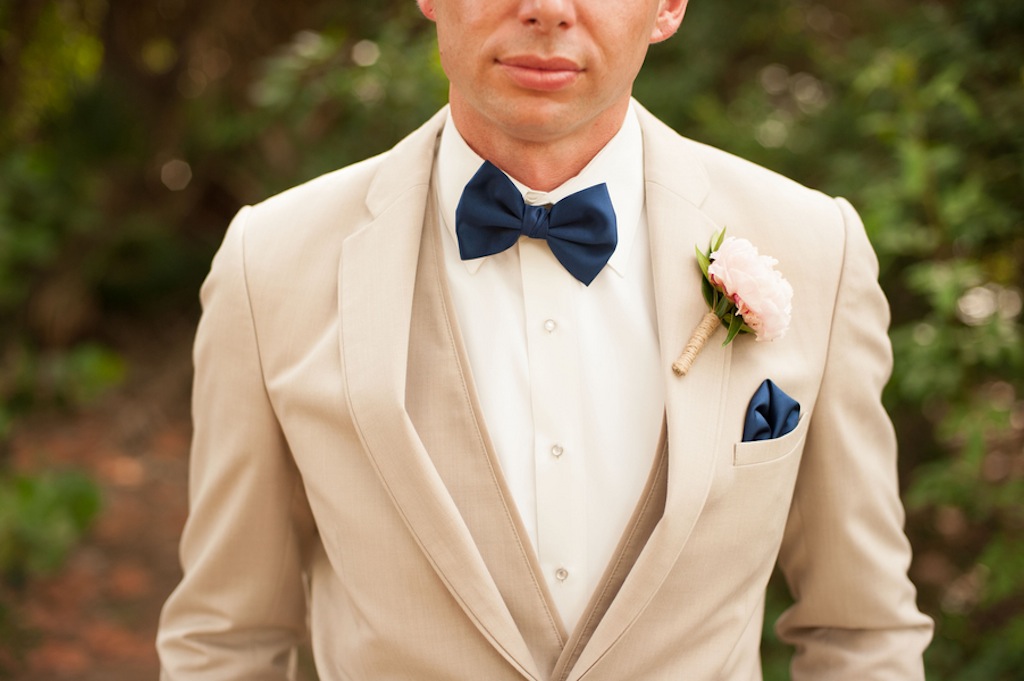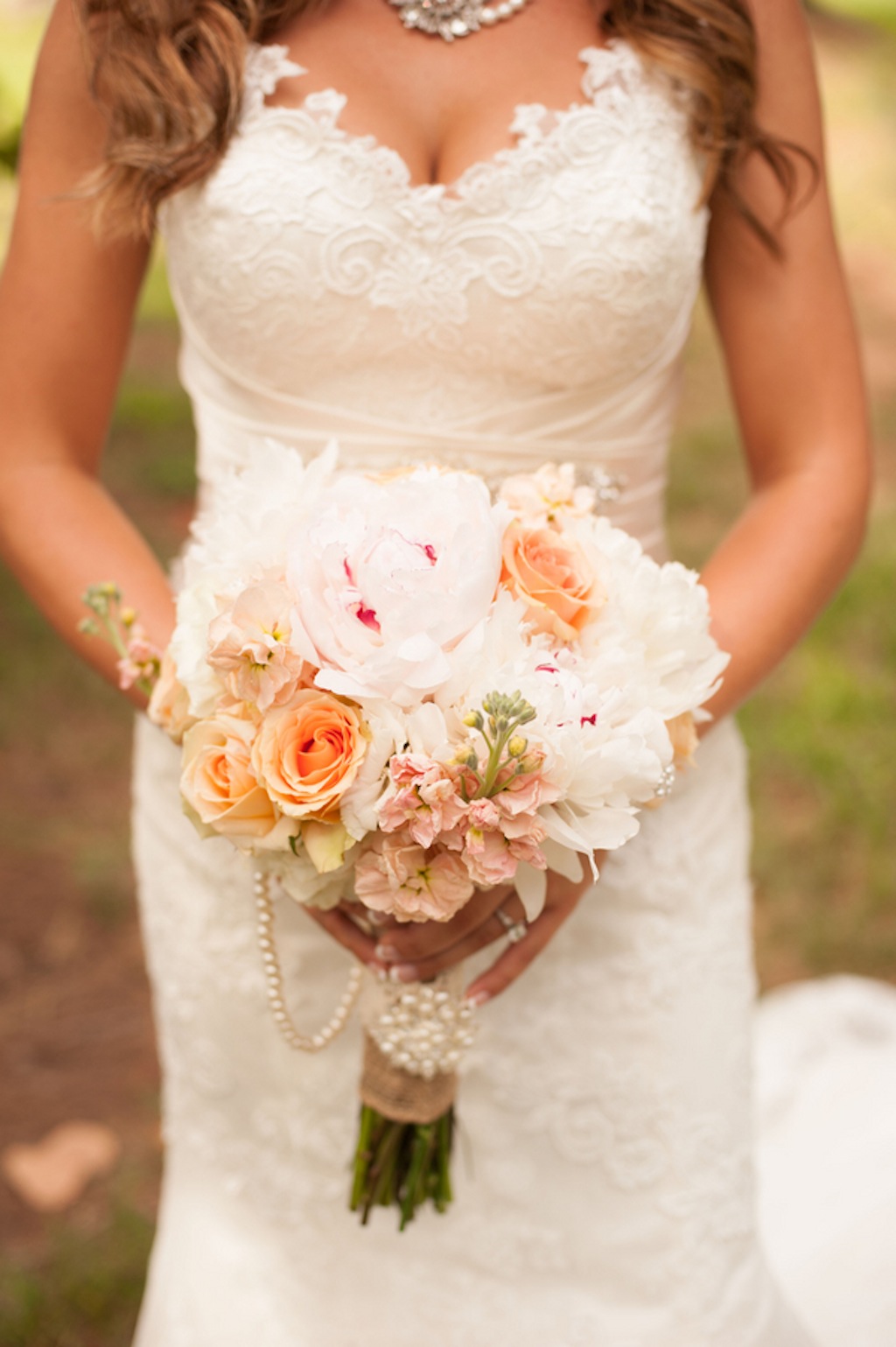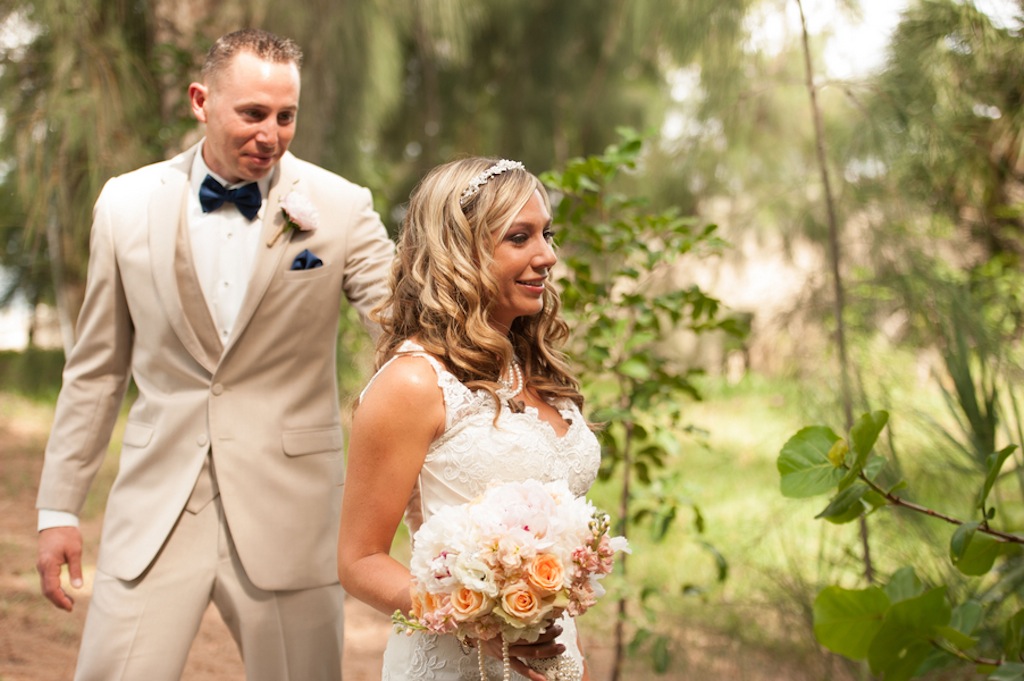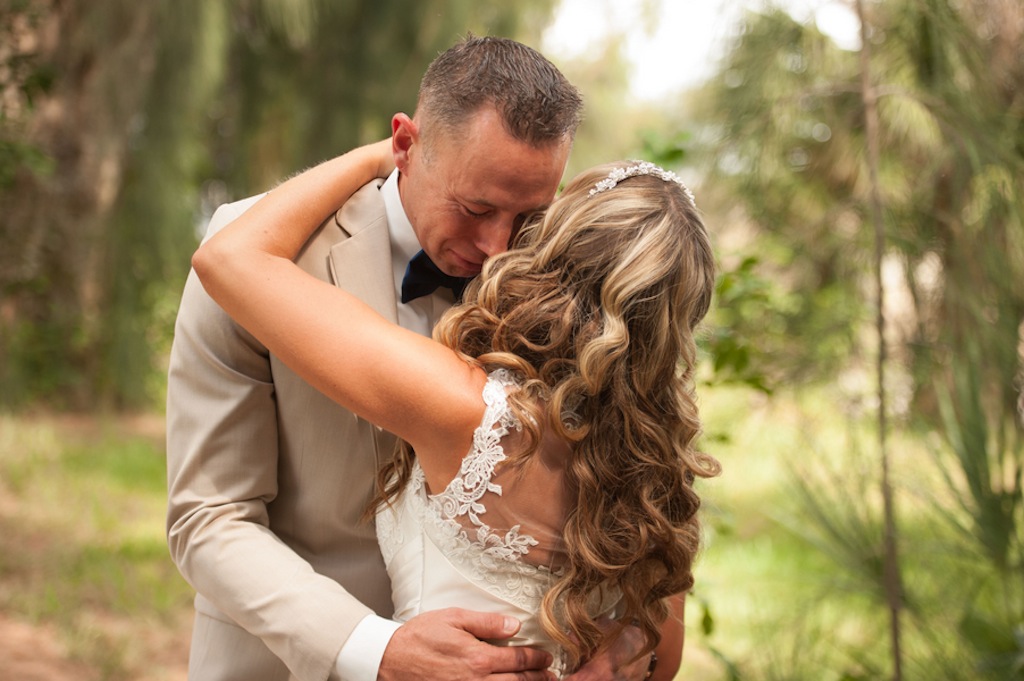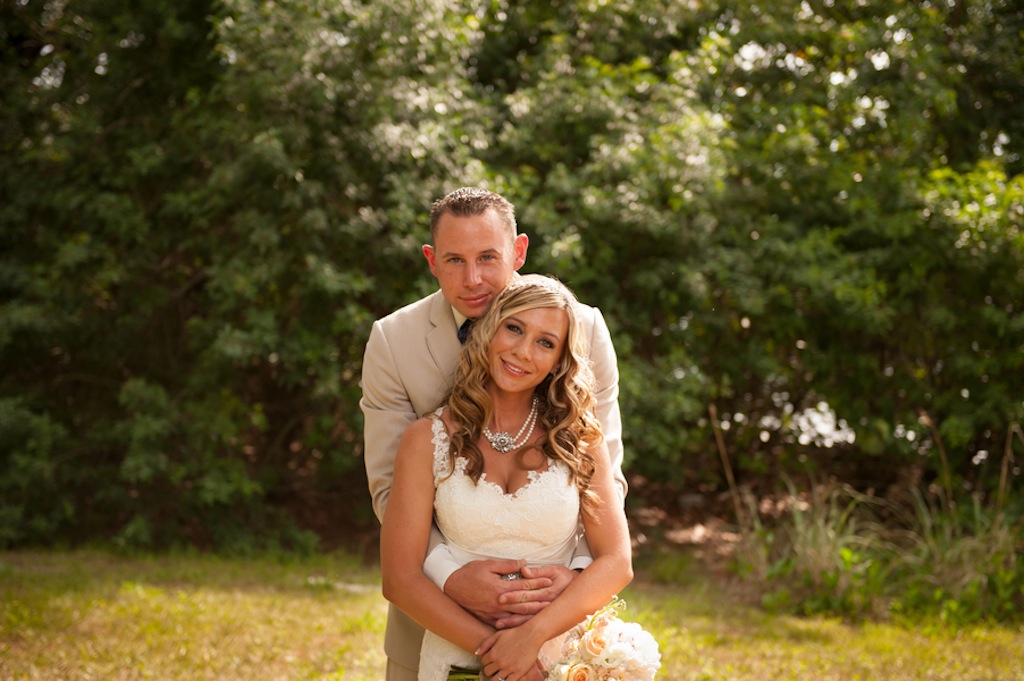 The Proposal:
Shawn proposed at the legendary pink palace on the beach, the Don Cesar. The morning started with a sweet card and mani/pedi. Upon my return from being pampered, I received another card that explained we were going away for the evening and to be ready in an hour.
Everywhere I went that day I received red roses. At sunset, he knelt down on one knee on our balcony, filled with candles and rose pedals. After a tear-filled "YES!" Shawn shouted to onlookers below "I love this woman and we're getting married!" A round of applause followed from a small crowd that had gathered below.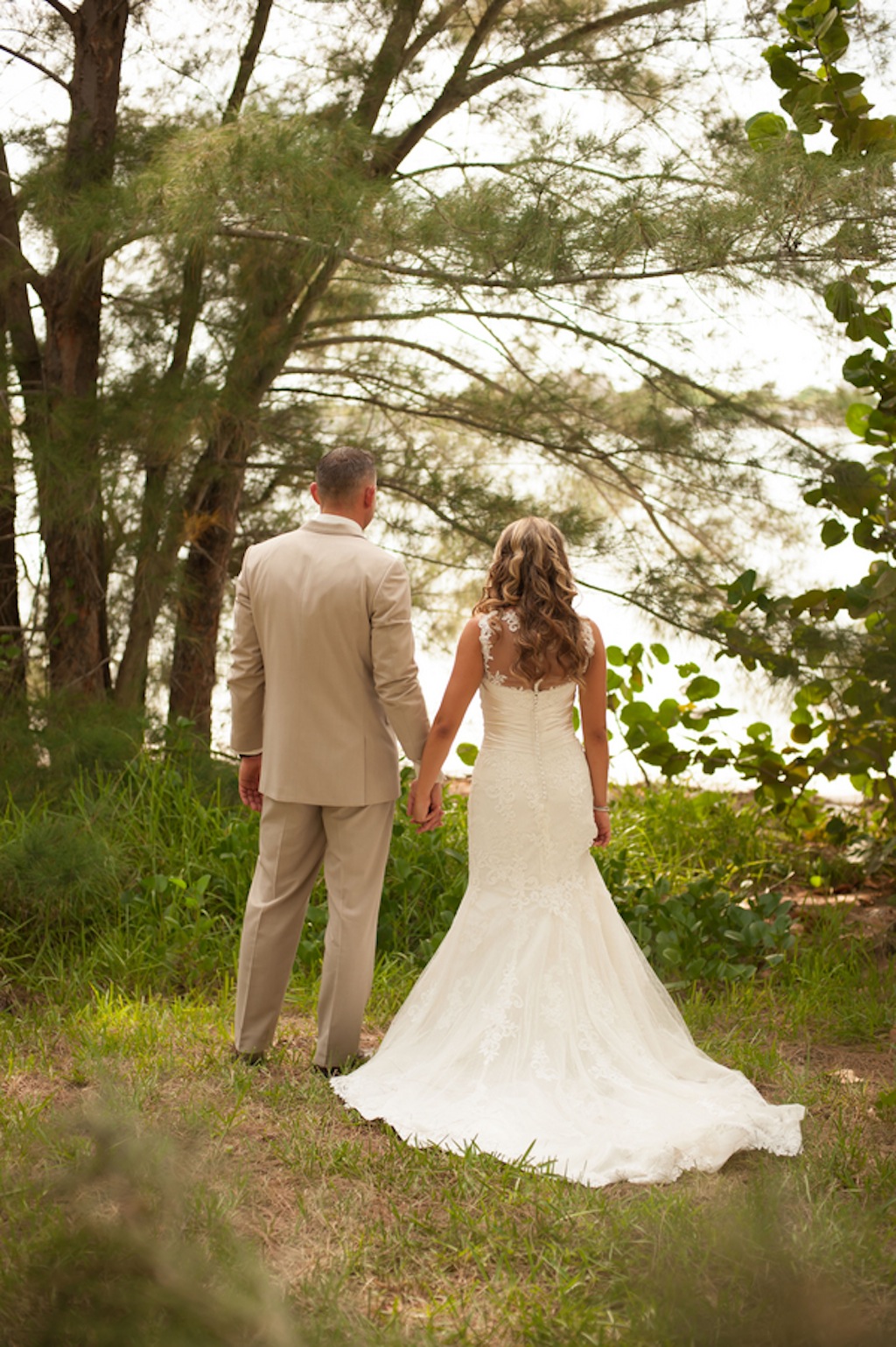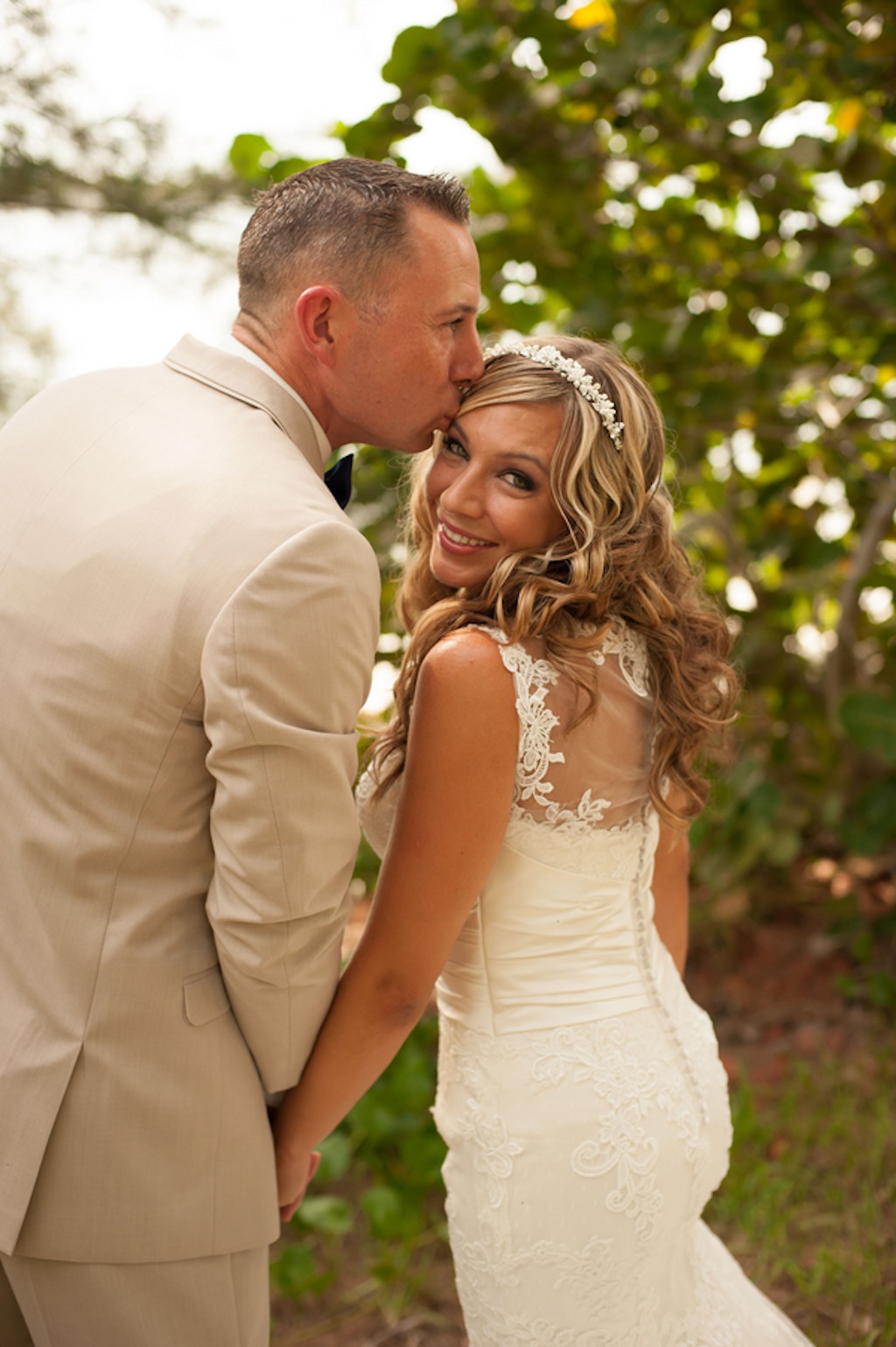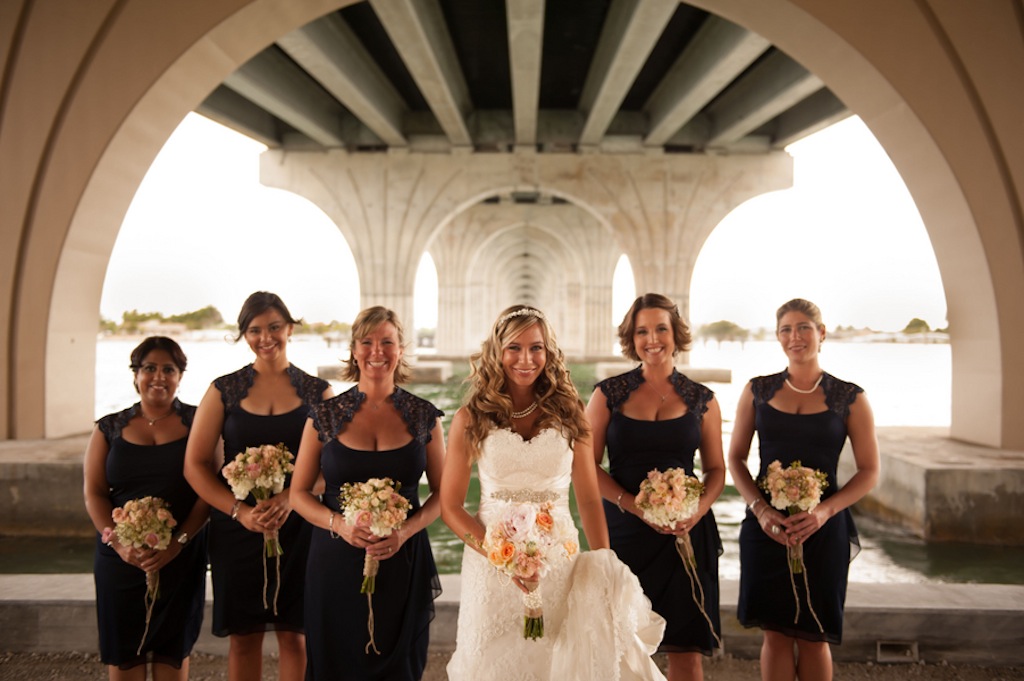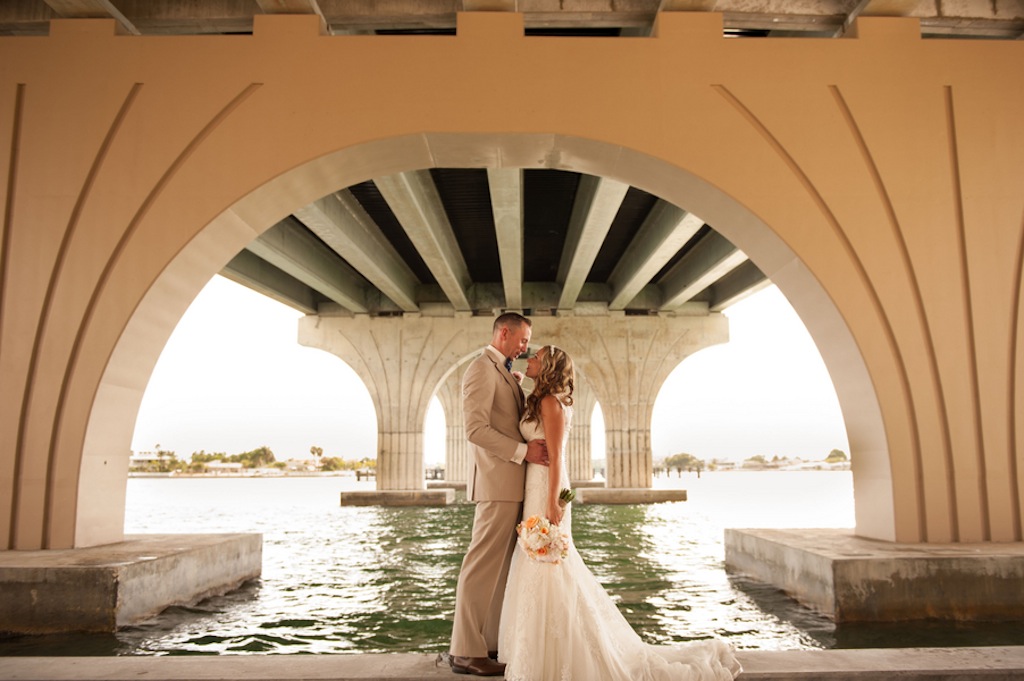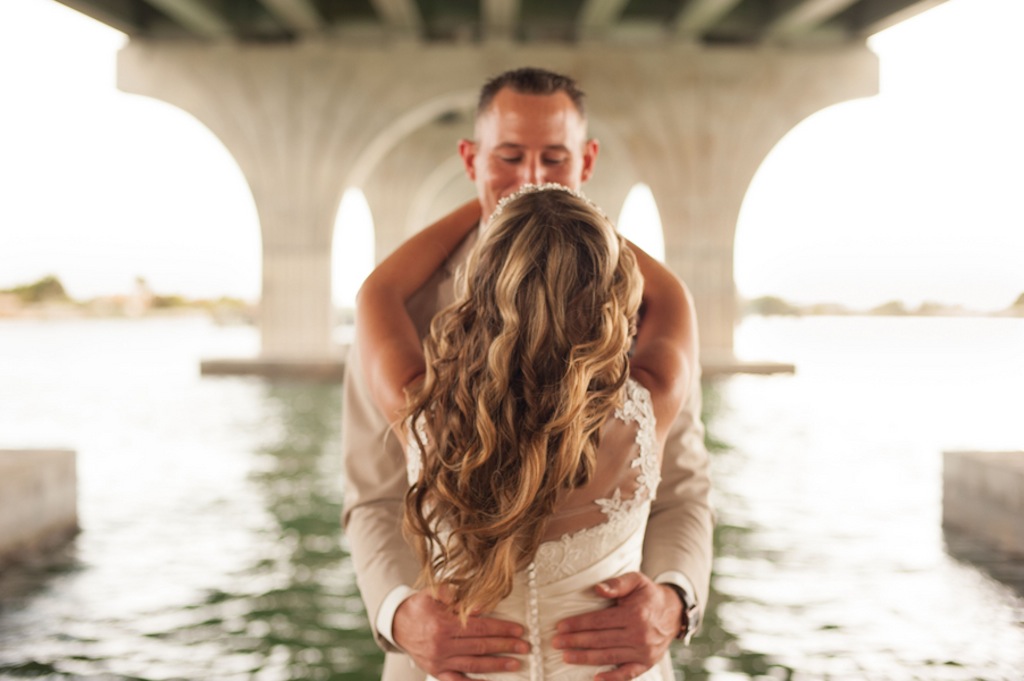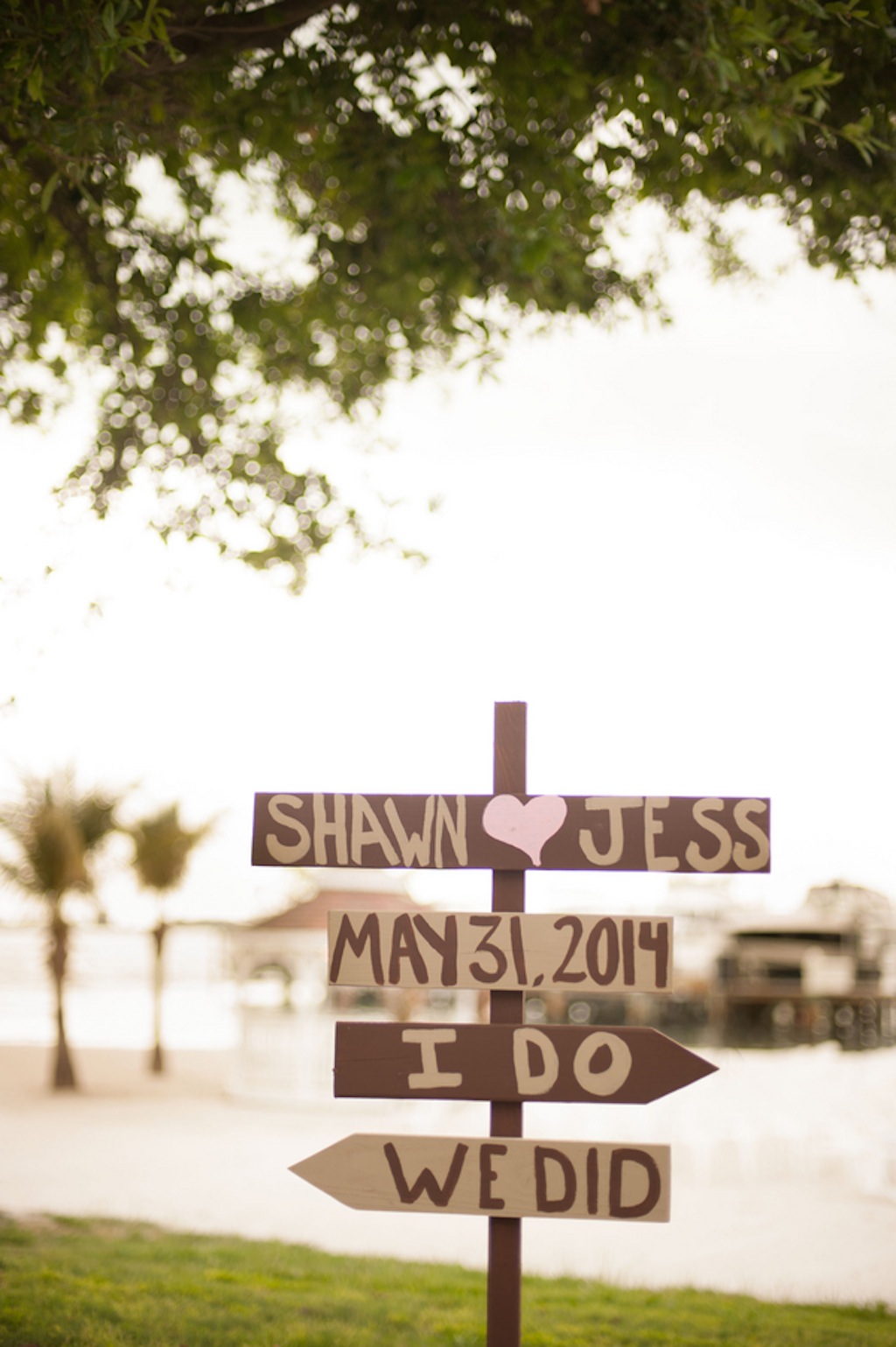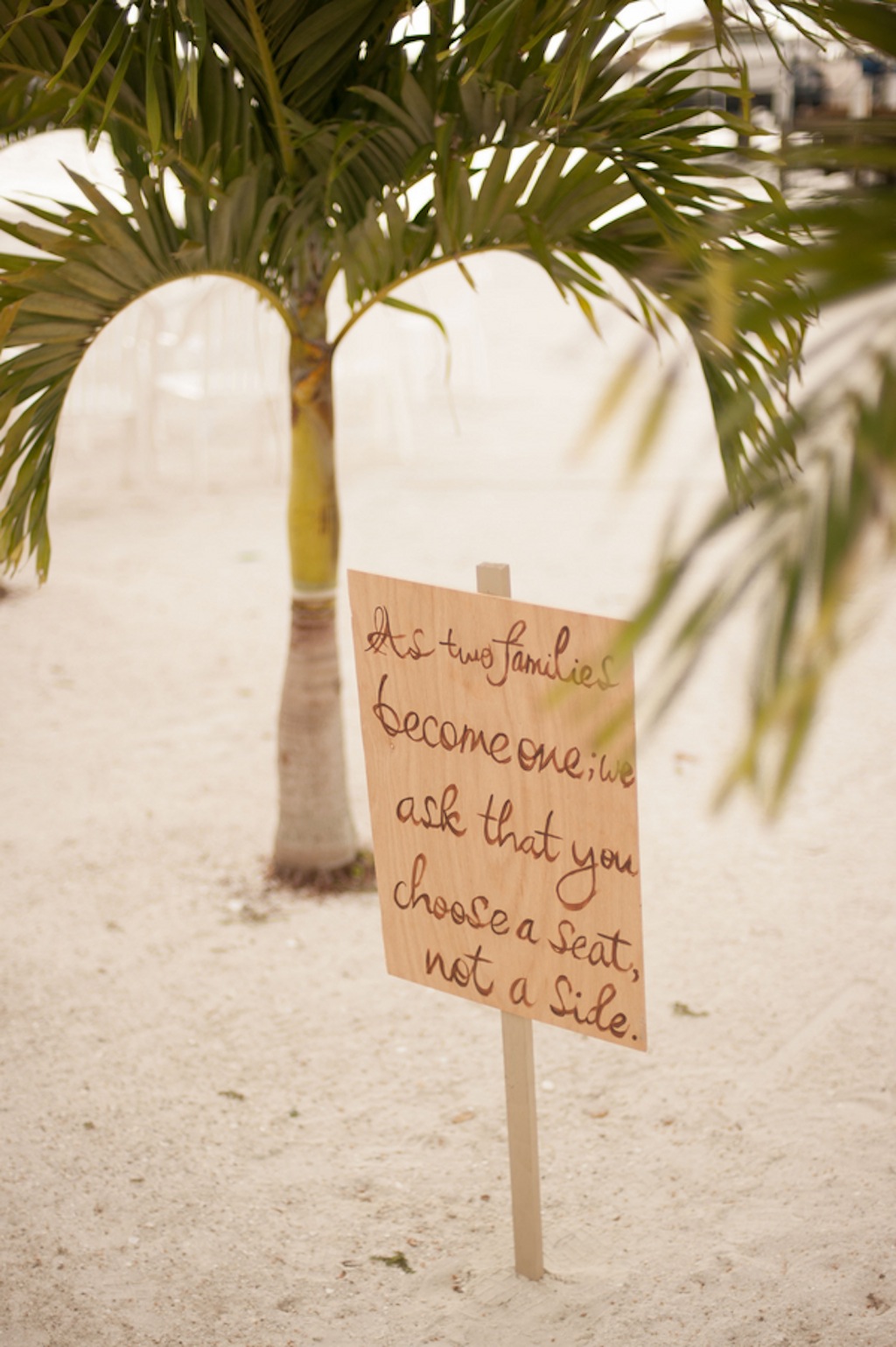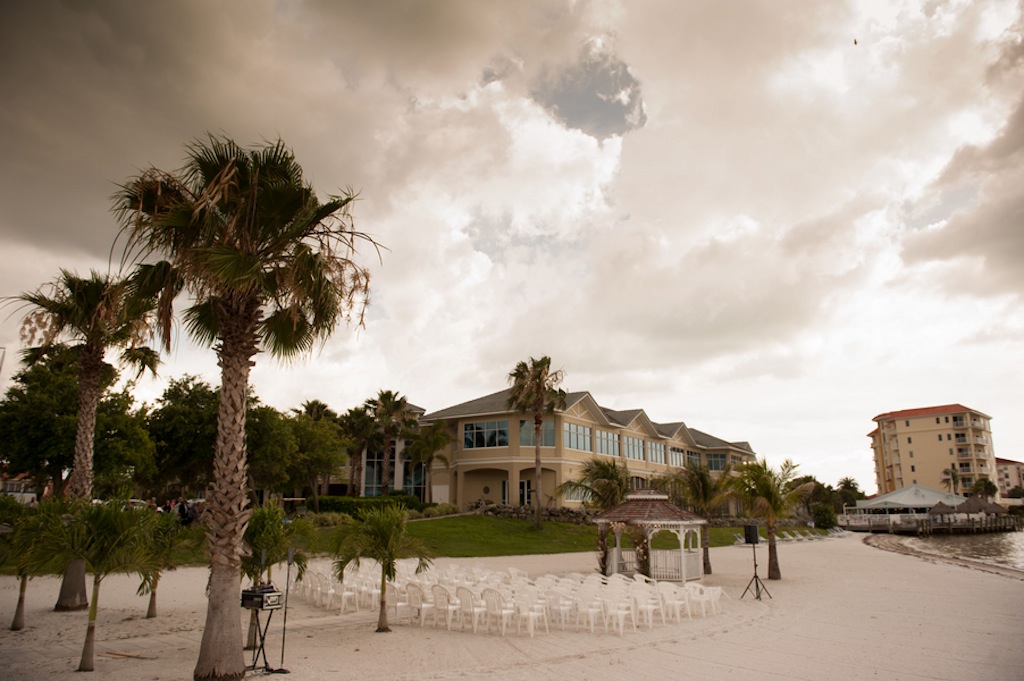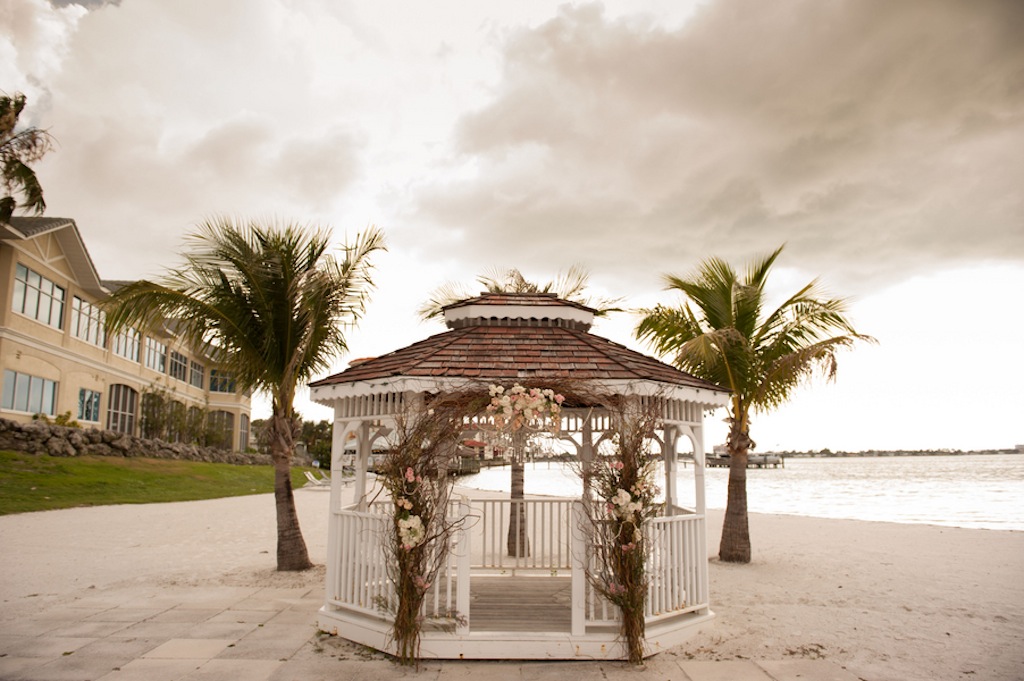 What was your most memorable moment?
Thunderstorms were fast approaching our outdoor ceremony. High winds were gusting, clouds were swirling; pretty much every bride's nightmare.
During the ceremony prayer, I asked my Mom to help us out and to please give us 10 minutes of clear skies. All we needed was 10 min to avoid disaster! Directly after the ceremony, several people told me that I must be the luckiest bride in the world because the radar showed torrential downpour throughout St. Pete Beach and there was a perfect clear area surrounding Isla. Thanks Mom!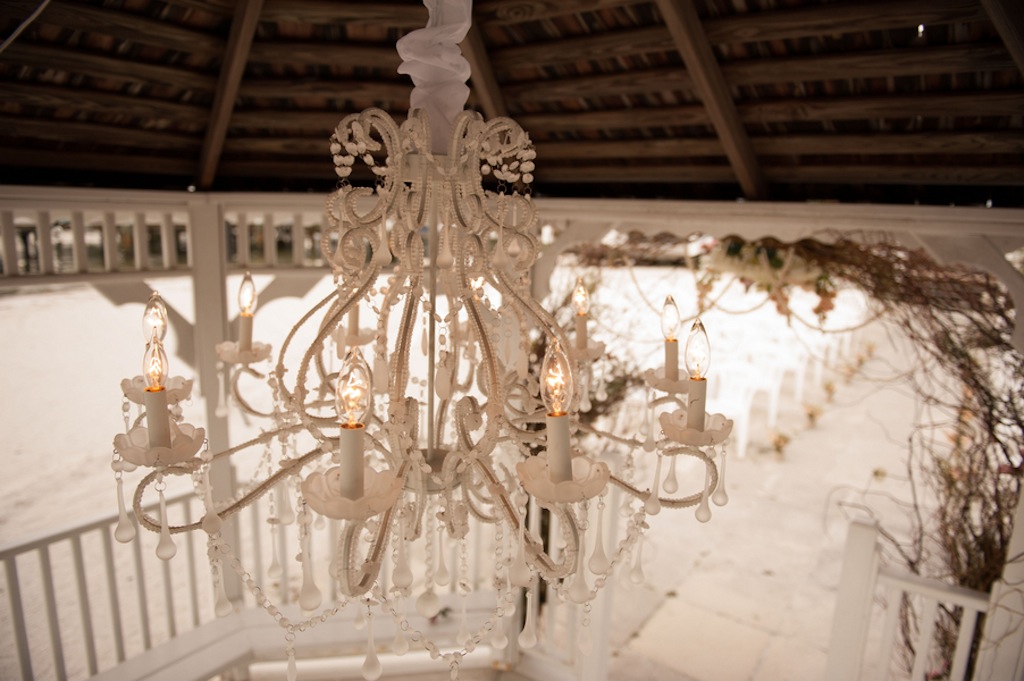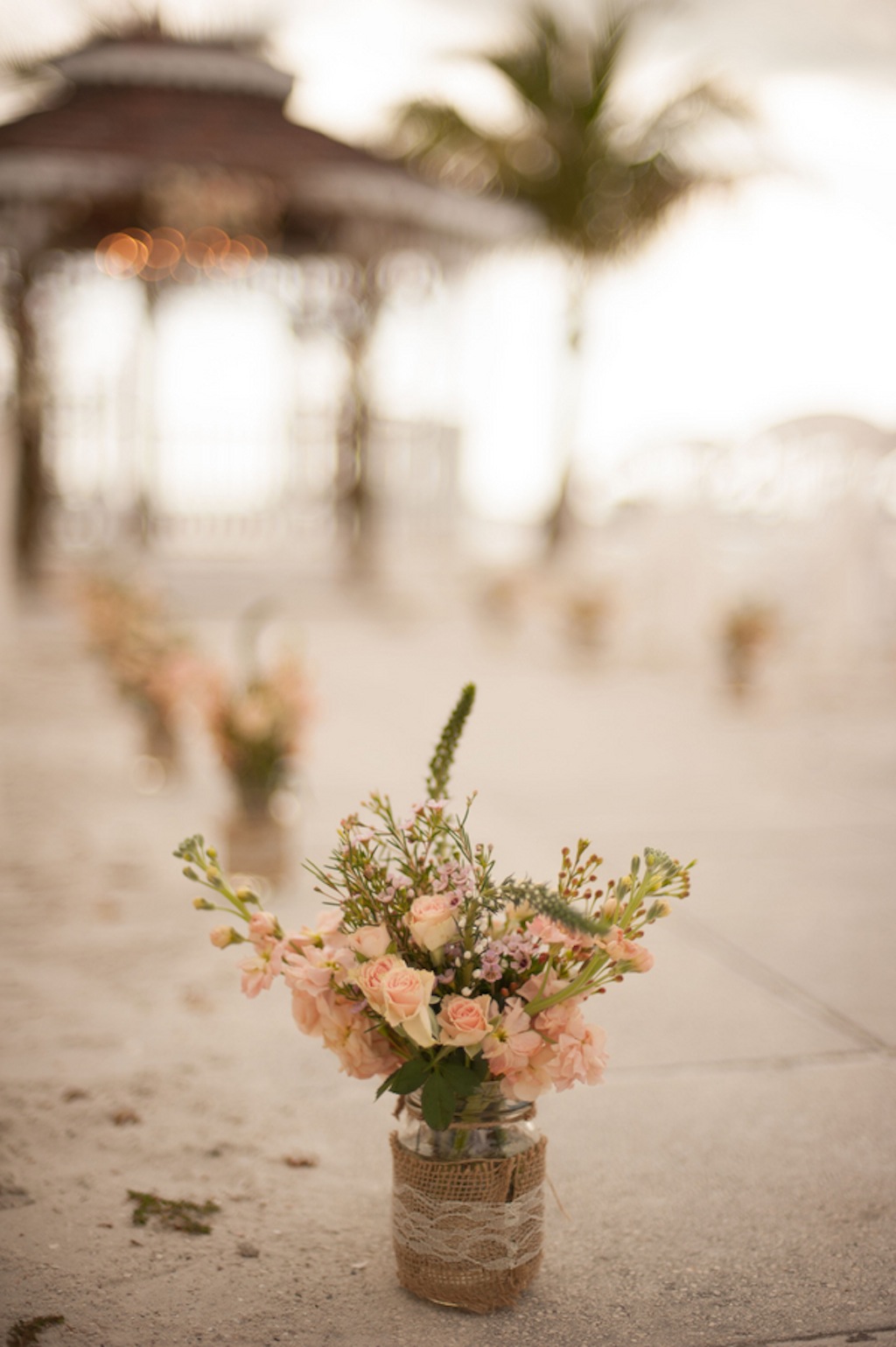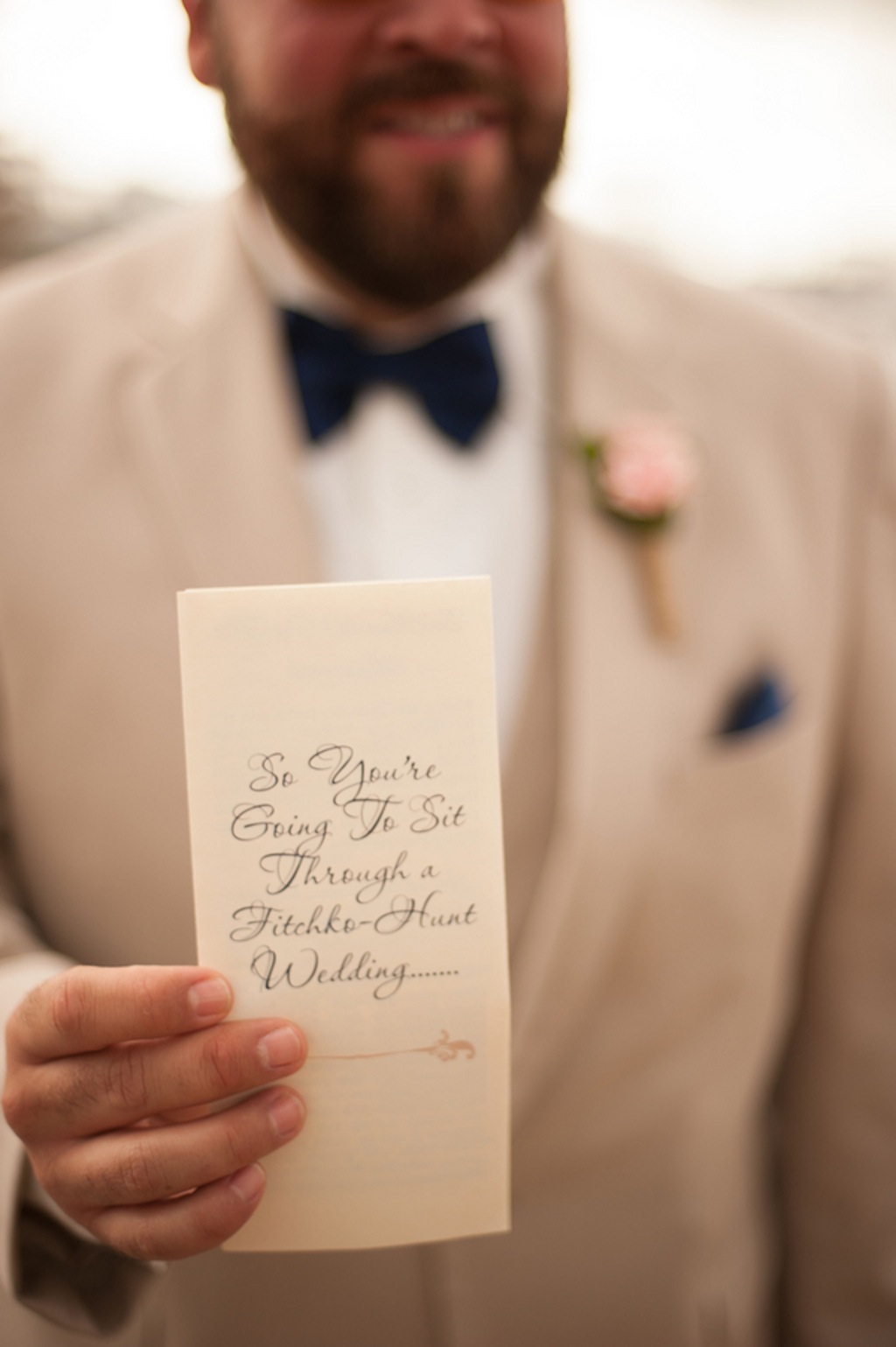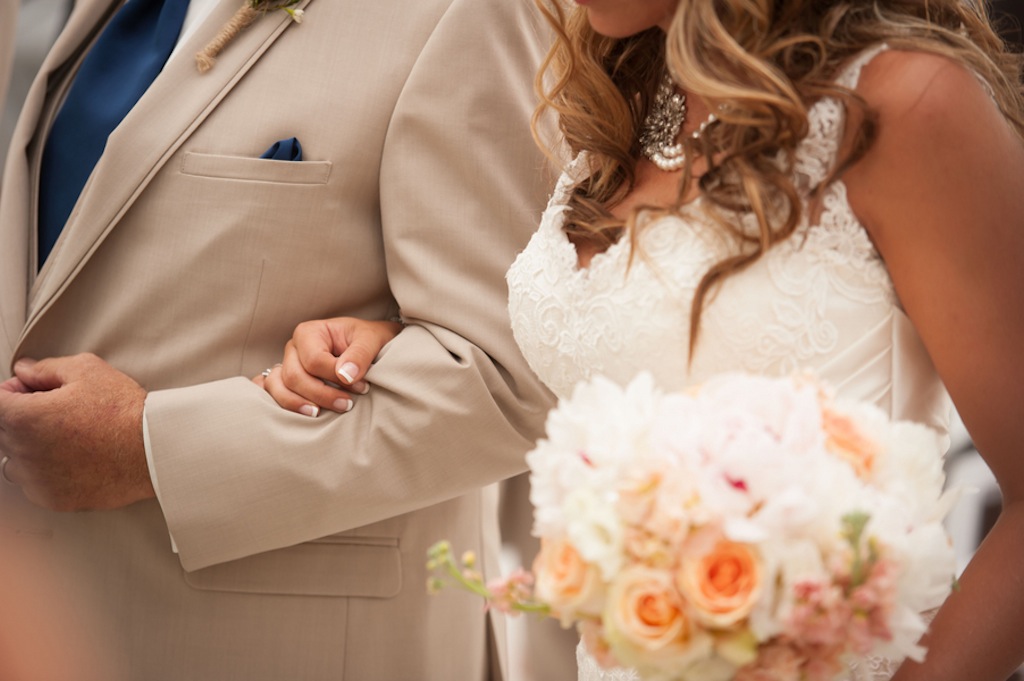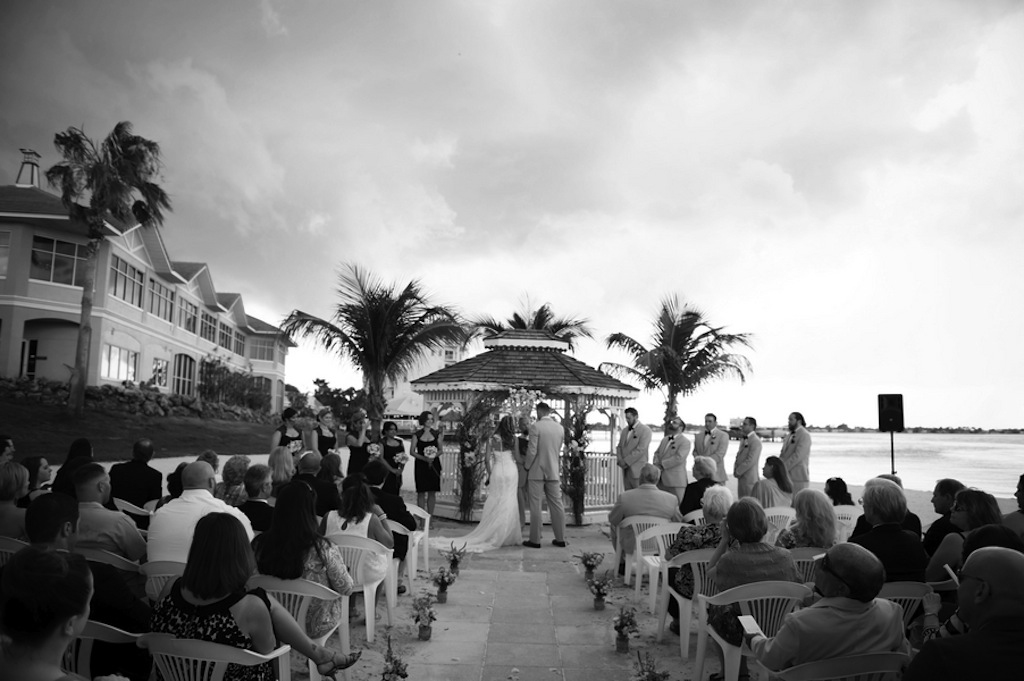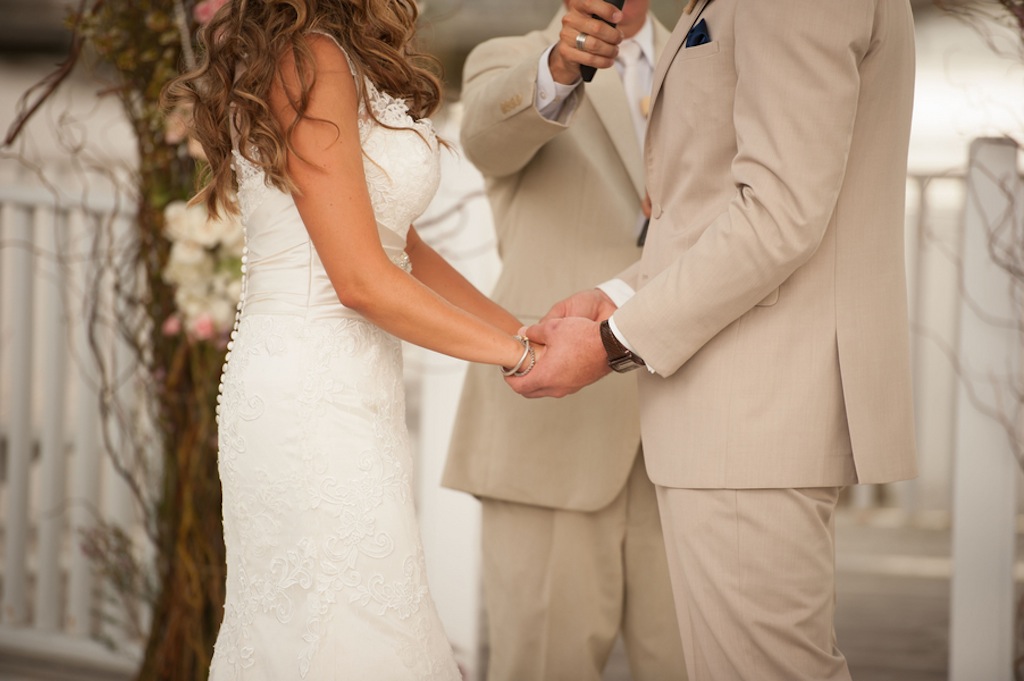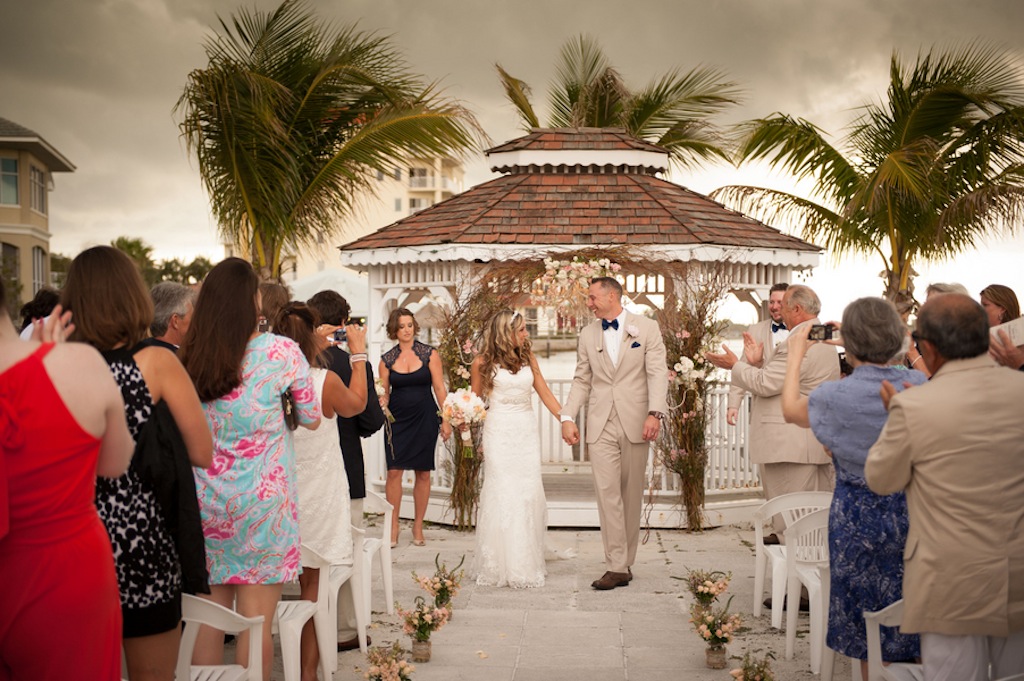 Why did you hire a wedding planner?
I'm a marketing professional; I know first hand how much work event planning entails. I also simply wanted for me, my soon-to-be husband and wedding party to enjoy the big day; having a planner allowed us all to relax and get pampered while she meticulously handled every little detail.
I immediately knew Kimberly [of Kimberly Hensley Events] was perfect for the role. Throughout our first conversation she listened intently to my ideas and provided valuable insight, rather than giving a sales pitch.  She vowed to keep me comfortably within my budget, while simultaneously creating a unique and beautiful event. I soon realized that she is one of the most detail-oriented people I've ever encountered.
She also has a trusted vendor list a mile long that is worth its weight in gold. When we did hit a snag our two, she immediately came to me with solutions rather than problems.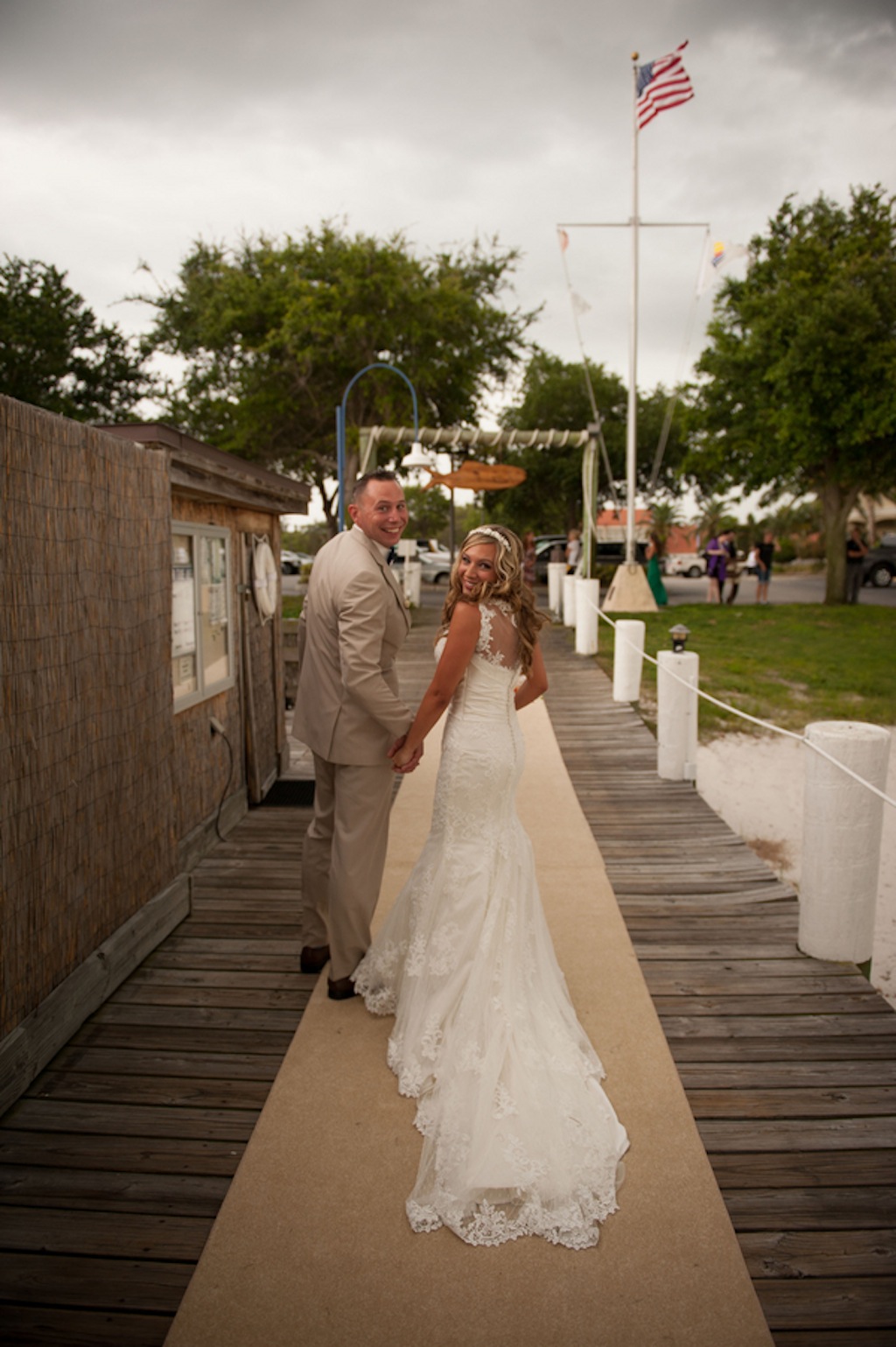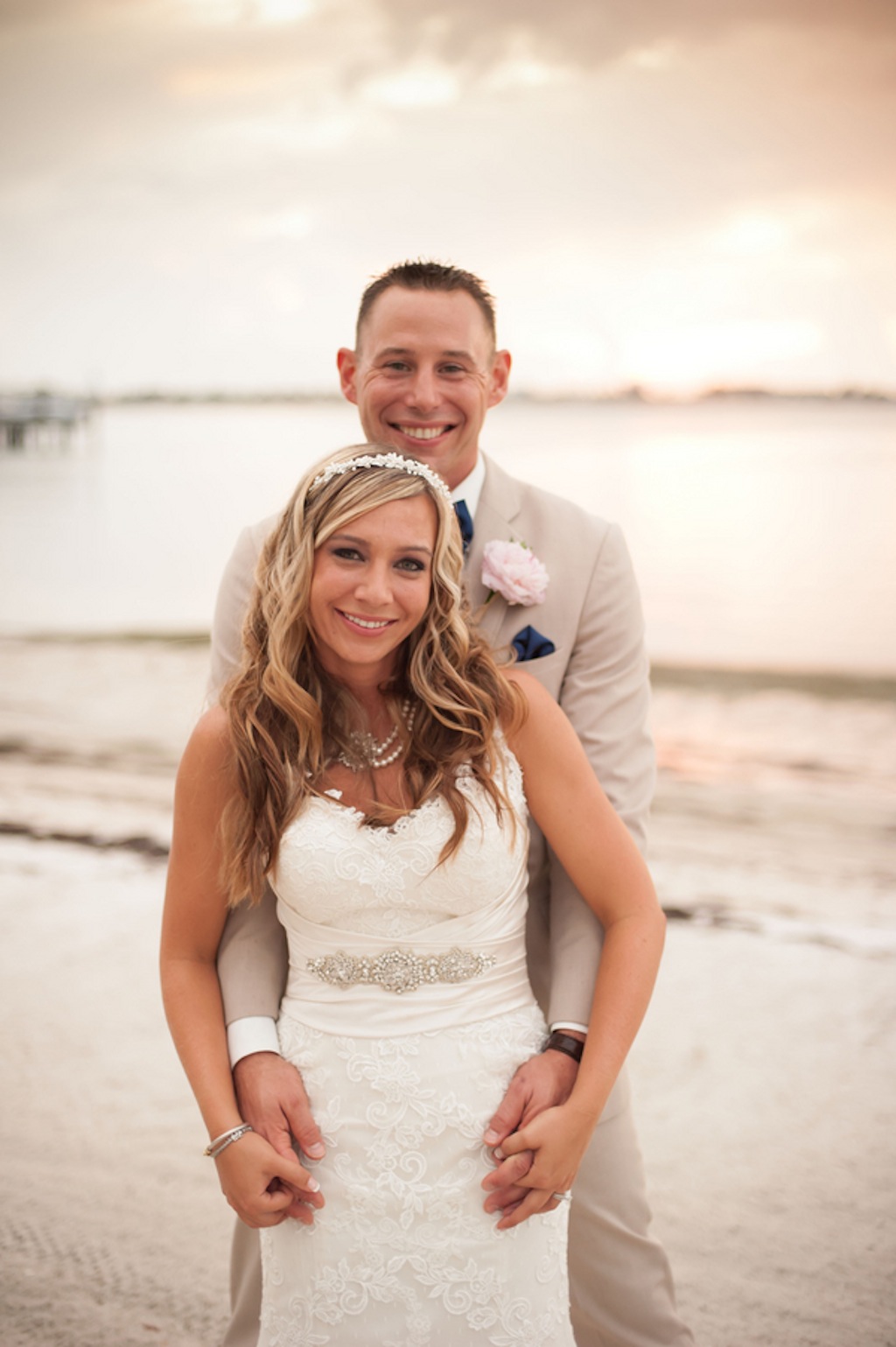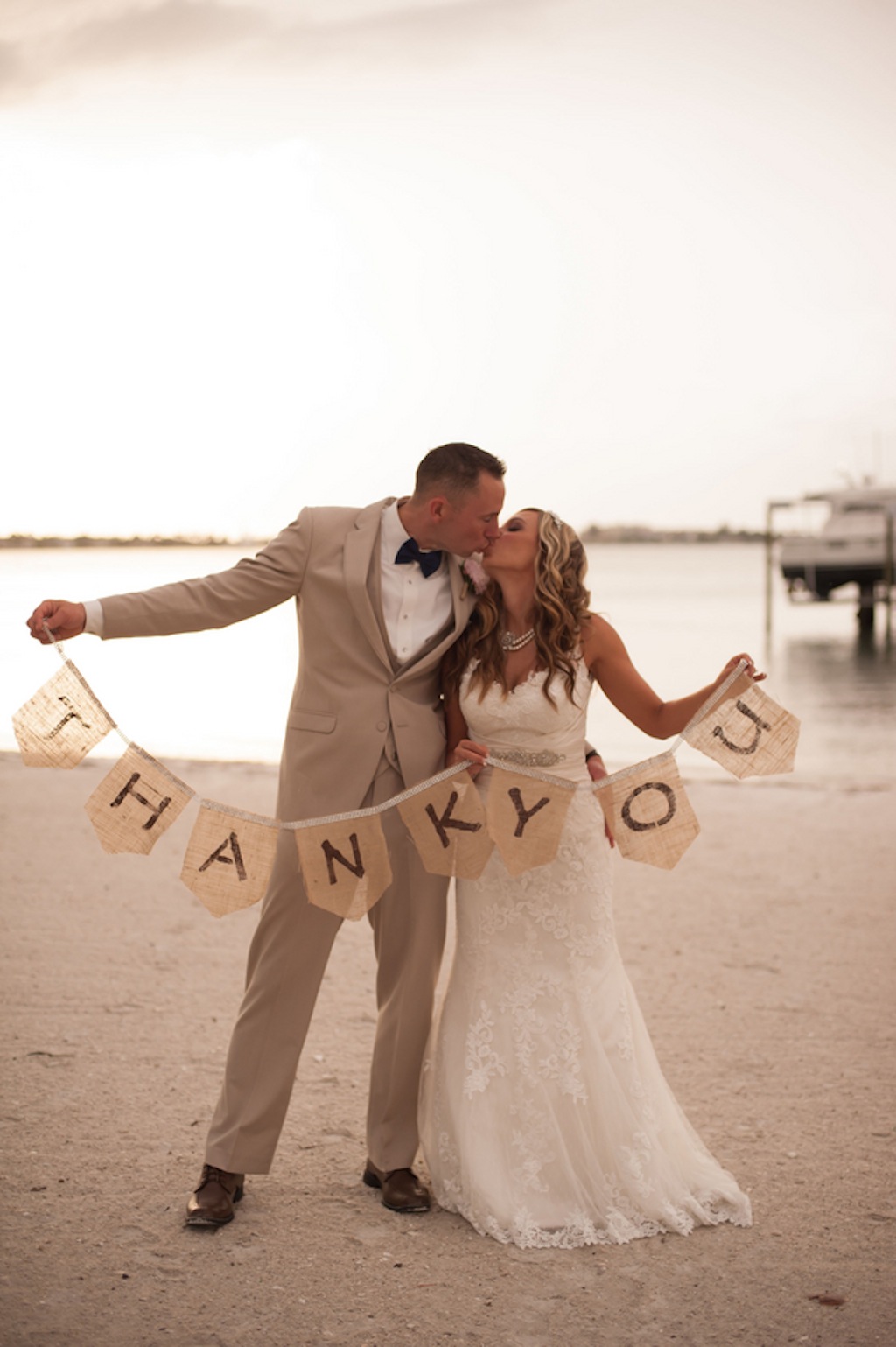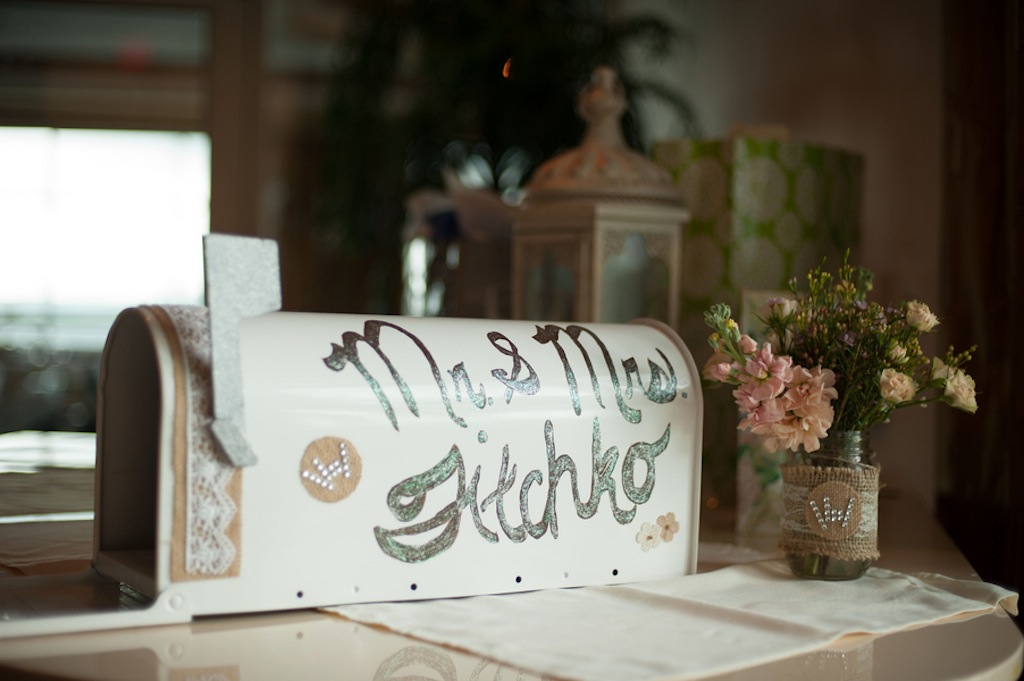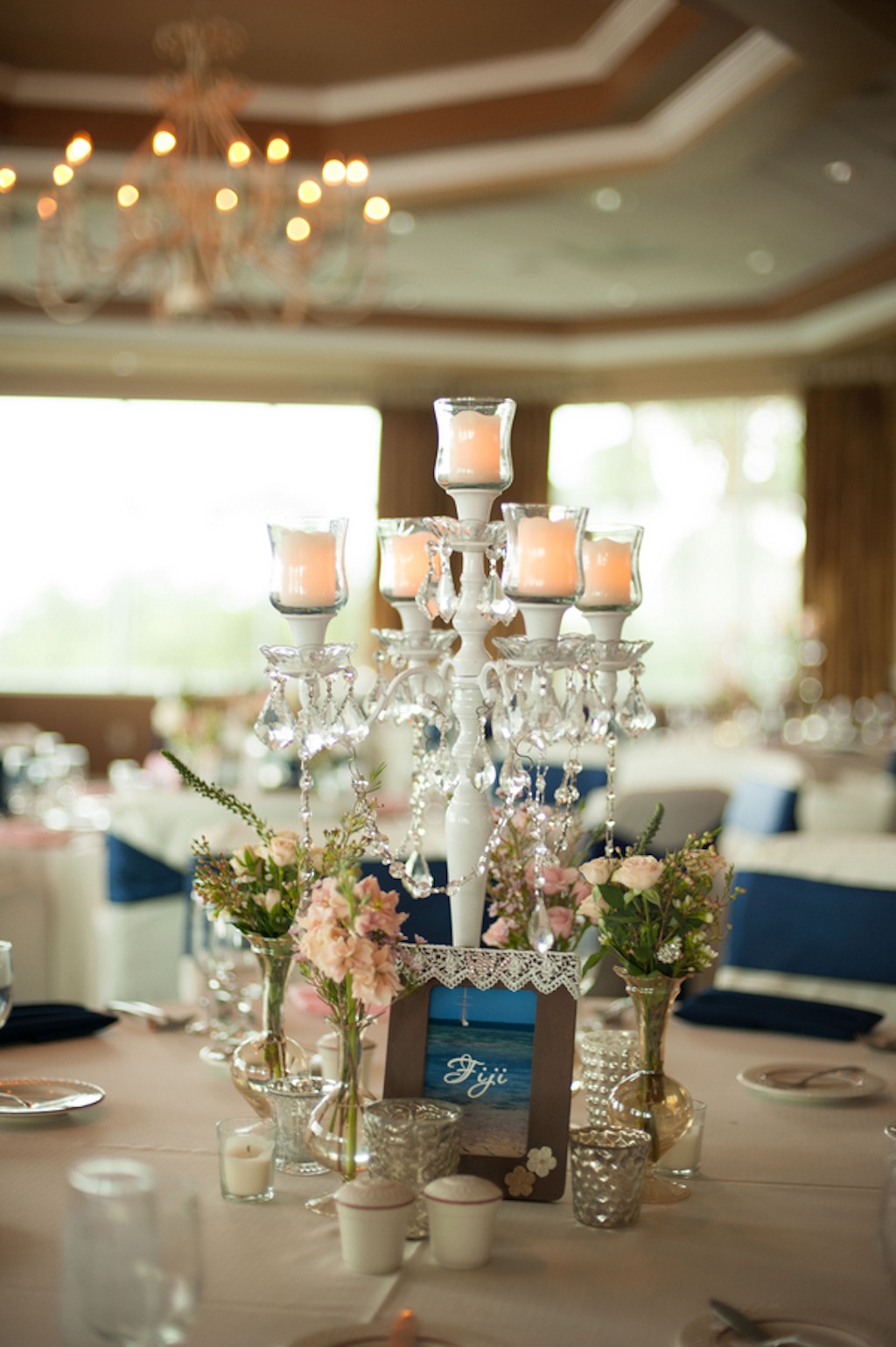 How would you describe your theme? What made you choose it?
We lovingly labeled our decor theme as "Rustic Glam." Being raised in agricultural Plant City, mason jars, natural wood and burlap invoked happy childhood memories. Chandeliers, lace, pearls and sparkle added that touch of elegance and glam that every girl dreams of on her wedding day.
What were your wedding colors?
Our colors were navy, vintage pink and peach with silver accents. I wouldn't exactly label myself as a pink loving "girly-girl," but incorporating navy with natural textures and accenting with touches of beautiful soft colors just felt right for me.
On a side note, navy is an extremely flattering color and my bridesmaids greatly appreciated that, especially my beautiful friend who was six months pregnant.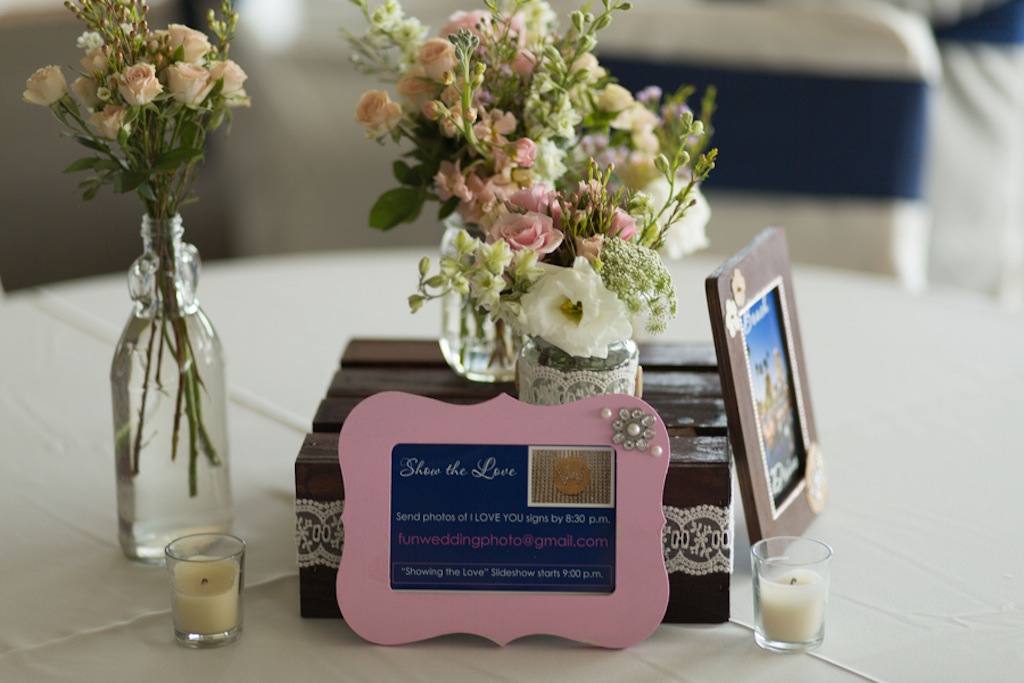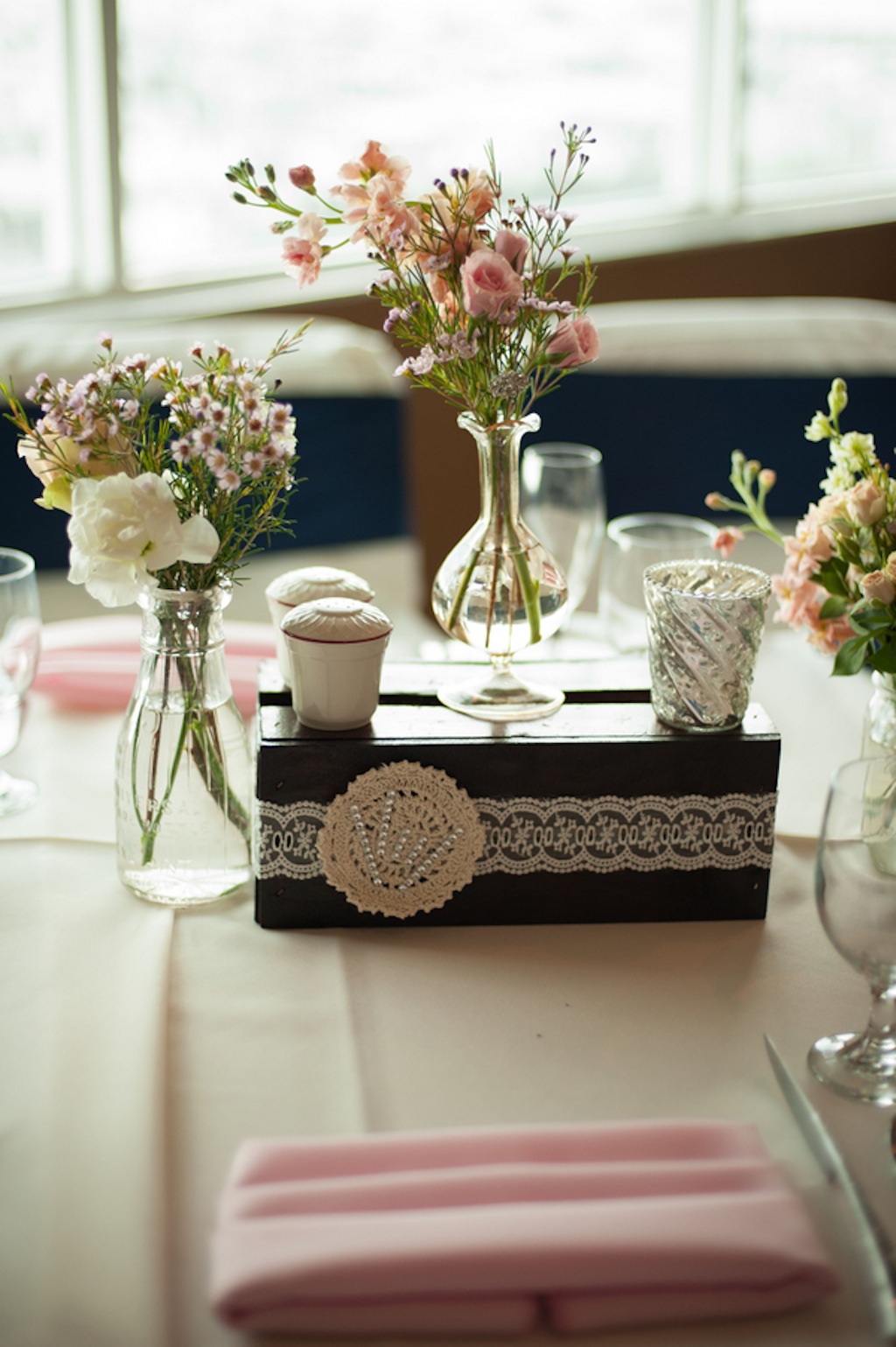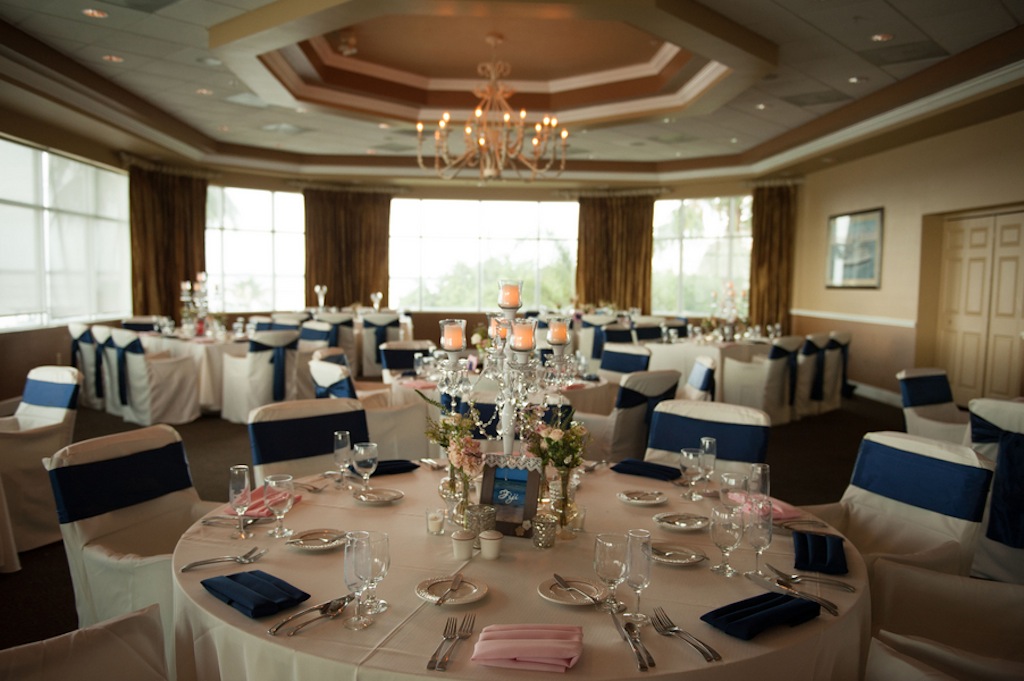 What were the deciding factors for the venue you chose?
Shawn's love for the water drew us to a waterfront location. He has a true passion for the ocean as has spent his life preserving and protecting our waterways, as well as the people who enjoy it. We selected a location that provided an amazing view of his life-long passion throughout the celebration of our life-long commitment to each other.
I wanted a private space for just my friends and family to enjoy. No tourists, no strangers, just the people that matter most to me in the whole world. That is what led us to Isla Del Sol Yacht & Country Club.  It was a perfect private waterfront paradise.  Also, the food is killer!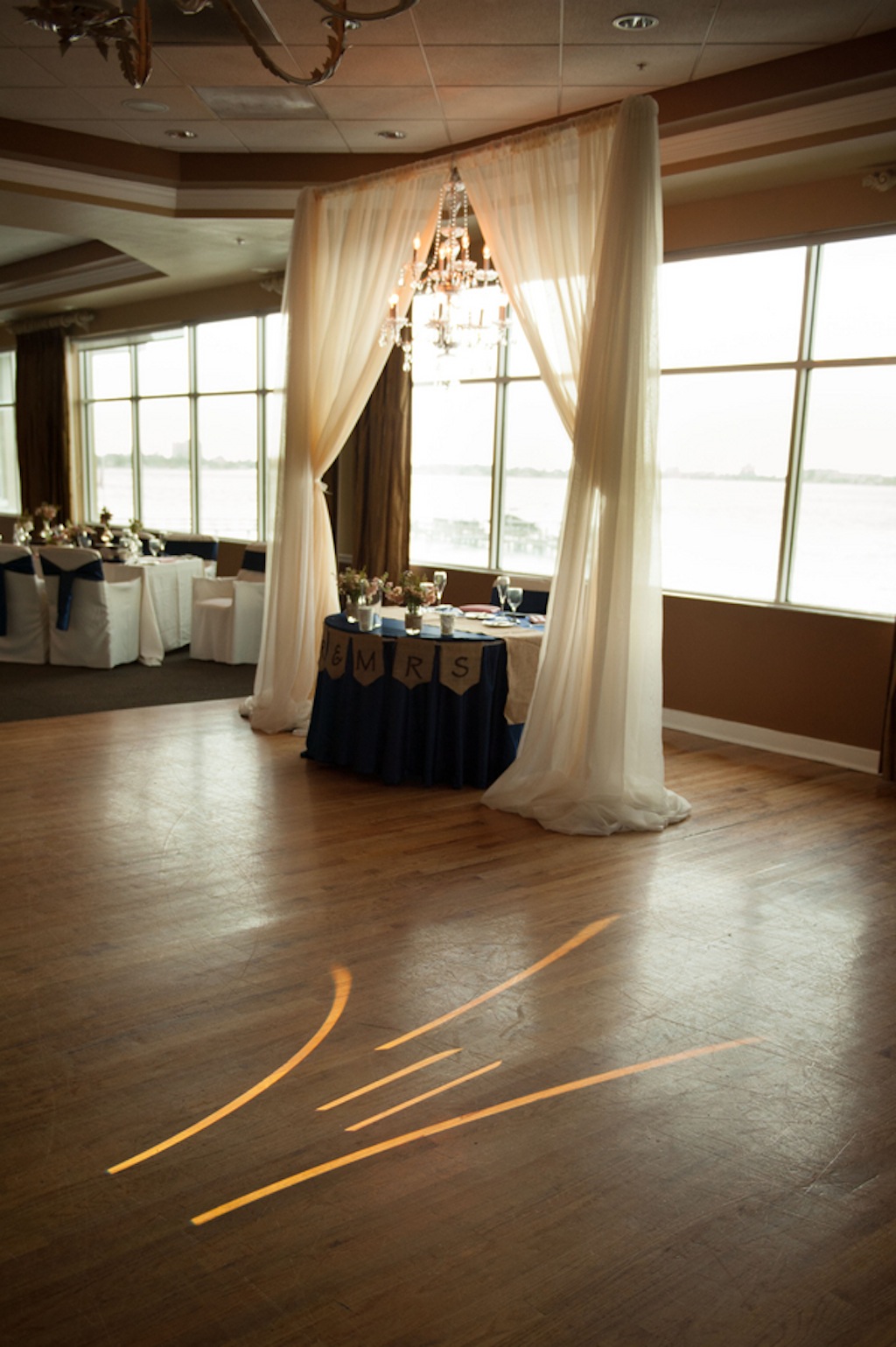 What made your wedding unique?
"Showing the Love" It was a special way to incorporate the memory of my mother, grandmother and other loved ones in a creative, joyful and celebratory manner. My grandmother was deaf and mother was an interpreter for the deaf. Rather than waving hello/goodbye, we would always wave "I Love You" with the American Sign Language hand gesture. In hand written letters, they would always sign their name alongside five little lines that represented the "I Love You Sign."
We asked people who could not attend the wedding to "Show the Love" by sending us pictures of them signing, "I Love You."  We also placed over 60 "I Love You" signs within the décor and requested our guests to find them all. Some were as blatantly obvious as being projected on the dance floor and others were as discrete as being hidden behind a flower on the wedding cake.
We also requested that guests take photos of themselves throughout the wedding signing "I Love You." After the cake cutting ceremony, we displayed a slideshow that included them all. We now have over 100 photos of our favorite people "Showing the Love."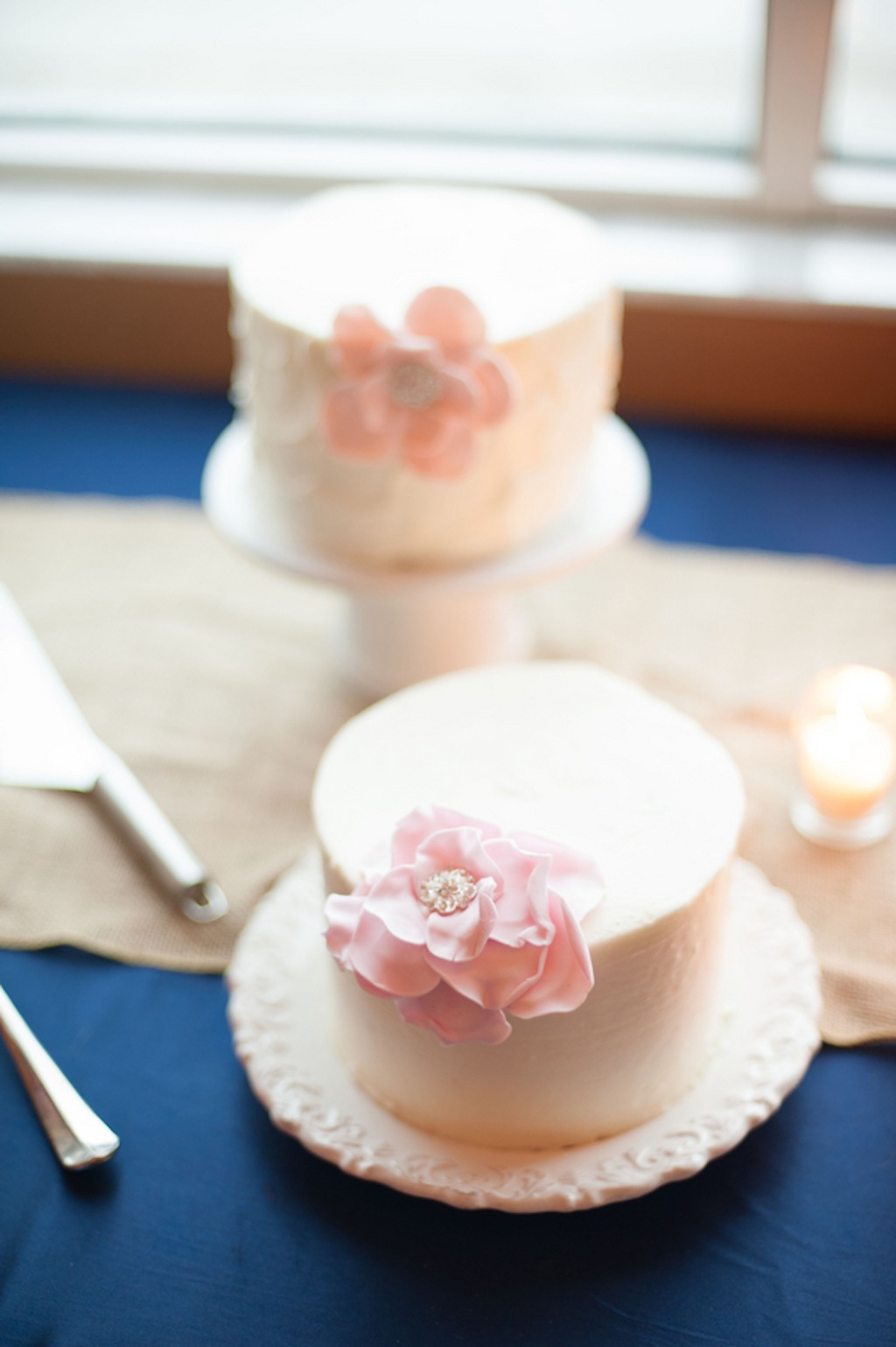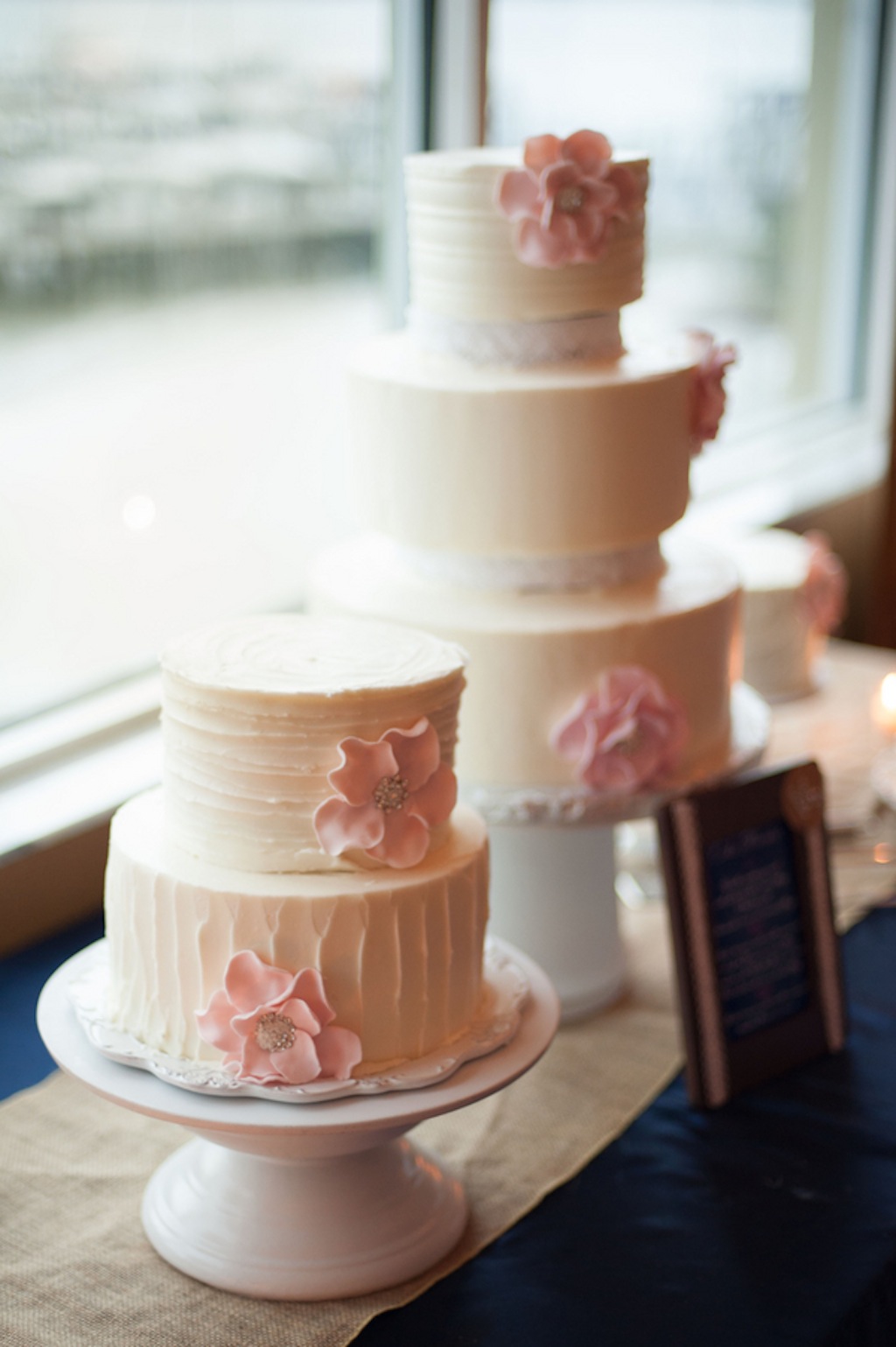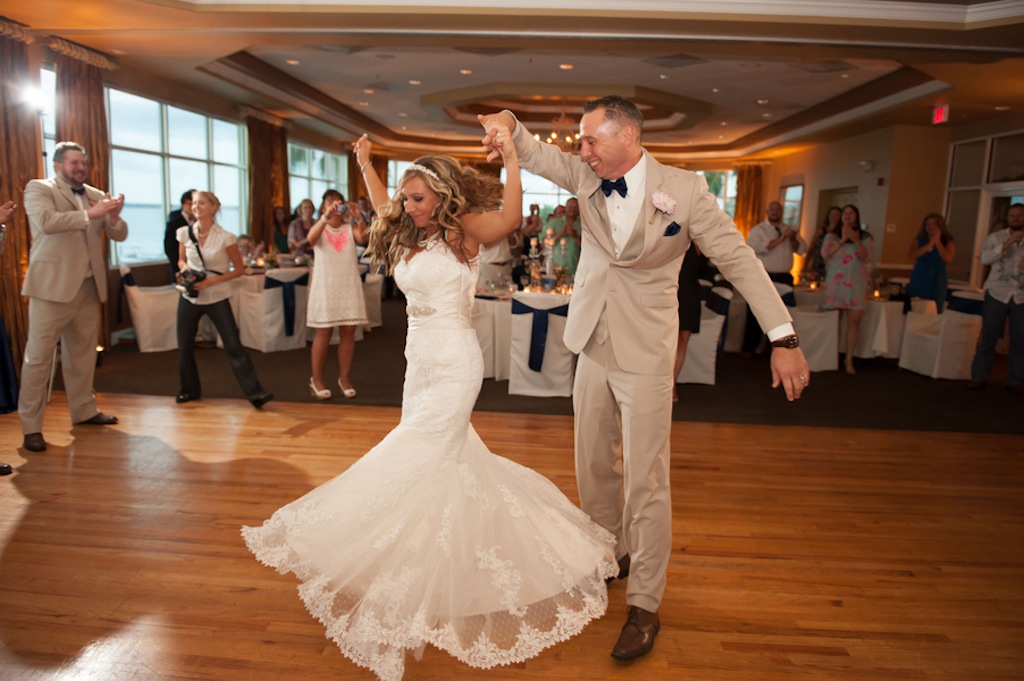 What advice would you give to other Tampa Bay Brides?
Find what truly makes your heart happy and incorporate it within your big day in a fun and creative way that is unique to you. You will smile from ear to ear every time you think about it for years to come.
Ceremony and Reception Venue: Isla Del Sol Yacht & Country Club *Preferred Marry Me Tampa Bay Venue
Photographer: Stephanie A Smith Photography
Videographer: Movie Magic Productions
Planner: Kimberly Hensley Events 
Florist: FH Weddings
Caterer: Isla Del Sol Yacht & Country Club
Rentals: Isla Del Sol Yacht & Country Club
Cake: A Piece of Cake 
DJ: RJ Vida
Officiant: Sensational Ceremonies – Rev. Rick Lacklore
Invitations: Karen's Paperie
Dress: The Dressing Room
Bridesmaid Dress: Macy's
Hair: The Bobby Pin Hair Gallery – Alix Padilla
Makeup: Lindsay Does Makeup *Preferred Marry Me Tampa Bay Vendor
AV Equipment/Slideshow: CT Enterprises