"Have you ever gone to the grocery store really, really hungry? And then you come back home with three packs of hollandaise sauce? (Does anyone know where hollandaise comes from?)
This is what it is like sometimes when you are looking for your hair and makeup inspiration pictures. You find a cut crease with heavily lined black eyeliner, and your hair inspo picture is a woman from Russia with two packs of extensions, and at that moment, you love it and add it to your Pinterest board while a single tear rolls down your cheek.
And then when you show the artist, and she excitedly executes the picture in record time; you turn around in the mirror and …kind of feel like a drag queen. (I think drag queens are amazing! I literally based my wedding hair off of my favorite drag queen. Shout out to Nikki Monet!)
Well, that is because you shopped for hair/makeup inspo while you were hungry. Que the hollandaise sauce!
And that's okay! This is your hair and makeup journey! And it's not over until you walk down the aisle. Plus, you can always return the hollandaise sauce.
So the moral of the story is that your hair and makeup trial is not the end of your glam journey. You might want to book a few hair and makeup trials or even have a Zoom call before your actual hair and makeup trial just to show your artist and get feedback. You don't need that much makeup to look camera ready. Make sure your feel be-YOU-tiful no matter what! I literally had a bride tell me she wanted to wear vaseline on her lips and nothing else; that broke my heart a little, but in the end, she looked and felt beautiful.
Your glam journey is YOUR glam journey and no one else.
So, make sure no matter what, you must feel beautiful from the inside out.
And just for the record, hollandaise sauce is delicious on asparagus, and I only returned one pack."
-Michele Renee, Artist/Owner, Michele Renee the Studio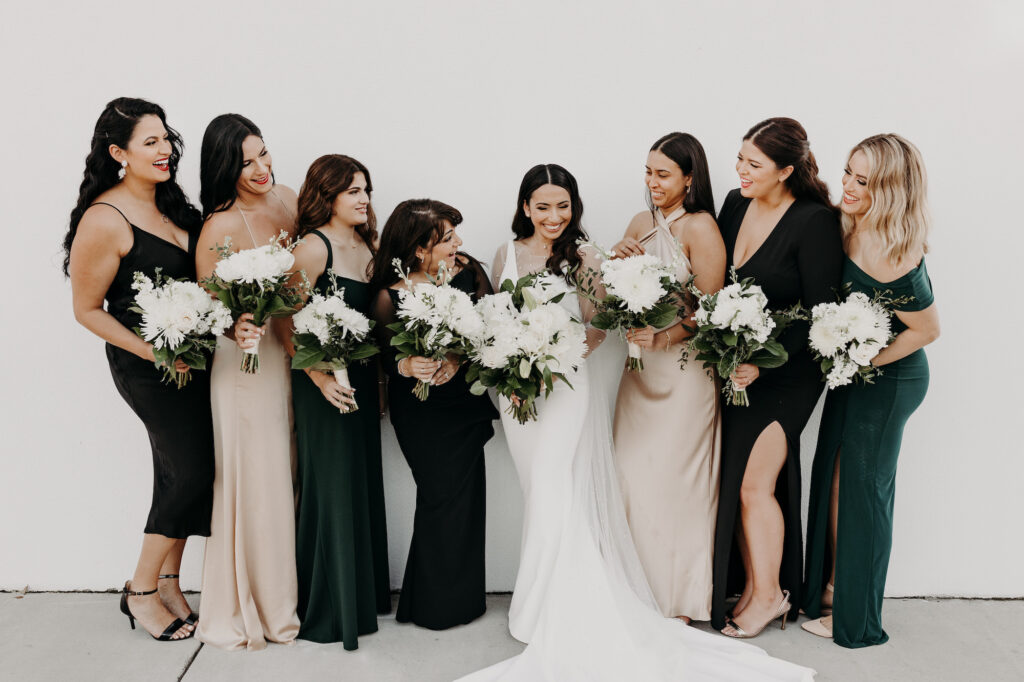 Dark and Moody Minimalist Downtown St. Pete Wedding | The Urban Stillhouse | Taylor Shea Photography | Michele Renee The Studio
---
1. Bring Wedding Hair and Makeup Inspiration Photos
"Making the most out of your bridal hair and makeup trial usually involves doing the proper research. Yes, we are professionals, but we cannot read minds. Arriving at your appointment with a clear vision of what styles you like will really help to focus the trial. Take into account the overall style and mood of your wedding and your dress. Is it classic? Romantic? Modern? Boho? This will also help you to choose a style. Play around a bit before coming to the trial; do you feel the most confident with your hair up, down, or half up? Bringing realistic inspiration photos featuring models with similar hair type, color, thickness, and length to your own is also a great idea. The same goes for makeup photos; try to find ones that have similar coloring and features to your own." -Christine Wheaton, Owner, Femme Akoi Beauty Studio
"Come prepared with inspirational photos or photos of past hair or makeup styles you had at a wedding. Be able to explain what you like (or don't like) about the photos." -Savannah Smith, Owner, Savannah Olivia Beauty Boutique
---
2. How to Prep For Your Trial
"Listen and follow the directions your stylist gives you before your trial! You will want to arrive with clean, dry hair and a clean makeup-free face. We always recommend washing it and blowing it out the night before. Blowouts can give the hair more volume and smooth away frizz. It's the perfect way to prep your hair! We want your face clean but always apply moisturizer immediately after washing your face. We want your skin to look plump and not dried out before you arrive at your trial appointment." -Savannah Smith, Owner, Savannah Olivia Beauty Boutique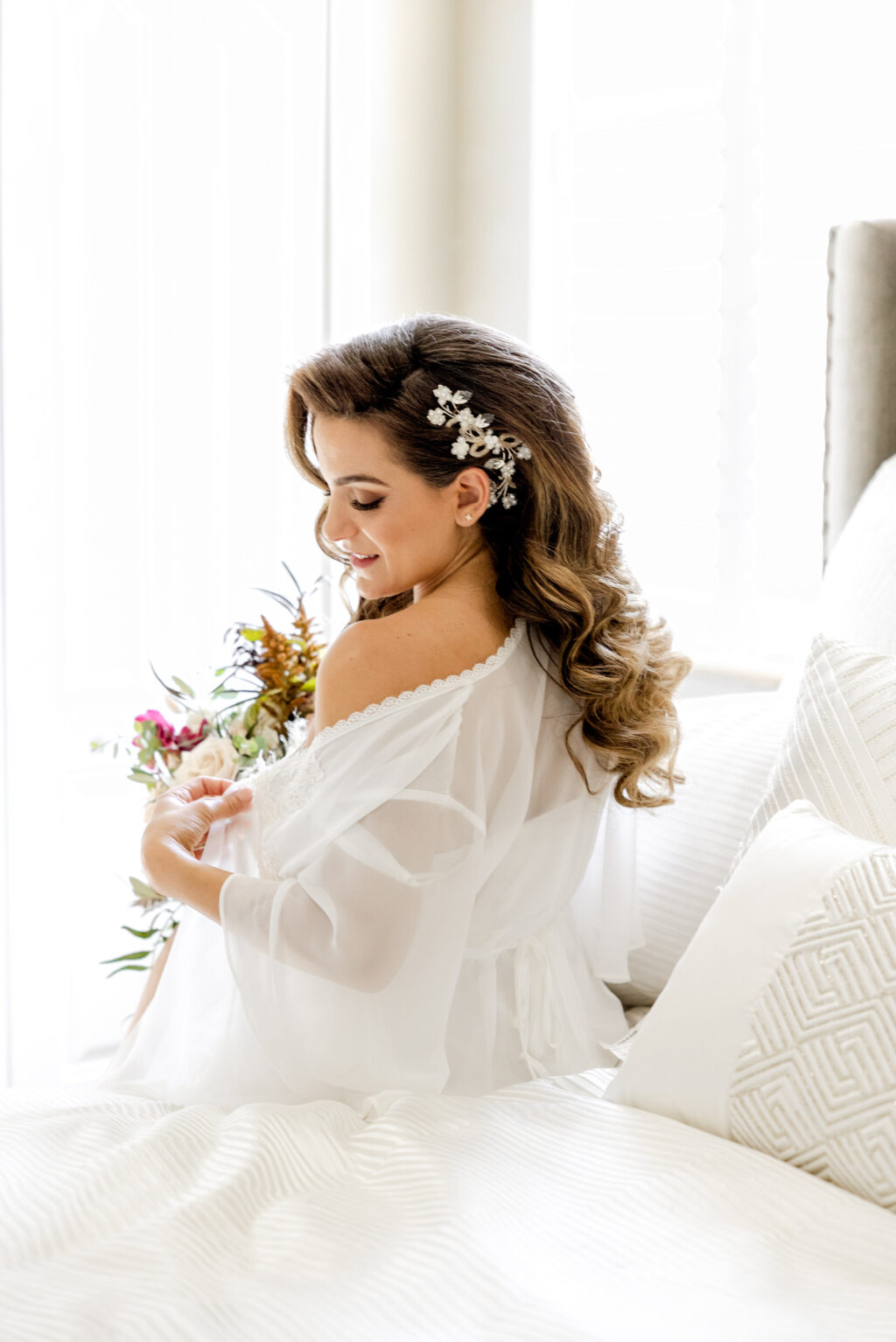 Luxurious, Fall, Boho Tarpon Springs Greek Wedding | Anastasiia Photography | Femme Akoi Beauty Studio
---
3. What to Wear To Your Trial
"Wear something cute. If you can wear something white or the same neckline as your dress, even better! Book those lunch reservations with friends or your fiancé after your trial appointment. You paid to get your hair and makeup done, so go do something fun after!" -Savannah Smith, Owner, Savannah Olivia Beauty Boutique
Wear something white to the trial, so you have a clean, fresh bridal backdrop to view the hair and makeup." -Christine Wheaton, Owner Femme Akoi Beauty Studio
---
---
4. Give Feedback During Your Trial
"Be honest and speak up! Your artist wants to make you feel beautiful! Know that for weddings and photos you will need to have on more makeup and hair products than you usually do. It may feel strange at first, but it will settle and photograph beautifully!" -Christine Wheaton, Owner Femme Akoi Beauty Studio
---
5. What to Do After Your Trial
Have fun! This isn't the wedding day…yet! So relax and enjoy! Try to arrange pictures after the trial, so you can see how it looks on camera. At the very least, plan a date night! -Christine Wheaton, Owner Femme Akoi Beauty Studio