With so many couples focusing on creating memorable experiences for their guests, we're seeing an increase in hiring live Tampa Bay wedding bands and musicians.
Speaking from experience, finding a live musician is a difficult task to handle on your own, so we recommend going through a Tampa Bay talent agency that can recommend a variety of musicians at varying price points. Trust us, there is a huge difference between hiring your neighborhood bar band and hiring professional musicians who understand weddings. Remember, your wedding entertainers will do more than only play music, they'll also be the MC for the night and play a huge role in your managing your wedding timeline.
We've found that most live ceremony musicians typically cost $275-$350 for one hour, while wedding bands range anywhere from $3,500-$8,000 for a 4-hour reception depending on the size and talent. To help with decision making process, here are four things you need to know about hiring live wedding entertainment.
Expert Advice for Hiring a Live Wedding Musician or Band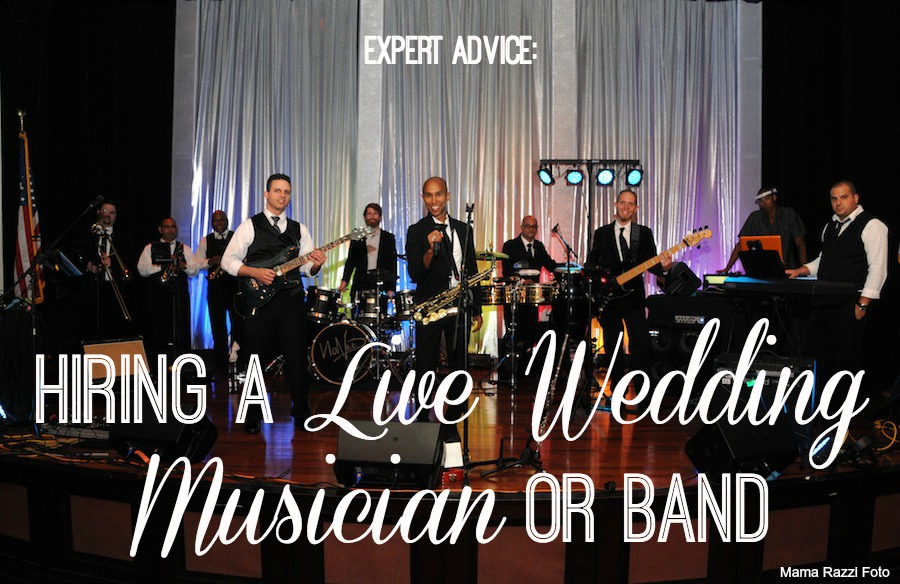 Find the Right Fit for Your Atmosphere
Pick a musician that fits your style while maintaining the atmosphere your wedding holds. Your musician should be able to provide music that flows from each aspect to the next: including the ceremony, cocktail hour, dinner and late night reception dancing. Many times couples think they would like something more classical like a harpist, but then choose music that's better fitting for a guitarist. The best advice is to determine what style of music you are looking for and then have your talent agency provide feedback as to what musician will fit the music best. -Cindy Dervech, Breezin' Entertainment
Does the band that you are considering play a wide variety of music? There are many bands that you can choose from, such as classic all around bands, a disco band, R&B/jazz, salsa band, etc. Whatever you choose, just make certain that they can play a variety of music that will cater to all ages so that no one feels left out. You can do this by reviewing their play list. Some bands have a tendency of playing what they want or what they are comfortable playing, so for this reason it is very important that you have say so on what songs will be played and what songs you do not want played at your wedding. You want to be involved in this part of the process, so that the band has a complete understanding of the guests and the energy that you would like to have at your wedding. -Eladio Linarte, Delite Entertainment
How Many Sets Will They Play?
You want to ask how often the band takes breaks and if they provide music that fits your style and taste in music between sets, through an iPod, laptop or other device. This will determine whether or not you need to hire a DJ to pick up the tempo of the party and keep the celebration fun and exciting on the dance floor. (This option may increase the cost of the entertainment). To avoid this, you will need to be very clear that the music that will be played during the breaks is consistent with the rest of the evening. In some cases, there might be songs that you would like to hear and dance to that are not part of the bands play list, so these songs can be played during the band's break. -Eladio Linarte, Delite Entertainment
Mainstream Band – Delite Entertainment
Do They Take Special Requests?
An important question to ask is if your wedding performer will be able to play your "First Dance" song or Father/Daughter or Mother/Son songs. If not, then will they be able to learn them? There are some bands that will do this at no charge provided that there is adequate time before the big day. -Eladio Linarte, Delite Entertainment
Does Your Performer Meet Your Venue Requirements?
Make sure your wedding performer is licensed, bonded, and insured. Most venues require this, so remember to tell your wedding location these details so that there are no big surprises before the big day. -Cindy Dervech, Breezin' Entertainment
It's very important to ask about any special power and stage requirements. (This is called a band stage rider). Also, factor in how much space the musician will need for their set up and make sure there is room left for the dance floor. -Eladio Linarte, Delite Entertainment