Every Tampa Bay wedding is meaningful and has its own unique touches, however Astrid and Gary's Ybor City wedding occurred under very special circumstances.
The Clearwater couple were gifted a free wedding by local Tampa Bay wedding vendors after applying for Black Sheep Bride's Wedding World Changer Day. Unlike most wedding giveaways, the main criteria for this dream wedding was that the bride and groom be actively involved in their community and donate 100 service hours to pay the goodness forward.
The groom is a firefighter in Palm Harbor, and the bride is studying pediatric occupational therapy and volunteers with her local church's children's ministry.
"They were planning for a wedding in a few years, however Astrid's mother's recent battle with cancer had them seeking ways to plan their wedding sooner. Out of the applications available the Tampa vendor team voted, and their story touched our hearts most," Black Sheep Bride editor Danielle Calhoun shared.
Astrid was the first to discover that she and Gary were chose as the deserving couple and surprised him at the fire station with the good news.
"I still wake up sometimes thinking it was all just a dream. Never in a million years did we think we would win, not just a free wedding, but the most stunning free wedding in the entire world!" the bride gushed. "It warms our hearts that all of these talented vendors put in so much hard work and dedication to give us our dream wedding in just one month."
The wedding came as a blessing during a dark, personal time for the bride.
"I do not think any of the vendors knew this, but for me personally this was a life changing experience. Ever since my mom was diagnosed with cancer I have had a really difficult time getting through life. I went from being this energetic and outgoing person to wanting nothing to do with anything or anyone. I started shutting out many people in my life because I was afraid of being hurt," the bride revealed. "I truly believe that this was more than just a free wedding and that God put all these amazing people in our lives to remind us that there is still a lot of good out in the world. I am forever thankful because now I can be the wife that Gary deserves."
The bride and groom plan to pay forward their good fortune by volunteering with Laundry Love.
"Gary and I decided we want to get involved with several non-profit organizations. The Laundry Love project offers free laundry days in low income neighborhoods," Astrid explained. "There are not enough words to describe the gratitude we have for everyone involved in this process, and I just pray that we make them proud with how we pay it forward."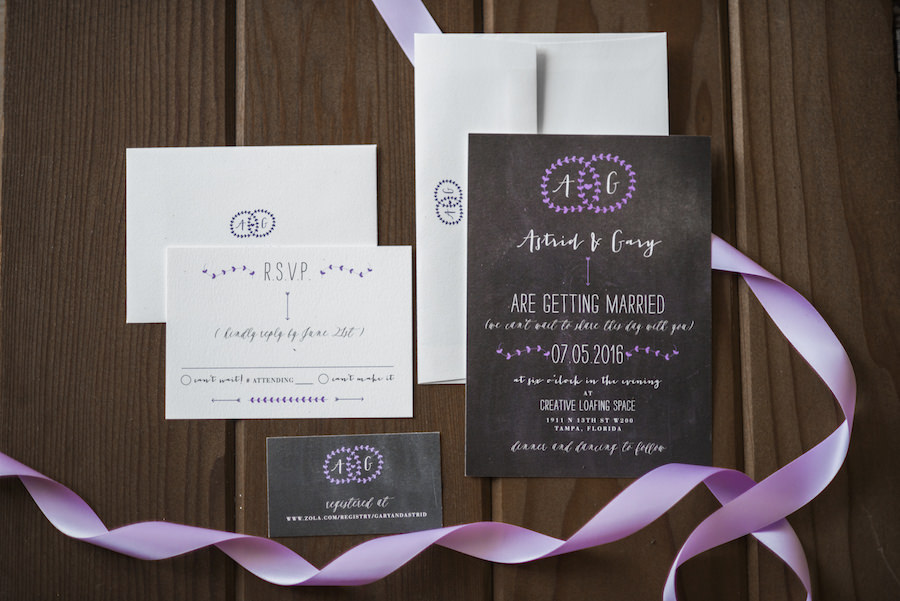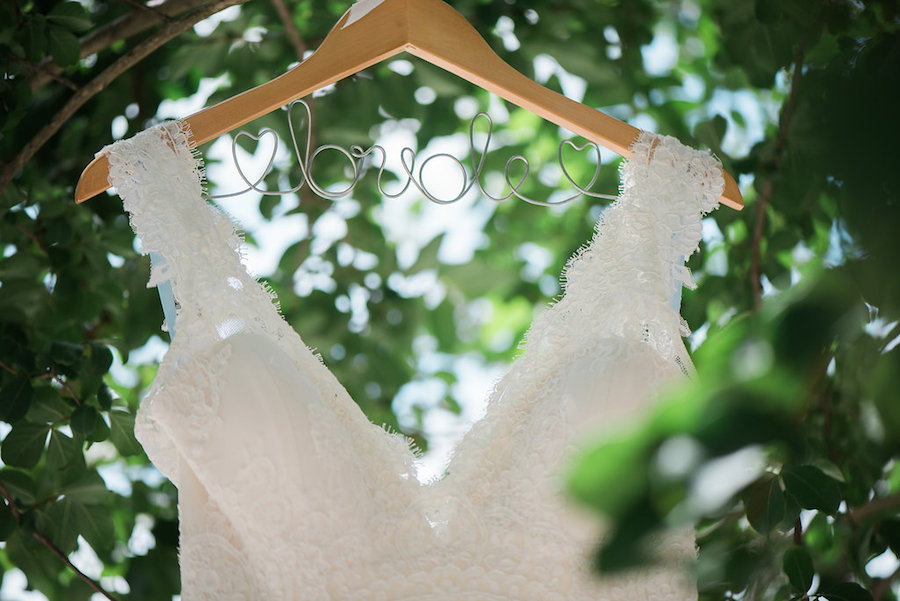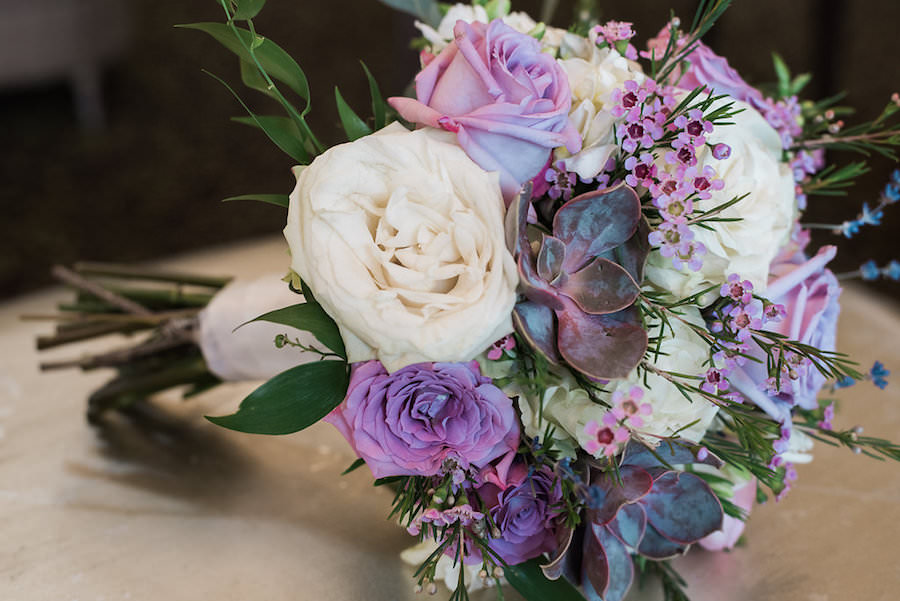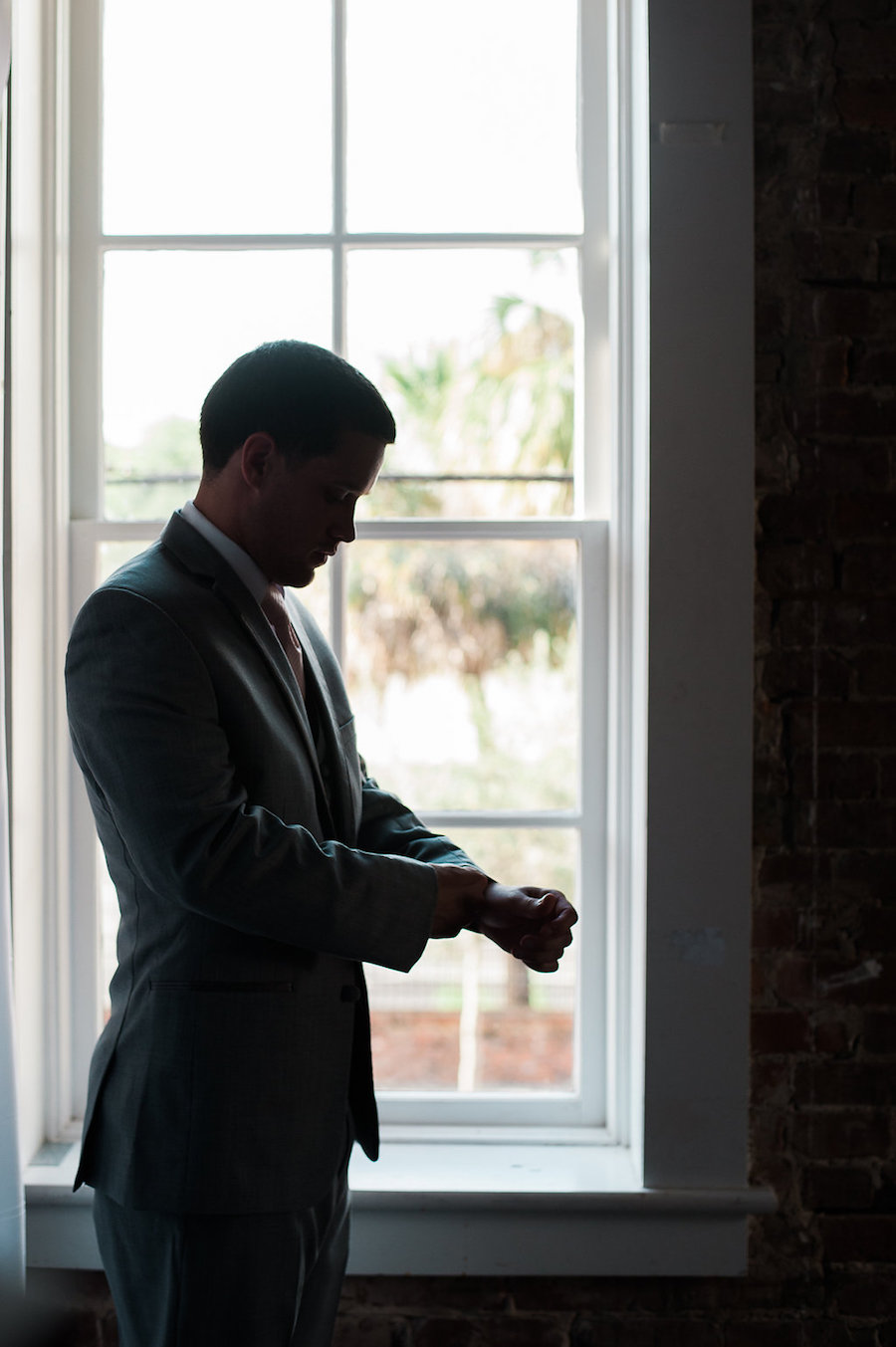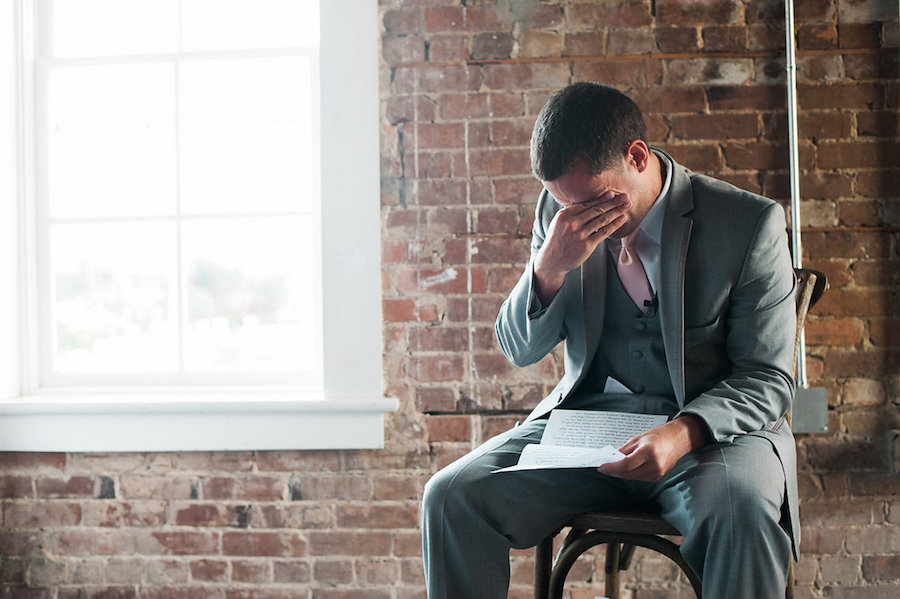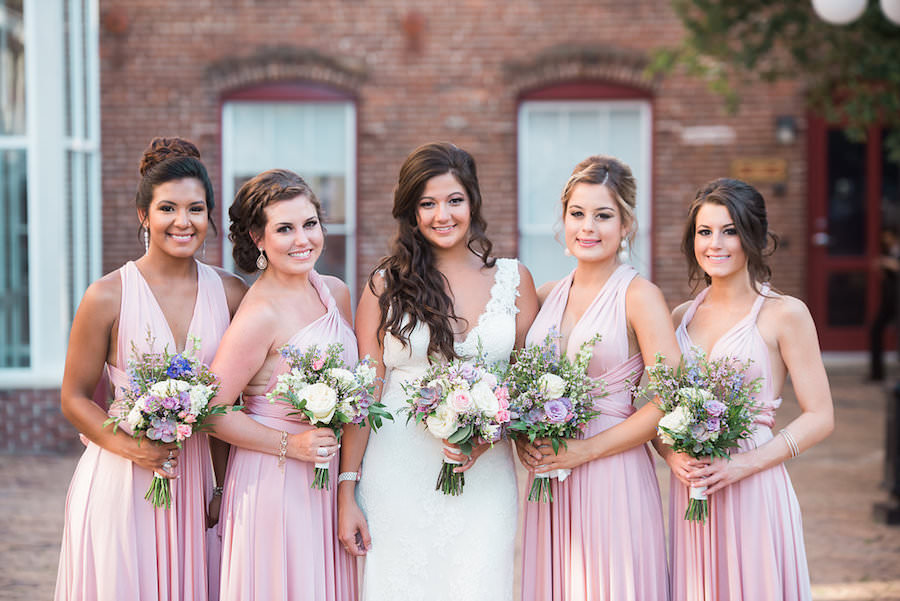 What was your hair and makeup inspiration?
I wanted my hair down and to look natural.

I was extremely nervous for hair and makeup because I have never liked how I look after getting everything done professionally, but Michele Renee The Studio was so amazing! I was obsessed with my hair and makeup. Michele made me feel so comfortable and beautiful, and I am forever grateful for that.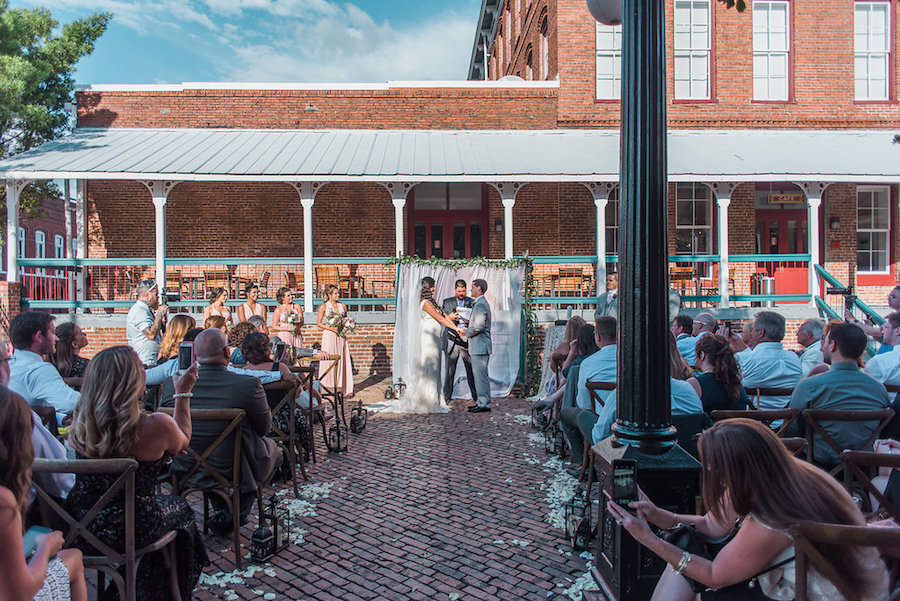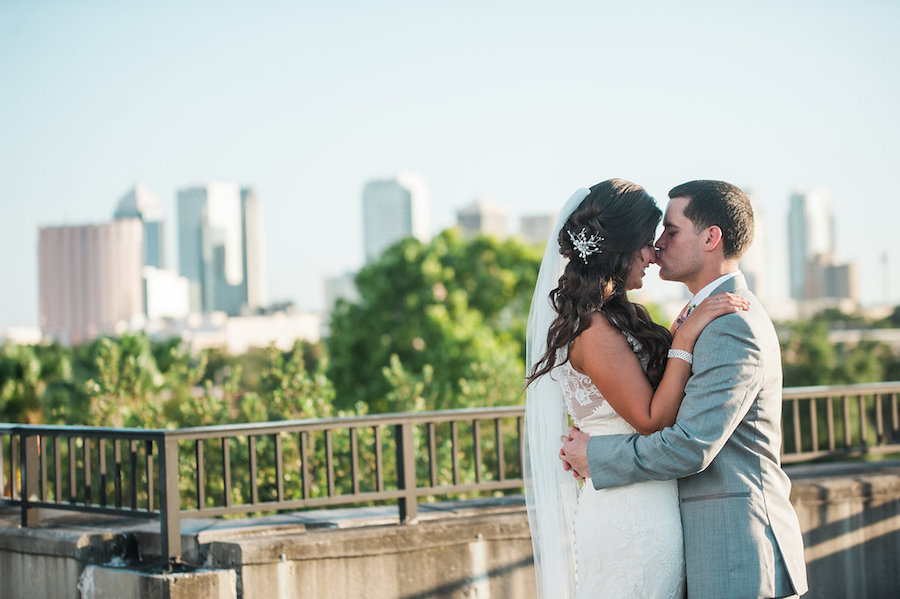 The Proposal:
Gary and I have been together for a little over six years. He finally proposed in February at Philippe Park in Safety Harbor. I don't remember much of the actual proposal, because I was in extreme shock, but I do remember that we started our day "normal" shopping at IKEA. It was extremely rainy, and Gary was mad because of the weather. I thought he was being such a big baby, and I tried canceling our date that night because he was annoying me. Little did I know that his lame attitude had to do with an outside proposal later that night.
Next thing I knew we were on our way to Philippe Park with a photo album filled with pictures of the past six years. The last several pages were photos of him and I catching the bouquet and garter at weddings, and the very last photo was an engagement ring. After he proposed, our family members were hiding all around the area, and they jumped out screaming in excitement.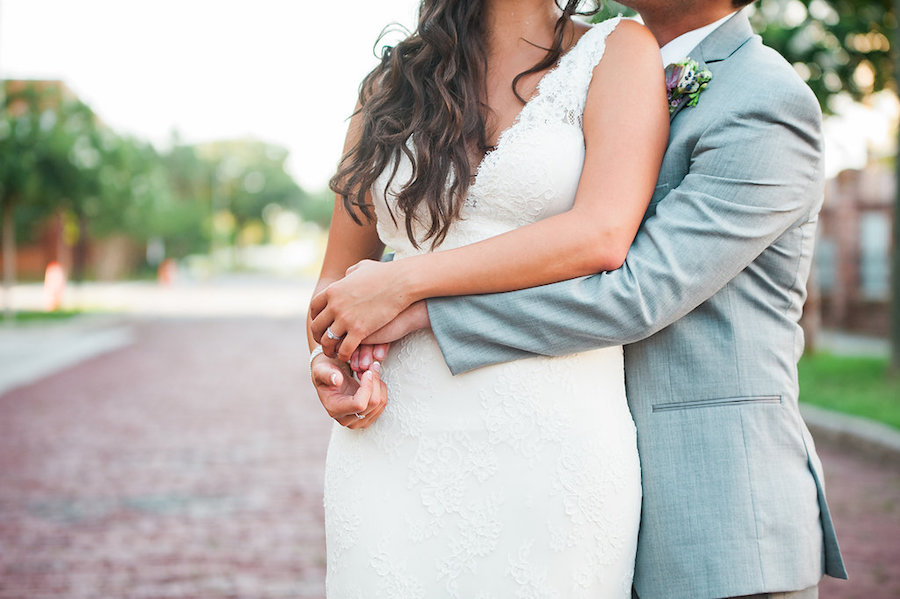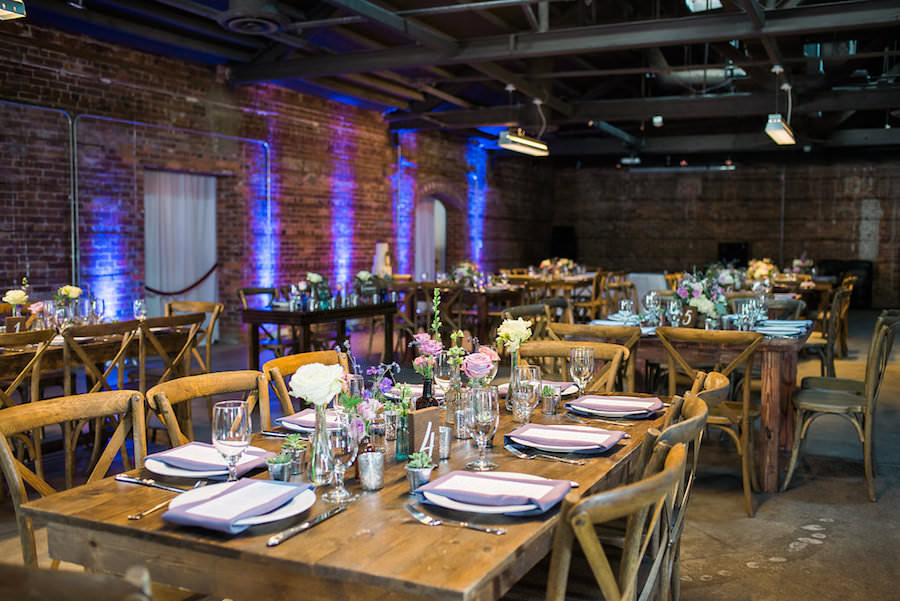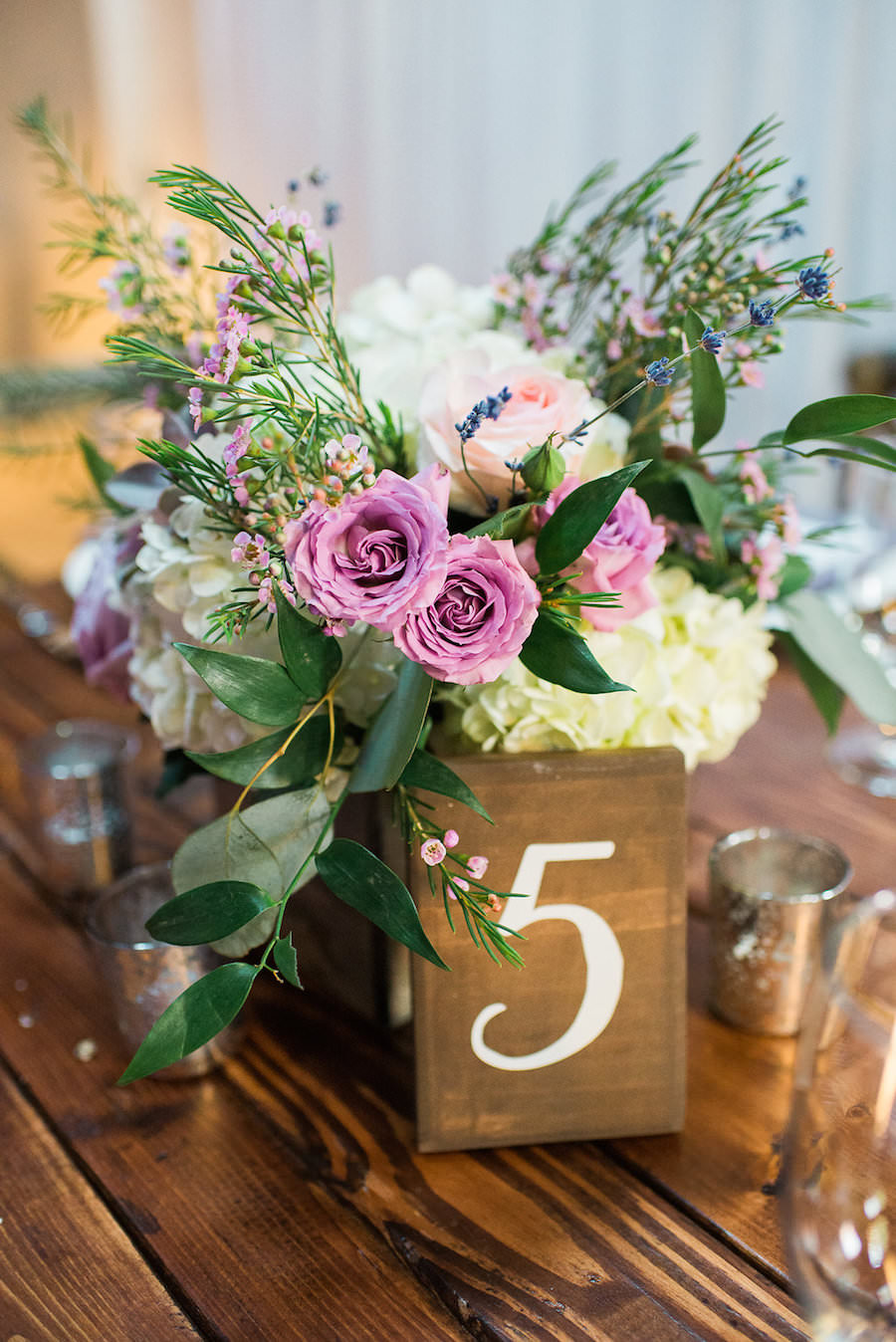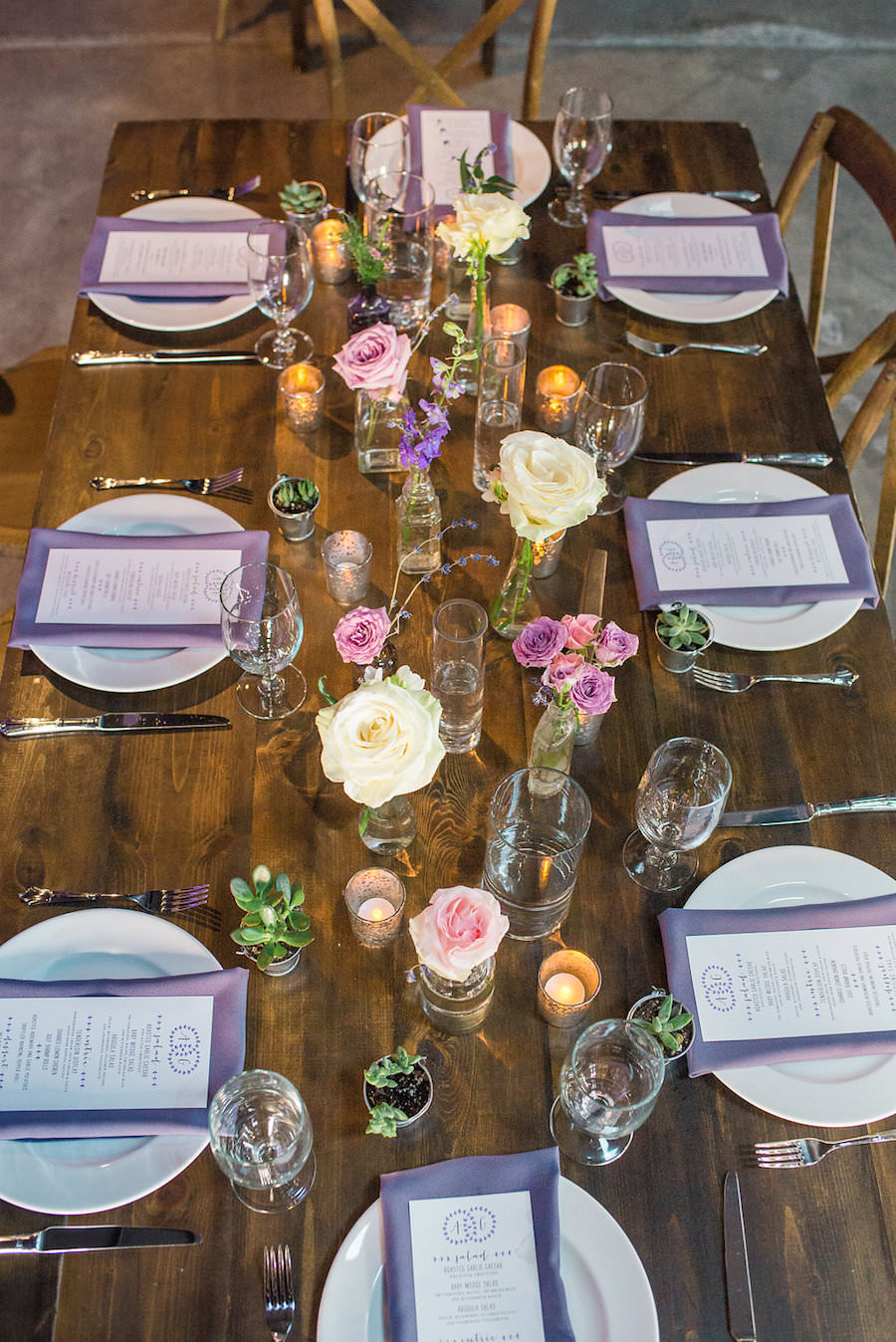 How would you describe your theme? 
Rustic garden. I wanted a rustic, Joanna Gaines type of look with succulents. I literately made a Pinterest board with maybe six photos of what I envision and my vendors brought my dream wedding to life. I loved that the design team was able to keep things simple yet romantic.
What were your colors?
Cream, blush and lavender.
What was your floral inspiration?
I wanted succulents.
After spending one minute with Andrea of Andrea Layne Floral Designs we had an instant connection, so I just let her do her thing. When she delivered by flowers, I cried. They were stunning. Any bride would be bonkers not to choose Andrea Layne Floral Designs for their wedding.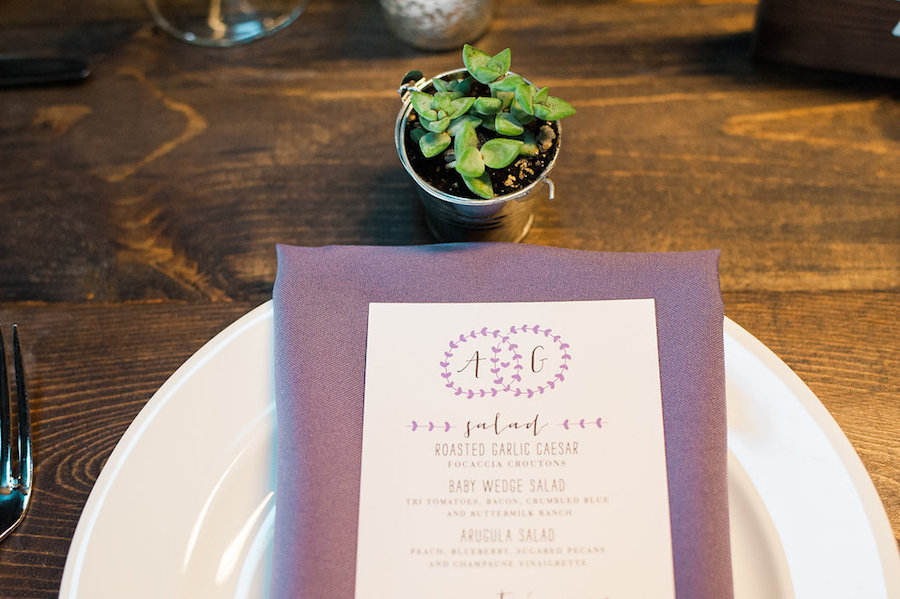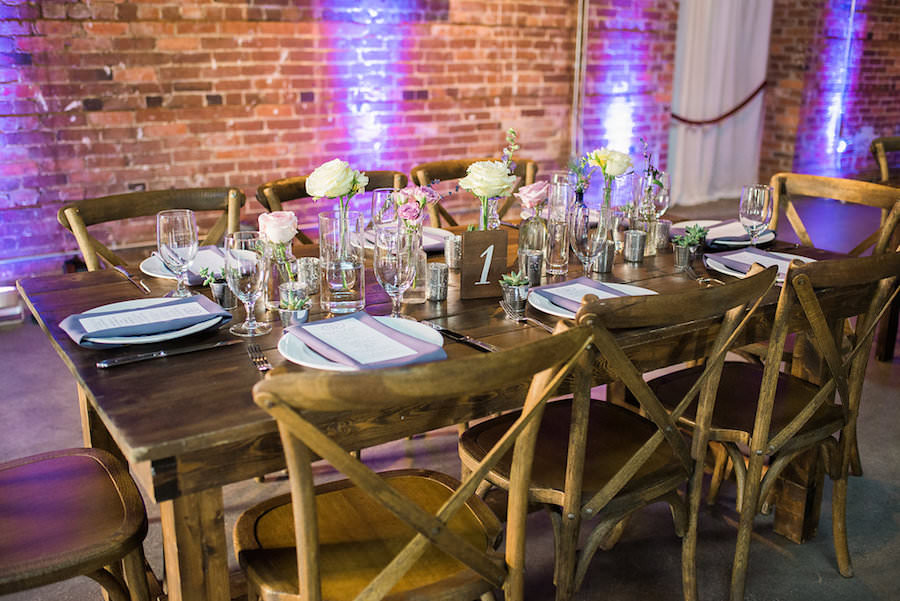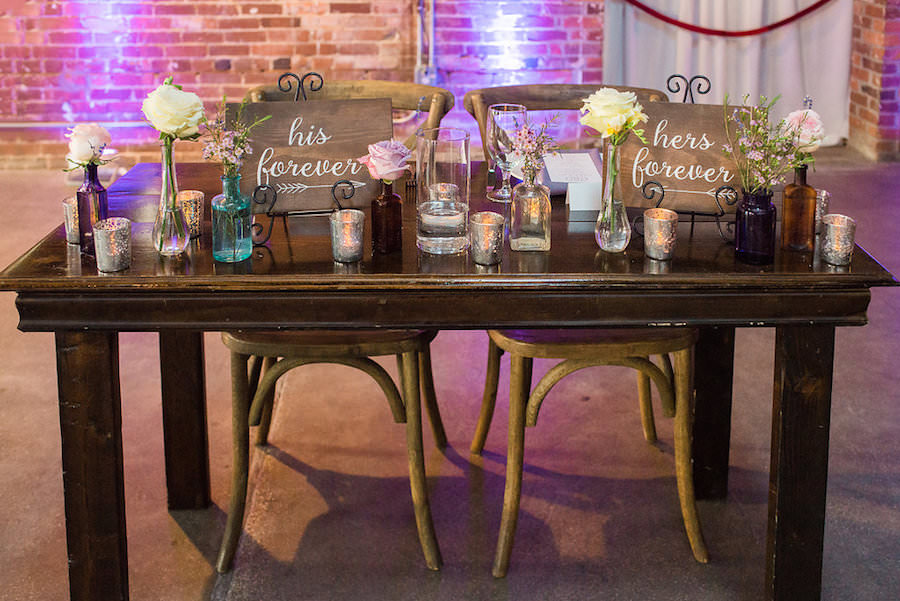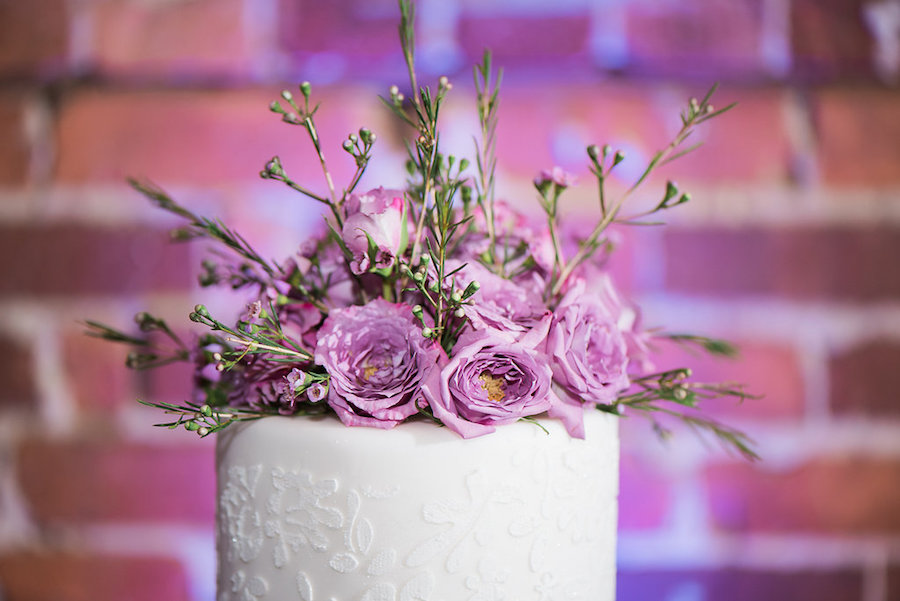 What was your cake inspiration?
We wanted simple, white and lace wedding cake.
Trudy Melissa Cakes delivered the most gorgeous and delicious cake ever! Everyone should book a cake testing trial with Trudy; she is so much fun and all of her cakes are yummy. The hardest part was narrowing down flavors; we wanted them all!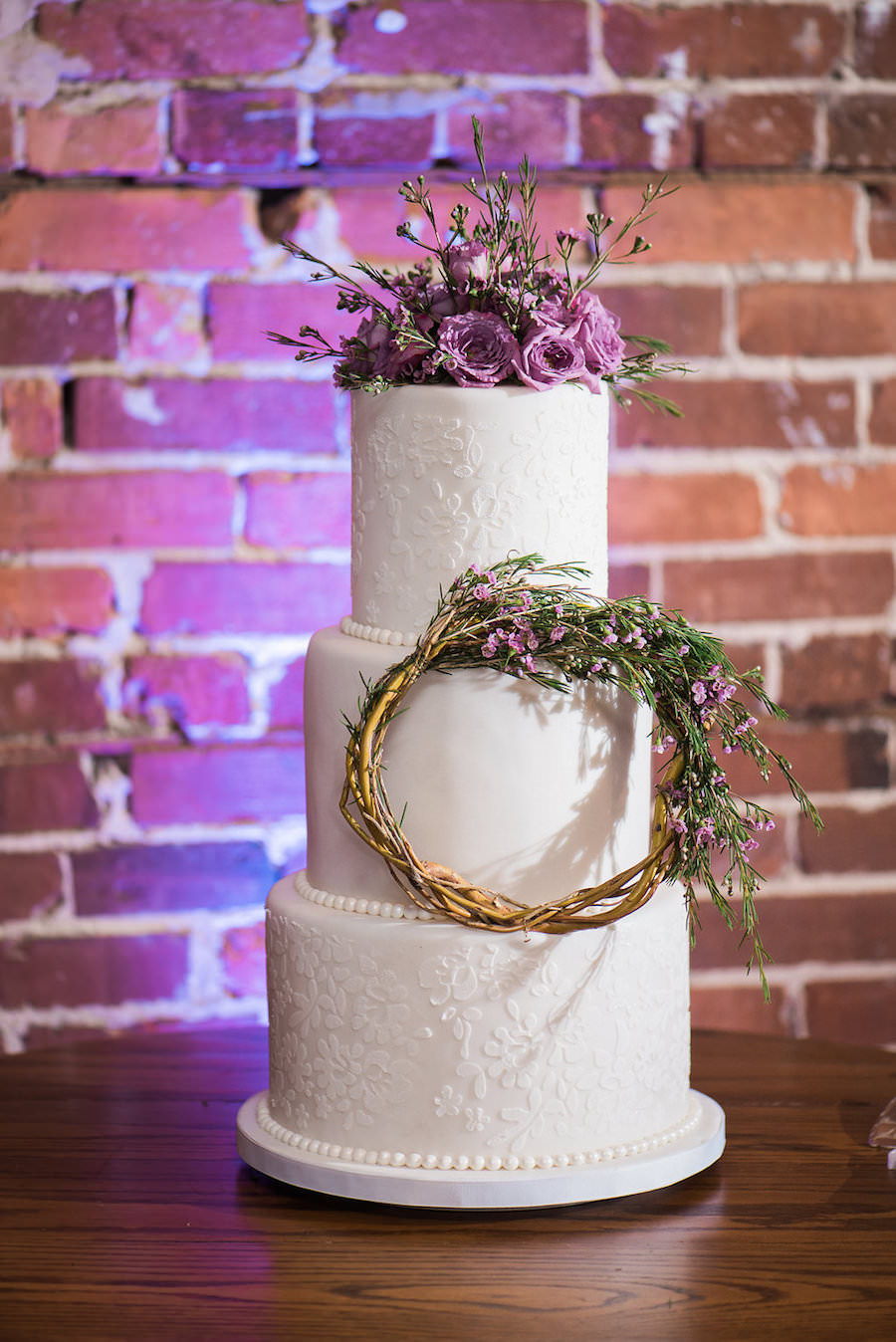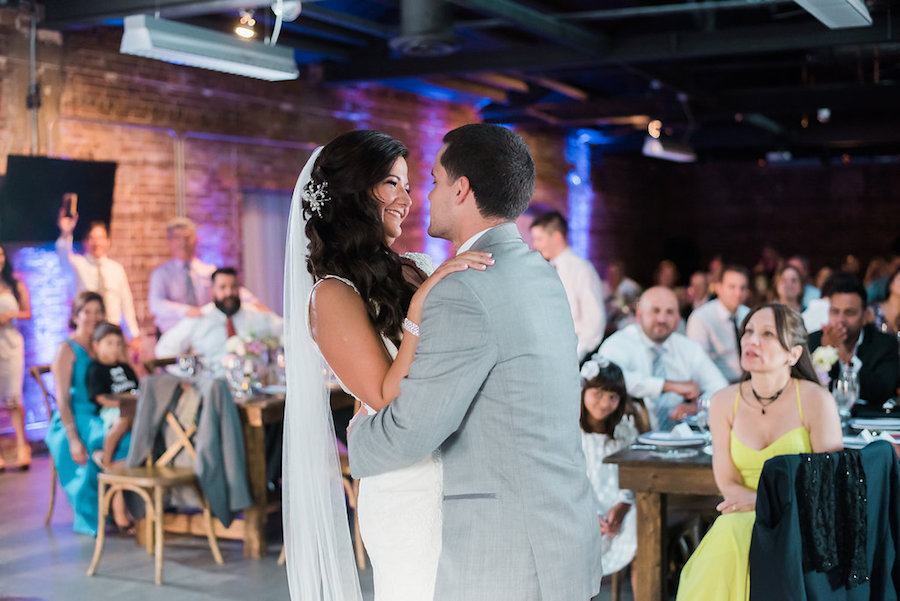 What was your wedding music inspiration?
I am an extremely shy person and very rarely do I dance.

Graingertainment had me dancing from the second Gary and I were introduced for the first time as husband and wife until the very end. They were so awesome! Our DJ Chris definitely made the reception come to life.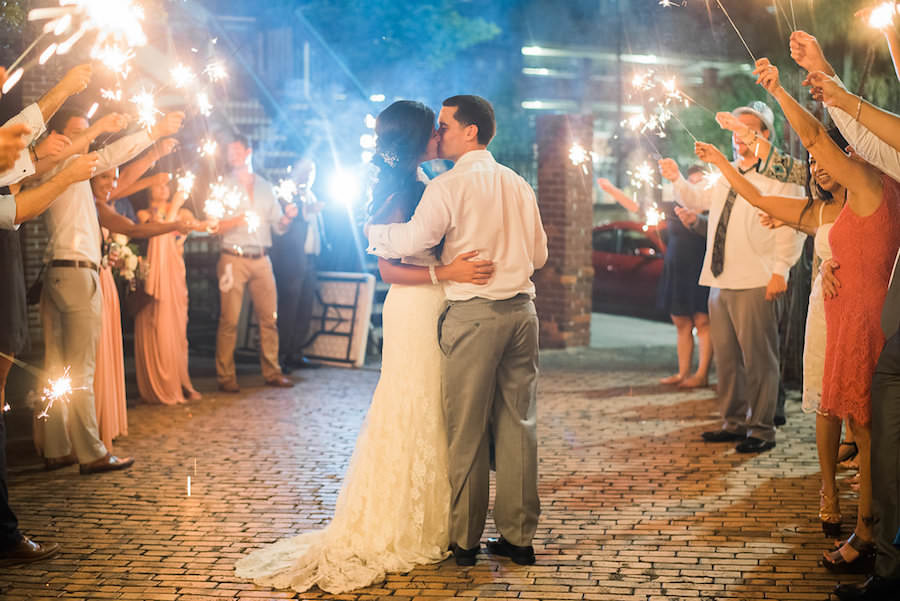 What advice would you give to other Tampa Bay Brides?
This day is all about you and your husband! Do not ever lose sight of that. Things can and will go wrong, so do not waste time or energy on trying to fix everything.
It will fly by, so make every second count. Best advice I have is to scroll down and use all of the vendors listed. They all have hearts of gold and a passion for what they do!
Wedding Word Changer Organizer: Black Sheep Bride
Ceremony and Reception Venue: CL Space
Photographer: Jeanine Leigh Photography and Green Pearl Photography
Videographer: The Portos
Planner: Oh Hello Events
Florist: Andrea Layne Floral Design
Succulents: The Succulent Source
Lavender: Tin Can Event Company
Cocktail Hour Caterer: Chalkboard Food Truck
Caterer: Tastes of Tampa Bay *Marry Me Tampa Bay Preferred Wedding Pro
Bartender: Mix it Up
Ceremony Altar/Escort Card Display/Rentals: WISH Vintage Rentals
Ceremony Design: Bourbon and Blush Events
Reception Design: Amber Veatch Designs
Rectangular Farm Tables, Chargers: Set Event Rentals
Linen Rentals: Kate Ryan Linens
Chairs, Square Tables, Dinnerware, Flatware, Glass Rentals: A Chair Affair *Marry Me Tampa Bay Preferred Wedding Pro
Pipe and Drape: Coast to Coast Rentals *Marry Me Tampa Bay Preferred Wedding Pro
Cake: Trudy Melissa Cakes
DJ: Graingertainment *Marry Me Tampa Bay Preferred Wedding Pro
Officiant: Bride's Brother
Stationery and Invitations: Citrus Press Co.
Dress Shop: The Bride Tampa *Marry Me Tampa Bay Preferred Wedding Pro 
Bridesmaid Dress Shop and Designer: Two Birds Bridesmaid
Tuxes: All Brides 2 Be
Hair & Makeup: Michele Renee The Studio *Marry Me Tampa Bay Preferred Wedding Pro