As native Floridians, it was only natural that Carli and Curtis marry with their toes in the sand.
"I remember our first date like it was yesterday. I remember all of them actually, and all of our dates always took place out on or around the beach. This is why a beach wedding was a perfect fit for us," the bride reminisced. "We spent years talking about our dream wedding, always just Curtis, his daughter and myself on the beach at sunset. No shoes, just the three of us and the officiant taking our vows.
After an emotional proposal, the Pinellas Park couple let life get in the way of their wedding planning and put off their dream wedding. That is, until last summer when they went full-speed ahead with the nuptials.
"We got a little break and decided to just go for it. Our wedding date was set for September 20, 2014."
With only a few months to plan, Carli and Curtis hired St. Pete wedding planners Tide the Knot Beach Weddings.
"Tide the Knot provided all of the things we were looking into individually for a wedding all wrapped up into a perfect package that seemed to be built just for us!" the bride gushed. "The prices were more than competitive, and it just seemed so much easier to procure their services, and a lot less stressful! I reached out to Tide the Knot and immediately the ball began to roll."
On the suggestion of their wedding planners, the pair held a Pass-A-Grille beach wedding, just south of St. Pete Beach.
"Honestly this location was not one we had considered, but turned out to be the perfect spot for a wedding!" Carli exclaimed. "Nowhere else could we have a beach wedding and still have what felt like a traditional wedding ceremony. There was even a beautiful little bridge that served as an aisle for Kyana and myself to walk over, it was beyond perfect!"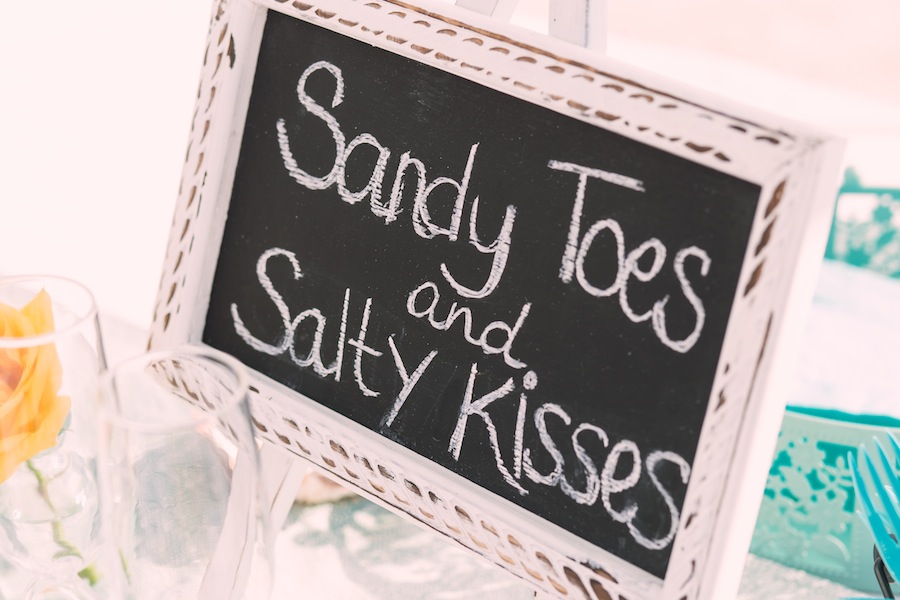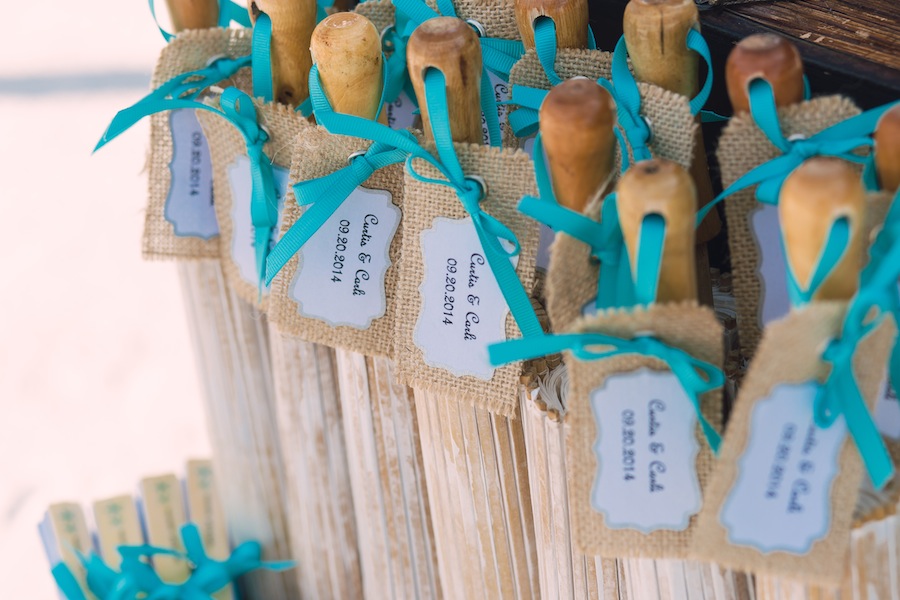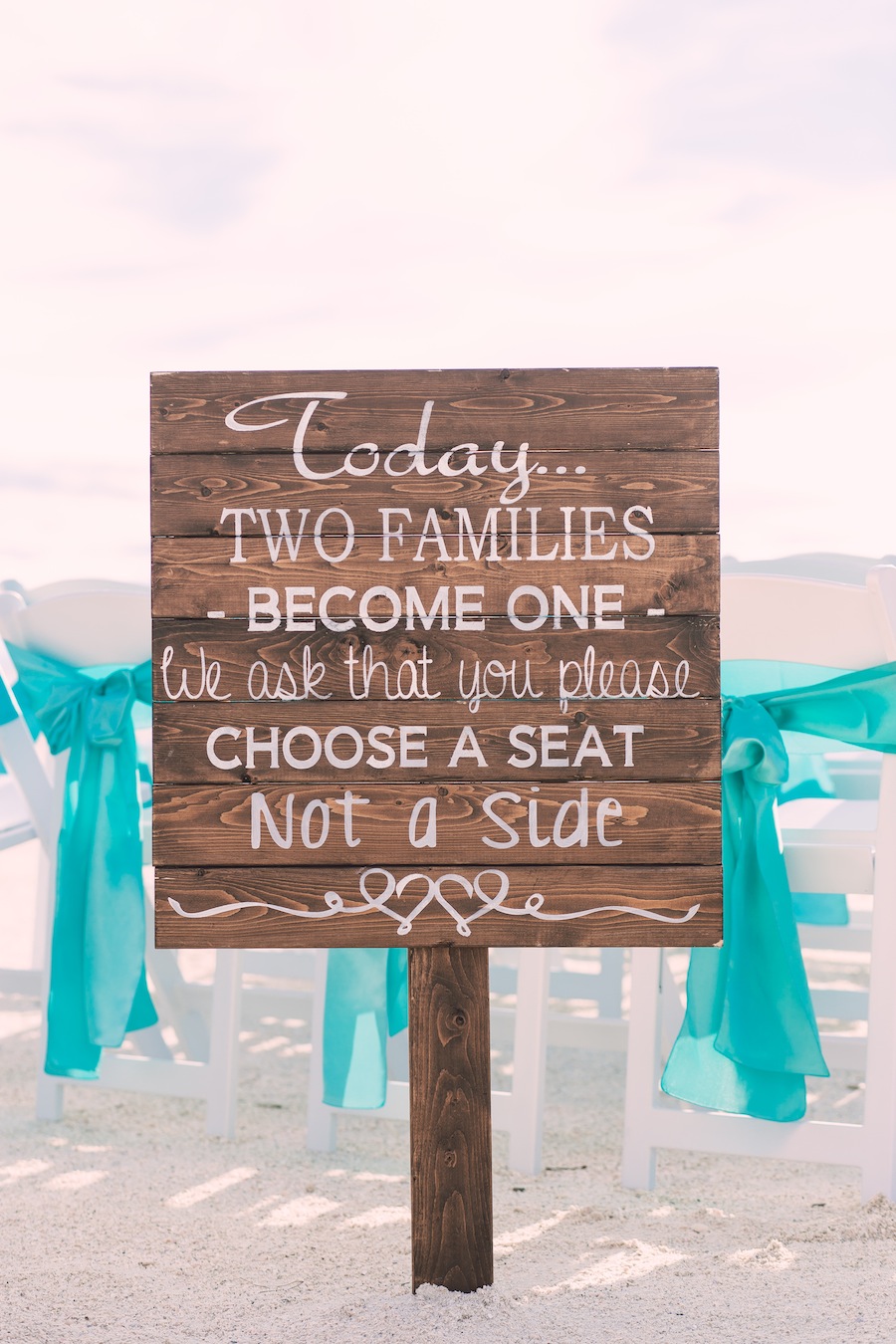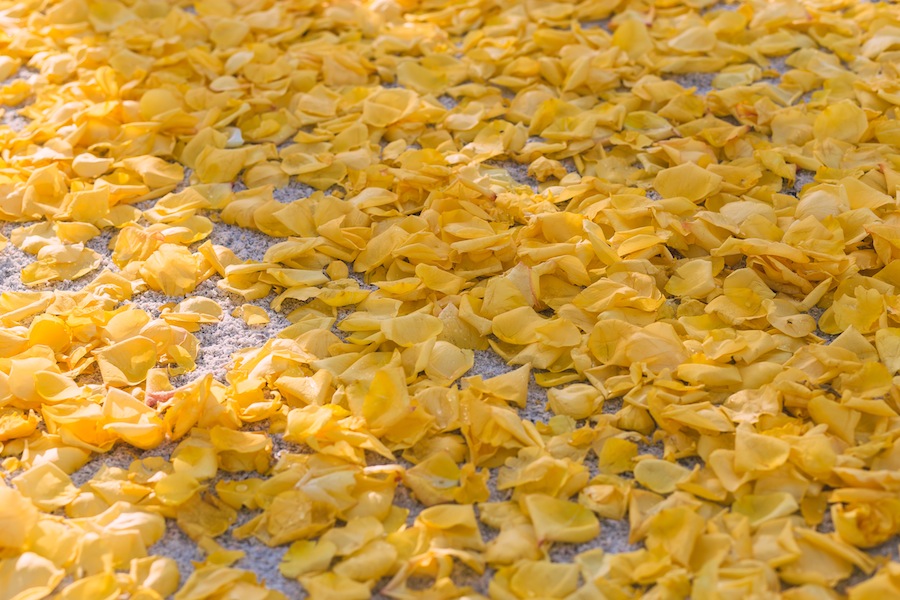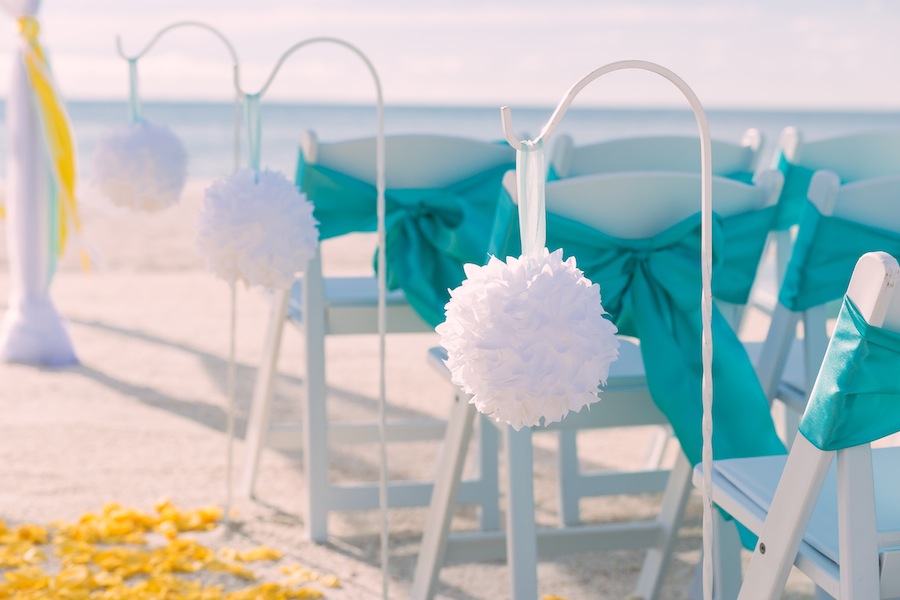 Why did you hire a wedding planner?
Planning a beach wedding, or any wedding for that matter, consists of a lot of details and can be quite overwhelming when you're supposed to be focused on and enjoying the happiest moment of your life. It was just so much easier to let someone else deal with making sure everything was taken care of.
We chose Tide the Knot Beach Weddings because from the very beginning they made me comfortable and immediately helped put everything into perspective.
To be honest I think we actually saved money by hiring Tide the Knot than if we would have paid each vendor individually! We were able to have everything we wanted for our special day plus some, all provided through one vendor. Everything from choosing our vows, on-site coordinator the day of the wedding, flowers, ceremony officiant, permits, filing of the wedding license, sand ceremony, pouring the champagne, photographer, steel drummer, all of décor, wedding cake, clean-up of the event, I mean literally you name it, and they provided it!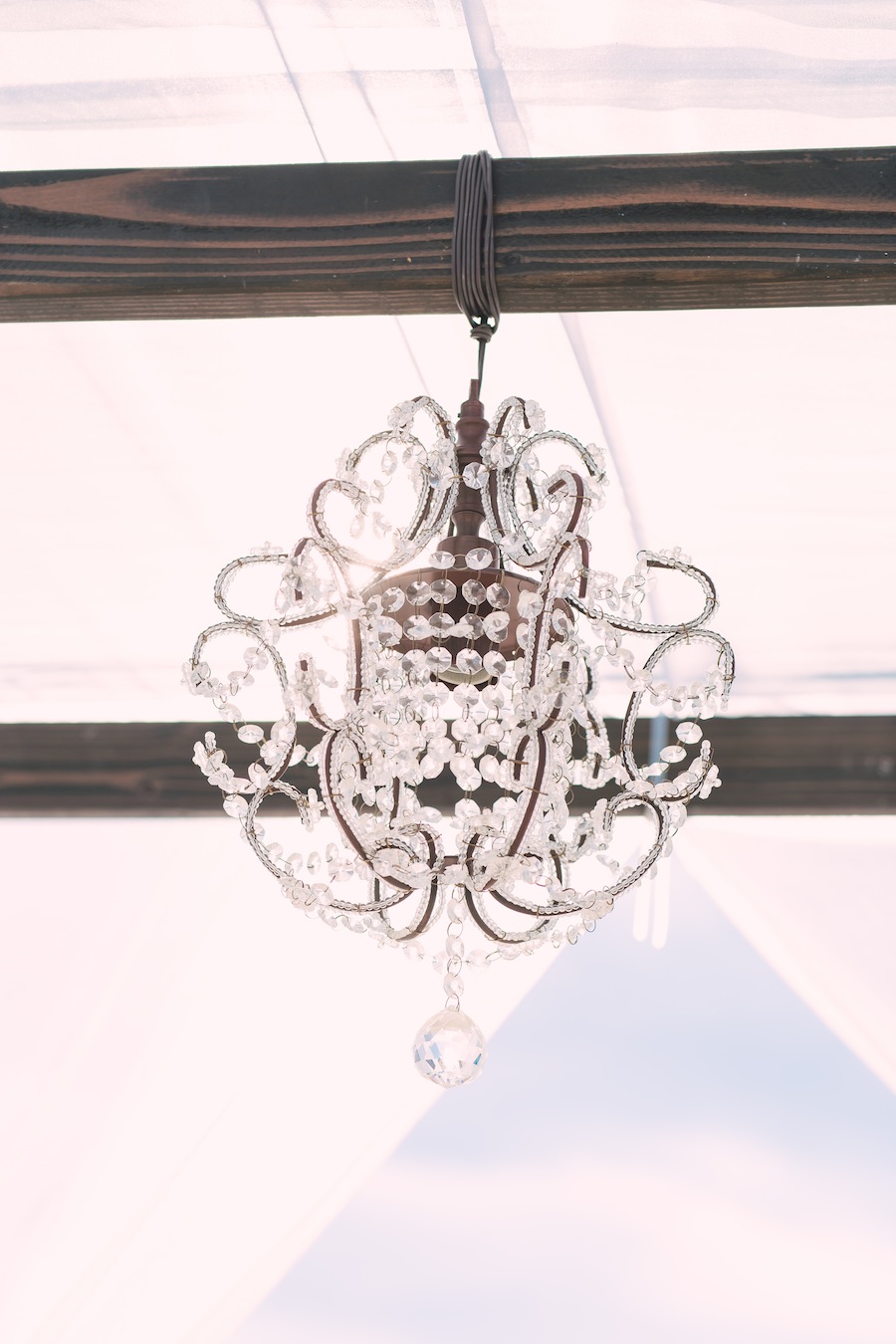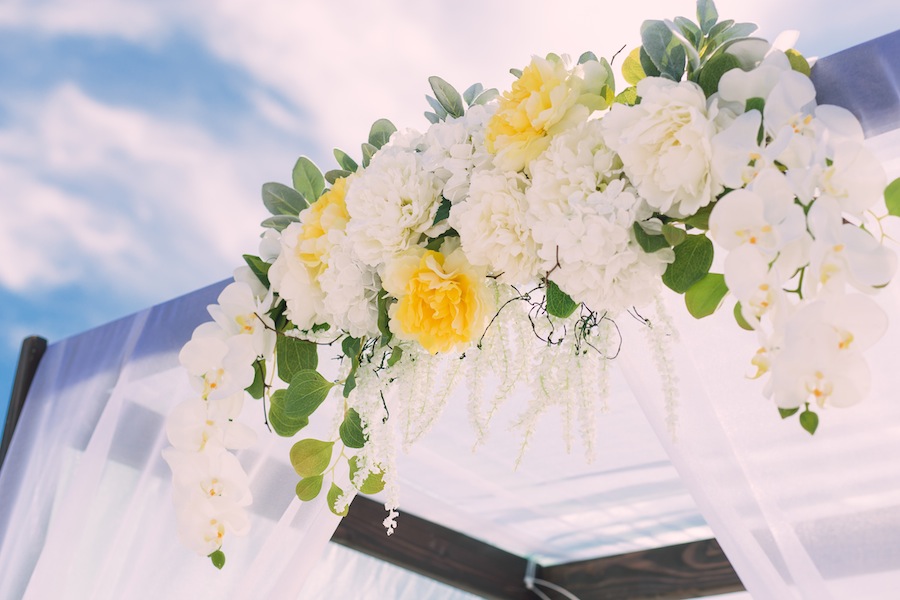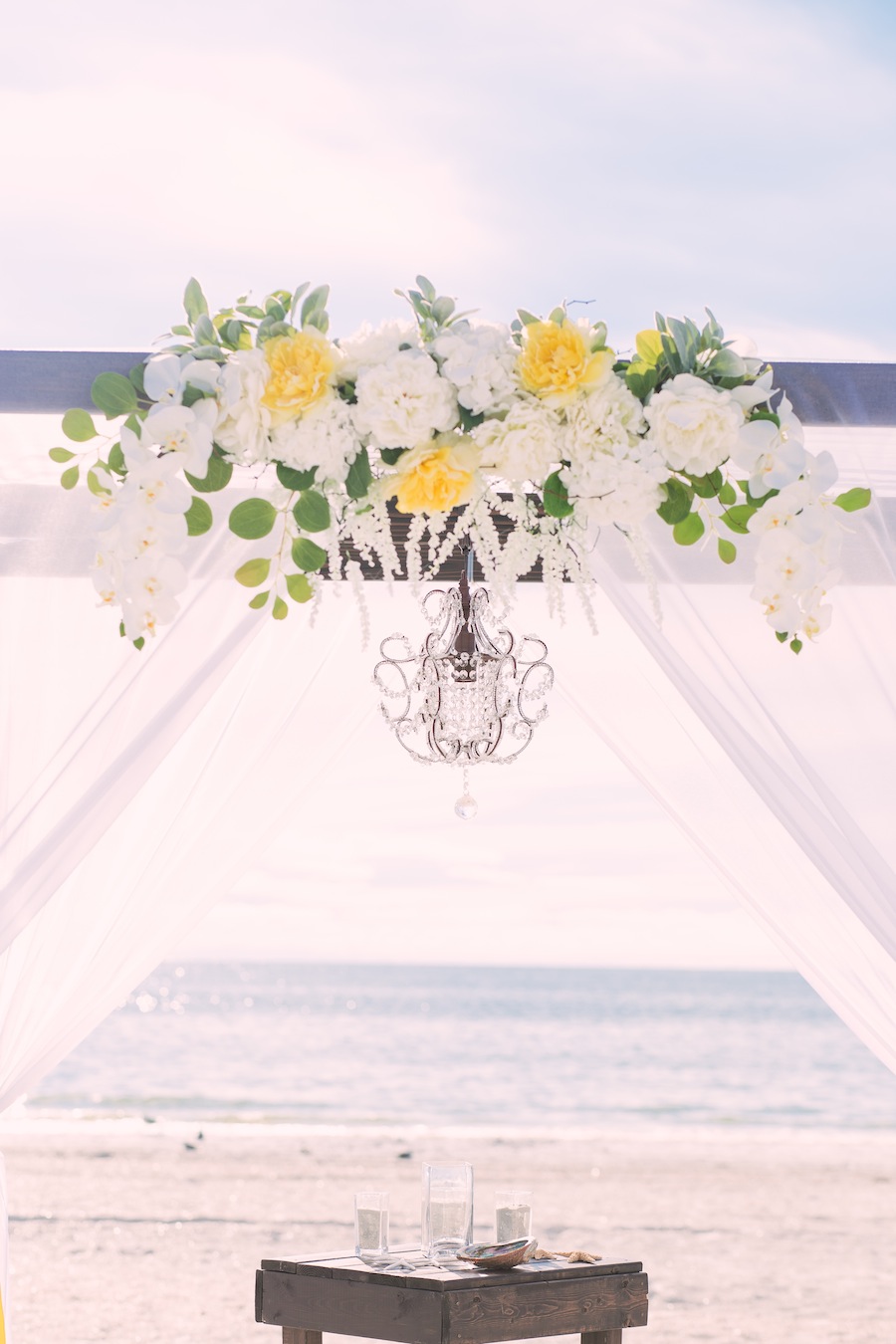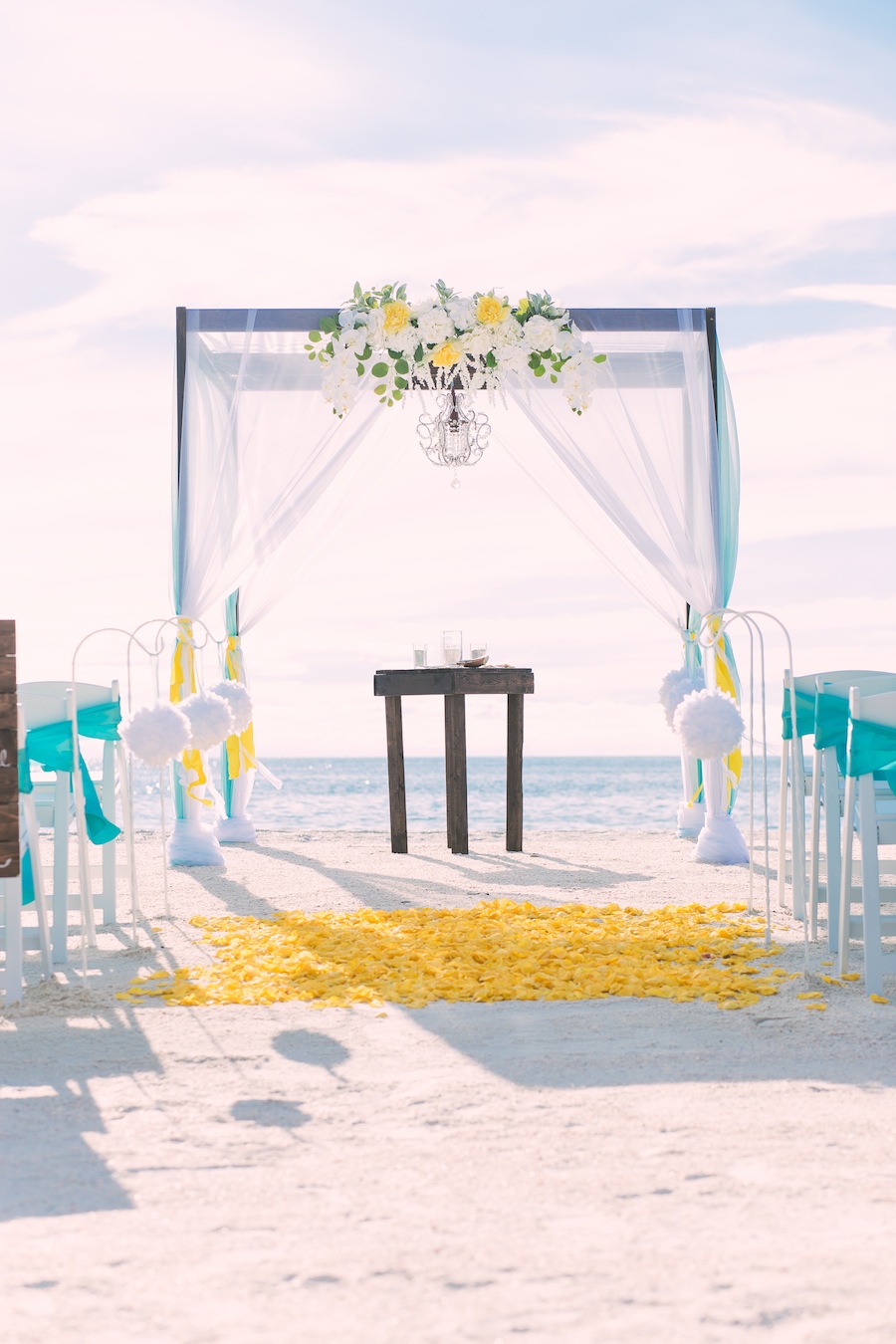 How would you describe your theme?
Our theme was obviously a beach wedding. We knew we wanted a casual, relaxed, yet elegant feel.
What were your colors?
Our wedding colors were tiffany blue, white and yellow. I fell in love with the tiffany blue in the example pictures of the wedding package we chose and just put my own spin on it. Yellow has always been my favorite color, but I had no intention of using it in our wedding, but it just seemed like the perfect accent color for the blue and white and for a beach themed wedding.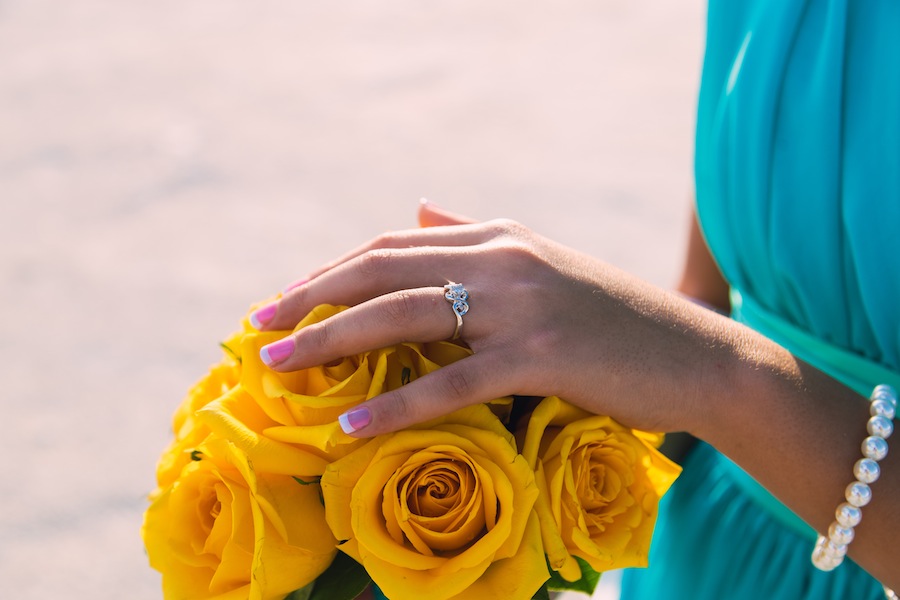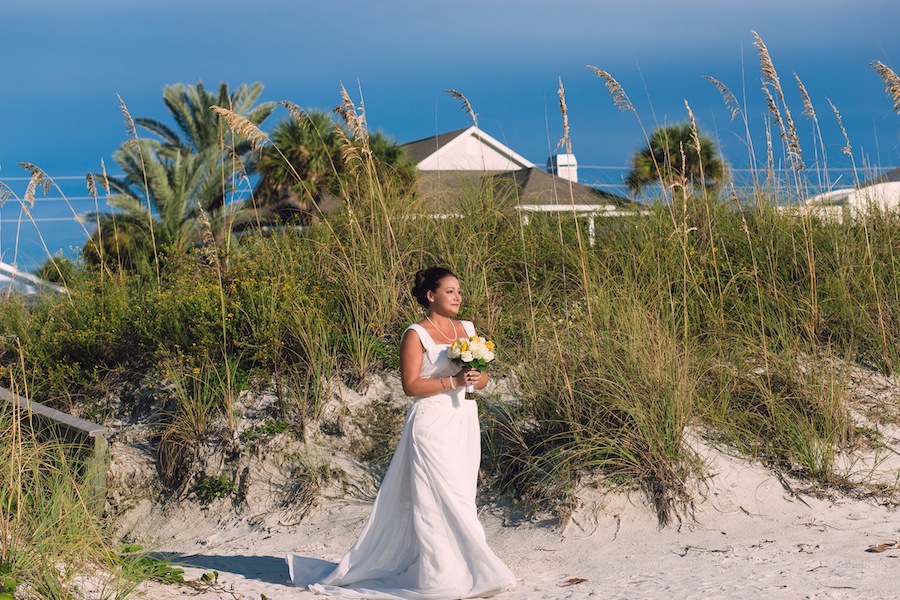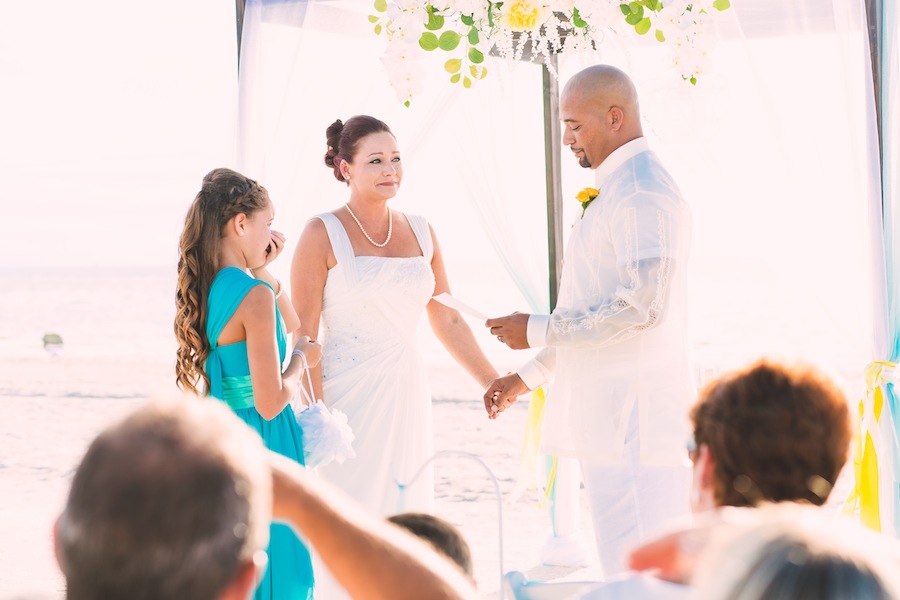 How did you incorporate you and your husband's personalities into the wedding?
My husband is Filipino, and we had always wanted to incorporate his heritage into our theme as much as possible. In the Philippines, men wear a special shirt for weddings called Barongs, so we ordered Curtis a hand stitched traditional Filipino wedding Barong to wear for our ceremony.
What element of your wedding was the most important?
The most important element of our wedding was the fact that Curtis and I were not only taking vows with each other, but we had also planned to take vows and present Kyana (Curtis' daughter) with a ring as well. This portion of the ceremony was kept completely secret from her and was a very special to our hearts.
What were the most memorable moments?
The first was coming over the bridge and seeing my amazing husband standing at the altar waiting for me, sharing our vows with one another and holding his hands and finally getting to make our dream a reality.
The other was when all three of us were brought together to share our vows as a family. We were all so emotional, I don't think any of us remembered there was anyone else there but us three.
Our wedding was a very emotional experience, one filled with love, commitment and overwhelming feelings of joy. The entire day felt like a dream and could not have been more perfect.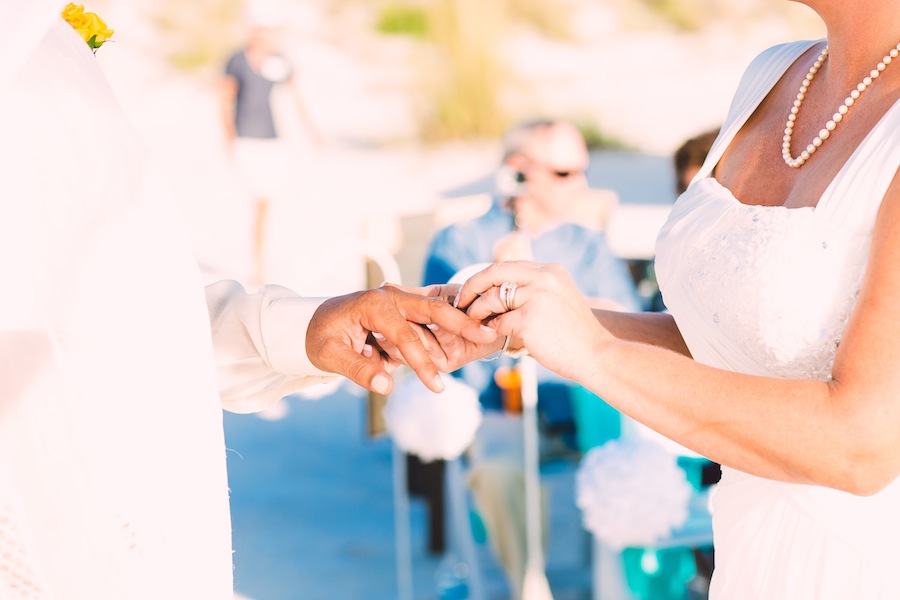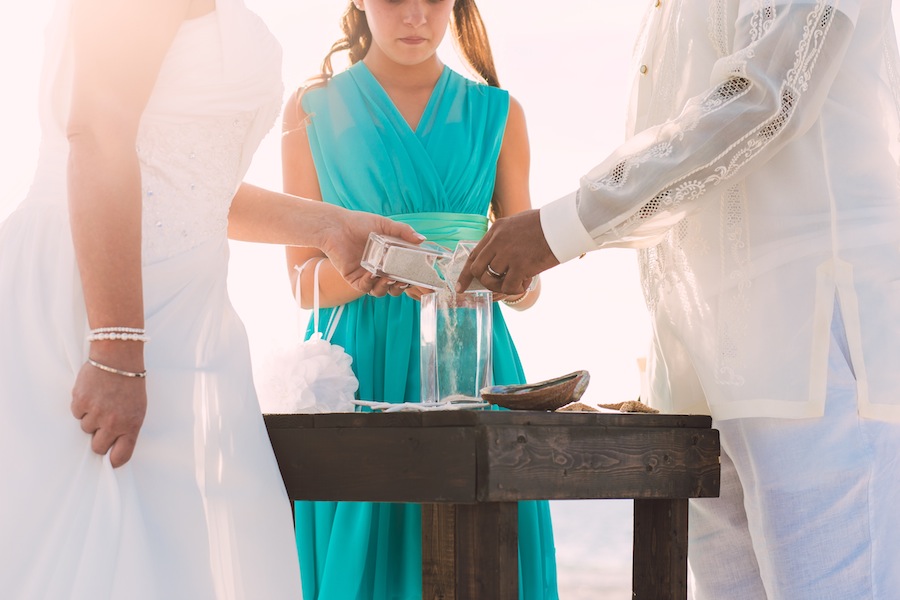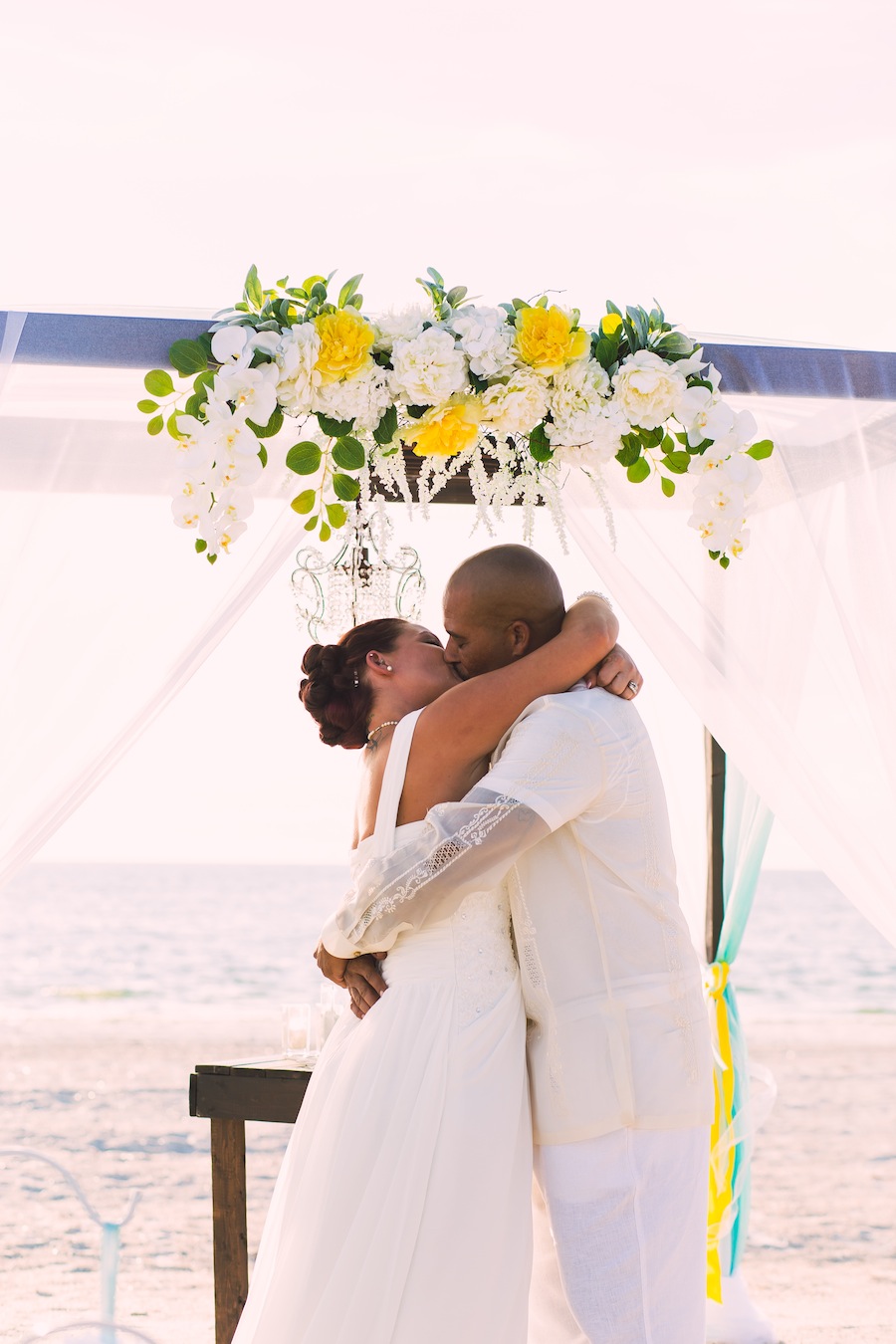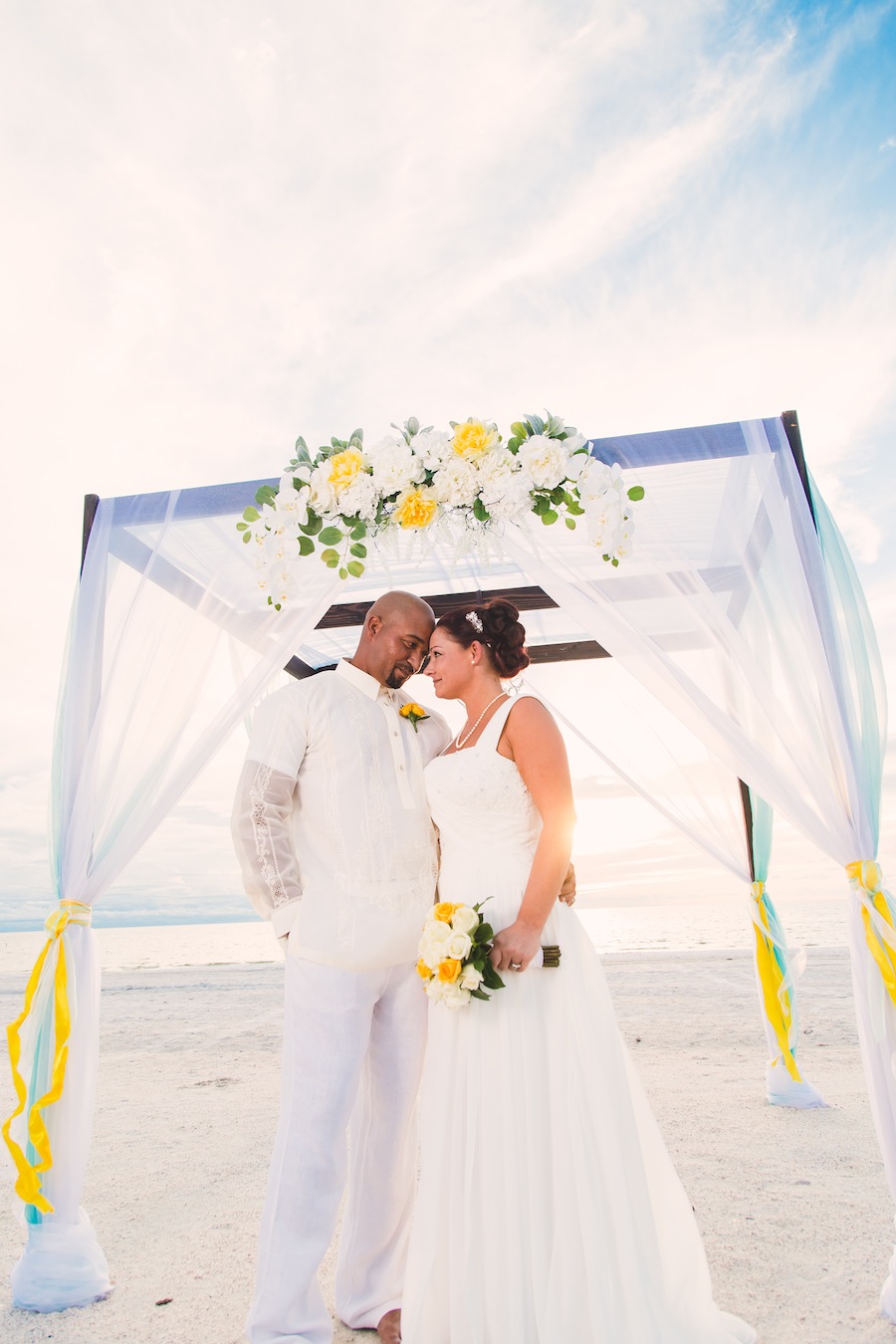 The Proposal:
Our love story was definitely not something out of a story book and to be honest, there were two proposals that took place. I do not have children of my own, and Curtis came into our relationship with a 7-year-old daughter. I did not want to be the type of person to get involved in a child's life to then walk out. To say I had one foot standing on either side of the line is an understatement. As the situation began to unfold around me, I got cold feet. I was extremely nervous about giving my heart to these two people, because I knew I would never get it back. The first proposal Curtis knew I was in flight mode. We were actually arguing, and I was quite angry and upset. When I turned around he was standing there with a ring in a box! I was dumbfounded…and even more angry he was proposing right at that moment when I was so upset and scared.
I stayed away for a few days clearing my mind and doing some soul searching. Curtis asked me to meet him for some dinner to talk. We talked. We cried. He asked me to marry him. The ring Curtis proposed with belonged to his great grandmother, and is just beautiful. I felt so much more honored and special to be asked to wear a ring that has been in the family. I said, "Yes," knowing the path before me was my destiny. When I thought I was ready to give my heart away, I realized it was not mine to give; Curtis and Kyana had already taken it a long time ago. The rest is now history floating on the waves of the ocean.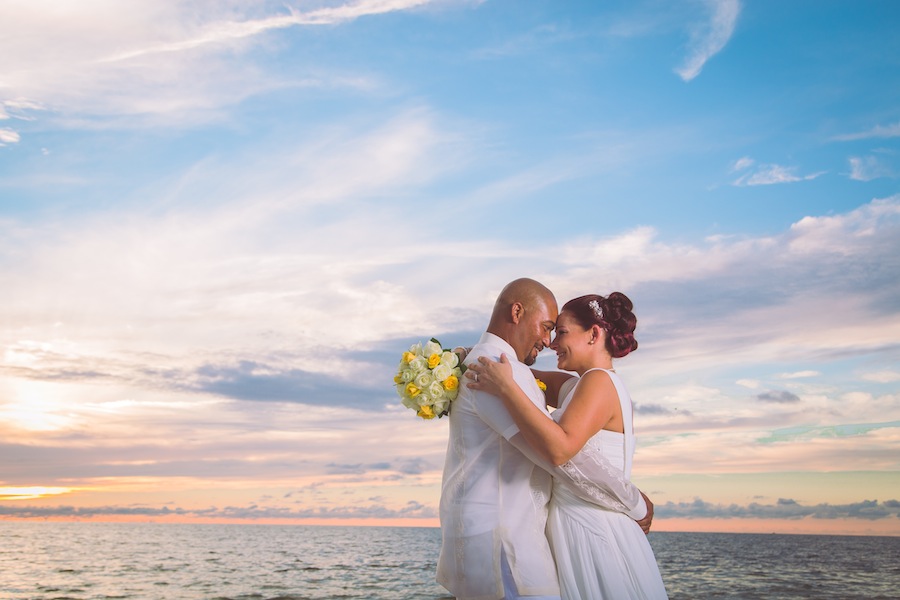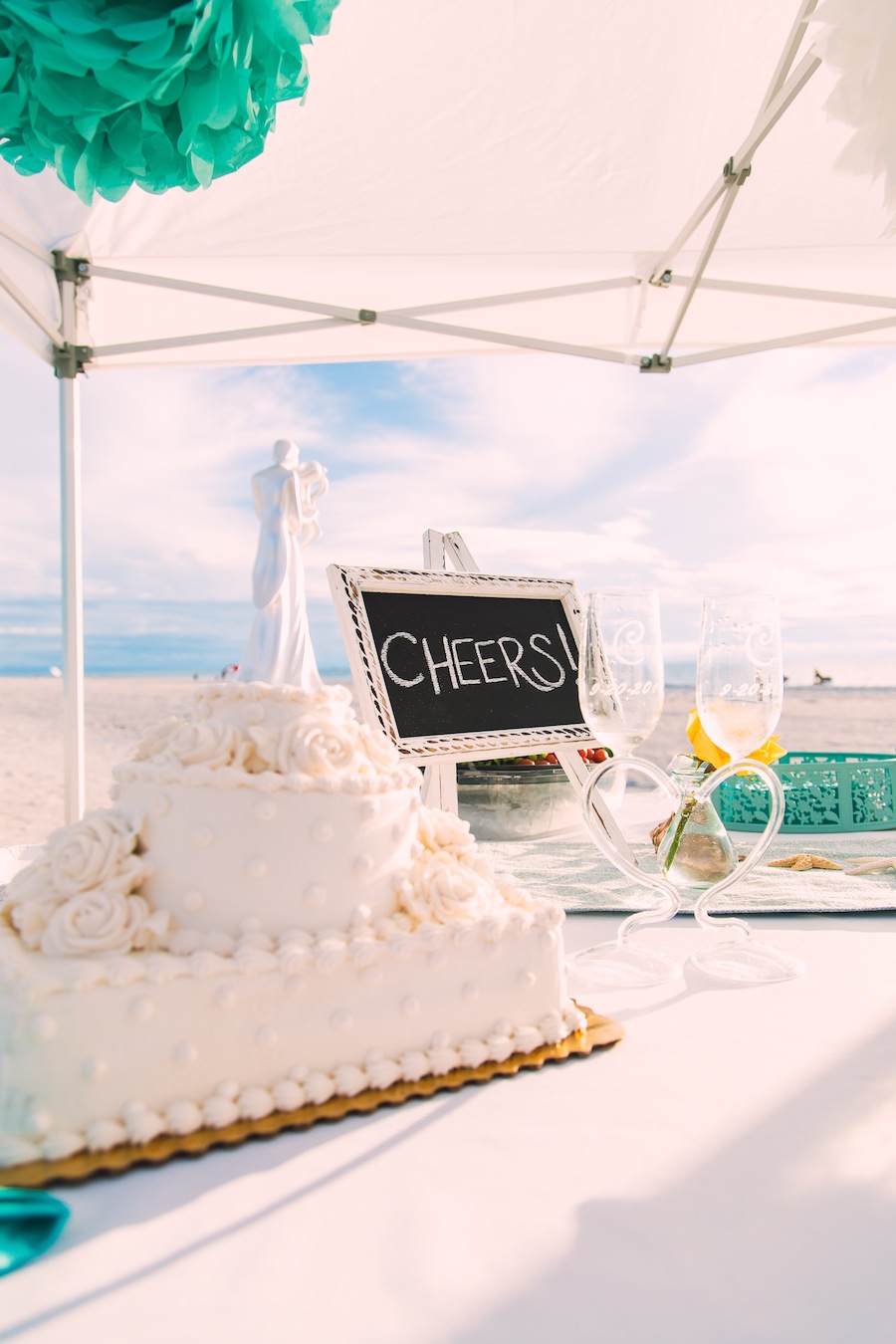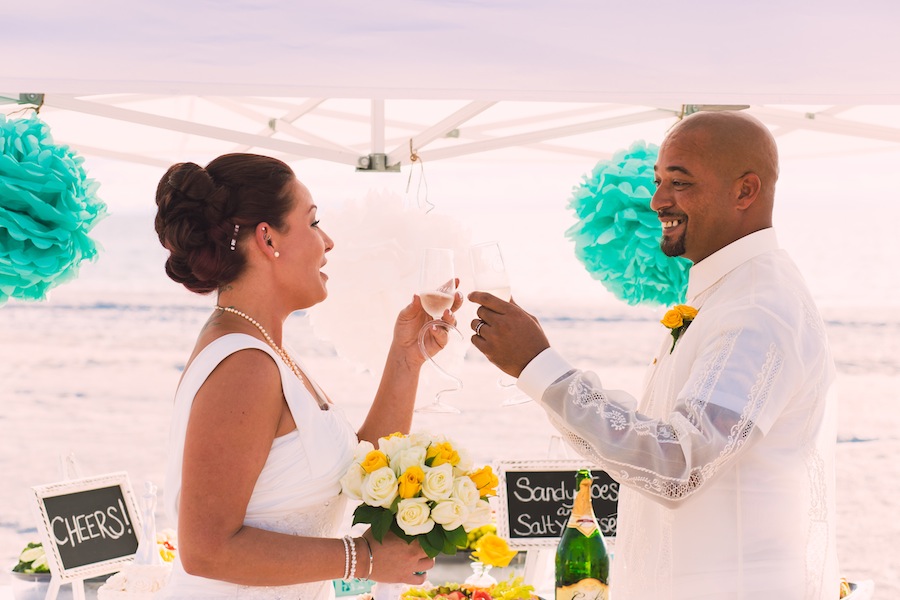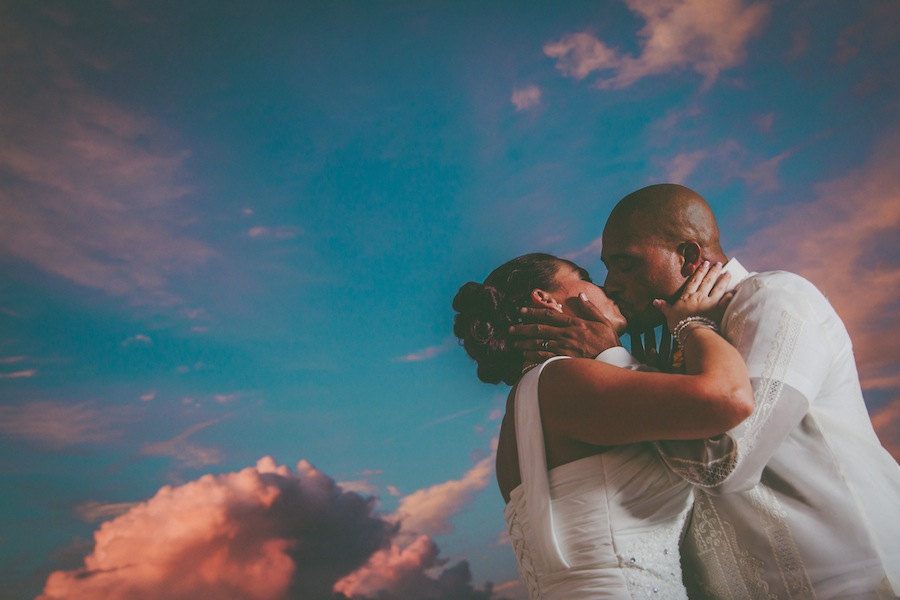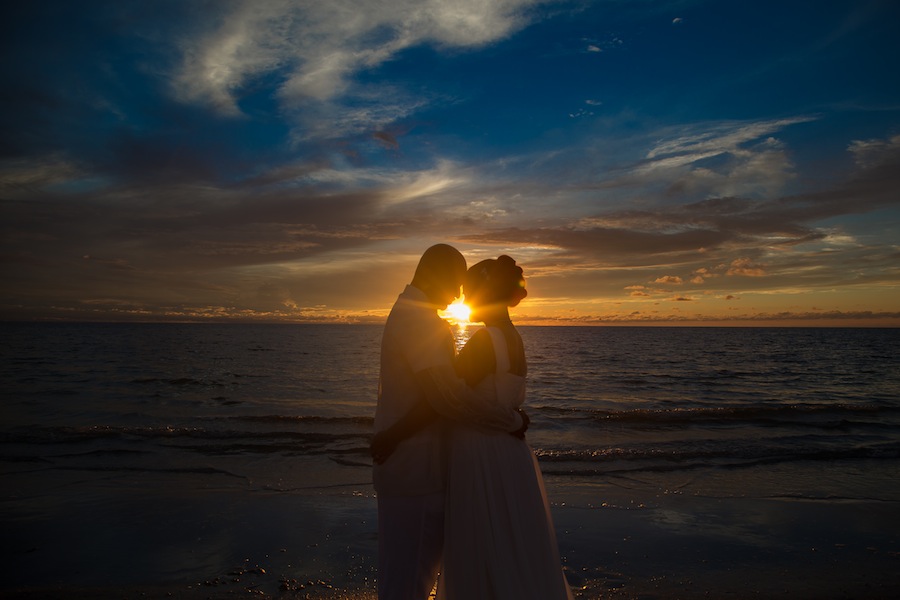 What advice would you give to other Tampa Bay Brides?
The only advice I would give other brides is if you plan on having a beach wedding let Tide the Knot handle your special day for you. I truly say this from the bottom of my heart. They far surpassed our expectations and made everything perfect!
Also, do not let others steer you away from what you and your partner have in mind for your big day, and do not kill yourself worrying about, impressing and accommodating their needs. Your wedding is YOUR day, not theirs! Enjoy it and make it as stress-free as possible; you want to be able to look back on your day with fond memories like we do! We often go through all of the pictures and before you know it, I am crying and we have lost hours reminiscing while looking at each one.
Venue: Pass-A-Grille Beach
Planner: Tide the Knot Beach Weddings *Preferred Marry Me Tampa Bay Vendor
Decor and Rentals: Tide the Knot Beach Weddings
Photographer: Mari Sabra Photography on behalf of Tide the Knot Beach Weddings
Steel Drummer: Caladesi Steel Band on behalf of Tide the Knot Beach Weddings
We are proud to have Tide the Knot Beach Weddings as a Marry Me Tampa Bay preferred wedding vendor!