Tampa and Clearwater – Create a sea of memories dancing under the stars aboard the Yacht Starship! With four breathtaking yachts in their Fleet, your dream Tampa Bay wedding, reception and rehearsal dinner can come true on the water.  With the luxury of reserving your private dining room OR your Private Yacht, your guests are sure to be wowed by this venue with an ever-changing backdrop! Yacht Starship can relocate to St Pete, Sarasota, Tarpon Springs and surrounding areas!
The Ceremony:
Dockside or Underway: The Ceremony is included in the package, or the option of an extended reception time if no ceremony. You can provide your own officiant or the Captain can perform the ceremony for $200 dockside or $400 underway.
Includes White Chairs, Music (DJ), Microphone
The Cocktail Hour:
Included in the packages: Tables, Chairs, White Tablecloths, and Napkins. Some packages include hand-passed hors d'oeuvres.
---
The Reception:
Private Yacht or Room on a Public Yacht
Reception Rental Fee: Packages range from:  $85/pp-$180/pp
Private yacht charters are for 25 or more guests and include:
Venue Aboard Private Yacht, Ceremony – White Chairs, Microphone, and Music or Extended Reception time if no ceremony, Dinner, DJ, Coordinator, White Table Cloths and Napkins, Coffee and Iced Tea, Champagne Toast, Cake Cutting & Service, Servers, bartenders and all required staffing, 20% Service Charge & marine fees are included, as well!
You just need to provide: Any further decor, photographer, and cake
Most events are 4-5 hours. 30 minutes boarding and the rest cruising.
Capacity: 25-600 (300 seated)
---
The Food and Drink:
Different packages include different levels of alcohol that the client will pay for. Champagne Toast, Coffee, and Iced Tea are included in all of our packages.
---
---
What Couples Love about Yacht StarShip:
We are an Almost All Inclusive venue, Unique, and our team of Outstanding Sales and Event Coordinators!
---
Yacht StarShip Reviews From Marry Me Tampa Bay Couples: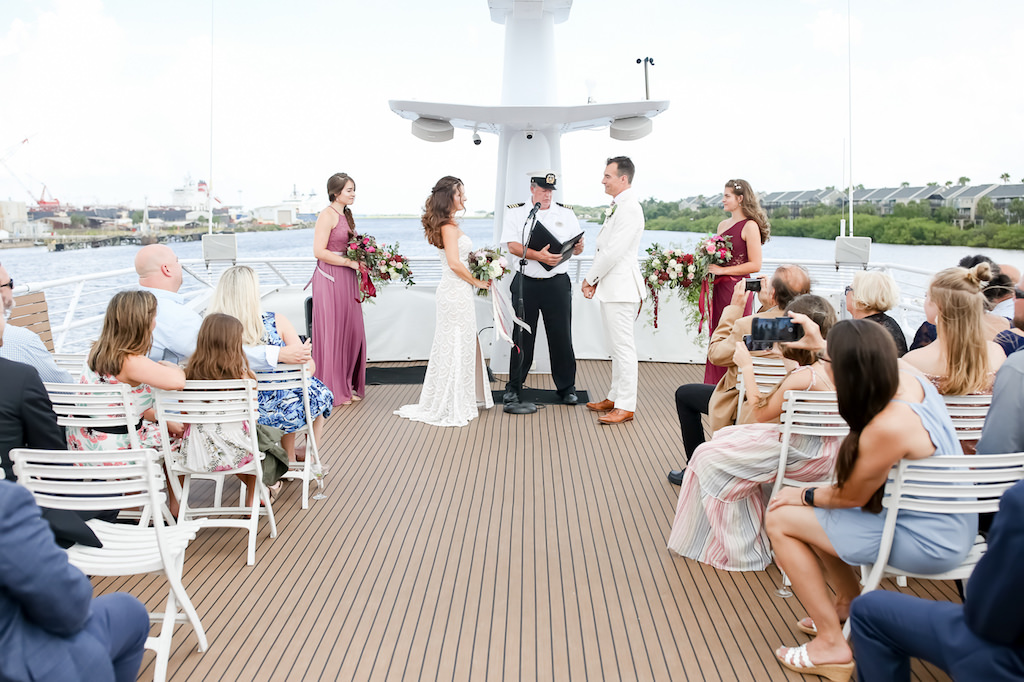 Dusty Rose and Burgundy Waterfront Vow Renewal
"We wanted a venue where we could have a small ceremony and a reception that would feel quaint and personal. We wanted our guests to feel included, and connected to every aspect of our celebration. We chose Yacht StarShip because we had been on their ships in the past. We thought that cruising around downtown Tampa, where we live and raised our children, would be the perfect way to renew our vows. Their service was wonderful! All of our guests had a great time, and many of them told me how much they enjoyed the food and the cruise." – Candace and Jaime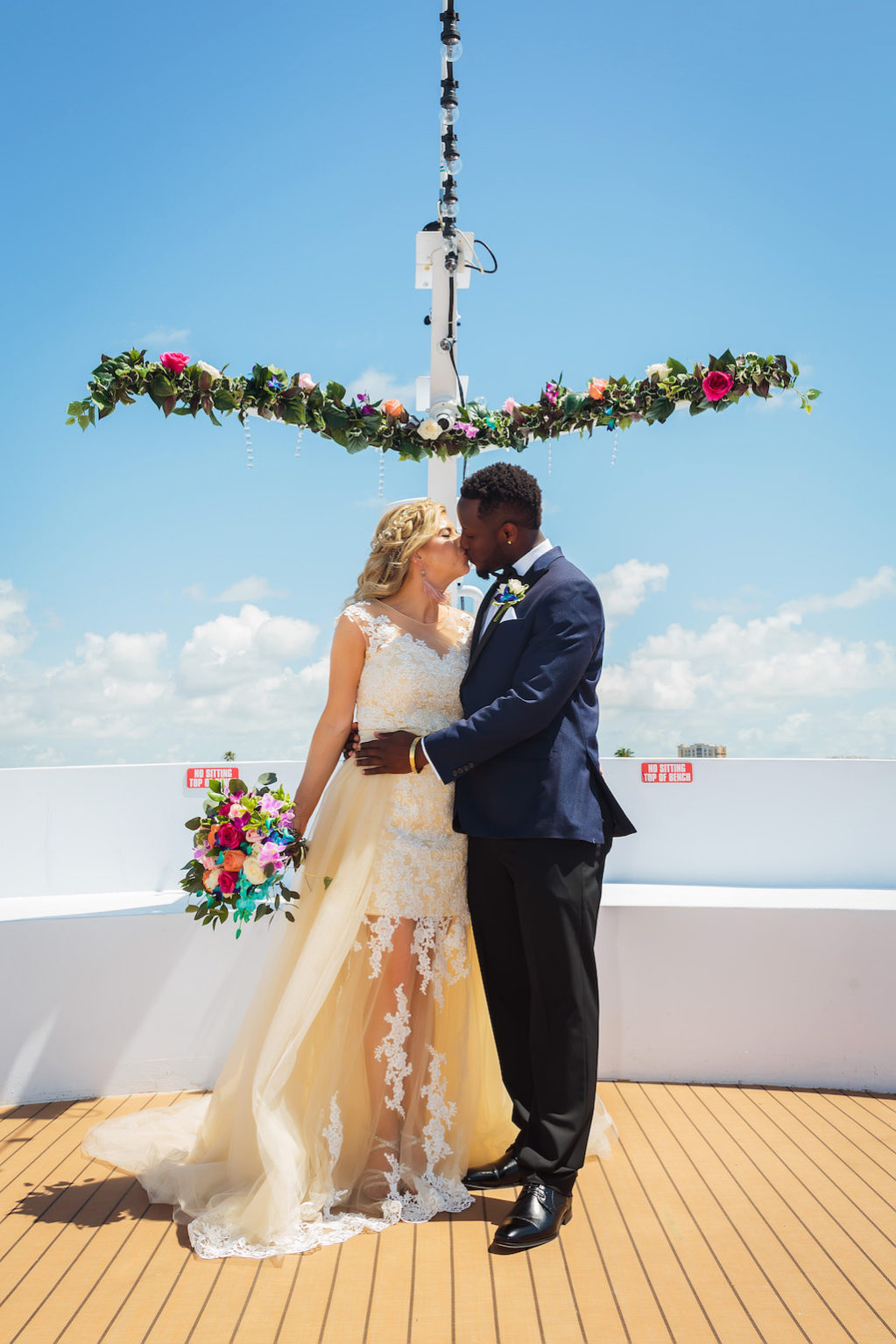 Boho Chic Navy and Rose Gold Waterfront Wedding
"A place that was unique and different that would represent us as a couple. We wanted a venue where we could have both the ceremony and the reception in the same place.
Jimmy and I drove down to Florida to see the Yacht Starship for the first time, and as soon as we drove up and met with Chris Dorroh we knew we had found our venue and wedding coordinator! Chris and the entire staff at the Yacht Starship blew us away! I can't sing their praises enough.
We had less than six months to plan our wedding while my father was going through IV chemotherapy. Because of his illness, he was in and out of the hospital the entire time we were trying to plan everything, and Chris went out of her way to work with us in whatever we needed. It didn't matter what time of day or day of the week, she was there every step of the way. I was only able to go back down one more time before the wedding and Chris made me feel so confident, comfortable and at ease with everything. We didn't know if my father would be able to make it to the wedding, let alone be strong enough to walk me down the aisle until the day before. Chris made sure that everyone on board was up to speed and had a plan either way. Plus, you can't beat having your photos taken while sailing on a yacht." – Ashleigh and Jimmy
Glamorous Blush Pink, Gold, and White Waterfront Tampa Wedding
"We wanted a space that was intimate without having the feeling of being cramped in a small space. It was also important that the event was private, separating our family and guests from reality. We were looking for a venue that was original and would stand out from your average wedding. Marry Me Tampa Bay was our resource when researching possible venues. We found the Yacht StarShip on Marry Me Tampa Bay and loved it from our first meeting. Their staff was incredibly kind and accommodating to our requests. They helped us through the whole process step by step, which was very important to us because the whole wedding planning process can be overwhelming, and we are both very busy. Christine Dorroh was our wedding coordinator and was invaluable in making our dream wedding come to life." – Angie and Phillip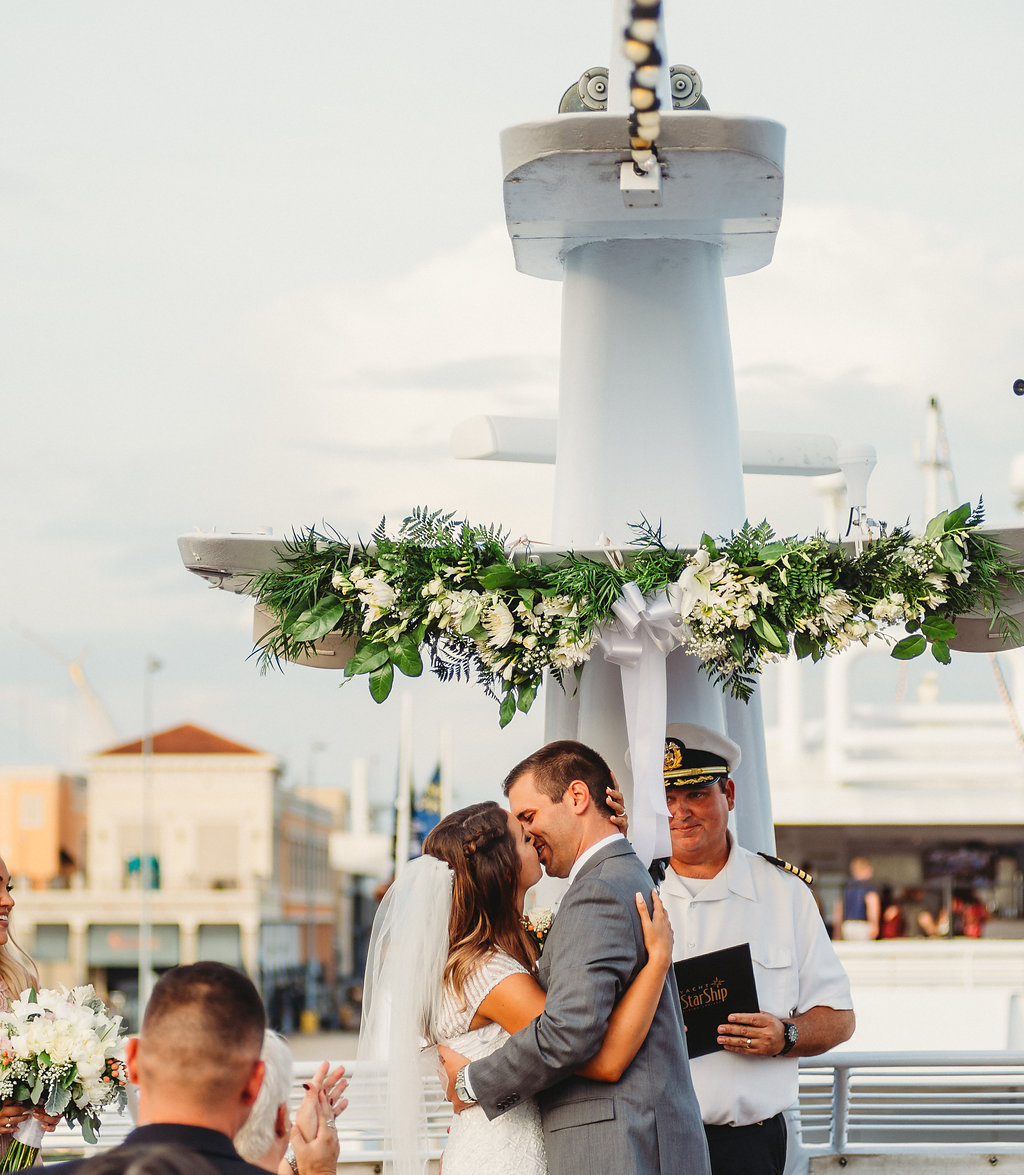 Romantic, Waterfront Nautical Downtown Tampa Wedding
"We hired the Yacht Starship because we wanted something different, and the fact that we can say we had a yacht wedding is just plain cool," the bride gushed. "Not only was it a venue unlike any other, but the overall experience was what made everything that much more unique! I'd say we got a lot of bang for our buck with an amazing wedding coordinator and a team who really knew what they were doing." -Marissa and Eric
---
Meet the Event Sales Team: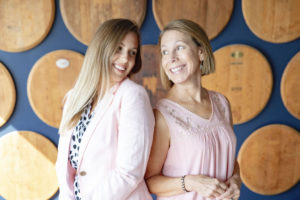 Cheyanne and Chris make the perfect Wedding Sales Manager duo! Both have years of wedding and event experience in Tampa Bay, and they truly love what they do. It is a pleasure to work with couples and help them select an amazing venue, offering a unique experience on the water. Yacht StarShip is a fabulous venue, that strives to make your special day perfect!
Website
603 Channelside Dr, Tampa, FL 33602
Causeway Blvd, Slip #55, Clearwater, FL 33767
(813) 223-7999
---
---
As Seen on Marry Me Tampa Bay