Alexis and Colton's downtown St. Pete wedding featured a romantic color palette of mauve and ivory, accented with gold accents set in a historic urban venue.
"I really wanted something simple, but beautiful. I love gold tones so I was aiming for golds, whites, and mauve tones," the bride shared.
Alexis concentrated on dancing with her guests instead of pausing the party for traditional wedding formalities. The energetic atmosphere of the reception is what she attributes as one of the most unique aspects of their celebration.
"We were really focused on having fun so we emphasized the music, the speed of the ceremony (due to the heat), and the bar and food. You could definitely see our personalities in the music choices. I am a huge music fan so everything was curated from the ceremony to the reception for the guests to enjoy," the bride detailed. "I am not very traditional, so we scrapped the bouquet toss because I did not want to stop having fun on the dance floor!"
The Texas couple grew up in the area and knew they wanted to get married in St. Petersburg. They sought a venue that offered a beautiful outdoor ceremony space and charming indoor reception option for the convenience of their guests and the long-distance planning.
"I looked for a space that could serve a dual purpose, holding the ceremony and the reception. I am a huge fan of allowing guests to enjoy their time at the wedding without having to worry about transportation between different venues," the bride articulated. "I chose NOVA 535 based on the esthetic! I loved the open floor plan and the outdoor ceremony space which had gorgeous bamboo and lights. It was perfect for the setting of the wedding and our photography locations! The brick at the venue and bamboo went perfectly! NOVA was super easy to work with during COVID and fit our budget."
The bride searched for a wedding photographer with a broad portfolio of natural images that captured unscripted moments, finding the perfect match with Amber McWhorter Photography.
"I wanted a wedding photographer who took very natural photos in gorgeous settings," Alexis reasoned. "Amber takes gorgeous photos that look so effortless; you could tell she made everyone so comfortable which truly added to the beauty of the photos."
Highlighting her attire, Alexis selected a romantic ponytail that showcased the cut of her gown.
"I wanted simple hair and makeup to ensure the emphasis was on my dress. My dress had a low back, so I wanted an updo to show off that element, the bride revealed. "Femme Akoi Beauty Studio has a perfect Instagram showing their services. I loved how easy it was to get a trial, their prices were competitive, and they had a huge portfolio of artists."
The feeling of being surrounded by treasured friends and family for such a special day was an unforgettable feeling that Alexis loves to experience again each time they view their wedding images.
"The most memorable moment was just spending the day with so many people who love us," the bride reminisced. "I love being able to look back at our photos and relive the day over and over."
Where did you host your bachelorette party?
Scottsdale, AZ. It was the perfect mix of warm weather and a fun atmosphere! It truly is a tiny Las Vegas!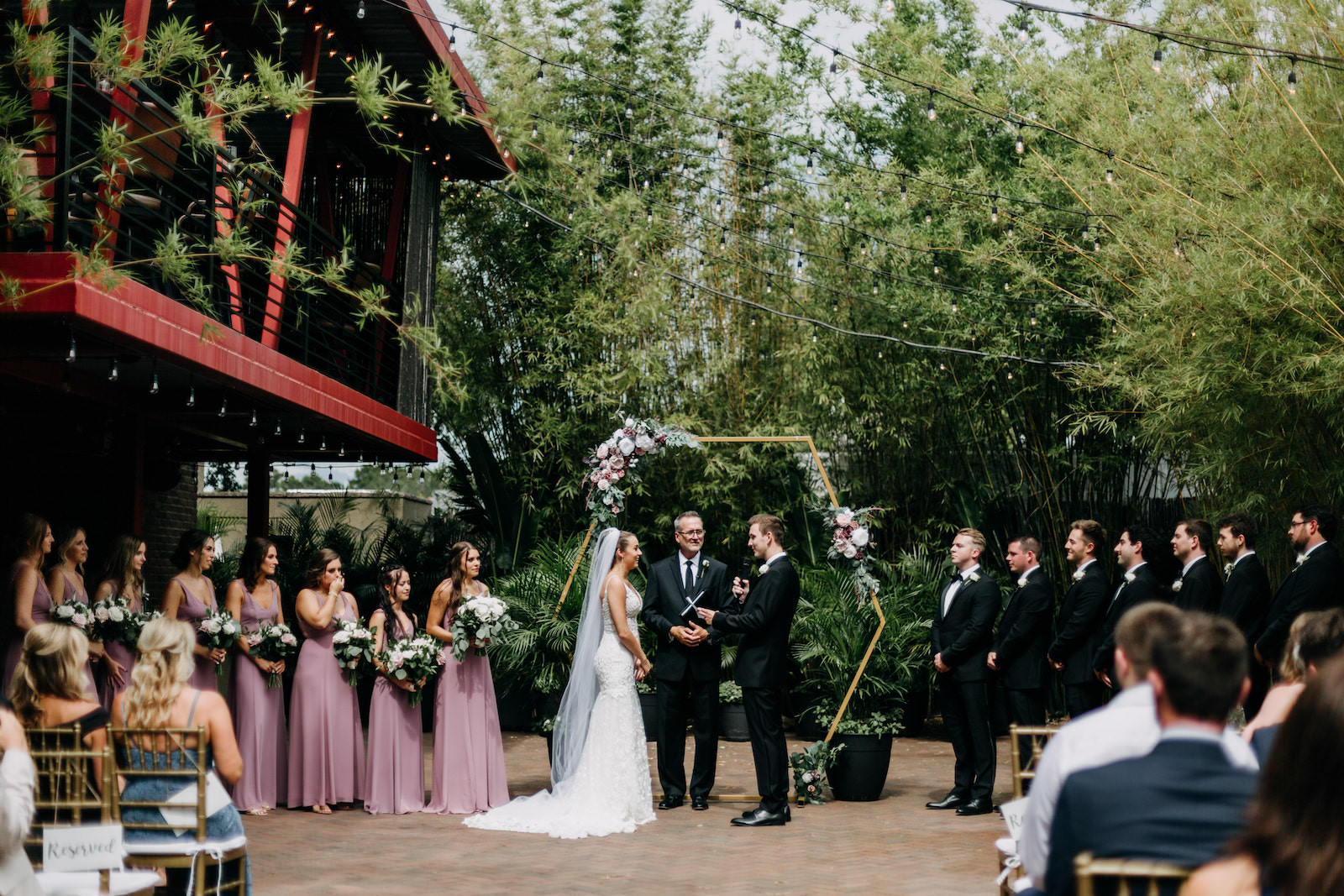 The Proposal:
Colton and I were meeting some friends in Texas wine country prior to traveling to San Antonio, TX. We stopped at a winery and we were just walking around enjoying the scenery when he convinced me to get on this wobbly dock on a small pond. I was trying to see how deep the water was and when I turned around (almost falling) I saw him on one knee! It was so sweet seeing the emotions he felt at that moment. The best part was that he remembered that I wanted a photographer to capture the moment and as I am saying, "Yes," I saw this woman approaching us (and at first I was like ma'am please respect this moment and don't ruin it), and it turned out she was there to take photos! We love truly special being able to look back at that moment in time. We also love returning to the winery!
Which vendors really exceeded your expectations?
NOVA 535 and Amber McWhorter Photography were such great vendors. They are so professional and made my day so special and smooth.
What advice would you give to other Tampa Bay couples?
Do what makes you happy on your wedding day. I do not regret anything I planned because it was what I wanted and I was not trying to make anyone else happy!