South Tampa couple Tara and Fred met through mutual friends, and after some persistence from the groom, they went on their first date to P.F. Changs.
They became an official couple on New Year's Eve and were engaged a year and a half later while vacationing in St. Augustine.
"It was out last night there and we decided to take a sunset stroll to the Castillo de San Marcos. In front of the Fort, Fred looked at me and said, 'We are going to have a wonderful life together.' I am a total pessimist and responded, 'How do you know that?' Fred said again, 'We are going to have a wonderful life together," as he brought out the 1910 antique ring that I had been obsessing and asked me to marry him," Tara reminisced.
"Beer & Birch" Wedding in Downtown Tampa
Tara and Fred incorporated personal touches throughout their downtown Tampa wedding.
"Our theme was Birch and Beer. Our first Christmas was really hard for us because Fred was about to move to Richmond, VA. He got me a stump ring with our initials carved into it. The ring was inspired by The Giving Tree by Shel Silverstein. We knew when it was time to plan a wedding we wanted to incorporate as many tree and initial elements as possible," Tara explained. "We also appreciate a good cold brew. That is why we used various bottle caps as table identifiers."
Tara included her Filipino heritage into her downtown Tampa wedding by including sponsors,a candle, cord, veil, coins, and having the groomsmen wear a Barong Tagalong, an embroidered formal garment of the Philippines.
The DIY wedding couple also created many of their wedding decor pieces.
"Fred and I designed and assembled our save the dates, wedding invitations, programs, place cards, etc. My mother and I made all of the origami flowers that were used in the bridesmaid's bouquets, the flower girl bouquets, and the pew decorations at the church. Our very close family friend, Patsy, made all of the centerpieces. All of these pieces took a lot of love and labor and makes them so much more special to us," Tara gushed.
When it came to choosing a downtown Tampa wedding venue Tara and Fred selected the Straz Center.
"The site is completely different than any other in the city and most people do not even realize that it can also be used as a wedding venue," Tara said. "We liked that we were able to have the cocktail hour by the fountains and the Hillsborough River and the reception at Maestros. Maestros had the mix of modern and elegance we were looking for. We were shocked by how stunning our reception looked and how delicious the food was. Our reception was perfect and we could not have asked for anything better."
To keep stress levels low to day of the wedding, the couple hired Tampa wedding planner Special Moments.
"Tammy [owner of Special Moments] was so helpful from the get go. The day I emailed her, I received a phone call that evening and we spent an hour discussing what I wanted from the wedding. She was so knowledgeable about the Tampa wedding scene, she put my mind at ease. From that first call I knew if anyone could help with my Bridezilla tendencies it would be her," Tara explained.
Tara's most memorable moment of the day came during the "first look."
"Being able to see each other and hold each other with out the pressure of 150 sets of eyes staring at you made it so much more special. The pictures and video of that moment still give us those happy little fuzzy feelings," Tara reminisced.
At the end of the night, the coupled celebrated by jumping in the Straz Center fountains.
"I am a child at heart and always joke that Fred is my adult. I knew that I would be in a fountain either during the engagement photos or after the wedding. So after we did the grand exit we ran towards the fountains," Tara said.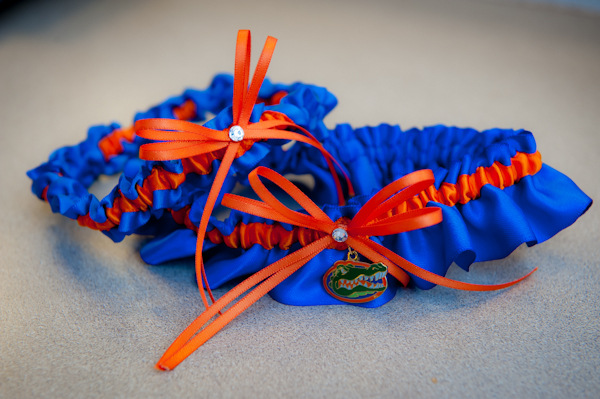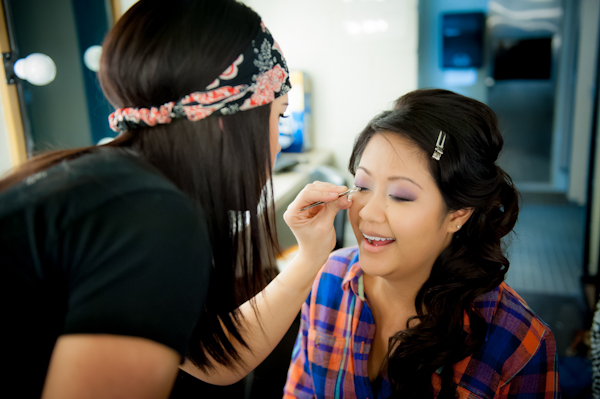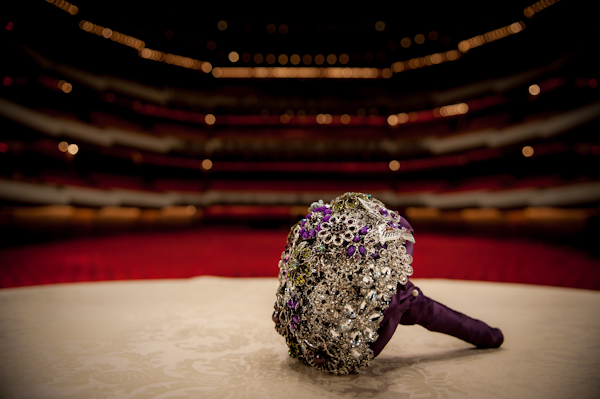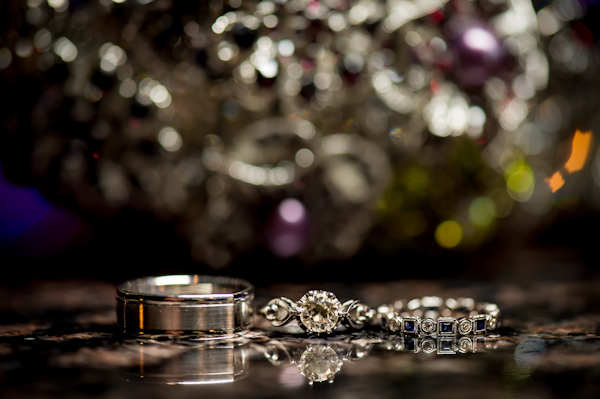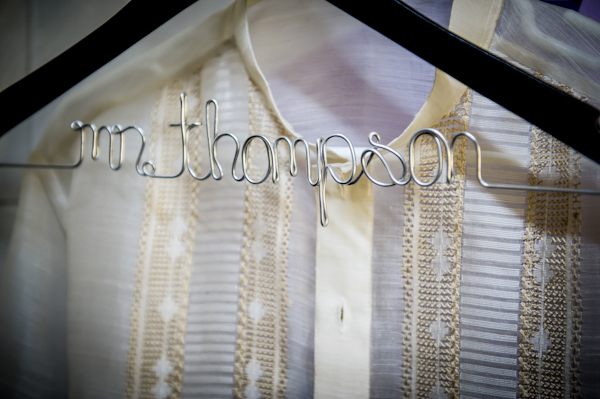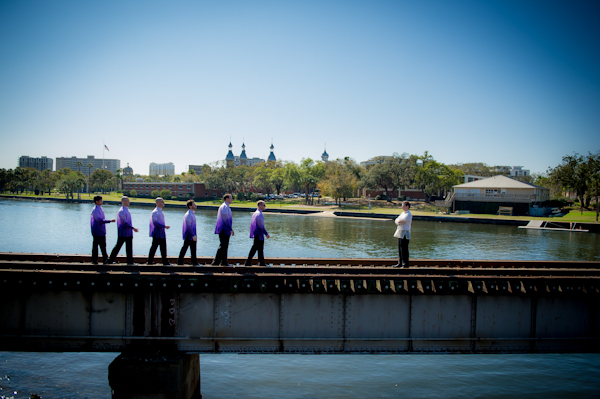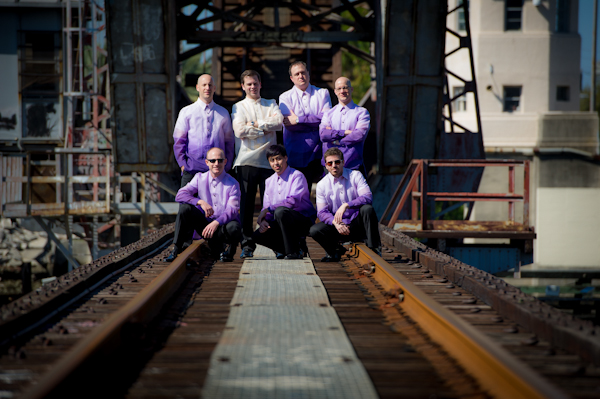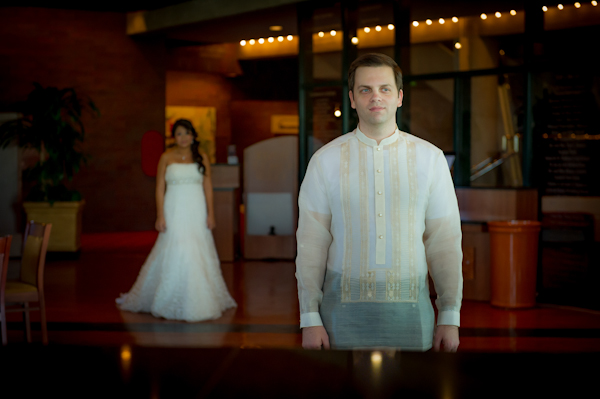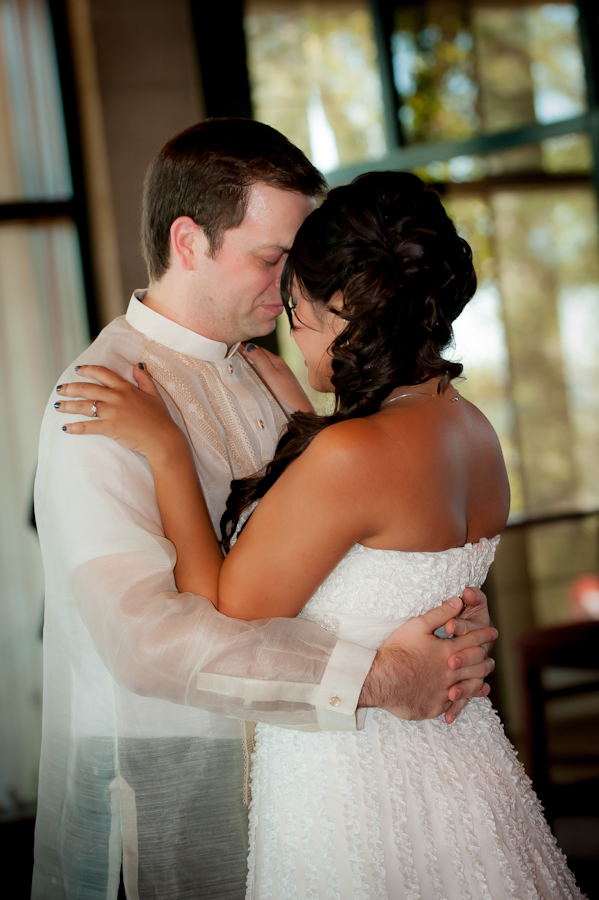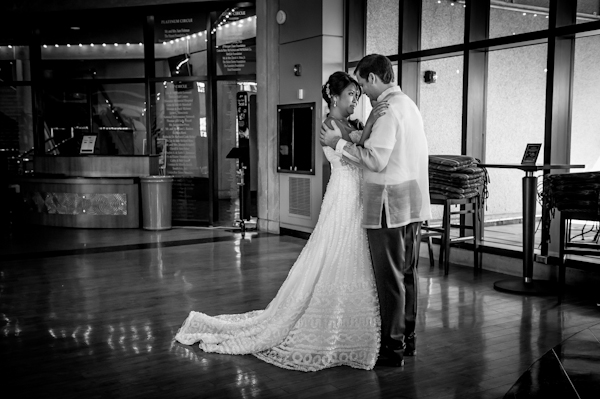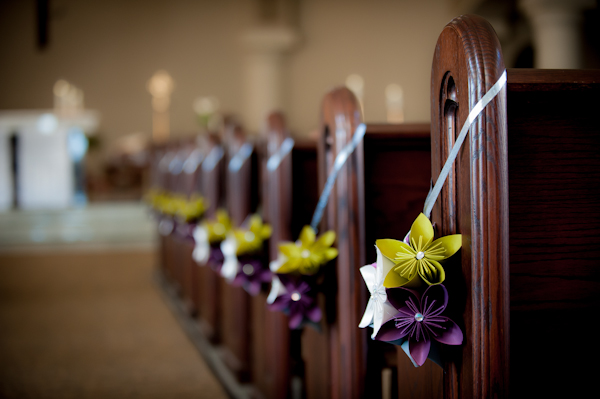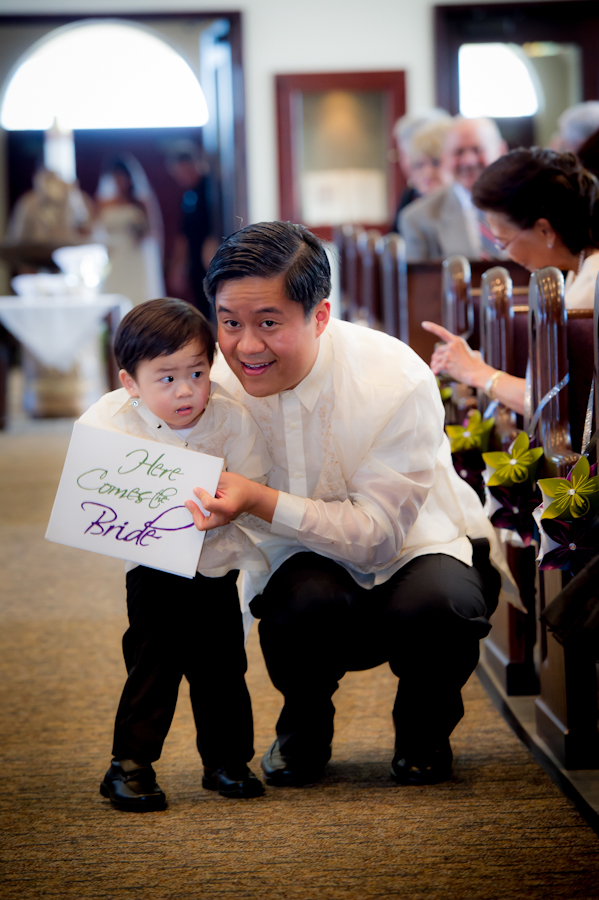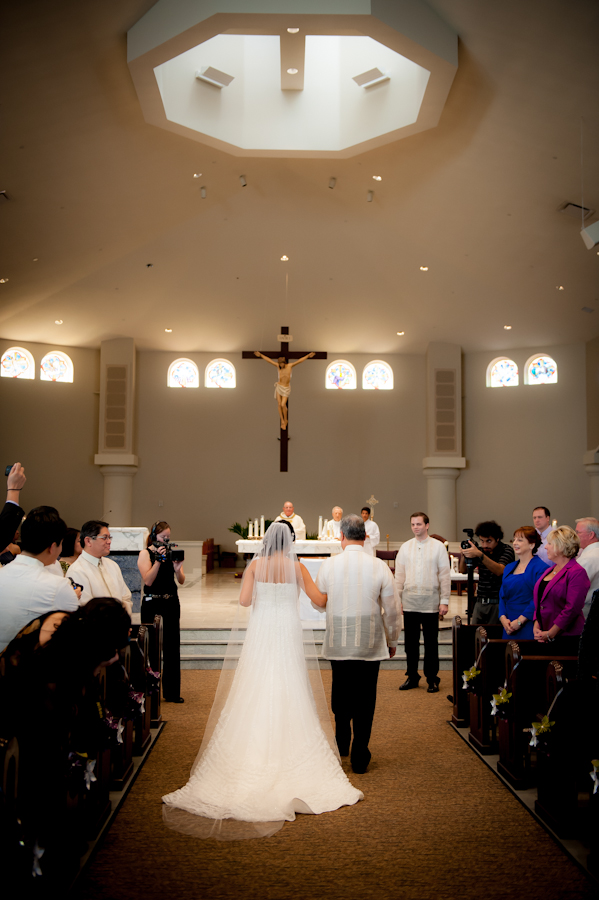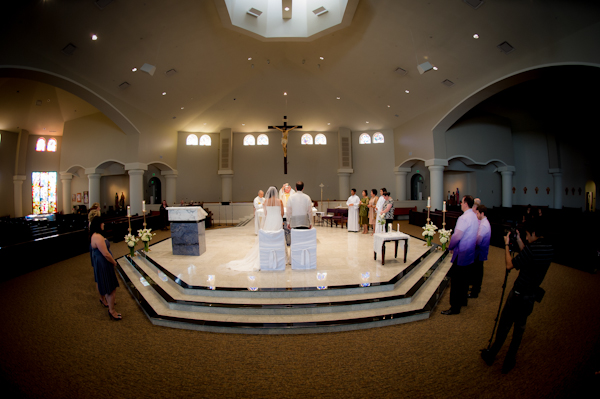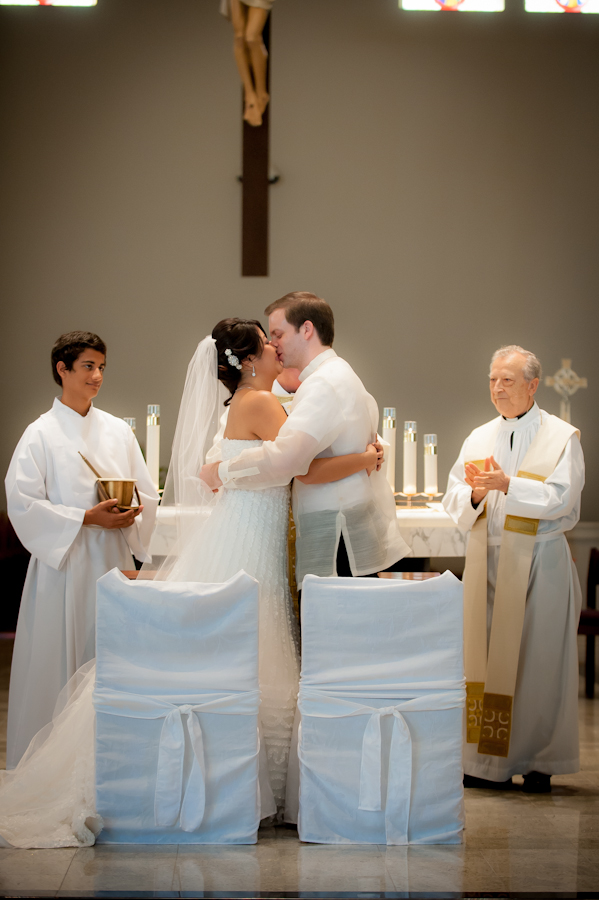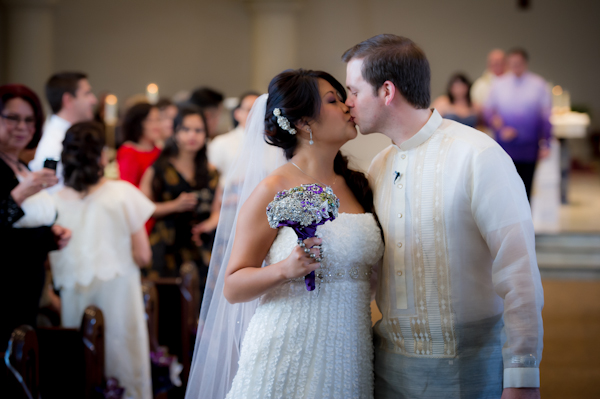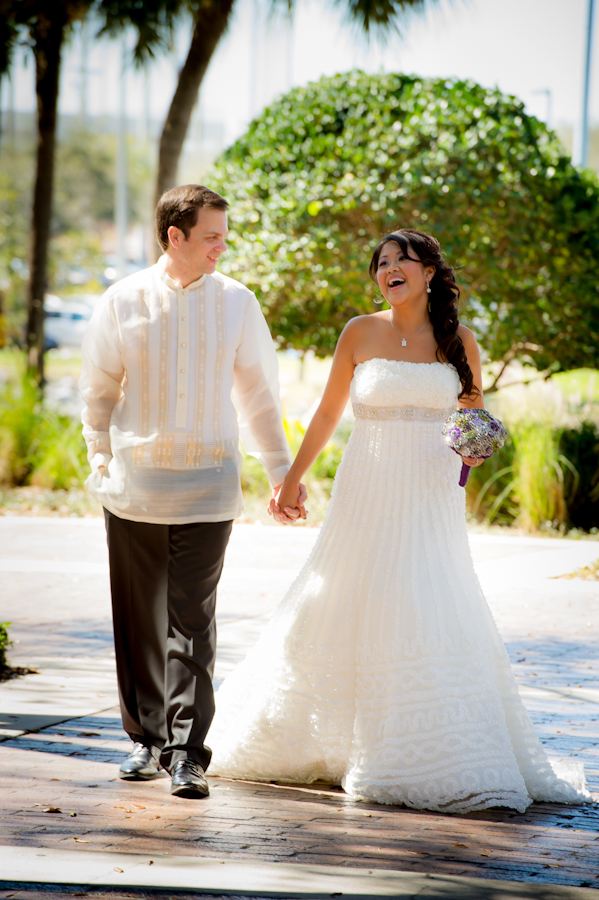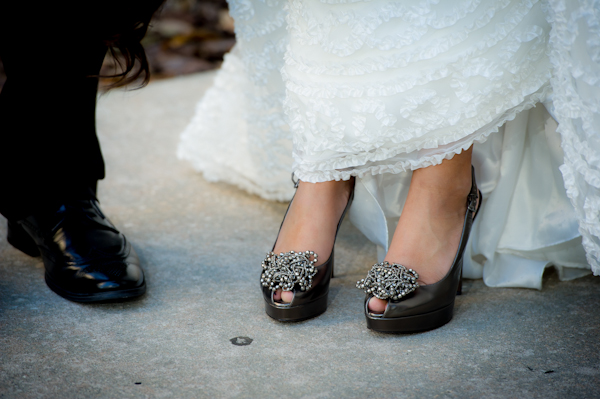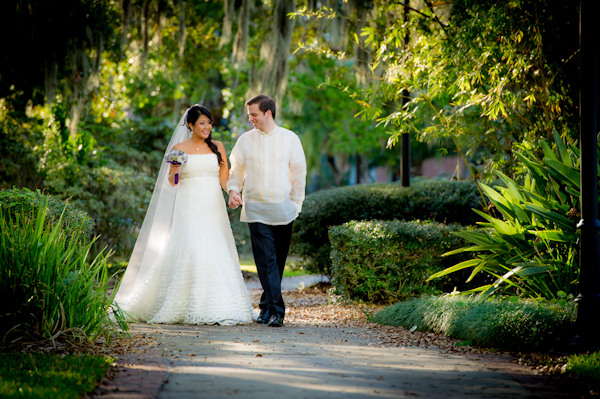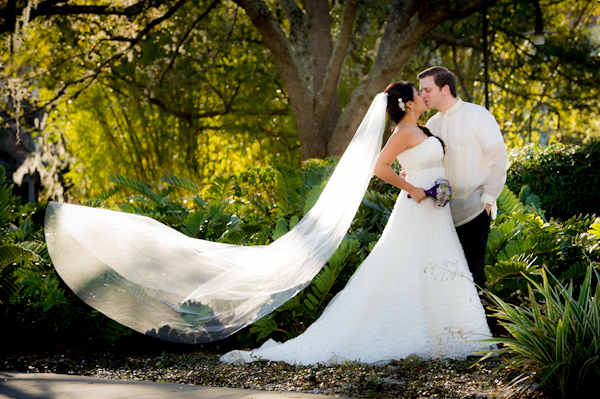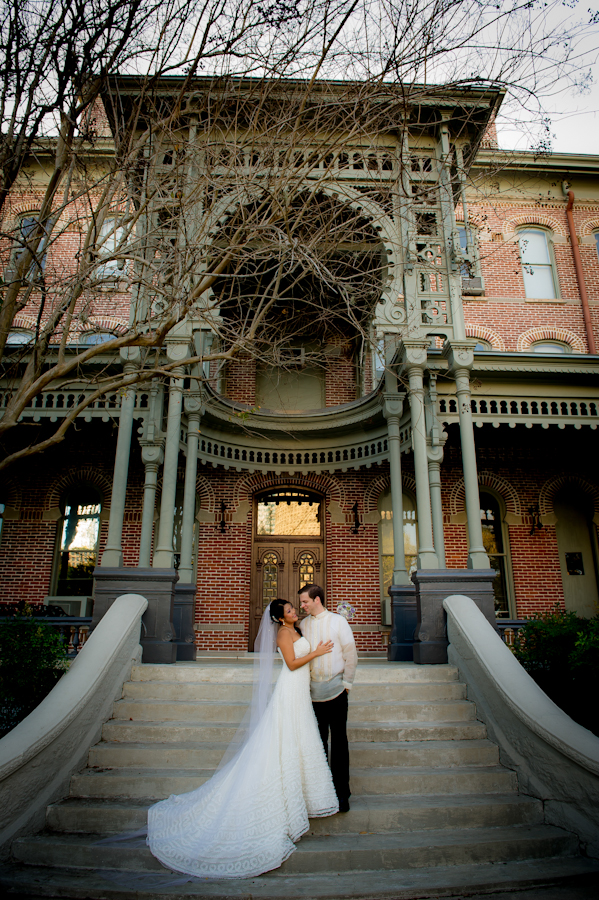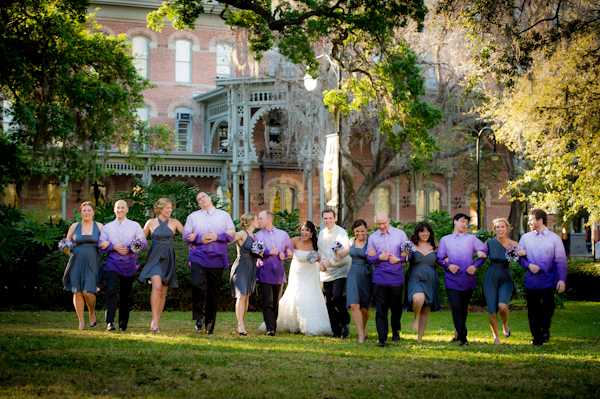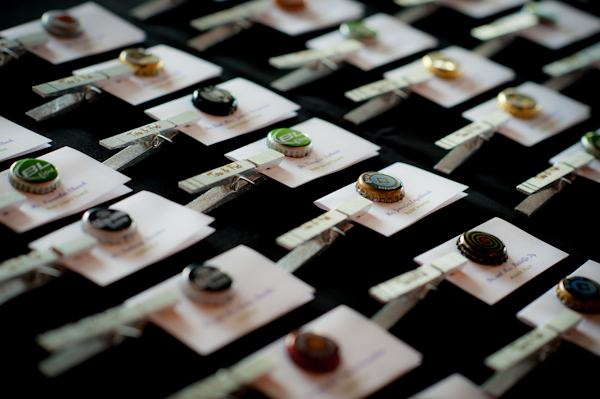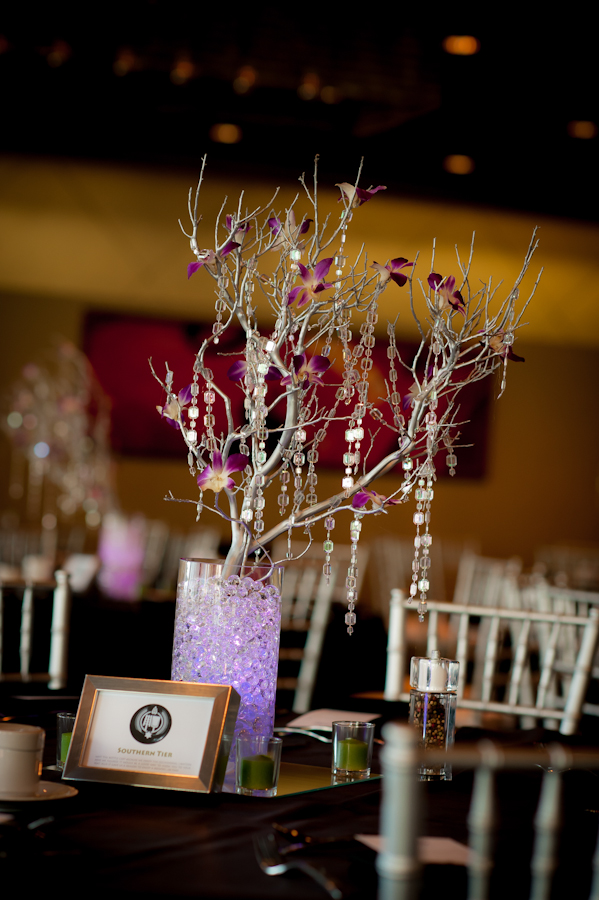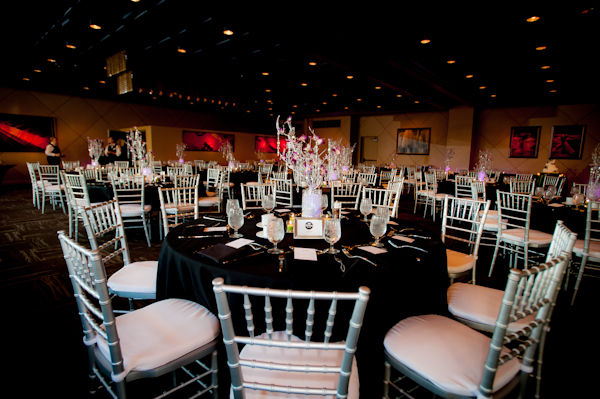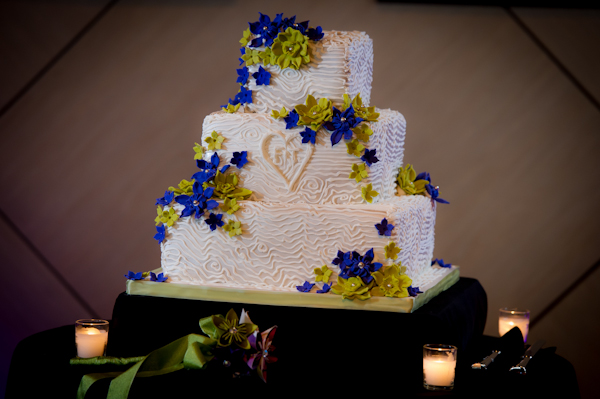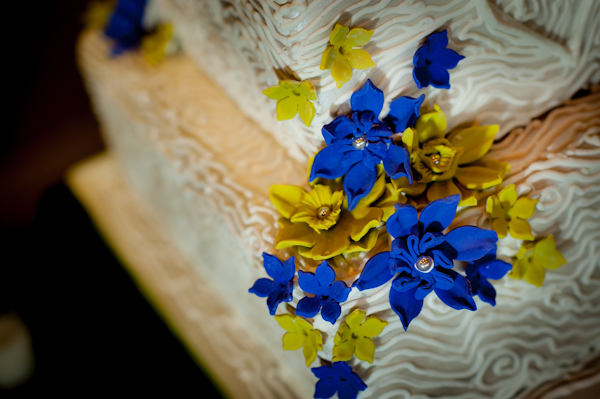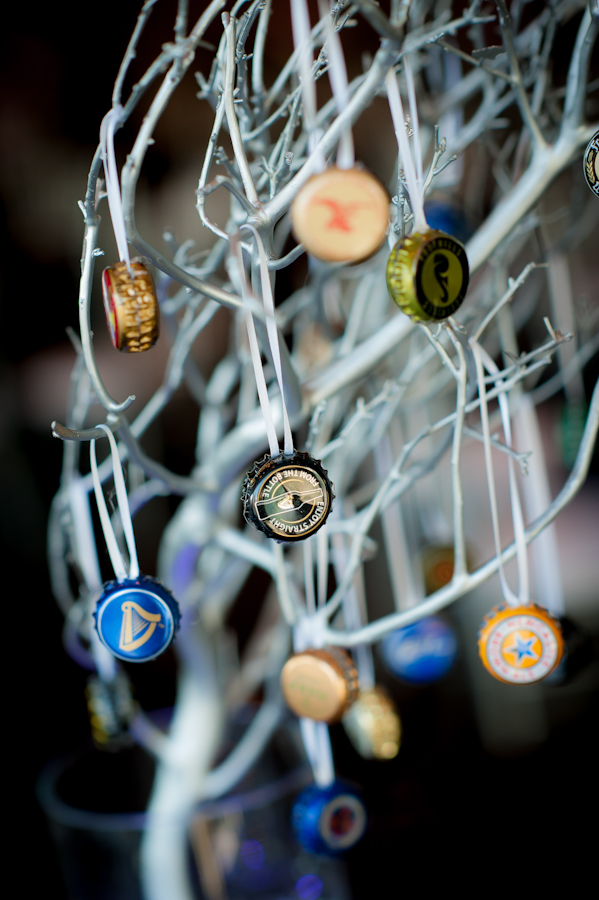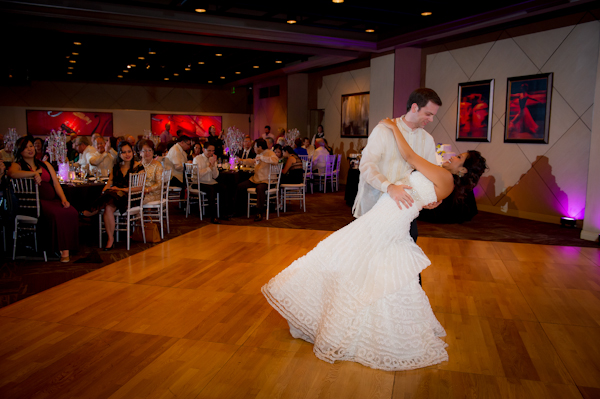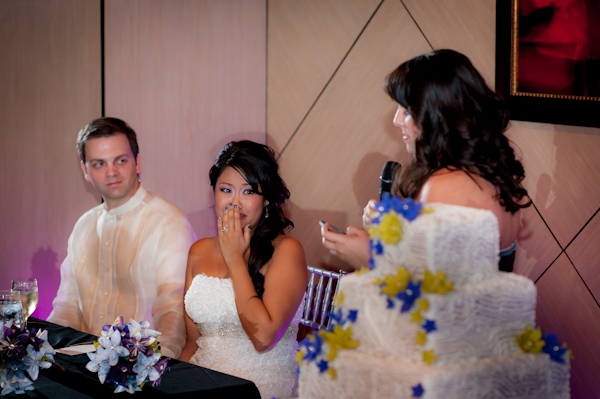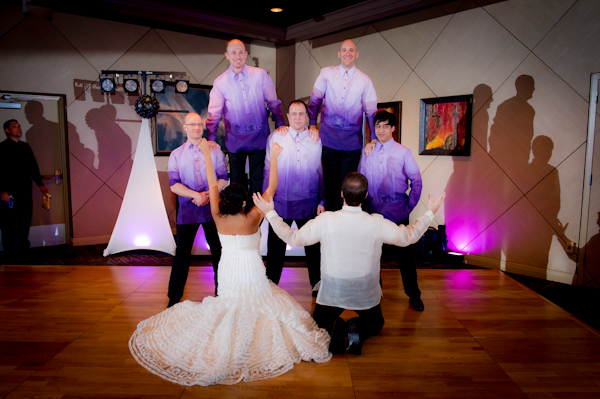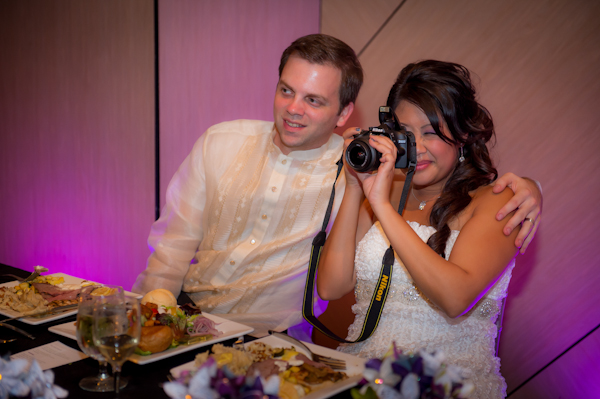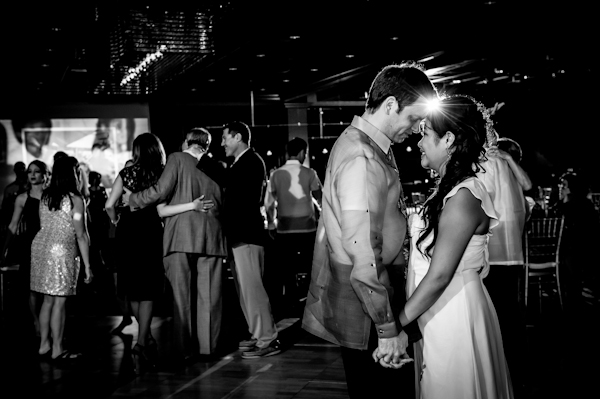 We are so happy with the beautiful photos from Richard Harrell Photography. Lexoria Wedding Films was able to give us a wedding video that really captured our day.  The photos and video are very important to us because now we can share our special day with my family in the Philippines who were unable to attend.  – The Bride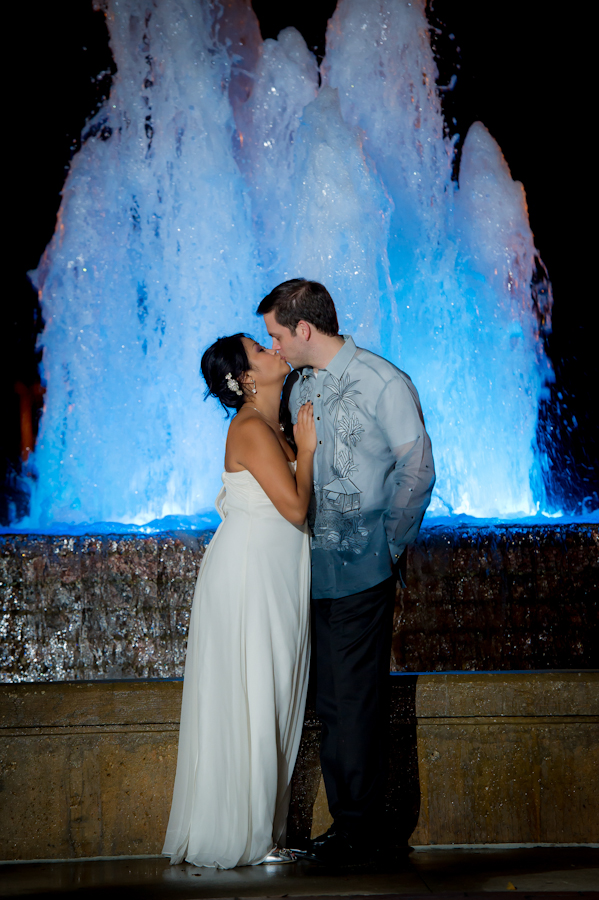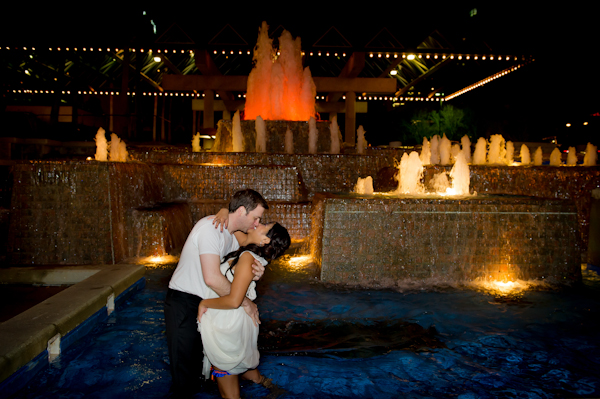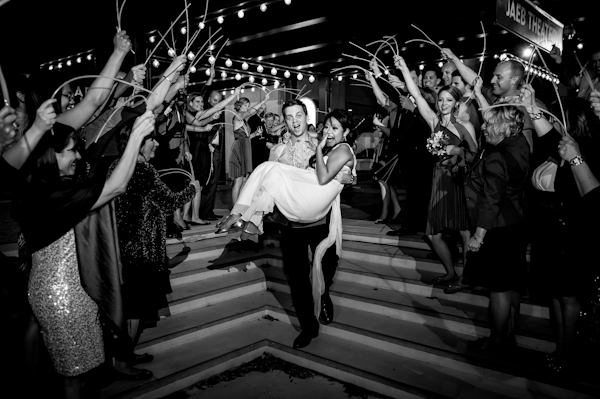 What advice would you give to other Tampa Bay Brides?
Do your research and meet with various vendors. The Tampa wedding scene is small so ask around for recommendations. I was shocked and pleased to find out that most of my vendors had worked together in the past, it really makes a difference. Also Etsy.com is a wonderful thing.
The day will go by so fast that you won't believe it until the next day. Take a moment to just look around and absorb that you are now married to the one you love and all of those people are there to share that. Remember to thank them for being there.
Most importantly…remember to eat!
Tampa Wedding Ceremony Venue: St. Anne Catholic Church
Tampa Wedding Reception Venue: Straz Center
Tampa Wedding Photographer: Richard Harrell Photography
Tampa Wedding Planner: Special Moments
Tampa Wedding Videographer: Lexoria Wedding Films
Tampa Wedding Cake: Chocolate Pi
Tampa Wedding Bouquet: Etsy.com – Nicolasa Cicero
Tampa Wedding Centerpieces: Patsy Barnhardt
Tampa Wedding Veil: Etsy.com – CLCOSTADESIGNS
Tampa Wedding Dress Alterations: Alterations by Roya
Tampa Bridesmaid Dresses: Etsy.com – The Jersey Maid
Tampa Wedding Hair & Makeup: The Michele Renee Hair & Makeup Artist Group
Tampa Wedding DJ & Uplighting: Total Sound Creations
Tampa Wedding Photo Booth: Shutterbooth
Tampa Wedding Rentals: First Class Rentals of Tampa Bay
Tampa Engagement Ring & Wedding Bands: Gesner Estate Jewelry
Tampa Wedding Dance Lessons: Arthur Murray Dance Studio (S. Tampa)
Tampa Wedding Limo: Olympus Limo
We are proud to have Special Moments as a Marry Me Tampa Bay sponsor!