Isla Del Sol Yacht & Country Club is a secluded St. Petersburg, Florida waterfront paradise overlooking Boca Ciega Bay, making it perfect for couples looking for an intimate wedding venue on one of St. Pete's only private beaches. Coupled with an 18-hole golf course and marina, this country club provides the perfect combination of Florida character and charm.
Meaning "Island of the Sun," Isla Del Sol features a private beach that allows couples to host an intimate and quiet ceremony for up to 200 without the distractions that come with a public beach setting. The gazebo is situated perfectly to allow the sun to shine through during your "I do's" and is surrounded by palm trees adding Florida flair.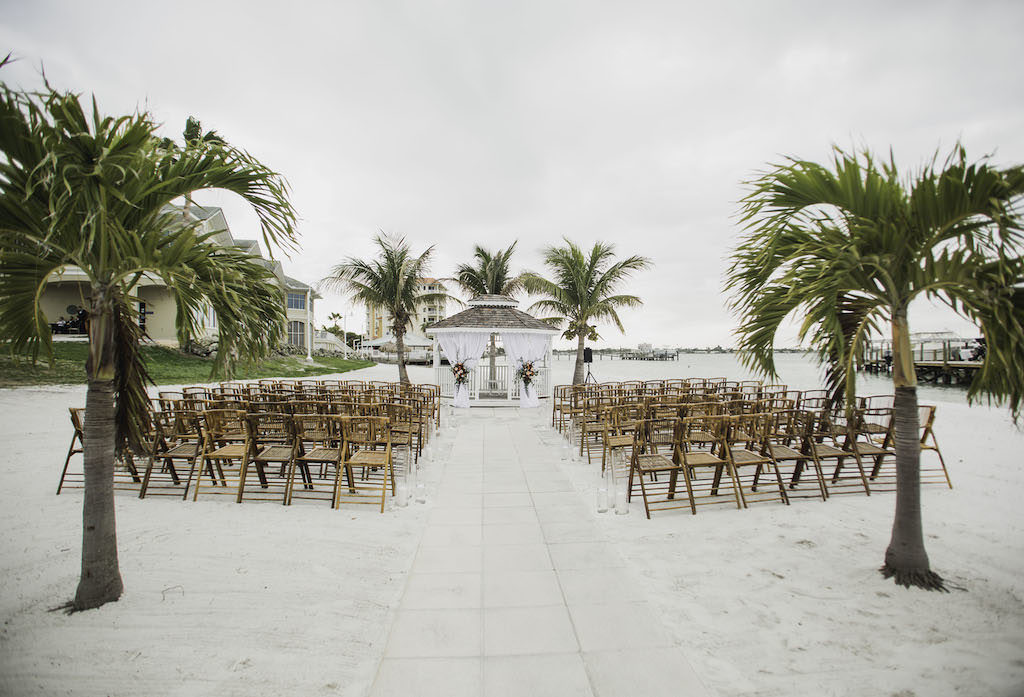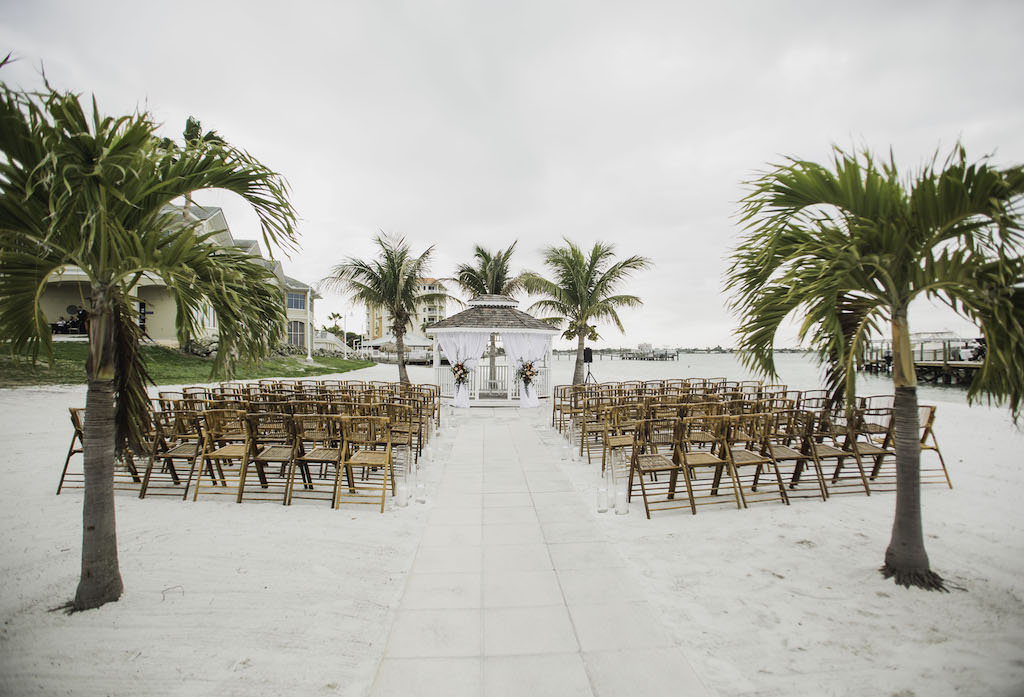 LEARN MORE ABOUT WEDDINGS AT ISLA DEL SOL YACHT & COUNTRY CLUB | EMAIL
For those who love the water, couples can take a private sunset sail around the bay during cocktail hour, giving them privacy to soak in the magic of the day while also watching their guests enjoy a poolside cocktail hour.
When it comes to wedding portrait backdrops, Isla Del Sol has a variety of options, from a picturesque pier lined with boats to the immaculate grounds and landscaping fit for a PGA-rated golf course, which also provides a stunning lawn ceremony alternative.
Even the rain backup ceremony space is jaw-dropping in the clubhouse's two-story foyer, complete with water fountain and surrounded by windows, which fills the room with natural light.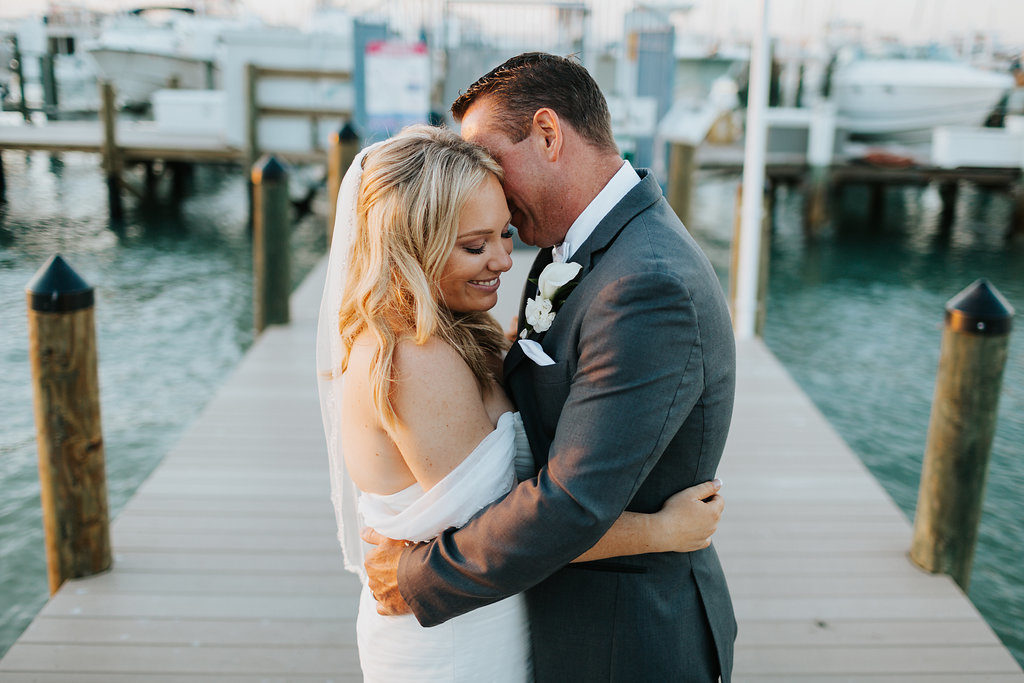 "We hired Isla Del Sol Yacht and Country Club because of their hospitable staff and location. From the moment we walked in, we were greeted with a warm welcome and never looked back. From the golf course, to the ballroom, to the outdoor ceremony location on the water, Isla had it all! Their service receives a 5-star rating in our book! Everyone involved was spectacular, and if we had the chance to do it all over again, we would certainly go back to Isla! They take you on a magical wedding experience. It was so cool that all areas were explored during our wedding, from the outdoor ceremony, bar cocktail hour, ballroom reception, to the outdoor sparkler exit. Isla made our wedding dreams come true!" -Carly and Matt | White, Grey, and Blush Waterfront St. Pete Wedding | Isla Del Sol Yacht and Country Club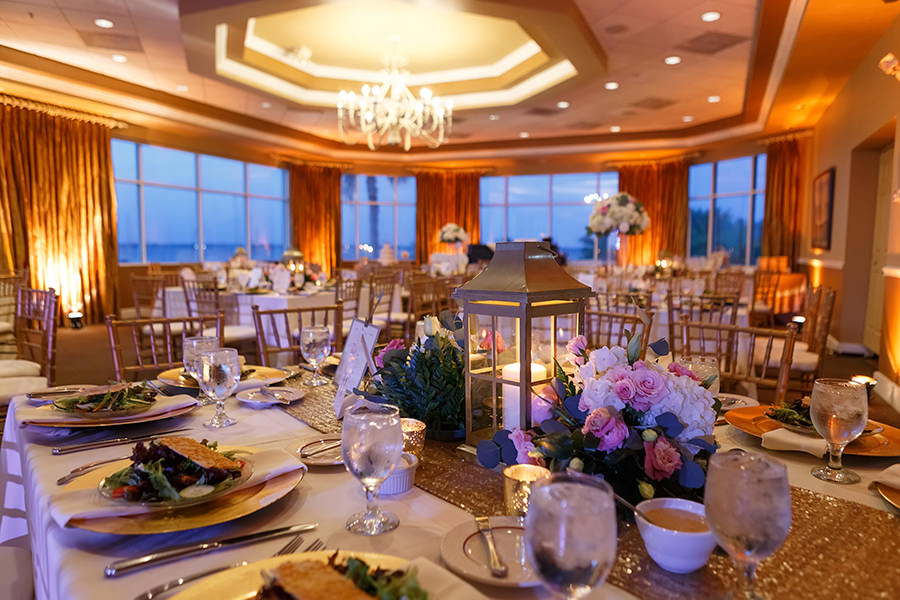 LEARN MORE ABOUT WEDDINGS AT ISLA DEL SOL YACHT & COUNTRY CLUB | EMAIL
Unlike many beach ballrooms that don't have windows, Isla Del Sol's Boca Ciega Ballroom features panoramic waterfront views. The floor to ceiling windows offers unobstructed views of Boca Ciega Bay throughout the 4,000 sq. feet. ballroom. Suited for weddings up to 250 guests, the entire clubhouse is reserved for the couple's wedding day so that the soon-to-be weds are the only wedding that day and the main focus of the staff.
For couples looking for a more intimate reception or rehearsal dinner, the private dining room is perfect for parties of 60 guests or fewer and offers the same stunning views.
"We love that the entire clubhouse is for our couples and them alone. We only cater to one wedding in a day so all the event space, staff, and culinary team are dedicated to that couple to ensure their day is flawless," Melissa Rowjohn, Director of Catering and Special Events, beamed. "The club prides itself on service, luxury, and relaxation. You can guarantee the venue will provide a stress-free environment with top-notch service from our trained and professional team."
Isla del Sol offers in-house catering and boasts an award-winning culinary team under the direction of an Executive Chef who has over 30 years of experience in the catering/restaurant industry.
Although it's a private club, it is open to the public for weddings and events.
"Being that we are so exclusive and limit the number of weddings we host each year, I get the opportunity to work and to get to know all my couples very well over our planning time together," Melissa reminisced. "One special memory that comes to mind was an Indian fusion wedding we hosted where our groom arrived from his baraat parade via boat to the venue. The parade took place in the bay in front of the venue, and then they all docked and continued the celebration through our marina and onto our private beach for the ceremony. It was a two-day celebration complete with boats, elephants, gorgeous decor, and amazing guests who filled the air with love and festivities."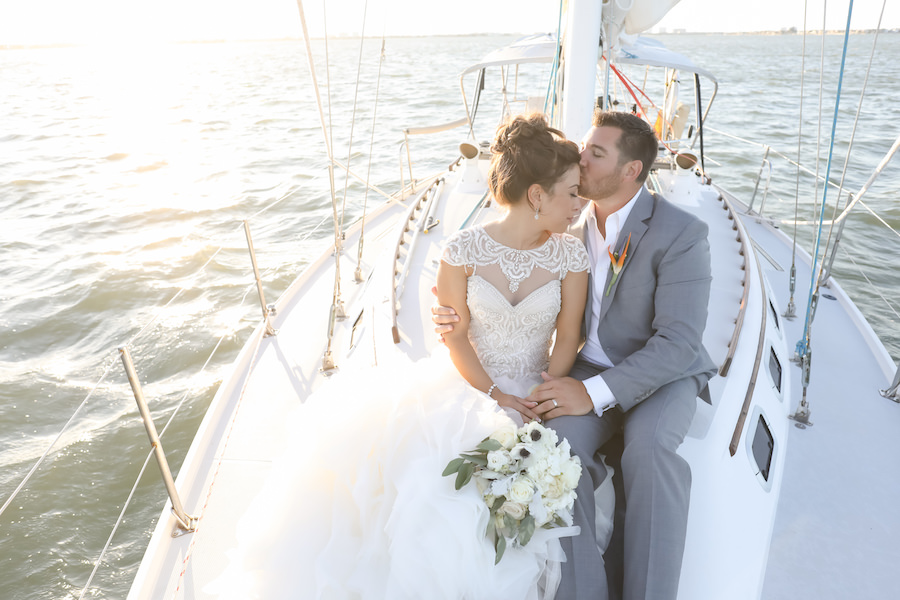 The details in this waterfront wedding venue are endless, with an oversized dance floor (seriously, one of the biggest we've seen in a Tampa Bay ballroom ), certified wedding planner, complimentary wedding cake cutting and serving, and custom-designed chef-driven menu all for an average cost of $115-$130 per person (not including ceremony, non-member usage fee or taxes and gratuity).
"We looked at a lot of venues. But when Karl and I went to see Isla, it was like, how did we not know about this?! It checked off everything on our list and then some: the beach, marina, golf course, ballroom, dockmaster suite (groom's room), even the option of a sailboat send off. Plus, you pretty much have the place to yourself! They don't host a ton of weddings in the same day, and once we saw it could fit our budget, it was another no brainer!" – Vanessa and Karl | Waterfront Nautical Glam St. Pete Wedding | Isla Del Sol Yacht & Country Club
Mention Marry Me Tampa Bay to receive a 10% discount on reception packages!