Nowadays pets are seen as a part of the family and more couples want to include them into their wedding day. However, there are some logistical items to consider when including your furry friend in your wedding. Here are some tips to make sure big day doesn't go to the dogs.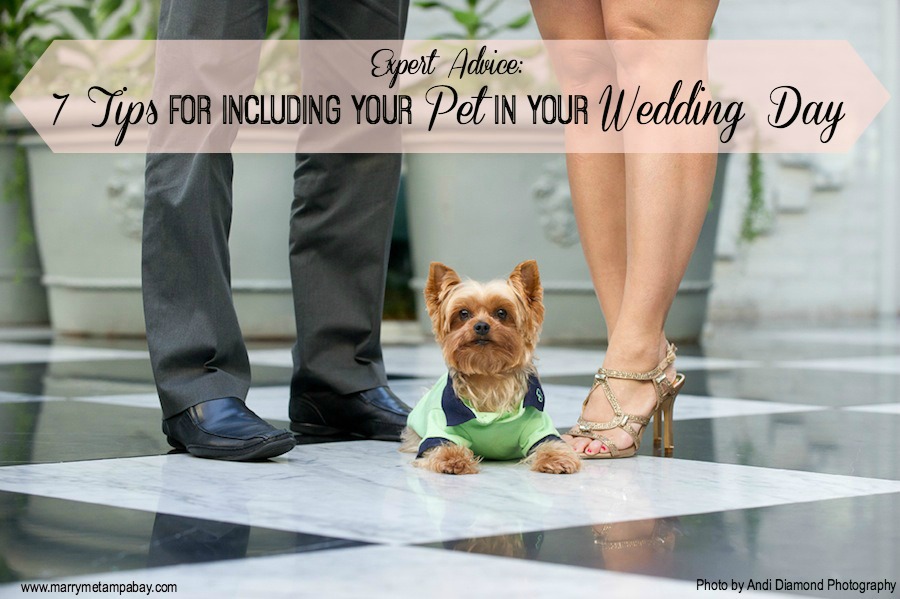 Expert Advice: Tips for Including Your Pet in Your Wedding
1. Make Sure Pets are Allowed 
While it's typically not an issue to have a pet in a park, some beaches or private properties may have rules against bringing pets on-site. Discuss it with your venue coordinator and wedding planner.
"If possible, visit the venue with your dog prior to the wedding to make him feel more comfortable on the big day." -Becky Daly, owner of Tufted Vintage Rentals
2. Designate a Handler 
"If incorporating a pet during your photo session or wedding, make sure you have a "handler" to be in charge of your pup once you are done with images of him.  Odds are, you won't want every single image with your fur baby, so you need to have another person be able to take over so you can get back to pictures or your event." -Andi Diamond, owner of Andi Diamond Photography
"Remember that the entire session will not include your pet. Even though Fido might be a huge part of you, it's still your engagement session. As much as I'd love to be able to hold him, it's hard to take a picture and hold a leash at the same time." Lisa Otto, owner of Lisa Otto Photography
3. Keep the Designer Duds to a Minimum 
"Don't dress up your pet in a costume he hasn't worn before. I chose a simple bow tie that was not bothersome to my dog." -Becky Daly, owner of Tufted Vintage Rentals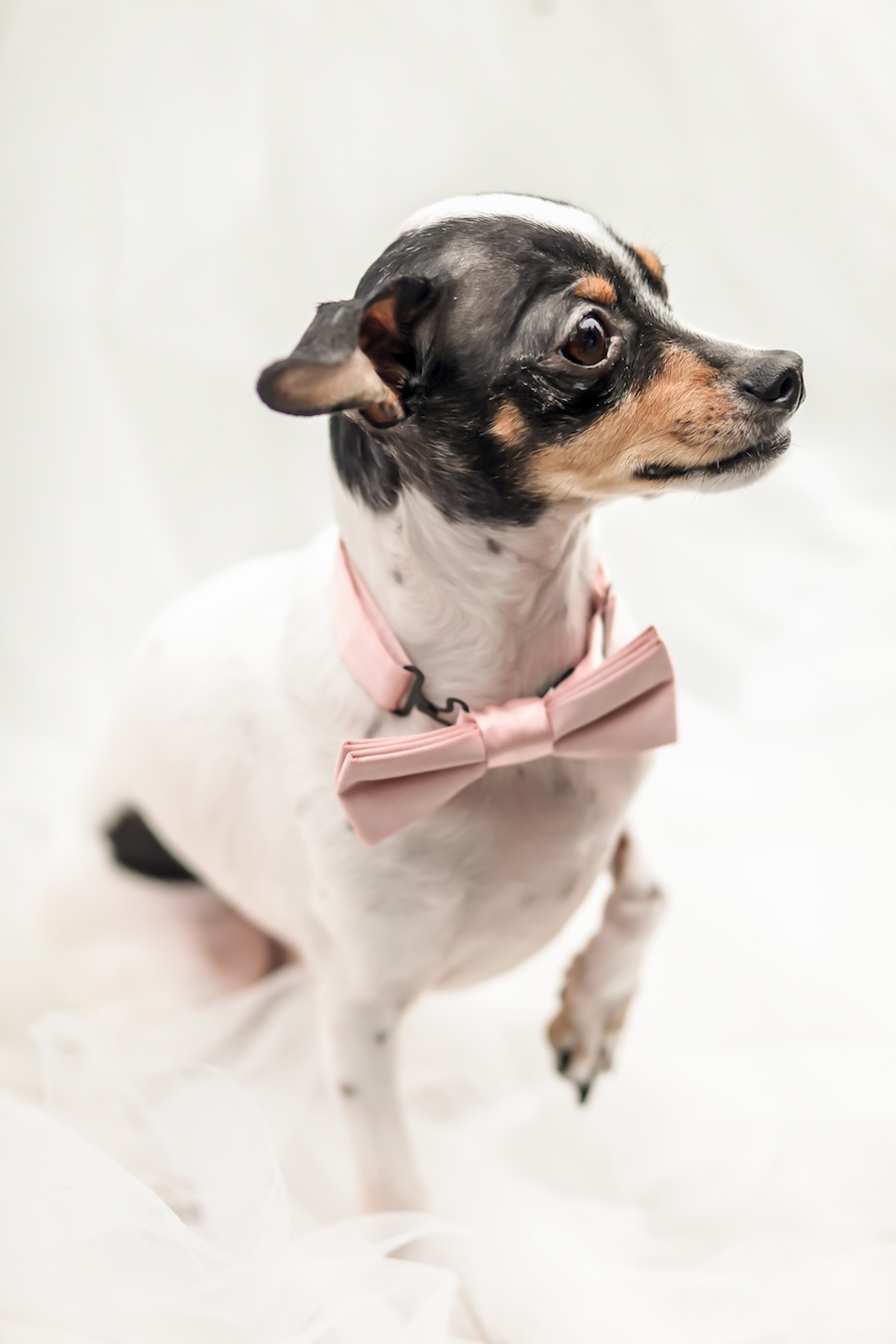 Photo by Life Long Studios – Romantic Blush Pink, Silver & Grey Davis Islands Garden Club Wedding
4. Make Sure Your Pet is So Fresh and So Clean
"Take a trip to the grooming parlor or wash and groom your pet at home so that he looks and smells good on the big day." – Bridal Guide
5. Consider Your Wedding Party and Guests
Sure you love your pet, but will everyone at your wedding? Make sure no one in the wedding party (including the little ones) has a severe allergy or fear. Reptiles at the wedding ceremony…it's been known to happen.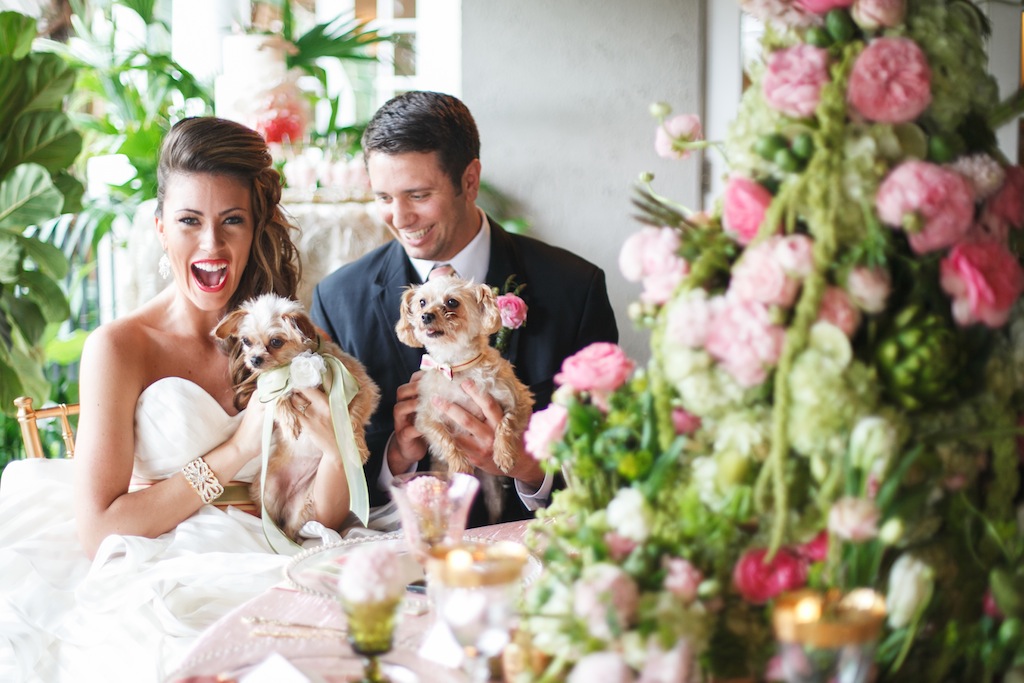 Photo by Carrie Wildes Photography
6. Don't Place Too Much Stress on Your Pet
Just as with your sister's 1-year-old flower girl, your pet may be having an off day or feel uncomfortable out of his element. Don't force him to participate if you can tell he is feeling uneasy. While it's cute to see your dog walk down the aisle, no one will enjoy it if he's barking or cowering the whole way.  
7. Take Them to Potty, BEFORE the Wedding Ceremony
It can be very hectic getting everyone to the ceremony on time, but this one thing you'll definitely want to make sure to make time for! Your pet's nerves could take over or they could just be show-offs for the crowd. And you thought rain was the only thing to be nervous about on your big day!