Tampa Bay is one of the top cities for destination weddings in the U.S. and especially attractive for international couples looking to wed in Florida.
Getting married in the States can have its challenges if you're not familiar with the laws, customs, and expectations of an American wedding. With Florida located in the southern part of the U.S., you'll want to be conscious of the date you choose (avoiding the hotter summer months and being aware of hurricane season). Also if you have guests crossing the ocean to attend your wedding, you'll want to be mindful of the venue you choose and transportation options.
To help provide insight into planning an international wedding, we reached out to Tampa Bay's best wedding planners to share their expertise on 5 Things International Couples Need to Know About Hosting a Destination Florida Wedding.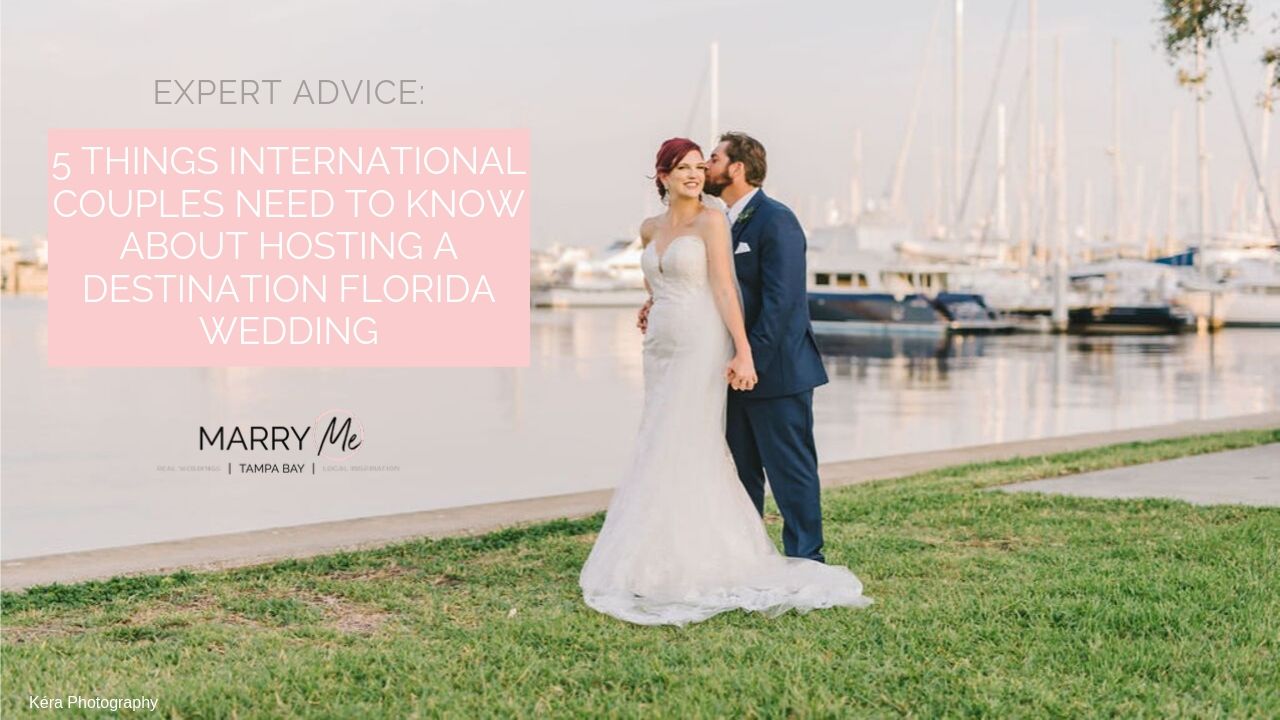 THE EXPERTS: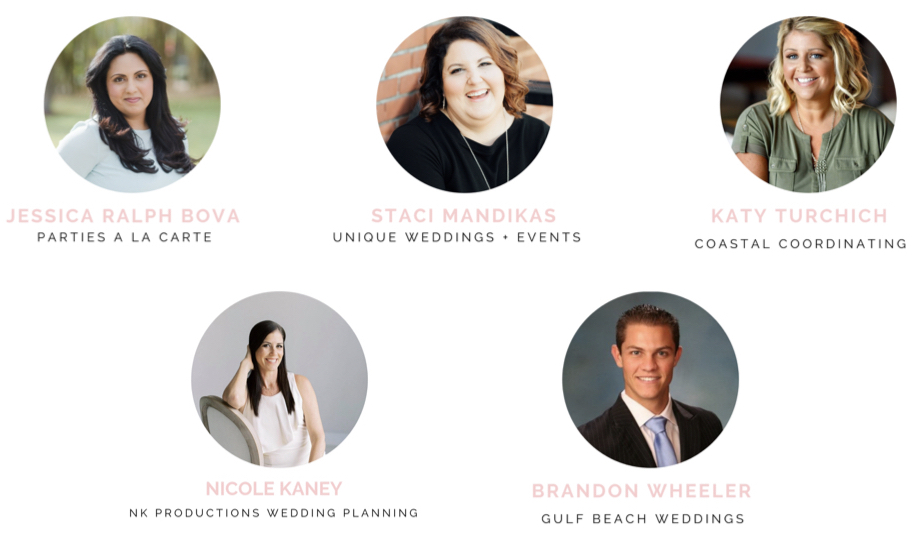 1. When are the Best Times of the Year to Get Married in Florida? 
Staci Mandikas, owner of UNIQUE Weddings + Events, shares:
Fall and spring are the best times to get married in Florida, specifically March and October. All over the United States, June is a major month to get married, but you need to understand that Florida is hot and humid. Steer clear of dates in June, July, and August. You might also want to avoid May and September, as they are also warmer months.
Katy Turchich, owner of Coastal Coordinating, adds:
The best time of the year to get married in Florida would be Spring. Fall is always nice but be very careful to watch the hurricane season and what is projected to happen.
Avoid summers in Florida! It is very hot and outdoor weddings can take a toll on guests. If you choose to get married in the summer then we always recommend being clear with dress code, such as avoiding tuxedos for beach weddings.
Brandon Wheeler, owner of Gulf Beach Weddings, provides a different perspective:
In terms of weather and precipitation, fall is the best "season" to get married technically in Florida. Spring offers the traditional wedding season and also has great weather (this option is the most popular). However, there are a number of weddings that take place in the summer as couples combine their wedding and vacation, a "wed-cation" we call it. The best date is one that works for you and your guests; it is ultimately a personal decision. Our best advice is to have one or two weeks in mind so that you have options when it comes to availability, venues, and lodging.
2. How do International Couples Get a Legal Marriage License in Florida?
Brandon Wheeler of Gulf Beach Weddings explains:
There are two options when obtaining the Marriage License in the State of Florida: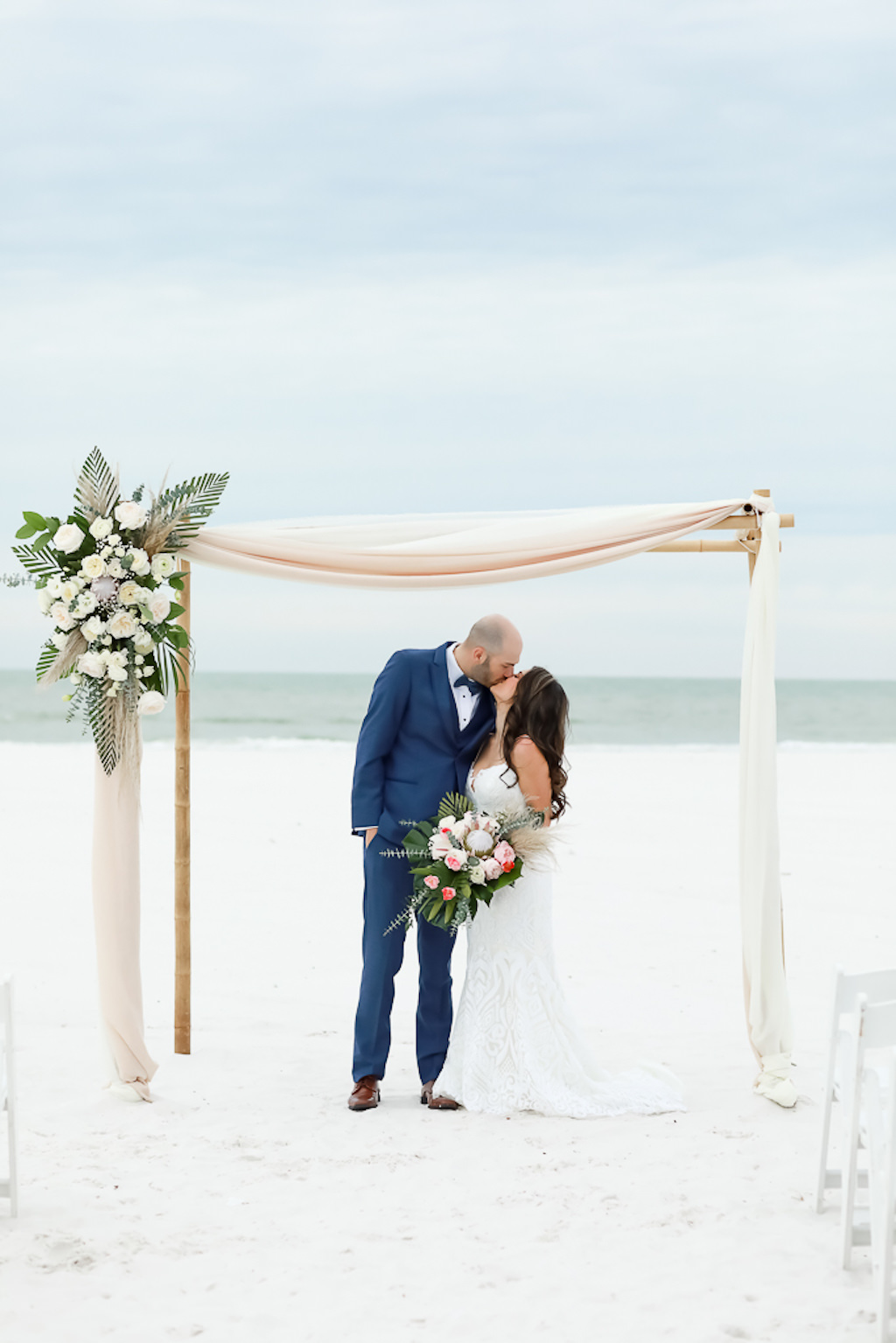 3. What are some cultural differences that could affect wedding planning for International couples?
Staci Mandikas of UNIQUE Weddings + Events shares:
The biggest difference between weddings in other countries and the states is the time frame. Our international couples can't believe that a wedding reception is typically four hours long. Weddings in other countries are longer and sometimes take all day. Also, the idea of "last call" is something that international couples are often surprised to learn about. Learning that there are laws that dictate how late alcohol can be served can be quite a surprise to our international couples.
Nicole Kaney, owner of NK Productions Wedding Planning, helps couples create a fusion wedding:
Most of our clients coming in from international destinations want to follow an American wedding format, but we love to honor their cultures and embrace traditions from their countries. We love to get to know them to see what parts of their cultures are important, and we work to incorporate those into their wedding day as well!
Katy Turchich of Coastal Coordinating adds:
Churches typically have different rules internationally. Always check with your planner or a local guide.
4. If they can't visit the States ahead of time, what should International Couples know about planning a wedding from afar?
Jessica Ralph, owner of Parties A'La Carte, explains:
When it comes to planning a wedding abroad, international couples should give themselves plenty of time to prepare for the big day. Destination weddings can be more overwhelming since you are planning many details from afar. Throughout this process, I would recommend hiring a wedding planner to ensure all the bases are covered and to relieve stress for the couple. Before traveling to a destination, keep in mind the location, venue, accommodation of the guests, local laws, and culture. It is essential to be very educated on the destination to plan accordingly.
Nicole Kaney of NK Productions Wedding Planning emphasizes experience:
Hiring a good planner that knows the market very well is key. Our international clients rely on us heavily for all vendor recommendations and design to bring their wedding vision to life. We make the process smooth and easy so they can feel easy having a wedding so far away. We communicate a lot over emails so staying detailed is very important.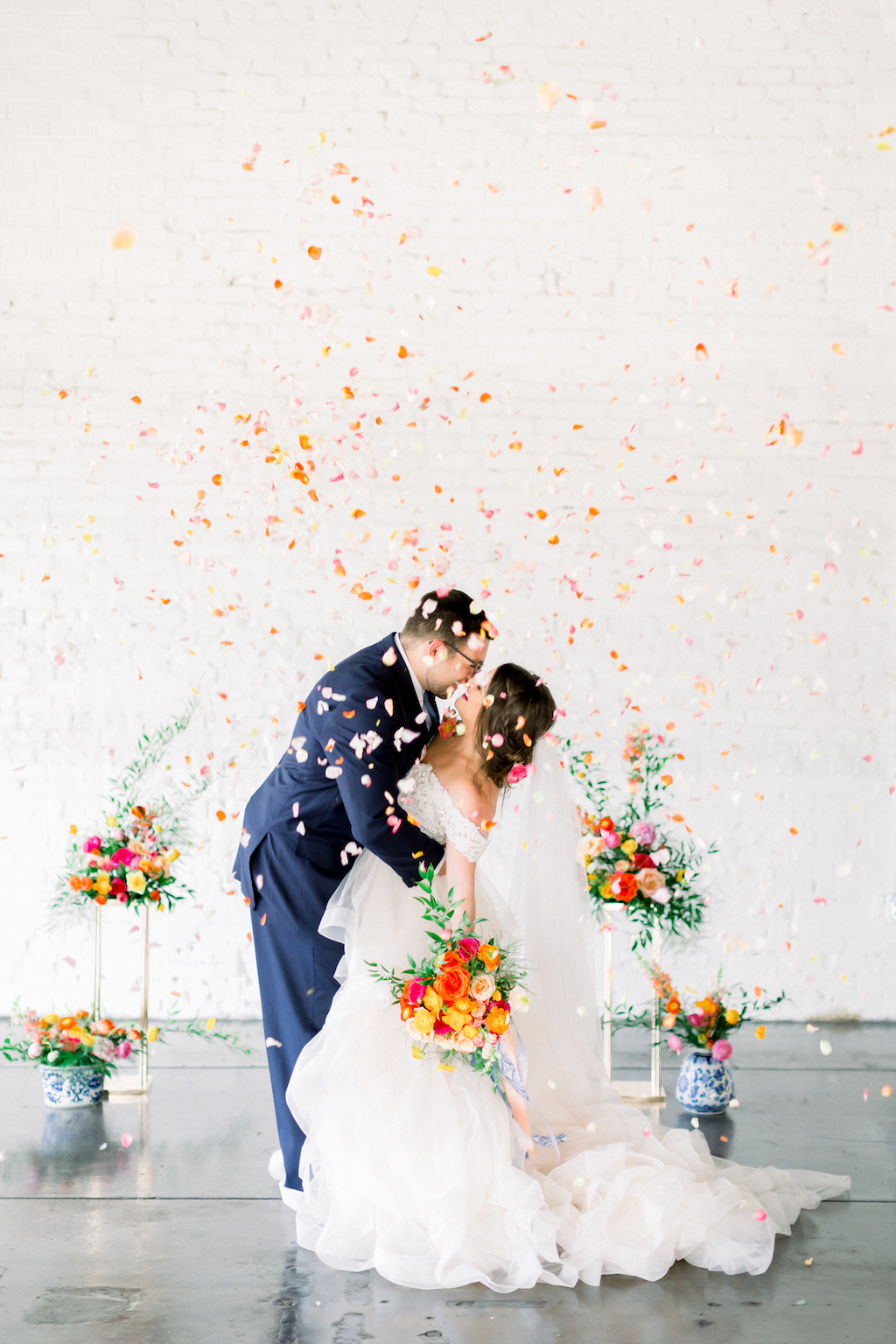 5. What should international couples consider when it comes to accommodating their guests who are also traveling internationally?
Jessica Ralph of Parties A'La Carte says that logistics are key:
Accommodation is an important factor when it comes to traveling Internationally for a destination event. Location is one of the main things you want to keep in mind. Look for places that are located near the airport as well as your venue. If the hotel is located off-site, keep in mind transportation for guests and make sure it's easily accessible or provided. Once a place is chosen, find an easy way to keep guests updated on all the information so everyone can easily book their stay and they are all on the same page. A great way to keep guests informed would be to create a wedding website where you can include all the important details for the wedding weekend.
Nicole Kaney of NK Productions Wedding Planning shares to focus on communication:
Having a very detailed wedding website listing out as much information as possible really helps. We assist our clients in helping to make sure their guests are fully prepared and excited for the wedding! Often, there is also a lot taken care of for them on a wedding weekend such as hotel blocks, transportation, and multiple events.
Staci Mandikas of UNIQUE Weddings + Events adds a familiar touch:
Providing your guests with something familiar "from home" is a great way to make them feel comfortable when traveling to a new place. The Tampa Bay area is also very lucky in that we have an amazing international airport.