Amidst all of the excitement of planning your Tampa Bay wedding, it's difficult to imagine that something could go wrong in the months leading up to or even on the day of the wedding. In reality, hiccups are possible, no matter how meticulously detailed you were in the planning process.
Unplanned life events, including a severe illness or hurricanes, can cause a wedding postponement. There could also be an issue with your booked venue or contracted vendors that can affect major aspects of your wedding day.
You've probably never spent more money on one day (nor will you again), so be smart and protect your big day with wedding insurance!
Don't think you need wedding insurance? Here are just a few things that can go wrong on your wedding day (and that your wedding insurance may cover) from our trusted partners at the Wedding Protector Plan® underwritten by Travelers.
*This post is sponsored by the Wedding Protector Plan®.
We only partner with businesses whom we value and trust.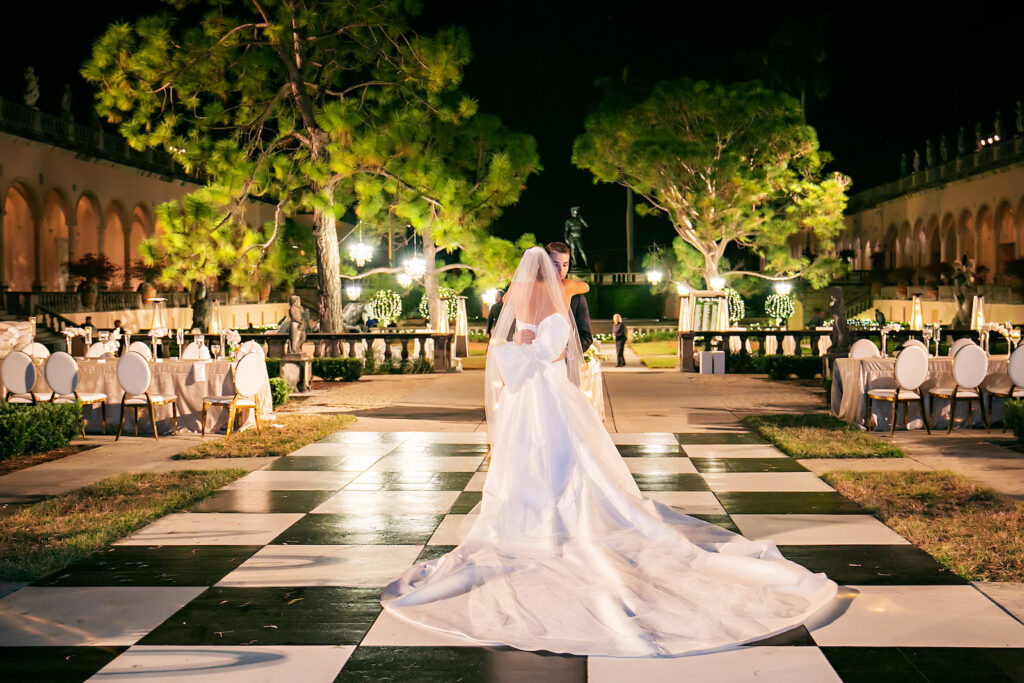 Luxurious Destination Courtyard Sarasota Wedding | Limelight Photography
1. Your Photographer/DJ/Caterer is a No-Show
Did you know,  typically, there are 14 different types of vendors coming together on a single day to produce a wedding? Hopefully, you've done the due diligence to hire professional, respected wedding pros, as they have backup plans in place. However, if this were to happen on your wedding day or leading up to it, according to wedding insurance specialists at the Wedding Protector Plan®, their policy "can pay for any contracted deposits lost when a vendor fails to provide the event items, services, or locations it was obligated to provide under a written contract."
This includes if your photographer cancels, your DJ is a no-show or your caterer (or any of your vendors) gets sick or goes MIA. According to Travelers, 29% of its wedding claims were due to vendor issues in 2021. 
An added benefit is that wedding insurance may also pay up to 25% over the original contract in securing a replacement vendor, with "Additional Expense coverage," which pays for expenses not originally anticipated if your vendor flakes or has a last-minute emergency.
This comes in handy for rush fees or having to hire a more expensive wedding pro because everyone else is already booked.
---
2. Catastrophic Weather Washes Out Your Wedding
Could Mother Nature show up to your wedding as an uninvited guest? This notorious wedding crasher wreaked havoc on and canceled thousands of weddings when Hurricane Ian trekked across the state of Florida and up the East Coast with its devastation. In addition to hurricanes and tropical storms, couples across the country must also consider catastrophic flooding, wildfires, blizzards, and tornadoes when planning their weddings.
The Wedding Protector Plan® makes a distinction between a rainy day and truly severe or catastrophic weather; however, wedding insurance can potentially provide coverage if extreme weather causes you to postpone or cancel your wedding.
Note: A 14-day extreme weather exclusion applies. Purchase a policy early to ensure coverage is in place.
---
3. Your Wedding Dress is Damaged or Lost
For the bride, there is probably nothing more meaningful than her wedding dress. "Special Attire coverage," as it is called, can pay for loss or damage to the special attire of the wedding couple.
If your wedding attire is lost, stolen, or damaged, the policy may cover the repair, replacement, or any necessary rental charges if replacement or repair is not possible in time for the event.
This may occur at a destination wedding where the dress is lost in transit or if a dress is damaged while it is being altered.
For an item to be considered lost, the insured would work with the claims department to determine if all means to find the item have been exhausted.
For example, if the airline is unable to locate your wedding dress in time for your wedding date, the coverage could pay for a dress of equal value or for any charges associated with renting a dress. Each claim involves a unique set of circumstances, and each scenario is reviewed individually to verify what coverage could apply.
---
4. Your Wedding Gifts are Damaged or Lost
What happens if that $350 kitchen mixing appliance goes missing from the reception gift table or the hotel bellhop tosses your suitcase atop a fragile gift?
Your wedding insurance may cover it.
"There is coverage for direct physical loss or damage to gifts that occur on the day of the event or up to a week before. The loss or damage could be covered if it occurred either at the event location during the event or at the residence of the wedding couple or immediate family member up to seven days before the event."
For instance, a wedding guest drops off a gift at the mother of the bride's home the day prior to the wedding, so they didn't have to carry a large gift box to the wedding. While at the mother of the bride's home, the gift falls off the table, and later when the gift is opened, it is discovered that the fine crystal vase inside is damaged. In this instance, the wedding insurance policy could respond to potentially cover the cost of replacing the vase.
---
5. A Guest Gets Hurt at Your Reception
You know that +1 that your cousin brings as her date…they could sue you for getting hurt at your wedding. When you mix a crowd of people, drinking, and dancing, it can be a recipe for a disaster.
Many venues may require you to purchase general liability insurance, especially if you're serving alcohol. This protects you financially and the safety of your guests at your wedding.
A spilled drink on the dance floor can go unnoticed, causing a hazard for anyone walking by.
Purchasing wedding insurance with optional general liability and on-site liquor liability can help protect the couple in the event of property damage, bodily injury, or personal injury to third parties at your ceremony, reception, or rehearsal dinner.
---

Underwritten by Travelers, the Wedding Protector Plan®. provides wedding insurance coverage for the ceremony, reception, rehearsal, rehearsal dinner, and a post-wedding brunch. There's also the option to add liability coverage for the many other things that may go wrong. With the Wedding Protector Plan®, you can ensure that nearly every risk is covered.
With last year's devastation from hurricanes, wildfires, earthquakes, and nor'easters fresh in everyone's mind, and with venues increasingly requiring insurance, wedding insurance can protect your special day. Learn more about this valuable coverage and Get a Quote or Purchase A Policy when the wedding planning begins.
*The information in this post is general in nature. Any description of coverage is necessarily simplified. Whether a particular loss is covered depends on the specific facts and the provisions, exclusions, and limits of the actual policy. Nothing in this post alters the terms or conditions of any of our policies. Please read the policy for a complete description of coverage. Coverage options, limits, discounts, and deductibles are subject to individuals meeting our underwriting criteria and state availability.