Karley and Chad's destination luxurious Sarasota wedding featured a neutral palette and lush flora befitting the grandiose garden setting at one of the most sought-after venues in the Suncoast. Curated gold details, from the place settings to the cake accents, elevated the celebration for a glamorous feel.
"I have been coming to Sarasota since I was born. I have always wanted to get married down here, so when it came time I knew Sarasota was it. My parents now live on Longboat Key, which made the planning so much easier!" the bride shared. "I wanted our wedding to have a dramatic yet chic vibe. The Ringling is such a grand venue that I wanted the décor to mimic that and bring in the modern glam. Chad and I both have modern taste, and I have always been all about the glam. We stuck with neutral tones. The flowers were all white with touches of big greens. Gold was our accent color and the chairs that we got were so stunning it really tied in the whole look!"
The Chicago couple prioritized classic photography that could stand the test of time and were referred to the seasoned team at Limelight Photography based on their extensive portfolio and outstanding reputation.
"I wanted someone who could capture the drama and create really crisp timeless photos. I didn't want anything dark or a reflection of the current trend because these photos were going to be around forever," Karley reasoned. "Limelight Photography came highly recommended. Their work is so classic and timeless. All of our photos were really sharp and captured the glam of the whole day. They were great."
The bride and groom chose a beautiful historic museum as their wedding venue which offered a beautiful garden courtyard backdrop for their 165 guests.
"The location [made our wedding unique]. Most of our guests had never been to the Ringling Museum before so that was really cool," the bride revealed.
Karley turned to A&P Design Co. to guide them through the invitation and stationery design process and to create paper pieces with timeless elegance.
"We were all over the place, but we knew we wanted orchids to play a role because that was the main flower. I also wanted a very formal invite to match the vibe. Alicia, the owner of A&P Design Co., came highly recommended. She had done work at the Ringling previously, and she did really high-end work. She made our vision come to life and also gave her opinions which were appreciated," the bride raved.
Seeing the space transformed from an empty garden to their wedding reception made for an unforgettable moment for the couple.
"Walking into the venue for the first time was really breathtaking," Karley recalled. "The band was warming up when I walked in and was playing our first dance song so it was really cool."
What did you look for in a rehearsal dinner location?
Most of our guests were staying at The Resort at Longboat Key Club. We are also members there, so we had a lot of time to plan and think about the dinner. The service was great because our planner recommended extra staff and made sure they knew our expectations. Everything went great!
The Proposal:
Chad proposed on our rooftop in Chicago on his birthday. Just the two of us and a photographer, and I was stunned!
How did you incorporate your personalities into the wedding?
One thing that was important to Chad was his tux, which was stunning. We had it made by Enzo Custom in Chicago (which is where he gets all of his suits made) He wanted something that stood out, something different but not obnoxious. When we were picking out the fabric, we saw it and instantly picked it; it was perfect!
Similarly, for me, it was all about the dress. I looked at thousands of gowns and my mom and I went all over the country looking for "the one." We were not stopping until it was the perfect gown. The dress was me, modern but classically chic. The bow was so dramatic and big that it really was breathtaking. Because our venue is so big, we extended the train so there was so much drama going on. It was really cool.
Where did you spend your honeymoon?
We went to Italy. Rome, Siena, and Florence, and it was over the top. We both had never been to Italy, and it was high on our list. Stunning and very romantic!
Where did you host your bachelorette party?
Miami, because I love Miami… and it's Miami, enough said :)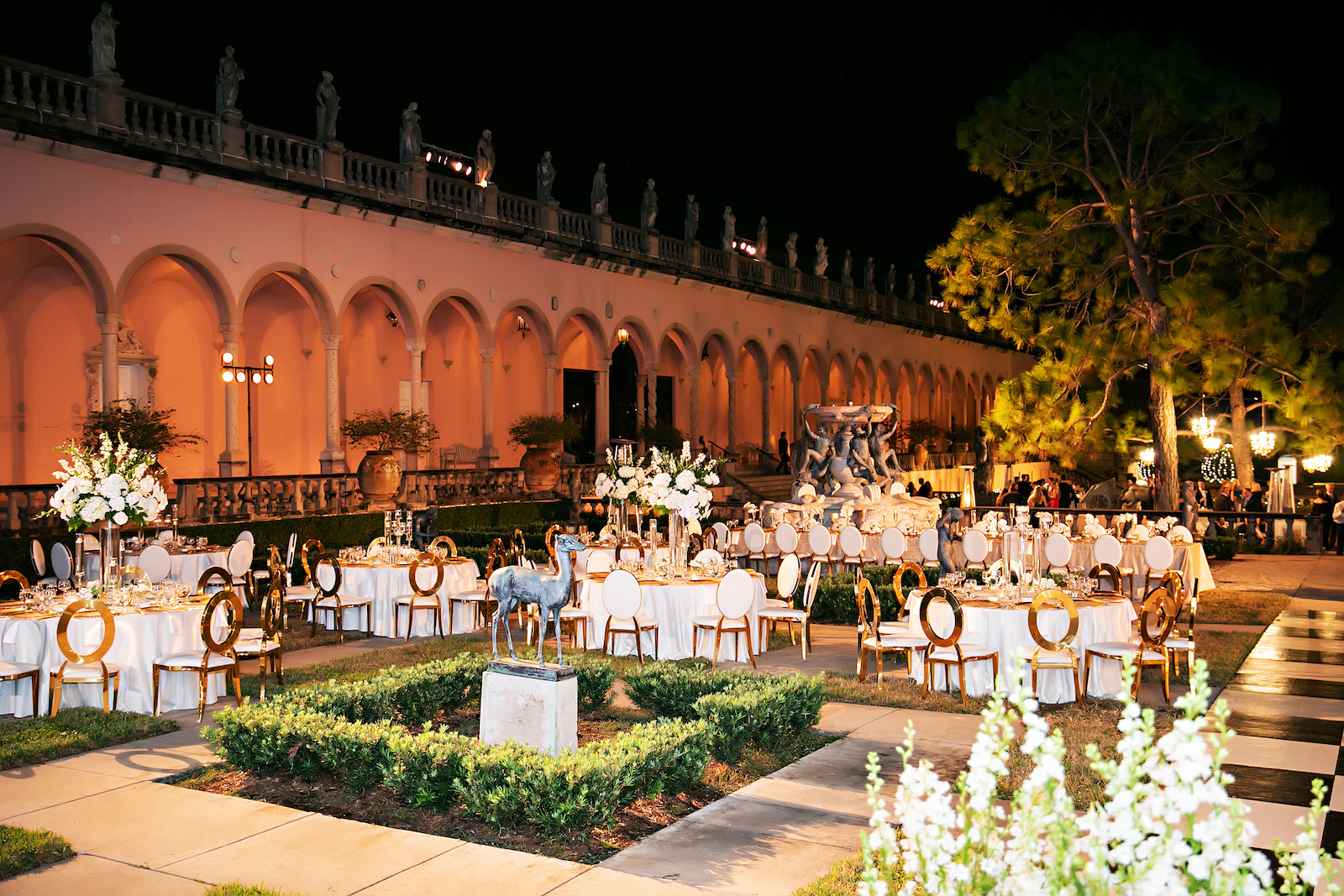 Which vendors really exceeded your expectations?
Our wedding planner was hands down the best decision we ever made. Her whole team went above and beyond for us and really made the experience over the top.
What advice would you give to other Sarasota couples?
Spend time with your new husband/ wife on your wedding day. It's so easy to separate at the reception; you get pulled in to so many different directions but stay together!