Your wedding cake topper is the prefect way to incorporate you and your new spouse's personalities into the reception. We find couples often highlight their hobbies, school mascot or personalized initials onto the top of their wedding cake. From rustic to contemporary, beach-casual to traditional, we've compiled an ultimate list of 20 wedding cake toppers to complement your special day!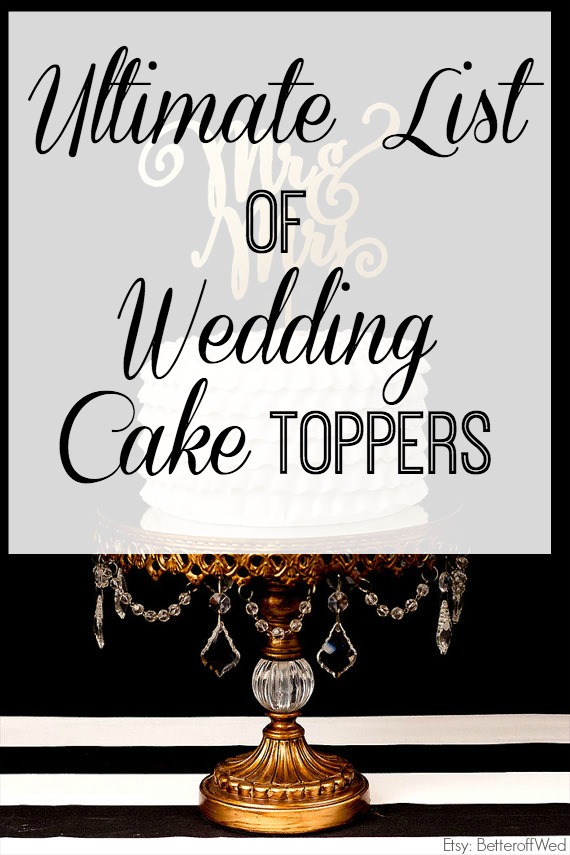 Traditional Wedding
Want something no-fuss, versatile and eye-catching? Try this customized, name cake topper and your cake will look awesome when photographed.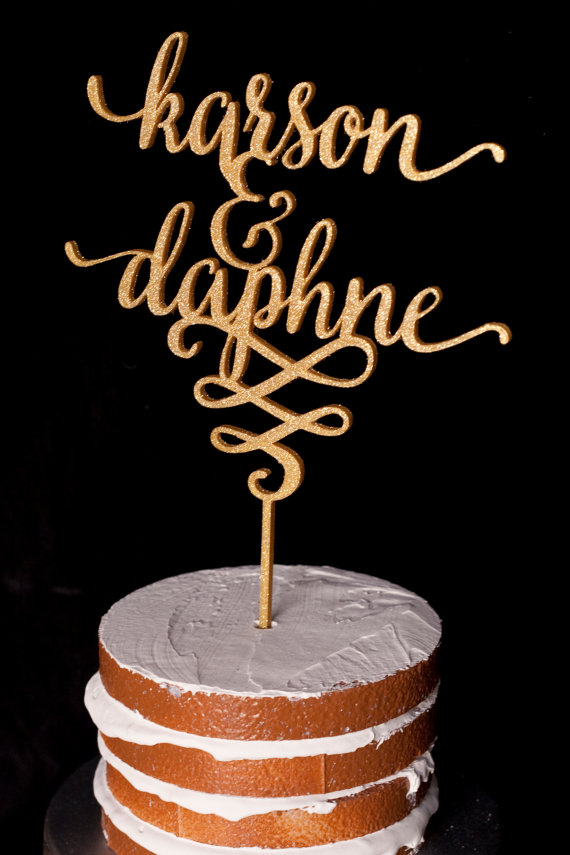 Custom First Name Cake Topper – $40 / etsy @HomePrint3DToppers
Country Wedding
This wooden cupid's arrow cake topper can double as home decor in a flower vase post-wedding festivities.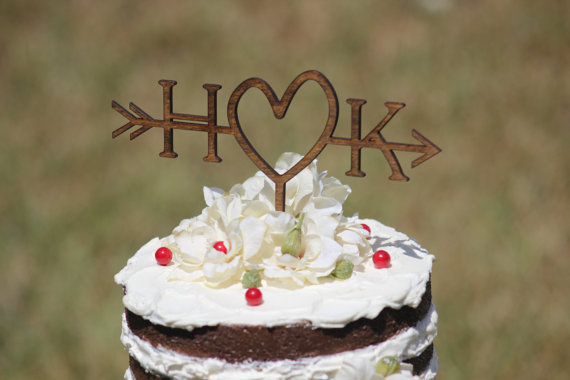 Rustic Wedding Arrow Initial Cake Topper – starting at $15 / etsy @weddingpros
Fall Wedding
Something about the tree rounds makes us think of the fall and pine trees, so if you're having a ceremony inland, this cake topper guarantees a perfect slice!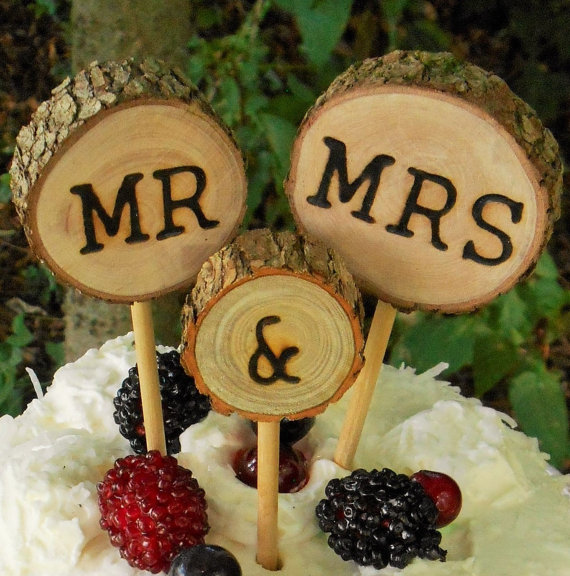 Rustic Wood Slice Cake Topper – starting at $15 / etsy @RosyLily
Rustic Glam Wedding
The metal wire adds a touch of shine to your cake's design. Consider adding some edible lustre paint to an otherwise basic multi-tiered round cake for added effect.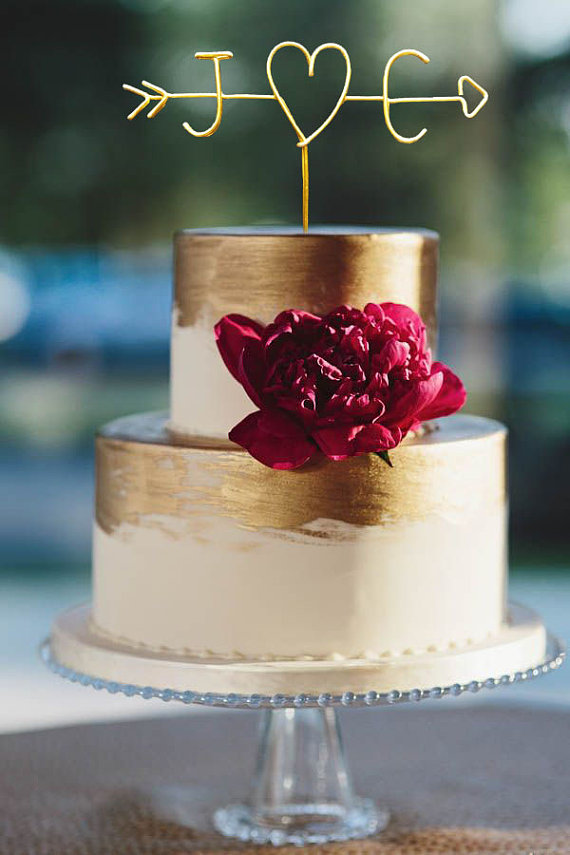 Rustic Wire Initial Cake Topper – starting at $19.99 / etsy @LeRusticChic

Rustic Beach Wedding
If you've seen plenty of wooden cake toppers for rustic weddings, try out this beautiful wreath design with added floral embellishment.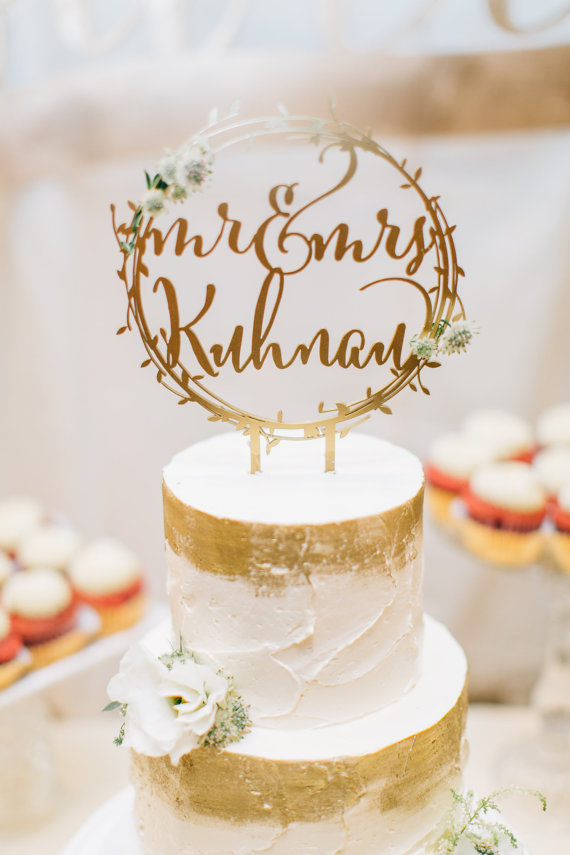 Mr. & Mrs. Wreath Cake Topper – starting at $50 / etsy @LetsTieTheKnot
University of Florida Alumni Wedding
We had to pay homage to our U of F alum and give you these cute gators to use on your main wedding cake or Groom's Cake!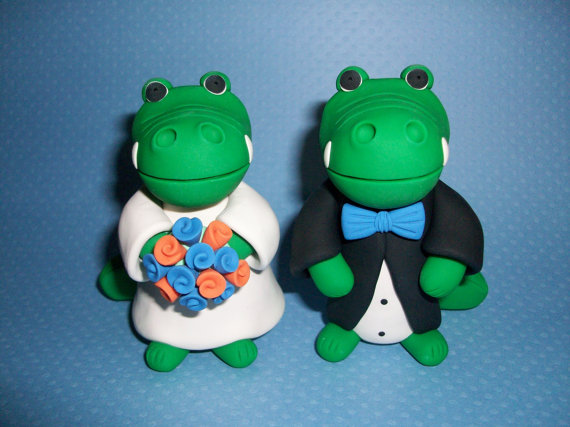 University of Florida Gators Cake Topper – $49 / etsy @thepinkkoala
Beach Casual Wedding
This pair of flamingos are classy enough to dress for the occasion and give your wedding cake that Florida-feel without taking the spotlight off you and your new spouse.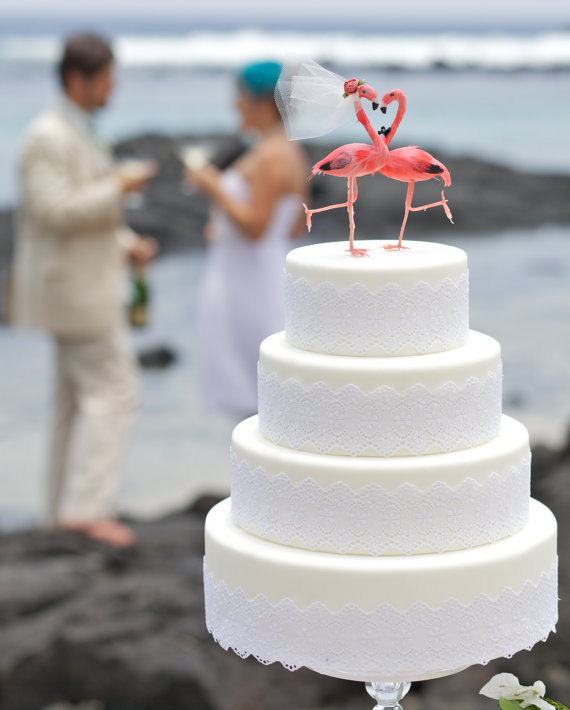 Pink Flamingo Cake Topper – $37 / etsy @lovenesting
Waterfront Wedding
Sea turtles on Adirondack chairs remind your guests to relax and enjoy the gorgeous waterfront views during your reception.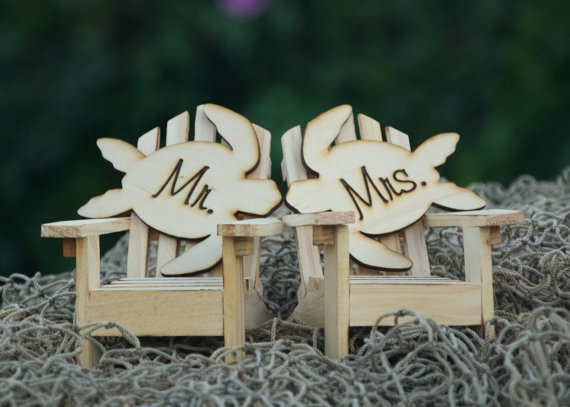 Sea Turtle Cake Topper – $28 / etsy @trendingtabletops
High-school/College Sweetheart Wedding
Been together forever with your fiance? This quote is just-long-enough to top your wedding cake and celebrate your history!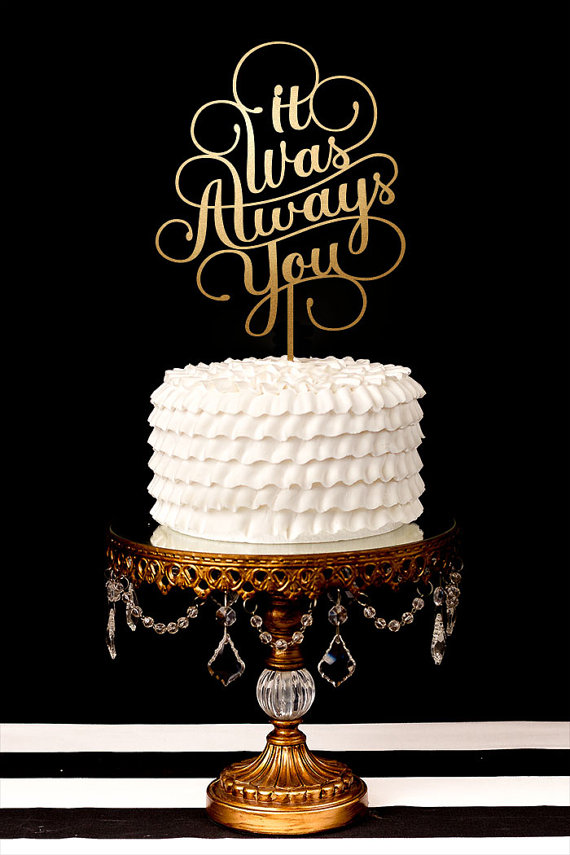 "Always You" Quote Cake Topper – $39 / etsy @BetteroffWed
Nautical Wedding
If you two enjoy weekends by sea, then you need this LOVE-inspired cake topper for your special day.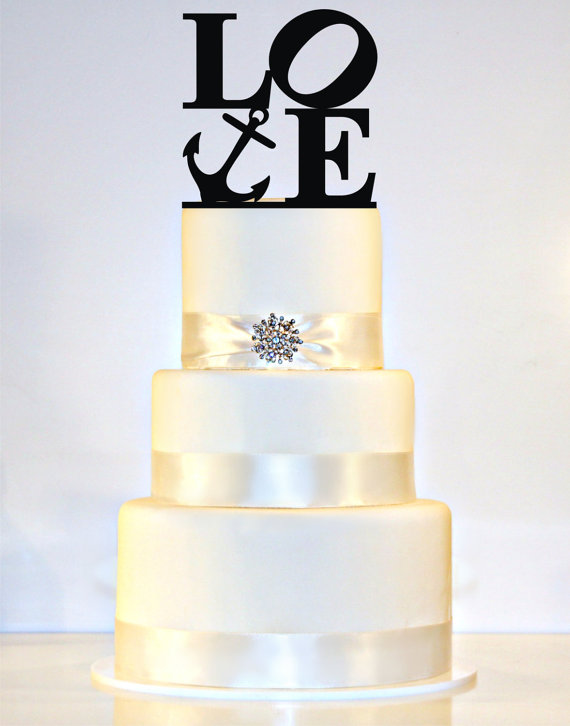 LOVE Nautical Cake Topper – $37 / etsy @wyaledesigns
Rustic Elegant Wedding
Love the rustic look but going a bit more formal? Then this wooden monogram cake topper gives a nod to both styles in an elegant way.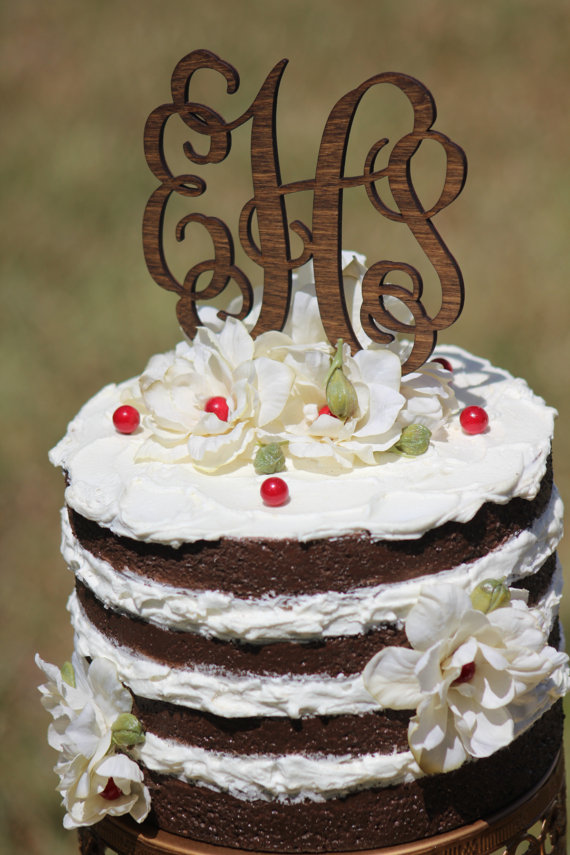 Rustic Wood Monogram Cake Topper – starting at $16.50 / etsy @weddingpros
Contemporary Wedding
A modern, yet fun font with a metallic finish is perfect for your cake table.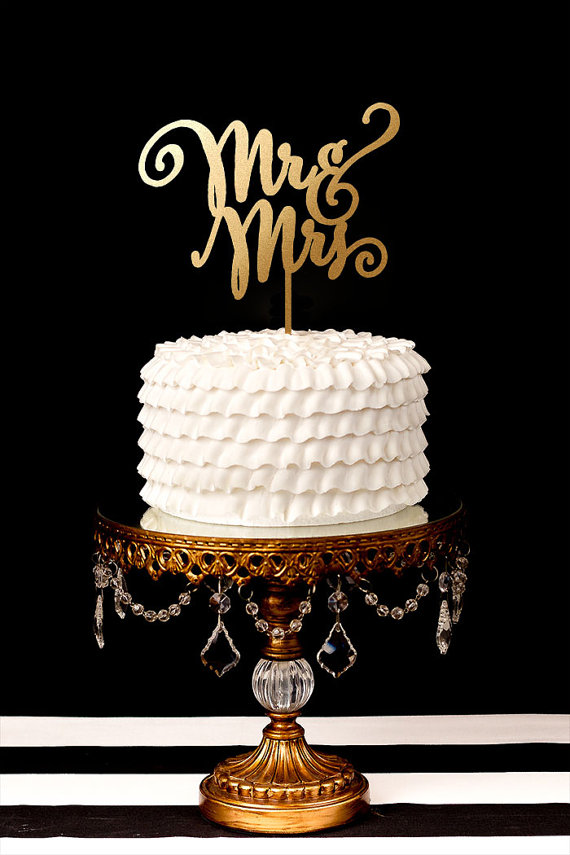 Mr. & Mrs. Glitter Gold Cake Topper – $39 / etsy @BetteroffWed
Classic Wedding
Nothing says classic more than a Mr. & Mrs. cake topper in your choice of metallic/glitter finishes.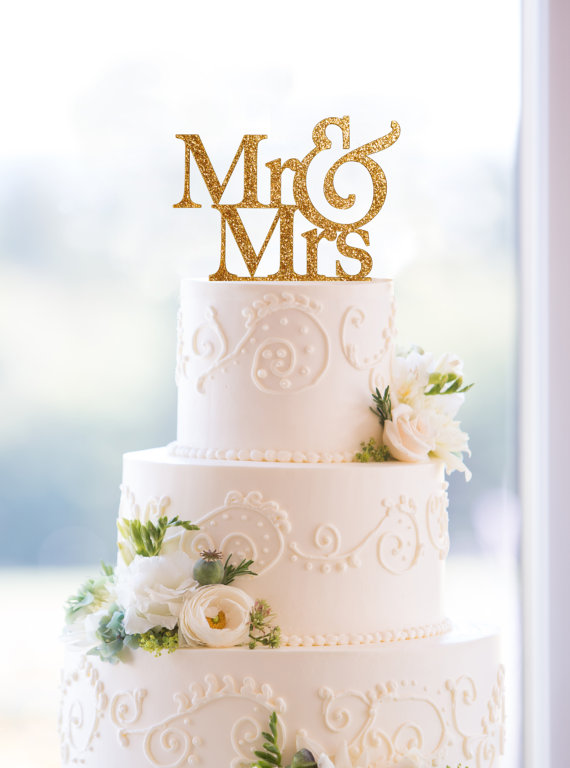 Mr. & Mrs. Glitter Cake Topper – $25 / etsy @chicagofactory
Country Chic Wedding
If you're his glass of wine and he's your shot of whiskey, then this western-inspired country wedding cake topper is a must-have. This one also doubles as home decor after the big day!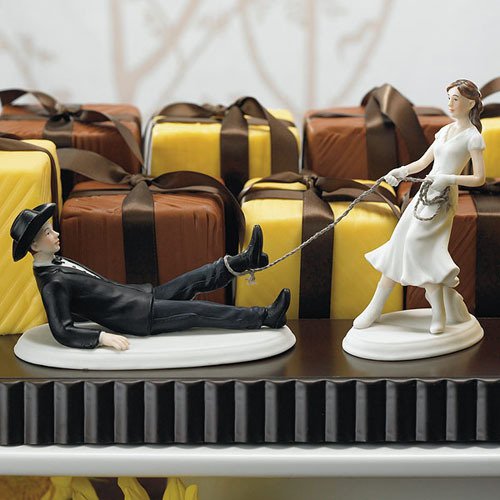 Country Chic Wedding Cake Topper – $46.52 / beau-coup.com
Shabby Chic Wedding
Bunting isn't just for your bridal shower! This delicate, "Just Married" cake topper is functional and pretty.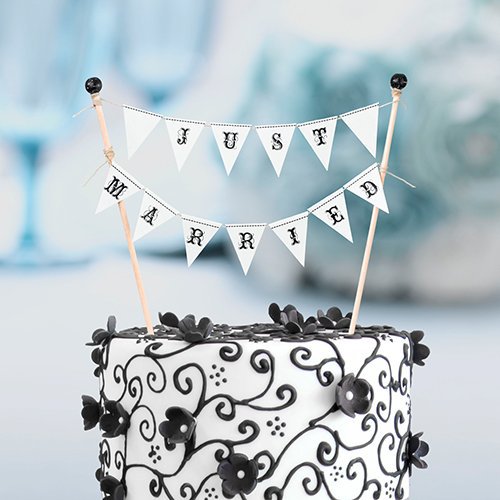 Bunting "Just Married" Cake Topper – $16.95 / beau-coup.com
Long-Distance Relationship Wedding
If you and your fiance conquered long-distance love or simply are proud of where you came from, then check out these wooden state cake toppers for your cake or dessert table.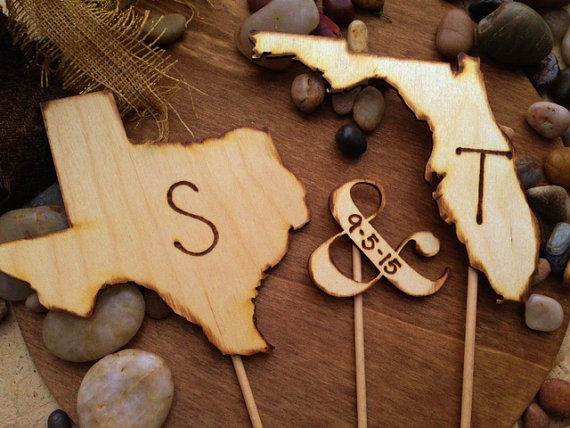 Wooden State Cake Topper Set – $39.99 / etsy @princewhitaker
Only Fish in the Sea Wedding
For the couple who loves to fish, this "Hooked on Love" silhouette wedding cake topper will add a unique touch to your cake in a subtle way.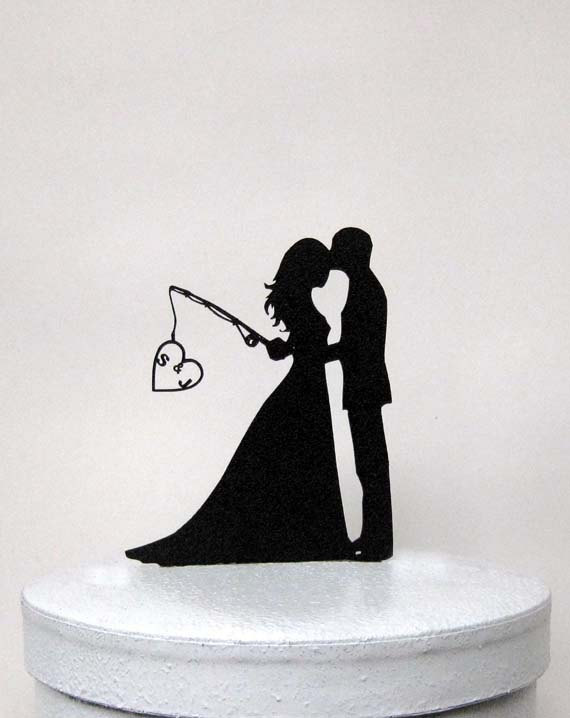 "Hooked On Love" Silhouette Cake Topper – starting at $20 / etsy @plasticsmith
Vintage Wedding
This beautiful, hand-painted porcelain cake topper is the ideal wedding cake topper for your day – you can even customize the bride's hair color unique to you!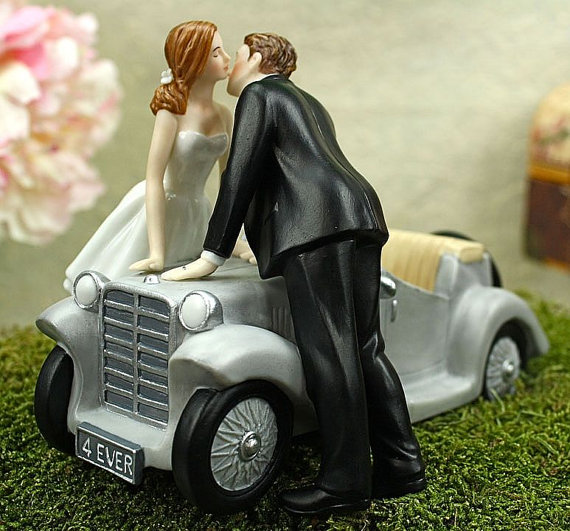 Vintage Inspired Porcelain Cake Topper – starting at$39.95 / etsy @weddingcollectibles
Glam Wedding
Can you get more glamorous than this custom, sparkly cake topper to be seen from space!? We didn't think so.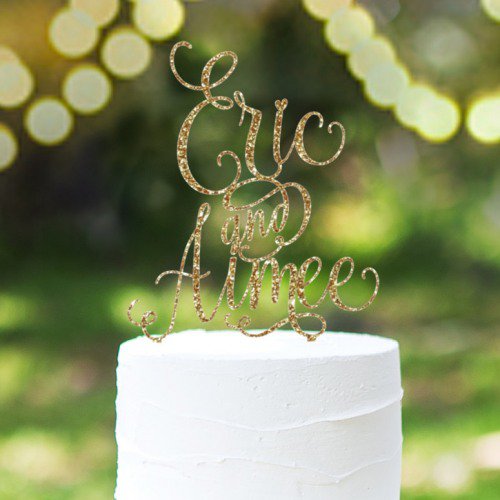 Personalized Glitter First-Names Cake Topper – $99.95 / beau-coup.com
Barn Wedding
When celebrating in a twinkle-light barn with that effortless feel, topping your cake with these love birds makes it all come together.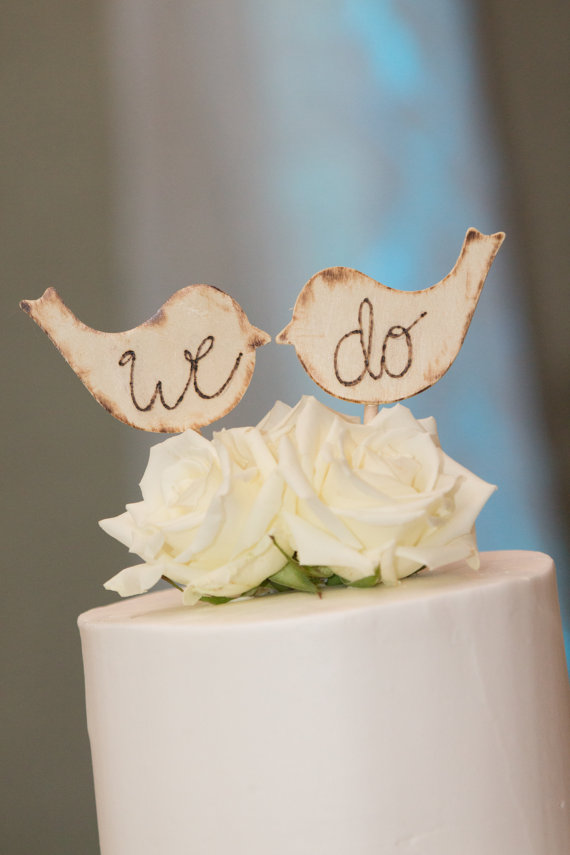 "We Do" Love Birds Cake Topper – $12.50 / etsy @rusticdarlingcottage
*This post utilizes affiliate links which may generate a small commission from clicks that result in a purchase. Purchasing through these links helps support future website projects.