Kayla and Mitchell's luxurious downtown Tampa wedding combined alluring elements such as a gold foil letterpress invitation suite, 12 hanging floral chandeliers, and a six-tier cake for their grand ballroom wedding.
"We always knew we wanted our wedding to resemble a classy, glamorous, and elegant dream. It was a night we had always talked about, and we knew exactly what we wanted when it came to the design. More than anything, we wanted a room full of florals everywhere because we both have always had a love for flowers. Roses are something Mitchell has always gifted me for basically every occasion, and it was a flower that we knew we wanted throughout our wedding day," the bride explained. "Aside from the florals, we also wanted to make sure our colors remained light and romantic so we ended up going with white, ivory, champagne, and gold. There were also a few rose and blush-colored florals added in to add a small pop of color. The light colors really made the room feel like a total dream and made the ballroom look even bigger."
The Tampa natives hosted an October hometown affair for 180-guests and chose to wed just steps from their current residence.
"We have always wanted to get married close to home and definitely wanted all of our family and friends to attend. We've lived in downtown Tampa for the last two years and can see our wedding venues from our balcony. We genuinely felt right at home throughout our whole wedding day," the bride beamed.
While Kayla had a clear vision of what her wedding day would look like, she turned to Marry Me Tampa Bay to research the area's most respected wedding vendors.
"I made sure to check out Marry Me Tampa Bay and saw that several vendors were listed on the website as well, which assured me they were some of the best," the bride revealed. "Marry Me Tampa Bay assisted us throughout the wedding planning process by helping us choose where to get my bridesmaids' dresses, as well as the hairstylists for the day of, and our stationery designer for our invitations, menus, and place cards."
The bride chose a timeless look for her wedding party, selecting Amsale fit-and-flare dresses with a front drape, low backline, and high slit.
"I wanted my bridesmaids to all be in the same exact dress. I also always wanted the dresses to be a champagne color as well as a satin-like fabric," the bride shared. "I truly had the best experience shopping at Bella Bridesmaids! On our first trip, we found the most perfect dresses for my wedding that all the girls loved. Ordering the dresses was an extremely easy process, and they even have a portal online where the bride can keep track of everyone that has ordered/received their dress. The women working there were extremely helpful the entire time and answered any and all of our questions. I would definitely recommend any bride to shop at Bella Bridesmaids when looking for the perfect bridesmaid's dresses!"
Florals were one of the most important elements for the bride, who wanted the ballroom filled with showstopping arrangements from the towering centerpieces that incorporated the delicate white orchids featured in her bouquet to the opulent ivory and blush pink blooms that surrounded the cake table.
"We really wanted to create a 'wow' factor with several floral designs. Since florals were very important to us, we knew we wanted the best of the best when it came to a wedding florist, and we knew Botanica International Design Studio was exactly that and more. We really loved that it's a family-owned business that has been in the industry for 30+ years," the bride articulated. "From the beginning, we loved what their entire process entailed and how each stage of the process was very detailed and nothing was overlooked. We also loved that we got to have several meetings along the way including a sample viewing a few weeks before the wedding to see all the designs before our big day. We were continuously told by several others that Botanica would exceed our expectations, and they truly did just that and more!"
Part of the bride's decor vision included a floral installation that hung over the dance floor, but instead of one floral masterpiece, Botanica designed a dozen.
"One element that we really wanted was some type of florals to be hung or suspended from the ceiling to create an overall dreamy design throughout the room. Zoe came up with a design to hang orchids from all 12 chandeliers throughout the ballroom, versus just being over the dance floor. This design ended up looking more beautiful than we ever could have imagined and ended up being even more amazing than what we originally had in mind!" the bride gushed.
Being surrounded by all of their friends and family, especially after the distancing caused by the pandemic, made for a truly unforgettable evening.
"The most memorable moments of the day were being surrounded by all of our loving family and friends. It was the first time we had all of our loved ones in the same room and it was surreal that everyone was there to celebrate the love we have for one another. No detail was missed or overlooked, and we really wanted our wedding to reflect us as a couple. It was a day filled with so much love from the beginning to the very end. We truly wish we could relive it over and over again," Kayla reminisced.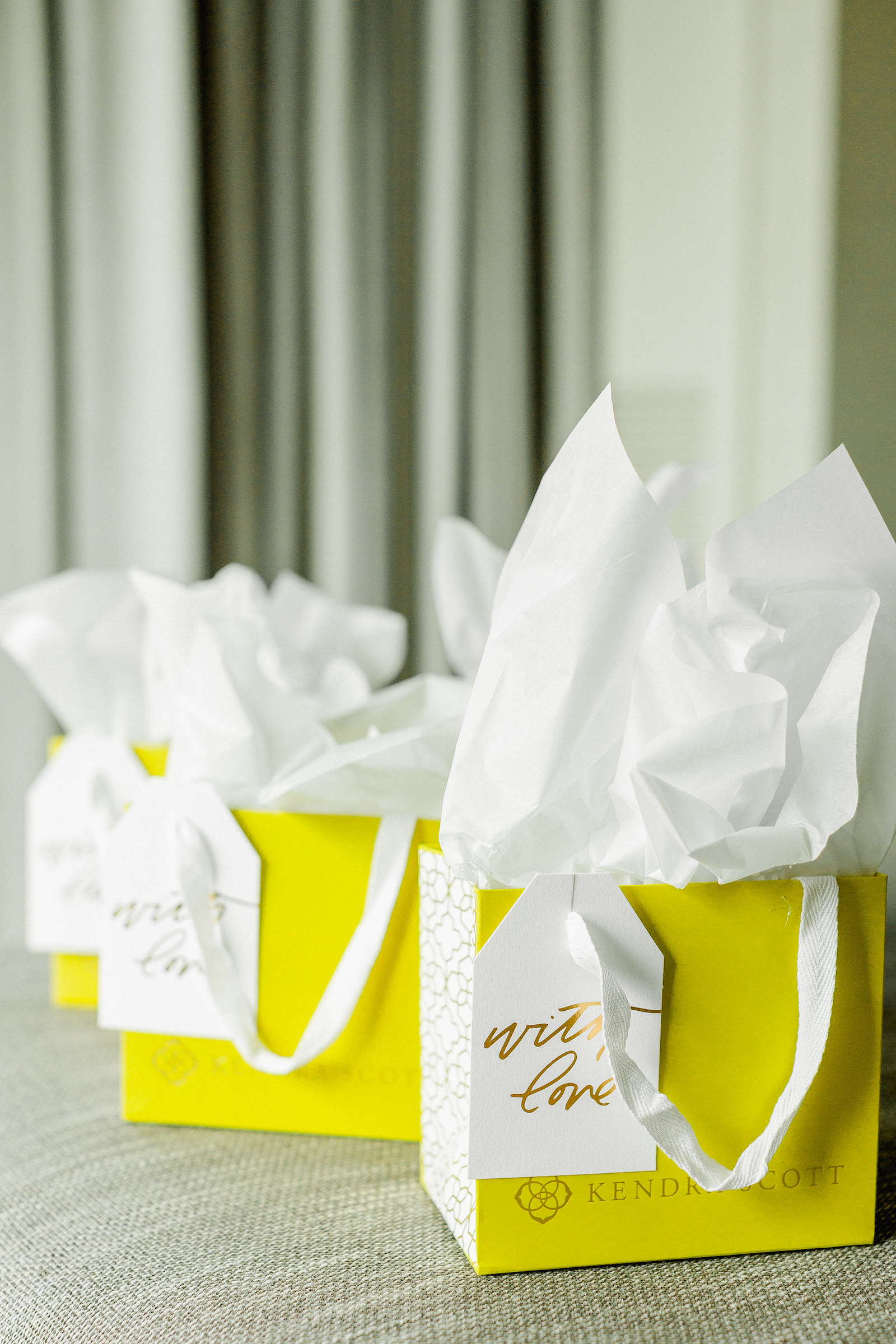 The Proposal: Mitchell and I met and the rest is history. Fast forward nine years later, Mitchell surprised me by popping the question one night on a family trip in Breckenridge, Colorado. The night of the proposal couldn't have been more perfect as he proposed while the snow was falling, rose petals covered the ground, and the surrounding trees were covered in Christmas lights. Our family, as well as several others, surrounded us while cheering after saying "Yes!" Mitchell also had another surprise in store by having a photographer come out and capture the entire proposal. It was the most magical moment, truly a night to remember and one we'll never forget.
Where did you spend your honeymoon?
Mitchell and I have always loved to travel. We've been blessed to experience many different countries, cities, and cultures. Some of our favorite memories have been made while traveling the world. As for our honeymoon, we always knew we wanted to go somewhere tropical and romantic. When deciding where to go, we also wanted to pick a place that we might not ever get to go to in the future considering we always looked at our honeymoon as a once-in-a-lifetime event. Therefore, we ended up deciding to visit a few different islands in French Polynesia.
We first flew to Los Angeles and then to Tahiti where we took a ferry to the Hilton in Moorea and stayed there for five nights. After that, we flew to Bora Bora where we stayed at the St. Regis Resort for six nights. After that, we flew back to Los Angeles where we stayed for two more nights before returning home. It was one of the best times of our lives, and it was a trip we will never forget.
Where did you host your bachelorette party?
My bachelorette party took place in Miami, FL, and lasted from Thursday-Sunday. It was a very fun weekend, and one I'll never forget. I chose Miami because of how close it is to Tampa so it was easy for everyone to commute there and back. I also have family in Miami so it's always been a city close to my heart and has been like a second home.
My husband also hosted his bachelor party in Miami, and it took place during the same time as mine. We stayed in separate Airbnbs and had separate plans the entire time. Except on the last day, when we all came together as one big group and hung out the entire day. It was a very memorable trip, and we're extremely glad we ended up doing it in the same city so we could all come together towards the end of it.
---
---
Which vendors really exceeded your expectations?
We were extremely fortunate and blessed to work with the most amazing vendors. They all exceeded our expectations. Our photographer, videographer, and DJ in particular were the ones who we were mainly with throughout the day, and they worked so hard to make sure it was a day we would never forget. Also, the venues, our florist, and decor/drapery vendors perfected the entire design. Everything came out so beautiful and better than we ever expected.
What advice would you give to other Tampa Bay couples?
Truly cherish every single moment of your wedding day. The day truly flies by in the blink of an eye and before you know it, one of the most special days of your life is just a memory. Every time we look back we still can't believe how quickly it all went by and wish we could relive every second of it.
We would also advise other couples to make decisions based on what you and your significant-other want. Throughout the planning process, you will hear many opinions from others, and it's important to remember the most important opinions are yours and your partners. One of the most beautiful parts about a wedding is that it reflects the couple coming together, therefore it should be made up of what that couple wants regardless of what that looks like. Lastly, it can be easy to get caught up in the wedding and the planning process but don't forget the main part of the day is about your marriage itself and how special it is to love someone so much that loves you back just as much.