When I think of Lisa, of Lisa Otto Photography, the one word that immediately comes to mind is passion. Whether, she's shooting a Tampa Bay wedding, advocating for same-sex marriages or rescuing pit bulls, she puts her heart into everything that she does.
One story that stands out in my mind about Lisa's generosity is how she stepped help to help a Clearwater bride whose venue canceled on her and took her deposit. When Lisa heard her story, she immediately asked how she could help. Luckily, this bride is back to planning the wedding of her dreams, and Lisa will be capturing her big day.
What draws me to Lisa is her "tell it like it is" personality. She's upfront and honest, while always coming a from a good place. She's contributed numerous times to our Expert Advice articles and isn't afraid to share her truth to educate Tampa Bay couples so that they make educated wedding planning decisions.
We always emphasize that it's important to hire a Tampa Bay wedding photographer whose work you adore, but you also should book someone one who you genuinely like. This is the vendor who will be with you from the moment you step into your dress until you leave your wedding venue. Lisa brings a fun, sometimes goofy, yet always professional vibe to your wedding day.
"I loved Lisa's portfolio [of Lisa Otto Photography]! She instantly grabbed my attention when she sent me a video message in reply to an inquiry. I loved how personal she was from the beginning," one of Lisa's previous brides shared. "She also offered an amazing military discount for my husband's service in the Army, which shows a lot of character about a business. She truly cares about her clients which is exactly what you want in a photographer."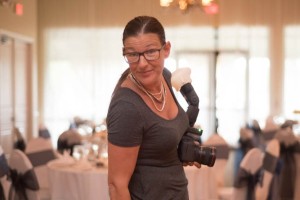 View more Lisa Otto Photography Weddings
Website | Blog | Facebook  | Twitter | Instagram
What inspired you to start your business?
When I got married *ahem* years ago, I didn't hire a photographer, mainly because we couldn't afford it. When I started shooting 5-6 years ago, I wanted clients to be able to have kick arse images without having to break the bank.
Where do you draw your inspiration?
I don't have just one place, it's everywhere. It's a texture on a building, and when I drive by I'm all, "I need to shoot there." It's the bridal magazine that I flip through while waiting at the airport. It's the couple sitting across from me snuggling in the booth. It's what my couples tell me when they fill out their engagement questionnaire about how they love to hang out at the local brewery being themselves. Each couple gives me my inspiration.
What makes your business stand out from others in the same category?
I make sure my clients have their wedding images within two weeks of their wedding, I let them make payments on their wedding coverage, and I become friends with all my clients. We drink, hang out and really get to know each other before and after the wedding. I'm not the norm per se.
Plus I'm a little off the wall when it comes to shooting, a lot sarcastic and probably joke around a little too much (see head shot).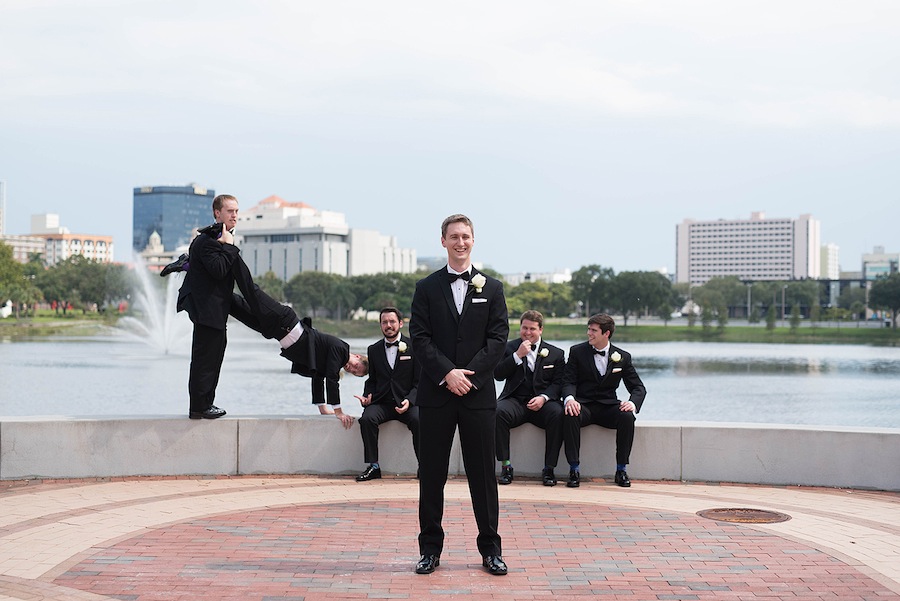 What is one of your favorite things about being a wedding photographer?
I honestly can't narrow it down to just one. There are so many elements of the day that are my favorite, but probably one that hits the top is when the the ceremony is over and the couple walks out of the ceremony, takes that deep breath and looks at each other with the "we did it!" look.
What is one of your most memorable moments as a wedding photographer?
All these "narrow it down to one thing" questions! The pressure!
It probably has to be Hayden and Brett's wedding. Hayden is daddy's little girl, and she wanted to do a first look with her dad, instead of Brett. The look on her dad's face when he walked through the door and saw his baby girl all dressed up was absolutely priceless. Yes, I cried and I'm not afraid to admit it. Those are the moments right there. Those are the ones that I live for every wedding day.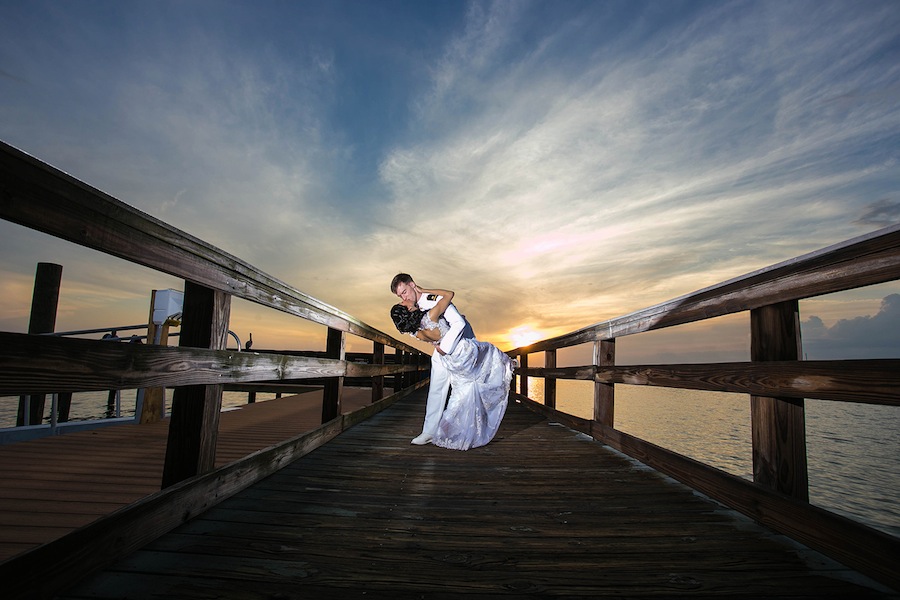 What is one thing most couples would be surprised to know about you?
I'm really a homebody. Yes, I love to go out and hang with friends at a brewery or head to downtown St. Pete for whatever is happening that weekend, but most often, it's me, the dogs and Netflix. So if you have any Netflix suggestions, send them my way.
What is one of your passions, non-wedding related?
Rescue. I volunteer a lot with Passion 4 Pits, a local pit bull rescue. If I could save them all I would. My dogs are a huge part of my life (and my brand), so being able to give back whether through pictures to help them get adopted quicker or fostering so we can save one more life, that's it.
What are you most excited about in the upcoming year?
My LGBT couples! They are finally able to marry legally, and I'm going to be there to capture it all. Having a commitment ceremony is one thing, but finally being able to marry the love of your life is another.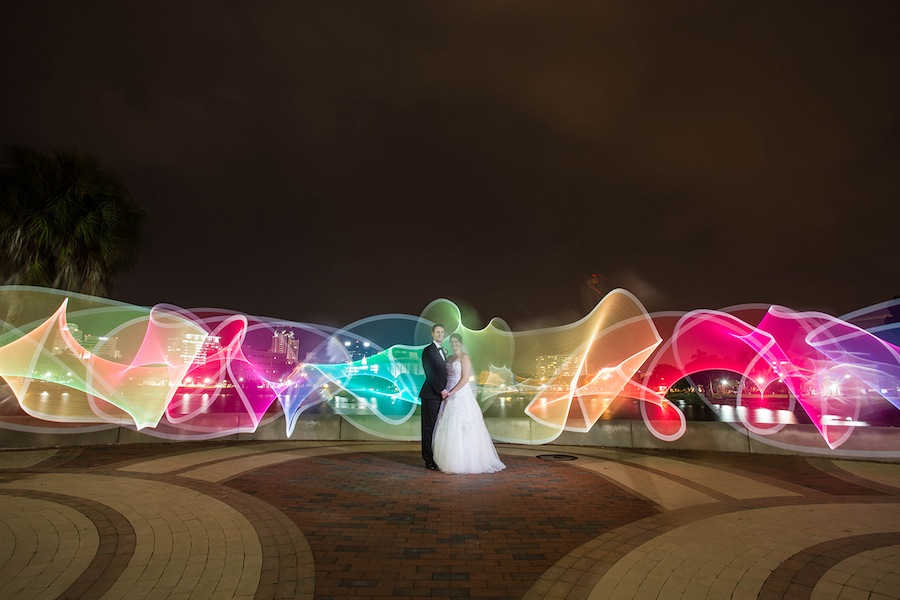 In your opinion, what is a MUST HAVE at every wedding?
Well other than a professional photographer? A professional DJ. Surprised that I said that? Don't be. Your DJ runs your reception and gets the guests on the dance floor, so if you don't have a great DJ, the reception is going to be a little rough.
What is the best piece of advice you can give to a bride who is searching for a wedding photographer?
I know budget is a huge influence on wedding planning, but really sit back and think about what is the most important, having the latest and greatest or having something that you're going to truly remember. This isn't just about photography, it's about everything. Do you really need $500 in wedding favors or $1,000 linens? Sit back and think about what you are going to remember in one, five or ten years. The one thing I tell my couples is you walk away from your wedding day with three things: your spouse, your rings and your photos.
The other, and I was probably only supposed to narrow this down to one thing again but here's another. Your wedding day timeline. Think about the sunset when planning your ceremony time. Most photographers will do your formals after the ceremony, so if you have a 5:30 p.m. ceremony that lasts a half hour and the sun sets at 6 p.m., there go your formals. It's ideal to have at least 30-45 minutes after your ceremony to do formals. This is something I go over with all my couples when they book and when we're creating their wedding day time line.