Tampa Bay wedding entertainment can make or break your wedding reception. Not only does your wedding DJ get the party started, but they also keep it going.
We've had the privilege of working with some of Tampa Bay's best wedding entertainment companies over the years, including Nature Coast Entertainment Services, who has exclusively provided lighting and sound for our past Tampa Bay Wedding Week fashion shows and our 5-year Marry Me Tampa Bay anniversary party.
Nature Coast owner, Michael Greenberg, is always one step ahead when it comes to innovation and creativity to enhance the atmosphere of your wedding ceremony and reception. In addition to offering live musicians, DJs, officiant services and photo booths, Nature Coast most recently added fire-free sparklers to their portfolio of lighting decor, which adds an unforgettable WOW factor to your first kiss or wedding reception exit.
Michael's passion for lighting and sound is evident during your first conversation with him, which is why he is one of our go-tos for any Marry Me Tampa Bay event!

Email Nature Coast Entertainment Services for a Quote
Website | Facebook | Instagram
Featured weddings on Marry Me Tampa Bay
What inspired you to start your business?
In 2008, I was helping a friend plan her wedding. Being a DJ 10 years earlier, I found that the quality of the local DJs were overpriced and lacking. I bought a few pieces of equipment and was the DJ for her wedding. People quickly saw a difference. I booked three weddings from that one and have been growing ever since.
Where do you draw your inspiration?
A foundation to always learn and grow, a collaboration of top vendors from across the country sharing ideas to deliver a better service, the smile on the couple's face from the first look of the room to the very last dance.
Kristina Houser Photography | DJ, Lighting, GOBO: Nature Coast Entertainment Services
What makes your business stand out from other wedding DJ's?
Quality, professionalism, vendor relations, dedication to the overall experience for the couple, leading in upcoming trends. Our approach to weddings stands out and many wedding professionals, planners and venues see the difference between Nature Coast Entertainment Services and the other wedding DJs in the area. From communication, to the simple fact that we refuse to use lighting that interferes with your photographs, wedding pros enjoy working with our team of dedicated entertainment professionals. I'm thrilled to work with our amazing DJs, lighting pros, musicians, officiants and photo booth attendants; we truly have the best team around!
What is one of your favorite things about being a wedding professional?
Exceeding my clients expectations on their most special day. I love what I do. I love seeing the couple's first look of the room, the packed dance floor and the smiles on the couple's face, all night long.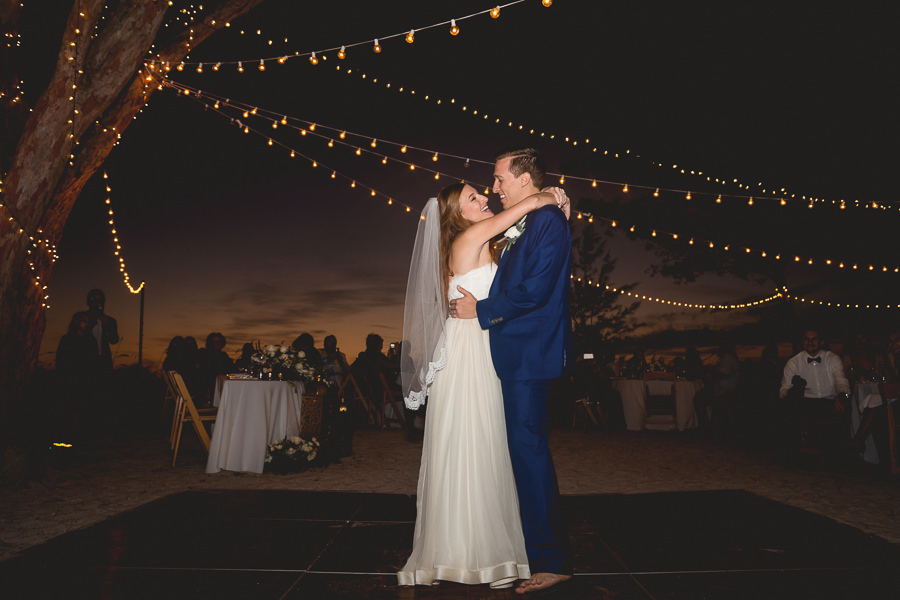 Grind & Press Photography | DJ & Lighting: Nature Coast Entertainment Services
What is one of your most memorable moments as a wedding professional?
Being noticed and recognized as a leader in my industry from other industry leaders.
In your opinion, what is a MUST HAVE at every wedding?
Quality vendors that can work together with one goal: perfection for the couple's wedding.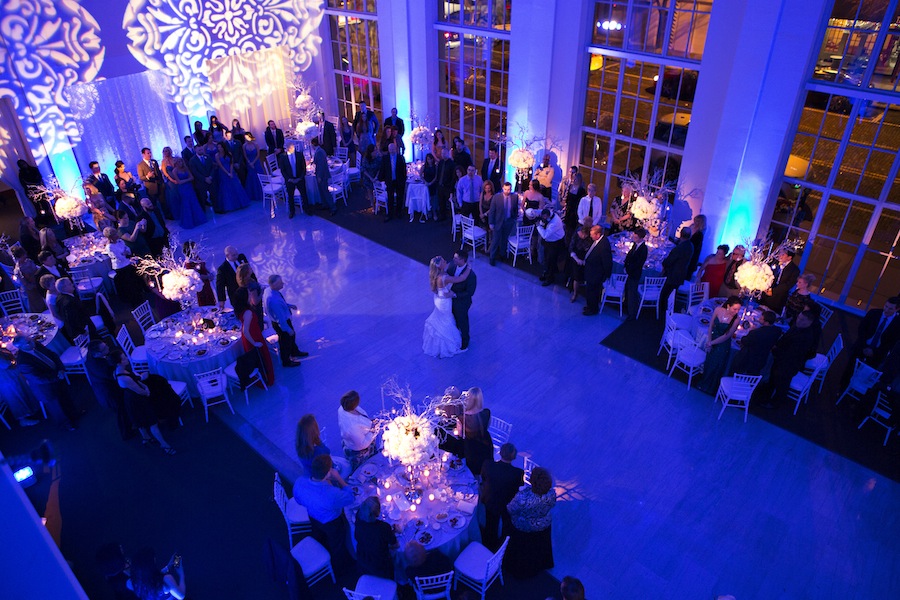 Djamel Photography | DJ, Lighting, Photo Booth: Nature Coast Entertainment Services
What is one of your passions, non-wedding related?
SCUBA diving…, although who has the time?
What is one thing that most couples would be surprised to know about you?
That I also will full-time as a store manager for Barnes & Noble. With over 100 events a year with Nature Coast, most people are shocked that I work full-time in both areas.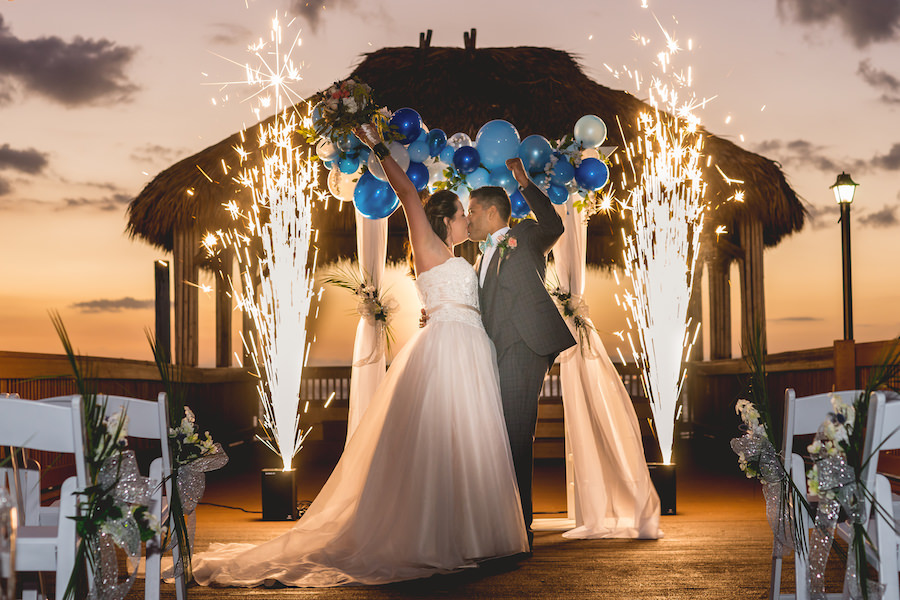 Sparkler Fountain: Nature Coast Entertainment Services
What are you most excited about in the upcoming year?
To offer more new services that will continue to make us a leader in entertainment in Tampa
What is the best piece of advice you an give to a couple searching for a wedding DJ?
Book your vendor based on quality and value, not price.
Reviews From Previous Marry Me Tampa Bay Couples:
"We wanted a wedding DJ who we felt listened and considered our list of desired music. Nature Coast Entertainment Services played all of our desired music and helped our guests have a wonderful time." – Previous Marry Me Tampa Bay Bride Katelyn: Blue and Gold Treasure Island Beach Wedding
"We wanted a DJ who could get the party going and keep it fun all night. Nature Coast Entertainment Services did a wonderful job! The owner Mike was great at communicating and making sure all of our song requests were fulfilled." – Previous Marry Me Tampa Bay Bride Alexandra: Blush and Ivory Southern Chic Dade City Wedding
"Being that our ceremony was going to take place outside after sunset, I knew that I was going to need some help in the lighting department. Cafe lighting has always had a romantic and elegant feel while providing soft background lighting. I hired Nature Coast Entertainment after reading a blog post on Marry Me Tampa Bay. I called Michael immediately and asked if he could provide the same thing at my wedding. He quickly came up with a game plan and was able to accommodate my last-minute request for lighting the outdoor ceremony area, providing a soft glow with amber uplighting for the chuppah, and aisle and creating a GOBO with our wedding logo just days before the big event. Nature Coast is really a guru at all things lighting!" – Previous Marry Me Tampa Bay Bride Amanda: Elegant Coral and Gold Clearwater Beach Wedding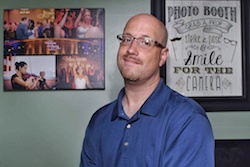 Michael Greenberg started DJing in 1990, when he was 16 years old. While working for one of the top companies in Maryland, and he quickly fell in love with entertaining people. Michael started in weddings, not clubs or bars, so he knows weddings inside and out; he went from roadie, to DJ, to running the office. Not only did he DJ weddings for over 10 years in Maryland, including being the resident DJ at the Naval Academy Officer's Club for weddings, he worked on many productions including one for Gloria Estefan. In 2008, Michael started Nature Coast Professional Disc Jockeys. Three months later, he incorporated live musicians into the company. By 2009, the company transformed into Nature Coast Entertainment Services as photo booths were being offered as well. Nature Coast Entertainment was the first company in Tampa to offer top of the line pin spotting, and indoor-safe sparkler fountains. They have been featured numerous times on Marry Me Tampa Bay, recommended by Tampa's top wedding pros and have completed hundreds of weddings where they exceeded their clients expectations.
Email Nature Coast Entertainment Services for a Quote
Website | Facebook | Instagram
Featured weddings on Marry Me Tampa Bay