A boudoir shoot is a sexy, sensual and a much appreciated wedding or anniversary present to your partner-to-be. Tampa Bay wedding videographer Bonnie Newman of Bonnie Newman Creative is shaking things up in the traditional portrait boudoir world by offering something new: boudoir video.
We've asked Bonnie to share all the details behind boudoir cinema, including how to find the perfect location and hair and makeup look for a captivating result that is sure to leave jaws dropping.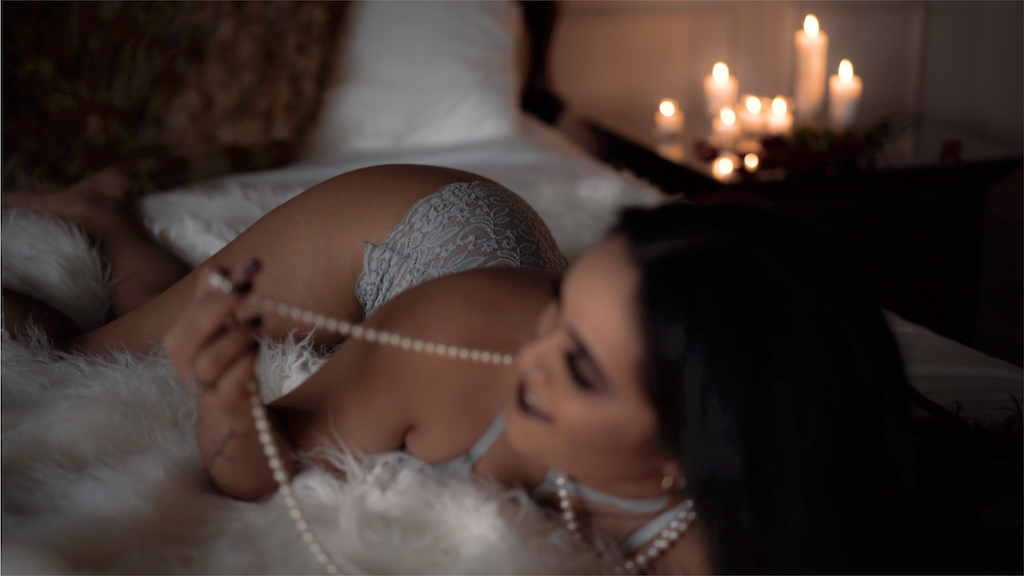 According to Bonnie, movement, audio and honesty make video boudoir different from the traditional boudoir portraits.
"Instead of just capturing a single frame, video captures entire reactions and moments: flipping hair, laughter and the seductive action of looking down and then looking up straight into the camera. Audio is something that photos can't capture, it's an entirely different layer that adds even more seductive value than just photos alone," Bonnie shared.  "Your partner gets to hear your voice talking about all of the reasons you love them and find them so incredibly sexy and attractive. They also get to see the honest you. Since this is film and not photos, I can't 'enhance' your body or make you look skinnier or more voluptuous. Of course, we will put you in poses and positions and use lighting to accentuate what you love, but I guarantee your partner finds you incredibly sexy just the way you are, and they will love the honesty that's portrayed through film."
MORE: BONNIE NEWMAN CREATIVE VIDEOS
Searching for the perfect location for this boudoir shoot came easily to Bonnie. After touring downtown St. Pete wedding hotel venue The Birchwood during a Marry Me Tampa Bay networking event, she instantly thought "This room is stunning." With the image stuck in her head of the king size four-post bed, antique bathtub, and perfect natural light, Bonnie got to work to make her dream shoot a reality.
"My favorite thing about the rooms at The Birchwood are the large claw-foot soaking tubs. I'm a huge fan of taking baths, and who wouldn't want to soak in that for an hour after grabbing some drinks at the rooftop bar," Bonnie shared. "The Birchwood's rooftop bar, The Canopy, is by far the best spot on Beach Drive. Can you imagine a date at The Canopy overlooking the water followed by a romantic evening in one of these gorgeous rooms?"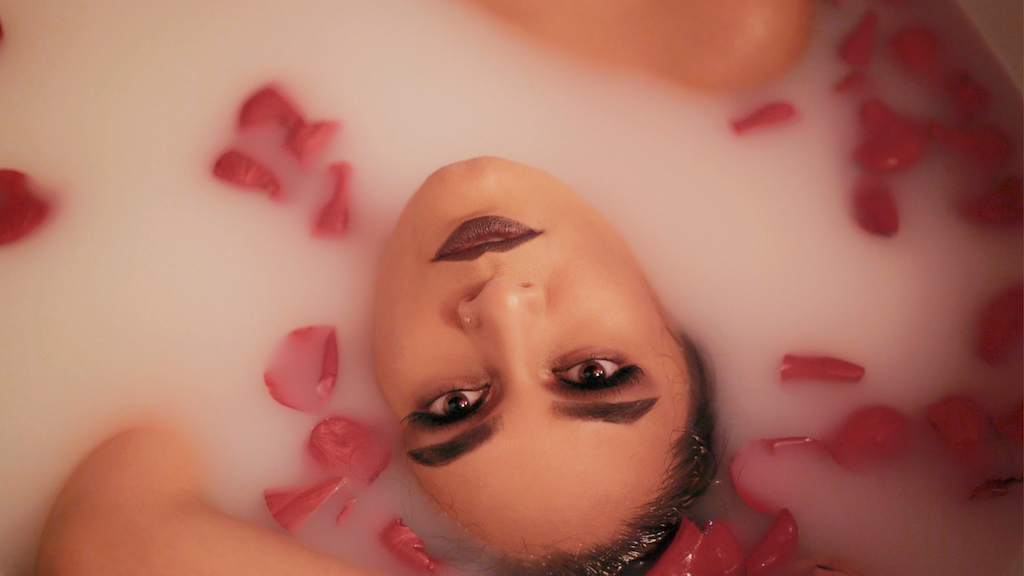 With the location in place, the final step was to achieve the perfect hair and makeup look for the models. Turning to Tampa Bay wedding hair and makeup experts from Michele Renee the Studio, the videographer and makeup artists teamed up to ensure both ladies look their sultry and romantic on camera.
"I had two different looks: 'romantic, sultry, dark" and "bubbly, cute, fun.' For our romantic model, we kept her makeup dark and matte, with a dark smoky eye and dark brown/red lipstick. For our bubbly model, we added a tiny bit of sparkle and sheen to her makeup with a soft pink lip. Both models had fairly long hair so we kept their hair simple with loose curls and waves to achieve that sexy bedhead look."
MORE: MICHELE RENEE THE STUDIO WEDDINGS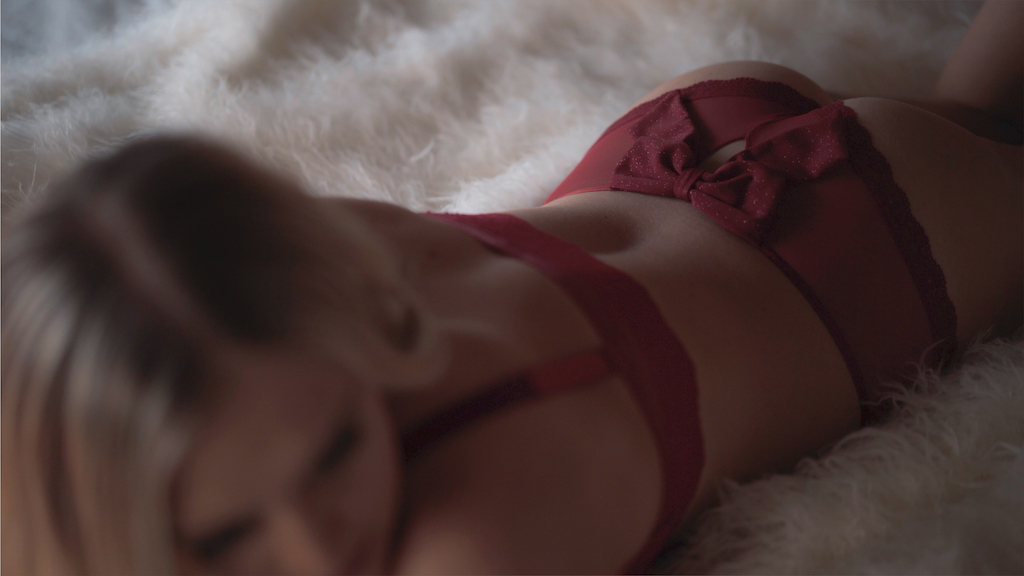 Bonnie shared her best tips for brides to feel the most comfortable and confident in front of the camera whether during a boudoir session or on your wedding day.
"I want to get to know my clients on a personal level before they ever even see a camera. I want to learn about what makes you feel confident and what you may be a little self conscience about so that your final film is not only something your partner will love, but something that will make you feel sexy as well," Bonnie shared. "When it comes to the shoot itself, we have a good time! I want this to be a fun, laid back, exciting experience in itself! We'll pop open some champagne, turn some sexy music on, tell a naughty joke or two and just have fun!"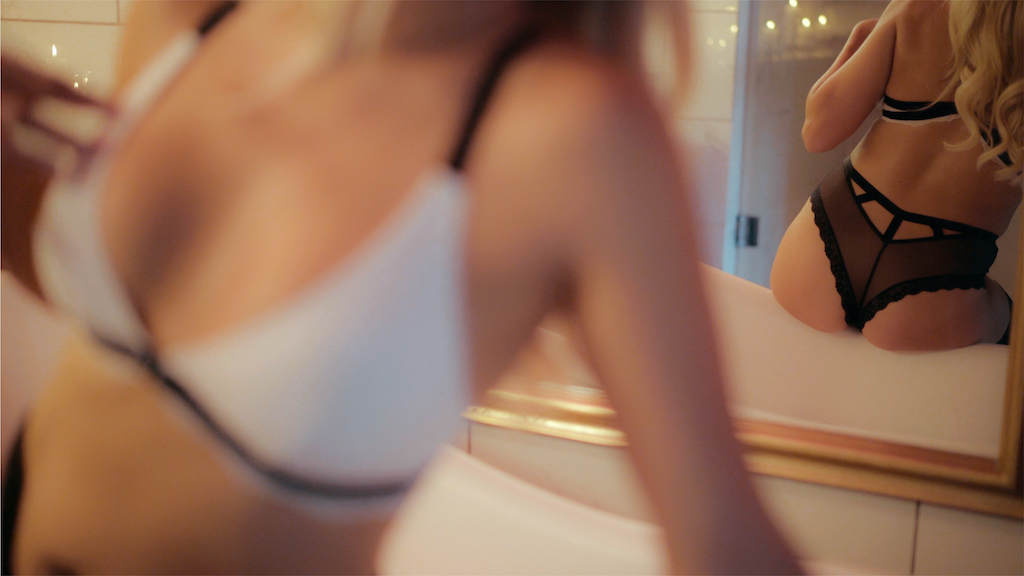 Looking back on this boudoir cinema shoot,  Bonnie shared that she adores the opportunity to create something that will make women feel sexy.
"This isn't just a gift for your guy, this is a gift for yourself! Being surrounded by today's advertising and expectations can put a hinderance on our self esteem (I haven't had the best self esteem myself), so if I can use my talent and abilities to help women realize how beautiful and sexy they are no matter their shape or size, I'm all in," Bonnie gushed. "It's also a new way for me be to creative and have some artistic flexibility in a different way."
Video Boudoir Pricing: 
An"in-home" session (either filmed at your place or studio) is $550 and includes a 2-3 minute film and 10-15 still photo images taken from the video and hair/makeup by Michele Renee The Studio.
Option to a shoot at The Birchwood available at additional cost.
Videography: Bonnie Newman Creative *Preferred Marry Me Tampa Bay Wedding Pro
Venue: The Birchwood *Preferred Marry Me Tampa Bay Wedding Venue
Hair & Makeup: Michele Renee The Studio *Preferred Marry Me Tampa Bay Wedding Pro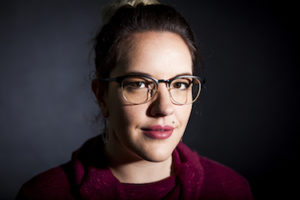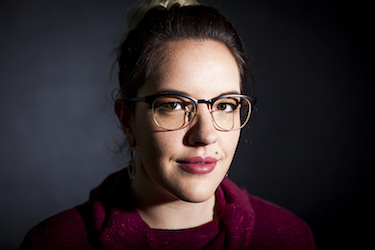 Bonnie Newman is passionate about providing a unique experience for you and your fiancé, dedicated to producing a film catered to your style and story as a couple and enthusiastic about the opportunity to work alongside you to create something breathtaking that you'll be able to cherish forever (Oh, your friends might get jealous too!)
Born and raised in Tampa, Bonnie has grown up around the sun, sand and water all year 'round! In 2016, she took my life-long passion of film production and editing and started her own business capturing one of the most important days in people's lives: their wedding day. She is moved by every wedding she gets to witness and capture, and loves being such an important part of such an exciting and emotional event.
Website | Facebook | Pinterest | Vimeo | YouTube