The Experts: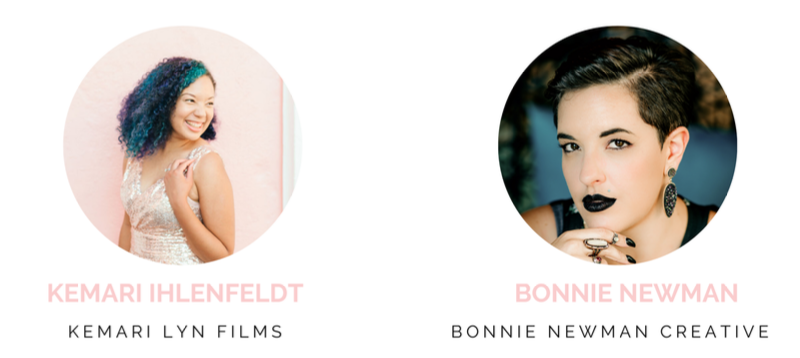 How is wedding videography different from photography?
Will DeCosta, owner of Iyrus Weddings explains:
We hear time and time again that when the couple sees the live emotions and hears ambient sounds from their wedding day it just brings them back. This is why video is so important. Music and hearing raw emotion have so much power when it is put together perfectly! 
Bonnie Newman, owner of Bonnie Newman Creative shares:
Videography gives you everything-photography can't. One of the biggest, and arguably most important elements of your day, are the words spoken: vows, toasts, and first-look reactions. These pieces of your day can't be captured through photography, and I believe it's crucial for couples to consider how important capturing those words are to them. Consider that your parents or loved ones won't be here forever. Will a film of their voice speaking kind words about your marriage provide value and comfort to you in the future?
What is the average cost of hiring a professional wedding videographer in Tampa Bay/Sarasota?
Kemari helps couples set a realistic budget for quality videographers:
With any industry, there is always a range of pricing and with that, quality differences too. There's always going to be people willing to do things cheaper, however, you won't want to risk that route on such an important event as your wedding day! Most quality videographers will range between $3,500 to $7,000+. Quality videographers will have a significantly higher level of customer service and attention to their clients, higher quality imagery and audio of their videos, and assurance that your day will be captured and edited well. My couples really value the importance of great wedding videography and understand the value of artistic and well-done wedding videos that they typically invest around 10-15% of the total wedding budget towards us (and sometimes more).
Here's a stat for ya! Several wedding blogs, magazines, and websites (including Zola, The Knot, and Insider) surveyed couples after their wedding day and across the board the number one regret of couples after their wedding day is not spending more money on one vendor in particular: the videographer. For couples who did not hire a videographer to begin with, their number one regret is not hiring a professional videographer. That's super rare to see that couples actually wish they spent more money on a vendor. Here's a little quote from the blog, PureWow that I feel sums up this statistic finding well: "So there you have it: A picture's worth a thousand words, but a smartly edited video is worth a much bigger slice of your wedding budget."
Bonnie explains why videography can be more expensive than what's listed online:
My estimate is between $3,000 to $4,500. The Knot will tell you something completely different, but The Knot is also saturated with amateur videographers or hobbyists. When they post their pricing on The Knot, that brings the websites "average" way down.
Will adds:
Pricing can be all over the place. Professionals in the area are between $3,500-$9,000. Remember, we are making a mini-movie of one of the most important special days of your life. Music, audio, and video editing takes hours and hours, to go through to make sure we tell your love story perfectly! 
What factors go into the cost of professional videography?
Bonnie provides the following insight on being a professional wedding videographer:
The amount of hours spent editing after the wedding is usually longer than what a typical photographer spends, so time editing is the biggest cost factor for videography. We also spend a lot of time once the video is edited uploading to various sites, rendering your video so it fits on Instagram, submitting it for publication, and adding it to our website and social media. Other factors include equipment costs (staying up to date with tech, repairs, upkeep), hiring second videographers or assistants, cost of purchasing licensed music for your video, paying business taxes, all of our online costs like websites, email and Quickbooks, paying full price for our own health insurance (being an entrepreneur means I have to pay for all my benefits), and so so so many more little things that add up. Being a full-time videographer or any entrepreneur for that matter is more expensive than it might seem. That's why we always tell people, you really do get what you pay for. If you've found a videographer who is charging you $1,000 for 10 hours of coverage and making you a highlight film and full ceremony film and a full documentary film, something is not right and they most likely don't know what they're doing. At the end of the day, you're the one stuck with regret that you didn't hire a professional to capture that one day in your life that means so much.
Kemari adds:
As a wedding videographer, I spend countless hours editing weddings (anywhere between 60-80 hours per wedding on top of the pre-wedding planning and filming day of). You're not just getting someone to show up and film your day and slap together a quickly edited video. It takes a lot of time to handcraft a well-done, story-driven wedding film that reflects who you are and your big day. I also have thousands of dollars worth of equipment, software, website management, administrative tools and subscriptions, music licensing fees, etc. that are all fixed costs in running our business. On our end as videographers, our pricing includes our cost of doing business, hours put towards work, continuous education, quality skillset, professionalism, customer service, and a beautiful end product. So when wedding planning, make sure you book your videographer as one of the top priorities and reach out early so that you have a better budget for your wedding videos.
Will shares:
Hours on the wedding day, the number of shooters, and the final product all change the cost of videography. For us, we always bring out our best video and audio equipment to make sure we capture the entire day in the best quality we can! 
When should I hire my wedding videographer?
Kemari says to book closer about one year from your wedding date:
Wedding videography is growing in popularity and is seen more and more as an essential along with wedding photography rather than just "If I can afford it later." Because of how beautiful and meaningful wedding videos are nowadays, you'll want to make sure you book your videographer right after your venue and about the same time you book your photographer. We book our weddings 9-18 months out and dates do fill up quickly, so when you're looking for a videographer, you want to make sure you have them as one of your first booked vendors too.
If you start looking for a videographer too close to your wedding date because you weren't sure if you really needed one (you do!), didn't want to budget for one (you should!), or wanted "to wait to see if there was enough money later on" (there usually won't be!), you run the risk of not finding a quality videographer or one that you would prefer to work with. Of course, sometimes you luck out and are able to book the videographer you liked which is great! But usually, if it's too close to your wedding date, you may not have enough money in the budget anymore and/or you're unable to work with the company you'd like to because they're already booked.
Will shares: We hear this question all the time. Well, honestly it comes down to how important it is for you and your significant other. We tell our couples to list out their most important things for their wedding. If video is high on that list then I suggest finding someone you like early. We have been booking out 1-2 years out for video. 
Bonnie suggests:
Book between 6-8 months out, at least. Videography is becoming more and more popular, yet the number of experienced and awesome videographers out there isn't growing at the same pace. If you're looking to hire an experienced, awesome videographer, you may not be able to find one if you start looking two or three months before your wedding.
What qualities should I look for in a wedding videographer?
Kemari provides this in-depth insight:
1. Quality Wedding Videos: With a quality videographer, you're getting a better overall product (better visuals, cleaner audio, more creativity, more moments captured, etc.). With a budget videographer, typically the audio and visuals are not nearly as good with more technical errors like shaky and underexposed (too dark) or overexposed (too bright to see detail in bright areas), bad or muffled audio, etc. They may not capture the big moments the way they should, etc. You want a wedding video that captures the key moments and emotion of the day, is told in a thoughtful story, is creative, and is beautiful to watch. At the end of the day, you really won't enjoy watching your wedding video if it's poorly done. You, your family, and your friends will much prefer to watch a wedding video that is filmed and edited well and is high quality!
2. Customer Service: With a quality videographer, you're getting more customer service and feel like you're taken care of and your can trust your videographer. You know we'll be there for you at any stage of the process and that we'll be there on time for your wedding day to film with a smile on our faces! We also get to know our couples and make the filming process so easy and more relaxed about having a camera around. With a budget videographer, you may have little to no communication throughout the process usually and may not feel as comfortable around them if you don't have a developed relationship with them.
3. Assurance! It's a big one! With a quality videographer, you're getting the assurance that one, we'll be there to capture all those special and important moments and do them well. And two, that we will always have your footage backed up in multiple places (local and non-local) and safe so we can edit and deliver to you! Redundancy in backing up your wedding footage is key as a safety precaution in case of technology failure, acts of God, or other errors. Budget videographers may not capture each specific important moment well or have the proper backup storage of your footage which is a risk you wouldn't want to take for a day that you can't repeat!
4. Proper Music Licensing: In order to legally use music in your wedding video, we have to legally obtain and pay the license. It is 100% illegal to use unlicensed music in your wedding video. If you use music illegally, you run a big risk of lawsuits and getting your wedding video removed from the internet and social media platforms. With a quality videographer, we always legally pay for and obtain the licenses for the music in your wedding videos and a budget videographer may or may not legally do this the way they should.
Will adds:
Well, the first things that come to mind are the quality of the finished product, the story, and the audio quality. But, another quality that gets overlooked we feel is the vibe and connection with your videographer. Just like the photographer, you spend most, if not all of your wedding day with us. Having someone that shares the same vision as you and fits your personality is huge. This will make you feel comfortable and look natural in your wedding video. 
How do I know if I'm hiring the right videographer for me?
According to Bonnie:
Look for someone who meshes well with your personality. Ask to grab a coffee or drink with them before you book, stalk their Instagram and find out if they're cool people to you. It's so important to feel comfortable and relaxed around the people who will have cameras on you that day. If you watch their videos, and you're in love with most of them, and your personalities mesh well together, you've probably found the one.
How many hours of wedding day coverage do I need?
Bonnie shares that:
Eight hours is a good "goldilocks" time frame for covering most of the day for most weddings. It all just depends on the wedding itself. If you're getting ready one place, having the ceremony somewhere else, and then having the reception at another location, you may need more because timelines for "3-location weddings" tend to be a little more spread out.
Will remarks:
Traditionally 8 hours is the sweet spot. But since every wedding is different, I suggest reaching out and walking through your wedding day with your videographer to see what they recommend.
What should I expect to receive from my videographer?
Bonnie's clients chose:
Our most popular package includes 8-hours of coverage, a highlight film (which is always 6-8 minutes and is included in all of our packages), and the raw footage.
We offer all kinds of additional video upgrades as well. Sometimes the raw footage can be a little overwhelming and couples don't know what to do with it, so we offer what we call a "full documentary edit" where we edit that raw footage into a longer, more "traditional" wedding film that includes the full-length ceremony, first look, toasts, first dances, and other clips from throughout the day.
Chat with your videographer if there are any other video requests you have! Most of us are always open to new ideas and suggestions! For example, some requests I get are for rehearsal dinner coverage, cocktail hour "well-wishes" videos, boudoir videos, and engagement videos.